Humans have always dreamed of reaching further than they have ever done before. It drove the mission to the moon, the current plans for Mars, and even the explorations outside our galaxy. In many ways, virtual reality is an extension of the same principle. 
After all, how else is the average person going to explore strange new worlds? What may surprise you is that stimulated environments were first developed in the late 1950s! Of course, the term 'virtual reality' wasn't used until the mid-1980s. The work done then is considered to be the foundation of modern VR systems.
But, no matter how good the headsets get at visually immersing you, to really feel like you're in a different place you need to be able to feel and move naturally. That's where the controller steps in.
The best controllers for VR are your key to the alternate worlds. Your virtual experience is only as good as your controllers.
That's why you need to check out this list of the best controllers for VR.
Top 8 VR Controllers
The Rift Touch Controllers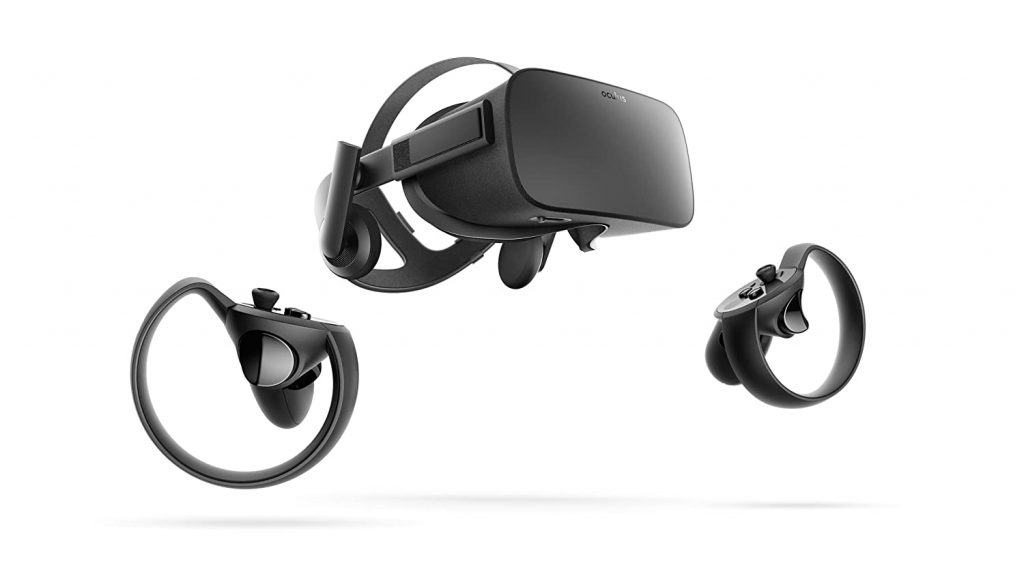 The Oculus Rift was an impressive bit of kit when it first arrived on the scene. But, the controllers were in a league of their own! While other controllers were useable, the design of these original controllers was perfect. 
Every button was in the right place, allowing you to instinctively use them and focus on your game. The wrist strap and joystick all seemed to be made for your hands, regardless of what size your hands were!
But, while these controllers were the best for three successive years, there has been a lot of competition recently. A new controller is likely to leave you feeling more satisfied. That's not because of the control positioning, it's simply because the Rift Touch controllers don't allow you to feel the virtual space, as well as other controllers, do. 
---
Rift S Touch Controller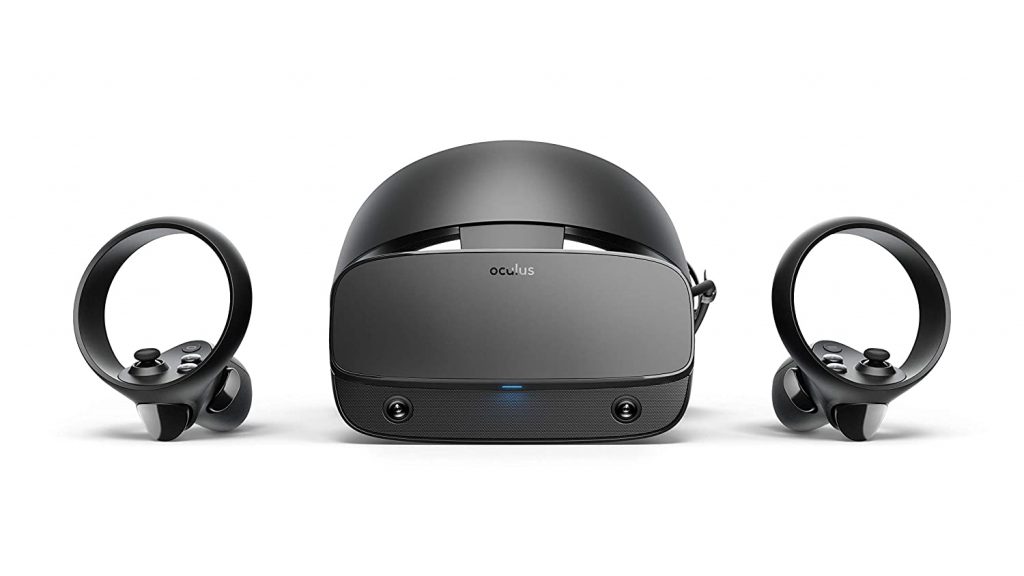 The Rift S, and even the Oculus Quest, use a newer version of the Touch controller, and it rocks! While it's hard to say these controllers look as good as the Valve controllers, they are potentially the best controllers for VR currently in existence. 
These controllers are light enough to be worn for hours without leaving your hands and wrists aching and tired. In fact, it's fair to say that you can move freely through any game without being aware that you're even holding controllers. It doesn't even matter what type of game you're playing. 
As a revised version of the Rift touch controller, it has significantly better interactive capabilities. You won't just feel like you're grasping a sword, you'll feel the rumble of the volcano or anything else you find in your new domain.
It's certainly hard to beat these controllers!
---
Vive Controllers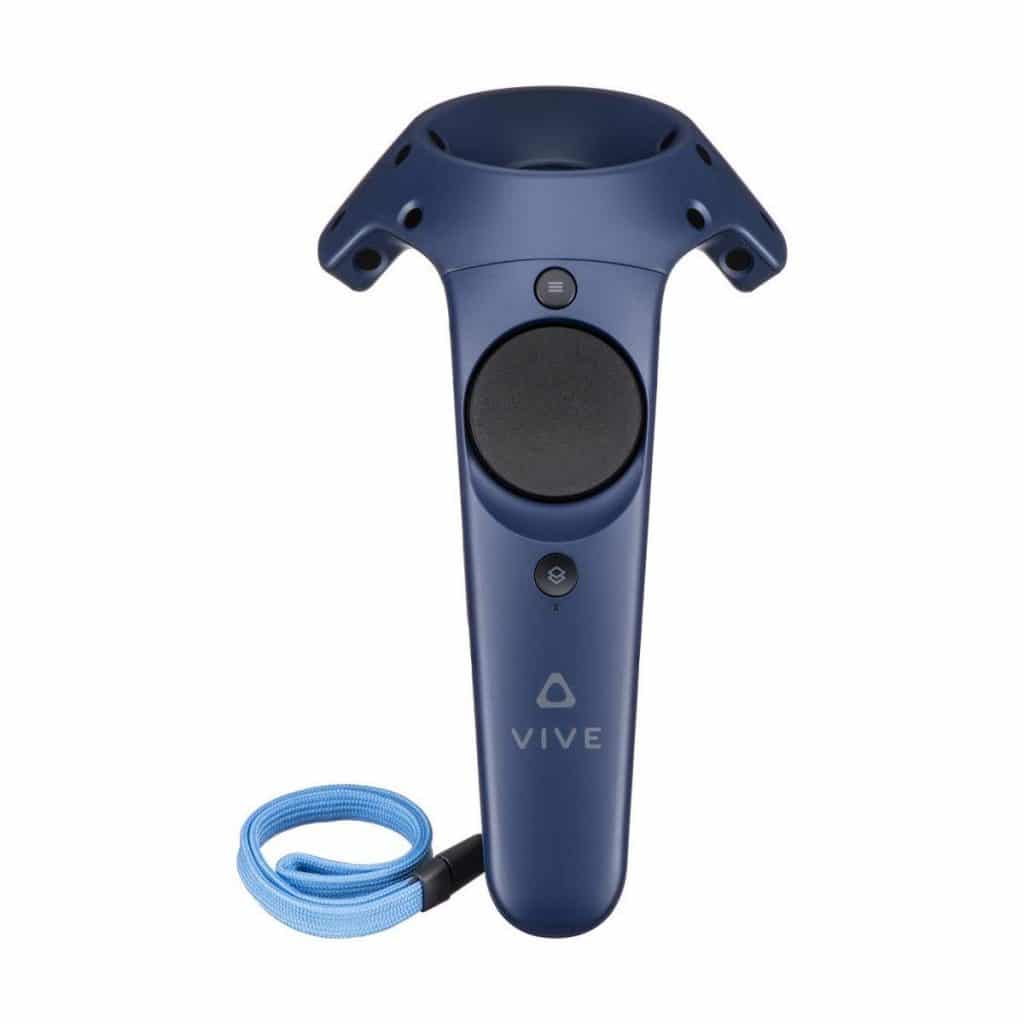 The Vive controller is not that exciting to look at. However, it does have 24 sensors, a multifunction trackpad, dual-stage trigger, and HD haptic feedback. Add in the rechargeable battery and you're set, as long as you have a Vive or a Vive Pro.
One thing that needs to be mentioned is that the Vive controllers were directly competing against the Rift. On paper, they appear to struggle. But, if you've ever tried the Vive controllers you'll know that they are perfectly designed. 
For many, this is the winner of any contest regarding the best controllers for VR. The buttons are perfectly positioned and, despite the different styling, these controllers make your virtual hands feel like your real hands.
The only letdown on these controllers is the lack of a grip button. This is the part that allows you to feel you are actually gripping something and doing something with it. Without this feature, it is difficult to fully immerse yourself in the game. Should Vive update the controller and add a grip this is likely to be the best controller for VR on the market.
It is also worth noting that this controller was actually designed for developers, not gamers. That's why there are so many games and apps connected to the Vive.
---
Vive Cosmos Controller

The Vive Cosmos has a base station that gives up to 160 square feet of play area. It also benefits from excellent graphics.  Unfortunately, the controllers were only good, not excellent.
In order to up their game, Vive tried to reinvent the controller. Unfortunately, this didn't go as well as they hoped. The standard approach is inside-outside tracking with sensors or outside-in with base stations. The Cosmos controllers track with light. However, this did not work as well as Vive hoped. 
The result is a good set of controllers but poor connectivity and interaction. With a little tweaking to the hardware, it's possible these could be some of the best controllers for VR. But, for now, these are simply adequate if you have no other option. 
---
Valve Index Controllers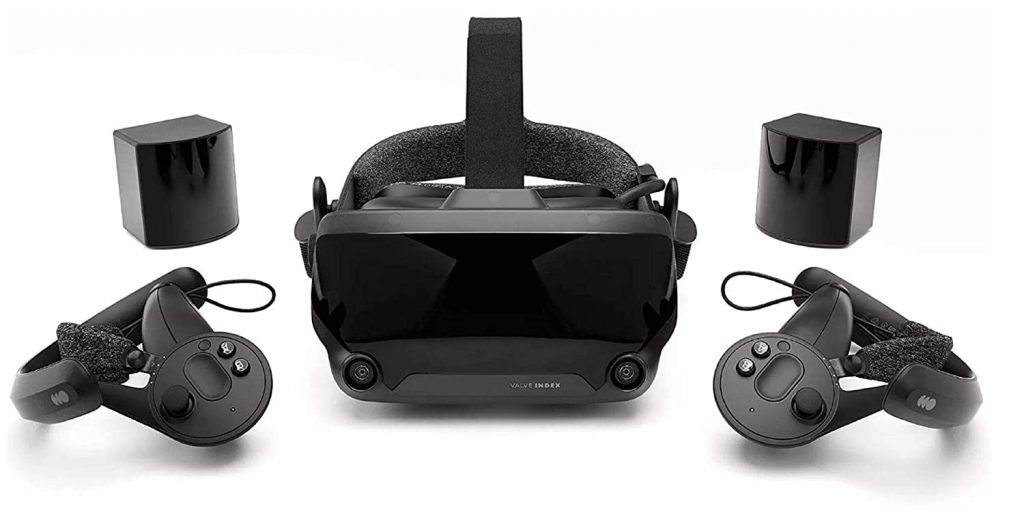 Valve Index controllers were another step into the unknown when they were released. Many people thought they would t live up to the hype. There were just as many people who were eagerly anticipating them. 
They were rewarded with one of the best controllers for VR on the market today! What surprised everyone was how well these controllers fitted, it was more like putting a glove on than holding a controller. 
It's difficult to say any other controller has better haptics. The motion sensors are incredibly responsive, allowing every movement you make to be picked up and relayed. The Valve Index controller even offers finger tracking, which could be seen as a major step forward in virtual technology.
In short, this is an impressive option which, for many, would take the title of best controllers for VR.
---
PSVR Controller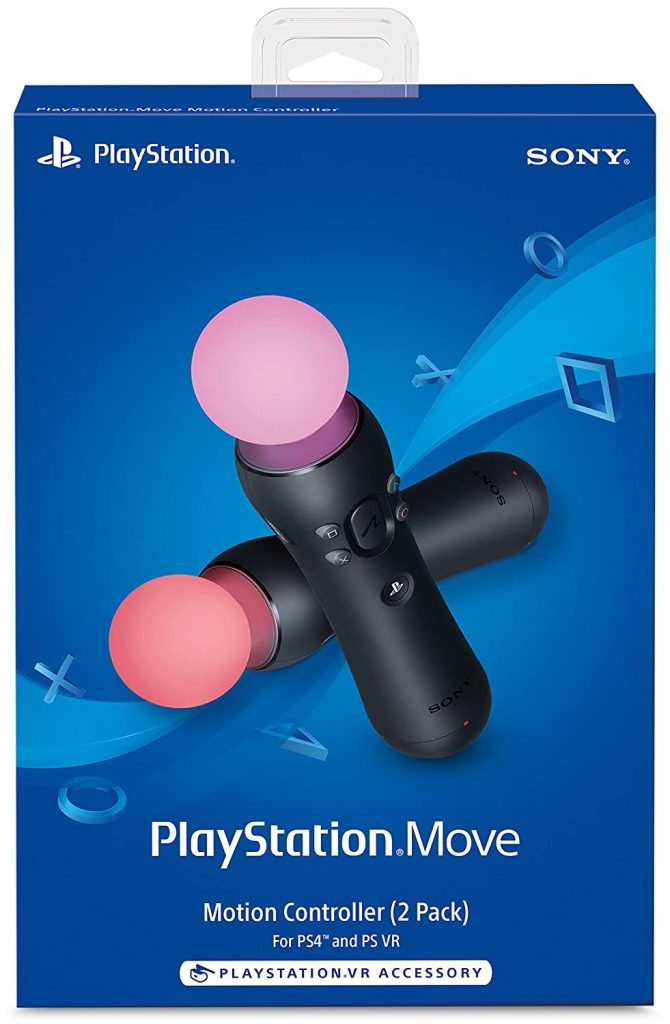 The PlayStation virtual reality controllers are easily the simplest controllers on the market. They represent a stick with a ball on the end. In fact, they are fairly cool looking but not on a par with the wrist straps and button convenience of the other models already listed.
It should be noted that simplicity is intentional, it reflects the simplicity of the PSVR platform.
However, don't judge a book by its cover. This controller may be simplistic but it is effective, providing you're in the PlayStation virtual world. That's why it doesn't need the thumbstick. 
This isn't the best offering but it does provide satisfactory feedback if you're playing in the Playstation virtual reality world.
---
Samsung Gear VR Controllers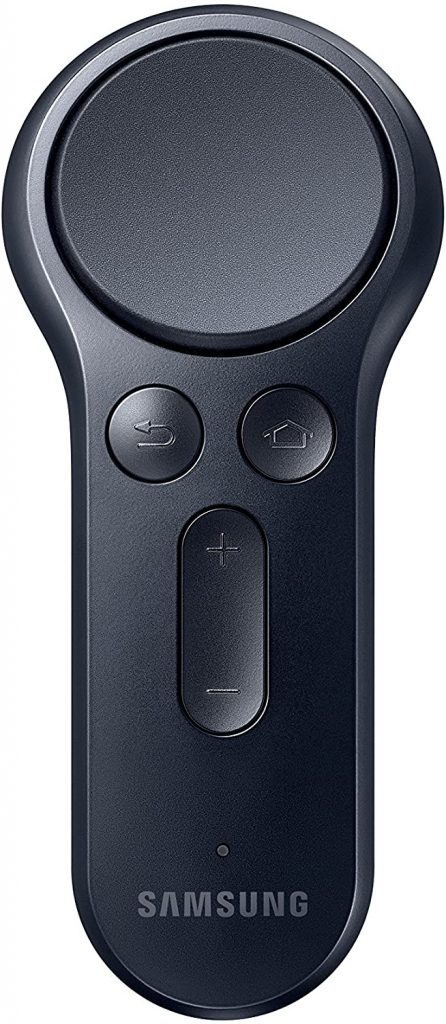 The nice thing about the Samsung Gear VR controller is that it's easy to locate a replacement Samsung Gear VR controller if needed.
Of course, this controller is designed for the Gear VR which has a surprisingly limited number of games at this time. That makes it difficult to fully assess in comparison to other VR controllers.
However, it is designed to sit in one hand and allows you to interact with your Android smartphone. You can link to the Bluetooth controller or a Bluetooth gamepad to access augmented reality. The experience is unlikely to inspire you but it does offer a decent introduction to the world of VR. That makes it one of the best controllers for VR if you're a beginner in the field.
---
Windows Mixed Reality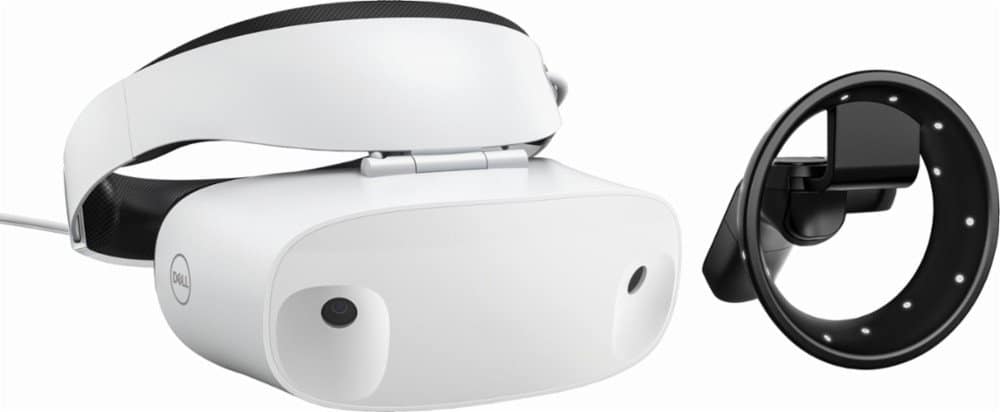 If you're playing virtual reality games on your Windows system then this is the best VR controller for you. They are compatible with any Windows system.
The controllers take two AAA batteries, you'll want to ensure you always have spares handy. The battery life is acceptable at approximately 6 hours. However, you will note that, despite looking good, these controllers have a high trigger, which can be an issue when playing.
You'll also find the slant of the trigger is peculiar and the trackpad can get in the way. Of course, this depends on what game you're playing and the style of your play.
---
Final Thoughts
In most cases, the controllers come with the virtual reality system. It's not always possible to swap controllers. This means that to get the best controllers for VR you should consider what you need from your controllers and then choose the virtual reality system based on your controller needs.
Don't forget, the right controllers can make a huge difference to your enjoyment of the gameplay. Choose the best controllers for VR first and find that every moment immersed is worth it!
Use this list to help you choose the best controllers for VR and, if possible, experiment with what your friends are using. The key is to find what suits you best.