It is fair to say that the Valve Index is one of the best, if not the best, virtual reality headset currently available. It's a stylish bit of kit with finger tracking controllers and impressive audio, alongside this it has the best display resolution of any VR headset.
You'll also find that it's one of the most comfortable VR sets on the market, which is great if you want to game for hours at a time. However, you're probably already aware that VR gaming can leave you sweaty, a good cover is essential to save having to clean your face gasket every day.
But, as always, there are a few issues that need to be resolved. The frustration of having to set up the base stations is one of them, but the one I want to look at today is Valve Index extension cables.
The Purpose of Extension Cables
By itself the Valve Index must be tethered to your PC, this is standard for VR headsets at the moment. However, this can be frustrating and limit your ability to play, especially when you're trying to use the whole of the room.
The use of extension cables is essential, if possible, you need to make these cables virtually disappear. You don't want to be worrying about the cables while you're in the middle of your favorite game.
By getting the cable set up right you'll have the freedom to move and really explore the space within your VR game.
The Problem With Cable Extensions
The biggest issue with extending cables is that you'll lose signal quality. A passive DP cable can only be used for distances up to 10 feet, or 3 meters. This may sound sufficient but, if your space is bigger than this or the cables aren't taking a direct route, you're going to need something extra.
Consider this, a ceiling cable system is best for movement and safety. It can take 2 meters of cable to go from the PC to the ceiling, and another meter from the ceiling to your headset. That means your passive DP cable is fully stretched and you're stood next to your PC, even a 5-meter cable will only give you a radius of 2 meters from your base unit. That's simply not enough. 
The best option to extend the cables even further is an active cable extension. An active cable extension uses a copper cable that is linked to an electronic circuit. This allows the signal strength to be boosted giving you the ability to play further away from your PC. 
The electronic signal is the main difference between passive and active cables.
The problem with active cables is that the electronic signal can actually create its own interference, specifically attenuation and crosstalk. To compensate for this some cables have circuits integrated into them which are designed to reduce the interference caused by the cable.
Of course, not all cables are created equal. In fact, there is still a gap in this area of the market which means there are a limited number of options available. However, that shouldn't stop you from experimenting with different solutions.
 When you realize you need a greater range of movement then you need the right extension cables, the following are worth looking at.
The CableMatters DisplayPort to Display Port Extension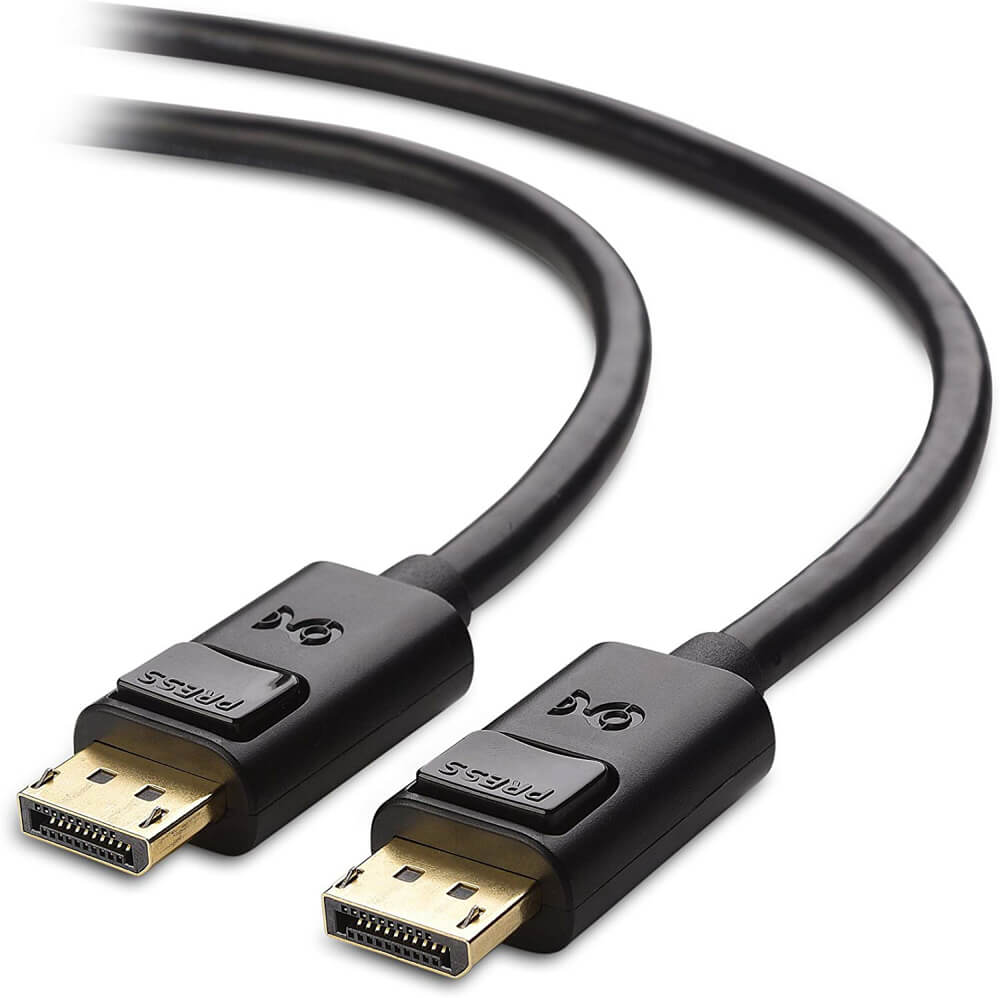 The CableMatters is a reasonable quality cable, although perhaps not the best option on this list.
Cable Matters offers an array of different size options, every cable has gold-plated connectors, a secure latching system, and supports 4K:
Size Options
You can choose between 3 feet, 6 feet, or 10 feet, depending on how much cable you need. All the different lengths of cable are constructed the same, providing you with a high-quality product. It has gold-plated connectors and bare copper conductors to maximize signal transmission. 
In addition, the cable utilizes foil and braid shielding to reduce interference and ensure you get the best possible picture and audio.
Image Quality
At 4K, the equivalent of 3840 x 2160 you'll be impressed with the high quality of the image on your screen. The gold-plated construction helps to maintain the highest quality signal.
Alongside the image quality, you'll find the sound remains high-quality, whether you want 7.1, 5.1, or 2-channel.
Security
It's worth noting that the Cable Matters cable uses a latch when connecting to your PC or headset. This ensures the cable stays in place, no matter how active you get; Just remember to release the button before pulling the cable out.  
Point To Note: Production Issues
There have been several reports regarding dropping signal and this cable won't work with all brands of extension cables. In addition, this is designed for the Valve Index, it doesn't work with many other brands.
These incidents appear rare but they should be noted.
---
Bifale DP Fiber Cable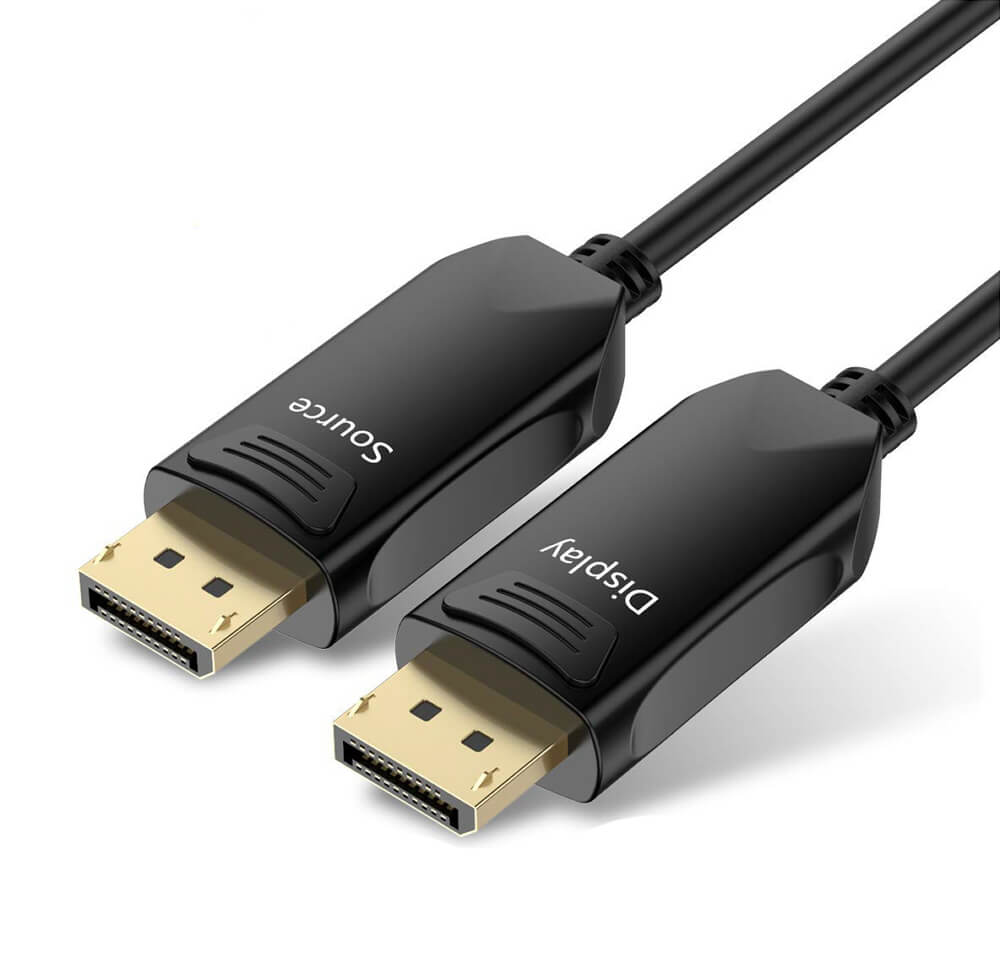 Bifale DP Fiber Cable is a surprisingly good option and one that you should consider if you need a lot of extra length for your VR system. In fact, it is probably the best option for any system and it will allow you to locate your computer almost anywhere!
Check out the specs. The cable is a whopping 33ft long, has a 4-core optical fiber cable that supports high-resolution, and active DP 1.4. It's also surprisingly thin and very flexible. That makes it perfect for the high-stress environment of virtual reality. 
Despite its length, this is actually one of the best extension cables you'll find on the market.  
Transmission Range
If you can run it as low as 60Hz then you'll get 8k imaging. However, at a more realistic 165Hz, you'll still get a respectable 4K, that's a 3840 X 2160 resolution. 
Alongside this, you'll get 7.1 Dolby sound, although it can also support 5.1 and basic 2-channel.
That's pretty impressive audio and visual carrying capability along 33 feet of cable!
Flexibility
The cable is just 4.8mm thick and yet because it is made from military aramid fiber, it has high tensile strength and can actually withstand a huge number of 90° bends.
Quality
The design has been considered carefully and this cable is compatible with virtually every graphics card currently available. It can handle temperatures between 14°F and 176°F. 
But, perhaps most impressive is the manufacturer's commitment to quality. There is a free replacement option for life if you have a quality issue with the cable. 
The Bad: Cable Issues
It is worth noting that some users have had issues with the quality of the cable, including flickering screens, an inability to handle higher Hz, and even signal failure.
This does seem to be on a small number of cables but it is important to be aware of it. 
---
Bifale DP Cable 10ft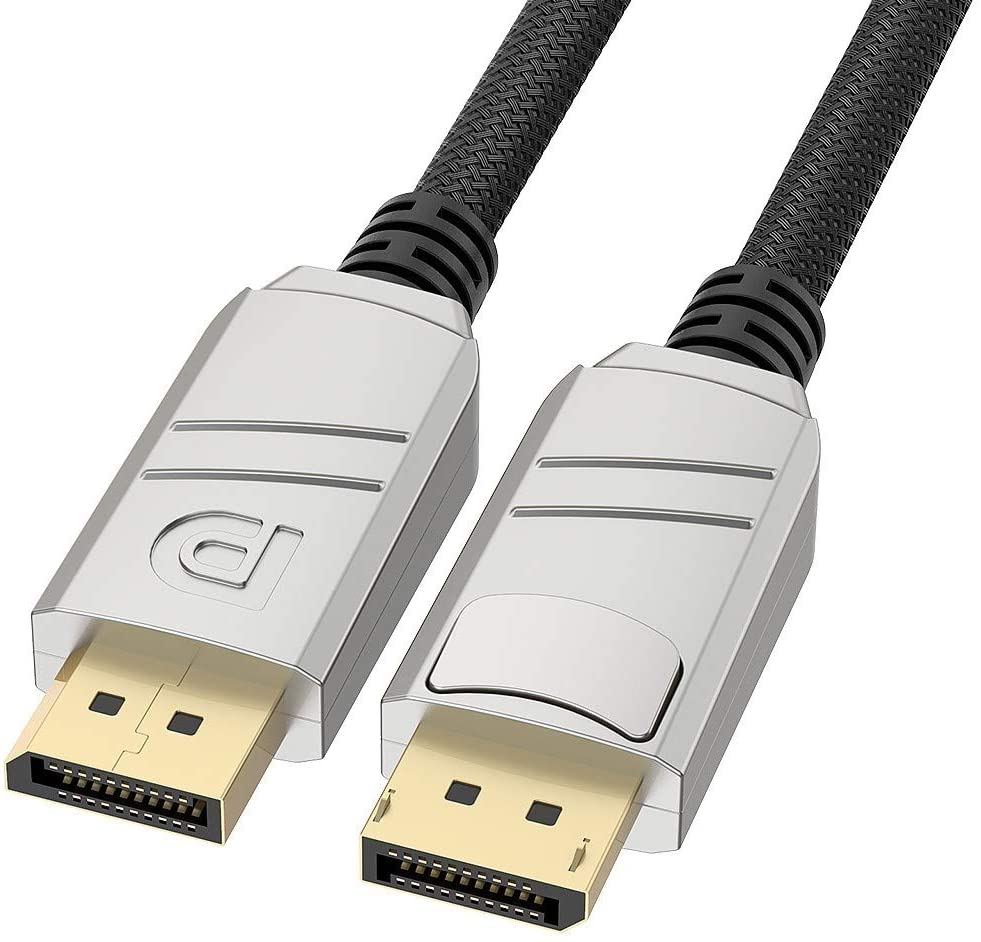 Bifale DP Cable is just 10ft long and doesn't offer the same level of quality as the previous Bifale. However, it is extremely cheap.
This cable has silver-plated connectors, copper foil ring, and is extremely well priced 
Cost
Price shouldn't be a defining factor when choosing a cable for your Valve Index but, after spending so much on the machine, you may need to temporarily get a cheap cable extension.  If that's the situation you find yourself in this could be the cable for you.
It's hard to find another cable that offers good quality at an attractive price.
Reduced Attenuation
Although the cable isn't to the same standard as Bifale's other offering, it is worth noting that this has a unique copper foil ring which actually reduces attenuation. That's pretty impressive considering the price of this cable. 
Triple Shielding
The cable is PET braided and triple shielded. It's also tested to ensure it can be plugged in and out at least 5,000 times. You won't need to do it anywhere near that many times as you can leave it plugged in.
The Bad: High Res & Refresh rate Support
Your graphic card will need to support high res, such as 1080P and a fast refresh rate. If your machine doesn't support this you'll limit the usability of this extension, especially when you consider the low-quality resolution!
Low Image Quality
It's important to be aware that despite needing a high res screen and graphic driver, this cable only offers 60Hz to display 4K, you're likely to get a better quality picture running 2K at 144/165Hz.
If you're only playing low spec games you'll be okay with this cable, anything higher spec is likely to leave you with a flickering screen, or nothing at all. 
---
Tripp Lite Display Port Extension cable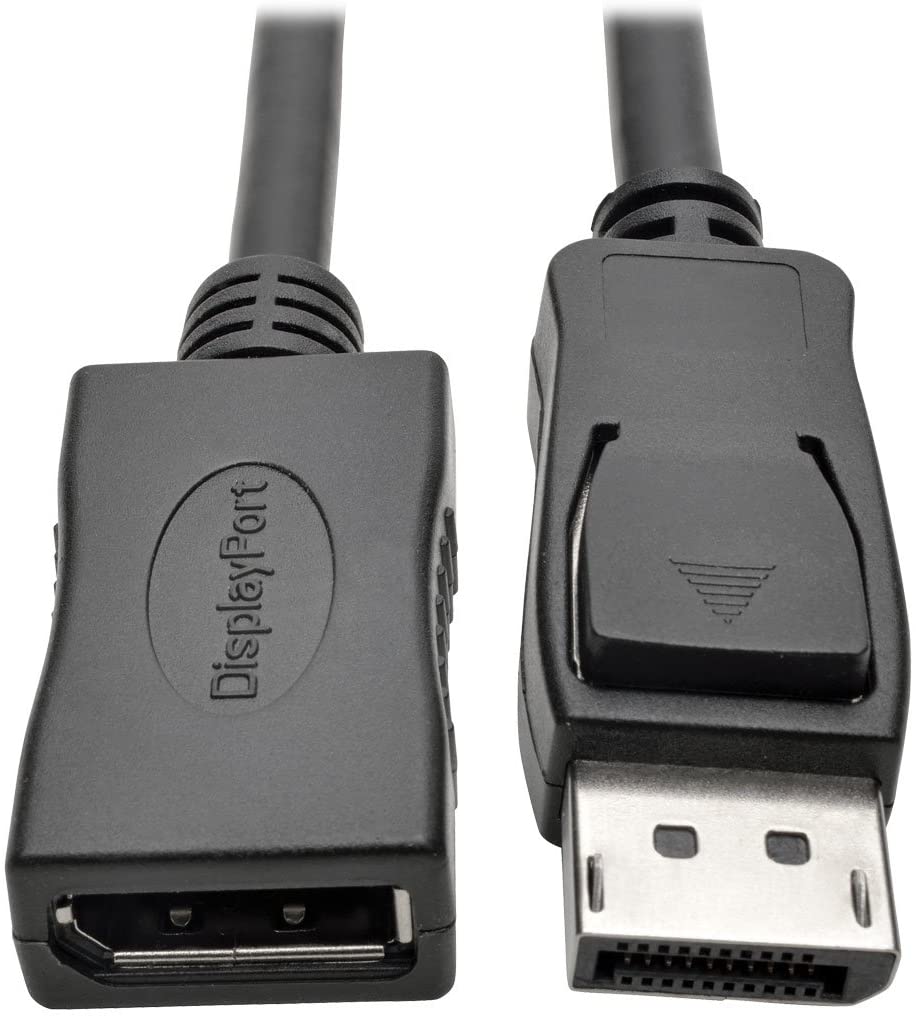 Tripp Lite Display Port Extension cable is one of the cheapest options and has a limited range. But, it's also durable, well-made, and likely to last for years of use.
It can support resolutions up to 3840×2160, has a secure latching connector, comes in a variety of sizes, and can work with DisplayPort v1.2, DPCP, and HDCP 2.2.
Image Quality
Providing you don't go over 10 feet long the quality of the image with this cable remains extremely good. It is designed to offer 1080p and it does this level of quality well. Of course, it can also do better than this. It supports 3840 x 2160, that's 4K x 2K at 60Hz.
Durable
There s little doubt that this cable is well made and should last for years. It has a flexible PVC jacket to protect it against flexes, bends, and even kinks. You'll also appreciate the latching connector that ensures a good fit into your sockets, even when you're working in a limited space. 
You should also note the gold-plated connectors and the fact that it's double-shielded to maximize the signal quality.
White Noise
It's worth noting that several users have reported white noise with this cable, it gets worse depending on the length of the cable you use. However, if you're aware of this before you but, it's possible to  add some filters to the cable to eliminate this.
Extender
This cable as one male and one female end, in effect it is designed to add length to another cable, this means they'll be an additional join in your system. As connections are where signals are easily lost, that's not necessarily a welcome addition to your VR system. Although in this instance it may be the only option.
---
Hiding The Cables
You can leave the cables lying across the floor and hope that you don't trip over them as you spin around in your virtual world. However, you can get around this problem by relocating your PC and using pulleys.
The idea is to place your PC as high as you can, (although this is not essential), with it still feeling secure. The cables then run from the PC to a pulley or two, before going to your headset. The pulleys allow you to pull cable in or out automatically as you move and they avoid the issue of wires being on the ground.
A top tip when creating this system is to use more than one pulley, this reduces the tension on the cable which will reduce pull on your head as you play.
It's worth trying different combinations to get the pulley system that works best for you.
Adding The Booster
It's possible to add a booster into your line to amplify the signal while ensuring that the booster doesn't affect gameplay.  If this is something you need then you should take a look at the StarTech Displayport signal booster by StarTech.
This active booster will transform your signal, making it possible for it to travel up to 65ft with a standard DP cable.
The booster works similarly to the active cable, instead of having an electronic booster in the cable, it's a separate unit. This makes it more viable to repair if something goes wrong. 
It offers 4K resolution and is compatible with DisplayPort technology. Although it's primary function is aimed at the classroom, it is a great extra bit of kit when building your perfect VR gaming space.
Final Thoughts
Looking at the different cables on offer it seems that your best chance of success with Valve Index extension cables is to use one cable. The worst problems occur when you need a coupler to join cables. 
However, depending on your current set up, it may not be possible to avoid using a connector or different types of cable. It really is a case of trial and error. 
Of course, your preferred extension cable will depend on the length of cable you need, the bigger the play area, and the further it is from your computer the longer the cable will need to be.
If you're struggling to get a quality image or sound you should consider using a shorter cable and moving the computer, it is likely to be the easiest solution. However, the 33ft Bifale fiber cable is potentially the best option on this list, it may be worth investing in as it offers the great picture quality that you need when using the Valve Index.