In a perfect world, there would be no cables, everything would be wireless and work without lag or crossing frequencies.
Unfortunately, we're not in a perfect world yet, cables are an essential part of the Valve Index, bringing you an authentic visual reality experience. Of course, cables that are moved constantly will be under a considerable amount of stress, which is likely to cause damage and ruin your virtual experience.
The key to enjoying your Valve Index is to be prepared. That means checking the cables regularly and keeping a spare set of cables ready. 
VRborg is here to guide you through the cables that can be replaced, suggest some of the best Valve Index Replacement Cables currently available, and even how to inspect them properly.
Inspecting Your Cables
It's a good idea to inspect your cables every week, this will help to ensure you note any issues before they affect your gameplay.
The first stage is to look at the entire length of the cable. At the same time run your hand along the cable to feel for any damage. Kinked cable or cable that has been squashed can appear okay but you'll notice it feels damaged.  This will interfere with the signal.
Once you've checked the length of the cable inspect the ends, this is where the most tension occurs. Although many cables are designed to resist the strains of being tugged during gameplay, they can still show signs of wear.
Finally, take a look at the actual connection point. If there is any sign of damage you'll want to replace the cables.
Having a spare set ready means there is no downtime.
Replaceable Valve Index Cables
Let's take a look at which cables can be replaced:
Valve index base station power cable
This cable is unlikely to be damaged as it runs from your base station to your PC. Once you've put it in position it shouldn't need to be moved, making it unlikely that you'll damage it. 
Of course, it is always possible which is why you should consider having a spare base station power cable available.
The power supply for the main unit is 12v, you can actually use the HTC Vive power supply cable if necessary, or you can purchase a new cable with the same specs. 
Your headset is a critical part of your equipment, it's what enables you to see in your virtual world and helps to make it believable. The Valve Index uses one cable with three ports at one end and just one port that plugs directly into your headset. It's referred to as a Trident cable.
At the other end of the cable, there are three ports, a DisplayPort, a power connection, and a USB. Both of these go into your computer. The DisplayPort allows data to move between your base unit and your headset. It's what makes the virtual experience possible.
The USB cable works alongside the DisplayPort connection to complete the experience. The power port goes into the dedicated box and plugs into the main supply. It's worth being aware that you can purchase an adaptor that will allow you to power all elements of the Valve Index from one source. Simply plug your cables into this small box and its single cable hook up will allow you to create power for all parts of the system in one go.
It's important to note that this is a specially designed cable, it creates a unique connection between your headset and the base unit/power supply. While this is very efficient and generally reliable, it has previously caused an issue if it becomes damaged.
Fortunately, it's no longer just Valve Index that supplies a replacement cable. There are options available on the market and it's worth having one spare. 
Best Valve Index Replacement Cables
The first thing you need is a good replacement power supply, just in case. The Belker universal is a good option. 
You'll then want a spare trident cable, the good news is you can get a third-party one. 
Finally, you'll want to consider extending your play area and the ability to move around. The Trident cable is a clever piece of kit but it is limited to six meters, that's a five-meter tether and the one-meter breakaway section. 
If your play area is relatively small this may be enough. But, to protect the original Trident cable and extend your gameplay, it is possible to extend the individual cables. You simply need to choose the best Valve Index Replacement cables, which we've listed later in this article.
Belker 36W Universal Power Cable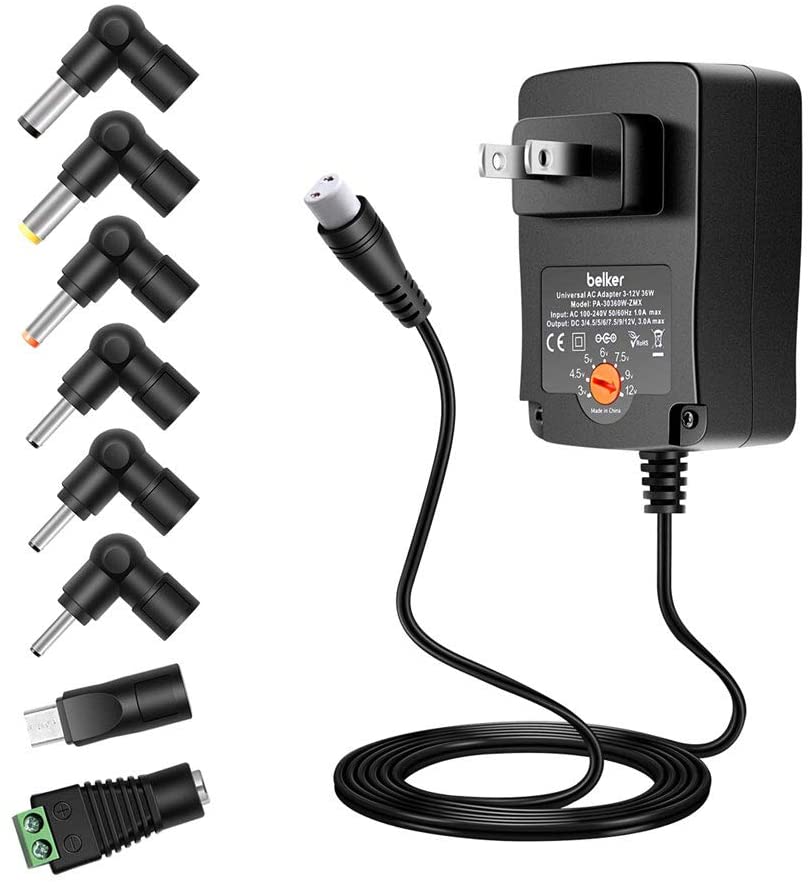 The Belker 36W universal power cable is a great back-up power supply. Because it can operate at a range of voltages, from three to twelve, it can serve a variety of purposes in your home. Of course, one of these is as a backup supply for your Valve Index.
It runs between half an amp and three amps, with a max rating of 2500mA. You'll find there are eight interchangeable tips included in your power cable, ensuring you have the right connector for your Valve Index and a host of other household devices. 
More impressively, it has built-in circuit protection from over-voltage, excess current, power surges, and even excessive temperature. It may shut your game off but it will protect your Valve Index.
---
Trebleet Headset Cable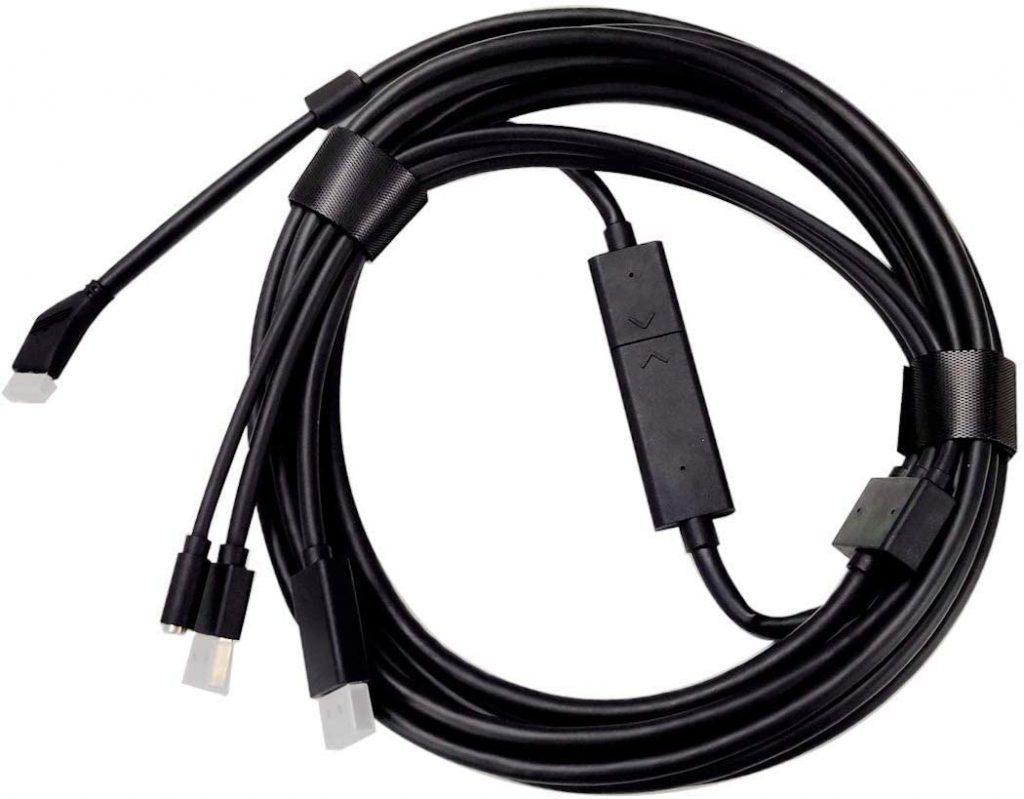 Trebleet is one of the few manufacturers making a replacement cable for your Valve Index headset. This offering from Trebleet can only be used with the Valve Index.
It mimics the original cable, with one port for your headset and three at the other end to create power and high-quality data signals.
This is a well-built replacement cable that will keep you playing. In fact, many users state that this is better than the original, more robust, and less likely to kink. It isn't the cheapest option but, as it can be a slow process getting a cable from Valve Index and you'll only get a free replacement if yours is damaged and you bought the system new.
In other words, this is a viable option if you want to get back online quickly or if you want a spare that will keep you playing.
---
Cable Matters DisplayPort to DisplayPort Extension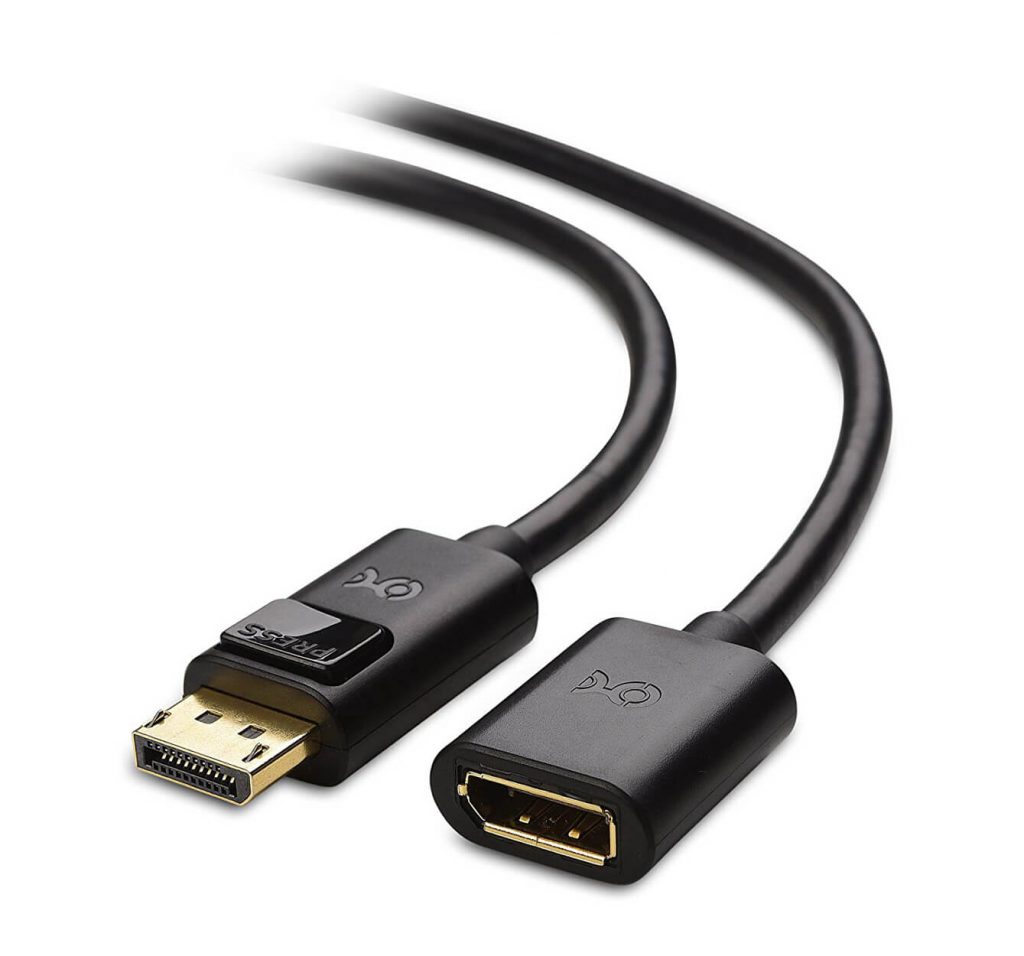 Cable Matters are one of the best-known cable manufacturers and with good reason. This Cable Matters DisplayPort to DisplayPort extension cable is reasonably priced, ten feet long, and will support video resolutions up to 4K, that's 3840×2160. It will even handle digital audio, offering 7.1, 5.1, or 2 channel sound.
It has a latched connector system to ensure it can't be accidentally pulled apart. You'll also note the gold-plated connectors, bare copper conductors, and the foil/braid shielding. 
In short, this is an excellent choice to extend the DisplayPort cable on your Valve Index.
---
Rankie DP Extension Cable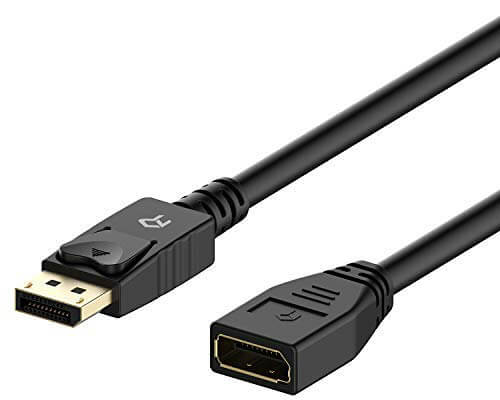 Rankie also offers a DisplayPort extension cable. This offering is a little cheaper than the one from Cable Matters. However, it should be noted that it is only six-foot-long, not ten. 
The cable is well designed and can handle 4K video resolution as well as uncompressed 7.1, 5.1, or 2 channel audio. It also sports gold-plated connectors, bare copper conductors, and foil/braid shielding. This doesn't just ensure the signal stays strong. It also protects the cable from damage when bent. Of course, it's not recommended to try this too many times. 
This cable also had the latch to ensure the connection remains secure, you'll have to press the button before you can release the cables. 
The Rankie cable also benefits from anti-oxidation which means it will resist rust and corrosion. With generally very positive reviews this is certainly one of the best Valve Index replacement cables currently available.
---
Cable Matters USB to USB Extension Cable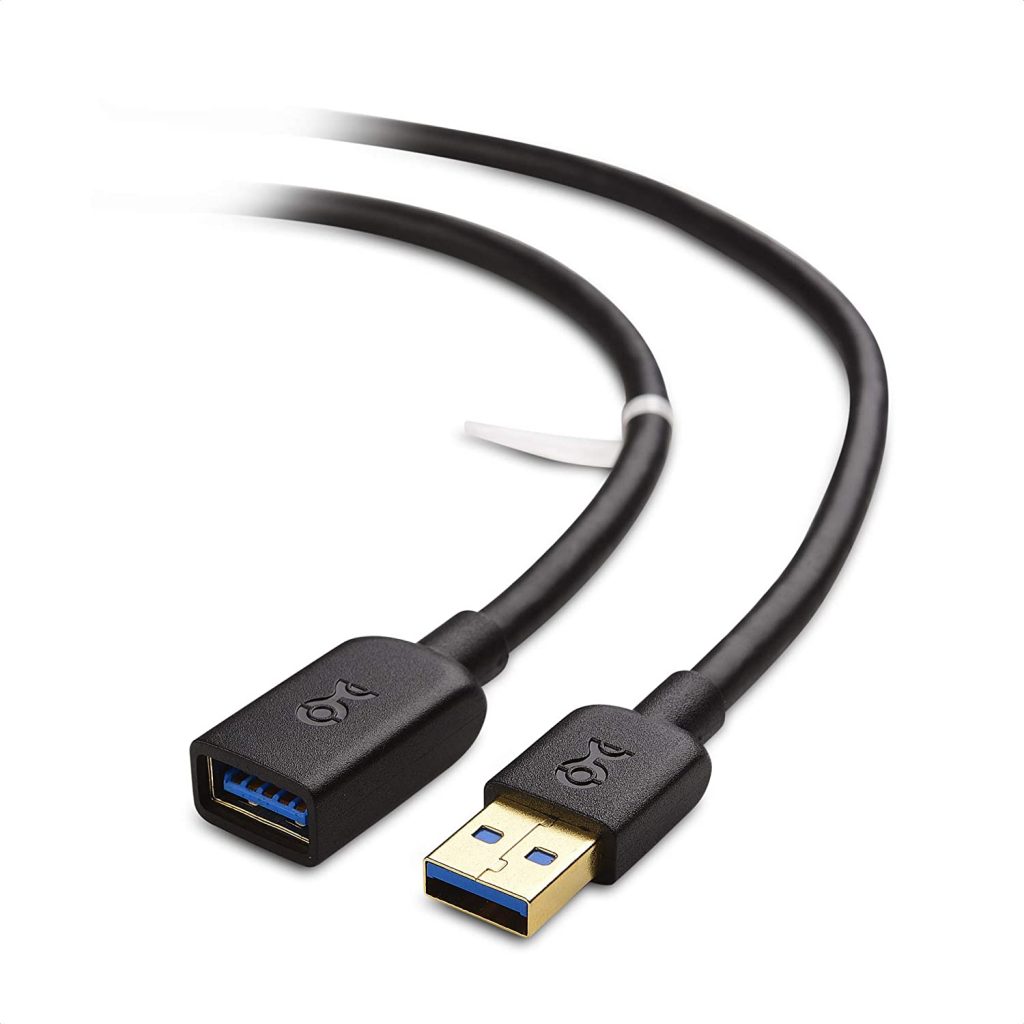 Cable Matters know you need a good USB cable to join your DP one. That's why they've created this USB to USB extension cable. 
This cable is also 10 feet long, although you can also purchase a six or three-foot-long one. It's designed to support USB 2.0 and 3.0, giving you the fastest possible data transfer and quality of gameplay. USB 3.0 transmits up to 5 Gbps and is ten times faster than 2.0.
The cable has gold-plated connectors, bare copper conductors, foil/braid shielding, and strain-relief connectors. Combine these with effective grip treads and the stress on your connections is dramatically reduced. 
The cable is also tested to ensure it can be bent up to 10,000 times without damaging its ability to transfer data. It is not advisable to test this claim.  
---
Amazon Basics USB 3.0 Extension Cable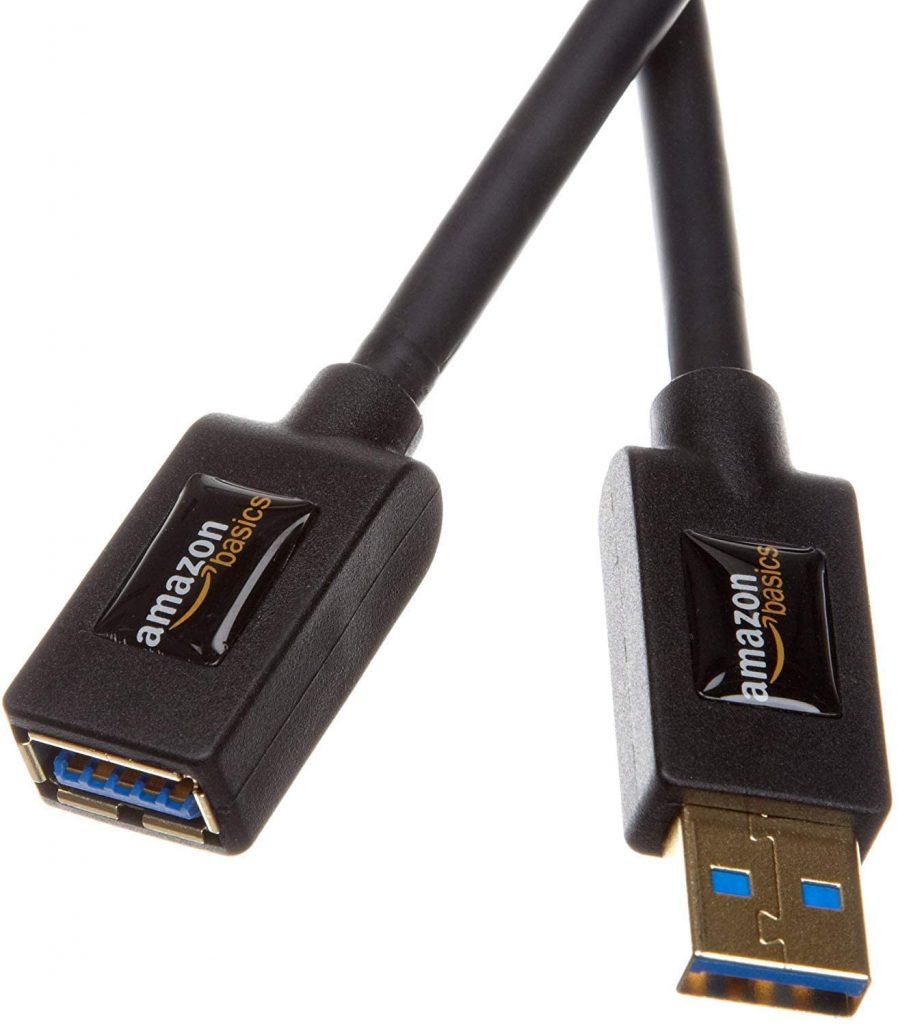 This budget option cable is actually a great choice for your Valve Index. You can purchase it in a variety of lengths, ranging from 3.3 feet to 9.8 feet. That's 1-3 meters. 
The connectors are corrosion-resistant, gold-plated, and shielding. This ensures minimal signal disruption and maximum enjoyment when playing. The shielding also protects against noise from electromagnetic signals.
It operates with USB 3.0 which reduces power draw and allows data transfer of up to 4.8Gbps. Of course, it is backward compatible.
The cable is black, well-made, and has strain-relief connectors to reduce the likelihood of cable damage during vigorous gameplay.
It may be the Amazon Basic choice but it's a popular, durable, and reliable cable. What else do you need?
---
Additional Issue – Power cable for lighthouse
The lighthouse is the tracking system for your Valve Index. With the aid of two laser emitting base stations the Valve Index can track your every move and provide a realistic virtual reality experience. It's worth noting that the supplied bases need to be mounted in opposite corners of your play space. You can also add 2 extra bases to expand your play range to as much as 100m².
The base stations should be positioned no more than 16ft apart and they should be above head height, at least 6.5ft above the ground with a downward angle of 30-45°, this should ensure they are pointing directly at the center of the play area and will help to make sure you have smooth gameplay. The base stations can vibrate, you need to make sure they are properly secured as even small movements can cause the system to struggle with tracking your movements.
Of course, this is the perfect set-up, you'll need to work with the space you have available. 
But, one thing is certain, the power cables for your base stations need to be long enough to reach the power source because these are linked to the main unit via cables. Unfortunately, the cables that come with the Valve Index are just 15ft long. This may be enough but you may feel longer replacement cables are to support the maximum possible play area.
Each cable has a female connector measuring 5.5mm x 2.1mm Barrel Jack. You'll want to look for either a replacement or an extension on Amazon. These will allow you to extend the range and position the lighthouse exactly where you need it to be.
You'll need a 5.5m DC plug power adaptor which will need to be suitable for a 12V supply. There are several possibilities but the Hanvex HDCQ12W is one of the best currently available. 
If the standard cables are sufficient in length then you may not need to add extensions. Considering the lighthouse units don't generally move, the cables won't usually get damaged or need replacing.
Final Thoughts
Choosing the right spare cables will help to ensure you can enjoy uninterrupted gameplay. Simply inspect your cables regularly and replace them with the best Valve Index replacement cables on this list, if they are showing any signs of wear.