Oculus Quest has been available for pre-sales since the end of April. It's the company's successor to Oculus Go standalone VR headset, meaning it doesn't require a PC to handle VR content. Quest is kind of a hybrid that's halfway between the Oculus Rift S and the Oculus Go. 
It offers full 6doF with positional tracking and Rift's exceptional Touch controllers, and at the same time, it has all of its computing hardware built in. Unlike Oculus Go, Quest will be able to run a big library of games, but AAA PC titles will be off-limits.
The Oculus Quest cord-free experience
Oculus Quest is an attempt to bring the VR experience to the mainstream by offering six degrees of freedom tracking in the all-in-one headset. That means that you can enjoy the VR experience without having to worry about wires sticking out your head.  
Just like its predecessor, the Oculus Quest is powered with ARM CPU which means it won't have as much power as the Rift S. Although this means that PC titles are off the table, there is quite a gallery of very playable games ready at the launch. 
The Oculus Quest package will include the Oculus Quest headset, two touch controllers, a frame friendly spacer, a power adapter, and even the AA batteries required for operating some components wirelessly. The price for the 64GB version is $399 and for just $499, you can enjoy the more impressive 128GB version. 
Oculus has the price of a 4K gaming console, and the whole marketing campaign introduces Quest like a console. 
New Oculus All-in-One headset design
The Oculus Quest comes with a matte case that features the Oculus logo at the top, and with its the black color it looks just like the original Rift. Three Velcro straps help you choose a comfortable headset position. These straps are attached to a rubber-like headband. 
On the inside, around the googles, Oculus has foam, and this, along with some other ergonomics, make it one of more comfortable VR headsets out there. The design differs with the exterior addition of four cameras for motion tracking. These cameras let you look around the room so you won't be just lost in VR space. 
Two Quest controllers are included. These have thumbsticks with buttons on the top, a grip button on the side and a trigger button. The controllers are powered with AA batteries, and these also come with the package. It's a good idea to stock up though since the longer you play, the faster you'll need to replace your batteries. The newest Oculus Quest controllers are very similar to Oculus Touch controllers, which are among the best available so far. In the updated version, the controllers have a tracking ring on the top. The build quality is excellent as well as ergonomic.
The headset is equipped with a 3.5 mm headphone jack but also delivers sound through built-in speakers so you have the option of getting sound without headphones while you are enjoying your VR adventures.
The Quest uses OLED panels and has a rather high resolution for an ARM-based device with 1440×1600 pixels per eye. The headset has a 72 Hz refresh rate which is below Rift S 80 Hz, HTC Vive Pro 90 Hz and Valve Index 120 Hz. Even so, it delivers a smooth gaming experience. The main question is, do high-end headsets connected to gaming PC rigs justify the difference in picture and partially in content quality? It's a tough call, and it depends on the individual view. What can Quest deliver in terms of VR experience? 
Oculus Quest Performance
The new all-in-one headset from Oculus got upgraded in the hardware department, but not as much as we would want. The Quest runs on Qualcomm Snapdragon 835, and the new line of flagship smartphones have Snapdragon 845 with 855 models coming. 
Some critics feel that the Quest could have gotten considerably better with a newer chipset. The two years old Snapdragon 835 comes with the support for 1 Gbps connectivity and with Adreno 540 GPU. The eight core CPU runs up to 2.45 GHz, and this is still quite compelling for mobile phones. At the same time, when it comes to VR gaming performance, every percentage point is essential.
There is no external equipment for Oculus Quest, so the set-up is easy. You'll need to download the Oculus mobile app, pair it with the headset and go through the steps that include connecting the headset to Wifi and setting up the controllers.
Oculus has inside out tracking via four cameras with ultra wide lenses combined with algorithms that translate your movements into virtual reality. The tutorial will guide you through fundamental movements and usage of the headset, familiarizing you with the virtual world you're about to enter.
Since there are no wires to hold you back, there is a safety mechanism that will prevent you from stumbling into furniture. You can determine a boundary that prevents you from knocking over your grandmother's favorite vase or perhaps even worse, breaking the TV. 
There are a couple of ways to play VR games with Quest. The best option is having a spacious room with more than 8×8 feet of open area for you to move inside. The minimum recommended play area is 6.5 x 6.5 feet which means that if you want to play in a smaller space, you can, but you will need to draw boundaries. You can also opt to play standing still or sitting down. 
Battery life
The Oculus Quest offers just over two hours of constant gameplay or watching some other content. You can check the battery status through the Oculus Home menu or on your mobile app. It takes two hours to fully charge the device. For users that are new to the VR experience, two hours is more than enough. More enthusiastic gamers could find Quest less standalone, but there is an option to plug in the USB cable for charging. It's six meters long, and you will be able to play while the device is charging. This is great but you'll have to remember that the wire is there while you're playing.
---
Top 5 Oculus Quest games
Oculus promised more than 50 apps and games will be ready for official launch which is a good start to overcome the quality content gap to PC connected Rift S model. We chose the five most promising titles.
Beat Saber
The idea of Beat Saber game is to slash through incoming blocks with a lightsaber. The beat part relates to the great soundtrack, and you should cut blocks to the rhythm. The goal is to hit a colored block with the saber of the same color. 
Moss
One of the most popular VR titles developed for Playstation VR will be available for Quest upon launch. Moss is an adventure game focusing on solving puzzles with a combination of first and third-person perspectives.
Sports Scramble
There is a bit of Nintendo Wii to the VR experience, and the casual sports games thrive on both platforms. Sports Scramble is excellent for families or group of friends, and it offers many sports ranging from basketball, football to bowling and tennis.
Robo Recall
First-person shooter Robo Recall is the closest thing to a classic PC title, and your objective is to kill as many robots you can. Game mechanics include hopping throughout the city via teleport spots. 
Thumper
This game lets you control a metallic space beetle through a single or dual track in a series of strange worlds full of monsters. The goal is to hit the lit notes on the track aligned with the background music and with lots of obstacles. 
---
The Best Oculus Quest Accessories
The Oculus Quest is a standalone All-in-One VR headset which limits the number of possible accessories. However, the device does not include headphones, which you might or might not like. Additionally, you might want to transport it and when you're not playing, you'll probably need a stand since VR headsets are an awkward mess when they're left lying around.
Lens Cover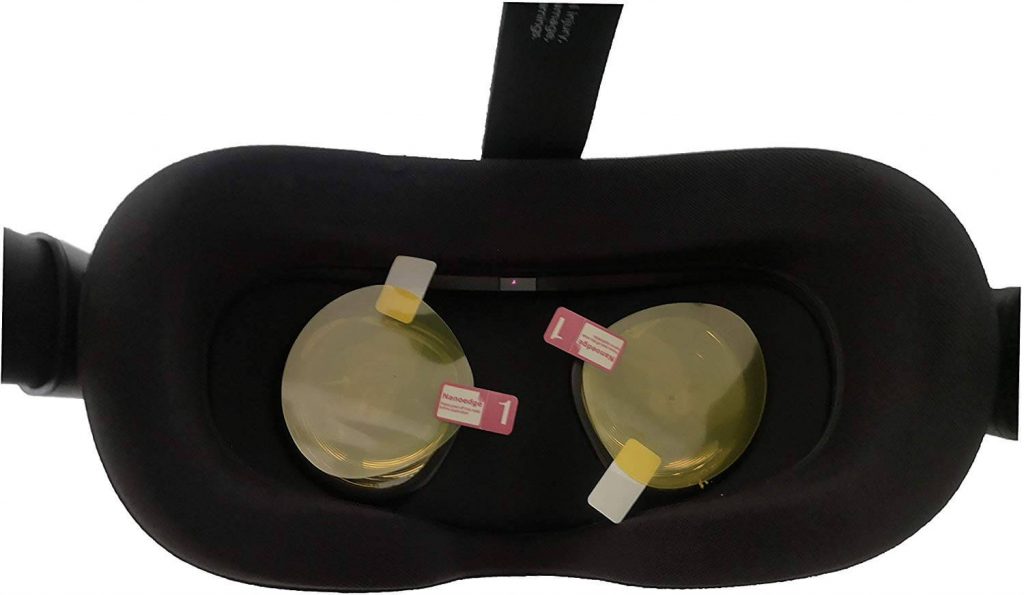 This lens protector is designed to fit on the curved lenses of your Oculus Quest and protect them from scratches. It's an often overlooked part of any VR device, but keeping it scratch-free is essential for your gameplay. 
These have an extended hook design to ensure the back can be easily peeled off, and they custom made for the Quest which means they'll fit perfectly. They also maintain excellent light transference and can even make things clearer, improving the True Touch experience.
You'll find there are 3 sets of lens protectors included if one does become damaged it can be easily removed and replaced.
It's worth noting that, thanks to the curved lenses on your Quest, these are not easy to install, but they do work.
---
Lens Protectors

If you're short-sighted and struggle with dizziness when playing the Quest you're going to want these magnetic eyeglass frames.
They're designed to accommodate any glass you want, which means you can get lenses prescription made and slot into the cases. They then magnetize to the Quest, effectively becoming part of it, you'll barely notice they're there and they'll make a dramatic difference to your game playing abilities.
In fact, you should be able to add, or remove, these lens protectors in less than 3 seconds! They won't make any difference to your comfort when wearing the Quest.
Of course, you do have to buy the lenses separately. 
---
VR Cover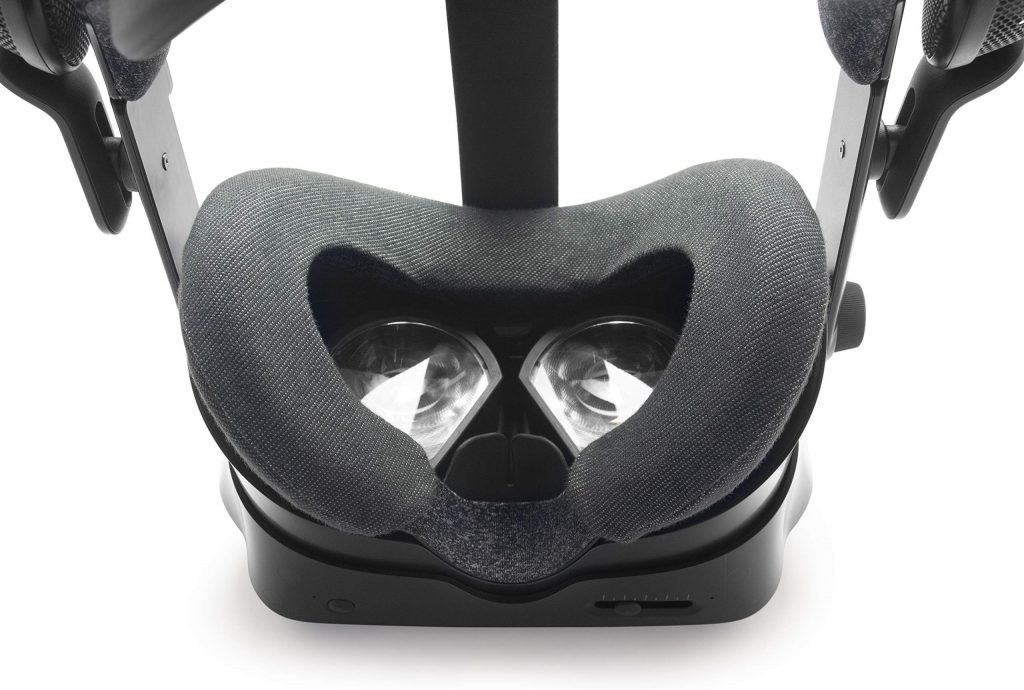 The longer you spend playing on any virtual reality device the more likely it is that you're going to get hot and sweaty. The moisture, dirt, and even the bacteria from your skin will be absorbed by the foam face gasket on your Quest. 
That means the foam gasket is going to start to smell, it will deteriorate, and it will become harder. In short, it won't take long for it to be a lot less comfortable than it is now. Then you'll be looking to replace the gasket.
The alternative is the high-quality soft cotton cover. It slots over your face gasket and uses elastic straps to stay in place. You'll receive two covers as they can be washed and reused as many times as you like. While one is being used the other can be in the wash.
In addition, the VR cover comes with hygienic wipes, these are for cleaning the cover after each use, allowing you to use it multiple times before washing it. 
That makes it potentially the best accessory on the market because it will increase the life of your Oculus Quest.
---
Anker Battery Pack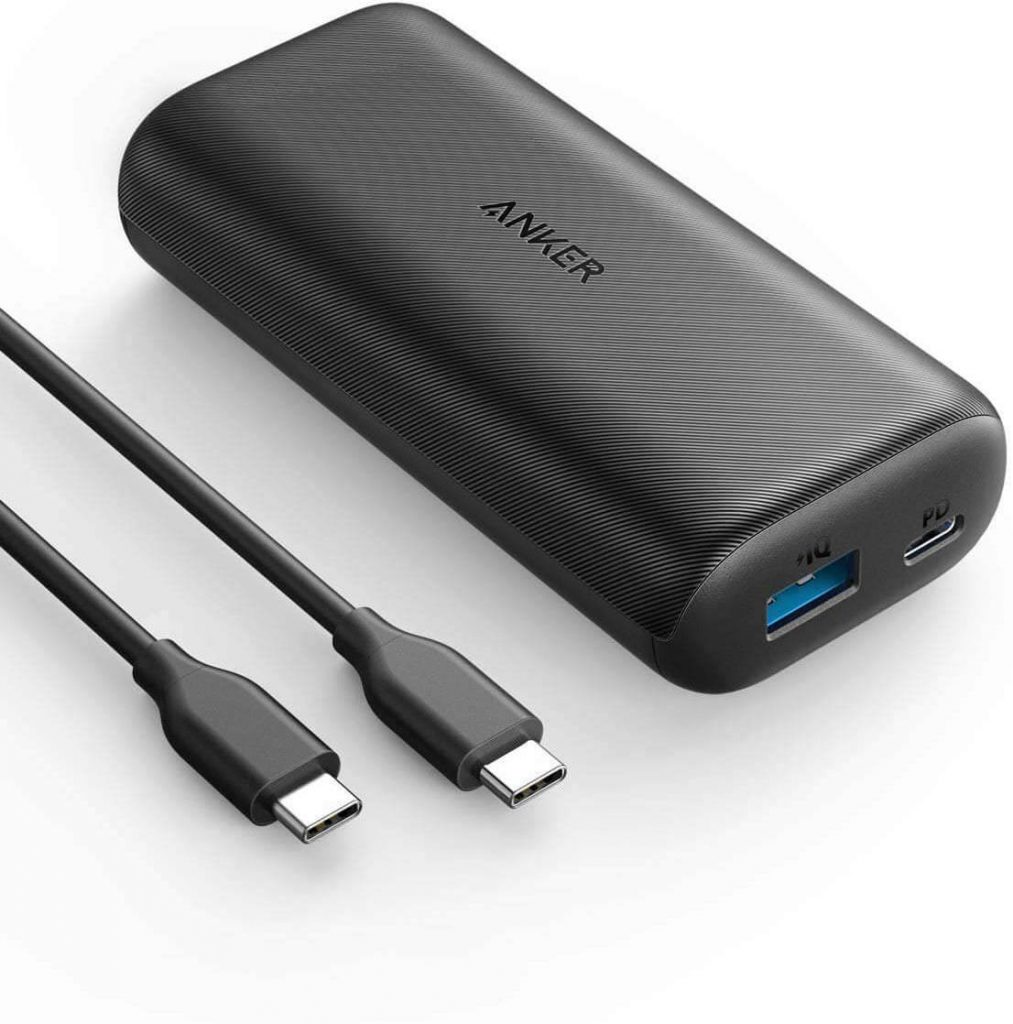 The Oculus Quest will last approximately 2-3 hours depending on the game you're playing. This means if you're out with your Quest you're going to want some extra power. The Quest has a USB-C connector which means that any portable charging bank with this style connector can help to keep you going.
However, not all portable chargers are created equal. 
The Anker delivers 10000mAh and can repower your headset in a matter of hours. But, you don't need to wait for it to recharge. The Quest can be used while charging with no discernable effect on gameplay.
That means you carry your Anker battery pack with you and keep playing, it's likely you'll run out of steam before this charger does.
It comes with a USB-C to USB-C cable, although you can purchase different cables if you want to charge other devices. With a total output of 28 watts, you can even charge two things at once without sacrificing the charging speed. Just remember to recharge the Anker when you can, it takes approximately 3.5 hours.
It's also worth noting that it weighs just 6.8 ounces, you won't have a problem carrying it with you.
---
Battery Pack Case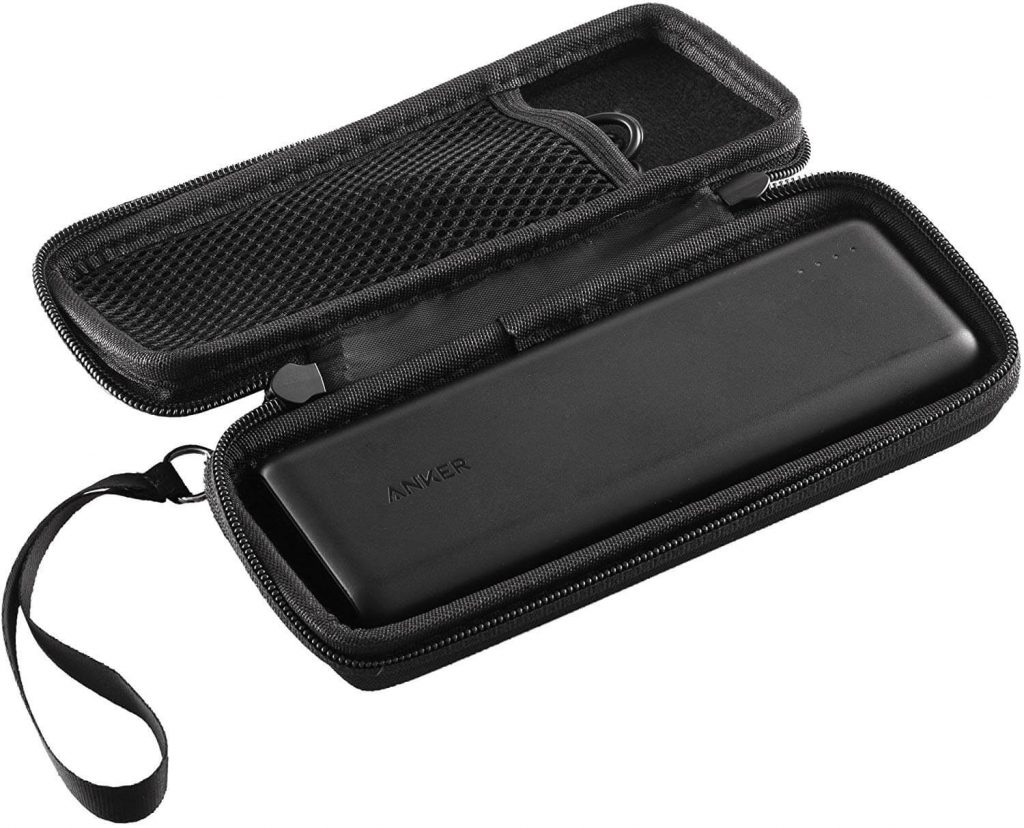 To finish your Quest accessories and make sure you have everything you could possibly need, it's a good idea to invest in this battery case. The Anker battery is relatively light but you still need to carry it with you. The safest way of doing this is with one of these hard cases. 
It will protect your charger and the connection, which is usually the most vulnerable section. 
This particular case is designed to accommodate your Anker charger and its waterproof, shock resistant, and dustproof. Your power source will be safe. It's also got an easy-grip handle that you can hook onto your belt, keeping your hands free. The double zipper also gives you the option to lock the case, preventing anyone tampering while you're in VR world.  
The case itself is made of composite plastic, it's hard but with a soft foam lining. It measures 7.55 x 3.2 x 1.8 inches outside, that's small enough to be carried in the palm of your hand, and it weighs just 3 ounces.
---
Oculus Quest In-Ear Headphones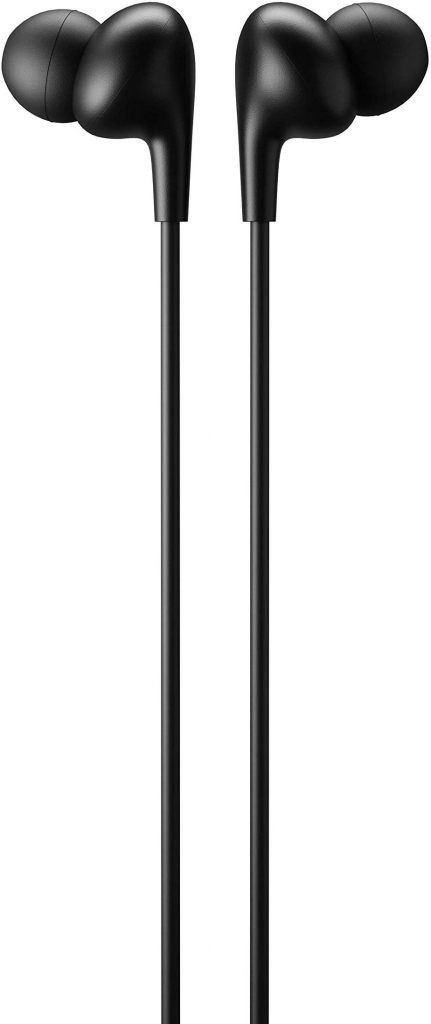 The first official accessory listed on Amazon and Best Buy are Oculus Quest in-ear headphones for those who don't want to listen to their games via the built-in speakers. The Quest has two 3.5mm headphone jacks, and similarly to the Rift headphones, these have a custom length to avoid pulling. The headphones are still unavailable and are only for Oculus Quest. 
---
TreeCloud9 MindStand Air VR Wall Headset Stand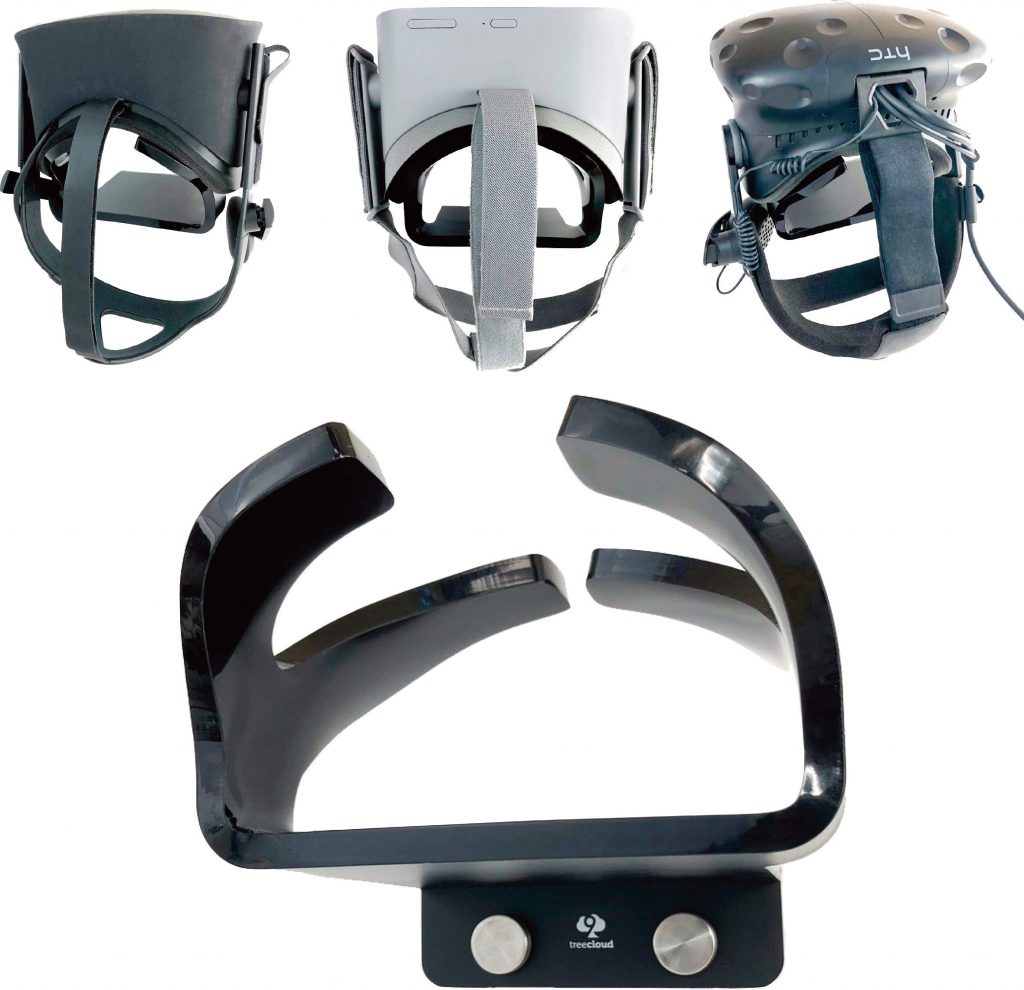 Treecloud9's MindStand Air has two goals: To securely mount your headset and to keep your desk cleaner. This VR headset stand is built from quality materials including stainless steel. It has four supportive ribs that follow the shape of most headsets including the Oculus Quest. The four rib system fits perfectly with the foam pads and is designed in a way to prevent activating proximity sensors. Once mounted MindStand Air provides protection from dust and direct sunlight on the lenses.
---
VeeR VR Headset Stand
The VeeR VR headset stand is universal and can host most of the headsets that are currently on the market. The stand is made of quality sturdy ABS, and it delivers on its primary task of keeping VR headsets organized. It is easy to assemble and comes with a one year warranty. The package includes the VR stand components, users manual and a VeeR VIP membership card. A possible problem for Quest owners is that there's only one space for a controller so any extras will have to be stowed separately. Other than that, it has very positive users feedback.
---
Oculus Quest Travel Case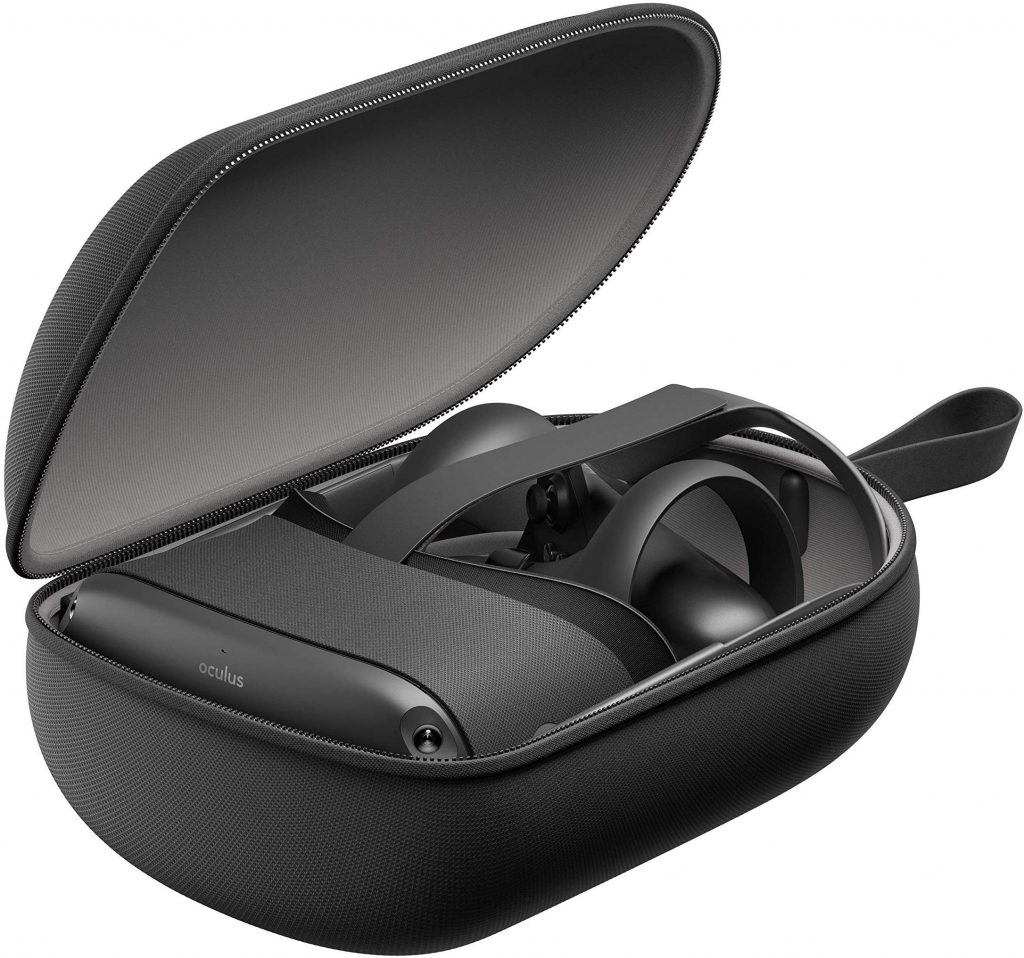 The Oculus Quest Travel Case is the first officially supported accessory available for pre-order on the official Oculus page. The travel case offers heavy-duty protection for your headset when you're on the go. The case has a soft shell, and it has room to carry the Oculus Quest headset, controllers, and the charge cable with adapter. The black case has a minimalistic design and it comes at a reasonable price.
---
Navitech Black Heavy Duty Rugged Hard Case/Cover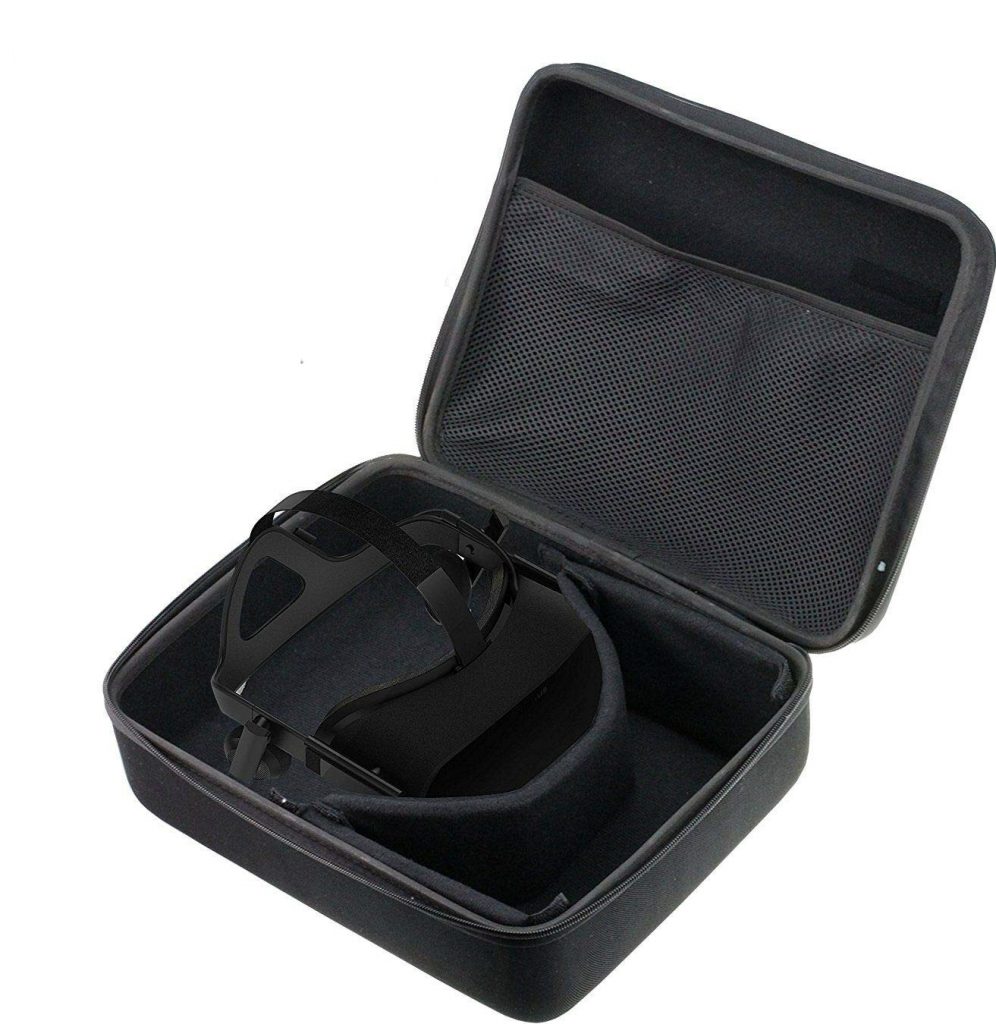 Navitech jumped in early into the VR headset accessories market, offering outstanding cases and backpacks for most popular devices. This Navitech Black Heavy Duty Rugged Hard Case/Cover comes with a shoulder strap so you can carry it over your shoulder. It has a poly fiber design for maximum protection, along with a mesh pocket for cables and other accessories. The main storage space can handle your headset, controllers, and cables.
---
Navitech Rugged Grey Backpack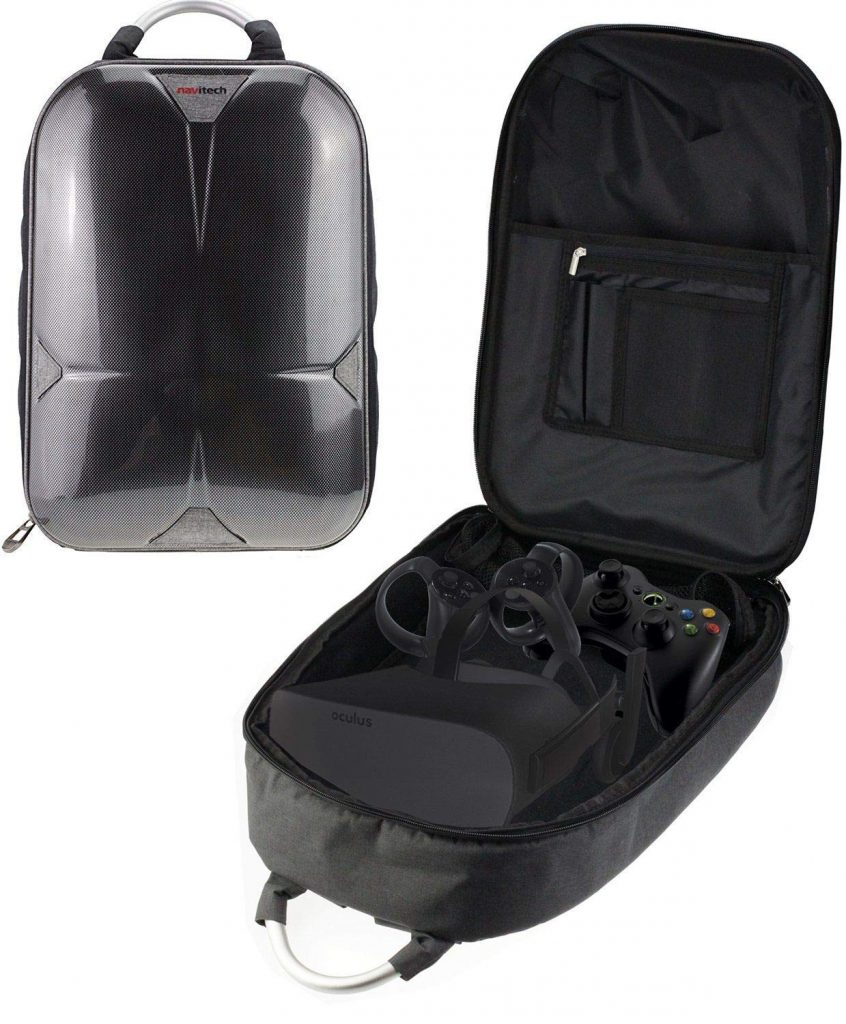 Similarly to the hard case/cover, the Navitech rugged grey backpack has one duty, and that is the protection of the headset during transport. It has interchangeable storage parts for the headset, controllers, and cable. This backpack is compatible with Oculus Quest, but it is not specifically designed for a new headset. 
---
Other notable accessories
We can probably expect more Oculus Quest add-ons after the official product launch. One of the devices that got support for Quest is the Mamut Apto VR Gun Stock. This is a custom controller for shooters, and it can give you a feel of a rifle in the hands, so it enhances the experience and immersion in the virtual reality.
The Feelreal VR Mask will provide even more immersion with its multisensory features. Still, in the pre-order phase, the mask add-on will provide the smells, the heat, the wind, the vibration, and the water mist. The price tag of $299 is close to the price of Oculus Quest, but if it does what is advertised, this could be the best accessory out there.
Bottom line
Oculus Quest is stepping in the right direction. The standalone device offers a sensational VR experience, maybe even good enough to stop considering buying PC powered high-end headsets. With the library of 50 games, OLED displays, a lightweight design and 6dOF without wires, the Quest can challenge the immature VR market with unique and immersive enough offer that is affordable and mobile.