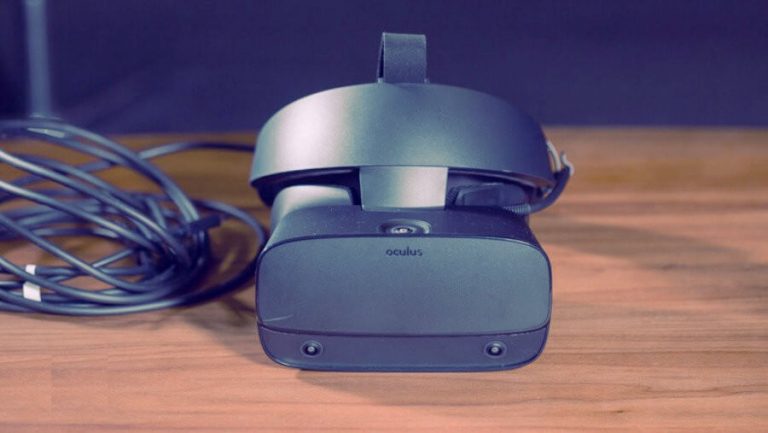 The second generation of Rift VR headset brought some significant changes, but it is still a tethered device that relies on powerhouse PC for stunning VR graphics. The successor came three years after the original Oculus Rift, and the situation on the market is different with a lot of competitors having similar devices. One of the most significant drawbacks of tethered devices is a cable connection that limits the feeling of freedom while enjoying virtual reality. There is a way around it or a way to improve the degree of mobility and free moving. The answer is in extension cables. Before diving into best extension cables, let's take a look at what Rift S headset offers.
Oculus Rift S features and specs
The most significant change to the original Rift is in the screen resolution. Oculus Rift S has 1280×1440 pixels per eye compared to 1200×1080 in the first Rift. This is a pretty standard resolution for VR headset, with the competition offering the same resolution and higher refresh rate. Rift S has 80Hz compared to the most headset that features 90Hz and Valve Index with a 120Hz refresh rate. Besides the decision, the Rift S changed the type of display from OLED to LCD, which helps with the screen door effect.
Visually, Rift S looks a bit like Playstation VR, and there are some influences of Mirage Solo device. Chinese powerhouse company Lenovo was the first choice as the manufacturer of the new equipment. Instead of three head straps, Oculus Rift S has a halo-style ring with the wheel at the back for adjusting the headband.
Rift S is comfortable, and compared to the original Rift, another difference is the glasses that come without a physical adjustment for the distance between lenses. The company claims that software adjustment makes up for the adjustment process. There is a button for sliding the distance between eyes and screens, so the headset is suitable for customers with glasses, and there is a lot of space.

Oculus Rift S tracking system and setup
With the new Rift S, Oculus delivered a new tracking system. Inside-out tracking doesn't require external sensors, which in start offers more freedom but also less precision than with the base station setup. Oculus Rift S uses five cameras on the headset that track controllers and head movement with computer vision. You will have full room-scale tracking and six-degrees of freedom. There is no need for complex setup with cables and sensors all over the room. Rift S touch controllers are entirely the same as Oculus Quest controllers with tracking ring on the top, excellent build quality. The controllers have thumbsticks, a grip button, and a button on the top along with the trigger.
You will need a DisplayPort and USB 3.0 cable. DP goes into a graphic card.
With no external sensors, the only limitation is the length of the cable connecting headset with the PC. The original cable is five meters long.
The setup process requires you to download the software, plug-in DP, and USB cable, and you are almost ready to go. Before starting the VR adventures, you need to set up the boundaries of the gaming space. Rift S, thanks to his cameras has a passthrough option so you can see the real world and avoid running into sharp furniture pieces.
The best Oculus Rift S extension cables
Oculus Rift S uses two wires, DisplayPort and USB 3.0, and although new Oculus has longer 5m cable, there is still a need for extensions.

Oculus Rift S DisplayPort extension cables
Due to cable restrictions of both DisplayPort and USB 3.0, the maximum extended length should be 3 meters. For DisplayPort, you should plug the male DP cable end into the female end of the extension cable, and the other part of the extension goes into your gaming PC. Here are our top picks for extension cables.

Rankie DP Extension Cable,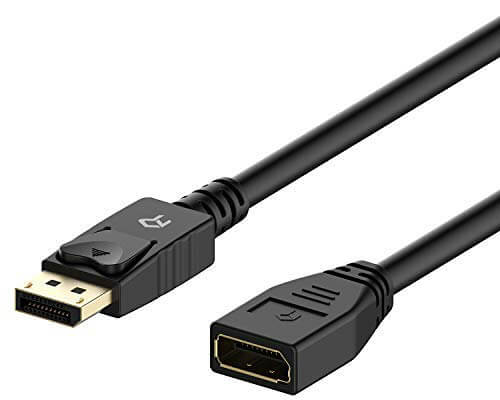 Rankie DisplayPort male to female extension cable is trendy among the VR enthusiast communities. It offers six feet extension and can transmit high definition audio and video signal. It supports up to 4K 3840×2160 and audio pass-thru including uncompressed multichannel signals. This cable has proven record for extending VR headsets. It has gold-plated connectors, bare copper conductors and foil, and braid shielding. Rankie DP Extension Cable has excellent reviews and the price tag of 7.99.

---
Cable Matters DisplayPort to DisplayPort Extension Cable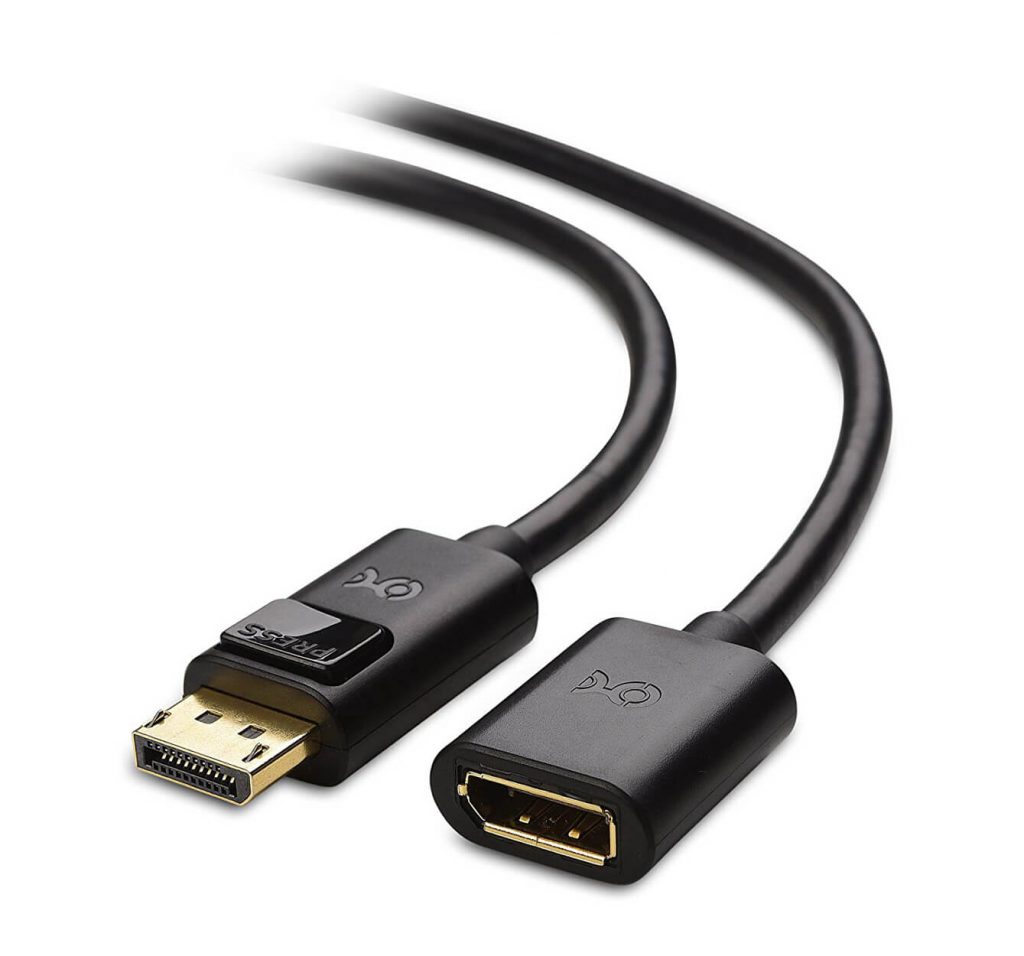 Cable Matters DisplayPort to DisplayPort Extension Cable is 10 feet long which is close to the maximum of recommended extension range. Just like Rankie cable it has gold-plated connectors, bare copper conductors and foil, and braid shielding. The cable supports up to 4K resolution. Cable Matters 10 feet cable goes or $11.99, and has overwhelmingly positive reviews.

---
Oculus Rift S USB 3.0 extension cables
The setup for USB 3.0 Type-A extension cable is similar to DP. You will need to plug the male USB-A cable room the Rift S to the female end of the extension cable, and then plug USB-a cable to PC.

UGREEN 2 Pack USB Extension Cable USB 3.0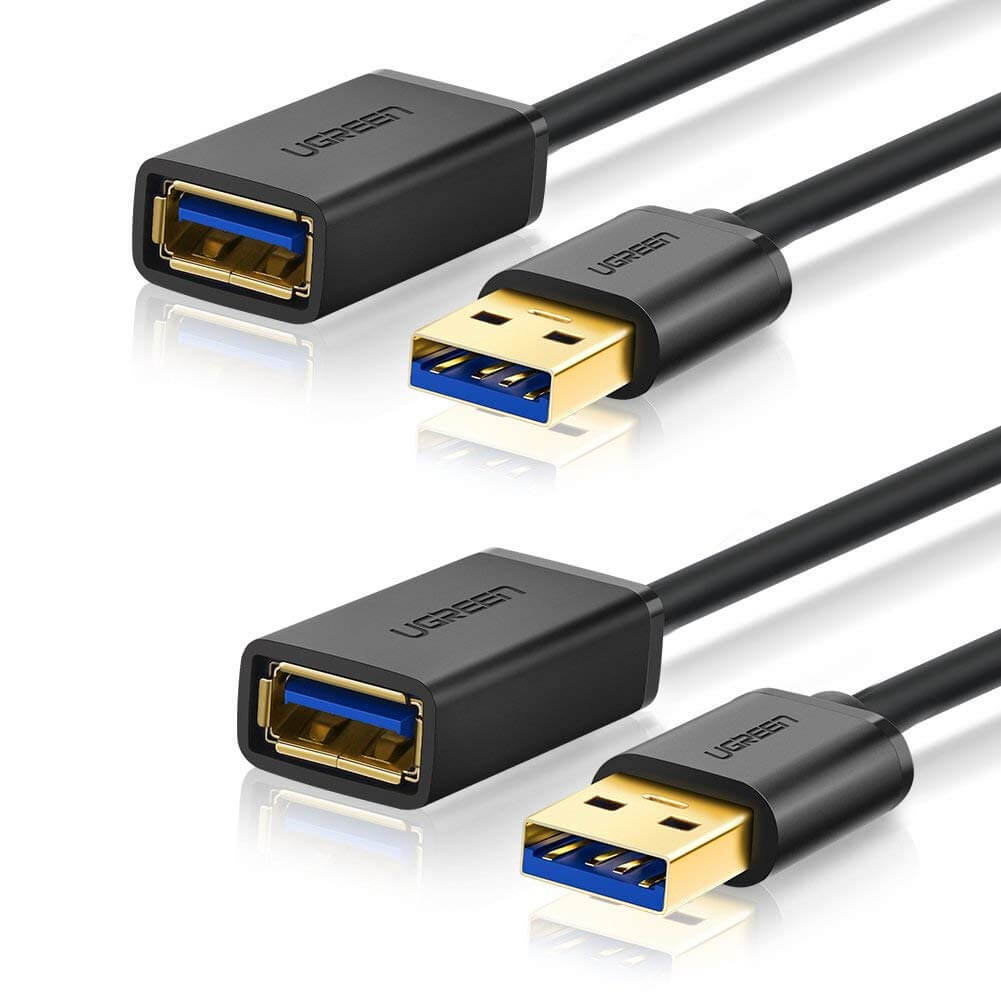 UGREEN 2 Pack USB extension cable USB 3.0 is Type-A male to A female type of cable. The length of the extension is 6ft/1.8m. The extender supports high-speed data transfer up to 5Gbps. Technical specifications include metal wire braid, gold-plated connectors, and anti-abrasive plastic case.

---
Cable Matters USB to USB Extension Cable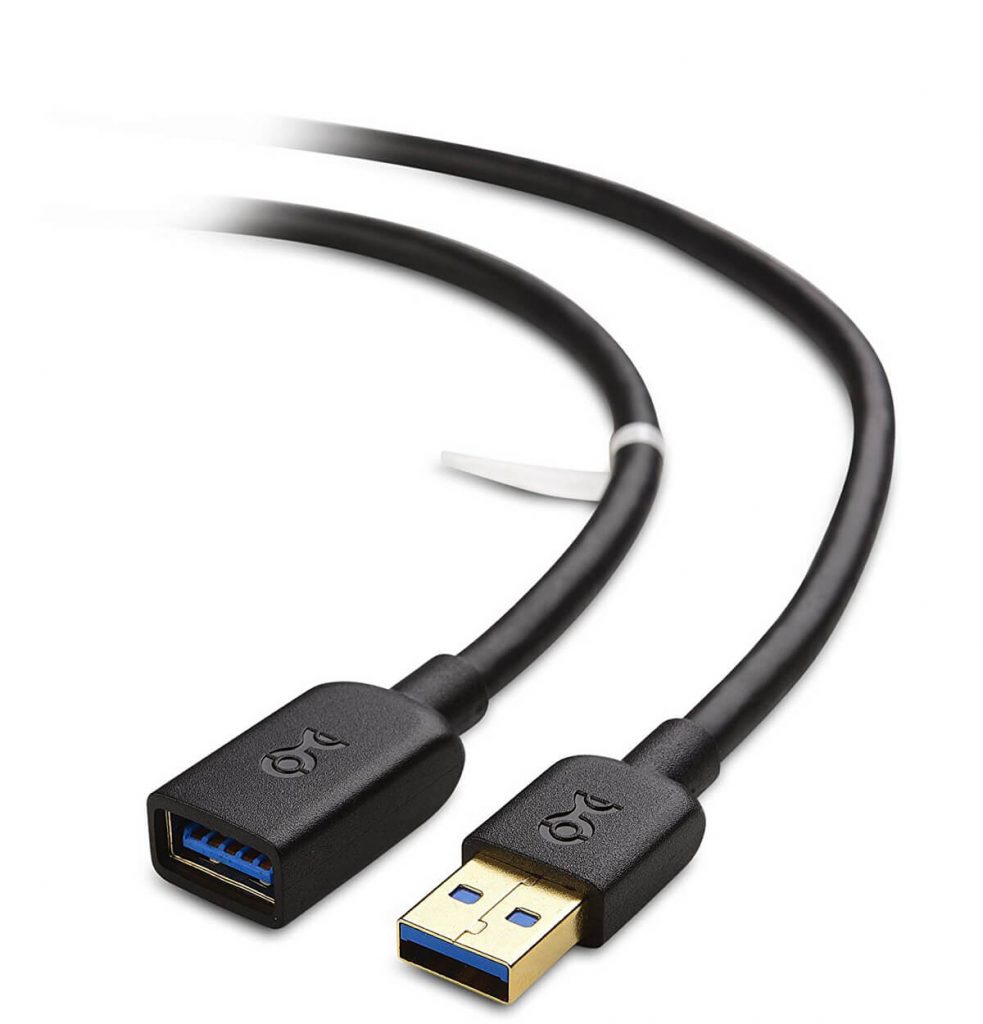 Cable Matters USB to USB Extension Cable is a premium USB 3.0 repeater cable that has gold-plated connectors and foil & braid shielding. For $7.99, Cable Matters USB 3-.0 extender offers up to 5Gbps of data transfer needed for VR performance. Users are almost entirely positive in their reviews, and this is one of the cables checked with Rift S in a real test environment.

---
AmazonBasics USB 3.0 Extension Cable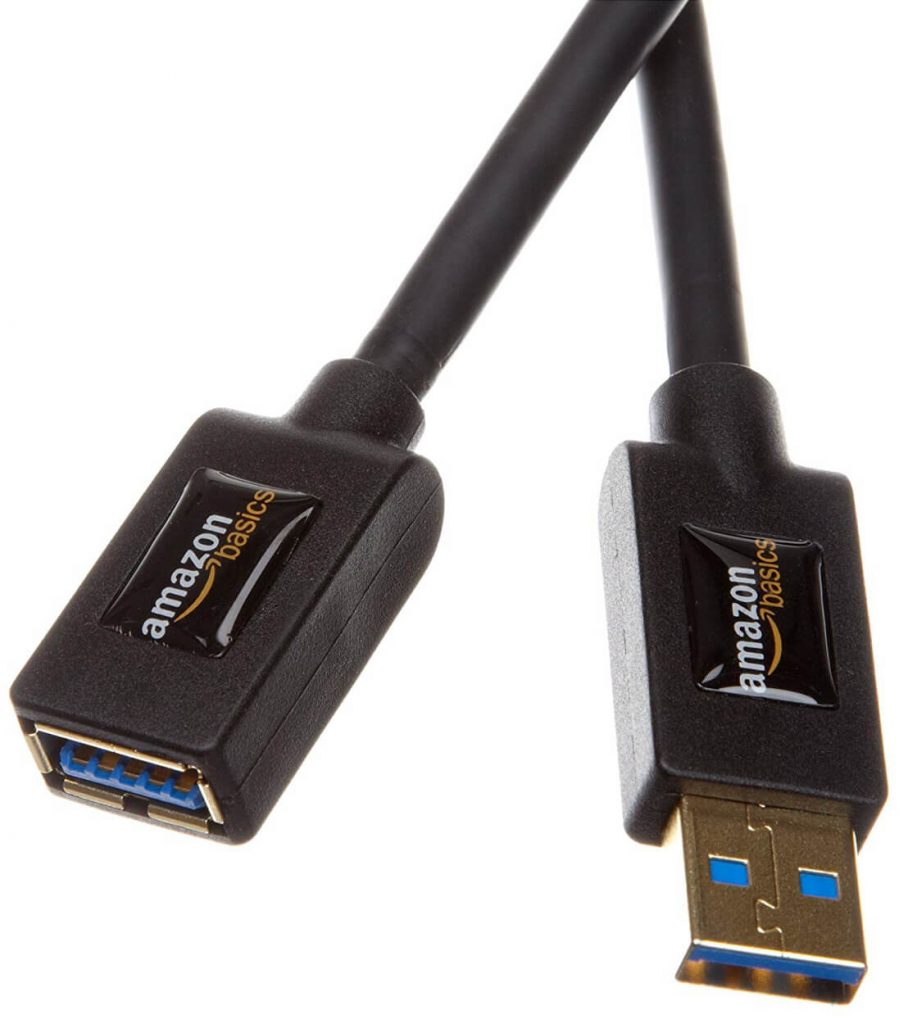 AmazonBasics USB 3.0 Extension Cable is A male to A female adapter cord with a maximum recommended length for this technology of 9.8 feet/3 meters. The cable comes with corrosion-resistant, gold-plated connectors. It has protection from electromagnetic noise and can handle up to 4.8Gbit/s. The price is very competitive at $6.99.

---
WEme USB 3.0 Extender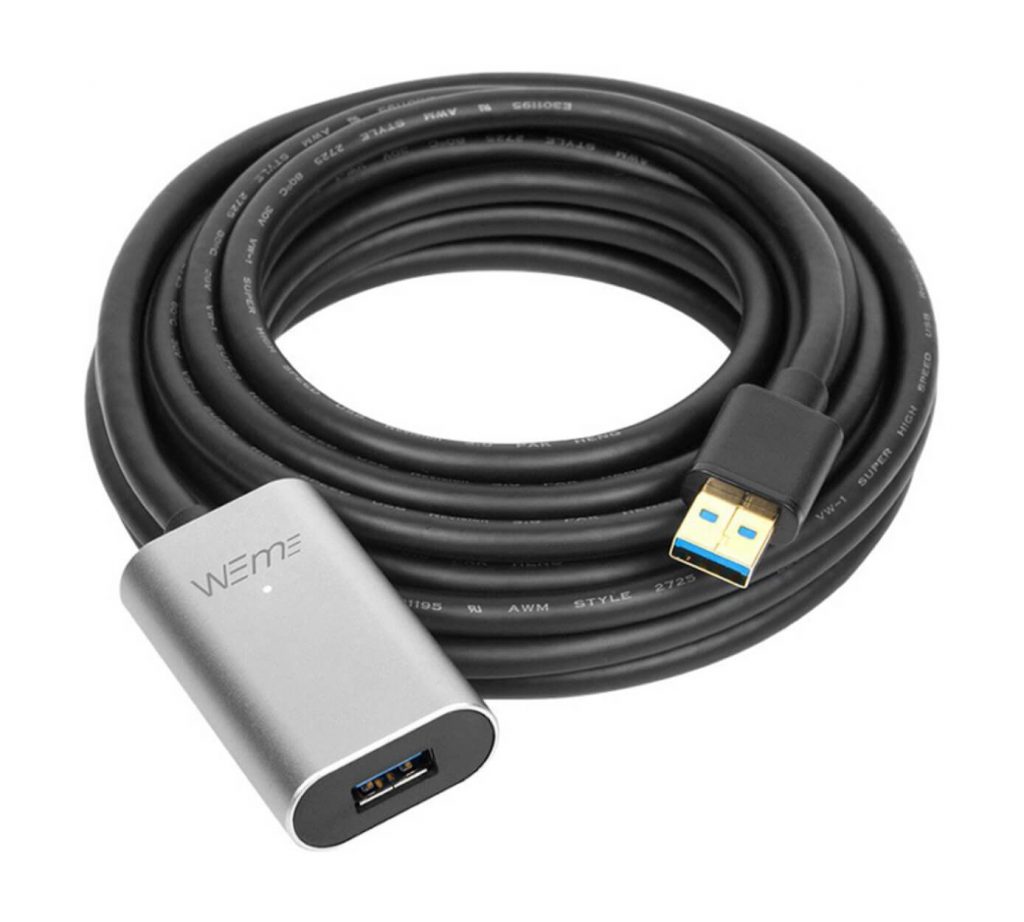 WEme USB 3.0 extension cable has Type-A male to a female cord which is compatible with most VR headsets. For $13.59 this cable offers 16.4 feets/5 meters of extension, which is slightly above the recommended maximum length. It has integrated amplification chipset to ensure the signal reaches without loss. Cable has data transfer speed up to 5Gbps, it is designed with aluminum alloy housing, gold-plated connector design. Positive reviews and pricing are the strong points of WEme.
---
Conclusion
Oculus Rift S changed the tracking system, which automatically enabled more freedom. Without outside sensors, moving through VR is freer, but there are some other drawbacks, and accuracy of the tracking is on top of the list. Although there are no more sensors, Rift S is still tethered to your gaming PC. To get better immersion and more freedom when playing, the most comfortable choice to buy extension cables. We found the best DisplayPort and USB3.0 cables for your Oculus Rift S.