The original Rift hit the market in March 2016, it was the result of 4 years of development. This version of the Rift was produced for 3 years, being replaced in March 2018 with the second generation of Rift VR headset, the Rift S.
The Rift S has seen some significant changes, but, it remains wired, you'll need to connect it to a suitable PC to appreciate the VR graphics and experience. 
The Rift S faces competition from several other virtual reality devices, including the Oculus Quest, which is wireless. This is the biggest issue with the Rift S, being wired limits the feeling of freedom while enjoying virtual reality. Fortunately, there is a way around it or a way to improve the degree of mobility and free moving. The answer is to use the best Rift S extension cables possible. 
Before diving into the best extension cables, let's take a look at what Rift S headset offers.
Oculus Rift S features and specs
The most significant change to the original Rift is in the screen resolution. Oculus Rift S has 1280×1440 pixels per eye compared to 1200×1080 in the first Rift. This is a pretty standard resolution for VR headset, with the competition offering the same resolution and higher refresh rate. Rift S has 80Hz compared to the most headset that features 90Hz and Valve Index with a 120Hz refresh rate. Besides the decision, the Rift S changed the type of display from OLED to LCD, which helps with the screen door effect.
Visually, Rift S looks a bit like Playstation VR, and there are some influences from the Mirage Solo device. Chinese powerhouse company Lenovo was the first choice as the manufacturer of the new equipment. Instead of three head straps, Oculus Rift S has a halo-style ring with the wheel at the back for adjusting the headband. 
Rift S is comfortable, and compared to the original Rift, another difference is the glasses that come without a physical adjustment for the distance between lenses. The company claims that software adjustment makes up for the adjustment process. There is a button for sliding the distance between eyes and screens, so the headset is suitable for customers with glasses, and there is a lot of space.
Oculus Rift S tracking system and setup
With the new Rift S, Oculus delivered a new tracking system. Inside-out tracking doesn't require external sensors, which in start offers more freedom but also less precision than with the base station setup. Oculus Rift S uses five cameras on the headset that track controllers and head movement with computer vision. You will have full room-scale tracking and six-degrees of freedom. There is no need for a complex setup with cables and sensors all over the room. Rift S touch controllers are entirely the same as Oculus Quest controllers with a tracking ring on the top and excellent build quality. The controllers have thumbsticks, a grip button, and a button on the top along with the trigger.
You will need a DisplayPort and USB 3.0 cable to use the Rift S with your PC. The DisplayPort goes into a graphic card. 
With no external sensors, the main limitation is the length of the cable connecting headset with the PC. The original cable is five meters long. This sounds sufficient. However, in order to move around properly, you'll need plenty of slack. The cable has to travel from your PC to the floor and across the floor before going up to your headset. You'll lose at least two meters just from computer to floor and floor to headset. That gives you a three-meter movement range. 
That's why you need the best Rift S extension cables possible.
Let's take a look at what's on offer.
Firstly, you should note that the Oculus Rift S uses two wires, DisplayPort and USB 3.0, and although the new Oculus has a longer 5m cable, there is still a need for extensions. 
Oculus Rift S DisplayPort extension cables
The longer your DisplayPort or USB 3.0 is the more the signal will degrade. In fact, the maximum extended length should be 3 meters, giving a total of 8 meters. Anything more than this will cause problems with your virtual reality experience unless you have an inline booster. 
For DisplayPort you'll need to plug the male DP cable end into the female end of the extension cable, the other part of the extension goes into your gaming PC. Here are our top picks for extension cables.
Rankie DP Extension Cable,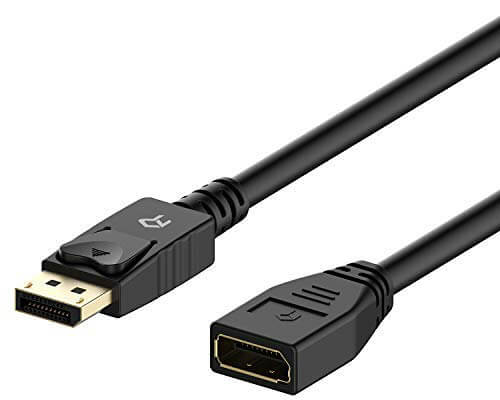 The Rankie DisplayPort extension cable has one male end and one female. It's a popular choice with the VR enthusiast communities because it's reasonably priced and effective. The cable is six feet long and can transmit high definition audio and video signal. It's designed to support up to 4K 3840×2160 and audio pass-thru including uncompressed multichannel signals That means you can use 2 channels, 5.1, o 7.1 surround. It's also good for 1080P (Full HD).
This cable has a proven record for extending VR headsets. It has gold-plated connectors, bare copper conductors, and foil and braid shielding. You'll also note the latched connector, the cable can't be removed unless you press the release button.
---
Cable Matters DisplayPort to DisplayPort Extension Cable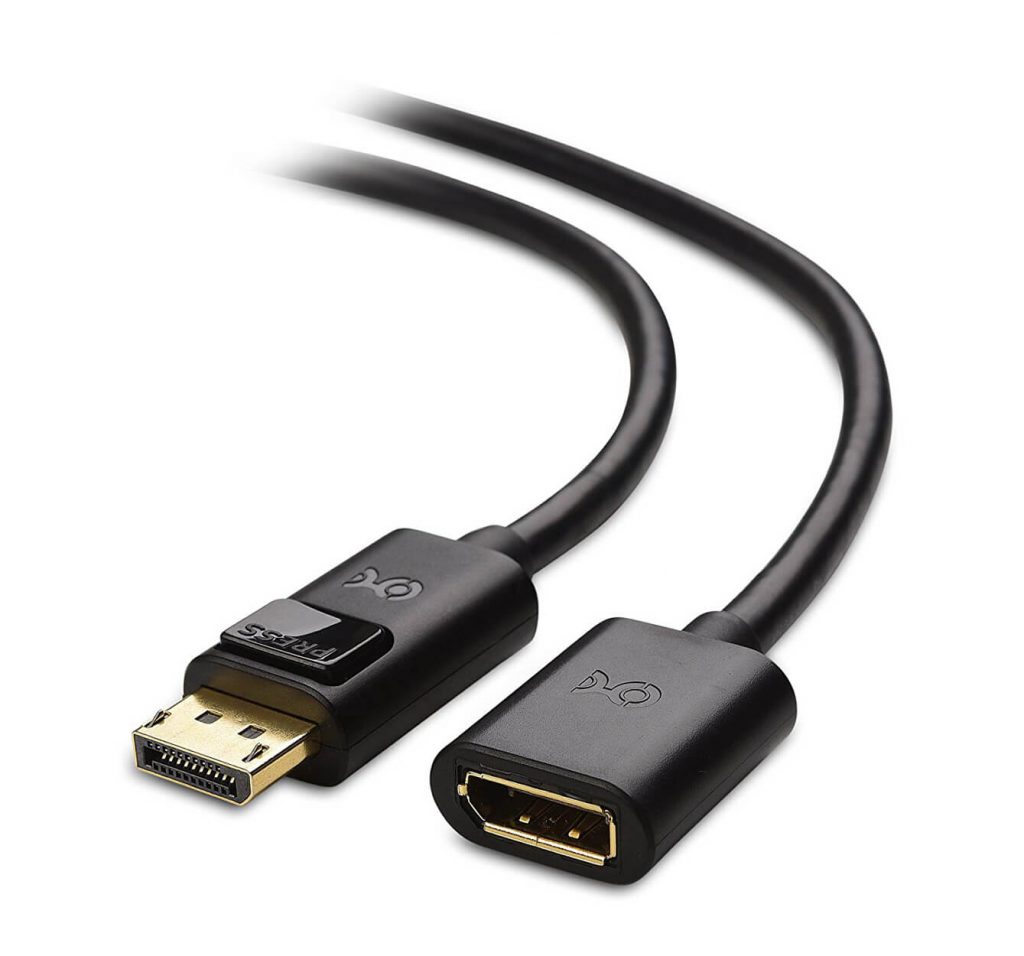 This offering from Cable Matters is 10 feet long, you can also get a 3-foot long option. Just like the Rankie cable it has gold-plated connectors, bare copper conductors, and foil and braid shielding. It also has one male and one female connector, making adding it your system exceptionally easy.
The cable supports up to 4K resolution, 3840 x 2160, and a variety of sound channels including 7.1, 5.1, and 2 channel. It will effectively carry your signal the extra distance while maintaining picture and audio integrity.
This cable is also latched to ensure it can't be pulled apart accidentally, you'll also note the molded strain relief plug. It's a good option and comparable in price to the Rankie offering. It also has a non-slip surface, making it easier to grab the cable when needed.  
---
Oculus Rift S USB 3.0 extension cables
The setup for USB 3.0 Type-A extension cable is similar to DP. You will need to plug the male USB-A cable room the Rift S to the female end of the extension cable, and then plug the USB-A cable into your PC.
UGREEN 2 Pack USB Extension Cable USB 3.0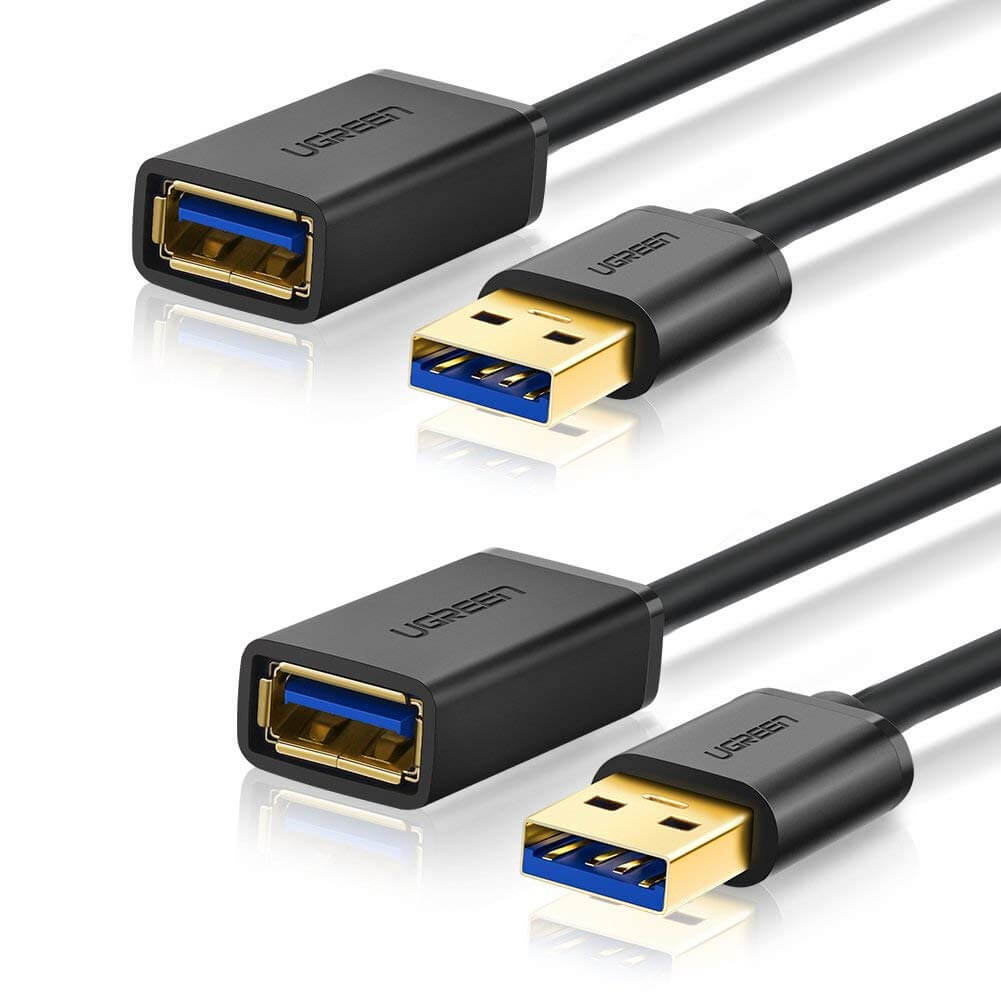 UGREEN 2 Pack USB extension cable USB 3.0 is a Type-A male to A female cable, providing an instantaneous plug-in connection. 
This extension cable is 6ft/1.8m long, although there is a second offering of 3ft/90cm if you prefer a shorter extension cable. The extender supports high-speed data transfer up to 5Gbps, that's as much as ten times faster than a USB 2.0 cable which makes a significant difference to the image quality when using your Rift S.
Technical specifications include metal wire braid, gold-plated connectors, and anti-abrasive plastic case. This protects the cable from interference by EMI or RFI. The metal braid ensures the cable is flexible but also durable.
In fact, it's tested to ensure it can be plugged in and out at least 10,000 times. It's definitely a viable choice when extending your Rift S.
---
Cable Matters USB to USB Extension Cable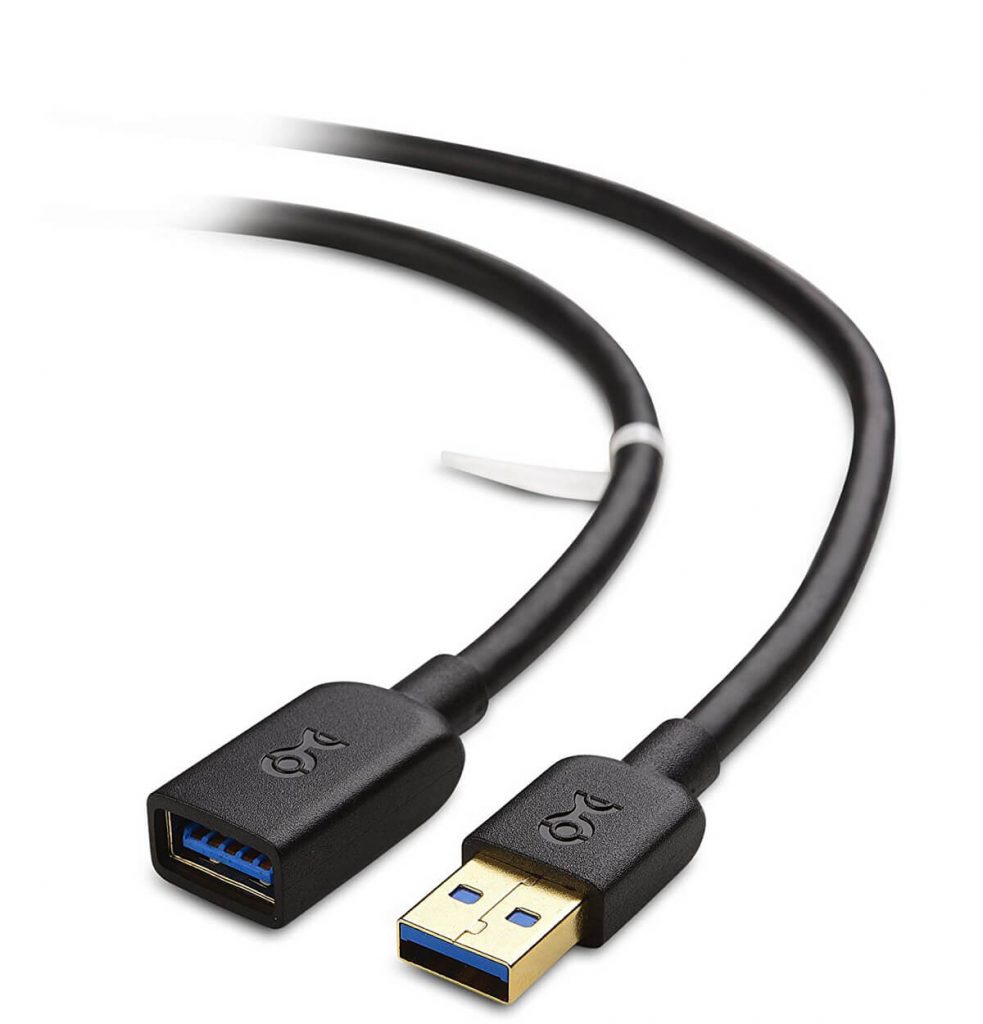 Cable Matters USB to USB Extension Cable is a premium USB 3.0 repeater cable that has gold-plated connectors and foil & braid shielding. For surprisingly little money this Cable Matters USB 3.0 extension cable offers up to 5Gbps of data transfer, you'll need that for optimum VR performance. 
It should be noted that this is 6ft long but you can purchase the same cable on 3ft or even 10ft. Although the longer cable is not recommended. 
The majority of users have positive experiences to report. Interestingly, this is one of the cables checked with Rift S in a real test environment.
This cable also benefits from molded strain relief connectors, grip treads to facilitate plugging and unplugging, and premium engineering to ensure durability.
It has gold-plated connectors, bare copper conductors, and foil & braid shielding. In short, everything you need to maintain a high-quality signal.
---
AmazonBasics USB 3.0 Extension Cable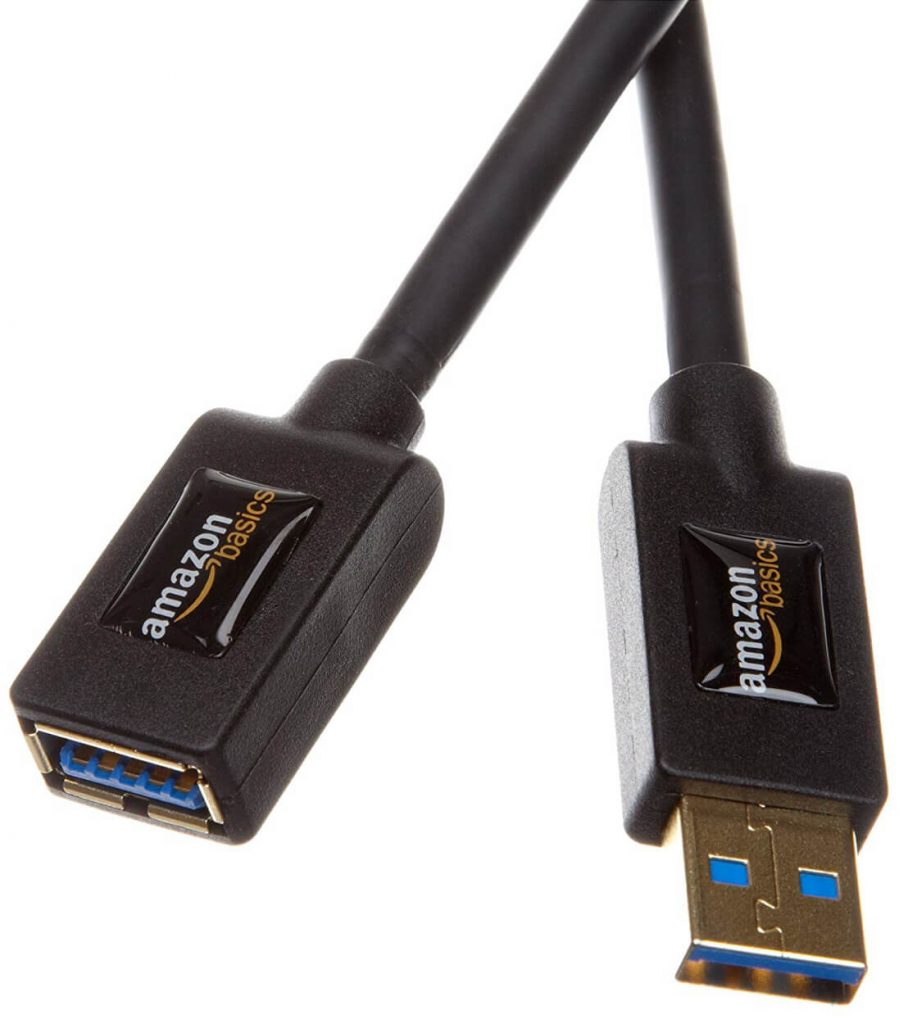 AmazonBasics USB 3.0 Extension Cable has the necessary male to female ends with a maximum length of 9.8 feet/3 meters. That will ensure your passive signal remains powerful enough to allow you to enjoy the gaming experience.
The cable comes with corrosion-resistant, gold-plated connectors to provide the best possible signal quality. It also has protection from electromagnetic noise and can handle up to 4.8Gbit/s. 
The cable also insulates against radio frequencies, helping to make sure you're signal is undiluted between your PC and your Rift S headset.
It's a simple piece of kit that does the job you need it to do, for a very affordable price. In fact, you'll be hard-pushed to beat this cable.
---
Cable Matters DisplayPort Repeater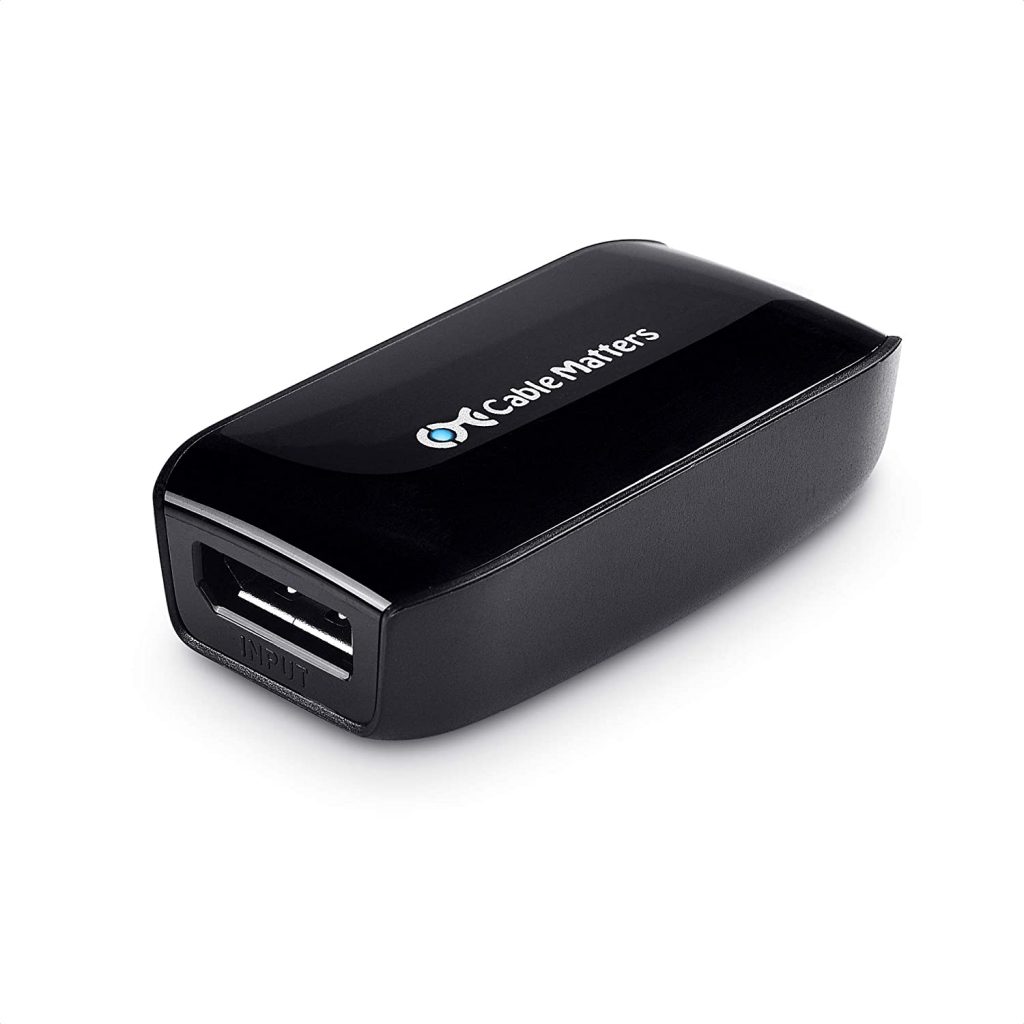 This small black box from Cable Matters is the perfect solution if you need more cable than the recommended 6ft. It is designed to connect to your DisplayPort extension cable and boost the signal. This increases the distance the signal can travel, allowing you even greater game freedom.
It's designed to allow the extension of DP cables to 32 feet without losing signal quality. It supports high-bandwidth and 32.4Gbps. The signal remains strong enough to provide 8K video, that's 7680×4320. It will also support 5k, 4K Ultra HD, and Full HD.
It's effective but it does require an external power supply. You'll need to consider this when positioning your repeater.
---
Conclusion
Oculus Rift S changed the tracking system, which automatically enabled more freedom. Losing the outside sensors allowed easier movement through the VR experience. But, there are some other drawbacks, and the accuracy of the tracking is on top of the list. That's something that is likely to be addressed in the next version!
Despite the lack of more sensors, the Rift S remains tethered to your gaming PC. To get better immersion and more freedom when playing, you'll need to invest in the best Rift S extension cables. 
Fortunately, we've done the hard work for you. Simply choose your preference from the list above and purchase the best DisplayPort and USB3.0 cables for your Oculus Rift S. It may be the best decision you ever make!