If you've tried the Oculus Quest you don't need convincing that it's one of the best virtual reality headsets currently available.
Of course, everything can be made better! The right accessory can make a huge difference to the way you play and your results. Whether you need a travel bag for your Quest or the best possible headphones, you'll find something to benefit your gameplaying style.
Assuming you play shooting or sniper games then the one accessory you simply must have is a gunstock.  There are several options to choose from. But, whichever one you choose, you're almost certain to find your gameplay improving.
Unfortunately, there are a limited number of gun stocks currently available. As the Quest and virtual reality grow in popularity this is likely to change. However, just because there aren't many in existence doesn't mean you can't or shouldn't pick one up. There are still several great choices on the market with positive reviews. 
Considerations Before Choosing An Oculus Gun Stock
There are several things that you must consider if you want to choose the very best gunstock for your needs.  Don't forget, this is an investment in yourself, the budget option may not be the best one!
While the cost of the gunstock should not be the driving factor behind your decision, it is a factor. Consider the funds you have available and how much the gunstock you want is. If it's more than you have then look at the next one down, it may have similar features.
Naturally, if your heart is set on a specific gun stock you'll need to find the extra money.  You can always earn some extra funds live streaming your gameplaying experience, there are almost certain to be some people who will want to watch you, regardless of how good, (or bad), you are.
Perhaps the most important part of your search of a Quest gun stock is to consider who manufactured the gunstock and how good their reputation is. The better known the product, the more likely it is to be reliable and durable. 
However, even the biggest manufacturers can get it wrong. That's why you need to verify their reputation. Take a look at social media and online gaming forums. You'll discover honest opinions regarding the gunstock. 
It's unlikely they will all be positive but negative comments should be studied. The nature of the issue and the way the complaint is handled by the company can tell you a lot about the company and the gunstock. It will help you to make the right decision. 
As well as the reputation and comments y other users, don't forget to ask people about how comfortable the gunstock is. If you're playing for an extended period comfort will be everything. 
Designed For Oculus Quest
There are gun stocks designed for other virtual reality devices that your Quest will be compatible with. This doesn't mean they are a perfect fit or that everything will work as you expect.
It's best to choose a gun stock that is designed for the Quest, this will provide the best possible gaming experience. 
Let's take a look at the gun stocks on offer.
MagTube VR Rifle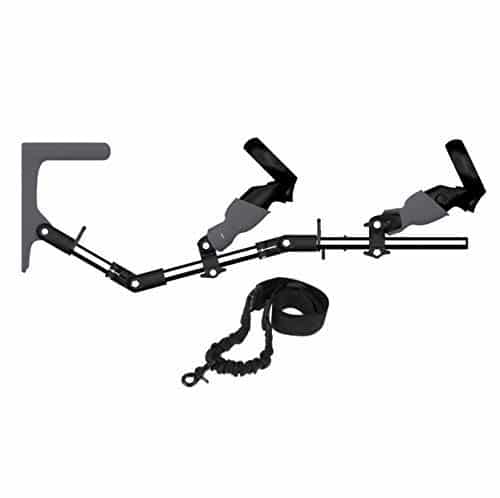 This gunstock from MagTube is an impressive piece of kit and is designed exclusively for the Quest and the Rift S. It's designed and created by ProTubeVR, a company that specializes in designing and manufacturing accessories for VR devices. You may have heard the name before as they have been linked with the VR Master League and E-Sport League for the last 3 years.
The Magtube VR Rifle has an articulated frame, allowing you to set your rifle in seconds and virtually effortlessly reload or throw a grenade. It will make the game feel even more personal, especially as you will feel you're actually holding a rifle. The controls are intuitive, boosting your precision, ability to reload quickly, and even the speed at which you shoot.
It's equipped with MagCups allowing almost instantaneous attachment or disconnection between the gunstock and your Quest controller. Using it will seem very natural.
The gunstock comes with three chrome tubes, a 3D printed stock, two 3D printed MagCups, a one-point sling, two wrist straps, and all the instructions you need to assemble and use. It's as easy as connecting the tubes and sliding your hand controllers into position, then just pick it up and hold it like a rifle.
It's potentially the best VR experience you'll have.
---
Lichifit Professional VR Gun Stock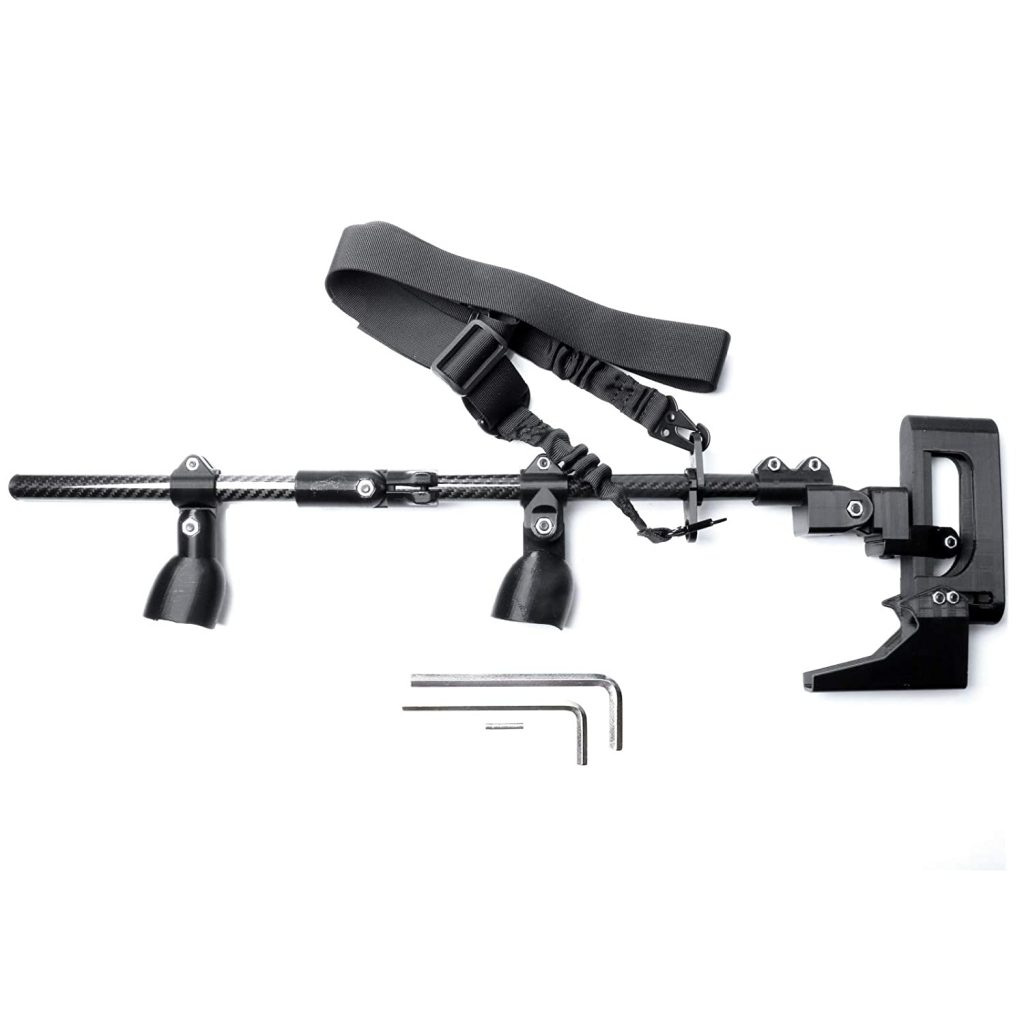 The Lichifit Professional is a good option if you're looking for a budget gun stock. It should be noted that this offering from Lichifit doesn't generally receive the high level of positive feedback that the Magtube gets. 
This gunstock looks more like a traditional rifle before you add the controllers. It has a long straight barrel with a shoulder stock, giving maximum comfort while shooting. There is also a single shoulder strap to help ensure it stays with you, even if you have to carry it while running. 
The Lichifit has an adjustable tailstock, this can be done in real-time, as you play. That will increase your accuracy and help to ensure the gunstock is comfortable according to your shooting stance. This is what makes it perfect for shooting games and RPG. 
The materials are high-quality and easy to look after. It comes with full instructions to put it together and you'll find that you can quickly take it apart. That's useful if you're traveling with it.
It's worth noting that it weighs just 1.24 pounds, that's light enough to be virtually unnoticeable. 
---
Color Tree Double Handle Bracket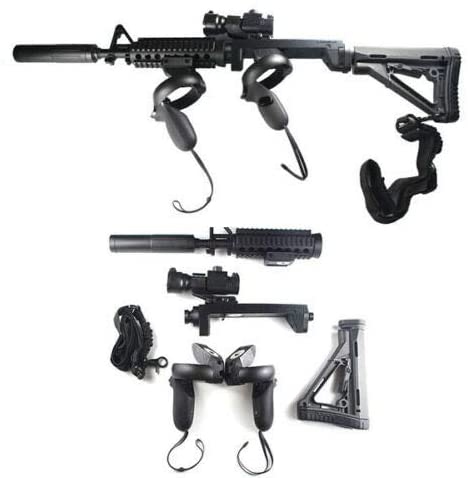 This offering from Color Tree is currently unavailable but likely to be back in stock soon. It's actually created with a 3D printer and looks like the real thing. The main body is realistic and appears to have a silencer on the end of it. On the top you'll spot a simple sight, helping to ensure you're as accurate as possible. 
There are two controller holders under the gun. These attach via magnets. Simply slide the controllers into position and then pick up your gun, it feels like you're holding a rifle or perhaps even a machine gun.
It should be noted that, because this is 3D printed, some surfaces can have slight blemishes. However, this can contribute to the overall effect of the gunstock.  The gunstock comes with a shoulder strap, ensuring you can't accidentally drop the gun during gameplay. You will certainly notice the difference. 
It arrives in 8 pieces but is very easy to connect together, simply connect the body and buttstock before installing the fixed handle. Then tighten the screws to stop the handle falling off and add the gun body and head. The controller attachments are already fastened in position. Finish by adding the muffler and the sight, which may need some adjustment to your personal setting.
It is important to take your time putting the gun stock together as this will ensure it works properly. Users confirm this is durable and easy to shoot, making it a good choice.
---
Final Thoughts
Choosing the right gun stock is a big decision. It can make a huge difference to your ability to play and the final score in any game. That's why you should take the time to consider your options.
The ones on this list are excellent choices, although the Magtube is potentially as good as it gets. Speak to your friends and try out their gunstocks, if they have any. If they haven't then they'll soon want one after they try the one you've chosen.
Although there is not yet a huge range of gun stocks on the market, it's likely more will be arriving. If you're not sure which to go for and don't want to fork out on the Magtube you may wish to watch this space and choose a new design, when one arrives.
 Just remember, when you purchase the right gun stock you'll wish you'd done it much sooner. It really will transform your gameplay!