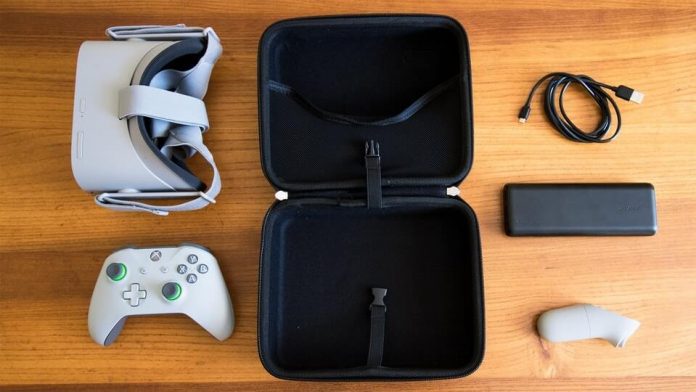 The era of standalone virtual-reality headsets is officially upon us! Oculus Go is the missing link between the high-end expensive VR headsets and the low-end mobile VR platforms. Oculus Go introduces the high-quality wireless VR experience, while also eliminating the necessity of having a beast PC in order to enjoy the virtual-reality to the fullest.
The phrase "standalone VR headset" might lead you to think that you won't really need any accessories for Oculus Go. However, there are a few Oculus Go accessories which make day to day user's experience even better.
1. VR Cover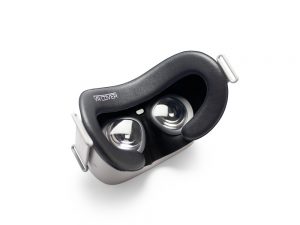 Oculus Go is already making a name for itself in the field of VR technology and is known for being the most comfortable headset on the market today.
But why not step it up a notch or two?
Take your experience to another level with this custom interface and foam replacement set. The interface is made in such a way to make it possible that you can attach and remove foam replacements with ease so that you can ensure that is better suits your face.
If you have used Oculus Go for an intense gaming (or VR adult experience wink, wink), you can agree that having a cover that will ensure that you don't sweat too much is a lifesaver.
The material is a high-quality PU leather for the outer surface and is especially soft on the skin and easy to wipe in between sessions with antibacterial wipes.
2. Anker Powercore 20100mAh Battery
The battery which the Oculus Go contains is a single 2600mAh battery, which can offer up to about two / two and a half hours of playtime. Charging time to battery life ratio is one of the few known issues of the Go. The Anker Powercore 20100mAh battery is a power supply containing six 3400mAh cells. Battery packs like this can often be found powering laptops. The Anker Powercore is connected to the Oculus Go via a USB port.
Two hours of watching time are not nearly enough for most people. You don't want to be interrupted while browsing through the kink section of the Internet. You find your preference and then are interrupted in the middle of the action (*cough, cough*) by the powering off Oculus Go.
Not fun at all.
If you are thinking about getting only one of the Oculus Go accessories from this list, this is probably the most essential of them all. This battery pack charges your standalone headset, keeping it topped up to 100% for an additional 14 hours. Combined with 2 hours that the battery incorporated in the headset provides, this adds up to 16 hours of straight games or movies! With these battery pack, you can rest assured that you will not be interrupted.
Check out Anker Powercore 20100mAh Battery on Amazon
3. Xbox One S Wireless Controller
To get the best out of some games and apps available for Oculus Go, you are going to need a controller different from the one which comes in the box. You want to make sure you get the right one, so have in mind that the original Xbox One Controller doesn't work, as it doesn't have Bluetooth. This is also the case with Xbox One Elite controller.
The grey Xbox One S Wireless controller, as seen in the image above, matches your Oculus Go perfectly. It looks almost as if it was made specifically just for the Go! The controller works best with games and apps such as KIN, BlazeRush, Oculus Arcade and many more.
Check out Xbox One S Wireless Controller on Amazon
4. HermitShell Hard Travel Case (medium)
One of the main advantages of Oculus Go is that it needs no cables whatsoever. This makes it viable for use on-the-go and quite practical if you travel a lot and want to carry your VR platform around with you.
You can fit all of the aforementioned Oculus Go accessories inside the hard travel case made by HermitShell (originally made for GearVR), along with the headset itself. It will ensure that your tech pieces remain undamaged during normal travel conditions. It is more than capable of taking a few hits!
The material lining clip inside the case keeps everything strapped down in place. The travel case also has the little net accessory compartment, however, you probably won't get to use it, since there will be little to none space left inside this compact case once you've fitted everything inside.
This hard travel case isn't completely waterproof but is water resistant to some extent. This means that if you get caught in a rain shower, your Oculus Go accessories will remain dry and undamaged.
Check out HermitShell Hard Travel Case on Amazon
5. Oculus Go Stand
The hard travel case can be used as the storage case as well, however, if you want to put it on a display, this universal VR stand is the right choice for you! The stand is made out of premium ABS plastic, stable and sturdy with a large round base.Check out Oculus Go Stand on Amazon
6. Micro USB Magnetic Cable for Oculus Go
As we already pointed out, the charge time to playtime ratio of Oculus Go isn't as optimal. Therefore you are going to spend a lot of time charging it via the micro USB connector. If you aren't familiar with these USB magnetic cables, these are invented by Apple way back, and you can usually find them on Mac laptops.
Micro USB magnetic cable is an alternative which will keep your Oculus Go charged and ensure it won't topple over if you trip over the cable. While this Oculus Go accessory isn't really a necessity, a micro USB magnetic cable is a neat product to have, both in terms of aesthetics, but also on the side of safety. It can also be used to charge other apple products.
Check out Micro USB Magnetic Cable for Oculus Go on Amazon
7. RAVPower FileHub Plus – video streaming device for Oculus Go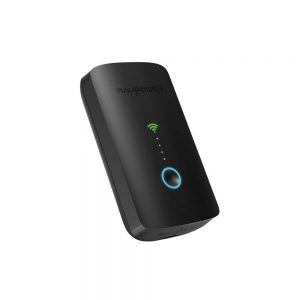 Now this piece of hardware is absolutely essential, essential I tell you if you wish to download and watch videos offline.
Since the Oculus Go only comes in 32GB and 64GB versions, downloading videos in high definition will quickly fill up the internal memory.
If you use Oculus Go for the purpose that it was made to do (porn, I tell ya), after a day or two of browsing through the websites and downloading the content you like, you will quickly max out the memory.
Have no worries, amigos, for I bring solutions to thee troubles.
Simply buy RAVPower off of Amazon and check out the section for watching videos offline in our article for the easiest way to watch adult videos on Oculus Go.