Let's assume you've treated yourself with a VR headset for iPhone. You have enjoyed some of the best VR apps and experiences, yet you get a feeling that when it comes to iPhone VR games, you are missing a crucial tool. The next logical step aiming to enhance the gameplay is getting an iPhone VR controller.
Playing iPhone VR games with a controller really takes it to the completely different level. Apple started its MFi program way back (Made For iPhone/iPad/iPod), a certification program for hardware, which includes external controllers too. So let's take a look at some of the MFi certified best VR controllers for iPhone and gamepads!
SteelSeries Stratus Wireless Gaming Controller for iPhone
SteelSeries Stratus controller for iPhone, despite the fact that it is very small (2.4 x 4.3 x 1.3 inches), packs a powerful punch in terms of real gaming experience! The compact design allows portability, so you will be able to easily carry it along with your other Apple devices. SteelSeries Stratus VR iPhone controller comes at a reasonable price too.
Pressure sensitive buttons and analogue controls do the best to emulate the console feel. Intuitive controls make the transition to mobile gaming effortless. Wireless connection is established via Bluetooth, and while the product is small enough to be easily portable, it is still large enough for you to hold and manoeuvre. Buyers confirmed that the SteelSeries Stratus worked brilliantly even with the iPhone X, therefore you shouldn't worry about compatibility with latest iOS updates. It comes in two colors, white and black. The choice is all yours.
Check out SteelSeries Stratus on Amazon!
SteelSeries Nimbus Wireless Gaming Controller for iPhone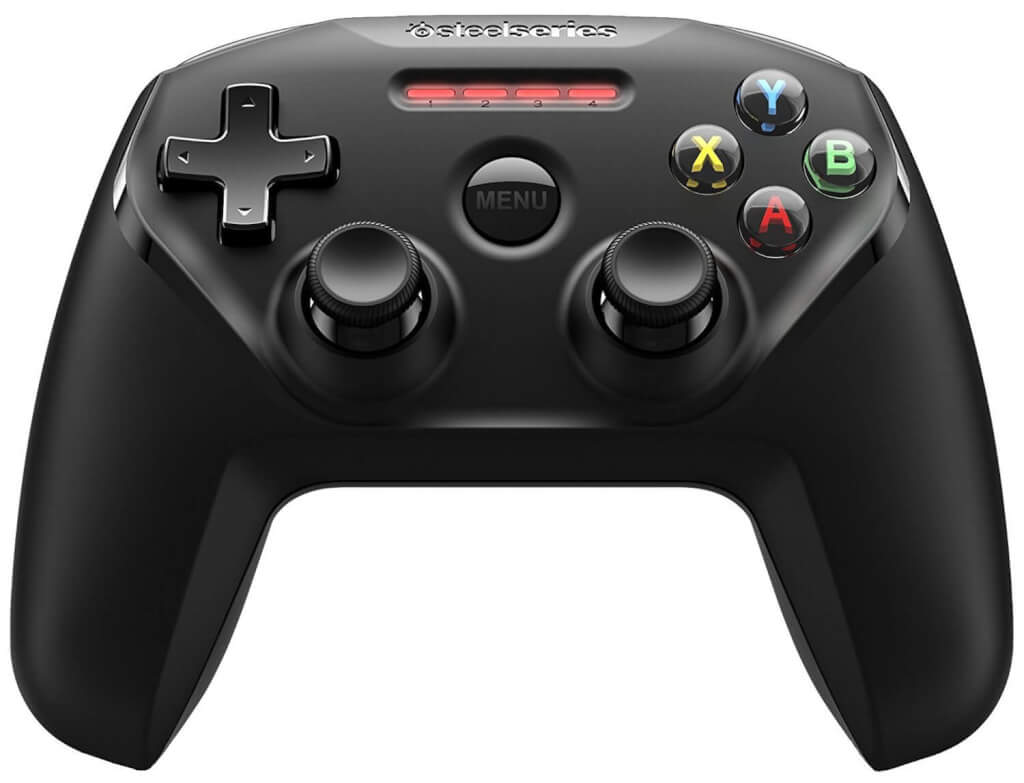 If you aren't really into small and compact controllers, SteelSeries Nimbus is built as a regular size gamepad. Once again, this iPhone controller is MFi certified, it comes with Bluetooth 4.1 with an approximate battery life of over 40 hours. The time it takes to fully charge it is around ~2 hours.
The SteelSeries Nimbus provides an authentic console-like feel, featuring 2 analogue sticks and pressure sensitive buttons. Same as the Stratus, it comes in both black and white colors. What singles Nimbus out from the competition is the Nimbus Companion App, the free app which gives you access to charts of top free and paid games which are compatible with this device.
Check out SteelSeries Nimbus on Amazon!
Apple Certified Mad Catz C.T.R.L.i iPhone Controller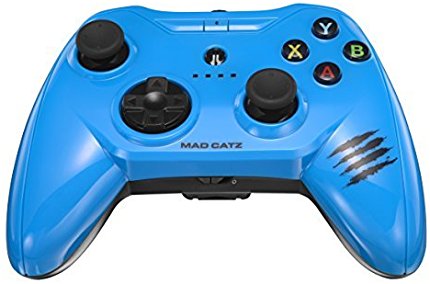 The whole idea behind wireless iPhone controllers is to make mobile gaming more comfortable for the user. If you ever used the Xbox One Controller, the Mad Catz Micro C.T.R.L.i will make you feel like at home. The components include analogue sticks, triggers and action buttons. All of the buttons and controls work smooth, however pressing them sounds a bit louder than expected.
Bluetooth connection is established easily with your iPhone or iPad. The product features AA batteries which offer up to 40 hours of unobstructed gameplay. It comes in glossy colors – blue, orange, red, white and black. This may be the only thing you'll dislike about it since fingerprints often tend to stick to glossy surfaces, and if your hands sweat a lot while playing, it may become a bit slippery.
All things considered, Mad Catz C.T.R.L.i brings mobile gaming controls as close to those of console gaming as possible. It will definitely help you bring the VR mobile gaming and experiences to a much deeper level.
Purchase Apple Certified Mad Catz C.T.R.L.i iPhone Controller via Amazon
Megadream Apple MFi Certified 

Gamepad Joystick Controller for iPhone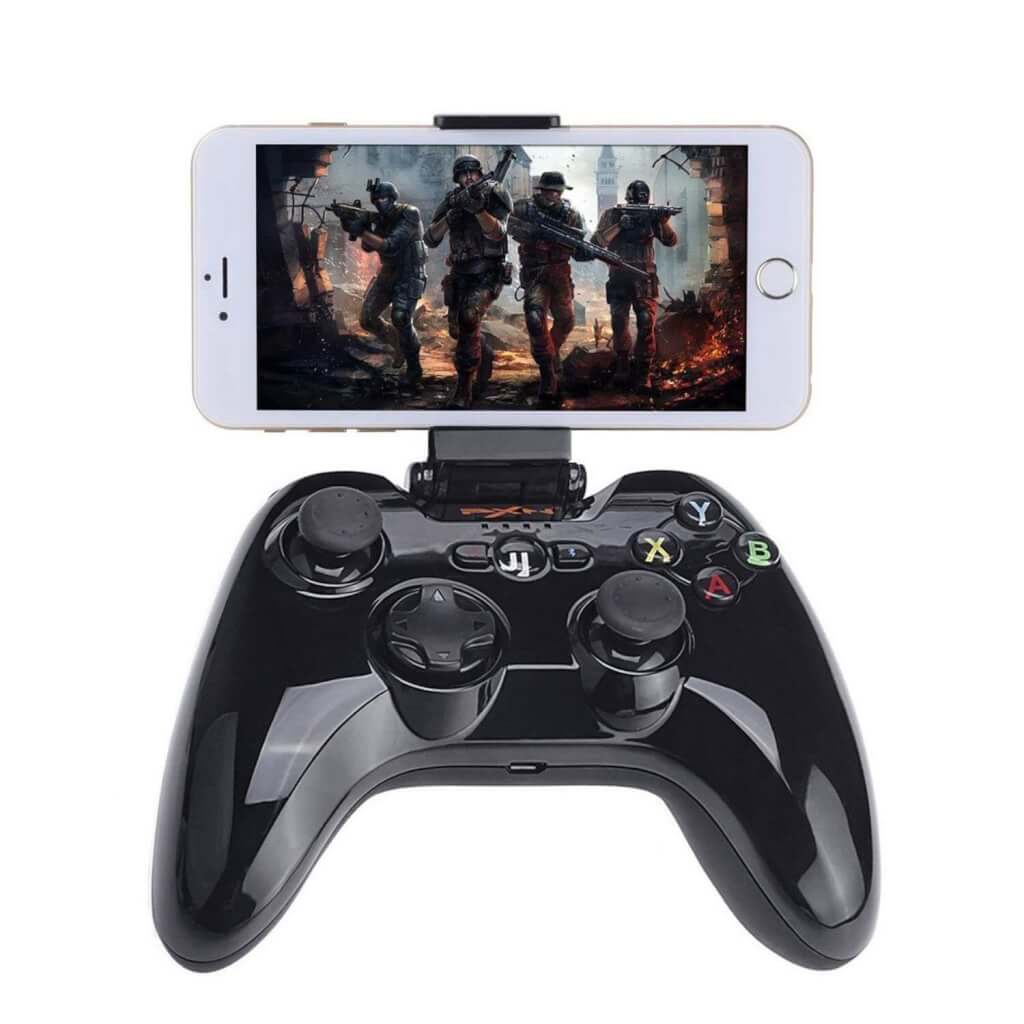 Megadream came up with another Apple MFi certified game controller for iPhone which works perfectly with the latest iOS versions and Apple devices. Once again, if you are an Xbox player, this one is a no-brainer.
It is compatible with a variety of controller games which are available on App Store. The finishing is done with high-quality rubber oil, which ensures comfortable and smooth feel. Additionally, it is durable to scratches and ensures a tight, no-slip grip. The build quality is more than sufficient, all buttons respond perfectly, and I was unable to find any real flaws in this Megadream's controller for iPhone. There is only one minor drawback – it doesn't feature a start button usually used to pause the games.
Order Megadream Gamepad Joystick Controller for iPhone via Amazon!