Whether you're an online gamer, someone who wants to make money streaming online, or an engineering-minded individual who wants to build your own streaming rig, you'll find that it's easier than ever to get started. This article provides insight into important parts, plus plenty of information on the best streaming PCs out there, including machines that are affordable for just about everyone.
What are the most important components of a streaming PC?
When it comes to building a streaming PC, many of the most crucial components are the same ones that go into great gaming computers. A streaming computer should be able to play games well, and it should have the ability to process videos and other information well, too. Here is a look at the top parts you will need to pay special attention to.
Chip
The chip or CPU of a computer is kind of like its brain. It is responsible for doing much of the work when it comes to processing and other functions that make a computer such a powerful tool. For streaming purposes, you should shoot for newer Intel i5 or i7 chips. You may also use newer generation AMD Ryzen options. This is where a costs tend to add up, but you'll be happier if you get the best card you can afford instead of whatever looks cheapest. It is good to have a clock speed of at least 3.5 GHz with room to grow from there.
Graphics Card
Choosing the right graphics card (GPU) can feel like a struggle. One thing to keep in mind is that it everything will work out for the best if your GPU matches your chip. For example, if you purchased an Intel chip, you should get an Nvidia graphics card. On the other hand, if you bought an AMD chip, it is best to choose an AMD graphics card. Most graphics cards that have been released in the last few years will be fine for a streaming rig, although they will also be the most expensive. Give yourself some time to choose the right one, and with a bit of luck perhaps you can get a good deal.  
Power Supply
Without a solid power supply, your computer won't be able to run smoothly. Since you will be asking it to do so much, it's a good idea to get something that's at least 600 watts. This will ensure that it can power all the peripherals and components that are plugged into it. The more powerful your CPU and GPU are, the more power you will need overall.
RAM
Random access memory – RAM for short – is something that all computers need, and you want to have enough memory for your computer to keep up with what you are telling it to do. Most users opt for at least 8 GB worth, but you can get more at a fairly reasonable price. The more RAM, the better!
Hard Drive
A hard drive is the place where your data is stored. All of your videos, pictures, and files will be safely held on your drive, although it's a good idea to keep your machine clean by storing things like that securely in the cloud until you're ready to use them! A great number of streamers and gamers like to get SSD, or solid state drives, because they load content faster and they are less likely to break down. At the same time, you can get a regular hard drive, and it will work just fine. You will need at least 1 TB, or Terabyte, but it's always a good idea to opt for more if possible, since video files can be rather large.
Camera
You need a good camera to capture your streams and get them online. Choose one that fits on your desk and captures clear images. Since most kits do not come with a webcam, you may want to do further research to find one that works well with the computer you choose or build.
Microphone
Clear sound is essential, so consider getting a professional grade microphone. There are many affordable models available, and some great cameras are equipped with integrated microphones so you can essentially get a two-for-one deal if you choose one of these.
Other things to consider
One of the most important aspects of being able to stream online is having a solid and stable internet connection. Without this, you will have choppy or low quality video. This is something that no one wants to watch. Be sure that your service has a fast download and upload speed, so it can process your data at an acceptable rate.
Another issue is cooling. While most computers that are prebuilt come with fans, they may not be enough to keep the machine at the right temperature. You can obtain a number of different types of fans and cooling units for your computer components, based on what works best with your hardware. With proper cooling, your computer will be able to last longer than if it runs too hot.
Some streamers also insist on getting a capture card. This is a card that helps your computer do the work of capturing video, so it isn't working as hard to process it and save it.
Last but not least, you will need Windows 10. Mac users might resist, but keep in mind that this is the most widely used OS, and it's designed for compatibility with a vast range of other programs and devices. Most streaming computers feature Windows 10, so this probably won't be a concern unless you're building your own.
Are all streaming PCs expensive?
A streaming PC does not have to be expensive. Some of the best machines out there are under a thousand dollars. These work well, and they have a good reputation for longevity. Of course, you can spend more if you like!
Can this type of computer be upgraded?
Streaming PCs as a whole can be upgraded. This is imperative as gaming and technology changes frequently. You don't want to find yourself in the position of trying to stream on an outdated machine. In fact, you should do your best to make sure that your computer can be upgraded. If you spend a little more on the video card and chip, you probably won't need to your machine for quite a while. Be sure to take your time with this decision-making process. By getting items that are highly rated and work well together, you should be in good shape for quite some time.
If you are unsure of how to upgrade a computer, it is a better idea to spend as much money as you can afford on your PC in the first place, so it will not soon become outdated. Of course, you can always get help from an expert!
How long should a streaming computer last?
A computer of any type, especially one you took the time to research and purchase should last you around 5 years before you have to upgrade major components. Of course, there's a chance that some parts may need to be replaced earlier.
After the first 5 years is up, you might be able to extend your computer's life by upgrading some parts. This will give you plenty of time to save up for something better. Who knows what will be available in the future? It's pretty exciting to imagine how far technology will advance during the next 5 years.
Can I use my streaming PC on Twitch?
With these tips, you can build a computer that will be able to stream on Twitch as well as other websites with ease. The computers we chose for our "best streaming PCs" list can stream on Twitch and other places.
There are people who run more than one computer at a time in order to stream on Twitch, but this is not absolutely necessary. In these scenarios, they have one computer for streaming and another for gaming. This is fun, but it represents a bigger investment.
Best Streaming PC kits available
Although you can put together all the parts to make a great machine, it may be easier to purchase one. There are many machines out there that are capable of streaming and running many of the most popular video games out there. Most come with pretty much everything you need, although you'll probably have to buy the monitor and other accessories separately.
Most expensive: iBUYPOWER Trace 9220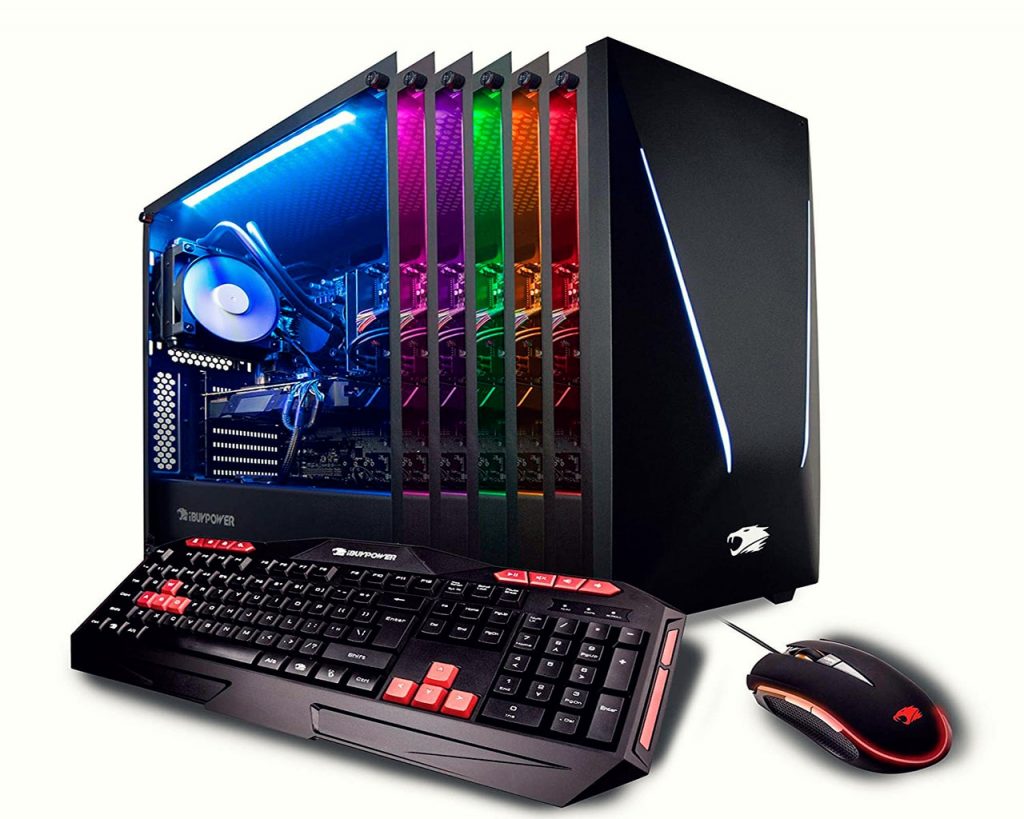 The iBUYPOWER Trace 9220 computer is pricey, and one of the reasons for the high price tag is that it is VR ready. This means if you already have the right headset to play VR content, you'll be good to go once you get this computer hooked up.
Other specs include an Intel chip and video card, as well as 2 hard drives and 16GB of RAM. The case is lighted and Windows is part of the package.
This model gets great marks for powering up quickly, and gamers appreciate how smoothly it runs. It also has room for any additional cooling fans that you may want to add – a great idea particularly if you're in a warm space running your computer for hours at a time.
One thing you may have to upgrade is the power supply, which is only 600W.
Overall, this computer runs quietly, and it's not likely to be outdated anytime soon. On the negative side of things, the motherboard makes for difficult upgrades. However, there are things you can upgrade including RAM and the video card.
---
Pretty Pricey: CyberPowerPC Gamer Xtreme VR GXiV8100A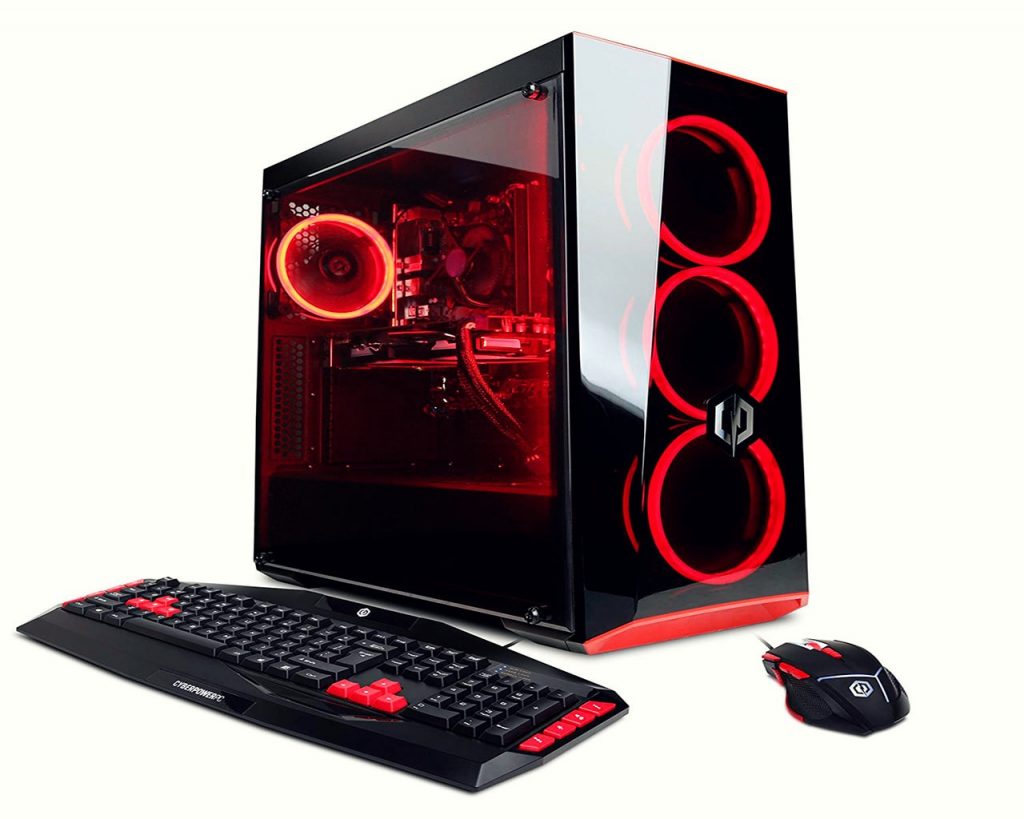 As its name suggests, the CyberPowerPC Gamer Xtreme VR is a VR ready computer. This model features DirectX12, and we're pretty sure that you'll be thrilled with it. It's . used by professional gamers and teams, and it gets outstanding marks for competitive use.
As with many other streaming PCs, you might want to get a better power supply to go with this one so that you can keep it operating at a safe temperature. You'll have to add a WiFi card to get this up and running, unless you're planning to use a wired option for connecting to the internet.
---
Best upgradable: CyberPowerPC Xtreme VR GXiVR8060A5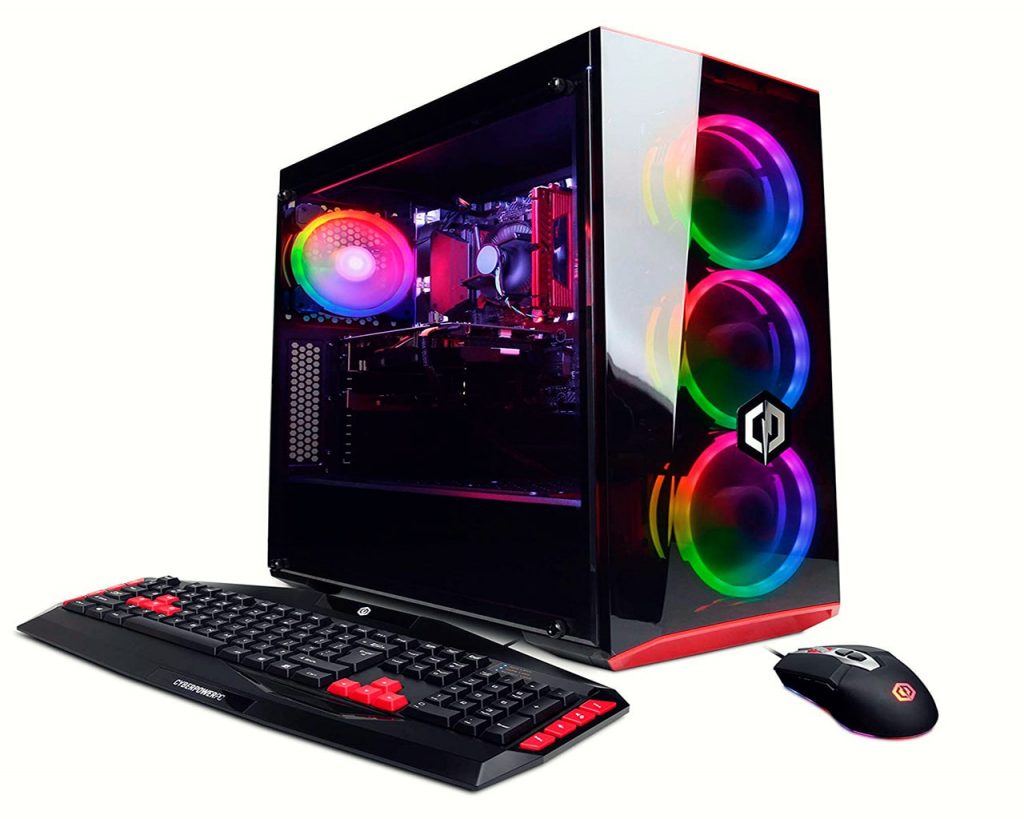 Even though the CyberPowerPC Xtreme VR costs a bit less than many others out there are, it still comes with impressive parts. It has a mid-range chip and graphics card, which are still powerful and will run the games you want to play.
What is different about this one is that it is easy to upgrade when you need to. It won't be a pain in the neck to get the parts out and swap them when you want something newer or more powerful. Users love the fact that it's possible to add more RAM immediately, since there are additional slots for it. In other words, this is likely to be a smart investment as you can keep adding better parts and won't have to buy an entirely new machine for a long time.
The CyberPowerPC Xtreme VR works right out of the box so long as you have a monitor and other essential accessories ready to create the setup you want. The computer doesn't make a lot of noise and it has adequate fans to keep it cool. Some reviewers have had issues with fan failure, so keep this in mind. If you choose this computer, you might end up replacing your fans – not a huge deal but definitely worth remembering.
---
Another Upgradeable Streaming PC: SkyTech ArchAngel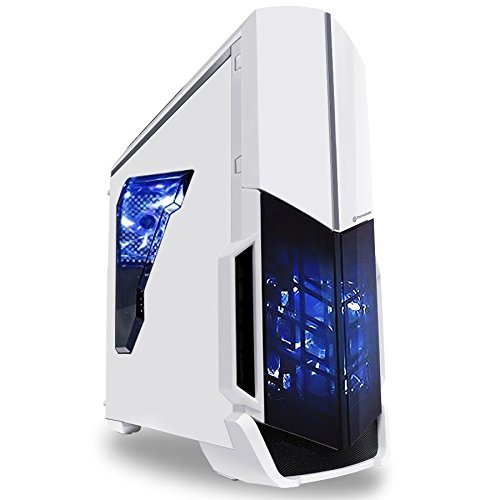 An overwhelming majority of computers have black exteriors, but the SkyTech ArchAngel has a white case, so it automatically stands out from the crowd. It is equipped with an AMD chip and an Nvidia card, which are also a little bit different from what comes standard on other machines.
While most people really enjoy gaming with this PC, it has a tendency to get hot and the fans can be very loud. This isn't a deal-breaker if you're OK with giving your computer a break every few hours, but you might want to go with a more robust option if you tend to prefer long marathons over shorter sessions.
This computer comes with a 1-year warranty, as well as free lifetime technical support. It's relatively simple so you may want to upgrade; for example, it doesn't have a solid-state hard drive. Overall though, it's a great machine for the price.
---
Least expensive: CyberPowerPC Gamer Ultra GUA883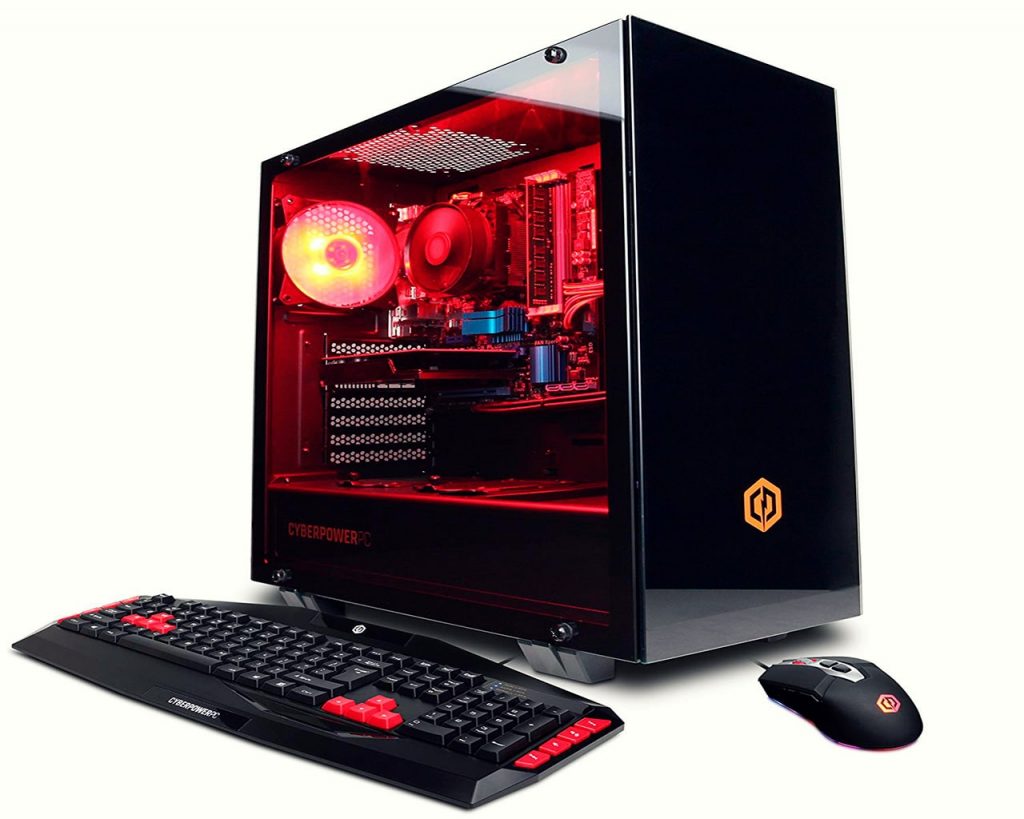 The CyberPowerPC Gamer Ultra is the least expensive option on the list, but that doesn't mean that it is not a great computer. You will still be able to play newer games, although you won't be able to play them using the highest graphics settings.
This is a popular option for teens who want to get into gaming and parents who want to pair affordable pricing with longer-lasting technology. It is also great for a beginner since it contains good hardware and is easy to upgrade. With a better graphics card and power supply, you'll be able to enjoy higher graphics settings and your machine ought to stand the test of time, too.
---
More Tips for Choosing a Streaming PC
There are a few different ways to get a streaming computer that will work well for you. If you are experienced at building computers and knowing which parts work well with others, you can easily pick and choose separate items and build a great streaming PC at an affordable price.
If you don't know much about building PCs, you can purchase a kit online. Many of these include most of the components you'll need, minus accessories that are normally sold separately.  
One of the best aspects of purchasing a kit is that they come with Windows already installed so there's no need to purchase it separately.
Kit prices vary, so even if you are looking for something well under $1k, you have options.  The best value on this list is the CyberPowerPC Xtreme VR GXiVR8060A5. It is affordable and comes with some impressive specs. If you had to purchase everything separately, you'd find yourself spending far more money.
This is a great option for streaming, gaming, and whatever else you want to do. There is also plenty of room for upgrading components as needed, plus it comes with a good warranty.
If you have a little more to spend on a machine, the iBUYPOWER Trace 9220 has top of the line hardware pre-installed, so you get great graphics for pretty much any game you want to play. This helps out when you are streaming, and makes for smoother operation all the way around. Since it's VR ready, all you need is a headset and you'll be good to go.
Overall, finding a streaming computer is easy, but you still need to take a little time for comparison shopping. We hope this guide helps you as you work toward becoming an online streamer!