There's no question that the PS4 is one of the most popular gaming systems.  While it's great on its own, there are certain accessories that can make it even better! The PS4 camera is one of those features that is great, but it could use some work.

Sony did a great job with the camera. Unfortunately, many consumers find that the cable that comes with it isn't long enough.  There's another problem: Sony doesn't offer a cable extension meant to pair with the existing camera/cable combination. This means that consumers have to use cables from other manufacturers, which raises questions of compatibility and more.

What Makes the PS4 Camera Cable Special?
If you're among those who need a camera extension cable for your PS4, you might think that it's built to fit into a standard USB port. Look a little closer though and you'll see that this plug is a specialty item. It's unique to Sony, and if it can't reach where you need it to, then you'll need an extension cable from a third party.

How to Choose a Cable Extension for the PS4 Camera
You probably know that cable extensions have different features. This is why it is important to consider several factors and your own needs before making a decision. Here are a few tips to help you choose:

– Remember that you need to get one extension cable to fill your needs. In many cases, users find that putting two of these extenders together along with the PS4 camera cord makes for a bad experience or it simply won't work at all.
– Measure the distance from where you normally play to the PS4 to determine how much length you need, be sure to leave some slack room for movement while using this.
– Make sure that a longer cord doesn't present a trip hazard. You don't want to have an accident with the PS4.

Top Camera Extension Cables
A quick search reveals that there are many extension cables to choose from. You want one that is proven to work well without causing damage to your PS4. Here are some of the more popular options to choose from, based on consumer reviews from satisfied PS4 owners.

Camera Extension Cable (PS4) by Calibur 11:
Perhaps one of the oldest options on the market, this cable was developed soon after the issue with the too-short cable was uncovered. Some of the notable features about this is that it is 6.5 feet long, it allows you to simply plug and start playing and it basically gives you everything you need in one simple package. Those who have used this cable give it rave reviews stating that it was easy enough to hook into and use along with giving them a lot more length than what they thought they would have with the PS4 camera. In addition, they found it flexible and didn't worry about breaking it.
---
UGREEN USB Extension Cable:
This cable extends your reach by 6 feet. Users found it to be high quality and long lasting. This extension cable is a little thicker than some others, making for good durability. It does have a tendency to tangle however it's not hard to untangle, either. This is a common issue with cords of all kinds and it's easily remedied by careful handling.  
---
UGREEN 15 Feet Extension Cable:
Like the previous model, this UGREEN PS4 extension cable is thicker than some others. It offers the advantage of greater length, which is fantastic for those who have longer distances to cover.  Users tend to like this extension cable, mentioning that it's sturdy and versatile enough to use for multiple purposes, along with offering compatibility with their PS4 cameras.
---
CableCreation Super Speed Active USB Extension Cable: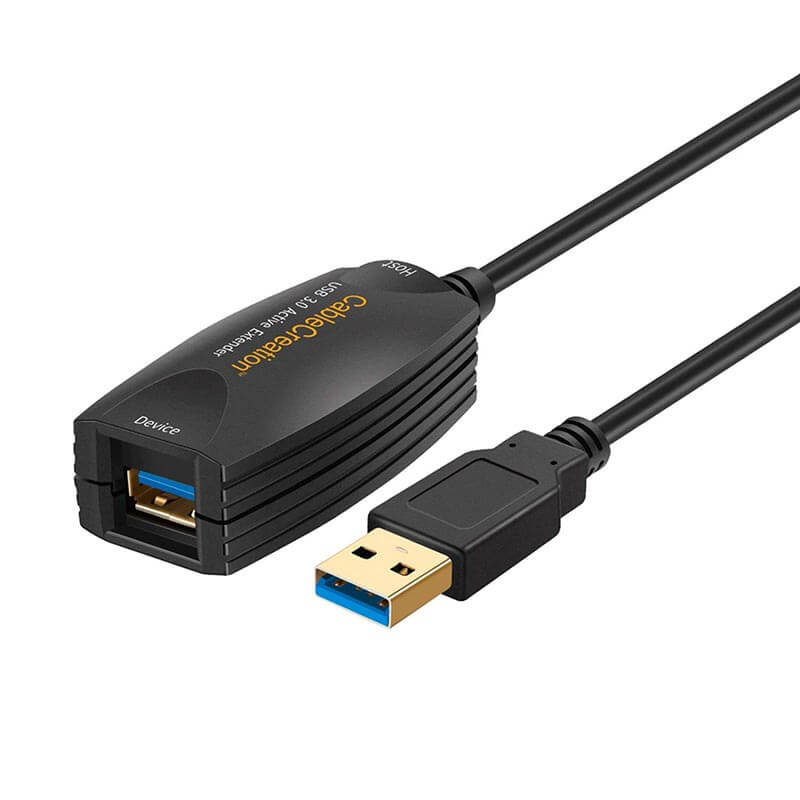 The CableCreation Super Speed extension cable is 16.4 feet long. Besides working with the PS4 camera, it's compatible with a variety of other devices. Most users found this cable to be more than enough for their needs with many stating that they used this for other applications as well. With a 4 out of 5 star rating on Amazon, it seems to be one cable that does it all, and it gets high marks for reliability as well as overall function.
---
USB Extension Cable Extender Cord for PS by SCOVEE:
One of the features that makes this cable so great is the fact that is it made with super performance materials meant to resist damage and breakage. This is ideal for those who want to maneuver in tight places or who are going to be pulling this tight. At 6.6 feet in length, it's shorter than some other PS4 camera cables we've reviewed, but it does fit the need of most people. One feature that users love is that this cable does not tangle as badly as some others on the market.

---
The Life Span of a PS4 Extension Cord
When ordering a PS4 Camera Extension cable, you might find yourself wondering just how long it will work before it needs to be replaced. For the most part, as long as you take care of these cables, they're likely to last for several years. You can help extend the life of your PS4 camera extension cable by avoiding kinks, not stepping on it, and of course, keeping it away from curious pets who might chew on it. Roll it up carefully when you put it away after each use. This way, nothing will happen to it by accident when you're not watching. By choosing one of the five best PS4 camera extension cables on the market right now, you'll enjoy a combination of quality and durability. Without proper care, the life span of your extension will be a lot shorter.  

If you have issues with their PS4 camera and need a longer cable, there are definitely some great options to remedy the situation so you can enjoy playing even more. The key is to find the one that works best for you!