PlayStation VR is a high-end virtual-reality headset that has found its place in over one million homes worldwide. The sales in 2016 were higher then expected, with over 700,000 shipments,  and with 350,000 sold in the first quarter of 2017 alone, PSVR has a huge numbers advantage in sold units over the closest competitors – Oculus Rift and HTC Vive.
You are probably aware that buying a VR headset is only an initial investment and some additional equipment is required in order to fully enjoy the VR experience. The reason for better sales of PSVR compared to high-end PC devices (Rift & Vive) might be that it doesn't require as much unplanned expense after you've purchased it, nor the pre-investment in your PC hardware. While PlayStation VR excels at many things, it doesn't have built-in headphones like Oculus Rift for example.
Besides PlayStation Move Motion controllers and PlayStation Camera (currently available in a Launch Bundle), buying headphones for PSVR is also mandatory. There are earbuds in the shipment box along with your PlayStation VR, but they are far from amazing. While there aren't any designated PSVR headphones officially released, many companies recognized the market's demand for this product and started working on it.
What you need to know before buying headphones for PSVR
Many headphones available nowadays are PSVR compatible, and some are even specifically designed just for it. There are several things you should consider before acquiring your PSVR headphones in order to get the most out of your headset. Headphones that are connected via USB port won't do. Only the ones with 3.5mm jack will work with PlayStation VR, which you will plug into the processor unit.
There are 3 essential things that you need to consider before buying a PSVR headphones:
3D audio support
Ability to block outside sounds
Comfort
First of all they have to support 3D surround sound and respond properly to the VR environment.
1. What is 3D audio?
Binaural audio or 3D audio is a unique way of recording a sound that emulates the workings of the human head and how our brain processes sound.
Our anatomy dictates how we understand the sound we head: the sound enters our left and right ear at different times. For example, if you happen to hear a car driver honk its horn on your left, it takes a few extra microseconds for the honk to reach your right ear, so the sound will be louder in one ear then the other.
But it's actually more complex then that. Different frequencies are also attenuated, because sound is reflected differently, depending on the angle that the sound wave hits the ear, also the air itself attenuates different frequencies with distance.
The brain takes all of that information (sound delay, volume of the sound and frequency spectrum) and then determines the direction of the sound. It's really quite amazing.
Using the same principles, almost a hundred years ago at AT&T Bell Laboratories scientists have developed a method for recording sound that emulates the way humans process it.
The resulting 3D sound is also called binaural audio.The output is just a standard "stereo" sound, but the trick is that they've used the above to tweak certain sounds in the stereo stream, so your brain can successfully interpret that specific sound as coming from a specific direction.
Using headphones/earbuds ensures that the binaural audio is delivered to the correct ear, without audio bleed. Binaural sound is not as effective if it comes from speakers some meters away.
For binaural audio to work it requires headphones.
2. The headphones need to block outside sounds
Next important feature you need to look out for is headphones' ability to block out the outside sounds. Hearing anything other than the game you are playing can break the immersion and this is something you definitely want to avoid.
3. Comfort is another key issue
Finally, headphones have to be comfortable and fit well over your PSVR, if they fall off your head or pinch your ears while you are trying to enjoy a virtual-reality session, well, that is a deal-breaker!
---
You don't need expensive gaming headphones
Gaming headsets are overpriced in general and you don't need their features with PSVR.
The number one thing is that the ration of quality/price with gaming headphones is simply terrible. You can be better of with just some quality studio reference headphones. Ask an aspiring artist or anyone that produces music in his spare time and they will comfirm.
Also, you don't need a microphone or a lot of other features that can be useful on a gaming headset for PSVR because they're either already built in (mute,volume,mic) OR you don't want them such as wireless or simulated surround sound.
Let's cut to the chase
You WANT to use the PSVR's 3D audio. Binaural audio works MUCH better with wired headphones!
As long you are getting your audio from the PSVR headphone jack, you should be getting that 3D sound the developers intended.
You just need to get a wireless transmitter. If you do want to go wireless, just make sure whatever you get doesn't have high latency, or lag. You want the audio and visuals to be in sync!
Now that we have covered the basics features you should look out for before making the purchase, we at VRborg have done some research for you, and present some of the best headphones for PSVR available on the market.
---
The Best Headphones for PSVR
PlayStation Gold Wireless Stereo Headset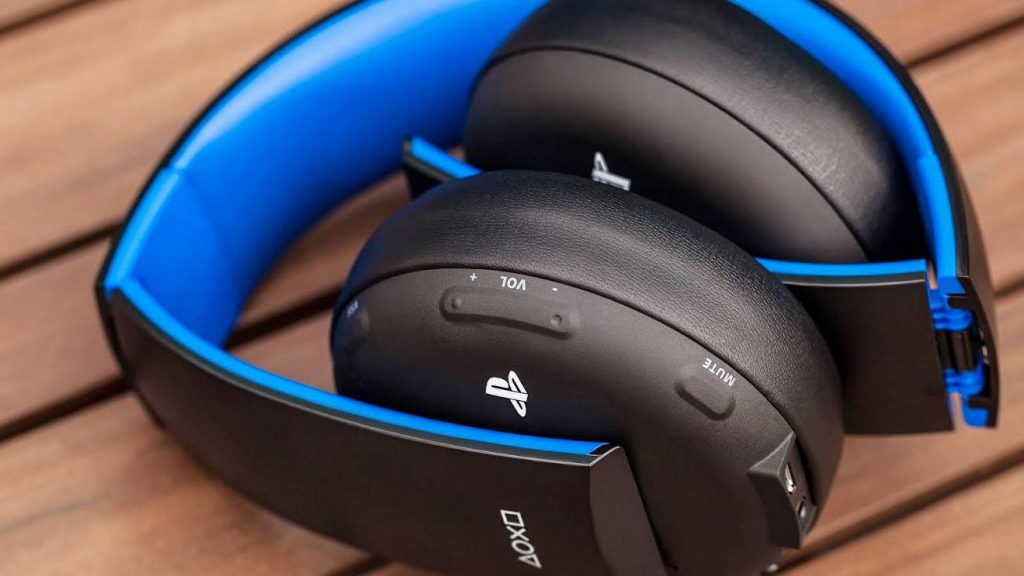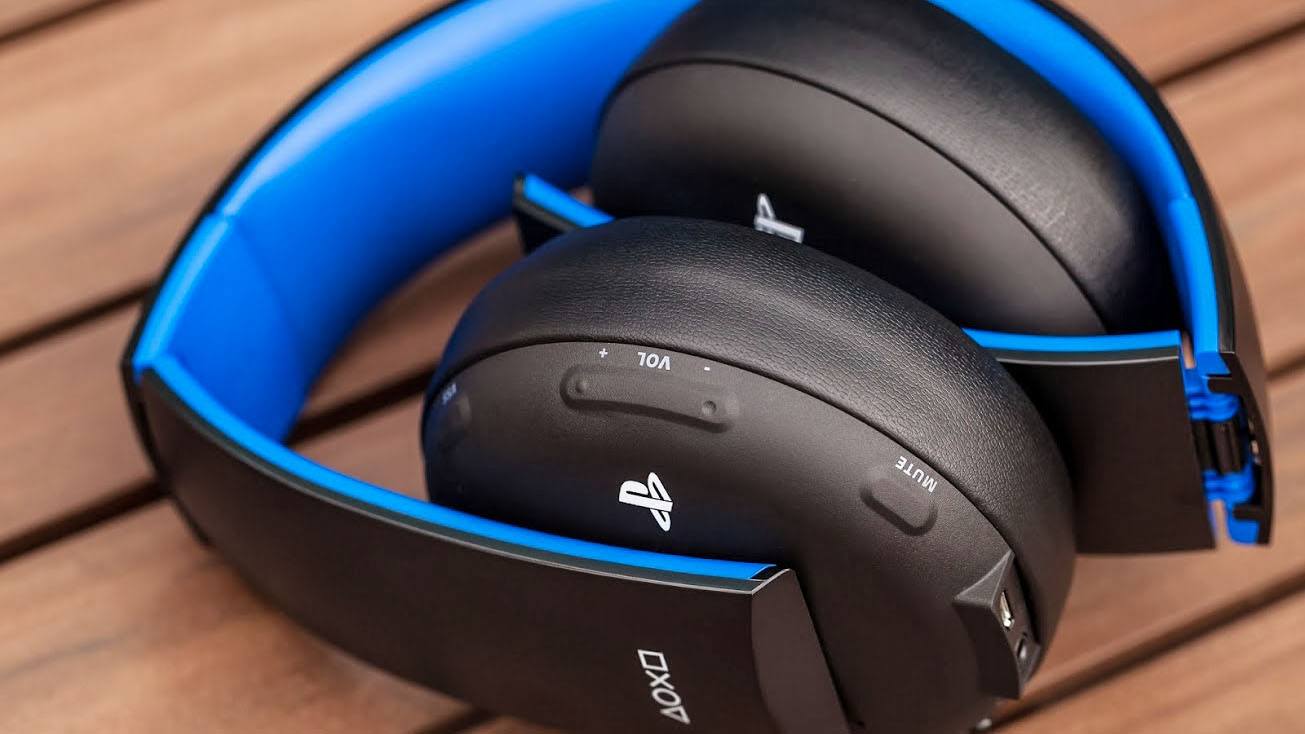 First on our list is the Sony's official PlayStation exclusive headphones – Gold Wireless Stereo Headset, also known as – PlayStation Gold or Sony Gold. This is a wireless headset (obviously) but in the shipment box the 3.5mm cable is also included, and you will have to connect PlayStation Gold to your PSVR manually via this cable to make it work.
The PlayStation gold is gamer's favourite across the globe mostly because of the sound quality and the fact they are very comfortable. They will fit nicely over your headset, and there are several different colours to choose from, which enable you to customize your VR image. After you've put the headset on, put the headphones so they fit over your ears and align them with the black part of PSVR on your forehead. This will ensure that PlayStation Gold stays in place, giving you a peace of mind as to freely move your head around.
The design of earcups makes even prolonged use comfortable and without any side-effects, sweating for example, because the padding breathes well. This however is also a cause of its main flaw – noise gets in and out of the headset a lot. Bear in mind that PlayStation Gold is a mid-range headset, costing under $100, and for the given price, this is pretty common. While the headphones are sturdy enough to handle, I wouldn't dare to say that it's built to last, since the headband left me with the impression that it would snap, if you were to accidentally apply just a bit too much axial stress on it.
Check the best deals on Amazon
Turtle Beach Stealth 350 VR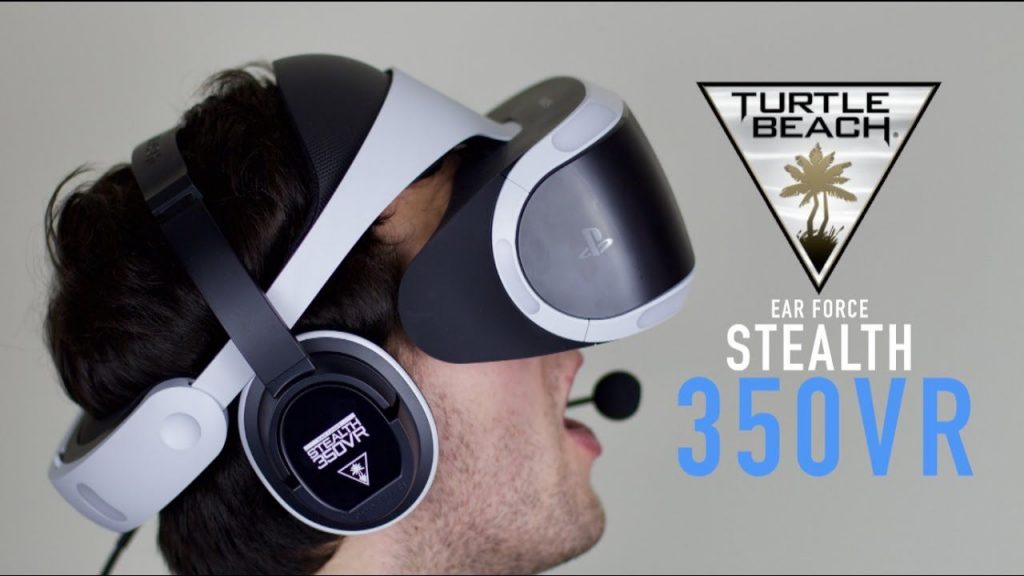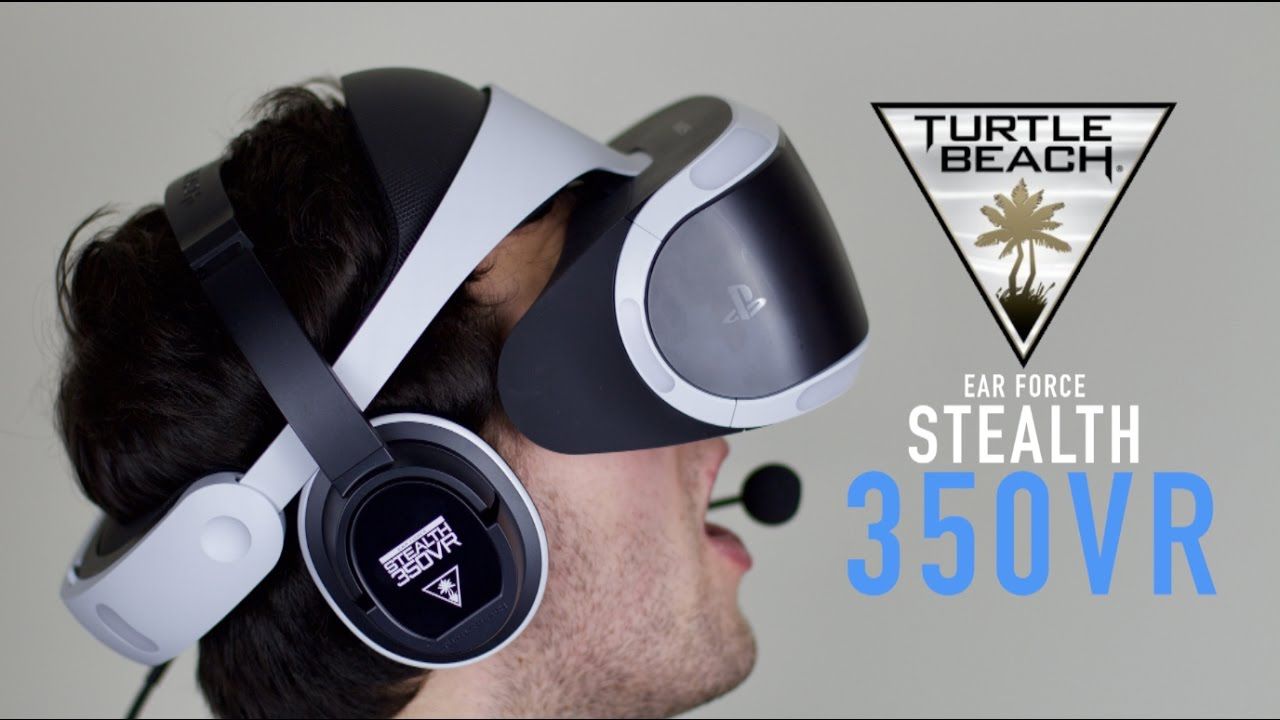 Stealth 350 VR is the Turtle Beach's headset designed specifically for virtual reality. A simple design modification at the headband cushion, which is cut-out in the middle, makes necessary space for the HMD cable management with Rift and Vive. High end VR headset developers on many occasions stated that 3D sound makes up almost the half of the complete experience.
While many different headphones can be used with PSVR, Stealth 350 VR might just be the right choice for you.
These headphones feature large, high performance, 50mm Neodymium speakers over the ear-cups and battery-powered amplification you turn on and off on the left headphone. Amplified audio system works very well, ensuring that spatial sounds work accordingly to your current environment, which is very important for VR immersion.
Sound doesn't work unless amplifier is on, and make sure to switch it off when you finish the session. At Turtle Beach they claim that battery is made to last for up to 30 hours of gaming, however it will run out quickly if you haven't turned the amp off.
Over-the-ear cushions are made of memory foam and wrapped in fabric ensure breathable fit, and the overall design makes Stealth 350 VR light and comfortable.
Bass boost is variable and the microphone can easily be detached when not in use. Additionally, the mic features noise-canceling technology and that will eliminate any background noise created by movement or other factors in the real world. Mic monitoring also allows you to hear your own voice when you talk to other players.
If you happen to own Oculus Rift or HTC Vive, Stealth 350 VR seems like a right choice, since it comes with changeable cables to swap between the platforms.
While headset's clever design makes all the difference and it fits over PlayStation VR headset perfectly, aesthetically it isn't that appealing. Matte black colour looks fine, but plastic dominates its build for a simple reason – to meet the mid-tier price range. The headset is firm enough to handle, but as it is very lightweight you probably shouldn't jounce it around too much.
All things considered, Stealth 350 VR probably won't be your primary regular-gaming headset, but its specific design enhances the VR immersion and experience on each step of the way, so we have to admit that at Turtle Beach they have achieved what they aimed for. Another good thing that it isn't exclusively made for PlayStation, so you can use it with other VR devices too.
Check the best deals on Amazon
---
Most Convenient Headphones for PSVR
Plantronics RIG 4VR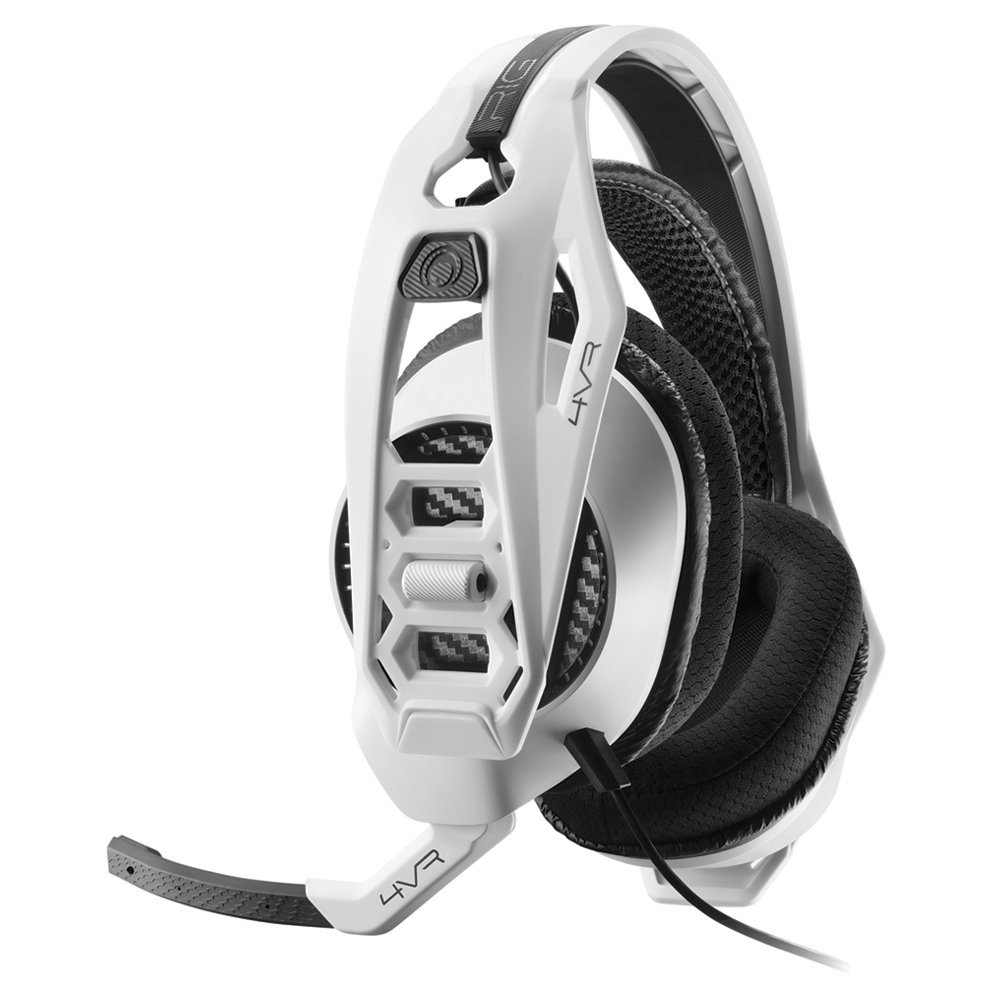 The massive headband for PSVR rules out many headset models, and designers at Plantronics had this in mind when engineering RIG 4VR.
Plantronics RIG 4VR is licensed by Sony, therefore this is as close as you can get to "official" headphones for PSVR.
To fit the headphones around the PSVR headband, designers made an even wider headband that is very elastic and flexible. I just can't see it snapping unless you really put in some effort to break it. Ear-cups have an unique oval shape, and are a bit smaller than usual which may cause problems to users with a bit bigger ears.
The left ear-cup features a detachable mic and the cable with standard 3.5mm jack. The good thing about the cable is that it can be split at just about the right length to plug it into your PSVR. This means you wont have to deal with another cord at your neck, but you still have the extension when you want to put the headphones to another use.
The stylish appearance of the headset is complemented with comfortable fit too. While RIG 4VR is robust, it somehow managed to retain its lightweight, which is pretty important considering that PSVR weighs around 610 grams, especially for extended use. Bass isn't excessive, but I didn't feel like it is lacking either.
When you consider the price, RIG 4VR offers a high quality sound. Although we can't say that it sounds better than some more expensive headsets, it is certainly up to par. 3D audio reproduction works really well, and increases the sense of actually being inside the games like Resident Evil 7 for example.
The ear cups are comfy and vented. Even after prolonged gaming sessions on your PSVR, your head wont get sweaty at all. Once again, this makes blocking outside noise impossible, but still gives you a great sense of spatial awareness. While real-world sound may be immersion-breaking, it is useful at times when you have friends or family around during your VR sessions, since you'll be able to clearly hear them. Additionally, RIG 4VR isn't a "one-trick-pony". It works surprisingly well with other standard headset applications like regular gaming or listening to music.
When compared to PlayStation Gold headset, the notable downside is absence of manual controls on headphones, so you will be relying on menus to make volume adjustments. Sound quality however is superb, and the design fits your fancy PSVR headset perfectly.
Check the best deals on Amazon
Bionik Mantis Headphones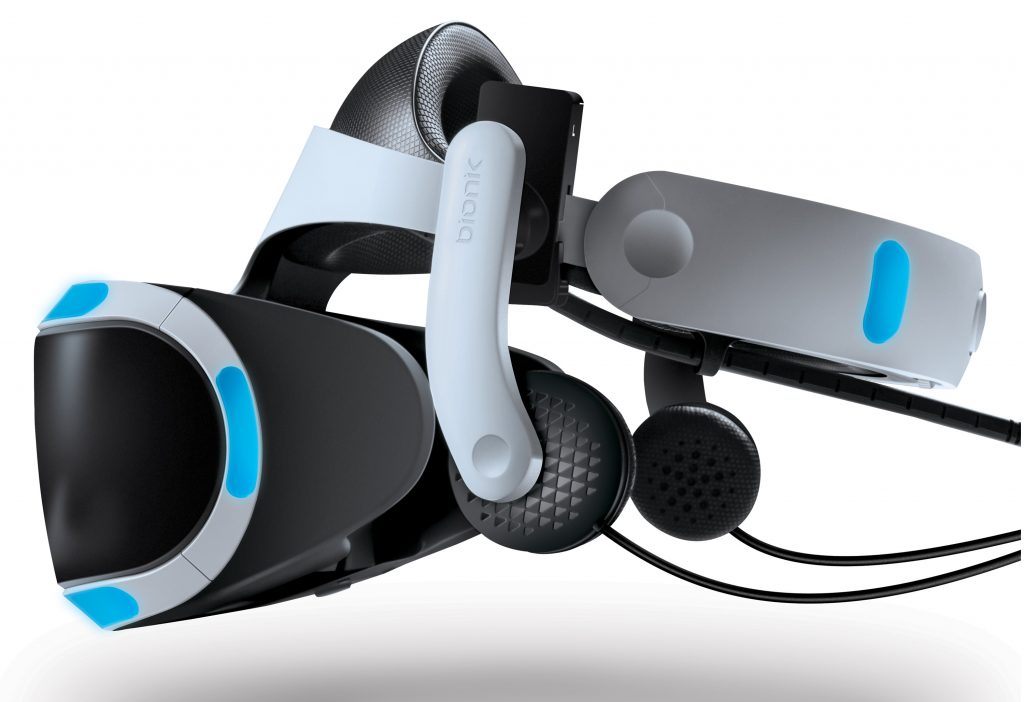 The most original and definitely the neatest of PSVR dedicated audio solutions are Mantis Headphones created by bionik. These cleverly designed headphones are just clipped onto both sides of the Sony's virtual-reality platform and just hang down over your ears.
For some people bulky headphones that encapsulate your ears may seem unnecessary uncomfortable, since they can weigh your head down. Comfort and ease of use you gain with Mantis' design has only one drawback.
You have probably guessed it by now – complete outside sound blocking is unattainable, since the earpieces don't completely cover your ears but just rest atop of them. It seems that we will have to wait for new generation of PSVR headphones to deal with this predicament and provide complete auditory immersion.
The Mantis on the other hand is very convenient for use and installation – each earpiece folds out in case you need to communicate with someone who is beside you in the real world. So you can look at the drawback we aforementioned as not such a bad thing after all, since if you have kids or pets, having a sense of what is happening around you in the real world is pretty important. Also this feature is helpful if you like showcasing PSVR to your friends.
The audio quality despite the circumstances is still very good, even without the silencing benefit of over-the-ear headphones. It is still far from high-end headphones quality, but for price of $50 it is very practical and cost efficient solution.
Check the best deals on Amazon
---
Best In-ear (Earbuds) Headphones for PSVR
For those of you who value convenience above all other things, choosing an earbud headphone for your PSVR does seem like an attractive choice.
The thing you should keep in mind however is if you decide to use wireless earbuds, you should expect lower quality of sound for the reasons mentioned above.
For the maximum sound quality use a Bluetooth transmitter plugged into the PSVR headphone jack. Don't be alarmed if you do get an infrequent pop sound every so often.
The quality of a Bluetooth transfer is only so good. But with the earbuds setup this way you can enjoy PSVR's 3D audio!
Hussar Magicbuds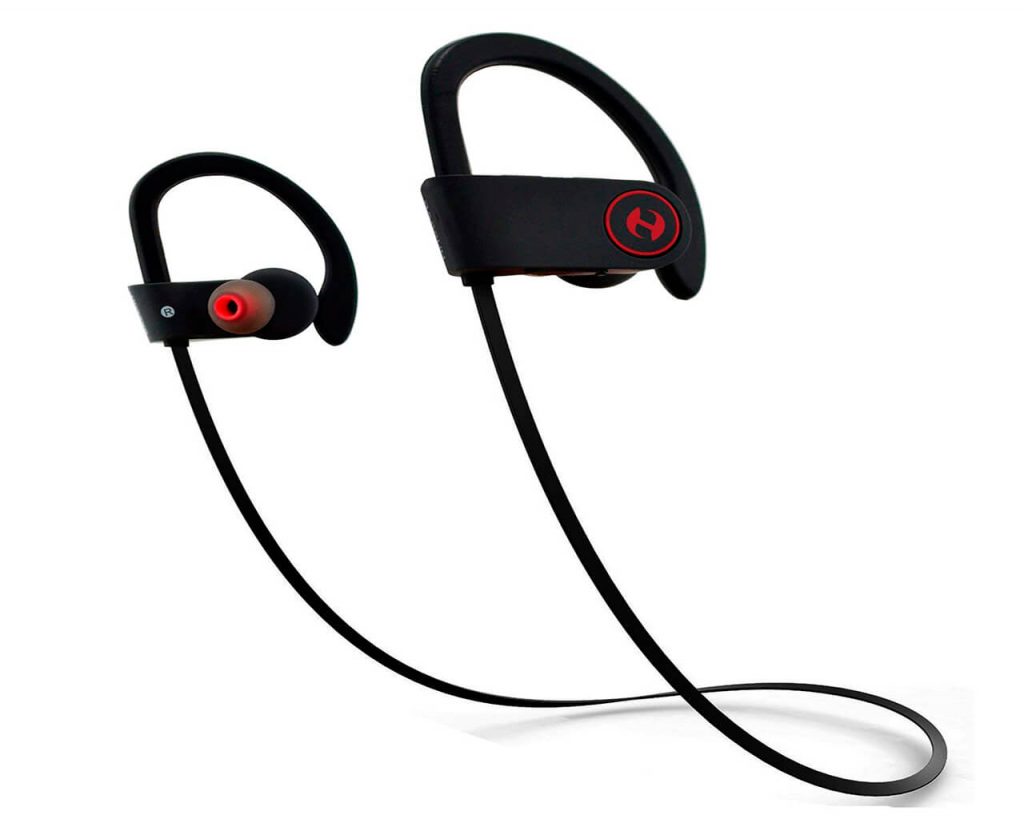 You will get an excellent bang for you buck with Hussar Magicbuds. They provide an excellent alternative to more expensive wireless earbuds whilst providing you with a satisfactory quality of sound.
One thing to note however, is that they do not boast a exeptional bass quality, so expect the sound to get a bit choppy with heavy bass in the background.
With wireless headphones, the most frequent way of damage is when they accidentaly fall out of your ear and then you, or someone else steps on them. You should't worry with that happening if you choose to go Hussar Magicbuds route. Although wireless, the earbuds are connected by a cord that goes behind your head to ensure maximum safety while being minimally intrusive.
The battery lasts for 9 hours, which is also satisfactory and they also provide the user with some noise cancellation abbilities.
However, don't expect premium sound quality if you choose to buy Hussar. They are comfortable, inexpensive and also wireless, but with a drawback of an "OK" sound quality.
A great budget wireless option none the less.
Check the best deals on Amazon
---
Cheapest option
iJoy Premium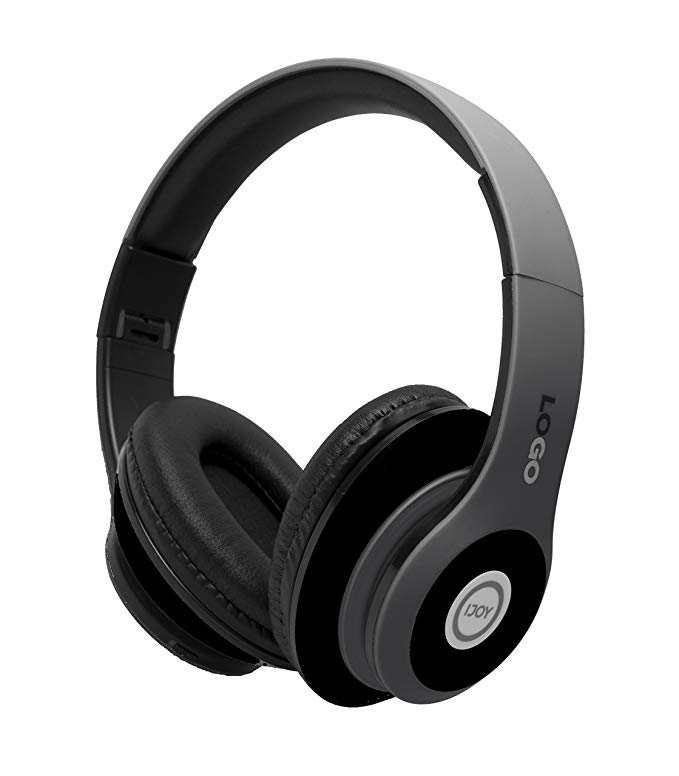 Give yourself more audio control without having to break your bank. Not only do you have the comfort of over-ear cups, but you can connect them through BlueTooth. There are seven different color options for you to choose from and over four hours of battery life! The package comes complete with a six-month warranty as well.
Check the best deals on Amazon
---
The Verdict
| | Turtle Beach Stealth 350 VR | PlayStation Gold Wireless Stereo Headset | Plantronics RIG 4VR | Bionik Mantis Headphones | Hussar Magicbuds |
| --- | --- | --- | --- | --- | --- |
| Weight | 1.1 pounds | 10.4 ounces | 8.5 ounces | 7.2 ounces | 0.6 ounces |
| 3D Surround Sound | Yes | Yes | Yes | Yes | Possible |
| Comfort & Fit | A | A | B- | A | B |
| Noise Cancellation | B | B | B- | B- | C |
| Integrated microphone | Yes | Yes | Yes | Yes | Yes |
| Wireless or Wired | Wirelles | Both | Wired | Wired | Wireless |
| Score | B+ | B+ | B- | B- | C |
| Price | Check on Amazon | Check on Amazon | Check on Amazon | Check on Amazon | Check on Amazon |
PSVR is an amazing and immersive device with one major flaw – the audio peripheral doesn't come with the package. Sony might have thought that this will lead the customers to purchase their PlayStation Gold headphones and earn some extra cash that way. Fortunately for us, other companies worked on the solution too, hence there are few decent options available on the market.
PlayStation Gold has many qualities, but I wouldn't dare to say that it is the go-to option in this case, unless you prefer fancy looks over comfort. All of the other headsets we covered offer better fit over your PSVR, especially bionik's Mantis and Plantronics' RIG 4VR.
Mantis was designed exclusively for PSVR use, and has no applications otherwise, while RIG 4VR is an option you can put to good use in other situations as well. They both look imposing when paired with your PSVR.
If your motto is "louder is better", then Turtlebeach's Stealth 350 VR is the right pair of PSVR headphones for you. However, the design, while clever and practical, visually isn't very impressive.
Sound tends to "bleed" in and out of each of the aforementioned headsets. We assume that you enjoy your virtual sessions in the tranquillity of your room, so this isn't too much of an issue then. Still, we eagerly await the release of headphones that provide complete outside sound blocking, for even higher stratum of immersion.