You don't need to purchase headphones for your Oculus Quest, this VR headset actually comes with built-in positional audio. In short, you'll be able to hear your teammates, and enemies, no matter where they are in the game.  When their character talks to your character it will feel like you're in the same room.
But, while you don't need them, having the best headphones for Oculus Quest can be a good idea. Headphones allow you to immerse yourself into the sound and gameplay, avoiding the distraction of room sounds which could detract from your gameplay. You'll feel more in control of the sounds and your game.
This is more than just annoying if it happens at a critical moment!
Of course, there are several factors you'll need to consider when purchasing your headphones, you can check out the guide later in this article to help ensure you get the best set for your needs.
The Best Headphones For Oculus Quest
It's worth noting that the Quest gives you two audio jacks, making it easy to plug and play. 
RHA MA390 Earbuds – The Basic Option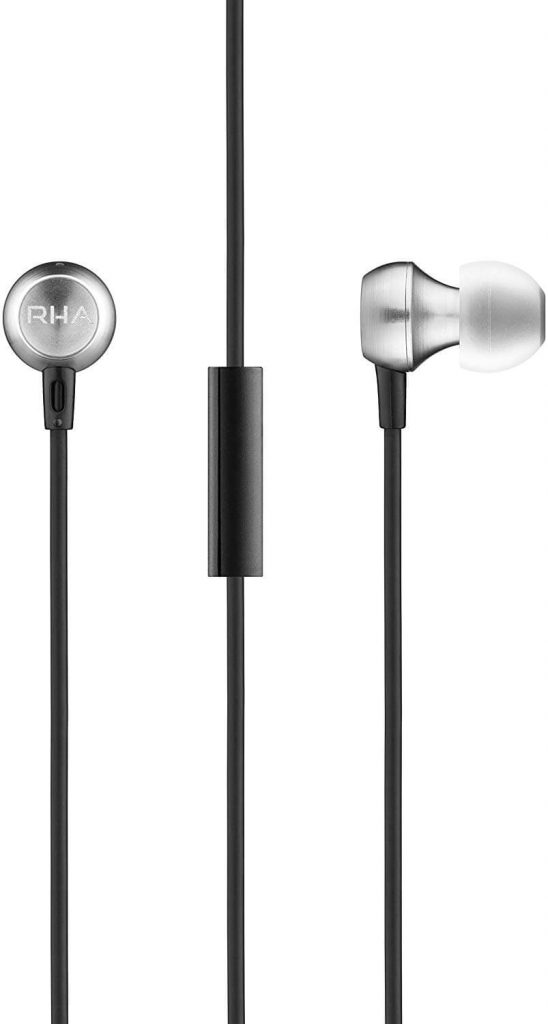 RHA MA390 Earbuds are one of the cheapest options available but that doesn't mean they'll ruin the Quest experience. In fact, if you like in-ear headphones, these are worth considering.
The Specs
Aluminum
Inline microphone& remote 
Frequency Response 16-22,000Hz
Braided Cable
The Good
The drivers in these speakers are made from solid pieces of aluminum, they're designed in the shape of a trumpet. This means they have the optimum shape for sliding into your ear and delivering high-quality sound. 
In most cases, you probably prefer to have a separate set of headphones for your Quest and for your other electronic items. However, if you do like to move headphones between devices these are a great option.
They are extremely light and easy to carry with you. That means you can use them with your Smartphone, Quest, home stereo, and any other device you can think of.
At under $30 the RHA MA390 is great value for a surprisingly good sound experience. They are well made and likely to last for an extended period of time.
If you're on a tight budget these are the best headphones for Oculus Quest.
The Bad
Although surprisingly well built, the RHA MA390 does suffer from some cable noise. This is likely to be a nuisance after extended gameplay and maybe enough to put you off choosing the RHA M390.  However, you'll be hard-pushed to find a better set on the market in this price range. 
The easiest way to describe the sound from these headphones is as warm and soft. This will not make it appealing to any bassheads. To make matters worse, the bass is not adjustable and even the volume cannot be controlled on the headset.
---
Oculus Quest In-Ear – Best Headphones For VR Headsets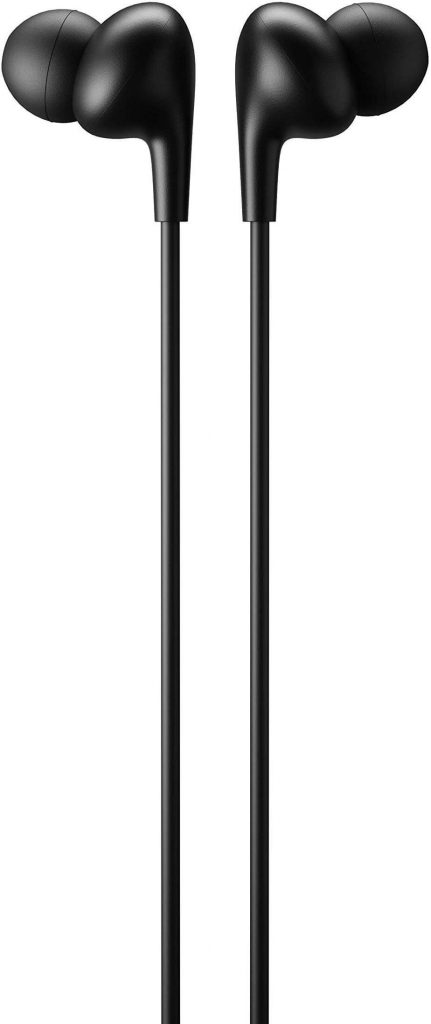 Increase your budget a little and you'll be able to purchase the Oculus Quest in-ear headphones. You probably won't be surprised to learn that these are often considered the best headphones for Oculus Quest. After all, they are made by the same firm that makes the Quest.
The Specs
Dual headphone jacks
Weigh 2.56 ounces
The Good
These headphones are designed for the Quest which has two jack points. Each headphone is attached to its own short cable and a jack, these slot into the jack point on each side of your Quest. The cables are extremely short, giving you enough to get from the VR headset to your ear with a little hanging down.
That means they won't get in the way during play and they won't get tangled. You'll find that a blessing after you've finished gaming for the day. 
The Oculus Quest in-ear headphones has soft and flexible tips, along with a collection of buds to ensure you have the right size for your ears. This makes them exceptionally comfortable. Even if you don't like in-ear style headphones, you'll find these comfortable. It's easy to forget they're in your ear.
Although small, these headphones have surprisingly good sound quality. They have miniature drivers built into the earbuds, ensuring that once they are in our ear you won't hear outside sounds. But, you will hear all the delicate nuances of the game music and speech.
The Bad
These are good headphones but, because they have individual cables and jack points, they are designed specifically for the Quest. This isn't something you can use on your Smartphone or another device afterward, you'll be purchasing them just for your Quest.
These are not the cheapest option, especially when there is no chance of using them with your other devices. However, they do give great VR experiences, they may be the best headphones for Oculus Quest currently available.
---
OneOdio – Best Headphones For Sound Quality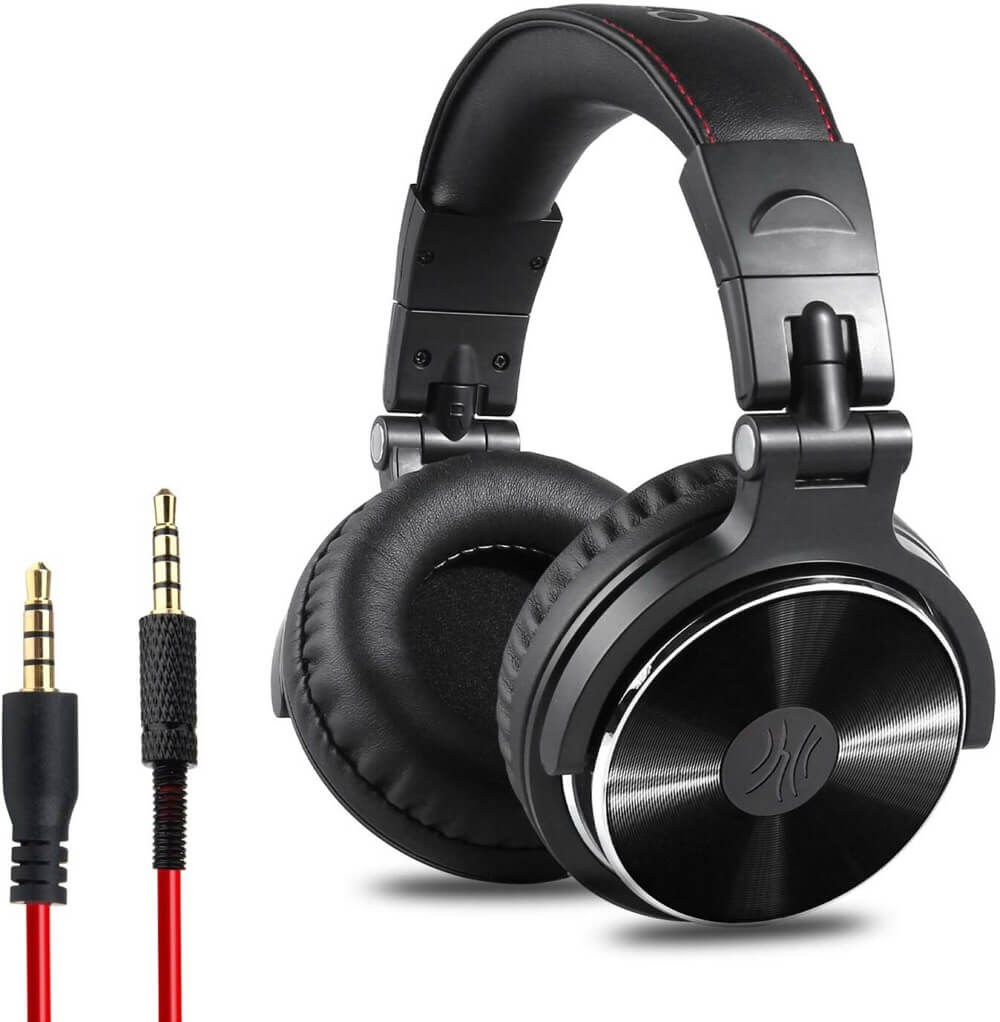 The OneOdio headphones are an overhead style which means they'll sit over your ear and potentially create a more dynamic music experience.
The Specs
Closed Back
Overhead & over-ear
Telescopic arms
50mm Neodym drivers
Black
The Good
The ear cushions on the OneOdio are well padded, ensuring you can wear these comfortably for hours without an issue. They incorporate noise reduction, ensuring you can focus on the game, and, the headband is fully adjustable. You can stretch it to ensure you get the right angle and level of comfort.   
These headphones are larger than in-ear style, giving them the room to accommodate 50mm drivers in each earpiece. These are combined with neodymium magnets to create a complete range of sounds. The bass will sound as crisp and clear as the treble. 
In short, this is a quality pair of headphones.
Each of the earpieces can swivel 90°, this allows you to keep them near your ears while releasing the pressure of them being on your ears. It even allows you to check out what is going on around you without having to remove the headphones. 
You already know how useful that is!
The OneOdio headphones can be used with your Quest, iPhones, Androids, and virtually any other device you can think of. You may prefer to use them just with your Quest, but it's nice to have extra options, especially in times of need.  
The Bad
These headphones come with a 9.8foot long cord. That's great if you want to plug into your television on the other side of the room. It's not such a positive when you want to go from the headset to your headphones, both of which are on your head.
You're going to end up with a cable wrapping around your body.
---
JBL Lifestyle – Best Headphones For Style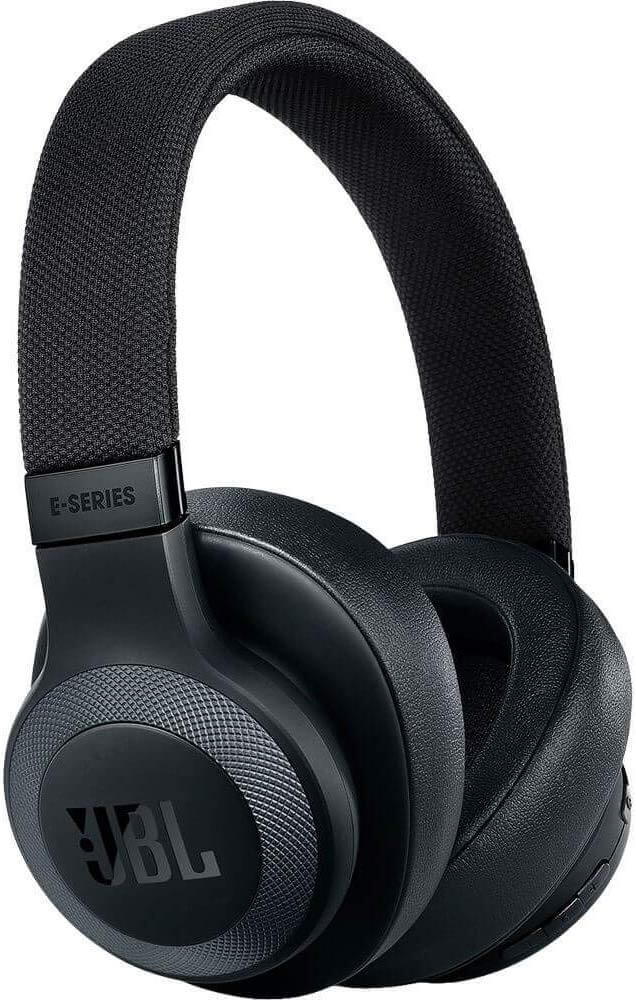 If your main concern is the style of your headphones and looking good while using your VR headset, then you're going to need to consider purchasing the JBL Lifestyle. These are another overhead style headphones.
The Specs
Overhead and over-ear
Noise Canceling
Frequency range 20Hz – 20kHz
Built-in microphone
Choice of colors – black, blue, or white 
BlueTooth
The Good
These headphones are surprisingly light, you'll barely notice them on your head. Alongside this the earpieces are well padded, ensuring they sit comfortably over your ear, no matter how long they're on your head. 
The fact that they actively cancel noise simply makes the virtual experience more realistic.
In fact, the Lifestyle headphones have been made along the same design lines as JBL's E-series headphones. This means plastic and metal where needed. For example, the hinges are metal, allowing you to fold the headphones and ensure they're not going to break when you do it for the 10th time. 
What will catch your eye the most is the fact that they are sleek, stylish, almost aerodynamic. 
There are numerous controls on the headphones and a charging point. These are useful in controlling volume and other issues while playing. However, it may take a short period of tie to get used to the different buttons.
The Bad
All overhead earphones have to be adjustable to ensure they fit everyone's head. However, the earpieces aren't adjustable, leaving some people suffering from an earpiece that sits partially over, and partially on, their ear. That can get uncomfortable.
It should be mentioned that connecting wireless headphones to your Quest is not a straightforward procedure. You may need a little help before you can actually use them!
---
AfterShokz Sportz Titanium – Best All-Rounder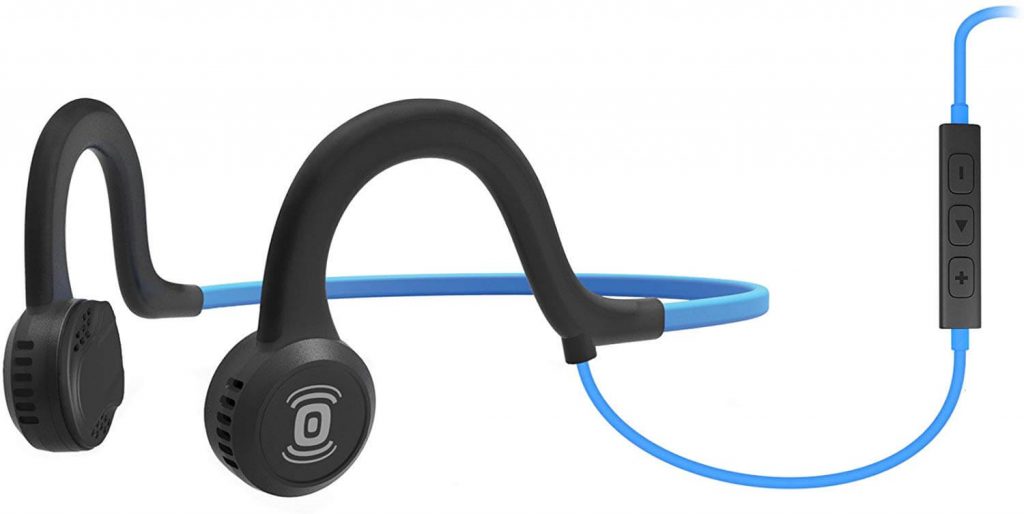 Aftershokz is offering an open-ear bone conduction headphone which creates miniature vibrations on your cheekbones. This helps to increase the level and quality of the sound going to your ears.
The technology is built into these over-ear headphones, making them potentially the best sound quality but certainly a great all-rounder.
The Specs
Titanium headband
4ft wire
High-quality audio
Over-ear style
Repels sweat and dust
Choice of colors – blue, red, or black
Weigh 1.44 ounces
The Good
Over-ear style headphones are surprisingly comfortable as they are lightweight, won't feel restrictive, and slide directly around your ear, maximizing the sound experience. They do not go into your ear!
The Aftershokz are also designed to remove sweat, dust, and any other moisture from your ear area. This will help to ensure you stay comfortable no matter how long you're playing for. The initial concept may be for running but it works well for VR gaming.
Because these use conduction technology there s nothing in your ear, that leaves you capable of hearing other sounds around the room. To some players this is a definite disadvantage, but, in many cases this will help you to be aware of what else is going on around you without detracting from the gameplay.
The Bad
The cord is 4ft long, that's long enough to get in the way when only going from your Quest to your ear. It's not a deal-breaker but you do need to be aware of it. 
It's also worth noting that this is half speaker, half headphone. People close by may be able to hear the sounds coming from your headset. You may also need the volume a little louder than normal to get the best possible results.
---
Spectrashell Quest Earphones – Best For Individual Cables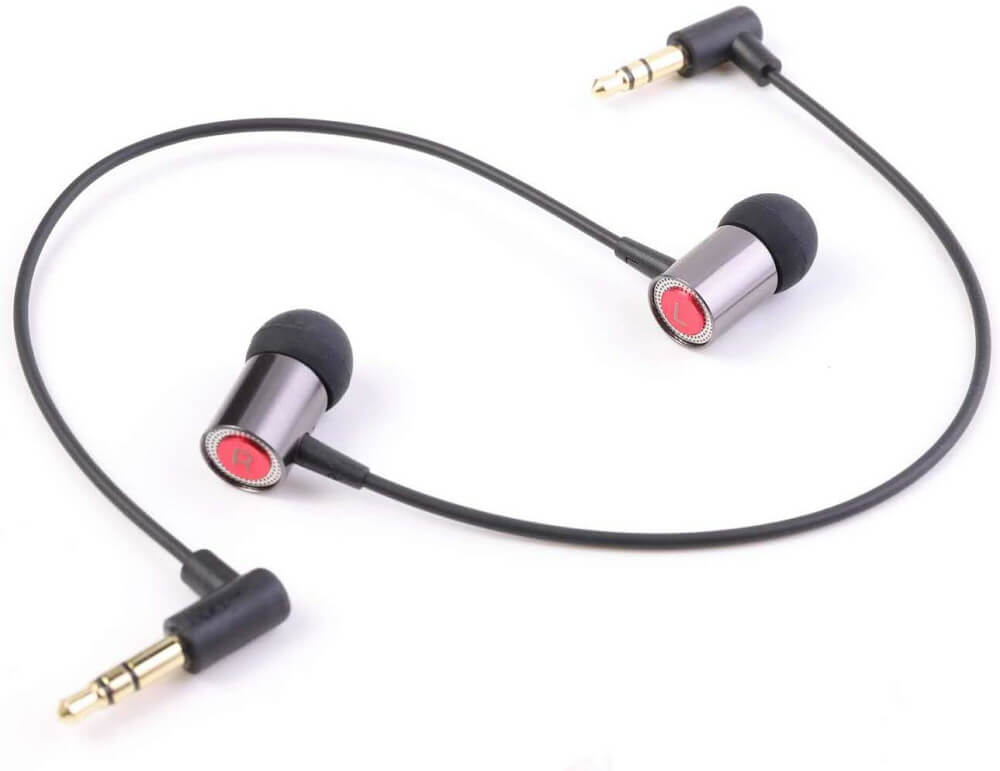 This is worth noting as it rivals the Oculus Quest headphones by having one short cable per headphone.
Of course, the Spectrashell is substantially cheaper than the offering from Oculus.
The Specs
9mm Dynamic driver in each headphone
Silicon wire
Weigh just .64 ounces
Sensitivity 106dB/mW
Frequency range 20Hz-20kHz
The Good
The Spectrashell has 9mm drivers which provide a great range of tones, from deep bass to clear trebles; you'll be impressed.
However, it should be noted that the earphones are only designed to produce one channel of music each. 
These are well-made headphones, despite the low price tag. The cable is silicon, ensuring softness, flexibility, and the high-quality sound.
Even the earpieces are made with plastic and metal, helping to ensure they'll last for years.
Most headphones come with spare earbud caps but the Spectrashell goes a step further and supplies earbud caps in a variety of shapes, as well as sizes. You should be able to find something to fit your ear comfortably.
The Bad
Only work with Quest
Got To Be Pushed Right In
---
Quick Guide To Choosing The Best Headset For Oculus Quest
The best headset for you may not be the same as the one your friend's choose. That's fine, headsets tend to be a personal choice, the size and shape of your ears and face can make a huge difference. That's why you need to consider the following first.
Comfort
Before deciding on your best headphones for Oculus Quest you should consider which type of headphones you usually prefer. If you're using the Quest then there is a good chance that you'll have the headset on for an extended period of time. 
This means comfort is essential. You'll need to consider which of these types will suit your needs best, and fit with the Oculus Quest, these are the 3 main categories:
Headphones which have a strap that goes over your head are referred to as overhead. These sit over your ear and effectively block the sounds out from the rest of the world. 
You can get closed or open back versions, your choice will affect the sound.
This style is generally comfortable for extended periods of time, although you may experience pressure on your ears. They are likely to stay in place while you move around your game.
You've probably used in-ear headphones before. These are the ones that have small tips which insert directly into your ear. They can be exceptionally comfortable and offer great sound quality. However, keeping something in your ear can increase the chances of infection, you'll need to keep your headphones clean. 
The third choice generally uses earbuds but has a small clip that sits over your ear, this ensures the headphones can't fall out. These are a good option for fast-moving games where you don't want the restriction of an overhead set.
Budget
Just as headphones come in all shapes and sizes, they also come in an array of budgets. You'll need to consider the funds you have available to spend, especially if you've just bought the Quest.
Of course, you can always choose one air and upgrade in the future. However, you should remember that your choice of headset will directly affect your comfort when you use your VR headset. 
Quality & Reputation
Just because a brand is not as well known doesn't mean it's a bad one. Obviously, headphones from big-named brands should have the confidence of a warranty and need for good customer service. 
But, regardless of the brand, you should look at social media forums and reviews to assess how good, (or bad), a set of headphones really is.
Don't be surprised to find some negative reviews, headphones are not a one size fits all type of purchase.  What you're looking for is generally positive feedback and an indication that the customer service team takes complaints and issues seriously. 
This will show you how good a brand really is, even if you are unlucky enough to get a defect set of headphones.
Wire
The Quest can be used with wireless headphones. However, you'll need to enable developer mode, know how to sideload apps, and use the command prompt on your PC. Unfortunately, even if you do all that, not all Bluetooth headphones are compatible at this time. 
It's generally better to stick to a wired option. However, the jack ports are on either side of your Quest, this means the cable doesn't need to belong. In fact, the shorter the better! 
Long cable lengths mean you've got extra cabling hanging from your voice, it's likely to get caught by your hands during gameplay, potentially resulting in your headphones being damaged or ripped from your ears.
Final Thoughts
All of the headphones on this best headphones for Oculus Quest list have the capability of being your perfect next set of headphones. You'll simply need to consider which attributes are more valuable to you.
As already mentioned, this is a personal decision, there is no right or wrong answer, just what suits you best.