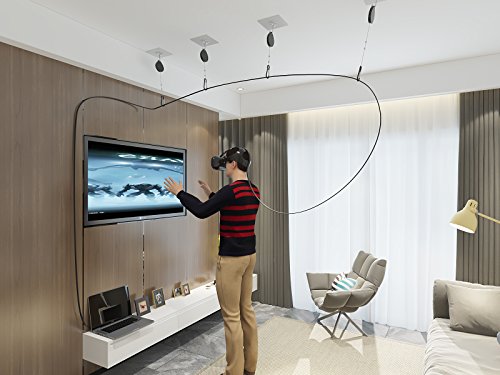 HTC Vive delivers an incredibly immersive virtual reality experience when combined with a compatible PC or laptop, and wireless controllers. Some users encounter difficulty when setting up floor space for their room scale play areas, as PCs can be located too far away from clear, trip- and hazard-free zones that are suitable for safe VR gameplay. An HTC Vive extension cable can be very helpful in these situations, as it literally extends your PC so that you can play games wherever you want to.
Tips for Using HTC Vive Extension Cables
A great VR gaming setup can take some time and effort to implement, particularly when it comes to getting Vive ready to go. If you're like many users, it's likely that you have a dedicated gaming computer in a bedroom or office without a lot of floor space. This is fine for games that call for stationary use, but not ideal for those that call for full-body participation. You're left with two options: Either move your computer to the space where you plan to play, or use HTC Vive extension cables to virtually "move" your computer into your chosen play area.
With HTC Vive extension cables, it's possible to set up VR game space just about anywhere. Consider creating a dedicated room scale play area in any of the following locations:
Spare room or storage room
The good news is that HTC Vive extension cables don't have to be large, nor do they have to get in the way of everyday activities. Before we discuss solutions for easy, trouble-free routing, let's take a quick look at some rules for setting up an HTC extension cable system.
Do not make the mistake of extending the cables between your controller box and your headset. This can lead to problems with game play, as the headset and controller box are already setup at the maximum allowable distance from one another.
Decide whether you need a short or long range extension. Short range extensions make use of 10-foot cables, while long-range extensions are capable of spanning distances of at least 30 feet.
For short-range HTC Vive extensions, purchase the following supplies. You'll use these to replace the standard-length USB and HDMI cables that connect your gaming computer to your Vive controller box.
For long-range HTC Vive extensions, you'll need to spend a little more money and purchase a few more components. Be sure that they're of good quality! Here's how to run a basic 30-foot HTC Vive extension cable:

Replace the existing components with the HDMI cable and the Cat 6 Ethernet cable. You will plug the USB over Ethernet Kit into your computer, and you'll connect the Cat 6 Ethernet cable to that. Don't worry – the Ethernet Kit comes with complete instructions for easy setup.
For either solution, you can purchase a power cord extender to further extend the distance between your gaming computer and your play area.
How to Route HTC Vive Extension Cables
Since long-range extensions can lead to problems including data loss, it's a good idea to create the shortest, most direct route between your gaming computer and your play area. This means avoiding unnecessary turns, staircases, etc. You will need a drill to complete this simple task, and you might also want to obtain expandable braided sleeving to house your cords neatly.
If your gaming computer is located in one room and your game play area is in an adjoining room, you can simply drill through the wall and route your cables through the hole.
If your play area is in a basement, you may be able to drill through the floor in the room where the computer is located and route cables down to your room scale setup. It's a good idea to look at blueprints before you start, so you can plan how best to set up your play area.
If you aren't handy with tools, or if you're concerned that you might accidentally nick an electric cord or a plumbing pipe, consider asking someone with home improvement skills to help you. That may mean enlisting a friend or family member, or it might mean paying a handyman for an hour or two of time. Since electrical accidents can be deadly and plumbing accidents can cost thousands, consider this small investment a worthwhile one! In many areas, it's possible to find licensed, insured handymen on Amazon's Home and Business Services directory. Other directories like Angie's List and Home Advisor are great sources for professionals to help you route HTC Vive extension cables safely and efficiently.