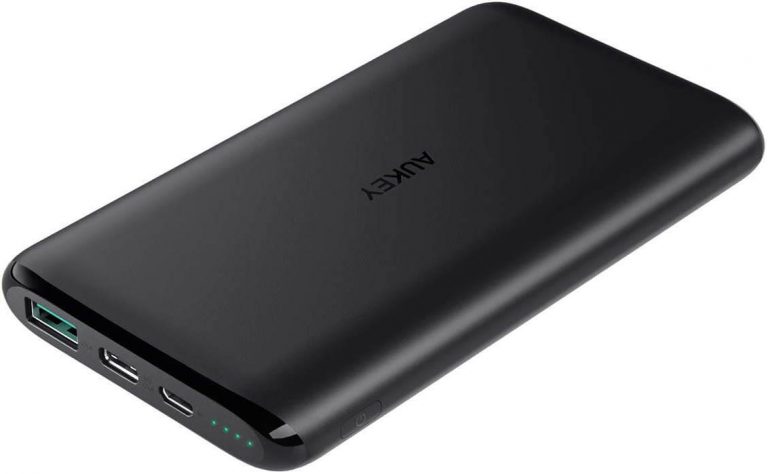 The Oculus Quest is arguably the best virtual reality device currently available because it allows you to immerse yourself into virtual reality anywhere at any time, you don't need to be tied to the computer to experience the wonder of VR.
Of course, the Quest isn't perfect. Most users will agree it is a little front heavy, which can be tiring during extended gameplay. The other major issue is that the battery in the Quest only lasts 2-3 hours. That's not great if you're out and want to indulge in a lengthy bit of gameplay, or even several shorter stints.
Fortunately, there is a solution, the battery pack, or power bank. Although originally invented to allow phone and tablet users to recharge while on the go, the battery pack is now an essential part of any Quest.
But, as always, not all battery packs are created equal, you need to know which is the right one for your needs. In short, you want to know the best Oculus Quest battery pack!
Best Oculus Quest Battery Pack
Rebuff Reality – VR Power
It's worth mentioning this product, although it's not yet available to buy. This actually comes as a pack, there is one battery pack, two cable management clips, comfort padding, and enough straps to ensure the battery pack is securely fastened to the back of your Oculus Quest.
The pack itself is designed to sit in the triangular piece at the back of your head, with the cable running around the main straps and joining the Quest with an 'L-shaped' connector. It has 10,000 mAH which should complement the battery on the Quest to give you 10 hours of gaming.
Anker PowerCore 10000 – Most Popular Option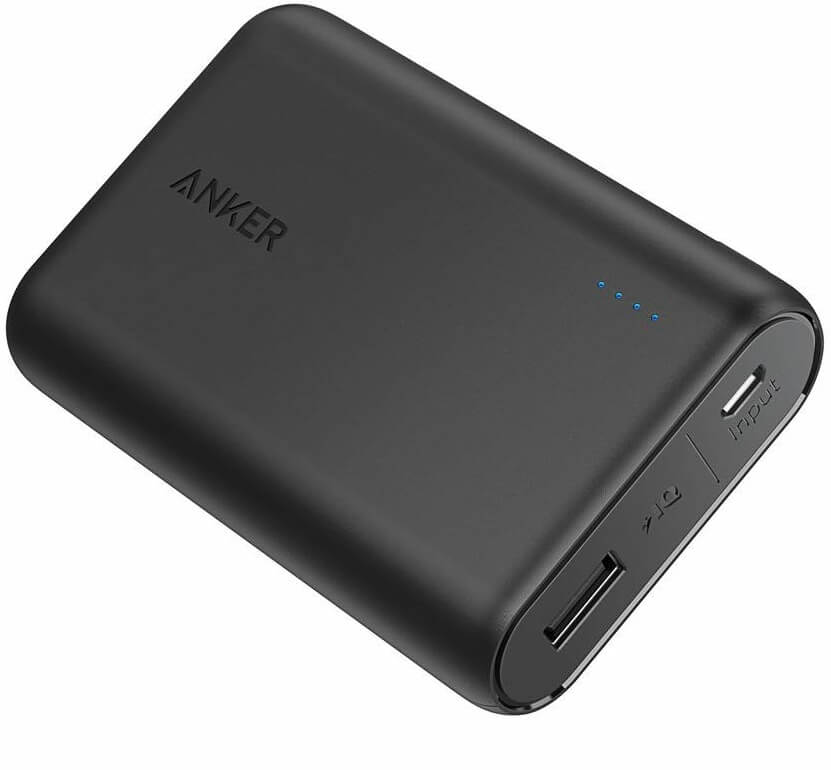 Dressed in black this power pack looks pretty similar to most other offerings available on the market. But, this 10,000 mAh power pack is one of the smallest and lightest options available. Add t this an attractive price and a choice of colors and you can see why this is one of the most popular options currently available.
Whether you prefer black, white, blue, or red, you'll find this is an attractive looking solution to your game playing problem.
Anker uses PowerIQ and VoltageBoost, technology that is exclusive to Anker, which boosts the speed at which it can charge any item, including the Quest. Of course, the Quest is designed to be played while being charged, the high speed of this charger helps to ensure your gameplay continues smoothly.
Anker also uses a Multi protect safety system, this ensures the charge goes into your Quest and not into you. You can recharge your Quest 2 times, or simply play with this plugged in, for another 4-6 hours, after the original 2-3 of the standard battery.
As well as the portable charger you'll get a micro SB cable, travel pouch, and an 18-month warranty. But, you'll need to purchase a USB-C cable separately.
---
Anker PowerCore 20100 – The Ultimate Battery Pack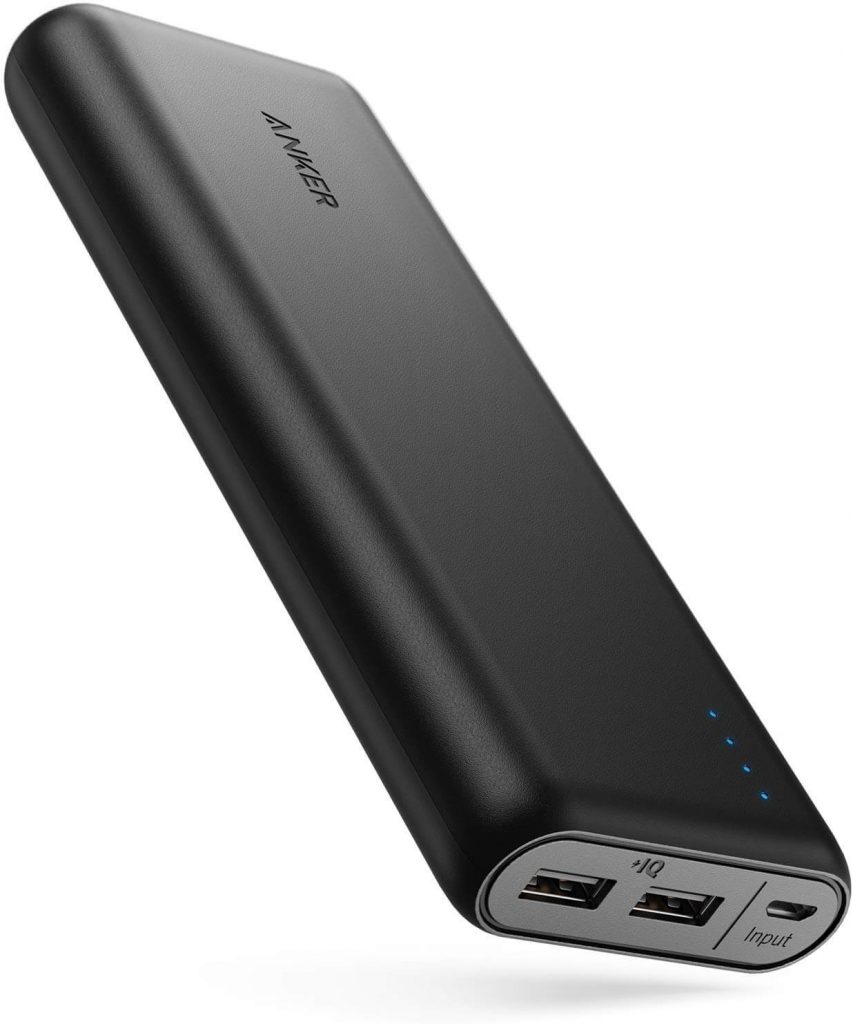 This pack is a more expensive offering from Anker. But, if you're serious about gaming this is the pack that will give you all the power you'll need to keep going.
Again, this portable charger is available in red, white, blue, or black, it looks good in all colors. It produces 20,100 mAh and 4.8 A output, making it dramatically more powerful than the previous offering from Anker.
Although slightly chunkier than the Anker 10,000, it's still a good-looking bit of kit, and valuable addition to your game equipment.
It also comes with the micro USB cable, pouch, and even a guide to using it. The USB-C cable is sold separately.
The 20100 actually weighs just 12.5oz, you'll barely notice it on your head when it's strapped to the Quest. Of course, you can also clip it to your waist and allow the cable to reach to your head. It's worth noting that this has approximately twice the power of the Anker 10,000, it will give you another 8-12 hours on top of the standard 2-3 hours that the Quest battery supplies!
However, you'll need to allow charging time, a 2 amp charger will take 10 hours to recharge this power bank, a 1 amp charger will take closer to 20 hours. This is relevant as most phone chargers only supply a charge of 1 amp.
This battery pack also has the Multi protect safety system to ensure you're not receiving a shock when charging. This is important to ensure you're safe when playing your VR game.
It's worth mentioning that it measures 6.6 x 2.4 x 0.9 inches.
---
Omars 5000 – The Budget Option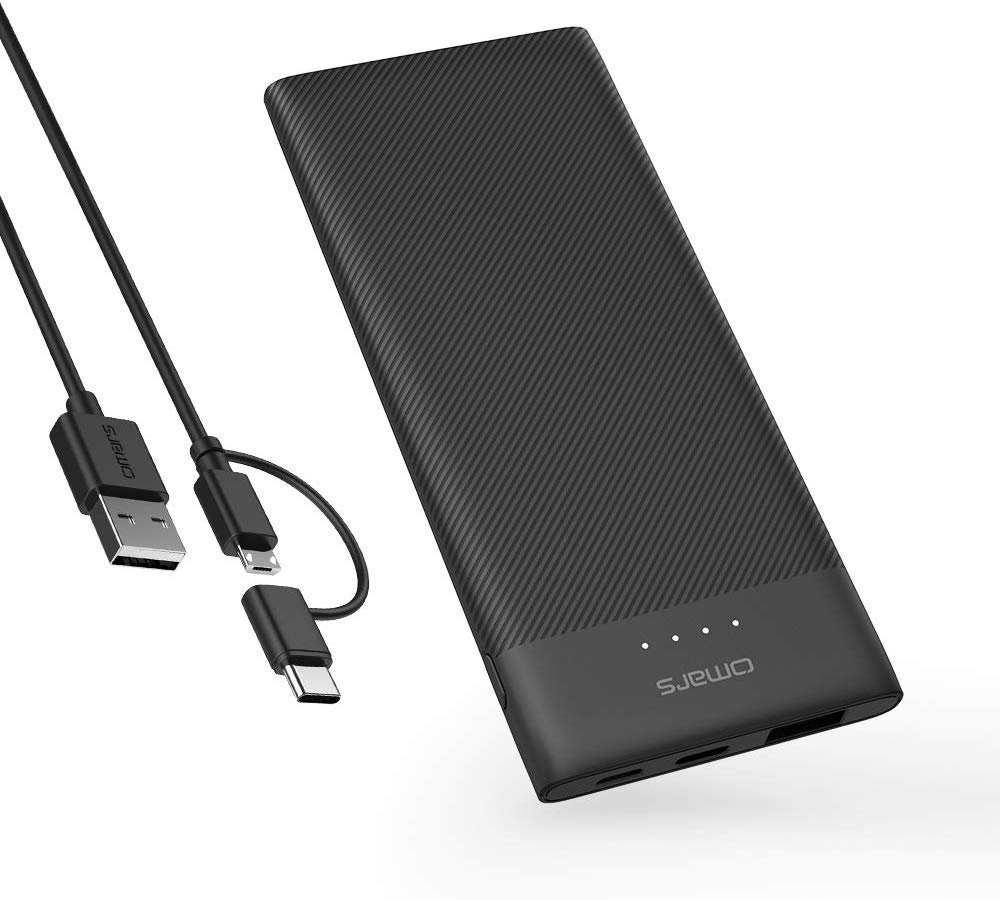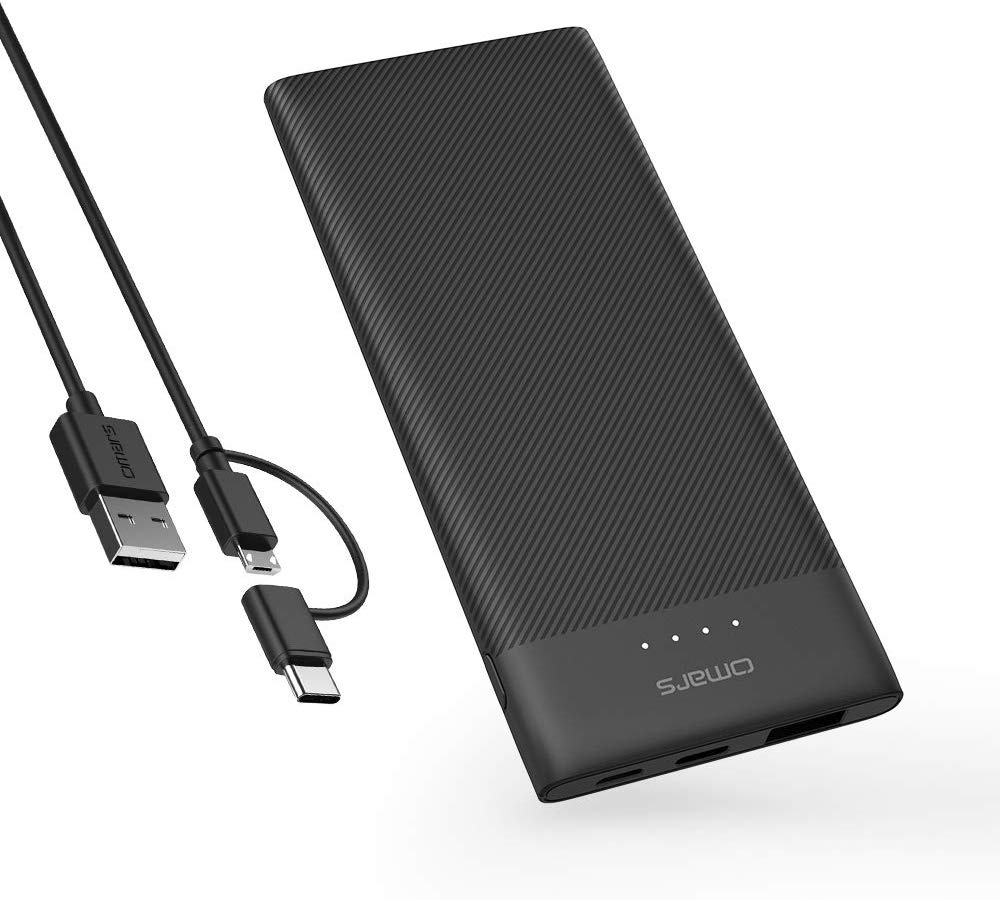 This certainly isn't the most powerful option and isn't going to dramatically increase your playing time. However, it is a great option if you're on a budget and want something that is easy to carry with you.
The Omars comes in just one color, black, but, it's a good-looking bit of kit that gives 5,000 mAh, enough for you to recharge your Quest at least once and to extend your gameplay by 2-3 hours. That may not sound like a lot but that gives you 4-6 hours, enough to make a good start on any game.
The battery pack has 3 ports that you can use, micro-USB, USB C, and USB A. This means you don't just have to charge your Quest, you can also charge your phone or even your Bluetooth headphones.
This battery pack also has built-in safety protection for peace of mind, and provides a 5V 2.4A charge, ensuring your Quest is recharged as quickly as possible if you decide not to play while recharging it.
You may be impressed by the fact it weighs just 5 pounds and measures 5.37 x 2.36 x 0.42 inches, it may not be the most powerful but it is certainly easy to carry with you.
---
ZMI 10000 – The Best Lightweight Option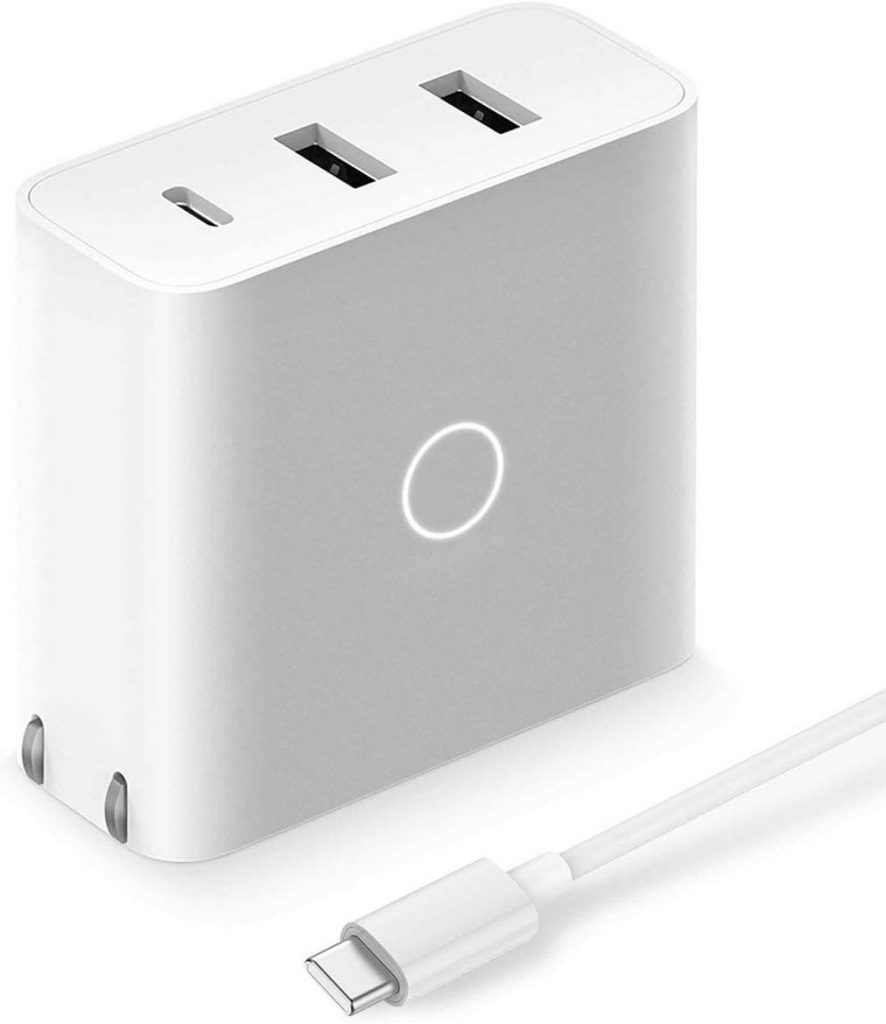 ZMI 10000 is described as a 3-way charger which simply means that it has 3 ports, allowing you to potentially charge 3 different items at the same time.
But, this isn't just a lightweight option, it is also a powerful charger, it can offer fast charging of 45W via the USB-C ports, providing your Quest will accept it. However, the purpose of your battery pack is probably to make sure you can keep playing, effectively charging while being used. This does make the fast charge less useful. But, it's a good feature if you need to charge a phone, or something else at the same time.
It has a matt finish and a power-on light, ensuring you know what your charger is doing. The actual supply delivered will vary from 5V, 3 amp, to 20V3 amp, depending on what items you're charging.
You'll get one charger, a 5-foot USB-C to USB-C cable, and a complete user guide. Micro-USB cables are sold separately.
The ZMI 10000 weighs just 5 ounces and measures 2.75 x 2.4 x 1.12 inches, you'll find it easy to carry it with you.
---
Aukey Power Bank – Most Versatile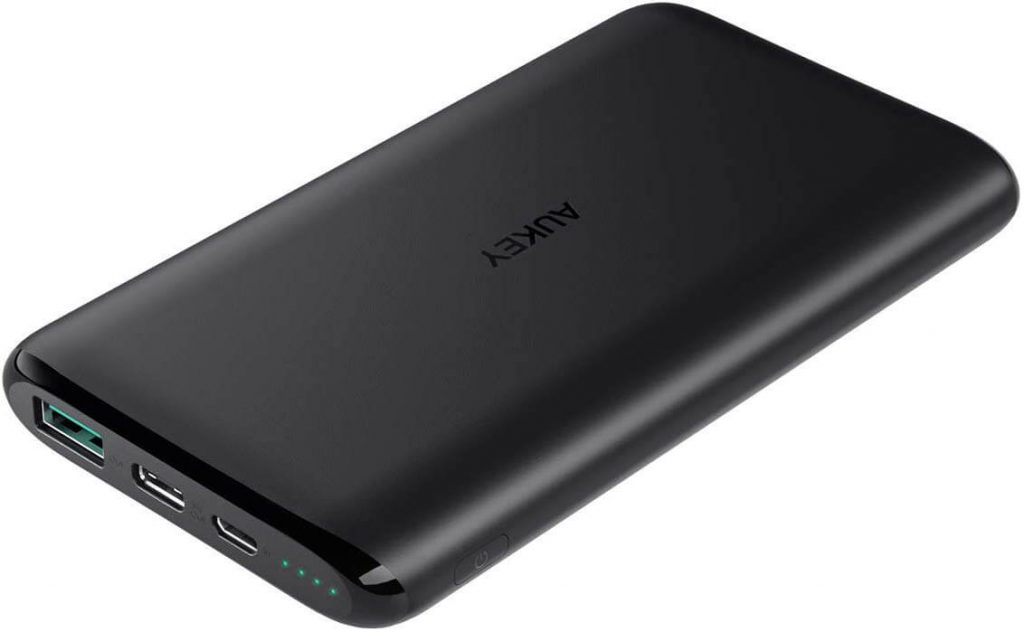 The final power bank worth considering when choosing one of the best Oculus Quest battery pack options is the Aukey power bank.
This is a surprisingly versatile option despite being just 10000 mAh. You can recharge this power bank with the USB-C cable, it will recharge at 3 amps, that's 3 times faster than the average phone charger. The Aukey offers 10000 mAh of power which is enough to recharge your Quest at least twice, or you can simply play while it is charging, giving up to 6 hours of play.
This battery pack has its own safety mechanisms, that means you can't overheat it or put too much current through it, the charger will simply cut out unit it's cooled or the load has changed.
Alongside the charger, you'll get a micro USB charger and 24 months of customer support. It's also important to note that the power bank is slim, measuring just 4.88 x 2.76 x 0.59 and weighing 7 ounces, you'll find this is an easy pack to keep with you all the time.
---
Conclusion
Any of the above power banks will help you to keep playing your Quest. But, if you want the best oculus Quest battery pack then you should really look at purchasing the Anker 20100, it's powerful and good looking, meaning that you'll be able to outlast your friends and become the VR champion!
Of course, if you're budget s tight, especially after purchasing the Quest, you may prefer to take the budget option. In this case, the best Oculus Quest battery pack is the Omars 5000.
You simply need to decide your budget and how long you want additional charge for, this will make the decision to purchase the best Oculus Quest battery pack much easier.