The Oculus Quest is arguably one of the best VR devices currently available. This is partly to do with the fact that it can be played without being attached to any other device.
Of course, the downside of this is that the Oculus Quest needs to be plugged in periodically to recharge, or you won't be able to play anything.  For many users it can be easier to simply leave the device connected to the charger, this will ensure you never run out of power, although it also ruins the point of having a cable-free device.
Your Oculus Quest s designed to be charged via a USB-C port, this port can also transfer data between the Quest and your computer. However, while these ports are exceptionally good, they can easily be damaged if the cable is accidentally yanked out of the Quest. This can happen if you catch the cable, walk off with your Quest while it's charging, or in any number of other ways. 
That's why you need the best magnetic charger for Oculus Quest. The magnetic charger will release quickly, preventing damage to the Quest if the cables are pulled to the ground. 
The magnetic charger is essentially an adapter which goes into your Quest, this has a magnetic current. Your cable also has a magnet built into the end of it, when the two magnets meet they make a connection that allows the electricity/data to flow. Even a slight tug will release the connection without damaging your Quest.
There are several options worth considering, depending on your needs:
Knaive USB-C Magnetic Charger – The Best Overall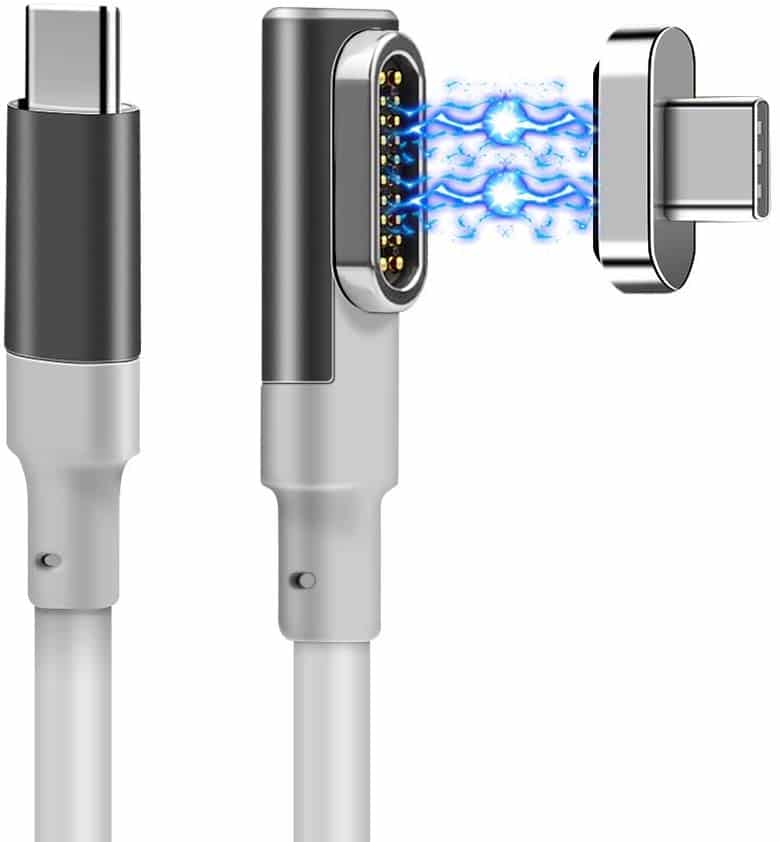 This 20 pins magnetic USB-C 3.1 adapter cable is actually compatible with a huge range of devices, including Apple products, Samsung Galaxy Tab, and of course the Quest, along with any other USB-C charging device.
The cable comes with a 20 pin, 24K gold-plated KD3A attachment that slides inside your Quest. It is possible to remove it again with the special tool, although you'll probably never want or need to. The magnetic catch is strong enough to be noticeable when connecting your charging cable but not strong enough to prevent the connection from being broken if the Quest or charger is accidentally moved.
This isn't just a charging cable, it can also transfer data up to 10Gbps and video output of 4K at 60 Hz. Once the charger is connected you'll notice a green LED at the side of the port, this shows it's connected properly and charging. 
The cable is also covered with multi-layered sheath which is resistant to Electro-Magnetic Interference, (EMI)
It's worth noting that the KD3A is actually covered by a Knaive warranty for 12 months if you have any issue due to manufacturing defects the cable charger will simply be replaced. 
What may surprise you is that this magnetic charger can actually be purchased for less than $30, which hardly makes it worth looking at the budget option.
Quick Spec Recap
Supports 20v, 5A for fast charging of devices
Up to 10GBPS data transfer possible
Iron shell around magnet
Sheathing to protect against EMI
Magnetic join for robust charging and safe disconnecting
Plug can be reversed depending on the location of charging point
LED indicator on the adaptor
The Knaive magnetic charger is a great option as an all-round charging solution.
---
NetDot Gen12 USB-C Magnetic Charger – Great for tight budgets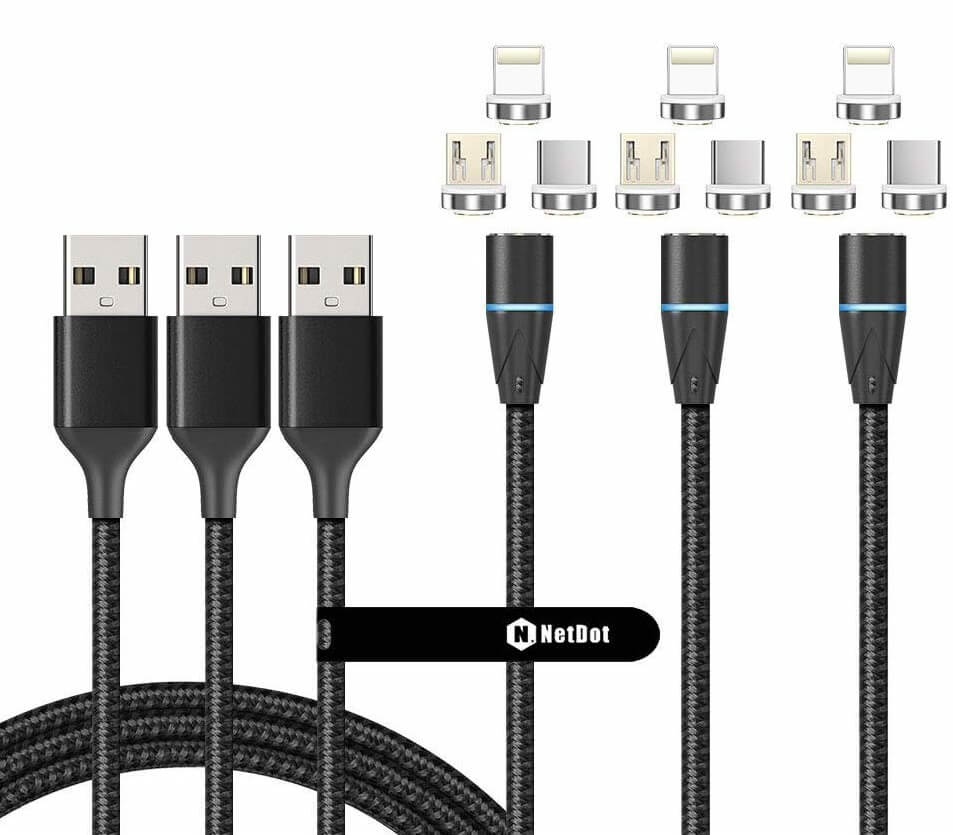 NetDot has a policy of returning to simplicity and allowing the natural flow of design to create a product that is practical, aesthetically pleasing, and reliable. Whether they're designing magnetic cables or power banks, their aim is to create products that look simple but are innovative.
That's what they've achieved with the NetDot Gen12 USB-C magnetic charger.  More impressive is that they're offering this charger for an incredibly low price. You're unlikely to find one cheaper.
The cable on this magnetic charger is 5ft long, although you can purchase it in different lengths, ranging from 1ft to 6 ½ ft, depending on what you need. In keeping with their innovative approach to products, NetDot has chosen a round design for the magnetic point of contact. This increases the contact area providing a stable and secure contact point. Of course, it will still separate before your Quest is thrown to the floor. It also allows you to charge at angles that are impossible with a straight connection.
The Gen12 can provide 9v, (2A) charging, which means you're going to be able to charge your Quest surprisingly quickly. It also supports data sync.
Although your Quest needs the USB-C port, this charger actually comes with an array of adaptors, allowing you to use it with micro USB products, such as your phone or tablet. That makes it an incredibly useful tool. You'll know it's connected and charger as there is a blue/green light built into the cable, just before the magnetic catch. 
It is worth noting that the GEN12 charger and connectors are not interchangeable with NetDot's Gené, 7, or 10 versions. You may also find the LED surprisingly bright if you leave something charging while you're sleeping.
Quick Spec Recap
9V Fast charging
Circular magnetic connection
LED light to show its charging
Available in various lengths between 1ft and 6.6ft
Weighs just 4.8 ounces
---
Kyerlvs Magnetic USB-C charger – Cool circular design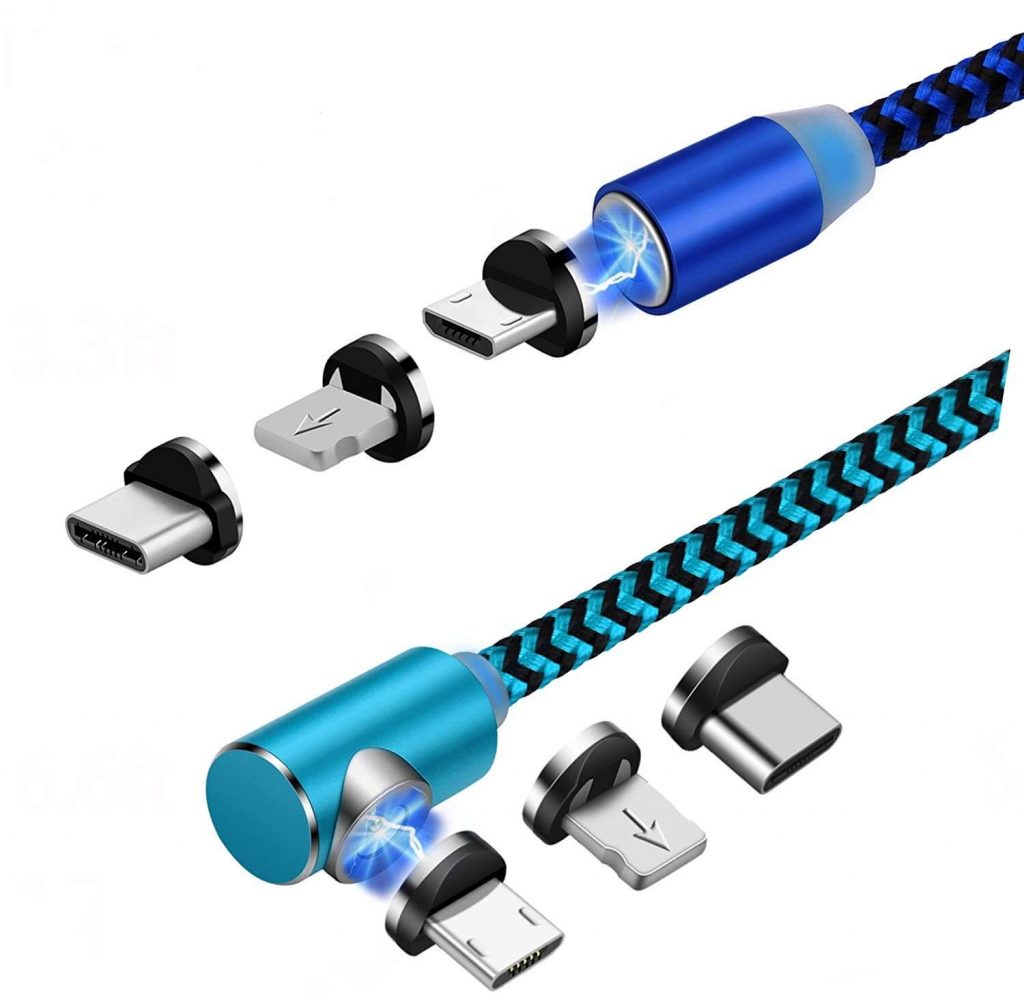 Kyerlvs has also gone for a circular design on the magnetic catch, the main reason for this is that it improves the variety of angles that you can charge from. That means when space is limited or you're in a rush, you're still going to get the connection you need and your Quest will be charged ready for use.
But, this isn't just another circular charger. It's one of the best magnetic chargers for Oculus Quest because it looks fantastic. Although in essence, it's the same as most of the other chargers on offer, this product has a colored circular attachment with a gentle light built into the part connecting to the cable. The cable itself is material, making it virtually impossible to knot it when not in use.
But, it's not just a good-looking bit of kit. There are 122 copper wires inside the cable to create the four core wire, and 32 pieces of nylon are braided together to make the material finish. You can purchase the 3.3ft long cable that connects to your Quest at the end, or, you can opt for the 6.6ft cable that places the connector on the side instead of the end. This makes it easier to connect the charger to your Quest, or any other device, even if space is limited.
As with the NetDot, the circular design makes it much easier to connect your charger and provides a solid connection for charging. It also comes with a micro-USB connector that you can use in your phone or any other device that charges via micro-USB.  The circular connector also makes it very easy to put a battery pack on your belt and chare the Quest while you're using it. 
However, it is worth noting that this cable will not support data transfer.
Quick Spec Recap
3.3ft or 6.6ft long
Charges at 2.4A (shorter cable charges at 2A)
Available in black, blue, gray, red, or silver
Circular connection
Soft Light to indicate charging
---
Hoveyo Glowing Magnetic Charger – Best For Looks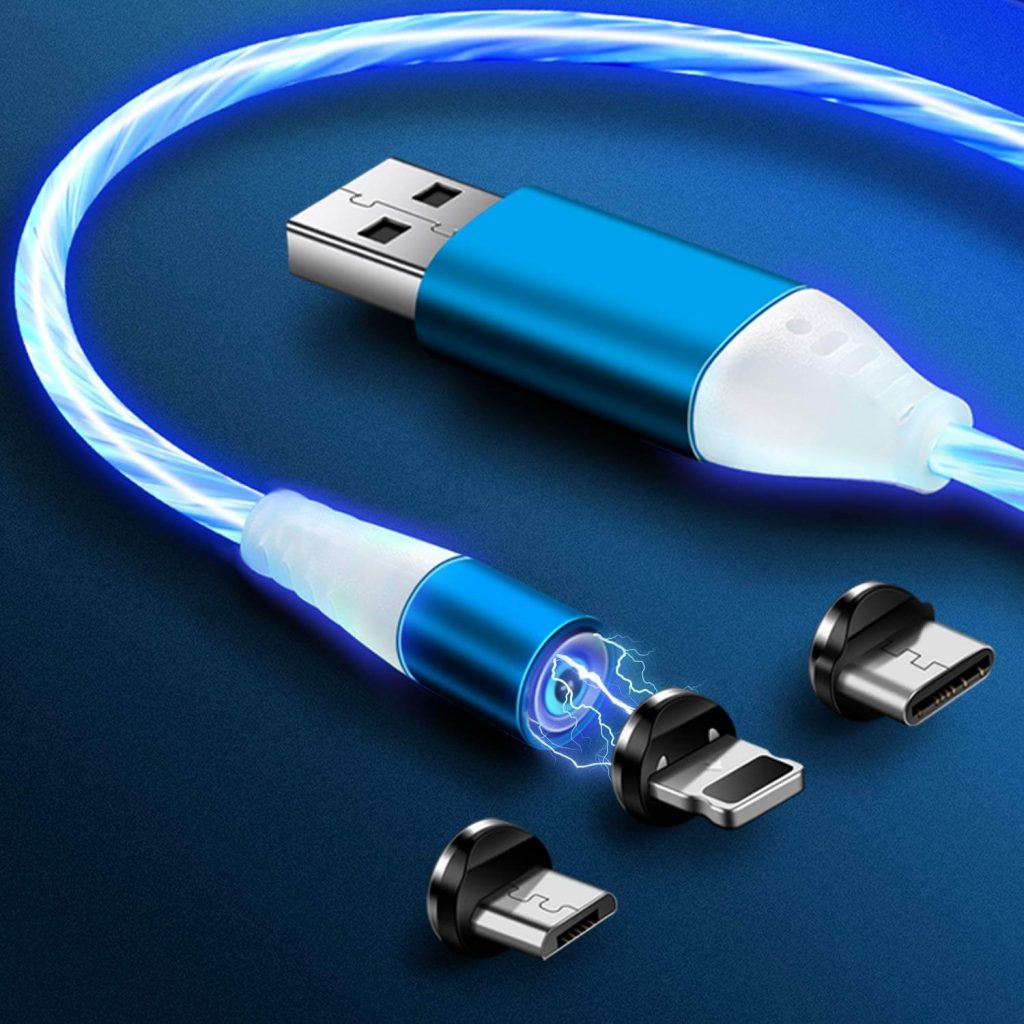 The final option on this list is from Hoveyo and is definitely the most stylish option. The main reason for this is that's it's not just the connector that has a light, the entire cable glows when in use! 
You can get this cable charger in two sizes, 3.3 ft or 6.6ft, you can also choose between red and blue. But, this is a charging cable, not a data transference cable. It does have a circular connector and comes with adaptors, for your USB-C, micro USB, and one for the iPhone. This means it's compatible with almost any device that you own!
However, it is a single-sided charger, you'll need to note where the arrow is and make sure it's pointing upward. It uses copper wire and will automatically turn off to prevent your Quest being overcharged. 
Quick Spec Recap
Circular connector
Copper wire
3 adaptors
The whole cable illuminates when charging
Weighs 1.6 ounces
Available in 3.3ft or 6.6ft
---
Conclusion
The best magnetic charger for Oculus Quest isn't just an essential addition to your VR device because it allows you to charge quickly and while on the move. It s also useful for connecting to an array of other devices. The great thing is that these charging cables and connectors are not expensive even the best overall, the Knaive, is under $30. Once you've used one you're not going to want to go back to a conventional charger!
It's just too easy to connect and disconnect this one without the risk of accidentally pulling your Quest onto the floor and damaging it.