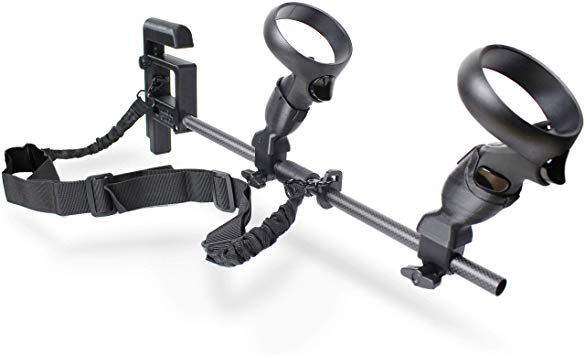 The Oculus Quest is a great piece of kit. But, as with anything, there are always accessories that can make it better. When you're using a virtual reality device and love shooting games, especially sniper-based gameplay, having a gunstock in your hand can really help to make the experience feel authentic.
Unfortunately, despite gun stocks from the Rift being able to fit the Quest, there are actually very few gun stocks to choose from at this time. But, that doesn't mean there aren't any options available, you'll still have to consider which of the Best Oculus Quest gunstock options you like the most, but that's a relatively simple decision once you've seen what's on offer.
The Best Oculus Quest Gun Stock
Evolution Carbon Fiber Rifle Adaptor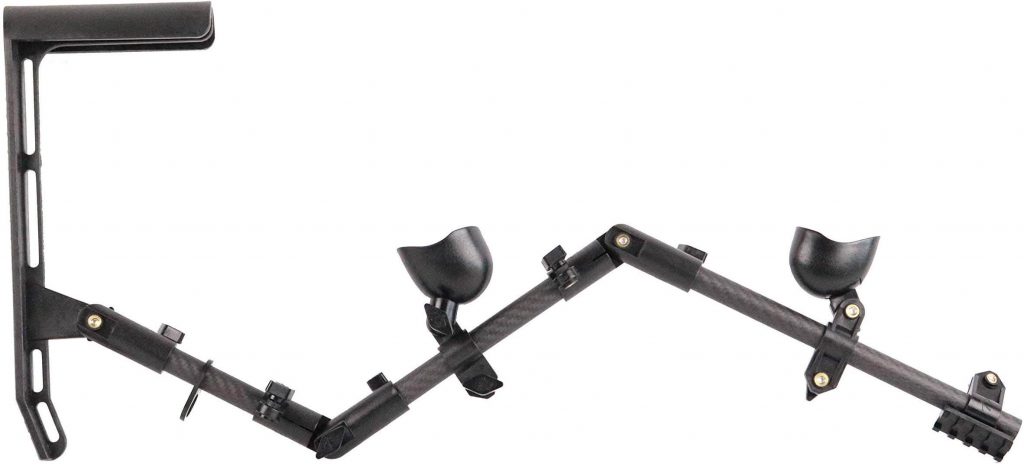 This carbon fiber rifle adaptor is, unsurprisingly, made from carbon-fiber. This means that it's very light and easy to hold. Although this potentially reduces the feeling of authenticity compared to the weight of a real rifle, it does mean that you'll be able to hold it for an extended period of gameplay. That's a worthwhile trade-off.
The Evolution adaptor is designed to mimic the shape and fee of your favorite rifle. You'll need to bolt the Quest controllers to the platform using the clamps provided. It should be noted that this adaptor was originally designed for the Rift, you may need a little tape to ensure the fit is snug with Quest controllers.
You'll then have a stable base which you can use as though you're a sniper, it will make a surprising difference to your aim and how accurate you are when shooting during gameplay.
The tubing on this adaptor is 14.95mm and it would benefit from a small amount of foam to help it stay against your chest or shoulder. But, it weighs just 1.3 pounds, that means you'll hardly even notice you're holding it. In short, it will improve your gameplay without distracting you from the screen.
---
Magni Stock Rifle Adaptor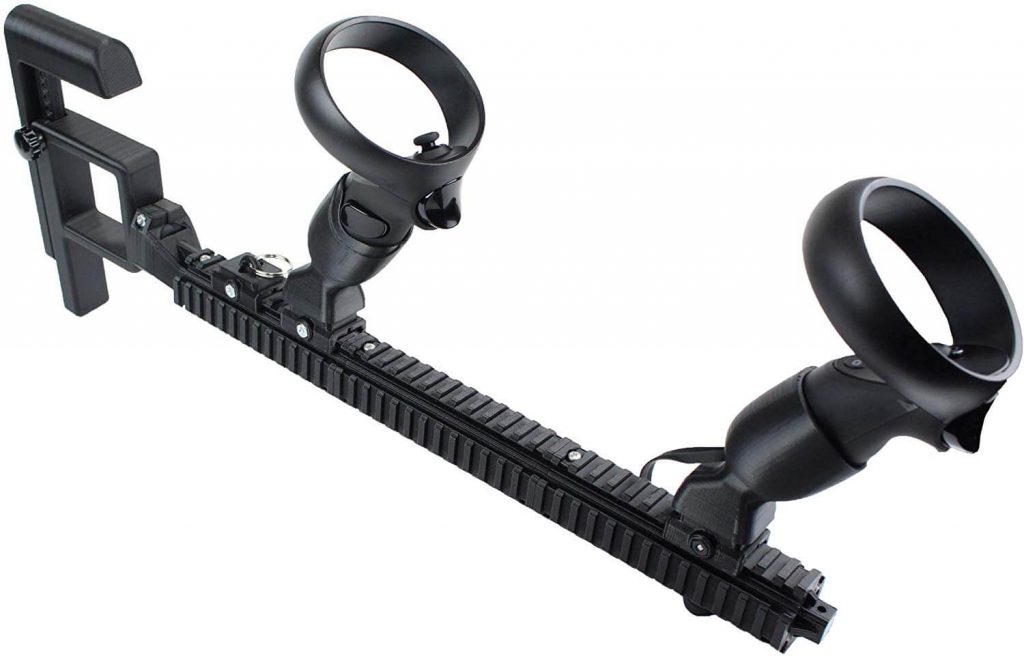 This is another rifle adaptor but made much more like a standard rifle, allowing you to shoot effectively as you move, rather than adopting a classic sniper position. In fact, this offering from Magni Stock almost looks like a rifle itself.
It has two strong neodymium magnets that ensure your hand controllers are located securely and in the proper place. What is great about this attachment method is that it's very easy to switch from rifle to single-handed playing, allowing you a smooth transition through the game to get the best possible result.
It will feel like an extension of your body and you'll notice your accuracy improves significantly. There are also two nylon slings, these are black/khaki and help you to hold the rifle adaptor throughout the game, they also add a little extra authenticity. You'll also find it useful if you withdraw the controllers from the rifle adaptor, the adaptor will simply hang off your shoulder until you need it again.
However, you should note that this is not the cheapest option.
---
Your Quick Guide
There are several things you should consider before you invest in the best Oculus Quest gun stock:
Gun stocks come in a variety of prices, if you're new to the gunstock you may be best advised to choose one of the budget options and upgrade if you like using this accessory. However, if you've used gun stocks before you're going to want one of the higher-end options, which will have a higher price tag. That's why you need to do your research first.
It's important to establish who the manufacturer is and what reputation they have. You need a product from a well-established and respected manufacturer. This will help to ensure the quality of the gunstock.
However, even the best manufacturers make mistakes, you need to verify how good their customer support is. The easiest way of doing this is to look at social media and game forums. You'll find honest opinions regarding the different gun stocks on offer. It's then easy to use this information to establish the best option for you and the one that will last the longest.
Just remember, there will always be unhappy customers. What matters is how they have been dealt with by customer services and, that there are more happy customers than unhappy ones.
The gunstock has to be comfortable in your hand and must not slip. This is essential in order to improve your gameplay. You can check this via the forums or by actually holding the stocks before you purchase them.
Whichever you do, make sure the design is comfortable for you.
The Bottom Line
There aren't many gunstock options for the Oculus Quest yet, but that doesn't mean there won't be more arriving soon. In the short term, there are two attractive options, although personally, I could opt for the carbon fiber version. It's well-made and gives a real feeling of going into combat