When you are looking for a laptop that you can use in a variety of situations, you may think it will be hard for you to find one that you can afford. There are expensive machines out there, but there are ones that are affordable as well, ones that will do the things you need them to do. In fact, there are many models that are capable of being used for multiple purposes, and are available for 600 dollars and under. Check out this article for information on what to look for when it comes to affordable laptops under 600 dollars and the best models out there. 
What to Look For
There are a few things to be aware of before you start shopping for your next laptop. You must learn about certain specifications before you can find a computer that will be able to work for you for quite a while. Here we will discuss some of the most important things to look out for during the shopping process. 
Type
Nowadays, there are multiple types of laptops out there. There are traditional laptops, which is probably the kind you are most used to seeing. These are the ones that are the most like PCs, and come in a variety of sizes. There are also laptops, which are called 2-in-1s, which means they are more like a tablet and a laptop in one. They generally have a touchscreen to make things like taking notes or drawing easier. There are also convertible 2-in-1s, which have a screen that flips or folds back, in order for you to use it in different ways. These types are the most common ones you will come across when shopping for laptops. 
Processor
A good processor is always needed when you are purchasing a computer. This is the powerhouse of the machine and dictates what you will be able to do with it. Keep in mind that it's a good idea to do a bit of research to see what the latest chips are when you are searching. You can choose between AMD or Intel processors, neither of which really has a benefit over the other. Both sides make powerful processors, which can run powerful computers. 
Memory
You should also pay attention to the memory that the machines have. You need a fair amount of RAM to ensure that the computer can handle applications quickly. On average, computers have at least 8GB of RAM but can have much more. A generous amount of storage space is needed on your hard drive as well. Many laptops have SSDs or solid-state drives, which work quicker than standard hard drives. On the other hand, standard models still work just fine and are usually more affordable. Some laptops may have both types. Shoot for at least 250GB total space or more in hard drive space for a laptop. You will need a fair amount if you intend to use it for gaming, taking pictures, or editing media. 
Battery
Battery life is a bit trickier when it comes to what is good. The amount of time a battery lasts when you are using a laptop can be dependent on so many things. If you can find something that will work for at least 5 hours before needing to be charged, this is okay. There are also many computers out there that are able to work for far longer than that too. Many options also have settings built-in, which are designed to help the battery work for a longer period of time.
Apps
You should have a clear understanding in your mind when it comes to what you want to do with your computer, before you spend any money. If you want to use it to do research and surf the internet, you'll need something less powerful than if you plan on playing games or streaming. If you plan to use a special photo editing software or want to play a certain game, you must be sure that it will work on the machine you choose. You can look at the required specifications of the software or game to get this information.
Size
Another aspect that you may not have considered is size. Depending on where you need to use this type of product, you should be sure that you have room and that it isn't too heavy to cart around. If you need to use something for working on the go or in class, you'll need it to be small and compact. Additionally, if you need it to run games or be your workhorse in a home office, it can be larger and heavier. 
What are the best small business laptops? 
If you are looking for an affordable laptop for your small business, it needs to be able to get you through many situations. It will need to have a battery that lasts a long time, and be able to use business apps without encountering any issues. It is also a good idea if it has the most recent OS out there as well. 
What is the best laptop for basic use? 
If you want to use a computer for basic purposes, it won't be that hard to find something that will match your budget. You can take your pick of a machine you like, which has basic specs and has good reviews. 
How long should a laptop last? 
A laptop of any type should be able to keep you connected for at least 2 or 3 years before you need to upgrade. However, when taken care of properly, many are able to work just fine for 5 years or longer. 
 Best Laptops under $600 available
There are numerous computers out there that are great for those on a budget. Some of them are powerful and are specialized for different jobs without fail. Here is a look at some of the highest-rated ones. 
Most budget friendly: Dell Inspiron 15.6 Laptop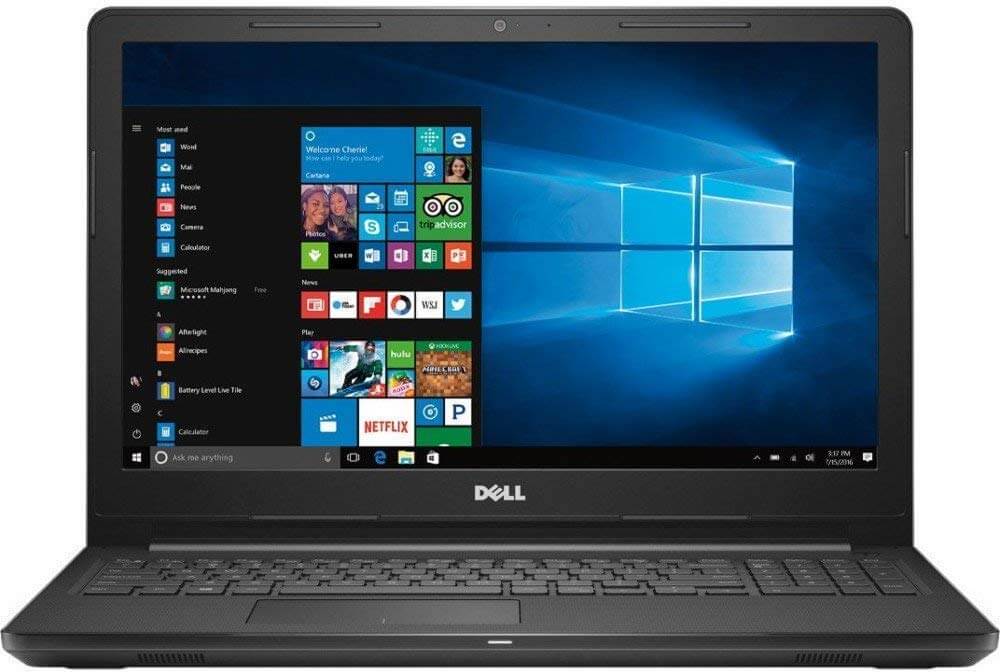 The Dell Inspiron is a laptop that can fulfill all the basic requirements that you may need in a laptop. It is able to do word processing and you can do internet research on it as well. 
It comes standard with enough memory and RAM to keep you covered, although when you purchase it, you'll likely have to update the Windows on it. After you do that, there shouldn't be any more problems that plague you with this one. You will also need to buy an office suite software if you plan to do work with it. 
As far as gaming goes, it is able to run simple games, but you will need something that is more powerful for serious gaming. This is up to you to decide. If you are a casual gamer, it shouldn't be an issue. 
The battery is able to run for a few hours before it needs to be charged, so if you are doing important work, you'll likely want to keep the charging cable handy. This one is great for high-school students so they can do their work, or for someone who is trying to start a business. You can always upgrade whenever you have a bigger budget. 
---
Budget Touchscreen: 2018 HP Touchscreen Laptop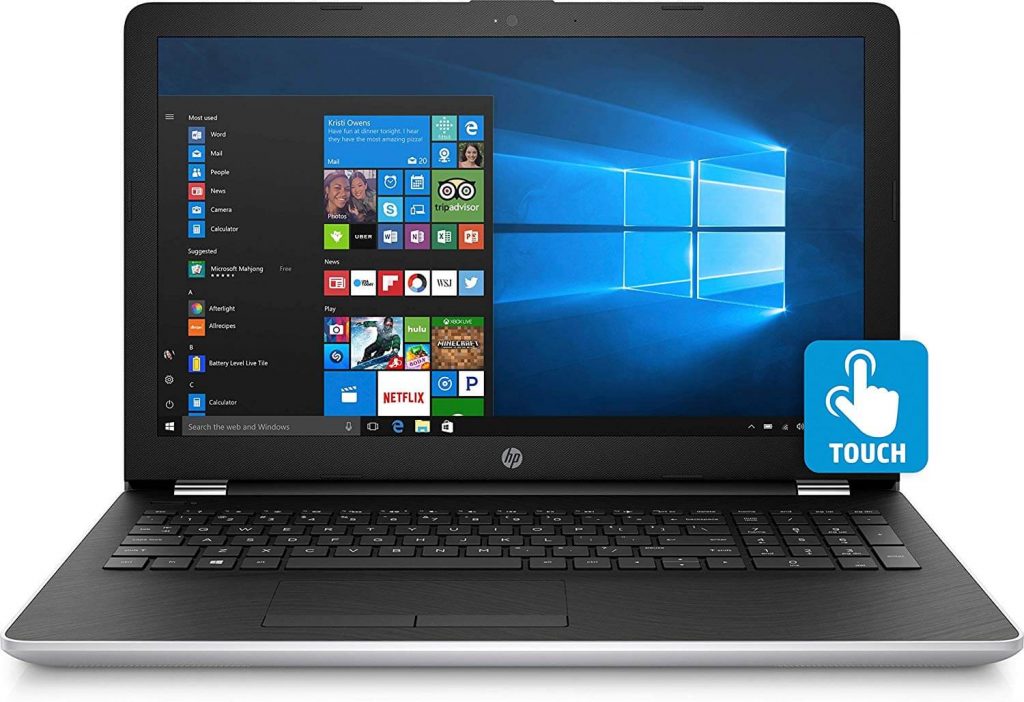 This HP laptop is powerful enough to do projects that you ask it to do. It is able to be used for cruising the net, casual gaming, and has a battery life that is long enough to get a lot of work done. If you want to use this as your portable office, it will work well since there is a 2TB hard drive, which is quite a lot of space. 
The screen is a touchscreen, so you can use it like a large tablet or cell phone. It can be used for streaming your favorite movies online or things like that. It is also designed to work well for quite some time, so you are not just going to have to replace it right away. 
It works right out of the box, where you won't have to spend a lot of time setting it up or something like that. It also comes with a built-in webcam, so video calls will not be an issue either.   It runs photo software, can connect to Bluetooth devices and keeps up with some of the latest technologies out there. Regardless of what you need a laptop for, it will do a bit of everything. 
---
Most affordable convertible 2-in 1: Lenovo Flex 14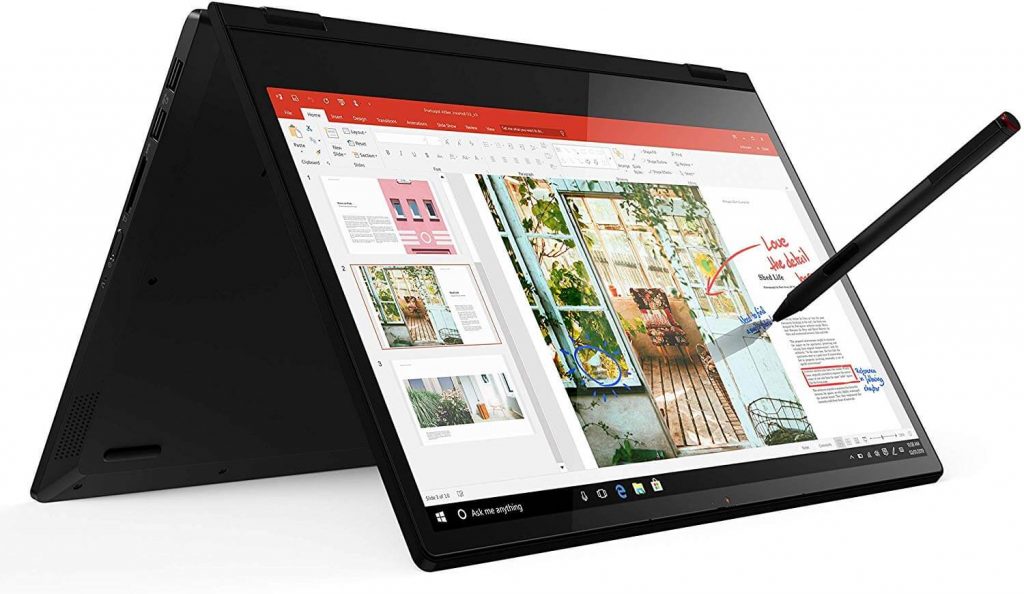 This Lenovo option is a great example of a convertible laptop. What this means is that you can take the screen and fold it all the way back, in order to use it like a notebook. This makes it a great tool when it comes to drawing, editing documents, and a handful of other things. 
Besides that, this one has AMD graphics and chipset, which is something different from many of the machines out there. It makes the computer work quickly and it isn't easily bogged down. You can't do everything on this one, but you can do your work and run specialized programs, without having any hiccups. The fact that you can utilize the screen in a number of different ways may be appealing if you are constantly on the go. 
It is great for a college student, since it fits right in for professional and personal jobs. It has an SSD, so it has fast load times when you need them. It is perfect for writing papers and keeping up with your friends on social media. Since it has hip features and up to date technology, it will not be obvious that you purchased a laptop that was easy on your wallet. 
---
Best for Gaming: Acer Aspire E 15 Laptop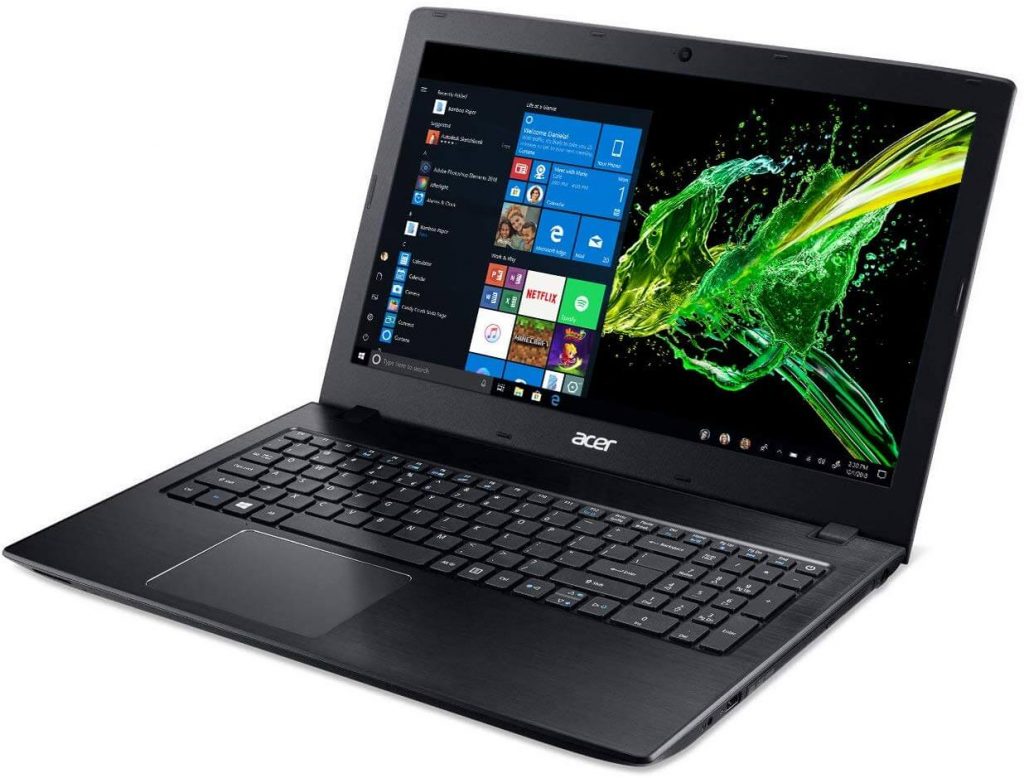 If gaming is your thing, this Acer Aspire laptop is something you can enjoy. While it won't be able to play all games at the highest settings, it can play some of the most popular games at a medium quality, so it will be good enough for even hardcore gamers to enjoy. 
It will not take the place of a serious gaming PC, but it can be something you use away from home to spend time in battle royale games and things like that. It runs quickly when you are using different programs as well, and there are a few things you can upgrade on it, in order to utilize it for a longer amount of time. You are able to upgrade the RAM and the hard drive, if you want to personalize the computer even more. 
The fans might make a lot of noise when you use it for long periods, but if you want to fix this, be sure that there is plenty of airflow. Besides that, there are few flaws with this laptop. It is a high quality machine that will be able to hold you over until you can get a better gaming rig. In other words, it is perfect for a young gamer or someone that needs something to help them stay entertained at all times. Its battery life is longer than others and it has an HD display, which is also not found everywhere. 
---
Best Design for your Buck: ASUS 2-in-1 13.3" Touchscreen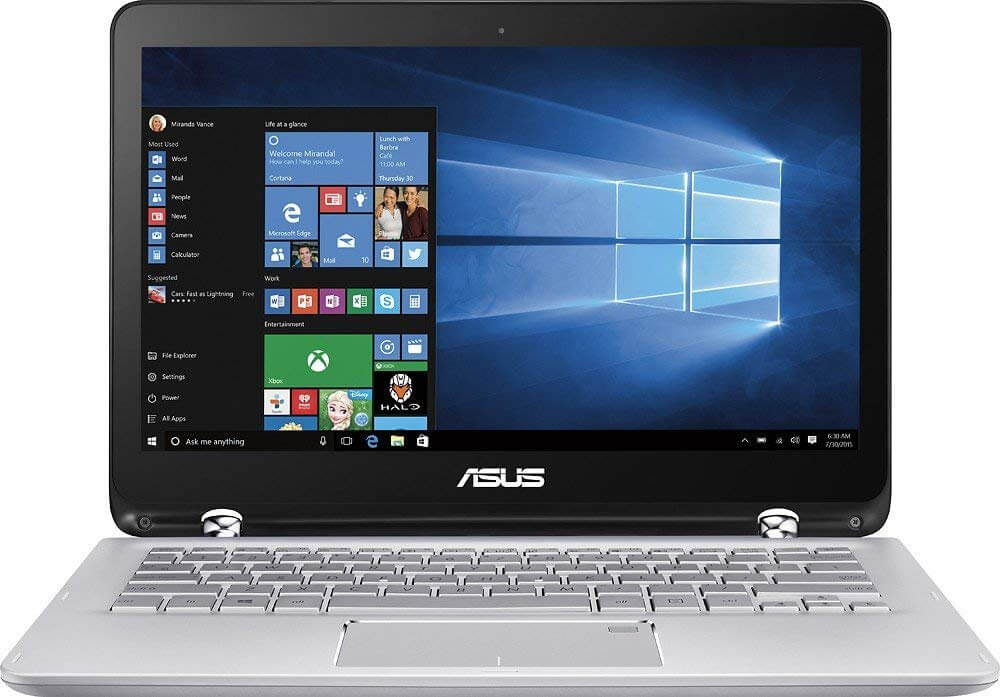 When it comes to this ASUS touchscreen, it looks a lot cooler than many other laptops out there. One thing that sets this one apart is that there is a fingerprint reader on it, so you can keep your machine and your personal information safe. Another thing that makes it special are the fact that the screen can fold 360 degrees, meaning you can use it however you like. 
It has great portability and is able to be taken around anywhere since it is so lightweight. You can search online, write reports, or even watch movies, so you can use it as an all-purpose laptop. It may not be best suited for gaming, unless you are into games that are not very graphically intensive. It is a good gift for people that are going off to school, starting their first job, or as a replacement for something older. It has a lot of little things that make it unique, like how it produces good sound quality and has a bright and clear screen. 
It can also be utilized for quite a while, even if you are a heavy user, since the machine seems to be made well and holds up its usefulness well over time. 
---
Final Notes for Picking Best 600 Dollar Laptops
Once you have a general idea what you want to use your laptop for and you know you have around 600 bucks to spend on a new machine, you are halfway on your way to finding something that can check all the boxes for you. There are so many affordable laptops out there and you don't really have to skimp on quality. This list has described laptops that have great features, and even some that can act like a tablet and laptop at the same time. It can be your little secret how little you have spent on your new favorite toy. 
For the all-purpose user, the 2018 HP Touchscreen Laptop is something that you should definitely check out. Not only does it act as a convertible, but it does everything rather well. If you need to take notes, make a spreadsheet, or edit photos from your camera, it will have no problem doing each of these things. 
If you are on the tightest of budgets, the Dell Inspiron 15.6 Laptop is the cheapest on the list. It may not be able to do everything, but it is just right for researching and typing. It is also no slouch when it comes to being able to watch your favorite shows. It runs all the Windows 10 apps with ease, so it is also suitable for working or for business purposes. 
The one you may have the most fun with is the ASUS 2-in-1 13.3" Touchscreen. It has a great design, top-notch insides, and it can be used efficiently, even if you have never had a laptop before. It is something that is equally suited for a college student or a young professional, and can do jobs for either one of those people. 
Finally, if gaming is your thing, the best model is the Acer Aspire E 15 Laptop. It is a decent first gaming computer for younger gamers or a good second machine if you need to be able to play games when you are away from your home rig. It can run many games, so you can always get your gaming fix, even at work. 
Laptops are something that pretty much anyone can use and likely has a need for, and the prices are not really out of reach for most. Since there are so many models that have low costs, you should be able to find one that works exactly how you need it to. The items on this list are a great place to start to find your next laptop or a gift for someone close to you.