One of the most important considerations when choosing a laptop is what you'll be using it for. If you're a teacher, the answer may seem fairly obvious, you'll want it to help you mark student's work!
But, the best laptops for teachers don't just have to be capable of helping mark homework or prepare lesson plans. They should also be capable of letting you have a little fun, whether that's gaming or downloading movies and songs.
Why Choose a Laptop
In the past the school would have desktop computers connected to the internet and to the projector machine, allowing you to access the information you need.
However, the modern teacher prepares lesson plans at home, marks work at home, and even stays connected to other teachers and students via social media. A laptop allows them to do this from anywhere.
That's why the weight, and size of the laptop is important, the best laptops for teachers need to be carried around daily, which means they need to be light and durable. 
It's a good idea to check out the guide to buying further in this article before you choose the laptop that is best for you.
The Best Laptops For Teachers
Let's take a look at some of the best laptops for teachers currently available: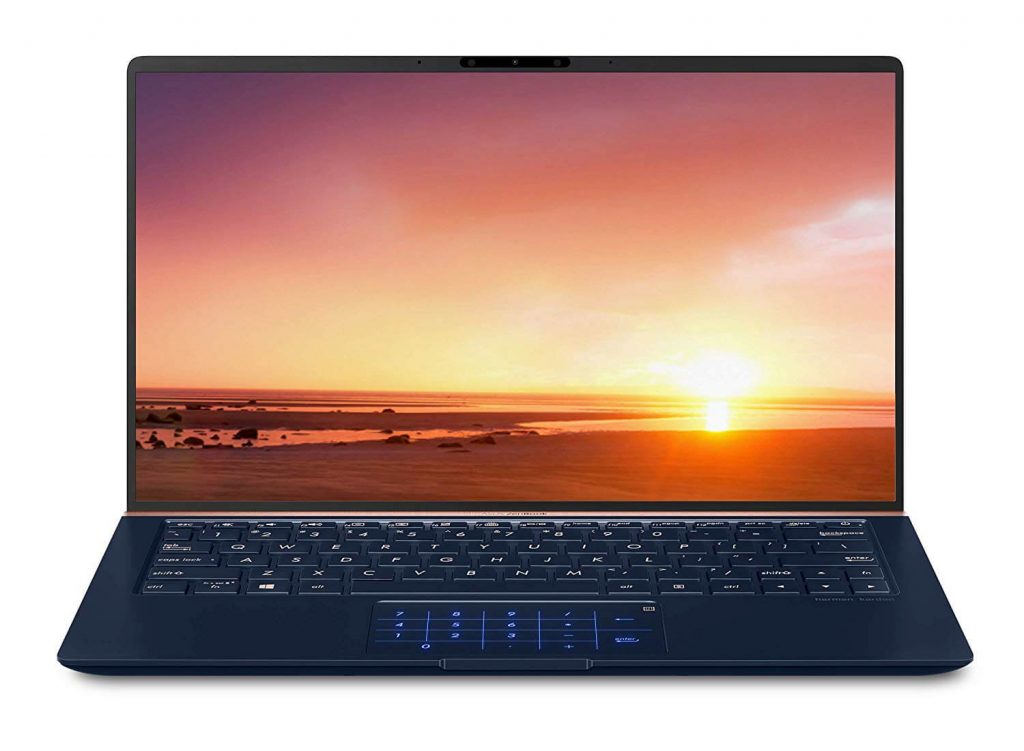 ASUS Zenbook 13 is a stunning looking laptop and a great performer. 
Spec
13.3" screen
Intel i7-8565u quad-core processor
16GB RAM
512GB SSD
ErgoLift Hinge
IR Camera
Weighs 2.6 pounds
The Good
The ASUS Zenbook has a full HD screen with nanoedge bezel display. In short, you're going to get great image quality no matter what you're doing on this laptop.
Alongside the impressive screen the ASUS has a TPM security chip that encrypts your data, keeping it safe. It also uses military standards for data protection and reliability.
But that's not all, this machine is designed to withstand the toughest environments in the world, including extreme altitudes and temperatures. In theory that will make it easy to cope with the classroom. Of course, you're already a teacher, you know the reality!
There is a dual function keypad, it can be instantly changed into a number pad to ensure fast and accurate entry of information when you need to.
The ASUS Zenbook also features and ergonomic Ergolift hinge. This lifts the keyboard to improve the typing position and there is even a backlit keyboard to ensure you can hit the right buttons.
Typing doesn't get much easier!
A built-in IR camera provides facial recognition that can be used to lock access to your laptop. That's a useful security feature if you have a laptop at school and your students are tempted to use it without asking.
The Bad
Overall this is a good computer but at close to 4 digits it's not the cheapest option on the market. You'll need to assess your budget before you can commit to purchasing the ASUS Zenbook.
---
Acer Aspire E15 – Best Budget Option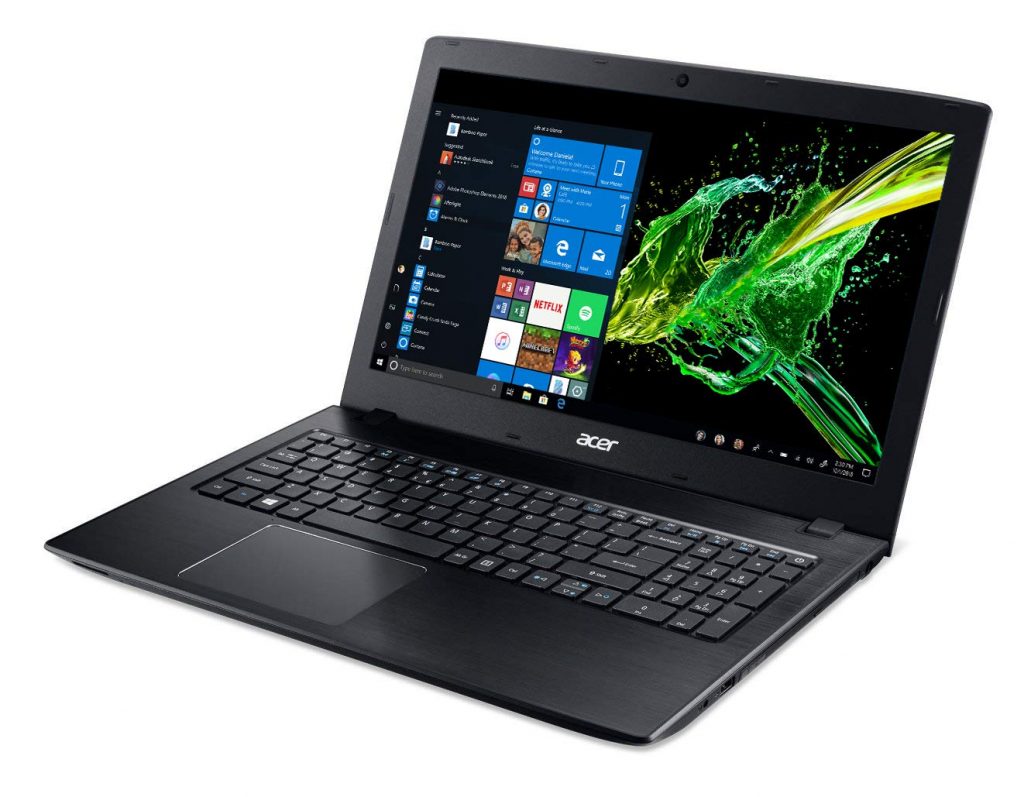 Acer Aspire E15 is significantly cheaper than the ASUS but is still capable of looking after you in the classroom, that's why it's on the best laptops for teachers list.
Spec
15.6" screen
I5-8250U quad-core processor
8GB RAM
15 hours of battery life
 256GB Hard drive
Weighs 5.27 pounds
The Good
Acer has developed a reputation for designing high-quality laptops and this offering is no exception. The look is clean and smooth, business-like without being over the top. IN short, it looks good and it's well made.
The fact that it has a 15.6" screen makes up for its inability to take the picture right to the edge.  
During testing the Acer stayed cool even if you make it do several tasks at the same time. This bodes well for real-world applications.
The fact that this is the best budget option says it all. You'll be hard pushed to find a better laptop for the budget
The Bad
At 5.27 pounds it's significantly heavier than the ASUS. While this shouldn't be a problem for small trips you may want to consider how you're going to carry it if you need to keep it with you all day.
In a world full of social media it's surprising and disappointing to find a laptop with a low-quality webcam. It's something that is used to much to compromise on quality.
Considering the Acer is relatively heavy it's not surprising that it is also bulky. It will take up more space in your bag than many alternatives. You'll need to decide if this is worth the cost savings.
---
Dell Inspiron 15 – Best Touchscreen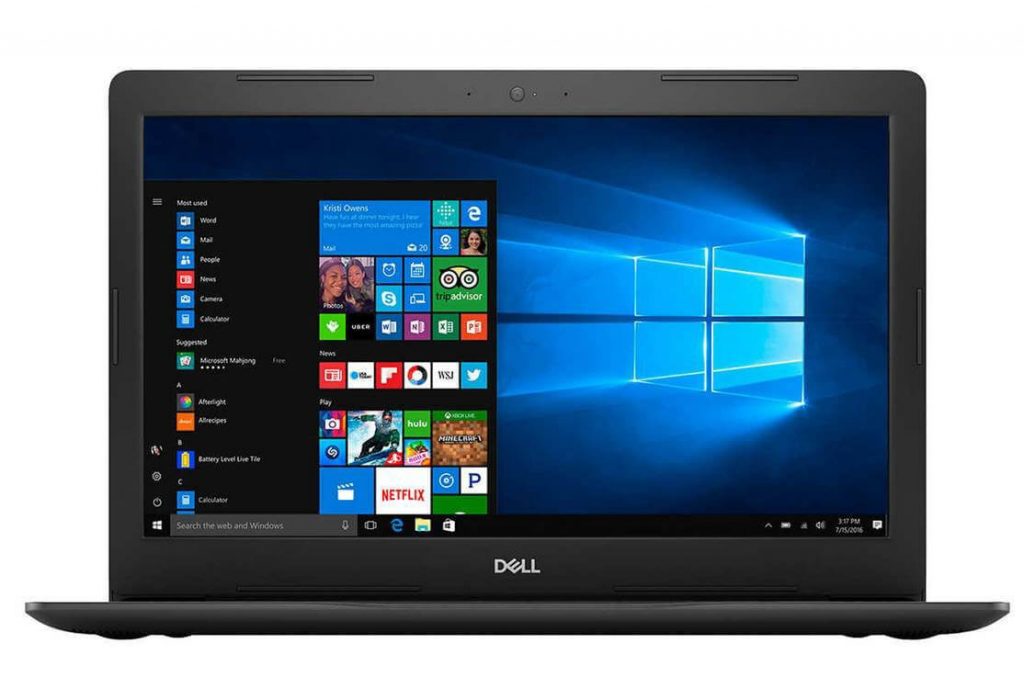 It's not surprising that Dell made the best laptops for teachers list, they are well known for producing high-quality laptops.
Spec
15.6" screen
1080 pixel screen
I5-6200U processor
8GB RAM
256 GB HDD
Weighs 5.07 pounds
The Good
The basic spec is good but the Inspiron also benefits from an Ethernet point, headphone jack, SD card reader and three USB 3.0 ports. You even get a disc drive included, if you still have any discs.
Not all laptops come with touch screens, although people are generally so used to using touch screens. The Inspiron 15 has a surprisingly responsive touch screen which you will actually enjoy using. 
This is easily overlooked but the Dell Inspiron maintains its cool even under pressure. In tests it consistently stays below the magic 95°Fthreshold, helping to ensure your precious computer components won't get damaged. 
The Bad
It has to be said that the Inspiron 15 is not the most inspiring looking laptop available. It is a little on the chunky side and has a bland finish. The fact that it weighs just over 5 pounds also makes it on the heavy side, you're not going to want to carry it around all day. 
The display is 1080 pixels but it is dim and even a little blurry. Compared to the other options available this is not the one you want if you're watching high res movies or dealing with graphics. Of course, for the odd PowerPoint presentation at school, it will be perfectly fine.
---
Lenovo Ideapad 330 – Best All-Rounder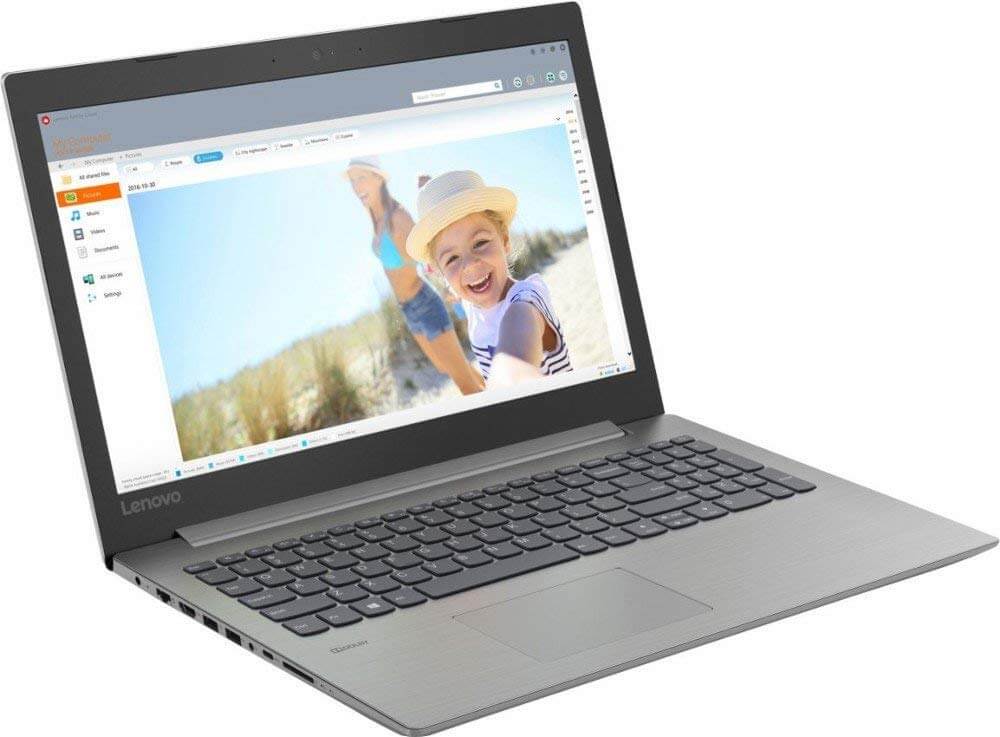 Lenovo has excelled themselves with the Ideapad 330. It's a budget laptop that can compete with some of the best options on the market.
Spec
15.6" display
I3-813OU processor, (8th gen)
8GB RAM
1TB Hard Drive
Weighs 4.85 pounds
The Good
This laptop is substantially cheaper than most of the opposition and yet it can perform just as well. You'll find that this isn't a gaming machine but it does offer great performance and a high-quality package, for surprisingly little money. 
The Lenovo Ideapad 330 doesn't just offer good performance, it actually looks sleek and professional. You will be happy to get this out in the classroom. 
At a little under 5 pounds, the weight is acceptable, especially if you're only going to and from class.
In addition, you'll love the way the screen can open 180°, it ensures you always have the perfect angle for reading the screen. The anti-glare coating helps.
It's not backlit but it is surprisingly quiet and responsive. You'll find this a good option even if you're one of the fastest typers in the world!
The Bad
This is the letdown for the Lenovo Ideapad 330, the battery lasts approximately 3 ½ hours, that's a lot less than you would expect. You're going to need to stay near a plug socket, which may make you wonder if it's worth it or not. 
The screen image is a long way from perfect and yet, you'll barely notice any issue. Once you get the angle right so that the screen doesn't wash out you may wish that it had more pixels but its good enough.
---
ASUS VivoBook F510UA – Lightest Option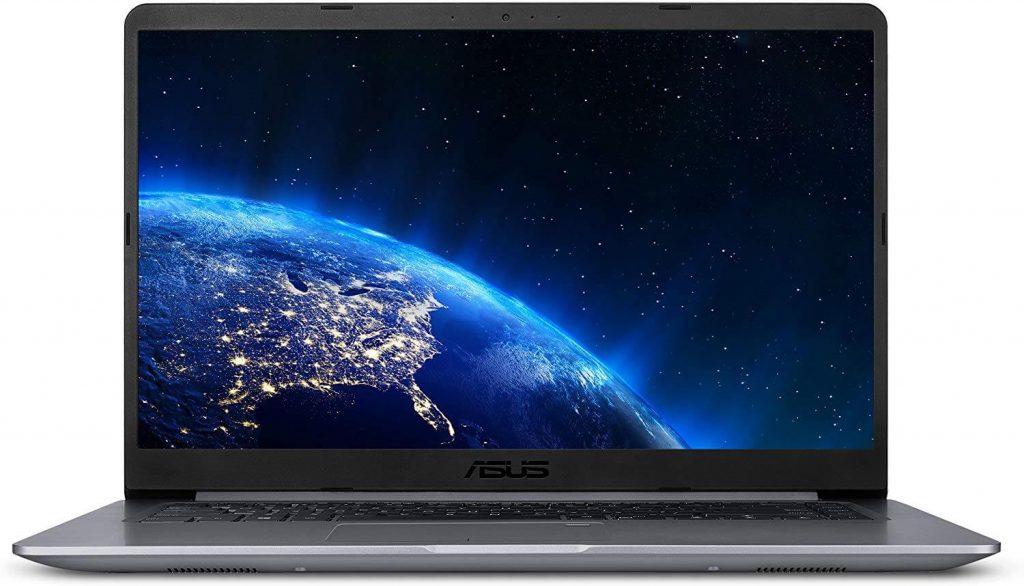 ASUS VivoBook is the thinnest and lightest laptop on the list of best laptops for teachers, fortunately, the weight loss hasn't been at the expense of performance or reliability. 
Spec
15.6"
Intel i5-7200U
1TB hard drive
1920 x 1080 pixels
8GB RAM
Weighs 3.7 pounds
The Good
There is no doubt that the picture quality on this ASUS is excellent. The screen is large enough to offer comfortable viewing wherever you are. It's supported by enough hardware to ensure that the computer processes everything quickly and gives you the answers you need.
You will also be grateful for the anti-glare coating as it ensures the screen remains comfortable to look at, even after hours of screen time. 
You'll find one USB 2.0, one USB 3.0, and one USB 3.1 Type C, alongside great Bluetooth and wireless connectivity. That's enough to ensure you're always connected.
The profile of this laptop is just 0.8" and it weighs less than 4 pounds. That's impressive for a mid-price device! You'll have no problem carrying it around all day with you. The fact that it looks good means you'll want to carry it around all day!
You'll get an impressive 6 hours of one charge and the ASUS Vivobook can be fully recharged in as little as 2 hours, that's got to help you stay connected no matter where you are in the world.
The Bad
This isn't an essential item but it is a nice touch and one that is particularly beneficial if you're typing in low light and don't want to disturb everyone around you.
Hopefully, ASUS will include this in the next version.
---
HP Pavilion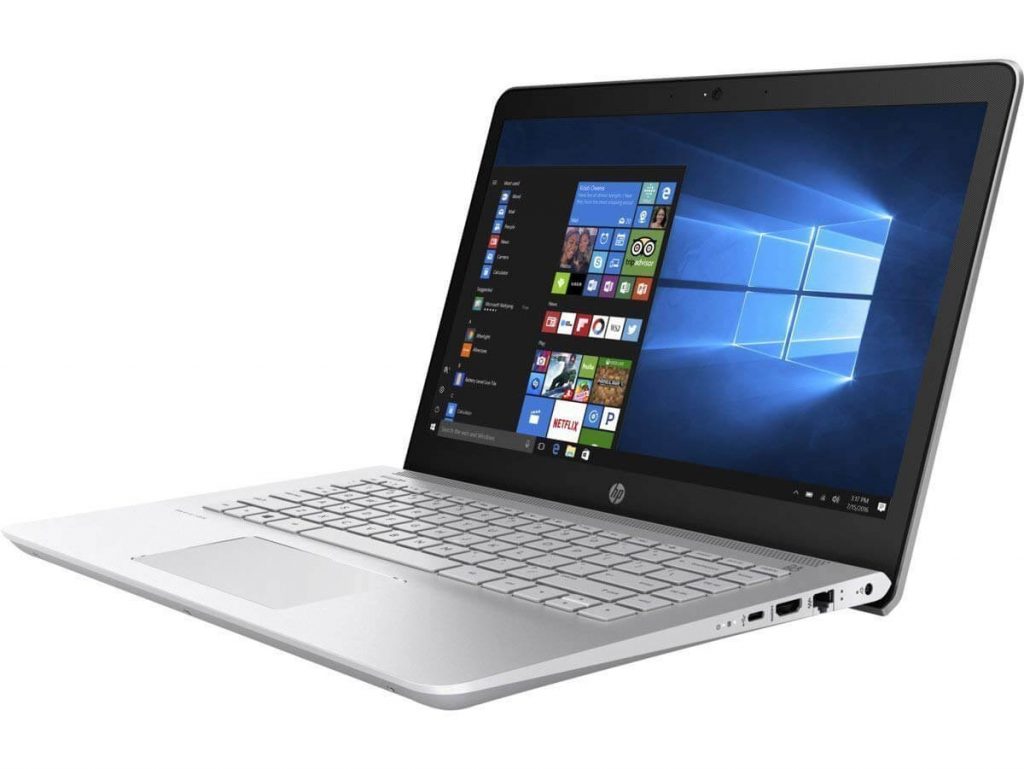 Pavilion is another surprisingly affordable laptop with an array of features, including a touch screen and an attractive-looking package.
Spec
15.6" IPS touchscreen
8GB RAM
1TB HDD
Intel i5-8250U, quad-core
1920 x 1080 screen
Weighs 4.21 pounds
The Good
The Pavilion comes with several ports including HDMI, LAN, one USB 3.1 type C and two type A, a headphone point, and an SD card reader. That's a good array of ports and should be enough to future proof your machine for several years.
You'll find the Pavilion is an affordable option but a good one. Priced at the lower end of the range it should be affordable to most teachers, providing you can get past the way it looks.
The battery on the Pavilion should last up to 12 hours, depending on what you're using it for. That's enough time to take almost any trip and stay connected. 
That's a real plus if you like getting your marking done on the train while traveling home! Even if you wait until you get home, you'll be pleased with the battery life. 
The Bad
There is no other way of putting this. The laptop functions well but it's not the best-looking laptop on the market, and it knows it.
This is one you by to use, not to worry about what others may say. 
---
Your Buying Guide
Don't forget everyone has different needs when it comes to purchasing a laptop. But, there are some common denominators that you should consider, this will help to ensure you don't just get the best laptops for teachers, you get the best one for you.
This should be the bottom line for all teachers. You need a laptop that can be easily carried with you. That means it needs to fit into a bag, be light enough to carry and be easy enough to carry the additional cords, your power cable, and any other accessories.
This doesn't mean you should choose the lightest laptop available, you need to make sure the rest of the specs are right.
The very best laptops currently available have i7 processors. These are excellent for heavy-duty work, such as photo editing, but they are probably more powerful than you need.
However, you don't want to get a processor that is too slow. Ideally, you should get one with an i5 processor, but an i3 may be enough for your needs if you only use the laptop for basic things. 
It's worth noting that the processor is connected with, but not the same as, RAM and storage.
You should be looking for a laptop that has at least 4GB RAM and a hard drive of at least 64GB or more. The bigger the hard drive the better but remember that a solid-state drive, (SSD), is better than an HDD because it has less moving parts and less that can go wrong with it.
For most people a 15-inch display is the perfect balance between portability and ability to see the screen. 
This is the size I would recommend for any teacher looking at the best laptops for teachers. 
However, this is also a personal decision that you'll need to make. After all, you know what weight you can carry and what screen size is good for your eyes.
Buying a laptop from a main brand means you know what you're going to get, and should get a reliable and reputable product. However, this isn't always the case as even the best brands have bad products and some of the unknowns have amazing products.
For this reason, it's a good idea to take a look at social media sites and check out what people think of a specific laptop. You'll get honest feedback which should be able to help you decide if your chosen laptop is the right choice for you or not. 
Don't forget that it's nearly impossible for everyone to love a specific product. Negative feedback provides you with something to think about and helps you to see how a company reacts and handles issues. That can tell you just as much as all the positive reviews.  
Final Thoughts
All 6 of the above laptops are worth considering when you're looking for the best laptops for teachers. All of them can do the job you need them to. In order to choose the right one, you'll need to think about when and how you actually use your machine. It's also important to consider the budget you have available.
One thing is certain, if you choose your next laptop from the best laptops for teachers list, you will be happy with your purchase.