No matter how hard you try there will always be good batteries mixed with your old batteries. That's a good enough reason to find out about the best battery testers. Alongside this, the best battery testers will help you to identify the batteries that need replacing.
This may seem unnecessary but, if you're about to undertake a long trip you're going to want to know that your batteries are up to the challenge.
After all, do you ever stop to think about how many things use batteries? Whether you've got a games console, TV remote, or a torch, you're going to need batteries. The question is which ones do you choose?
It may seem like a waste of time to purchase the best battery testers when you've only invested in the cheapest batteries possible. But, whatever batteries you have you'll want to know how much charge they have left. After all, if you're using your battery-powered product you'd rather know when it's likely to run out and have spare batteries. If you're not prepared it's bound to run out of power a few minutes into a long trip when you have no hope of purchasing new batteries!
In addition, a good battery tester will allow you to see how much charge the different brands have when you purchase them. The difference may not be as big as you think!
How The Battery Tester Works
There are many different battery testers on the market but not all of them work as well as each other. The battery tester has been around in several forms over the years, early examples simply sent a current through the battery to assess the resistance level. The greater the resistance, the higher the charge remaining in the battery.
However, new technology has made this approach unnecessary. Now, battery testers have two layers of ink included in them. 
One layer is made up of thermochromic ink. This changes color according to the temperature. In contrast, the conductive ink literally conducts electricity.
 The usual approach is to make the conductive area gradually skinnier. This assesses how easily the electricity flows through the ink. The skinny part can change color with a tiny amount of electricity, bit the wider part requires a larger current before the ink will heat up and change the color of the tester.
By assessing where the current struggles to pass the tester and therefore what color it goes, you can see how much charge is still left in the battery.
The second layer is the conductive layer which conducts electricity. Combining the two inks allows you to create a portable battery tester which is surprisingly accurate.
The Best Battery Testers Reviewed
Check out this list of the best battery testers and choose your new gadget today:
D-FantiX Battery Tester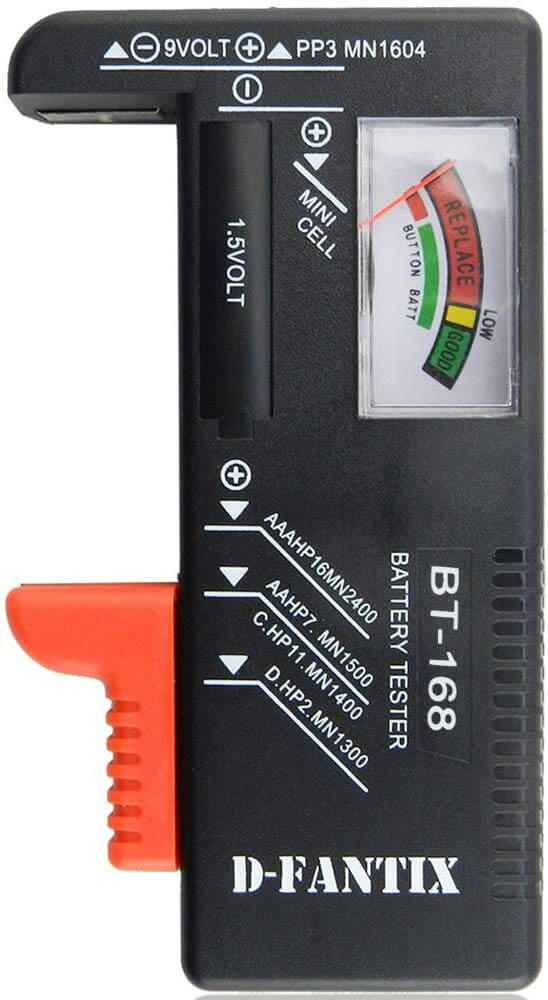 I believe D-FantiX is the best battery tester overall, it has everything you need to accurately ascertain the power left in your battery, and the price is reasonable.
Specs
Checks AA, AAA, 9v & Button cell batteries
No battery required
Analog display
Dimensions 4.3 x 2.3 x 1 inches
Weighs 2.24 ounces
The Good
You can test AA batteries, AAA, button cells, and even 9-volt square batteries with this battery tester. That makes it much more versatile and practical than those battery testers that only test one type of battery.
The D-FantiX battery tester is compact and lightweight, making it perfect for home use and for taking it out with you.
The screen is analog and there is no need to put batteries in it to run it. The D-FantiX works by drawing a tiny amount of current from your battery and it uses this to display on the simple color charge how good, or bad, your battery is.
Battery testers aren't especially expensive but this one is available for a very low price, it could be the best money you've ever spent.
The Bad
All battery testers drain a little bit of the charge in your battery. However, if you leave your battery on the D-FantiX for an extended period of time you'll find the battery is quickly drained. Keep your test short!
This tester will tell you if your charge is low, high, or somewhere between. But, it won't tell you how much charge you have exactly.
---
Tenergy T-333 Battery Tester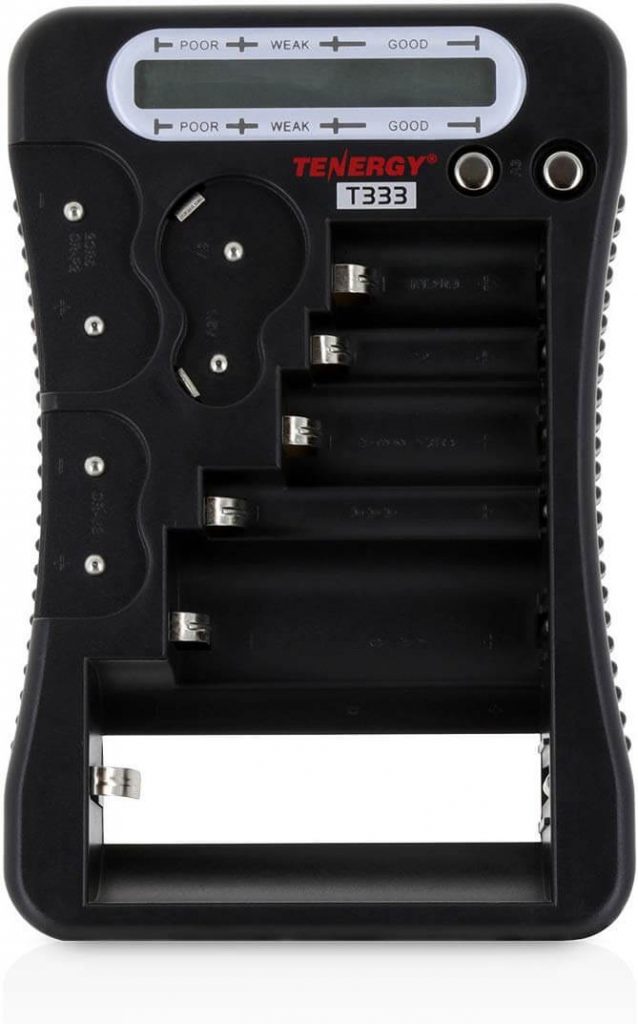 Tenergy T-333 universal battery tester us a touch more expensive than the D-FantiX, but it does give you a digital readout.
Specs
Test a wide variety of batteries
Digital display
Dimensions 5.2 x 3.5 x 1 inches
Weight 5.6 ounces
The Good
It's not actually surprising but it is important to note that the Tenergy T-333 is capable of testing a wide array of batteries, including AA, AAA, button cell, 9V, C batteries, and even D batteries.
Of course, you should only test one battery at a time. 
Simply place your battery into the right slot on the tester and you'll get an instant reading showing the charge left in your battery. It's that easy to use. Again, this tester is small enough to keep at home or carry with you. It's impossible to tell when you'll be glad that you had one with you!
The fact that it looks good while testing is a bonus!
The Bad
Just like the D-FantiX, this battery tester doesn't give an exact reading of the charge left. However, it does have a digital display that highlights the charge remaining by displaying a series of bars. This will make it easier to assess the life left in any battery.
---
Amprobe Bat-200 Battery Tester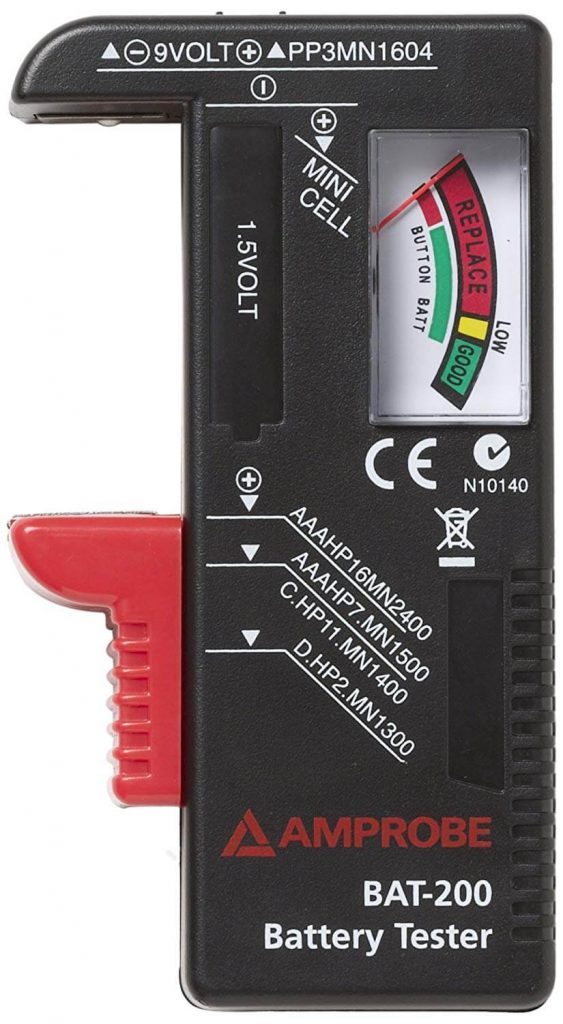 At first glance you'll be forgiven for thinking Amprobe Bat-200 is the D-Fantix, the new battery testers look, and behave, surprisingly similarly.
Specs
Easy to read display
Tests a variety of batteries
No batteries needed to work it
Dimensions 7.3 x 3.5 x 1.6 inches
Weighs 2.4 ounces
The Good
Just like the other testers on this best battery testers list, you'll find that the Amprobe Bat-200 is capable of testing virtually any battery if you can fit it between the connectors you can test its power. 
It doesn't get much easier to use than this. Simply slide the battery between the two connectors and look at the analog lever. The connectors are on a slider, allowing you to adjust them for the battery you're testing. 
You don't need a battery to power the tester, it simply uses a small amount of the charge in the battery.
The Bad
Because it only has an analog display that shows low to high, it is possible that you can misunderstand how much charge is actually left in your battery.
For example, a battery that reads ok but it on the low end of the scale should be replaced, if it is in a camera or other high-energy device. But, if it's just in your radio then you can probably use it for much longer. 
Without an accurate reading, it can be hard to decide when you should throw the battery away, or recycle it.
---
ZTS Mini-9RL Multi-Battery Tester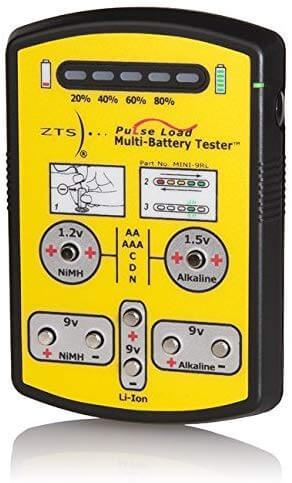 ZTS Mini-9RL battery tester will cost you a little more than the previous 3 and it looks a little more colorful with a black and yellow finish! 
Specs
A wide array of batteries tested
Digital display
Patented controlled pulse test
Dimensions 0.7 x 0.6 x 0.9 inches
Weighs 1.32 ounces
The Good
Tests a wide variety of batteries
It's hardly surprising that the ZTS Mini-9RL is capable of testing AA, AAA, C, D, 9 volt, and button cell batteries. But, this tester can also test rechargeable batteries. That should help you know when to recharge them and when to keep using them.
Patented Testing mechanism
The ZTS Mini has a microprocessor inside it which sends a pulse through your battery to test the amount of charge remaining in it. This is why the tester needs its own attires but, it does provide a significantly more accurate reading. 
The downside is that the digital readout is simply a series of LEDs, they'll light up cording to the percentage of charge left in your battery.
The Bad
You'll need to put 4 AAA batteries into this device before you can start using it. That means you'll need to have at least 5 batteries available so that you can test them all and put the best ones in your tester!
---
La Crosse Technology 911-114 Battery Tester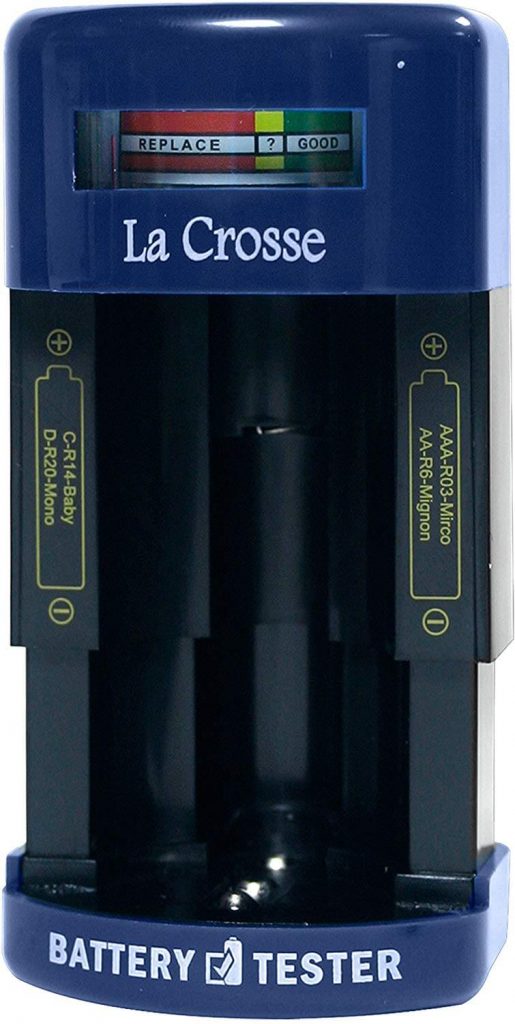 La Crosse looks like an old-style battery charger instead of a tester, but it does a good job for an attractive price.
Specs
Tests rechargeable & alkaline batteries
2 Year warranty
Simply Analog display
Dimensions 2 x 1.8 x 4 inches
Weighs 2.4 ounces
The Good
The La Crosse tests any battery you can find, just as the other battery testers do on this list. Where it is especially useful is in that it can also test rechargeable batteries, allowing you to know when they need charging. That means no more electricity wasted charging them without reason.
The analog display is designed to rotate, you just have to glance at the red lever and it will tell you if the battery is ok or needs to be replaced. It doesn't get much easier than that!
It should be noted that the La Crosse doesn't need batteries to run, it uses a small charge from each battery it's testing.
The Bad
Although it tests most batteries you can get, it can't actually test button cell batteries, which is disappointing as they are becoming increasingly popular.
As with the other analog testers, you're getting an approximate reading based on the voltage in the battery. It isn't perfectly accurate and it doesn't attempt to perform a load test.
---
Gardner Bender GBT-500A Battery Tester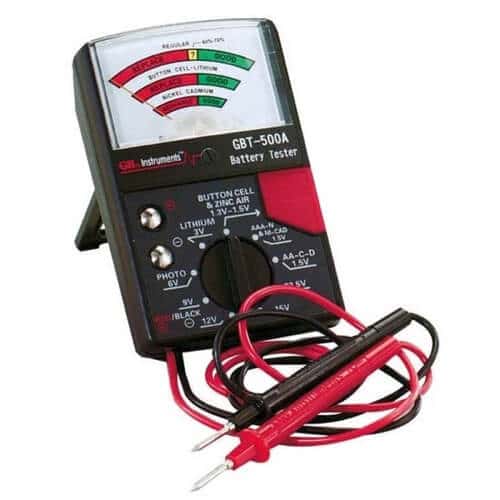 GBT-500A is a slightly different battery tester as it has two probes included, effectively expanding the range of batteries that can be tested.
Specs
Color choice – red or black
Tests all common batteries
Dimensions 1.5 x 2.5 x 3.8 inches
Weighs 1.16 ounces
Analog display
The Good
Although you have probes you are still capable of testing AA, AAA, C, D, and button cell batteries. However, you can also test an array of other batteries, including your 12-volt car battery. That's a useful bonus!
Most battery testers don't allow you to adjust the load according to which battery you're testing. The Gardner Bender GBT-500A does, allowing you to get a more accurate result.
The Bad
The analog display gives you a good too bad reading, helping you to understand whether to replace the battery or not. But, although you can adjust the load you'll still find yourself wishing that you could see the exact reading of the charge left in a battery.
Of course, to most people, this isn't an issue as you just want to know whether to change the battery or not.
Because you need to touch both probes to the battery it can be difficult to hold the battery steady and the probes. They have no way of staying there by themselves.
---
Your Guide To Getting The Right Battery Tester
You can pick up one of the best battery testers on this list, or choose to pick up any that you find in your local store. However, you want to ensure that you've got a tester that is reliable and accurate. Before you commit to purchasing your battery tester consider the following points:
Consider the manufacturer
You need to consider who has manufactured your battery tester, is it a company that has a large amount of experience in the field? Perhaps it is a new business that is trying a new approach. 
The point is to verify who the manufacturer is and assess their reputation. If you don't know the name then you need to do a little more research.
A battery tester needs to be accurate. After all, it's more than a little frustrating to be told your battery has half its charge when, in fact, it has none.
You can test the accuracy by using t on new batteries and comparing it to other battery testers. However, this is not something you can easily do yourself, that's why you need to read the reviews.
But, that's not all! You should also take a look at social media and other online forums. There will be plenty of people who have already tried the battery tester you're considering. You can learn from their experiences, simply read the reviews to get a more accurate picture of how good the battery tester actually is.
It's worth noting that no product gets 100% positive feedback, there will always be someone who doesn't feel that a product has reached their expectations. In fact, if the feedback is 100% positive this should serve s a red flag, you need to investigate further to ensure this really is the case.
Negative feedback should be minimal and it will give you the opportunity to see how the supplier/manufacturer reacts. This can tell you a huge amount about a specific product, as well as the manufacturer. After all, quality customer service is an important part of any product.
Final Thoughts
A battery tester is not a toy. Every time you test the battery you will use a tiny bit of its charge. This won't be enough to affect the performance of the battery. However, if you test the batteries too often you'll end up reducing their life, which ruins the point of having a battery tester.
Testing too much is the equivalent of doing it once every half an hour, there simply isn't a need, unless you're running tests on how well batteries hold their charge.
The best battery testers don't need to be expensive, they need to be capable of verifying the amount of charge a battery has left in it. This is useful information, especially when planning a trip and you need to rely on batteries.
In reality, you can use any of the testers on this best battery tester list and be happy with the results.