There are many digital artists that need a powerful machine that they can use on the go. You can attach a drawing pad or a stylus to most computers, but there is more freedom when you use a drawing laptop. This guide will tell you what this type of laptop can do, specs to look for, and examples of products that meet the mark.
Are laptops even good for drawing?
Laptops can be good for drawing due to the fact that they can be on you at all times. Occasionally you may have spare time and want to draw or need to finish a project but you are away from your every day computer. Wouldn't it be nice to be able to use your laptop to do at least most of the same things as your PC?
Laptops are very powerful now and have impressive specs, in some cases. They can also be utilized when you aren't near a power source. This makes them even more appealing for use in your downtime.
How does digital drawing work?
Digital drawing is the same as drawing with pen and paper except that it is done electronically. You simply use your finger to draw on a touchscreen. There are also special digital pens or pads you can get, which plug into a USB port. This makes the process more precise and helps create better artwork. It even gives you the freedom to use on all types of computers.
What is a drawing tablet?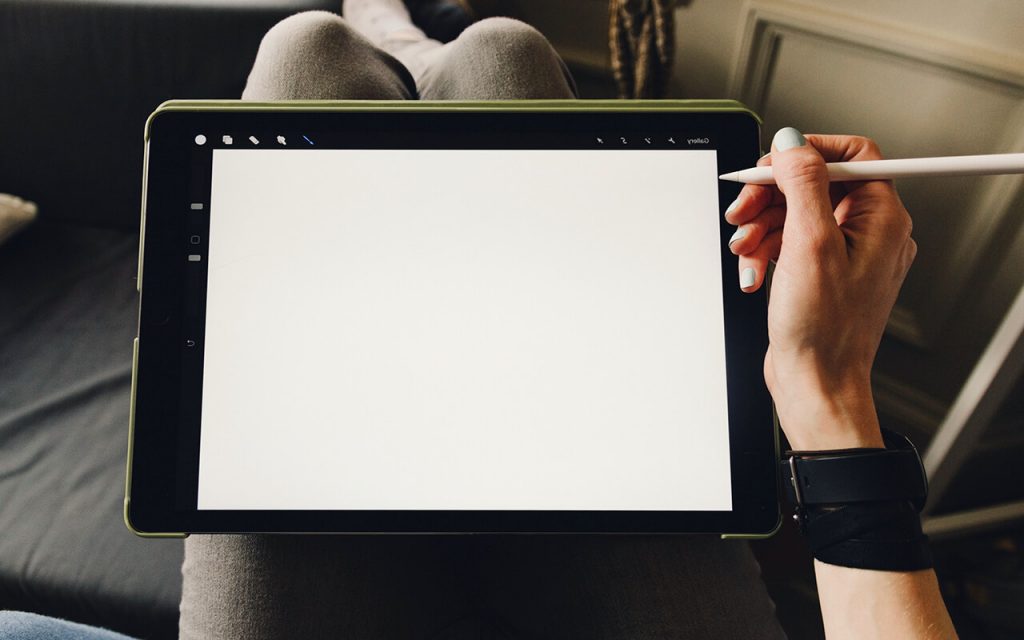 A drawing tablet is just like a drawing laptop except that it is generally smaller and more portable. They are also generally cheaper. However, the majority of laptops are lightweight and able to process more tasks than tablets. You can use either to make digital artwork, especially if you are a novice.
Drawing tablets are also available in 2-in-1 laptops, which are laptops that work just like tablets. These machines are generally convertible, meaning they can function as either item, depending on what you are trying to accomplish.
How much should a drawing laptop cost?
There aren't any money parameters when it comes to how much a laptop for drawing should cost. If you want something good, you should expect to spend anywhere from $500-$1000. For top tier options, you may need to spend a bit more.
Who should buy one?
Anyone that is interested in drawing or artwork can purchase this type of laptop. If you are an artist or graphic designer, this is even truer. You will need something to get your ideas on paper, even if the paper is digital.
There are products for all budgets, so no matter the age of the artist, you can find something that will work best for them. The best part is that since they are still laptops, they can do other things as well. You will still be able to watch Netflix, visit social media sites, and even check your email.
What are the most important components?
Even if you are just going to be drawing for fun, there are a few things that your laptop needs to do well. These things will offer you the best experience.
Chip
You will need to find a machine with a powerful chip. Any that have come out in the last few years will work, especially if they are fast and powerful. In other words, be sure to get a laptop that is only a few years old or newer, to ensure that it has the best components.
Purchasing a recent model will ensure that the product will be viable for a longer amount of time too, which gives you a larger window before you will need to upgrade. In many cases, laptops can't be upgraded and must simply be replaced.
Graphics card
Pay attention to the graphics card in the laptops. Some have special cards while others have onboard graphics. Find something you are comfortable with. If you want to work with simple programs and tasks, you don't need anything fancy.  If you plan to work on some of the top drawing programs, you'll want something more powerful.
Display
It is obvious that when drawing on a screen, you want your picture to be clear and colorful. To accomplish this, you need something with a high resolution and able to produce many colors. This is not very hard to find, especially in newer models, since they are quite versatile.
Not only does the display need to have touch capabilities, but also should have many pressure points on the screen. Then it won't be difficult to draw and interact with it.
A great thing to keep in mind is that the screen should be large enough to see and utilize easily, but small enough to keep it portable and effortless to have with you on the go.
Stylus
While you can purchase a stylus if your computer does not come with one, it is handier if it comes standard. This type of device allows you to treat the screen as if it is a notebook, so it is suited for drawing or writing things down.  You can even use them to help you crop or edit photos.
Do I need a special program to be able to draw?
Yes you do. There are different apps and programs that will let you draw whatever you want, as well as have all the capabilities to save, print, or publish it online. Multiple types of programs are available for purchase, from simple to professional grade. What you want or need will depend on your budget and purpose.
Advanced programs may be cheap or expensive. These are things like Adobe Illustrator, and Photoshop, or Corel Painter. There are also programs available for free, such as Paint 3D, Krita, and FireAlpaca.
Best Laptops for Drawing available
There are plenty of great laptops for drawing that you can find online to purchase. Many are the 2-in-1 type, so they are easy to use and are lightweight enough to carry around all the time. Here's a look at some of the best.
For the professional: Apple MacBook Pro 15"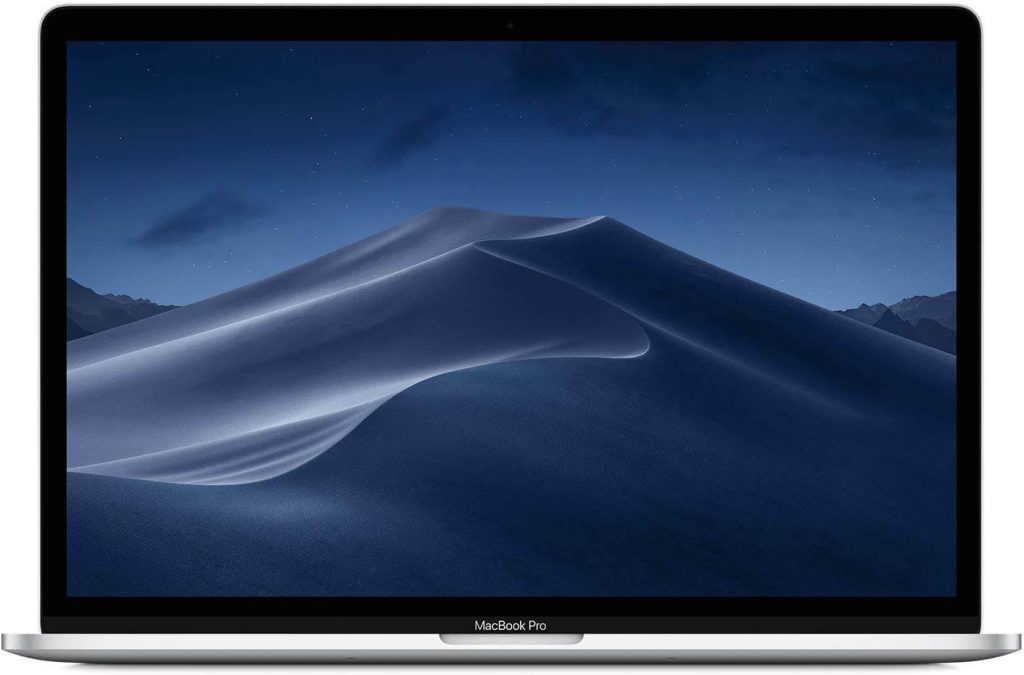 If you are a professional artist or plan to be one, the Macbook Pro should be at the top of your list. It has a fast chip and video card, and comes with a solid-state hard drive. This product does not have a touch screen, but it is favored because of its bright display and the power of the computer itself. It has a special feature that promises that the color you see on the screen is the color something really is. Of course, you will need to purchase a separate stylus or drawing pad if you want to draw using this laptop.
On the other hand, it is not going to become obsolete quickly, which is something to consider when making any computer purchase. It will be powerful for years to come and can keep up with multiple tasks at once.
Users love the vivid display and the long lasting battery, but don't like how the keyboard is louder than it should be. They also wish that the touchpad were smaller. It weighs 4 pounds, which is light compared to other laptops.
---
Best for kids or teenagers: Lenovo Yoga Book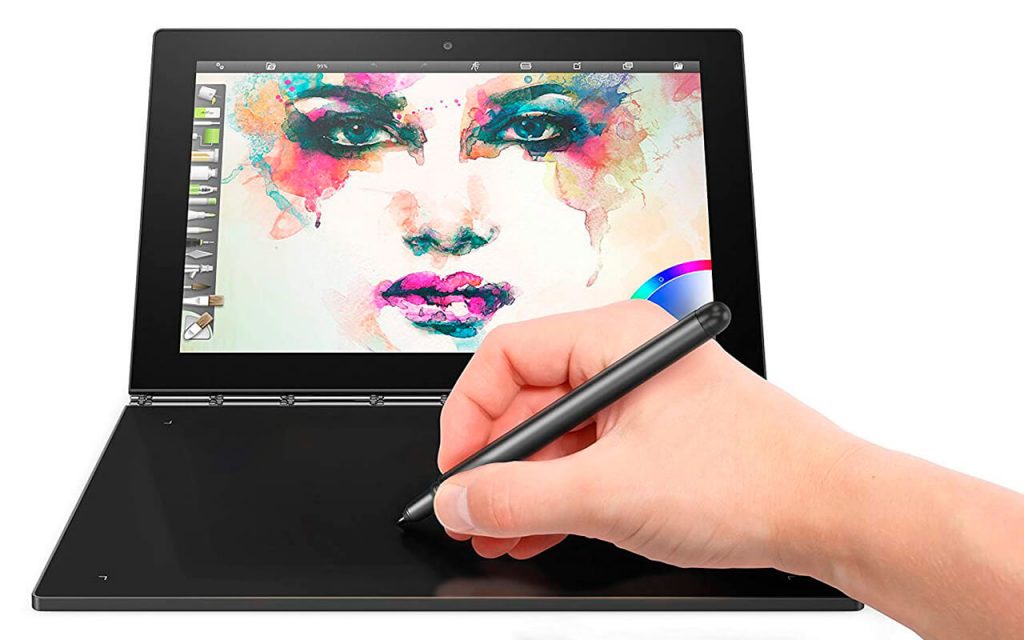 The Lenovo Yoga Book is more like a tablet, but is still considered a 2-in-1. It is small in size, so it's great for backpacks and purses. A kid or adult would be able to use it with ease, but it doesn't have as much power as some other machines out there.
It is also the cheapest in the list. It weighs just 2 pounds and is available to purchase with Android or Windows OS.
There is a stylus that comes with it, and you can rotate the screen like a notebook, so you can draw or watch movies. The keyboard goes away when you are not using it, leaving you two surfaces to write on. It even comes with a drawing app called ArtRage to get you started.
The drawing is precise and there's no delay. This can make a big difference, even if you are only doodling.
Essentially, this is a great one for getting into art or for something that can be used everywhere. As you nurture your skills and have more money to sink into a drawing computer, you can purchase something else.
Keep in mind that there are some limitations with this one because you can't really use the most popular programs out there. It is also a little small to use as your primary computer. It doesn't have a lot of ports to use either.
---
Best all around: Microsoft Surface Laptop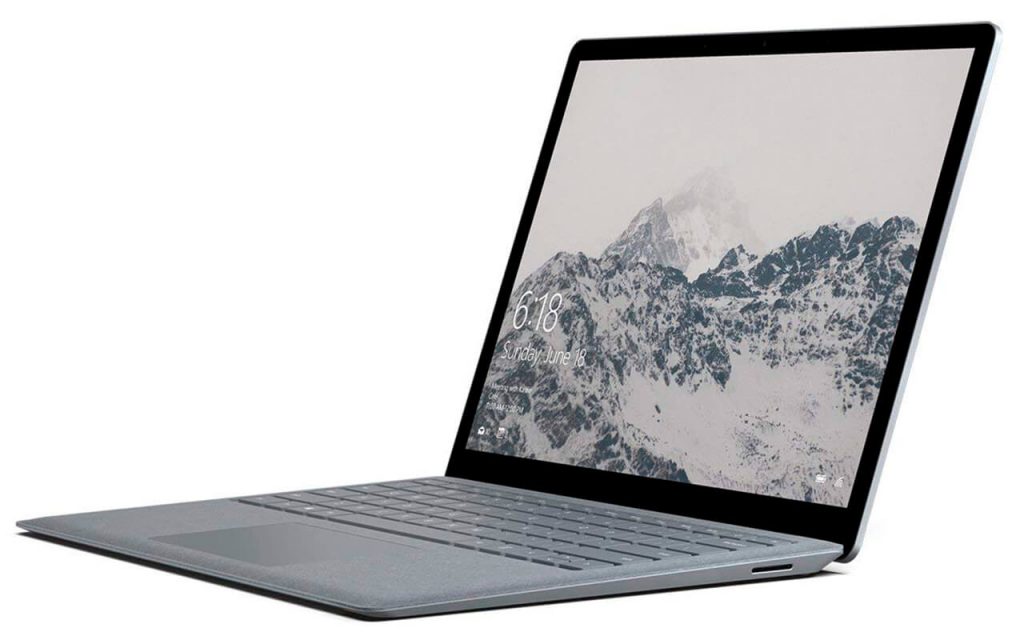 The Microsoft Surface is probably something you have heard of before, since it was a game changing tablet when it came out. This laptop is a step up from a Surface tablet, so it can do all the same things and more.
It has a touchscreen, so you can draw directly on it using a special pen. It is also powerful enough to run some of the top drawing programs. It comes with Windows 10S, but can be upgraded in order to be able to accommodate a wide array of programs and apps.
There are many ports to use. It is even capable of running simple games. You can do everything else too, like surf the internet, stream shows, and listen to music. The screen is made of very strong glass, and the keyboard and touchpad are durable too.
Owners love the battery life, as well as how you can change the aspect ratio on the screen. They don't like how it is harder to clean the keyboard. Overall, it's a good middle of the road computer for drawing.
---
Good mid-grade: Acer Switch Alpha 12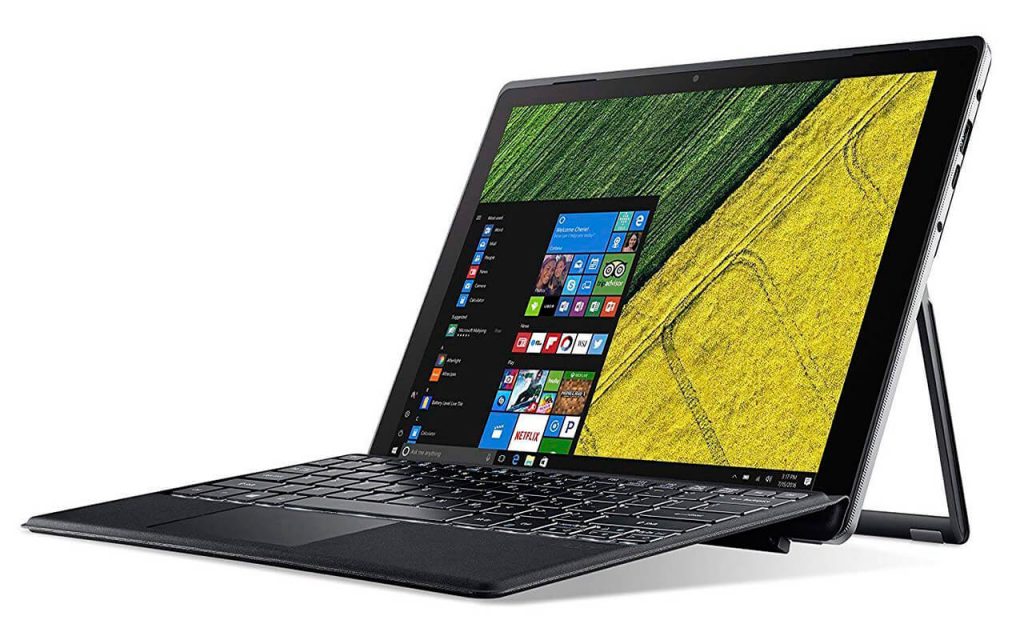 The Acer Switch is not the cheapest or the most expensive. It is good for people that are passionate about drawing, but need to get other things done as well.  
It accomplishes many things efficiently, like word processing. The display is responsive enough for most tastes, or you can use the pen to draw or write.
The battery life is much less than other items and the device itself gets very hot. You do not want to sit it on your lap. It requires a great deal of airflow. You may have to end up replacing it after a few years because it isn't the fastest machine out there, but it will do everything for quite a while. It can also run numerous different types of software.  Many people look at it as what to buy when you can't afford a Microsoft Surface.
---
For serious artists: HP Spectre x360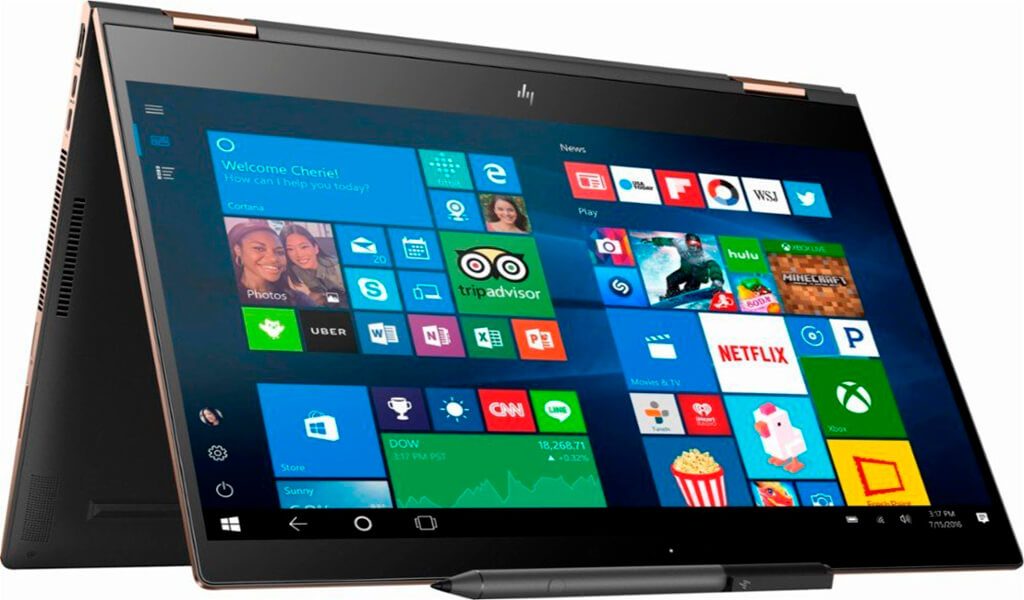 The HP Spectre is not cheap. It is pricey because it is powerful enough to be your main computer. It has up to 4k resolution and a fast Intel chip. There is a backlit screen and keyboard, so everything is bright enough at all times.
You can utilize it like a regular laptop or fold it the other way and use it more like an easel. This is why it is worth a little bit more than others are. It comes with Windows Home too, which may be what you already have the PC at your house.
The machine comes with a solid-state hard drive, but it is pretty small if you want to use this for a while. It would be best to upgrade it to a higher capacity one.
Like with other laptops, there is an issue with overheating that might affect what you can do on it now and then. If you are using a drawing program, take breaks to fix this problem.
It is also well suited to let you work or do homework on the go. It has a decent battery life and comes with a mic and camera, for video calls.
---
A Good Bargain: Samsung Chromebook Plus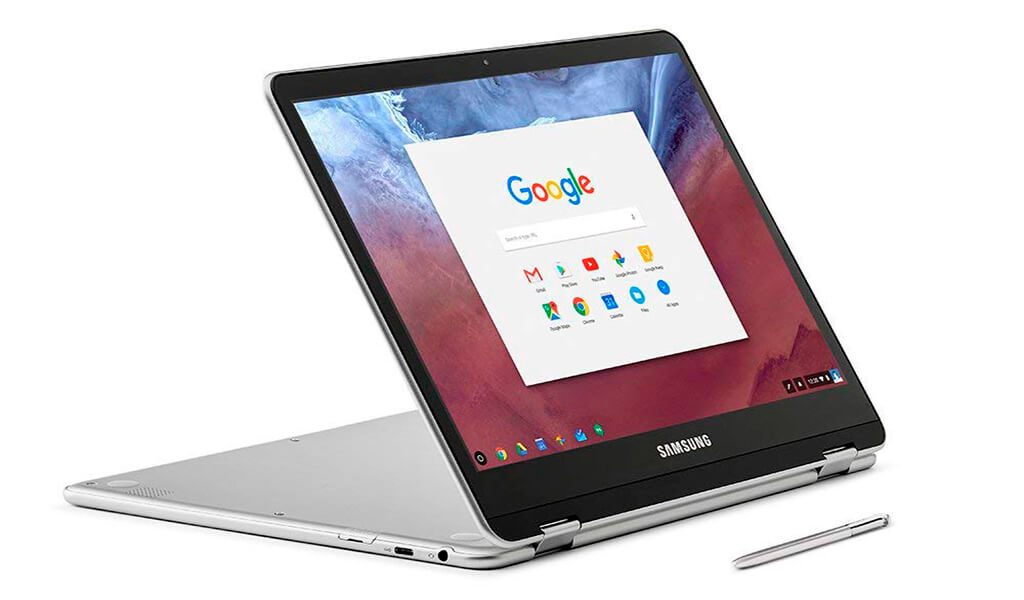 The Samsung Chromebook Plus is a lot like the previous option, except it is loaded with Google Chrome OS. If you use Google apps more than anything else does, there will be no learning curve for you. This doesn't lend to a great amount of power in the computing department. It will still be able to run your favorite apps.
You can draw on it in two different positions and it has a sharp display. It is also thin and small, so storage will not be an issue. The pen is built in, so you shouldn't lose it.
The battery life is normal, but it is quick charging, at around 2 hours. One con is that the Wi-Fi may cut out a lot, especially if you are too far away from the modem or you also have a Bluetooth device connected. Keep these things in mind.
It runs just like other Android laptops out there, but does so with Samsung quality as well.
---
Tips for finding the Best Laptop for Drawing
Since there are so many items to choose from, you need to determine what operating system you are most comfortable with. This is subject to what you normally use your computer for.
Be sure to find a product that is well suited to your preferred drawing program. If you have a favorite app you like to use, then you probably want something that runs Android.
If you prefer something in the Adobe Suite of products, you are better off with a Mac or Windows product. Again, this is a matter of preference. Many people swear by Mac items, while others are loyal to Microsoft.
In this list, the best option for novices, which also happens to be a bargain is the Lenovo Yoga Book. It is highly portable, small, and powerful enough to use for your purposes. You can even get it with Android or Windows. Since you can use real pens, paper, or just the screen and the stylus, there will always be something available for you to draw on and take notes.
In the mid-range category, the Microsoft Surface Laptop is something that can't really be beat. It is able to handle a wide range of software, and the OS can be upgraded right away. It even plays games and is great for streaming. It is a product that isn't too expensive to buy for a teenager, student, or yourself, and can last a while. You can hone your skills and save up for something even more powerful.
Lastly, the top of the line unit to beat is the Apple MacBook Pro 15". While you will have to purchase a separate drawing pen or pad to be able to use it, there is enough power in the machine to keep using it for many years to come. You won't have touchscreen capabilities though. This might be deal breaker for some, but for others, it means you are able to choose the special peripheral you want to make your art as good as it can be.
Whichever one you choose, there are drawing tools and apps that you can take advantage of. The more advanced you are in terms of your skill, the better computer you will probably want. Spend the amount you are comfortable with, since you can always work your way up as your situation changes. Keep working at it and continue to draw!