There is little more frustrating than having the batteries on your controller run out mid-game, it's usually at the most critical moment.  It doesn't make you feel any better to be told that the batteries should have lasted X amount of hours, you probably have added up how long they've really lasted.
You already know the Touch controllers on your Quest aren't rechargeable, you need some decent AA batteries to ensure you keep playing when you need to. Of course, all you really want is to know which are the best replacement batteries for Oculus Quest controllers, then it will be others that are left at your mercy because their batteries have run out.
Fortunately, we can help with this!
Before we start it may help to understand that 1000mAh is the equivalent of 1Ah. If you multiply the Ah by the voltage of the battery, the answer will give you the Wh of the battery. The Wh is the Watt Hours and effectively tells you how many hours the batteries will last.
Of course, most batteries simply display the Ah, or mAh. An Ah of 1 suggests the battery will give you 1 hour at 1 amp, or 0.1amps for 10 hours. It depends on the current you're trying to draw, the higher the current the less time the battery will last. You should also note that a battery that is pushing its limits is unlikely to last the full hour. For example, a 1Ah battery delivering 1 amp of power will probably only give you 30 minutes of use.
To put this in context, the controller draws 0.04 amps, which means a battery rated at 1,800 Ah should give you 36 hours of play. 
Top 6 Replacement Batteries for Oculus Quest Controller
Panasonic BK-3MCCA4BA – The Best Rechargeable Option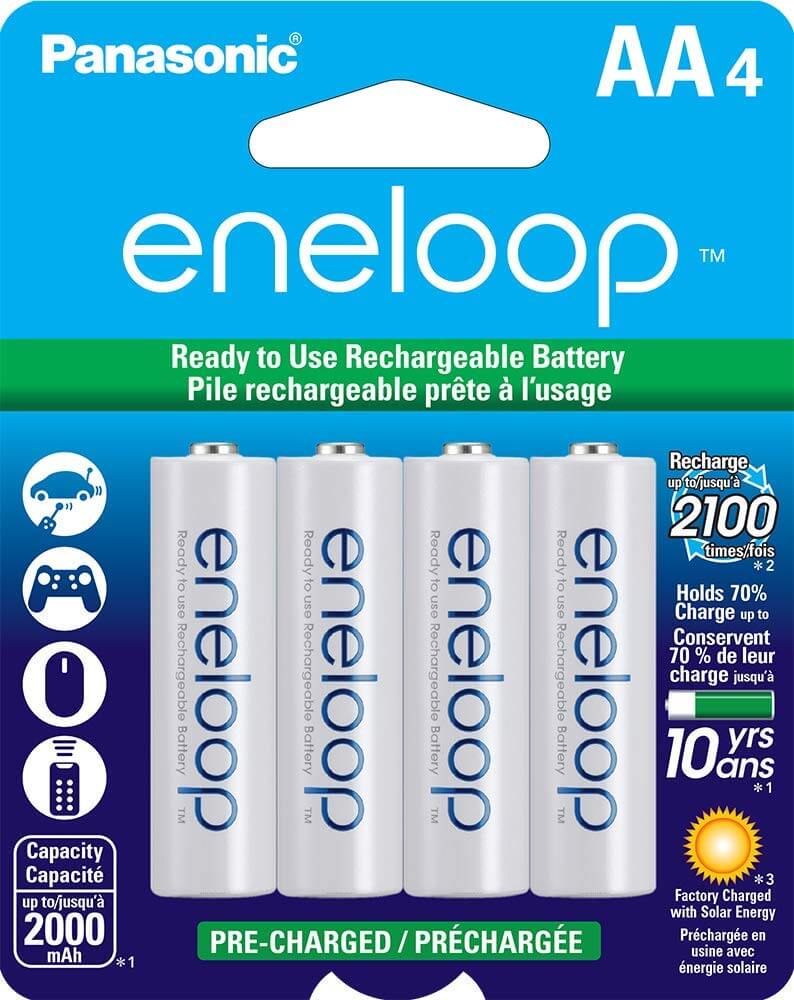 These batteries are nothing to look at but they are made by Panasonic, which is a reputable and well-established company. This is a 4 pack of rechargeable batteries which means you'll be able to have 2 batteries charged and on standby while the other 2 are in your controllers. That's minimal interruption in any game. 
But, more importantly, these batteries offer 2,000mAh maximum and 1,900mAH minimum power capacity. You're going to get 38-40 hours of play from each battery and they can be recharged up to 2,100 times. Of course, when you buy the pack they are charged and ready to use.
They can also be stored for 10 years and still retain 70% of their charge! That means you should never run out of power! It's also useful to know that these batteries can be recharged when empty or partially discharged, without affecting their ability to store power.
They can also be used in temperatures as low as -4° F
In short, this means one pack of these batteries will give you all the power you need for your controllers for the next 20 years!
---
EBL Rechargeable Batteries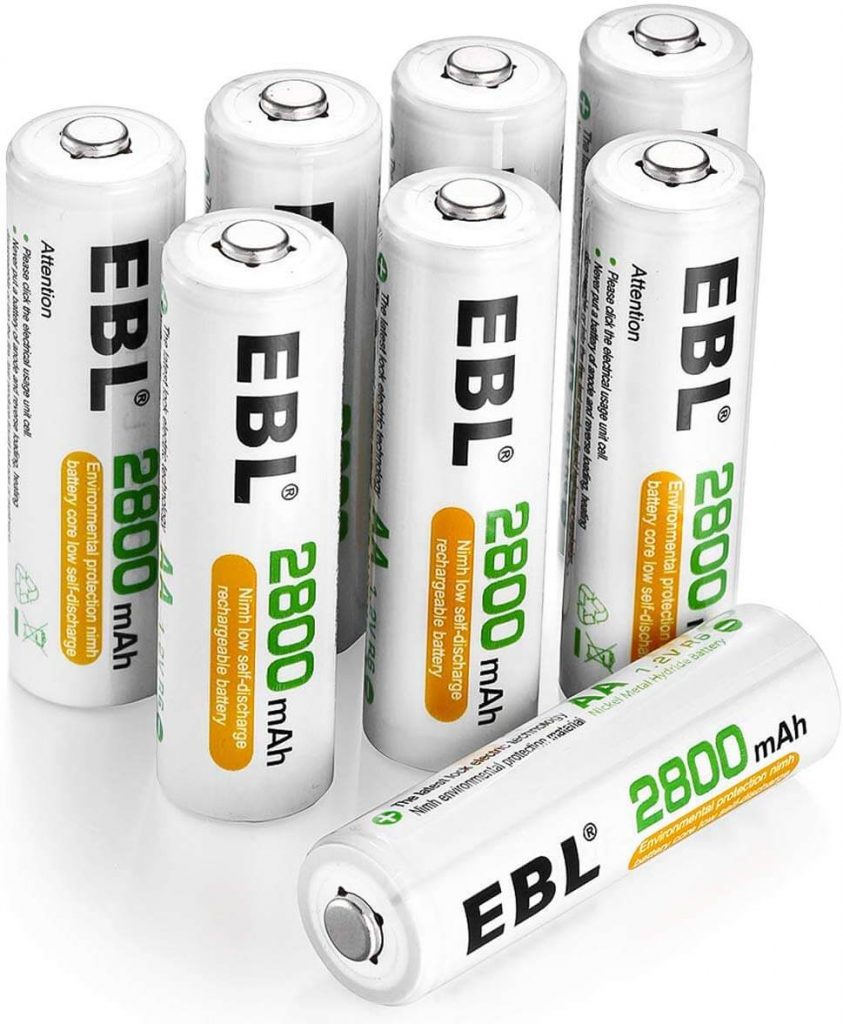 This is actually an 8 pack of rechargeable batteries so you can keep 4 for your controllers and use 4 for something else, or sell them onto a friend!
The EBL batteries are rated at 2,800mAh which means they have the potential to last longer in your controllers than the Panasonic. In fact, they should last up to 56 hours. But, these batteries can only be recharged 1,200 times which means their useable life is shorter than the Panasonic equivalent.
It's also worth noting that these batteries can be recharged when partially or fully drained, without affecting their useable life. They'll even hold 80% of their charge for 3 years when not in use. 
As with most rechargeable batteries, these can be used straight away, they're charged before being packed and ready to be used. The batteries actually come with 2 battery cases, allowing you to carry spares with you and keep playing. 
---
Energizer Rechargeable – 4 Pack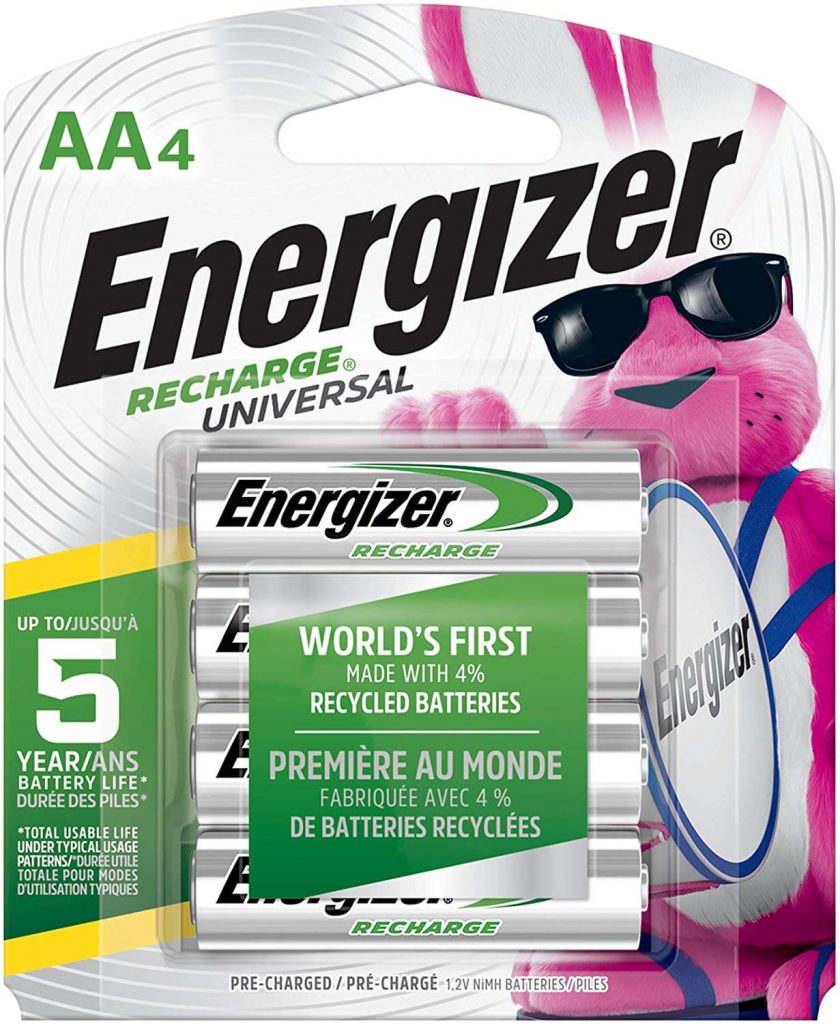 These batteries are actually slightly cheaper than the Panasonic ones and have a reputation for being high-quality batteries. However, while the Panasonic ones can be recharged up to 2,100 times, the Energizers can only be charged 1,000 times. Of course, this is enough to keep you going for years!
The Energizer rechargeables are 2,000mAh NiMH batteries that can be stored and used in temperatures ranging from -20°c to 30°C. The batteries will hold their charge for 12 months and 85% of their charge over 2 years, Energizer state they should last for a minimum of 5 years. 
For anyone concerned with the environment you'll be interested to note that these are the World's first rechargeable AA battery to be partially made with recycled batteries. At the moment it's just 4% but this figure is likely to rise as technology improves.
The 4 pack should be big enough for your needs, but it is also possible to purchase a 16 pack.
---
Amazon Basics Rechargeable Batteries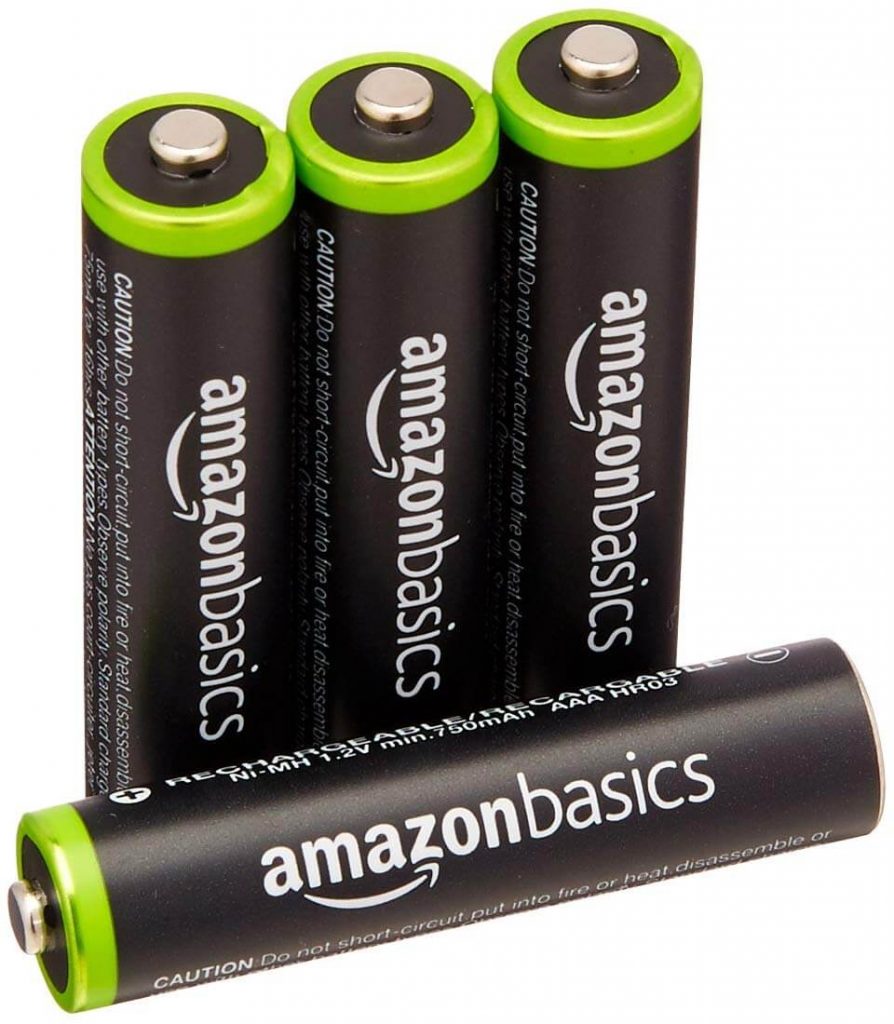 When it comes to rechargeable batteries the budget option isn't actually much cheaper than the best options. But, if funds are tight it's good to know that you can pick up 4 decent rechargeable batteries for your Oculus Quest controllers without spending more than $10.
Amazon basics batteries are rated at 2,000mAh and will maintain 80% of their charge even after 2 years of not being used. They are designed to be recharged up to 1,000 times and have minimal power loss each time you charge them. However, it is worth noting that you should really recharge these when they are empty, recharging when partially discharged can affect their ability to hold a charge in the future.
Of course, the batteries are ready to use as soon as you get them, which means you can be back on your Quest in not time and never run out of battery power again.
---
Energizer Ultimate Lithium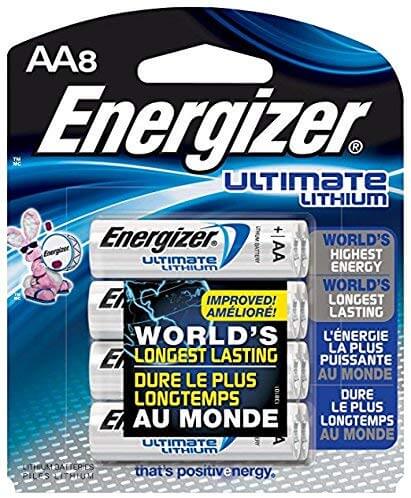 If you're not convinced that rechargeable is the right way to go then you may want to consider these lithium batteries from Energizer. They are listed as the world's highest energy batteries and can be used in conditions ranging from -40°F to 140°F. 
More impressive is the fact that they can hold their power for an impressive 20 years, although you'll probably have used it up before then!
These are a great option if you don't want to pay out for rechargeable batteries and a recharger, but they will work out more expensive in the long run. 
---
Duracell Quantum AAA – 8 Pack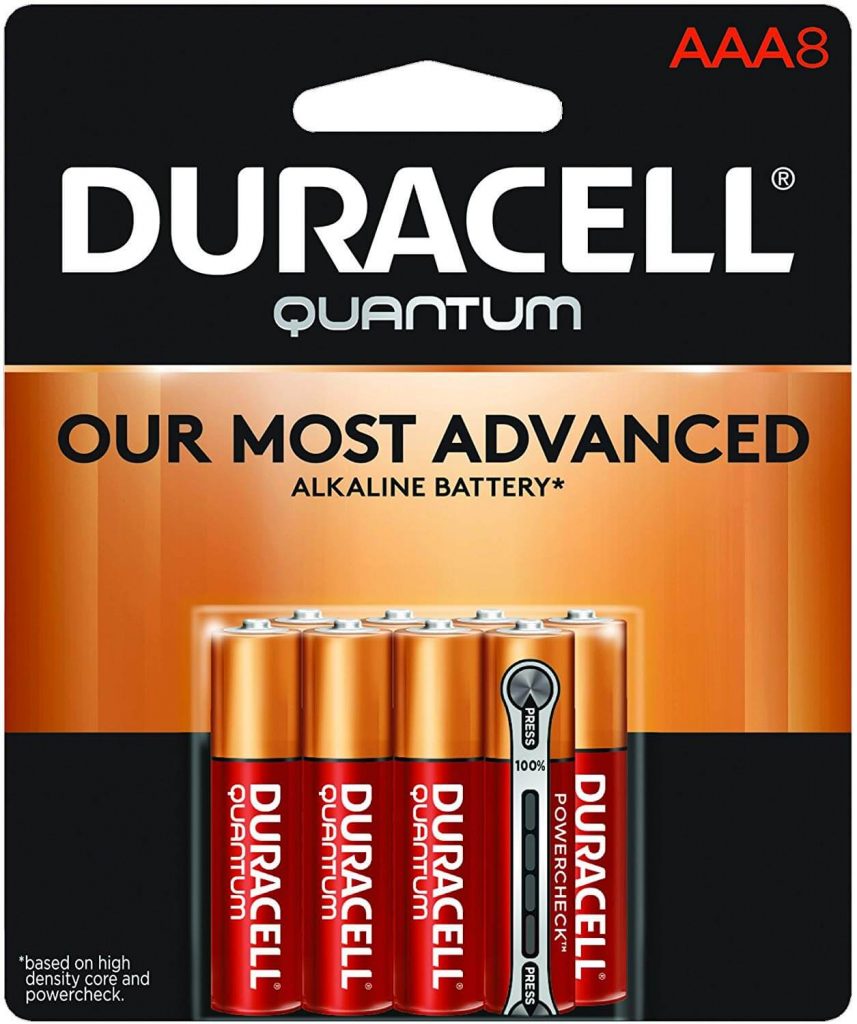 Duracell list these batteries as their most advanced alkaline battery. Of course, this doesn't change the fact that they are an alkaline battery. In general, these are less powerful than lithium and not-rechargeable.  Of course, they are cheaper than the other options on the best replacement batteries for Oculus Quest controllers list!
Duracell is a well-known and respected brand, providing high-performance batteries. The Quantum can last for up to 10 years in storage without losing any charge, that's actually guaranteed by Duracell.
They also have a useful power level indicator on the side of the battery, simply press where it indicates and it will show you how much power you have left.  They have a high-density core and use Powercheck technology to ensure your high-powered items, such as the game controllers, will last for hours of play.
Of course, you can also purchase these in different size packets, such as 4, 16, or even 32.
---
Conclusion
Choosing the right battery is important to ensure you have sooth and continuous gameplay. Although it has been said that Oculus will be replacing the game controllers next year, for the moment you need batteries to make the most of your game playing experience.
The cheapest option is the alkaline battery, although it may not last as long as some of the other options. However, the real secret to choosing a battery is to think of the long term cost. By investing in a small solar charger you can actually recharge your batteries for free, effectively making the rechargeable batteries an incredibly cheap long-term solution. 
Of course, if you're budget won't stretch to that yet, the Duracell and the Energizers are great disposable options. Regardless of which of the best replacement batteries for Oculus Quest controllers you choose, always remember to carry a spare set with you. That will ensure you can continue to enjoy your game.