Samsung Galaxy S5 was released in April 2014 as a company flagship product. Its 5.1'' screen, two gigs of RAM and quad-core Snapdragon 801 don't sound so high-end anymore –  Nevertheless, SuperAMOLED screen and overall performance remain adequate in 2019. With Samsung UI, software support and an excellent camera system, it's still better than brand-new low-end smartphones.
After five years, there is a good chance that the battery performance might drop. This is normal for Li-Ion batteries that have expected lifespan of around 500 cycles. I have colleagues that still use Galaxy S4 and even the ancient S model, naturally without modern apps and features, confirming the longevity of Samsung's flagship series.
For those who still use Samsung Galaxy S5 smartphone, we made a list of the best available replacement batteries. But before diving in the list, here are a few words on battery technology and tips that can preserve your battery's lifespan and autonomy in everyday use.
How to maximize battery life
The type of battery in almost if not in every smartphone is Li-Ion or lithium-ion. This is how this type of battery works: the battery is drawing a constant current, and it is operating at a lower voltage when it's closer to being empty. In the process of charging, the voltage increases as the cell begin to charge. After around 70%, the current begins to fall until full capacity. What does all this mean?
It means you need to avoid draining the battery altogether and then charge it up to 100%. Charge your phone when the battery is around 30 percent and stop at approximately 80 percent. There are several benefits for partial charging your smartphone.
Don't charge your phone overnight. Most phones will draw current even after fully charged which can destabilize the cells, overheat the phone and disturb the charging cycle thus shortening the lifespan.
If you do charge your phone overnight, don't use fast charging. Try to use slower charges altogether.
Extreme heat and cold can also affect battery life.
Don't play games or watch videos when charging your phone. It will also disrupt the natural charging process.
Tips for longer battery life
Dim the lights
You have a beautiful smartphone with a big, vivid, high-resolution screen. While you like its bright screen and vibrant colors, these features use more battery than anything else. If you turn down your screen brightness, you will save energy and prolong the battery autonomy and overall lifespan.
You'll get the best results by manually setting the brightness to the lowest level visible. But, smartphones are here to help us, and using auto brightness mode is be a good way to go for most people. In the case of Samsung Galaxy S5, this is a good option, because Samsung has very good software that handles the settings of the phone.
Short screen timeout
Set your screen to go off after a short period of being idle. A period of 30 seconds without use can be the best option. This can be awkward if the phone dims the screen while you read. If your phone doesn't have technology like following the eyes for activity, you can tap the screen while reading now and then and still enjoy your phone while having a short screen timeout.
Turn off Bluetooth
With cars having Bluetooth connection with phones, more and more headphones that use this technology it can be tough to leave Bluetooth off. If you are really into more extended autonomy, turn BT off in settings, and it will give you an extra hour or two. You can turn it on when you really need to.
Turn off Wi-Fi
Similar problem as with Bluetooth, Wi-Fi radio drains your battery, especially when switching between networks. If you have an unlimited mobile data plan, you can quit Wi-Fi altogether. In other cases, keep your Wi-Fi on when at home or work, and turn it off as soon as you are out of reach. Having a stable Wi-Fi connection can be even good for your battery, whatever decreases constant searching and changing of the networks.
Do you need location services on?
GPS is one of the hungriest consumers of your battery power, and location services that use Wi-Fi, mobile data and GPS at the same time can drain your precious battery. Using Google Maps when in traffic can be a lifesaver, and can help you avoid traffic jams, so there is no point of not using GPS at all. But as with other battery draining options, you should manually turn it on when you need it unless you are enthusiastic about Google Assistant or Siri and you want better assistant service. In that case, you'll simply have to accept short battery life as part of the big picture!
Kill the background apps
One of the best features of a modern smartphone is the ability to have multiple applications open at the same time. And while it's not multitasking unless you use split screen or listen to Deezer while browsing the web, a lot of opened apps can also drain your battery. So hit the multitask button and swipe the apps you don't use.
Vibration uses more power than a ringtone
If you use many apps that send notifications, you're bound for a lot of buzzing tones. That can be awkward when on work, so many use vibration to alert them about upcoming notification. Vibration uses much more power than a ringtone, so the best way to go about notifications is to turn-off non-essentials and have it ring on low volume or on mute.
Use phone power saver
Most phones have advanced power saving modes. There are different levels to this feature. The ultimate power saving mode will turn off pretty much everything except the bare minimum phone features. The moderate saving mode could dim the brightness and turn off background tasks, deduce screen timeout time, etc.
Top replacement battery for Galaxy S5
With all these tips behind us, let's focus on our main topic. Samsung Galaxy S5 has a 2800 mAh battery. The best one out there is another original Samsung battery, but unfortunately, it is no longer in production.
Things to consider before buying a replacement battery
Capacity
Capacity is the primary drive behind purchasing a new battery. The more mAh it has, the more power and the longer it should last. The original battery had 2800 mAh, so don't go below this number. Also, be careful because some of the lesser-known manufacturers can advertise big numbers when the real capacity is much lower. Read reviews carefully to see if people are reporting problems.
NFC
Google Pay, Revolution cards, and custom bank apps use NFC. There are a lot of o reasons why you would want to have this technology in your smartphone. Not all batteries have an NFC chip, and before buying, it's a very good idea to make sure that your preferred battery has this feature.
Certificate
Word to the wise: A cheap battery can be dangerous. It can kill your smartphone, but even worse, these cheapos have a reputation for exploding and even causing fires.This means that some top things to watch when buying Samsung Galaxy S5 replacement battery should be a built-in chip for overcharging and overheating prevention. The institutions that give certificates are CE, CCC, and RoHS.
Best alternative battery for Samsung Galaxy S5
Samsung Galaxy S5 OEM Battery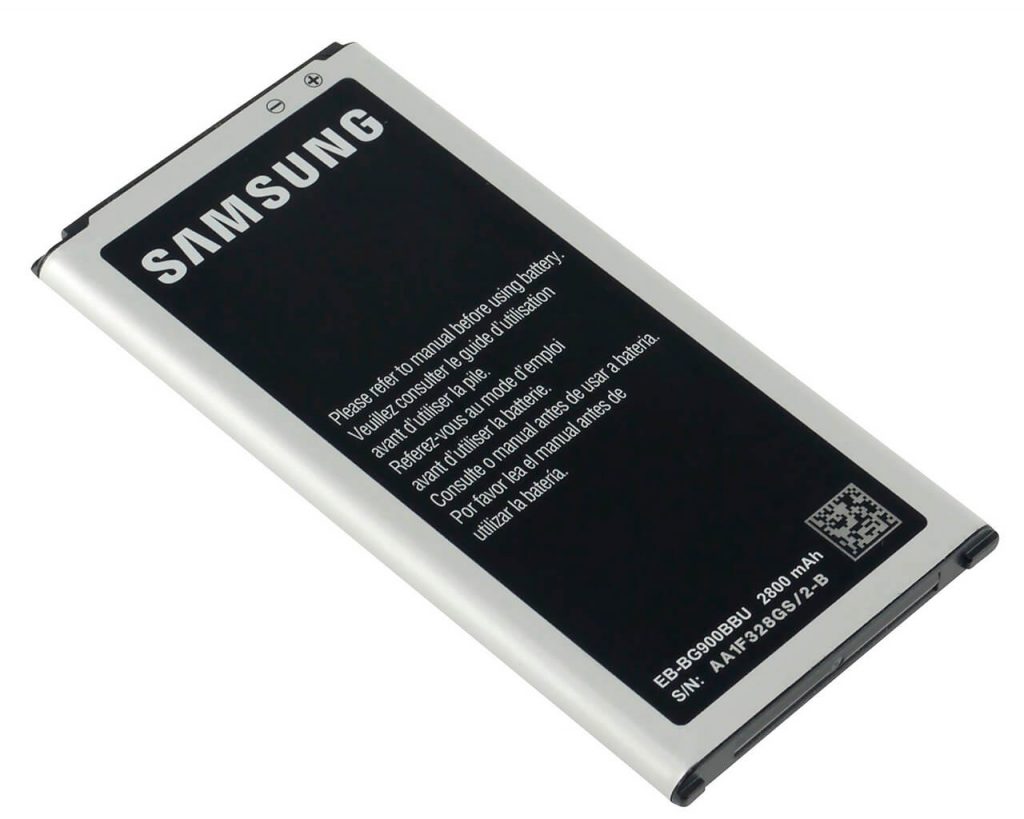 This is not the same as the original Samsung Galaxy S5 battery, but it's the next best thing. Samsung is the OEM manufacturer, and it comes with a one-year warranty. You can expect better performance from this battery than from other competitors. The Samsung Galaxy S5 OEM battery has 2800 mAh, same as the original battery and it should keep your smartphone charged all day. This replacement battery also comes with an NFC antenna, which allows communication with other phones, and more importantly, it can be used for payment services like Google Pay.
Overall, this product has good reviews, but some customers were unhappy calling it fraudulent. Browse through other reviews to see if there is a pattern with the reviewers before deciding on the buy.
Pros
Made by Samsung
One-year warranty
NFC antenna
Price
Cons
---
Acevan Li-ion Replacement Battery for Samsung Galaxy S5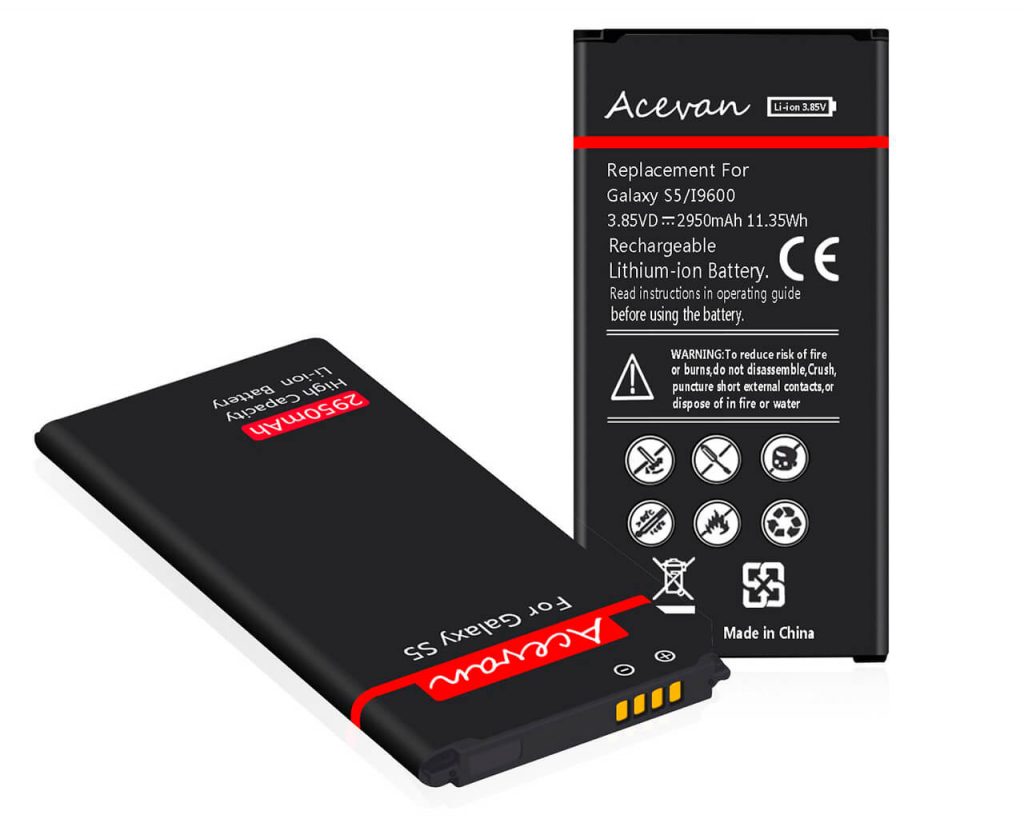 One of the best-graded batteries in customer reviews, the Acevan replacement battery for Samsung Galaxy S5  comes with a capacity of 2950 mAh and Li-Ion technology. This is slightly above original battery capacity and should last all  day without recharging.
This item has quality control certification from CE and RoHS and comes with a whopping 3-year warranty and customer support. With the battery, you will get a micro USB 2.0 cable for free. The seller also offers a 30-day money back guarantee. This is a good sign, although a couple of people have reported battery problems after just a few months.
Pros
3 years warranty
Quality certificates
Price and good reviews
Cons
---
YONTEX Galaxy S5 Replacement Battery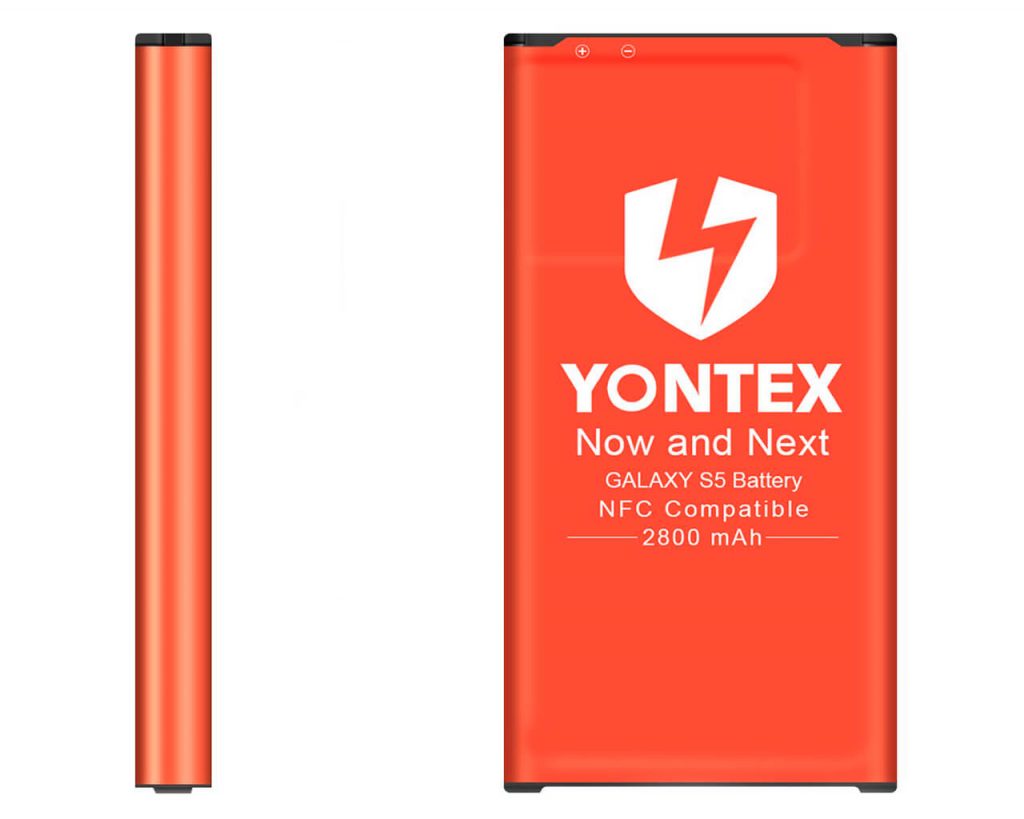 The YONTEX replacement battery has 2800 mAh, the same capacity as the original Samsung Galaxy S5 battery pack. It also comes with a built-in NFC antenna that can come in handy for mobile payments or wireless communication with other phones and devices. The manufacturer offers a 2-year warranty, along with a 30-day return policy. The YONTEX Galaxy S5 Replacement Battery comes with 3.85V voltage, it uses Grade A+ battery cells and has all the relevant certifications including CE, FCC, and ROHS. The specification indicates the battery can handle over 500 charge cycles. This is an affordable choice, plus you get some nice freebies in the form of 3 packs of screen protectors.
Pros
Certificates from CE, FCC, and ROHS
NFC built-in
2 years warranty
Cons
---
Ombar Samsung Galaxy S5 Replacement Battery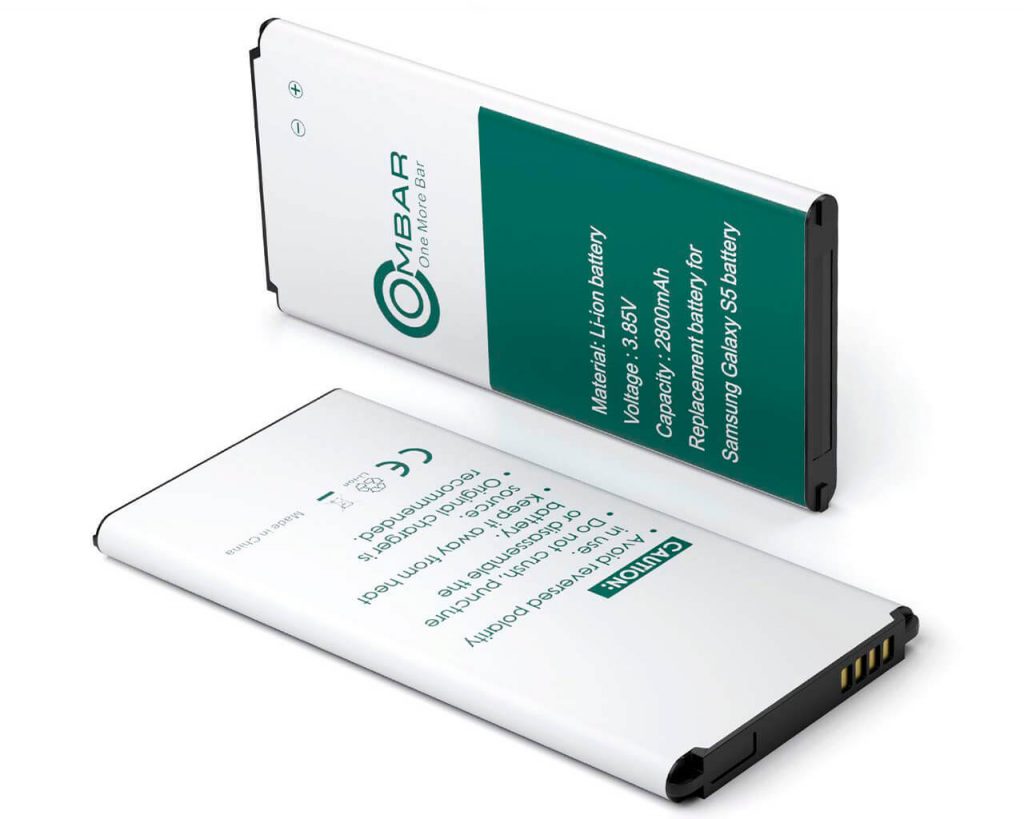 With the same specifications as the original Samsung Galaxy S5 battery the, Ombar replacement version comes with Grade A battery cells, a capacity of 2800 mAh and 3.85 voltage. The battery has quality certificates from CE, FCC, and ROHS, and it also comes with built-in NFC chip that can enable a wireless transaction with services like Google Pay. The seller offers 12 months warranty and 30 days refund policy. Under the reviews section, there are mostly positive reviews, and customer service was also graded as good.
This Ombar Galaxy S5 battery has a protective chip against overcharging, and it can withhold over 500 charging cycles.
Pros
NFC chip
Certificates from CE, FCC, and ROHS
Great customer review
Cons
---
YISHDA New Battery for Galaxy S5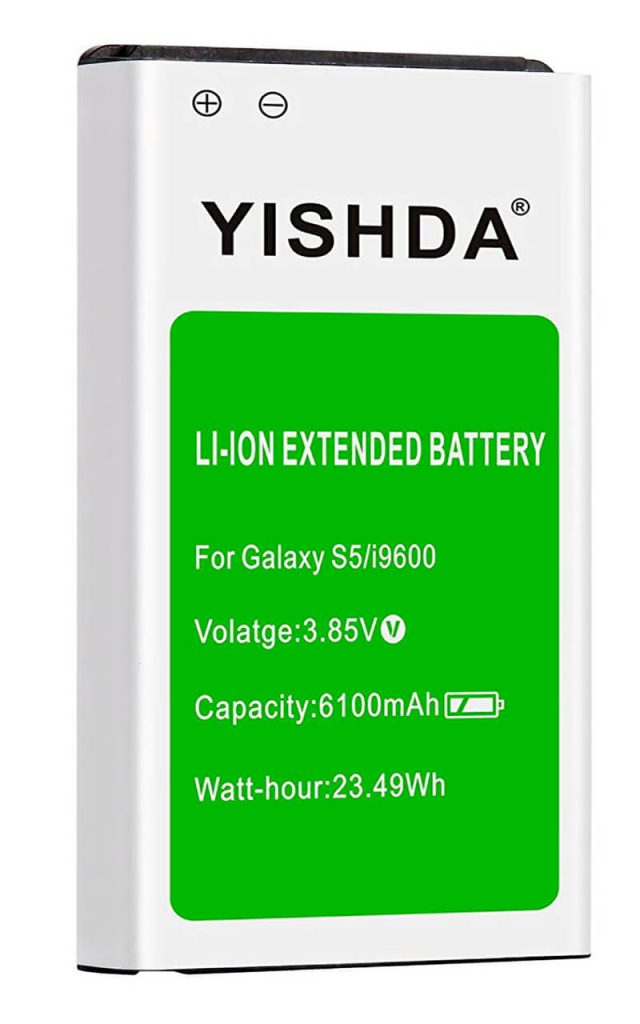 With an original 2800 mAh battery, you can get one day of autonomy. If you opt for more capacity like with the YOSHIDA New Battery for Galaxy S5 you can get more than two days. There is a downside to having a 6100 mAh battery in your Galaxy S5. Your phone will be considerably thicker, and you will get a new back cover with the battery. With the back cover, you will get a tempered glass screen protector and extended protective case. The price of is close to double that of other replacement batteries, but the capacity is more than doubled as well.
The YISHDA Galaxy S5 battery comes with an 18-month warranty, CE and ROHS certification, and chips that protect the smartphone from overheating and overcharging.
Pros
Enormous capacity
Freebies
Quality certificates
Cons
---
CyberTech Replacement Batteries for Samsung Galaxy S5 With Wall Charger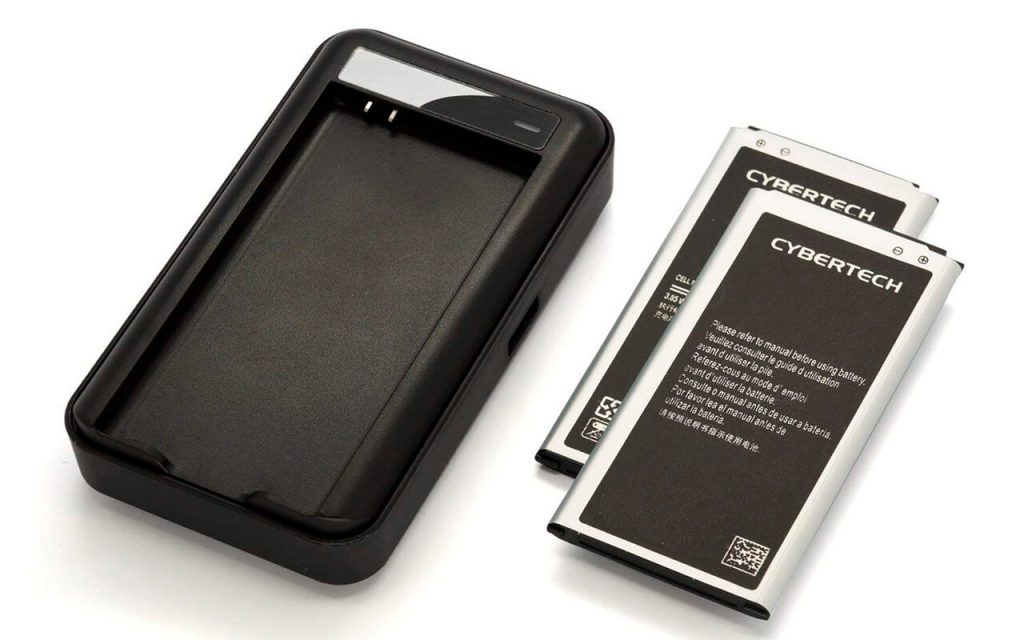 There are almost a hundred replacement batteries for Samsung Galaxy S5, and one of the best strategies to differentiate yourself is by offering something different. With CyberTech Replacement Batteries you will get two 2800 mAh batteries along with a wall battery charger. This great package has a couple of obvious shortfalls: It doesn't provide common certificates, nor does it have NFC chip built-in. It does have protection from overcharging, and it comes with Grade A cells. These batteries get mixed reviews, mostly good.
Pros
Two batteries instead of one
Wall charger
Cons
No NFC
No warranty information
---
SUNZOS 3200mAh Li-ion Replacement Battery for Samsung Galaxy S5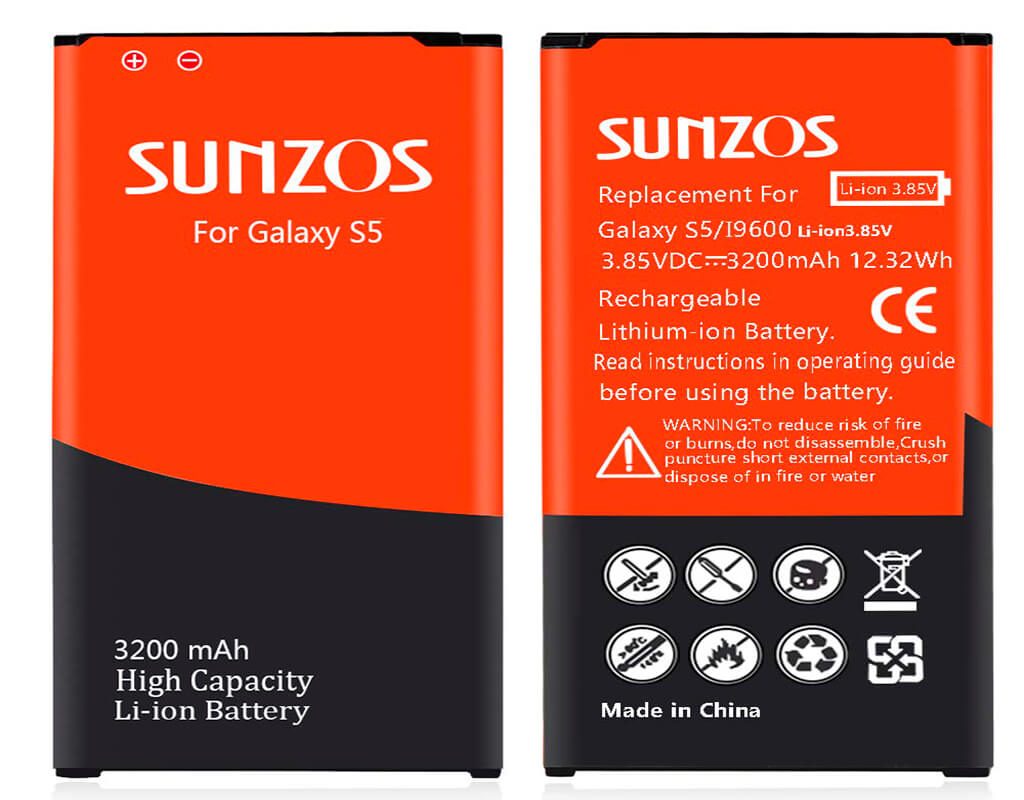 SUNZOS brings its users a good replacement battery for Samsung Galaxy S5 with 3200 mAh which is a nice upgrade over original 2800 mAh. With Grade A cells and up to 500 charging cycles, the SUNZOS Galaxy S5 battery should be a good option for a replacement battery. The seller offers a 36 month extended warranty with a full refund or exchange. In that time it is more than likely that you'll have replaced your Galaxy S5 with something newer. This SUNZOS battery has been tested, and it carries CE and ROHS certificates. On the downside, there is no support for NFC, and the price is slightly higher than with competition. In the package, you will get a USB 2.0 cable, which is a nice touch.
Pros
36-month warranty
CE and ROHS certificates
Cons
---
PowerBear 2,800 Samsung Galaxy S5 Battery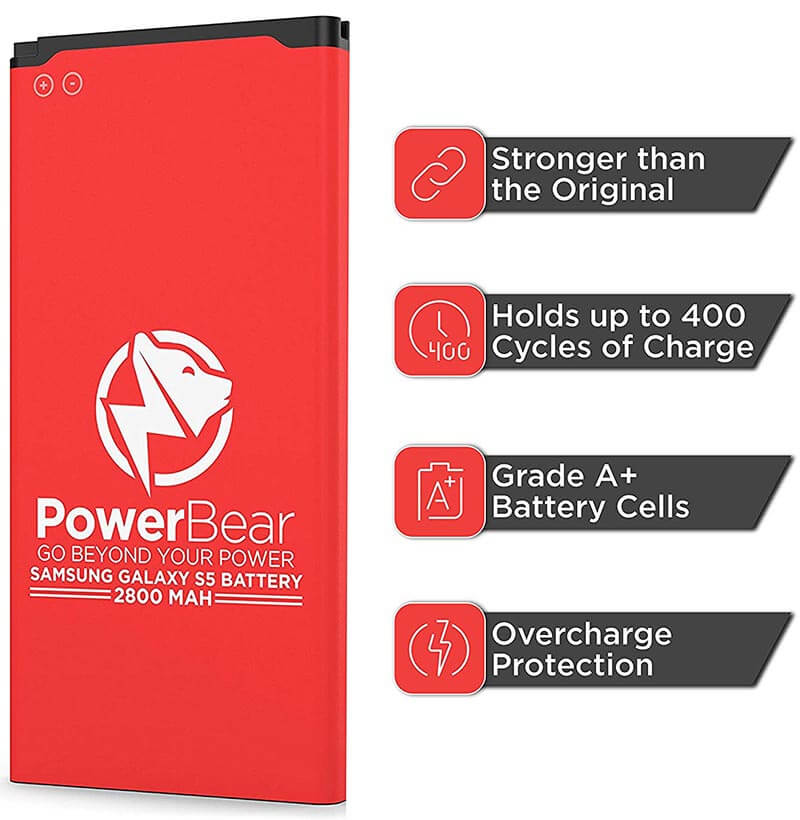 The Replacement battery for Samsung Galaxy S5 from PowerBear comes with the exact same specifications as the original battery. It has 2800 mAh with a voltage of 3.85V. The battery comes with Grade A cells, which should allow around 500 charging cycles. There is a built-in chip to prevent overcharging and overheating. This Li-Ion battery has 24 months warranty. It doesn't support NFC.
Although most people found that this battery did a great job of keeping their phones powered up, there were some disturbingly low grades and reviews. The product doesn't have any free items in the package, and the price is just below average.
Pros
Cons
No NFC
No quality certificates
Some teribble reviews
---
RAVPower 2800mAh Replacement Battery for Samsung Galaxy S5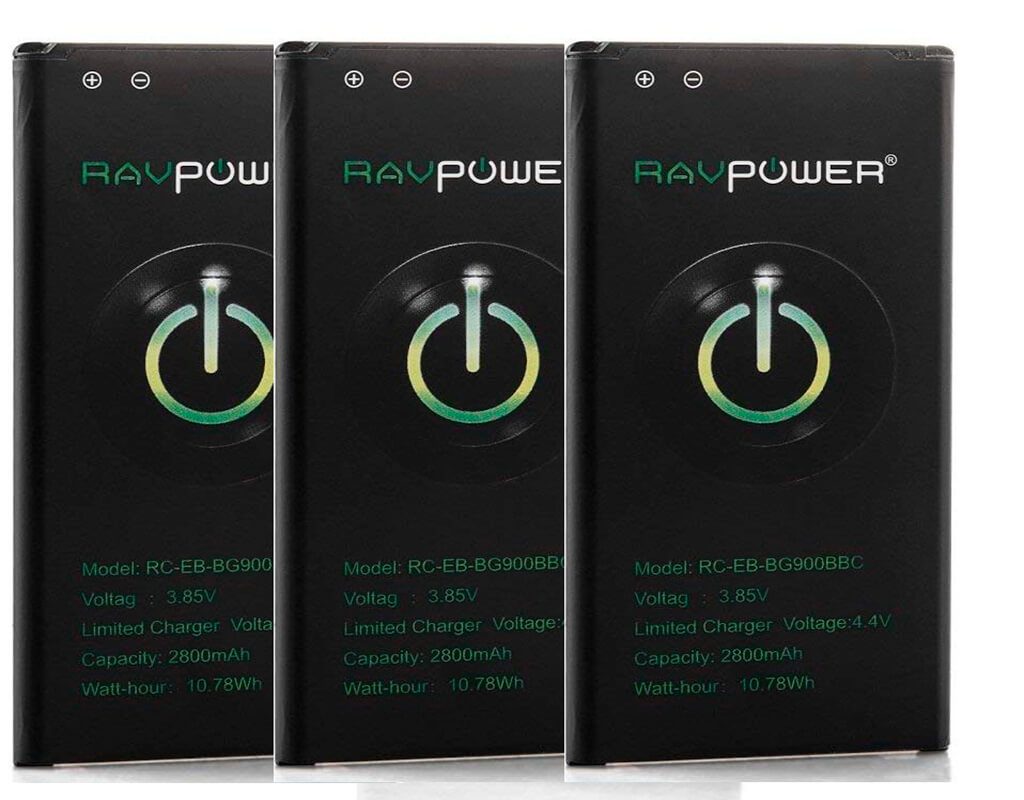 Another copycat battery pack comes from RAVPower. Their replacement battery comes with 2800 mAh, 3.85V and Premium A+ cells that should ensure around 500 charge cycles. The battery comes with CE and ROHS certificates. It has a chip against overheating and overcharging built-in, unlike the NFC chip. The seller guarantees customer service response within 24 hours via email, and it offers 18+12 months warranty. This product got mostly very good reviews and is one of Amazon's top choices for replacement Galaxy S5 batteries.
Pros
CE and ROHS certificates
30 months warranty
Cons
---
Conclusion
Although Samsung Galaxy S5 might not be brand new for 2019, it's still a very solid smartphone with features like a Super AMOLED screen, outstanding photo capabilities and polished Samsung UI and software. With a new battery, you can easily spark life back into an old phone like this one. There are around 100 replacement battery packs for Galaxy S5, and in order to save you time and get your phone back up and running, we made a short list of the best offers. It's our hope that one of them will be ideal for you!