A laptop is more than just a means to get online or stay in touch with social media. Your laptop has the capability to do almost anything, except make you a cup of tea. This includes streaming, but you'll want to be certain that you have chosen one of the best laptops for streaming.
That's what this list is for, take a look and order one of the best laptops for streaming today.
What Makes a Laptop Good At Streaming?
There are several factors that allow a laptop to stand out from the crowd, knowing what it takes to make the best laptops for streaming will help to ensure you choose the right one.
The CPU, or Central Processing Unit, is effectively the brains of your laptop. For the best laptops for streaming, you should make sure you have an Intel Core i5 or higher. The AMD Ryzen is also a good option and the AMD A, FX, or E will do although they are at the lower end of the scale.
Your RAM, or Read Access Memory, is used to help your computer process information. Many budget laptops come with 4GB but, if possible you should choose a laptop that has at least 8GB, although 16Gb is even better.
This is your hard drive and one example where size is not everything. A Solid State Drive, or SSD, will give you speeds approximately 3 times faster than a standard SATA drive. These drives are more expensive so you'll have to sacrifice some storage space, but it's worth it for performance.
You can always get additional storage.
In short, the higher the number of pixels on your screen the better, and sharper, the picture will be. 
While you can get by with 1366 x 768, you'll be much better off with 1920 x 1080, or larger if you can. 
Of course, the greater the number of pixels, the sharper the screen and the shorter the battery life.
If you're gaming or streaming you really need to be looking at the mid to high-end graphics processor. It's best to choose one from AMD or Nvidia. The RTX250, RTX 2060, RTX 2070, or RTX 2080 are great options. 
Getting the right spec on your laptop means you'll get the best possible balance between performance and battery life, which is essential if you want one of the best laptops for streaming.
The Best Laptops for Streaming
Lenovo 2019 Premium Flagship Yoga: Best Laptop for Streaming Overall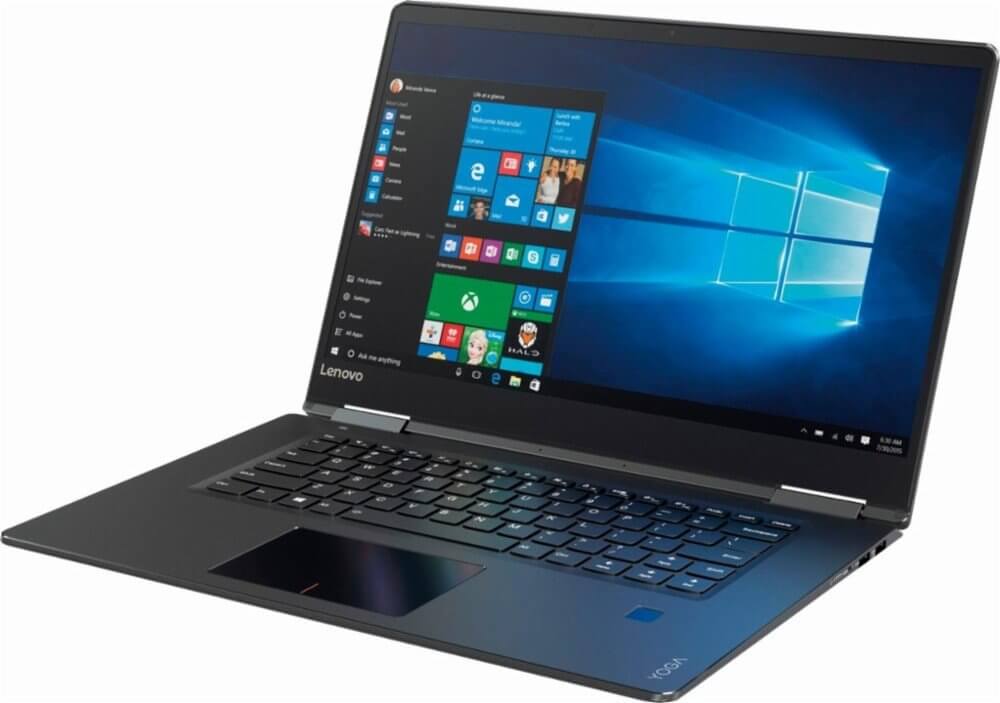 With a name like Lenovo Yoga, you'd be forgiven for wondering if this is one of the best laptops for streaming or a prop from the latest Star Wars movie.
 In fact, it's a great option and potentially the best option overall.
The Specs
15.6" screen with 1920 x 1080 FHD IPS LED backlight
Touch screen
16GB RAM
256GB SSD
Intel Core i5 processor
IntelHD Graphics 620
2 x USB 3.0 ports
1 x HDMI port
The Good
There are a lot of good features, but here are the best:
The Lenovo 2019 Premium Flagship Yoga has a screen that can be moved into virtually any position. Combining this with the ergonomic keyboard ensures that you'll be comfortable whenever you're working on your laptop. 
This laptop is designed to work with you, it is a good enough spec to ensure you can perform any streaming task without issue and, Lenovo has a reputation for reliability.
In short, this laptop shouldn't let you down. If it does it's covered by a comprehensive, year-long, warranty.
The start menu from Windows 7 returns, although the machine is running Windows 10. This gives you an array of new features, including the ability to markup webpages in the Edge browser.
This is just one example of how Lenovo is working hard to ensure the laptop does what you need it to. 
The addition of a backlit keyboard is also a nice touch and you even get a stylus included!
The Bad
There are several points that you should be aware of:
If you like working outdoors, or indoors with the lights on then you may find the screen can be annoying. It is reflective, making it much harder to see what you're doing.
Despite being a 15" laptop the battery life is surprisingly poor. This means that you may need to stay fairly close to a plug which partially defeats the point of having a laptop!
It's a little disappointing to note that there is no SD card reader on this laptop, you may want to save or upload files and you'll need a separate reader to do this. 
---
Apple MacBook Air: Best Laptop for Streaming Videos on Mac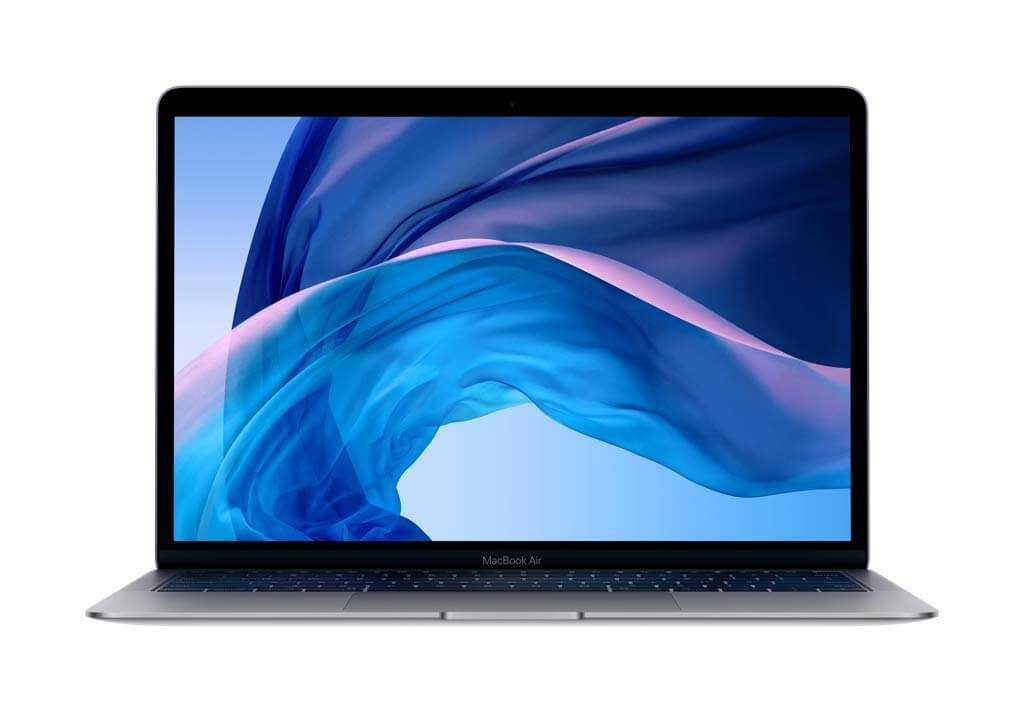 The MacBook Air needs no real introduction.
The Specs
8GB RAM
13" Screen
128GB SSD
Core i5 processor
The Good
There is no doubting that the image quality of the MacBook Air 2019 is excellent. In fact, you'll find it hard to beat. It incorporates True Tone technology that adjusts the color temperature according to the light but it's the detail in the images that really steals the show.
As with most Apple products you're getting a laptop, not a load of extra features that you don't need or want. This means performance is maximized, that's great for streaming!
It's hard to dispute the fact that the MacBook Air 2019 looks fantastic. This could be a reason by itself to purchase one.
The Bad
As always, Macbooks come in at a higher price than their competitors, this means you need to make a conscious decision that the MacBook and the Mac system is the right choice for you.
USB-C ports are potentially the future, but that's not a lot of help to you now! You're going to need an adaptor and a separate hub in order to connect your standard USB's and SD card, readers.
Performance Not Particularly Impressive
Despite offering good specs the performance of the 2019 Air is not as impressive as you would expect or hope. 
---
HP Pavilion 15-cx: Best Budget Laptop for Streaming Twitch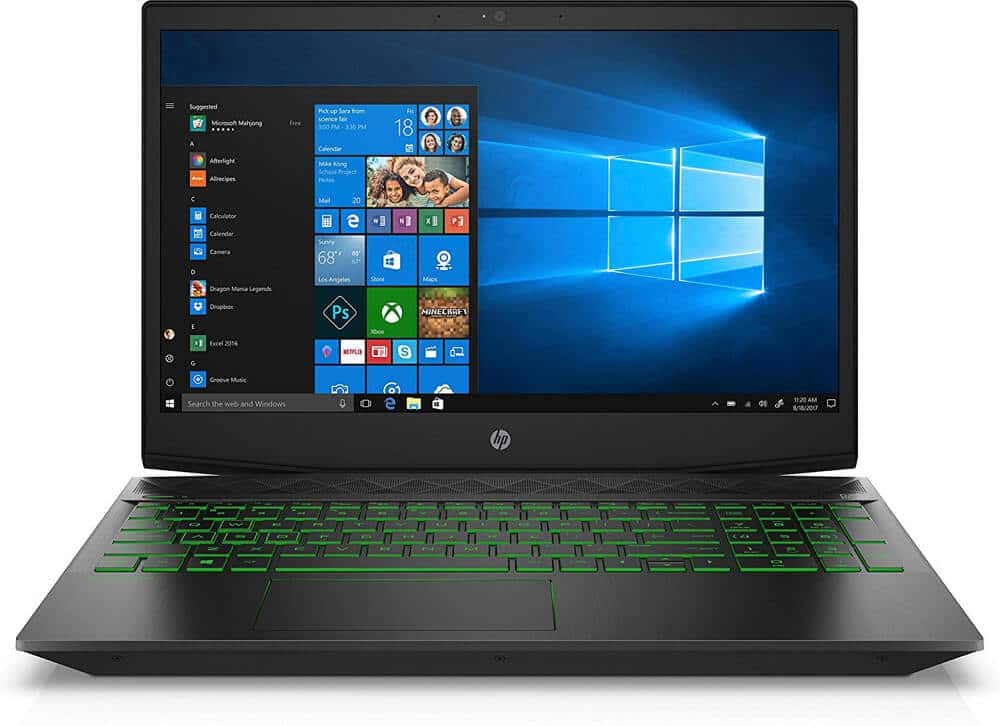 If your funds are tight then HP Pavilion is the laptop to choose. 
The Specs
15.6" screen
8GB RAM
1TB HDD
Nvidia GeForce GTX 1050 Ti graphics processor
Intel Core i5 – Quad-Core
The Good
The battery offers up to 8 hours of life which is good by most standards and even better when you realize that this is a 15.6" laptop, not the smallest option on the market. 
In addition, the keyboard is backlit, as is the micro-edge display, making the battery life even more impressive.
With 1 USB-C, 2 USB 3.0 and 1 HDMI port, as well as a card reader, you should have everything you need to start streaming straight away. 
This laptop is aimed at the budget end of the market and yet it still offers a surprisingly impressive array of specs. It should be enough to keep you happy when streaming or gaming.
The Bad
You may not notice these if you're just doing routine web surfing and light streaming. However, undertake anything more significant and the fans will probably kick in. You'll notice the noise they make which could be very distracting.
It should also be noted that the laptop can take a long time starting up, which can be frustrating when you're waiting for it!
Some users have even noted that the laptop runs slow, although this may be a matter of personal opinion. It depends on what you're expecting and is used to.
---
MSI GV62 8RD-200: Best Mid Level Laptop for Streaming Twitch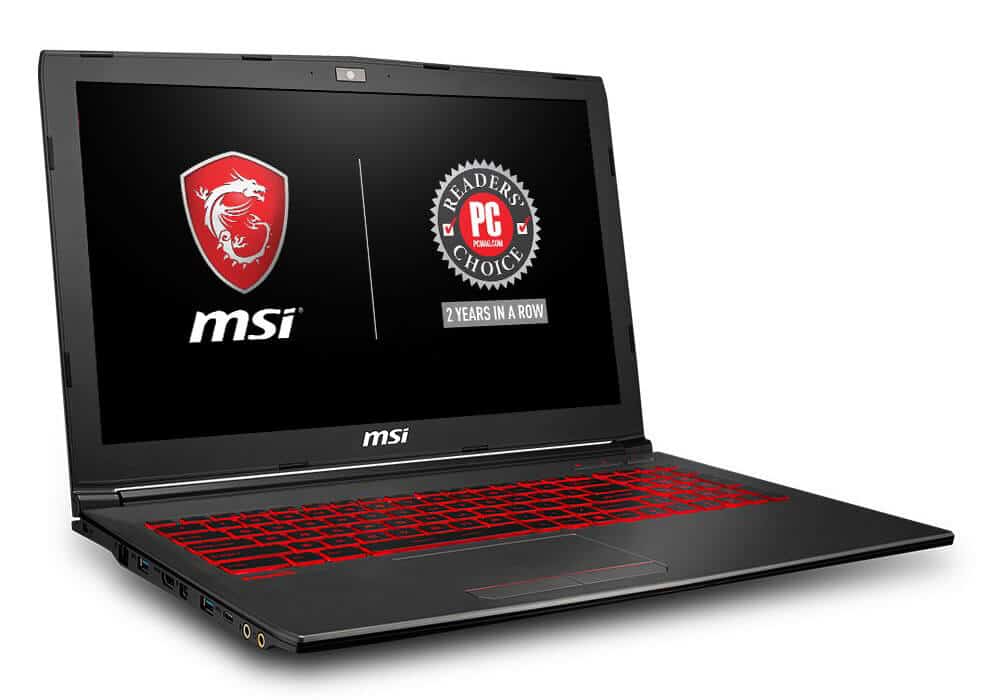 MSI GV62 8RD-200 is actually a great mid-range gaming laptop and one of the best laptops for streaming currently available. 
The Specs
8GB RAM can be upgraded to 32GB
16GBinternal storage & 1TB HDD
Intel Core i5 processor
Nvidia GeForce GTX 1050 Ti graphics processor
15.6" HD screen
The Good
The MSI GV62 comes with 1 USB-C port, 2 USB 3.0, 1 USB 2.0, 1 HDMI, and a card reader. That should give you everything you need straight away.
At 60fps you should be more than happy with the quality of the images!
This laptop weighs just 5.2 pounds and is 1.1 inches thick. That makes it very easy to take anywhere with you. The keyboard also fits naturally to your hands and is backlit, making it easy to use in any light level.
Optane is a new memory technology that actually learns as you use it. This allows your computer to predict the programs you'll use the most and create the shortest loading times possible. 
The Bad
It has to be said that the bloatware is not as bad as it used to be. However, there is still more than you need on the laptop, using memory space and potentially slowing the performance down.
Several users have reported crashing issues which results in hours of reinstalling the software. The laptop still works but you may spend time reloading programs. Make sure you keep the warranty handy.
---
Acer Predator Triton 500: Best Laptop for Streaming Games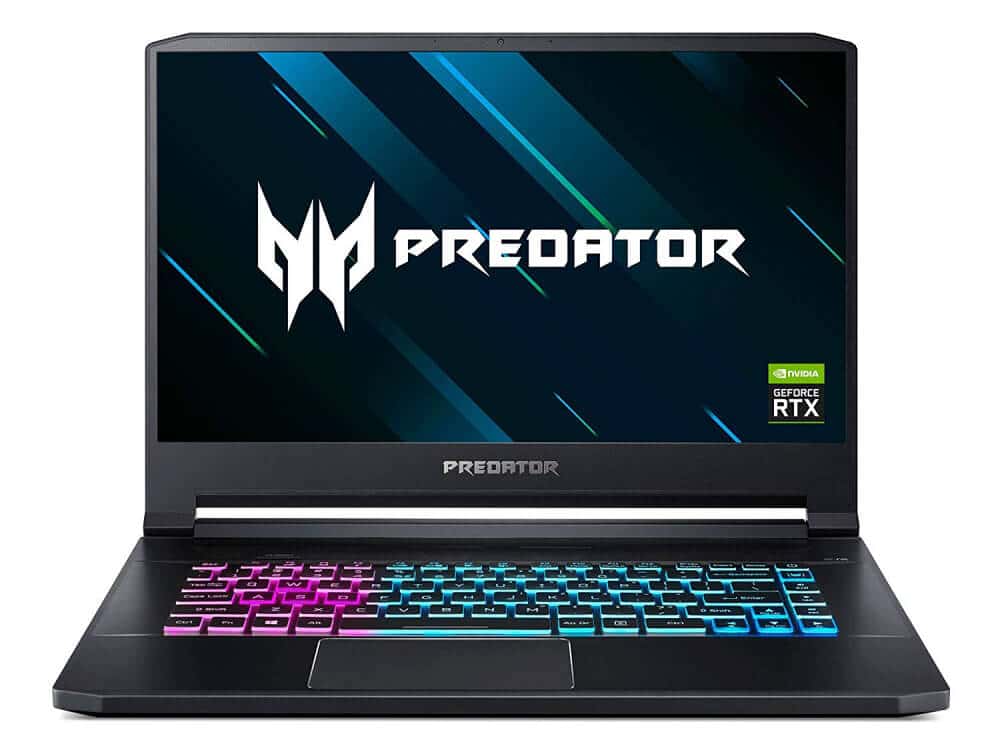 Acer Predator Triton 500 is thin, light, and as stylish as a MacBook but it is potentially more powerful.
The Specs
16GB RAM
Intel Core i7
512 GB SSD
Nvidia GeForce RTX 2060
15.6" screen with 1920 x 1080 Res
The Good
This is an exceptionally thin and light laptop, making it easy to carry around with you regardless of where you're going.  Yet, despite being one of the thinnest currently on the market, it is packed with performance, providing you with everything you need.
The look isn't designed to blend in, but it is stylish enough to stand out for the right reasons.
This is actually one of the most powerful laptops on the best laptops for streaming list. It is the first on this list to use an i7 processor and has enough RAM & hard drive storage to maintain performance. 
Despite the performance, the battery on the Triton is surprisingly good. Depending on your exact usage you should get between 6-8 hours before it needs charging. Considering the spec that's pretty impressive.
The Bad
This is not the most expensive laptop on the market but it's also not the cheapest, and you're getting a lot for your money.
However, you do need to consider you'll be heading into 4 figures if you want this laptop.
The Triton has a number of 'hot' keys which are great for gaming and other uses. However, their positioning could be better. You'll find you're constantly hitting the wrong key, which is frustrating.
You'll be happy with the performance and reliability but the thinness of this laptop combined with the performance capabilities and price means that something had to give. In this instance, it's the lid that is exceptionally thin and flimsy.
---
Acer Chromebook 14: Best Laptop for Streaming On a Budget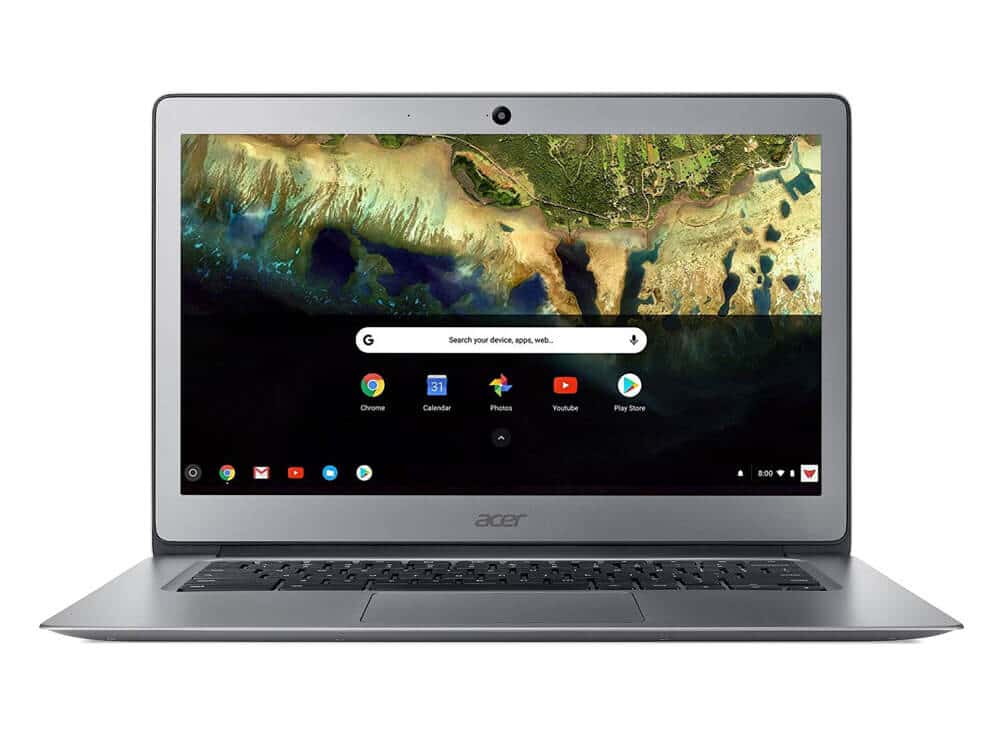 This is not the laptop for a dedicated streamer. But, if you're just getting started and your funds are tight, the Acer Chromebook 14 offers several positive attributes.
The Specs
Intel Celeron N3160 Quad Core
14" screen with 1920 x 1080 resolution
4GB RAM
16GB eMMC
The Good
Because the Chromebook is linked to Google you'll get access to the Google Drive. This is a great way of storing anything you've downloaded without having to use the memory space on your laptop.
The functions of this laptop are limited, which results in extended battery life. It should last as much as 12 hours before it needs charging again.
The Acer Chromebook 14 is actually surprisingly fast at booting up, and Acer state it will continue to stay fast over time. This makes it easy to get going whenever you want.
The Bad
The memory is small, even with access to Google Drive you're going to have to question how much hard drive memory is actually left after the computer uses some for background applications.
---
Dell XPS 13 9370: Best Laptop for Streaming Netflix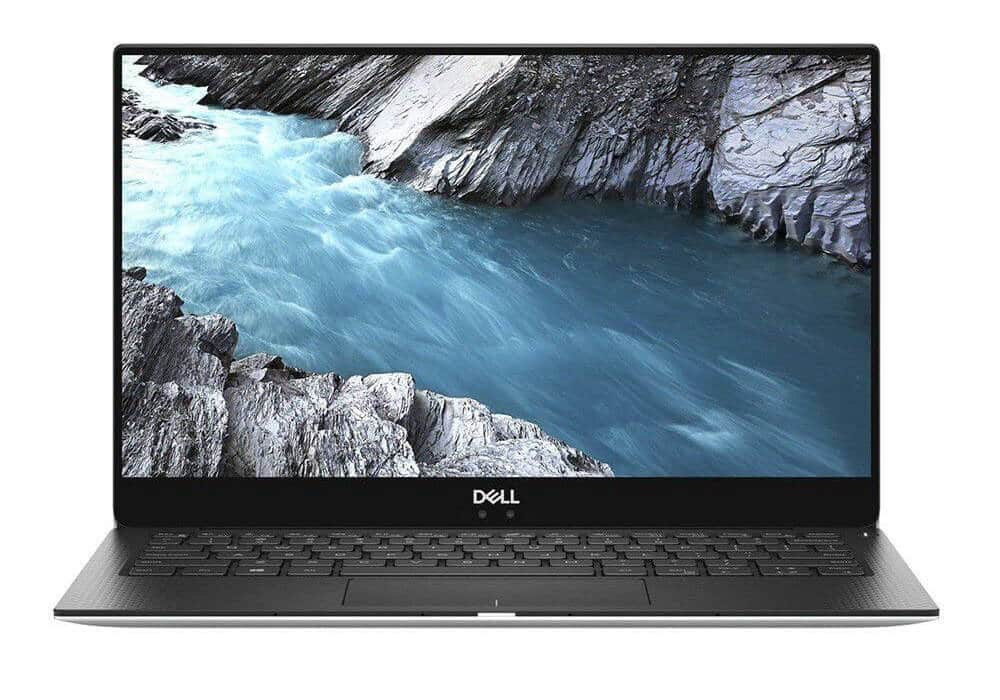 Dell is another of the leading laptop manufacturers and with good reason.
The Specs
13.3" screen, 4K
Intel Core i7 processor
16GB RAM
512 GB SSD
Touchscreen display
The Good
Better Than The Competition
This laptop is better than most of the other options available on the market. It is generally faster at performing tasks and capable of multi-tasking extremely effectively.
It also has a very effective fingerprint reader that provides almost instant access even with damp fingers.
The touchscreen display is a nice extra touch and the resolution of 3840 x 2160 will provide you with every possible detail of your streaming event.
The quad-core processor has a turbo boost option, accompanying this is a solid-state drive and 16GB RAM.  This virtually guarantees you fast performance when you need it. 
The Bad
Not significantly better than the i5 version
The XPS 13 9370 is more expensive than the i5 version of this computer but there is no discernible improvement in performance. This makes you question whether it is worth the extra money.
The XPS is built for performance which means it has premium parts and not the cheapest of price tags. You'll have to decide if it is worthwhile or not. 
While a backlit keyboard is a great idea the lights are not especially effective which actually makes it harder to see the keys!

---
Razer Blade Pro Gaming: Best Laptop for Streaming & Gaming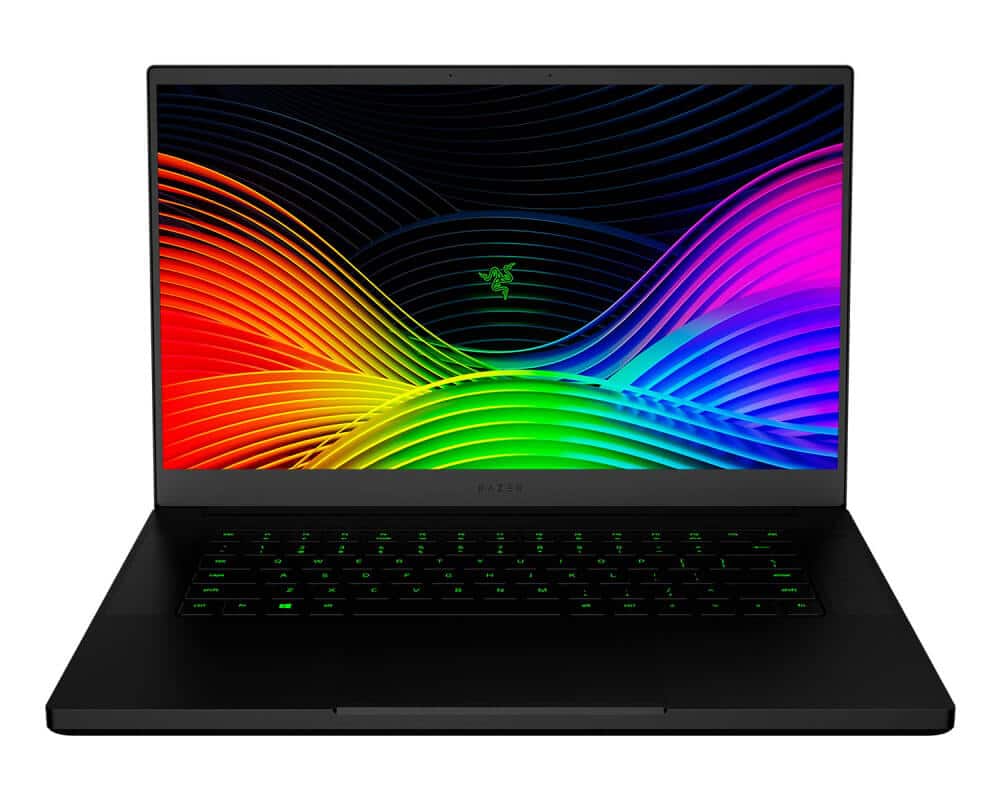 The Razer Blade Pro gaming is built for gaming, which makes it great at streaming.
The Specs
Intel Core i7 – 6 core processor
15.6" screen
16GB RAM
512GB SSD
Biometric security
The Good
This is only the second laptop on this list to have an i7 and it makes the most of it. 
You'll find an array of ports on this laptop to suit every one of your needs. This includes a Thunderbolt 3, 3 USB 3.0 ports, an SD card reader, and a USB-C port.
The Razer Blade is a stylish looking laptop, although slightly chunkier than the competition, this simply adds to the look. But, it's not just all about style, it also has excellent cooling fans, helping to keep your laptop cool, no matter how hot it gets.
The Bad
At 15.6 inches it's on the bigger side. It's also on the heavier side and not great to be carrying around all the time. You'll have to consider how much you use it before committing to purchasing it. 
This laptop is likely to set you back in the region of $3,000, that's a significant investment! You'll need to consider whether this is really the best and most cost-effective laptop for your streaming needs.
---
Your Guide To Purchasing The Right Streaming Laptop
You know the specs and have decided that one laptop looks pretty good. But, before you dip your hand into your wallet there are several factors that should be considered. It is essential that you consider the following before you commit to purchase a laptop, there's a big difference between a machine that looks the part and one that does the job you need it to.
Size
You can get great laptops in a wide variety of sizes. Obviously, the larger the laptop the better the quality of the images can be. Although, this doesn't mean they will be as this will be connected to the pixel quantity.
However, big is not always better. 
Consider what you do with the laptop on a daily basis, this will tell you how portable it needs to be. The more you carry your laptop with you the more the size will matter.  The best option is to choose the largest laptop which comfortably fits into your existing bag and isn't too heavy to carry everywhere with you.
Budget
Laptops are not the cheapest purchase but they should be seen as an investment. You can pay from as little as $200 up to in excess of $2,000.
The question is partly what do you need the laptop to do, (other than streaming), and how much funds do you have available?
Setting yourself a budget ensures that the laptop is a viable purchase and not one that leaves you unable to eat for a month.
Of course, if you're desperate for a specific laptop you can always wait, allowing yourself time to increase your budget.
It's worth noting that there are some great finance deals available but this may limit your options regarding the type of laptop and you still need to make the repayments.
Reputation
The main brands, such as Dell, Apple, and even HP are well established and have developed reputations for providing high-quality goods. However, that doesn't mean they are the only options.
You can get a cheaper laptop by choosing a less well-known brand. However, regardless of which laptop you're considering, it's a good idea to check the reputation and what other consumers think.
The easiest way to do this is via social media sites and forums, you'll be able to see honest opinions regarding any laptop. It is important to remember that it's almost impossible to keep every customer happy, there will be some that have experienced issues with their laptop. 
The important thing is that most users are happy and the company has reacted well to the issue. This shows you that not just the product is good, but also the support you'll receive if there is an issue. 
Features
We've already looked at the specs and you'll need to make sure that your chosen laptop has a good enough CPU, RAM, and hard drive. But, that's not the only features you should be considered about.
It's worth spending a few minutes deciding if a DVD drive is essential, useful, or not needed. If you're planning on streaming music and movies you probably won't need one, but there are still plenty of laptops that come with one. 
You should also be looking at the number of ports on a laptop and how many accessories you tend to plugin. It's much better to have enough ports in the first place rather than having to add an array of dongles and hubs. Of course, this isn't a deal-breaker but it is worth considering.
This is also the time when you should be checking how smooth the keyboard is to use and the touchpad, you don't want to be adding extra ones of these.  You may also feel that a touch screen is essential, although this will limit your choice of laptops and reduce battery life.
Operating System
You may already have a preference for an operating system. But, if you don't then you're going to need to consider which system suits your needs best. 
The most obvious choice is Windows as this is compatible with Microsoft Office, the most common office software. However, if you're interested in just streaming, there is a lot of merit in choosing Mac, or even a Chrome system. You should note that Chrome is not generally the best operating system for streaming as many web apps don't work smoothly when you're offline.  
Consider A 2-in-1
2 in 1 laptops can be changed between a traditional laptop and a tablet. There is usually an array of screen positions in between, but, the crux of the matter is that you can fold the screen around or even remove the keyboard, allowing you to use the laptop as a tablet.
While this is a cool gimmick, unless you have a real need for the feature it is usually better to choose either a laptop or a tablet.
Check Battery Life
The battery life is affected by a huge number of factors, ranging from the size of the battery to the size of the screen. The greater the processing power and the screen quality, the shorter the battery is likely to last.
However, you should verify this before you choose your laptop. In fact, the best laptops for streaming will have been reviewed by other users, this will allow you to see the battery life in real-world conditions, as opposed to what the manufacturer says.
It's worth checking the forums and media sites to establish how good the battery really is. After all, there is no point in having a laptop that is great at streaming but runs out of power halfway through!

Final Thoughts
It's hard to give a definite answer on which laptop is the best of the best laptops for streaming, all the ones on this list have their merits.
The final decision will be down to what you want to use the laptop for as well as streaming, or what kind of streaming you intend to do, alongside the budget you have available.
Personally, I like to game as well, there is nothing that can c=quite match the Razer Blade Pro, but it is a significant investment.