Whether you are a gamer by profession or hobby, you will agree with us that having a good, comfortable headset can mean the difference between winning and losing. After all, hearing the footsteps of your enemy well in time can help you in taking proper action beforehand while live streaming.
A quality headset can go a long way to aid your quest for the perfect online gaming and streaming experience.
Besides offering high-quality sound effects, the ideal gaming headset must be conducive to the demands of streaming, so you can communicate with your peers in real time without any sync issues. Add to that, Virtual Reality is becoming more and more popular among gaming enthusiasts. VR is all about getting immersed in the environment, making you feel like you're part of the game.
If a headset's sound quality is not up to the mark or lacks the desired effects, then your experience is bound to be compromised. The higher the quality of sound is, the better your immersion in the gaming world. That's why choosing the right headphone is important if you are to extract most out of your gaming and streaming experience.
If you are looking for the best gaming headphones that offer seamless streaming, then keep reading! This article will help you find one that's just right.
What Do You Need to Know Before Buying Gaming Headsets for Streaming?
So what are the things that you should look for when you are in the market for a quality gaming headset?
There are several considerations to keep in mind while choosing the right set of headphones for maximizing your gaming and streaming experience. Whether you are interested in PlayStation or XBOX gaming, or maybe into Twitch streaming, there are a few things to consider as you make your decision.
Here are a few points to focus on before investing in a gaming headset.
Is the Headphone 3D Audio Compatible?
Sound quality is the most obvious consideration. Without 3D surround sound audio, it is impossible to get that immersive feeling you crave. 3D audio effects are a group of sound effects that manipulate the sound produced by placing it in three-dimensional space – behind, above and below the listener. It optimizes the sound quality to provide a more realistic listening experience.
You'll have to shell out a significant amount of money if you want to own a high-end gaming headset. But one thing is for sure: You'll be awestricken by the difference a quality gaming headset can make when it comes to your overall gaming experience!
So, for a highly realistic and satisfying gaming experience, settle for nothing less than a 3D surround sound compatible headphone – if your budget permits.
Do the Headphones Block Outside Noises?
Outside noises slipping through the earplugs is a nuisance. It kills the immersive experience by constantly reminding you of your physical surroundings. While on an online gaming mission, you want to minimize distractions by blocking outside noise as much as possible.
That's where noise cancellation headphones come into the picture. In recent years, there has been a revolution in noise cancellation technology. If your headphones offer this feature, your gaming and streaming experiences will be far more satisfying.
Are They Comfortable Enough?
Never neglect the comfort factor. If you are not comfortable in your headphones, you are unlikely to enjoy the gaming experience. Headphone type, shape and weight matter.
When it comes to the type, the first thing is to decide between wired and wireless headphones. Wireless types have a certain edge for obvious reasons, but if you are solely interested in sound quality, then there's no alternative to the wired ones. Nothing can beat the sound quality offered by wired headphones plugged into the gaming console.
If you want to get the best of both the worlds, then you can choose one of those wireless headphones with optional wire. Many manufacturers offer dual technology headphones, and in most cases, the added versatility is worth the price.
Next comes the shape factor – over-head, on-ear or in-ear. There's not much difference in sound quality as long as you are choosing products from a quality manufacturer. As for headphone shape, it's mostly a matter of personal preference. No matter what shape you prefer, make sure that the headphone fits properly around and feels comfortable. Also, pay attention to weight. If you are planning for long gaming sessions, then it's wise to go for a light-weight headset.
Do You Really Need Expensive Gaming Headphones?
There's no one size fit all approach when it comes to gaming, meaning that the answer to this question varies from one user to another.  
Your computer's built-in speakers might let you hear what's happening in the game, but they don't enhance your experience because the sound isn't delivered to your ears directly. Some of the effects are invariably lost in transition. The same holds true for standard headphones.
While expensive headphones are not an absolute necessity, it goes without saying that they make gaming more accessible, enjoyable and realistic. For those who don't want to compromise on the listening experience, a high-end, top quality headphone can be a worthwhile investment – no matter how expensive it is.
The Best Gaming Headsets for Streaming
Are you in the market for a top-notch gaming headset for streaming? There are plenty of options to choose from! To make the task easier for you, we have compiled a list of best gaming headphones after thorough research and extensive testing.
Whether you are looking for a high-end expensive headset, a good value for the money buy, or a budget-friendly option, we have identified and shortlisted the right headsets for your specific needs. No matter which one you ultimately choose, rest assured that you'll have an extremely satisfying experience as far as sound quality is concerned.
So, what are the best gaming headphones for streaming? Let's find out.
If budget is not a concern for you, then we would highly recommend going for a high-end headset. The quality of sound you get is directly proportional to the price tag.
PlayStation Gold Wireless Stereo Headset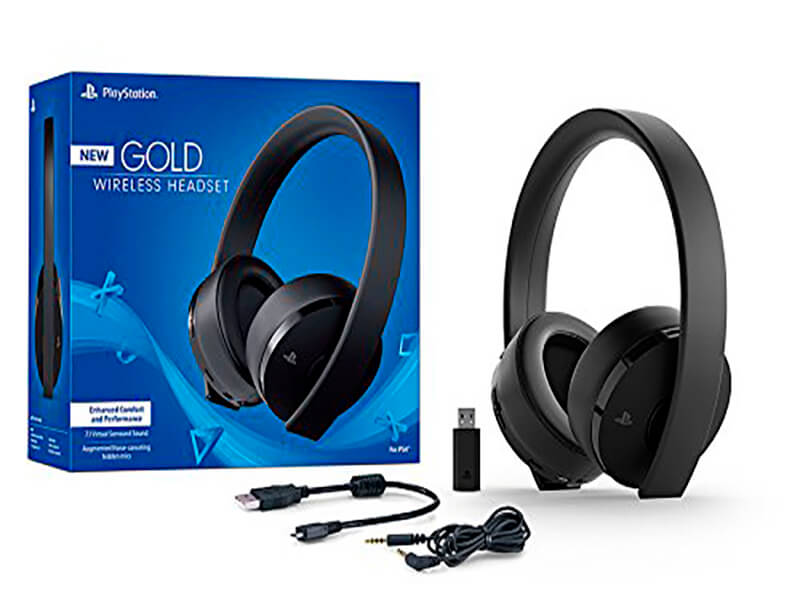 If you are an avid streamer and you want to experience every sound effect from loud booms to low-pitch whispers and everything in-between, then PlayStation Gold Wireless Stereo Headset might be your best bet. With its stunning 7.1 virtual surround sound feature and state-of-the-art noise cancellation technology, it is one of the most popular gaming headphones out there. If you wish to leave your real-life surroundings behind, then this is the ideal set of headphones to achieve your objective.
While this model doesn't have 3D sound, it's a versatile choice that brings you access to companion app and custom game modes developed exclusively for your favorite PlayStation games. The hidden noise-canceling microphone allows you to chat with your friends as you play.
Alongside the convenience of wireless technology, these headphones have an optional cable that allows you to directly connect to the VR headset console. With swappable faceplates, you can configure them for both style and comfort. These headphones are compatible with both PS3 as well as PS4 versions.
Pros:
Supports both wired and wireless connectivity.
Stunning 7.1 virtual surround sound.
Compatible with both PS3 and PS4.
Access to PlayStation custom game modes.
Cons:
No 3D audio.
Not compatible with Xbox.
---
Turtle Beach Stealth 350VR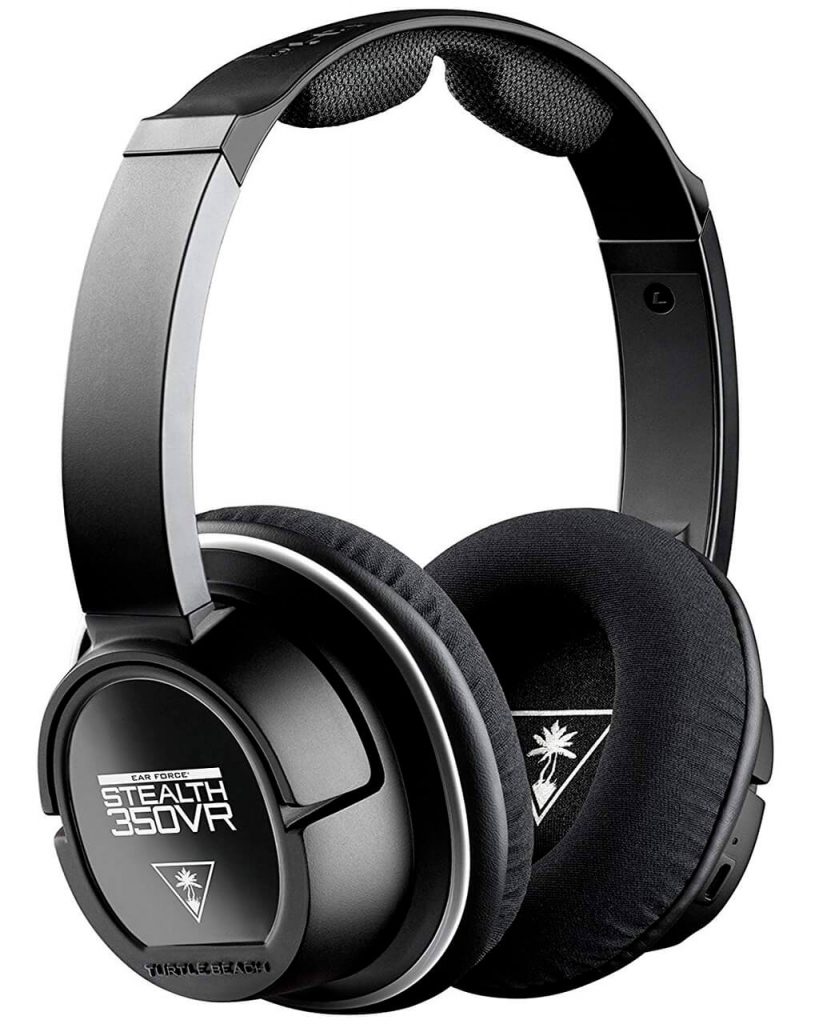 Turtle Beach Stealth 350VR is an amplified gaming and streaming headphone compatible with PlayStation. It sports an ergonomic "built for VR" design for providing clearance for VR headbands and cables. It comes with amazing features like battery-powered amplification, variable bass boost, removable microphone, and active noise cancellation. The light-weight design with fabric-wrapped foam over-ear ensures lasting comfort.
The outstanding amplification effect lasts for up to 30 hours on a single charge. Onboard audio controls are easily accessible, mounted right on the headset. Turtle Beach Stealth 350VR is compatible with a host of gaming consoles including PS VR, PS4 Pro, PS4, Oculus Rift and HTC Vive. Gamers love how versatile this headphone is, as it comes with easily interchangeable cables to swap between different gaming consoles. All in all, you can be assured to have a rich, expansive audio experience if you decide to invest in this purpose-built VR headphone.
Pros:
Outstanding sound quality.
Variable bass boost for the much-needed oomph.
Excellent value for money.
Cons:
No 3D effect.
Microphone quality could have been better.
---
Best Wired Headsets for Streaming
Wired gaming headsets for streaming have their own faithful loyalists. As already stated, wired headsets are known to offer better sound quality compared to the wireless ones. That's the reason why hard-core VR gaming enthusiasts often ditch wireless in favor of wired headsets. If you prefer wired headsets, then here are a couple of exciting choices that you should not miss out.
Sennheiser Game ONE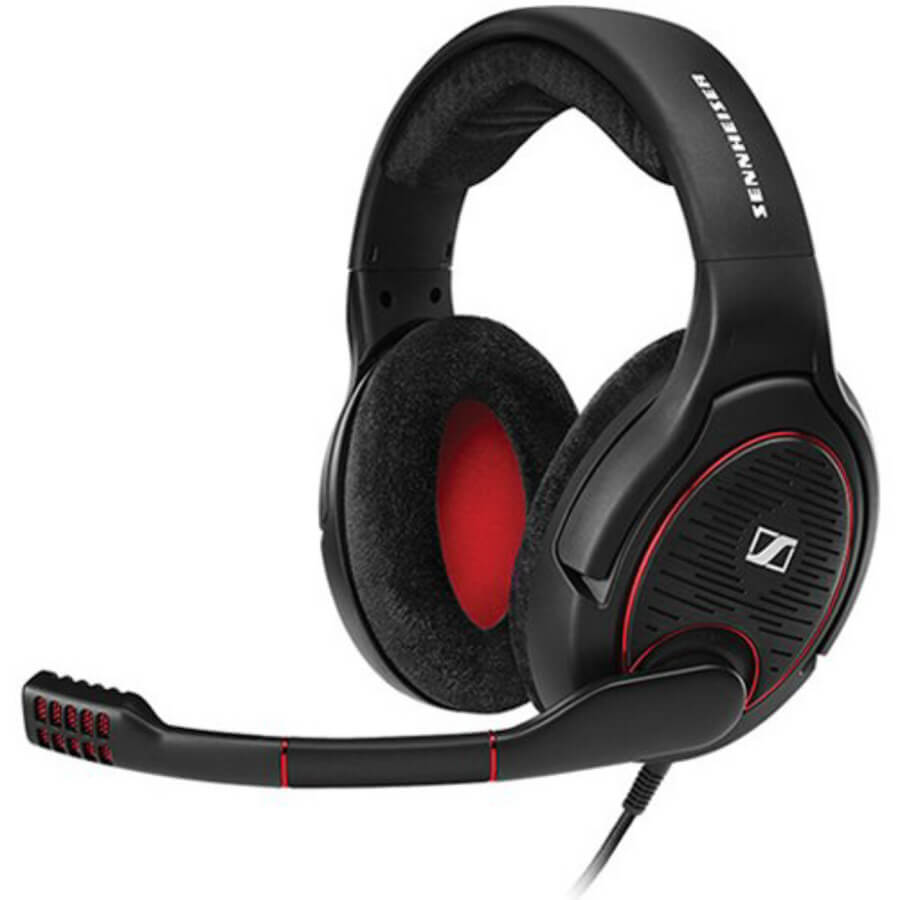 For true audiophiles, the name Sennheiser draws respect and admiration. The Game ONE wired headset is an excellent example of aural precision. Purpose-built for the gamers and streamers, this headset is equally apt for streaming and music listening. You get the same impeccable audio quality that is the trademark of Sennheiser's standalone headphones.
For those who prefer a dual purpose headset with seamless transition between gaming and streaming, Sennheiser Game ONE may be the ideal match. It offers crystal-clear audio with an extended range of frequencies. The highly responsive mic makes in-game communication a real breeze, transmitting your voice cleanly and clearly. The plush earcups feel comfortable, even during extended streaming sessions.
The only complaint that users have lies in this headphone's noise blocking capability. The open acoustics design doesn't isolate external sounds well. Other than this minor glitch, you can trust Sennheiser Game ONE to provide you a superior gaming plus streaming experience, especially if your environment is usually quiet.
Pros:
Supreme sound quality that you would expect from Sennheiser.
Comfortable for extended streaming sessions.
Powerful and responsive microphone.
Cons:
Lacks surround sound option.
Noise cancellation is not up to the mark.
---
Logitech G430 7.1 Wired Gaming Headset
Price may not always be a great indicator of quality. Want proof? Check out Logitech G430 7.1 Wired Gaming Headset. If you are looking for a budget headset for both gaming and streaming, then this entry-level headphone will probably serve your purposes well.
This budget-friendly gaming headset brings you a stunning 7.1 surround sound experience. While the audio clarity is not comparable to that of Sony or Sennheiser, it is decent considering the price. A little expert tweaking on the equalizer can optimize the sound.
What's more, this Logitech gaming headset offers an extended range of sound frequencies so you hear everything. There is a built-in microphone for communicating with your friends while playing games. Besides gaming, you can use this headset as a standalone earphone to stream media content through your PC, laptop, tablet, and smartphone. It makes prolonged streaming sessions more enjoyable – thanks to the light-weight design plus comfortable foaming over the earcups.
Pros:
7.1 surround sound.
Affordable price.
Cons:
Microphone is not responsive enough.
Audio quality is subpar.
---
Most Convenient and Comfortable Headphones for Streaming
If you yearn for comfort and convenience as much as realistic sound effects, then shortlist the next options. These are especially suited for non-stop gaming action with seamless streaming.
Plantronics RIG 4VR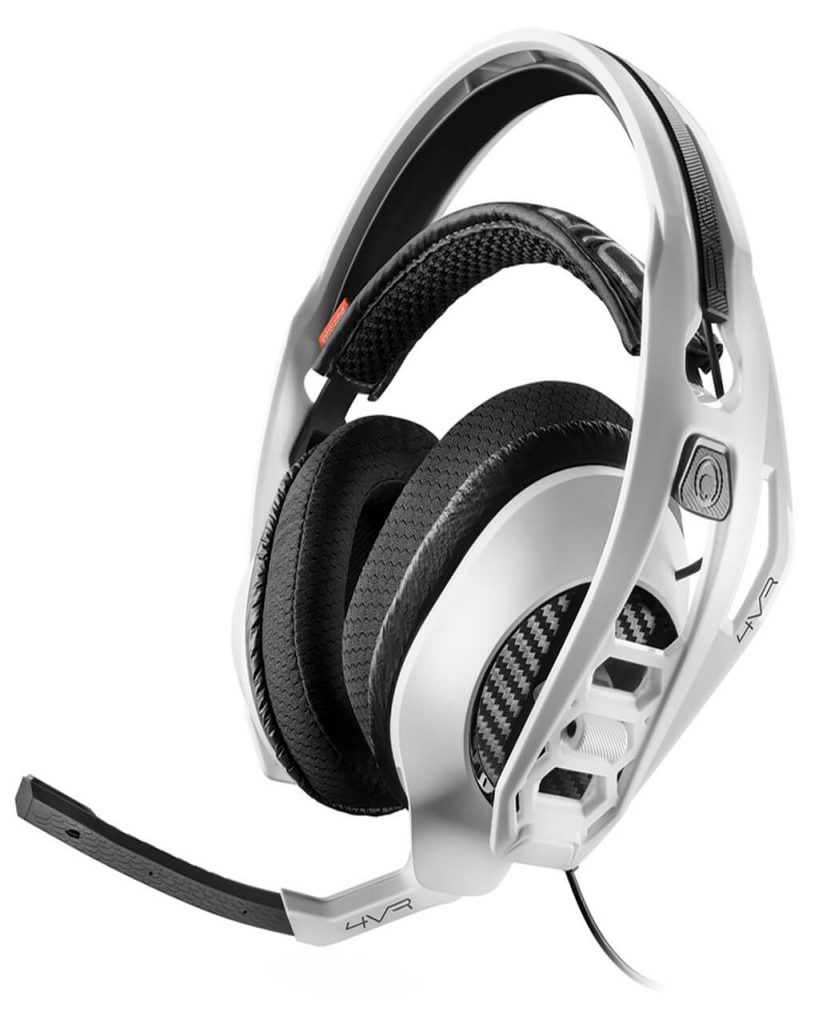 With wireless controllers, interchangeable cables, impeccable sound quality, and lasting comfort, Plantronics RIG 4VR can win the hearts of even the most demanding users. It offers fully optimized VR gaming sound with precision audio cues, low-frequency resonators, and balanced bass that preserves intricate soundscapes.
These headphones are carefully designed to provide seamless integration with PlayStation VR headset, and they feature a cable that won't interfere with your maneuverability. It features oval earcups that fit comfortably with wearable display units. Since it's lightweight with heat dissipation vents, you can wear this headphone comfortably for hours – most people don't notice any adverse effects. Its noise cancellation feature deserves special mention, and this makes it a favorite with people who play in loud environments, blocking all outside noises to help you have a truly immersive gaming experience.
The Plantronics RIG 4VR is truly multi-console compatible, supporting PSVR gaming as well as PC/Mac, tab, and smartphone devices. You can stream different types of media from popular streaming platforms like YouTube or Twitch.
Pros:
Ergonomically designed for better comfort.
Heat ventilation.
Multi-console compatible.
Cons:
Not the greatest quality of sound.
---
Bionik Mantis Headphones VR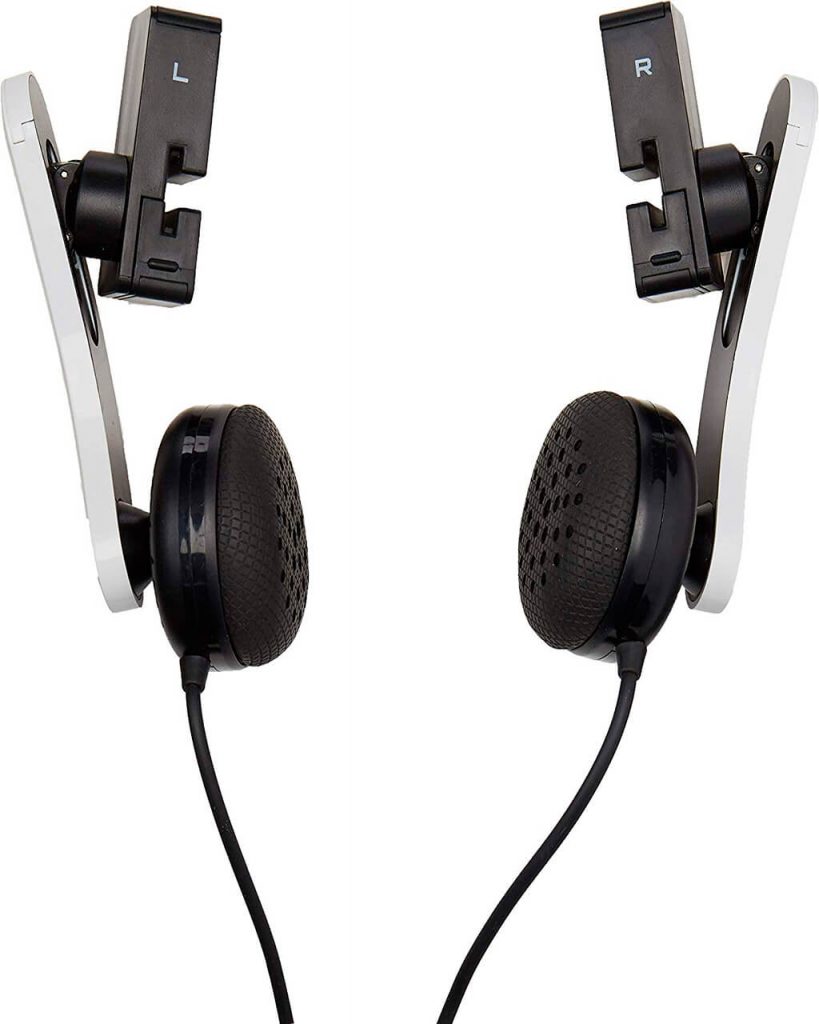 If you want to eliminate ear fatigue caused by long-duration earphone usage, then take a closer look at Bionik Mantis Headphones.
These are purpose-built for hard-core gamers who tend to slog it out for hours. These light-weight, on-air headphones rest gently on your ears. These wired VR headphones are dust-proof and tangle-free. You can plug in directly to the headset console.
While the sound quality isn't the best, these headphones offer easy integration with PlayStation VR console. You can also integrate its handheld gadgets like smartphone/tablet and stream content directly from different web portals. Revolutionary design and seamless integration with all types of consoles make it one of the most preferred choices when it comes to uncompromising comfort.
Pros:
Extremely comfortable for long usage.
Decent sound quality.
Quite affordable.
Cons:
No built-in volume control.
Not much outside noise cancellation.
---
Best In-ear (Earbuds) Headphones for Streaming
Not everyone is a fan of big over-ear headphones. In-ear earphones do have their own advantages. If you prefer ear bud shaped headphones, you might find that the following options complement your PSVR experience.
VICSOME True Wireless Earbuds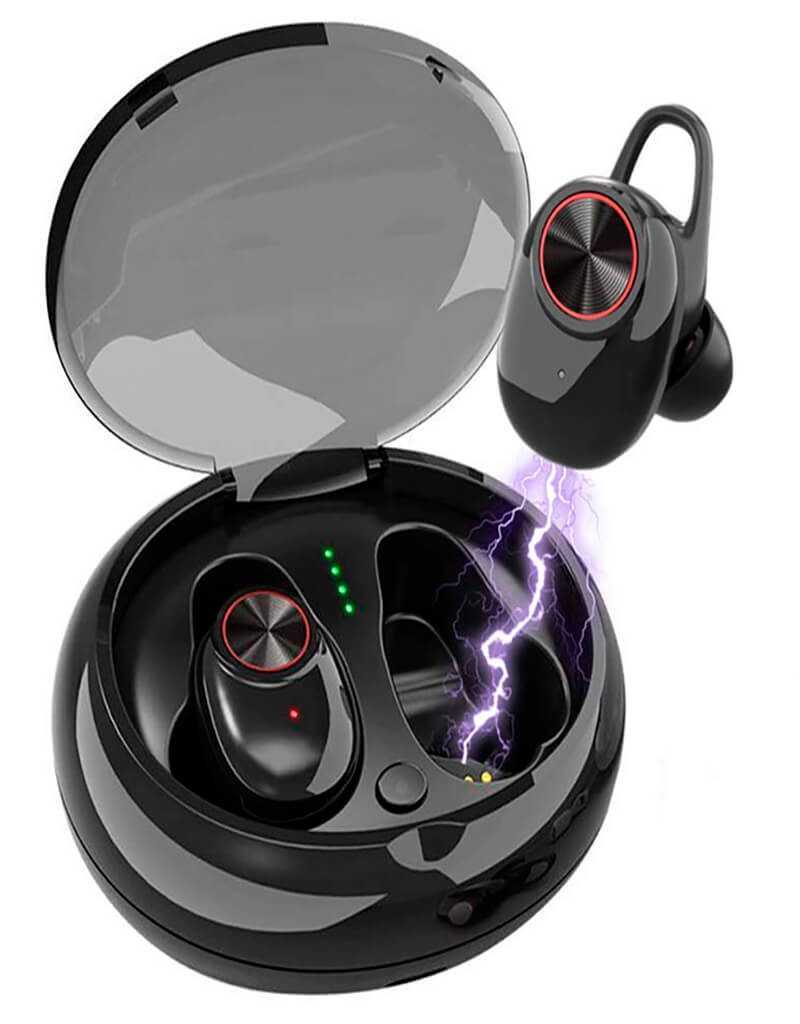 The convenience of wireless earbuds with outstanding sound quality – that sums up what VICSOME True Wireless Earbuds have to offer. TWS dual-mode chip ensures synchronous signal transmission, while Bluetooth 5.0 compatibility offers greater coverage area. Ultra low power consumption extends battery life and increased broadcasting capacity. The built-in 40mm HD drivers provide lively surround sound with true HD stereo bass covering a wide range of sound frequency from deep lows (20Hz) and euphoric highs (96 KHz). The built-in microphones can catch and deliver crystal quality sound during chats.
With an ultra-lightweight frame and pressure-relieving earcups, it securely fits and stays comfortably in your ears, giving you all the more reasons to keep going for long hours.
Pros:
High quality and powerful HD stereo bass.
Stylish design and great comfort.
Good battery life.
Cons:
No 3D sound.
Less effective noise cancellation.
Must be fully charged to provide the best sound effects. Sound quality deteriorates as the battery starts to drain.
---
Hussar Magicbuds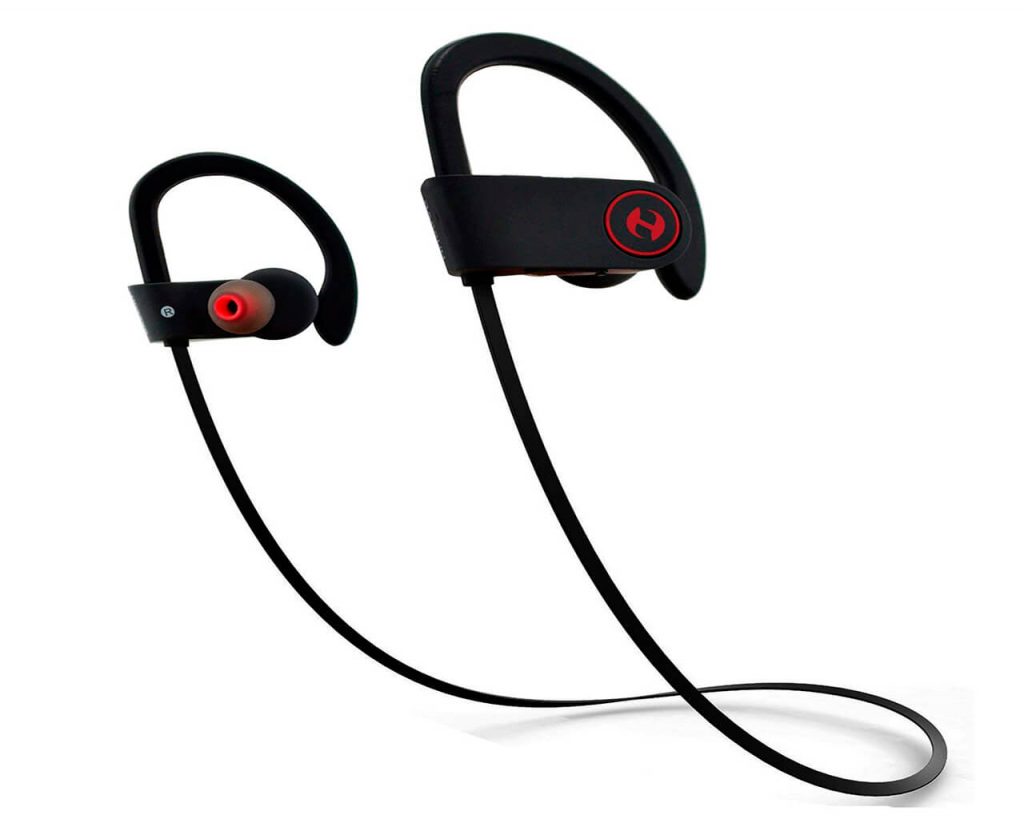 Another popular choice when it comes to in-ear type streaming headphones: Hussar Magicbuds. This pair of Bluetooth headphones can take your VR gaming to the next level.
Powered by Advanced APTX technology, Hussar Magicbuds provide HD surround sound with premium bass. From low humming notes to booming blasts, it delivers sound effects with amazing clarity.
These earbuds use CVC 6.0 effective noise cancellation technology to enhance your listening experience. Ergonomic design with silicone ear hooks ensure comfort and a secure fit. Last but not least, extended battery life can keep you engaged for up to 9 hours.  
Pros:
IPX7 waterproof technology to prevent sweats from sipping in.
Effective noise cancellation.
Easy on the ear.
Can last up to 9 hours per charging cycle.
Cons:
It takes around 2 hours to charge the battery.
Frequency response is limited to 20 Hz – 22 KHz range.
Few users have complaints about Bluetooth sync issues.
---
Cheapest Option – iJoy Premium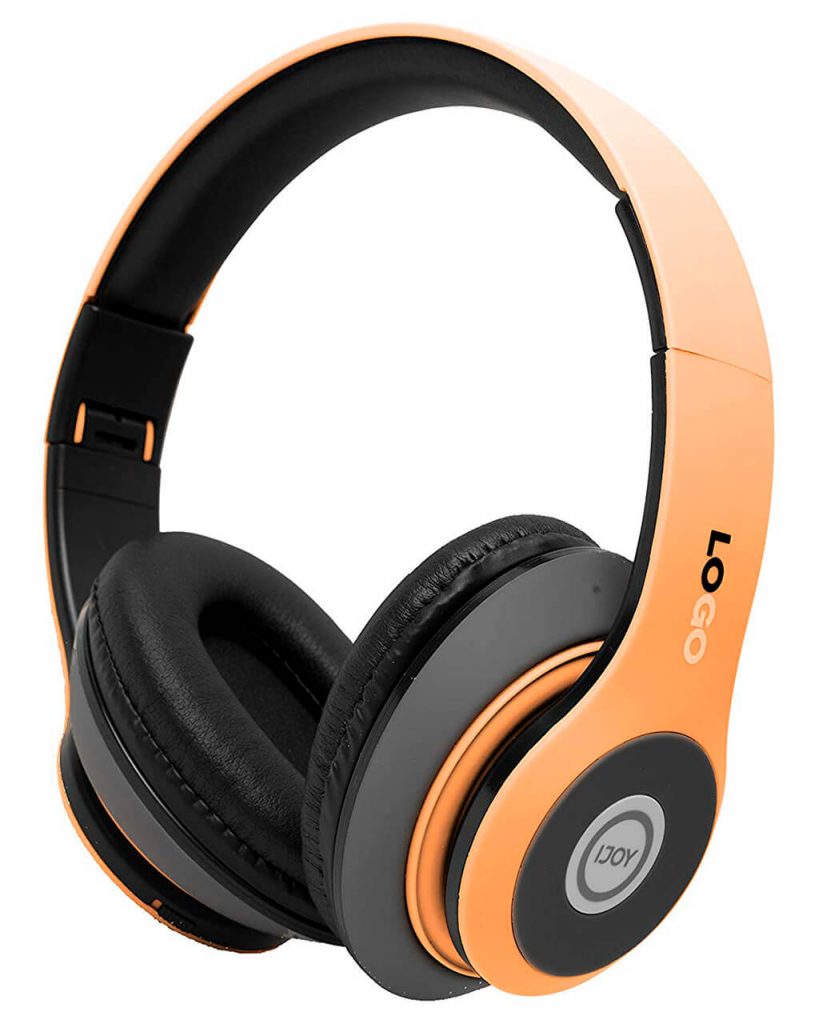 If you are on a shoestring budget, yet not ready to sacrifice a great deal on the sound quality, then iJoy Premium headphone can fit the bill perfectly for you.
This rechargeable over-ear wireless headphone is compatible with PS VR and a host of other consoles – both for gaming and streaming purpose. It offers an accurate bass response with extended frequency range.
With a 5-button built-in control panel, you can adjust the sound settings easily. Other features include noise cancellation technology, a built-in microphone, a built-in radio receiver, a micro-SD slot, and an adjustable headband. Super soft memory-protein earmuffs ensure maximum comfort. A foldable design makes for easy transport and storage.
To cap off a great deal, iJoy Premium wireless headphones come with 6-months exchange warranty to give you complete peace of mind.
Pros:
It's a bargain.
Decent sound quality.
6 months exchange warranty.
Cons:
Keep your expectations low as far as the sound quality is concerned.
Battery drains quickly.
---
The Verdict
Time to sum things up! As the saying goes – 'you get what you pay for'. Your budget will be the ultimate factor in determining sound quality.
If crystal-clear audio is your priority, then we would highly recommend PlayStation Gold Wireless Headphones or Turtle Beach Stealth 350VR headphones. As an added bonus, both of these headphones bring you wireless feature with an optional wired mode.
If you prefer wired gaming headsets, then you have options at both ends of the pricing spectrum. While Sennheiser Game ONE is a little on the expensive side, it can provide unmatched sound quality – a perfect combination for those who wish to capture every whisper while streaming. Logitech G430 7.1 Wired Gaming Headset is the more budget-friendly choice – and surprisingly, it offers a cool 7.1 surround sound feature.
If you are after comfort and convenience, then Plantronics RIG 4VR is your go-to option, followed closely by Bionik Mantis. Both of them are known for their ground-breaking design philosophy that primarily revolves around user comfort. If you are want non-stop gaming, then it makes sense to invest in convenience over audio quality. Both of these headsets are ideal for extended streaming sessions.
In-ear earbuds faithful will probably like VICSOME True Wireless Earbuds. With a 4-star average user rating, this set has a loyal user base including some passionate gamers. Hussar Magicbuds can be another option worth considering in this segment. Although neither of them can fully satisfy a true PSVR aficionado, they are nevertheless great value for money buy.
Those who are on an extremely tight budget should look no further than iJoy Premium headphones. You will find it to be the ideal choice in the entry-level segment – if your expectations are somewhat realistic. The good news is that you can enjoy these while you save up for something better.
Whatever your budget and whatever your primary concerns when shopping for a great gaming / streaming headset, you'll find that it's not at all difficult to find comfort, great audio, and other desirable features all in one.