If you're going to be gaming for any length of time then you need to be as comfortable as possible. Of course, you also need to have an array of snacks and drinks handy to ensure you don't have to stop your game unnecessarily.
The good news is that there is an array of gaming chairs on the market which can help you achieve all these things, and they're not going to break the bank. You just need to choose the best gaming chairs under $100 for your needs, get started today.
What You Need To Know About Gaming Chairs
The first thing to acknowledge is that gaming chairs are not just for gamers. The average person actually spends approximately 10 hours in front of a computer screen every day. While a gamer may spend considerably more time than this, it doesn't change the fact that non-gamers should look at the best gaming chairs under $100 to ensure they are comfortable.
The best gaming chairs under $100 don't just look good or have cool features, they also provide comfort and great back support.
In short, every computer user should choose one of the best gaming chairs under $100!
The Best Gaming Chairs under $100
Coavas Computer Gaming Chair: Best Gaming Chair Under $100 Overall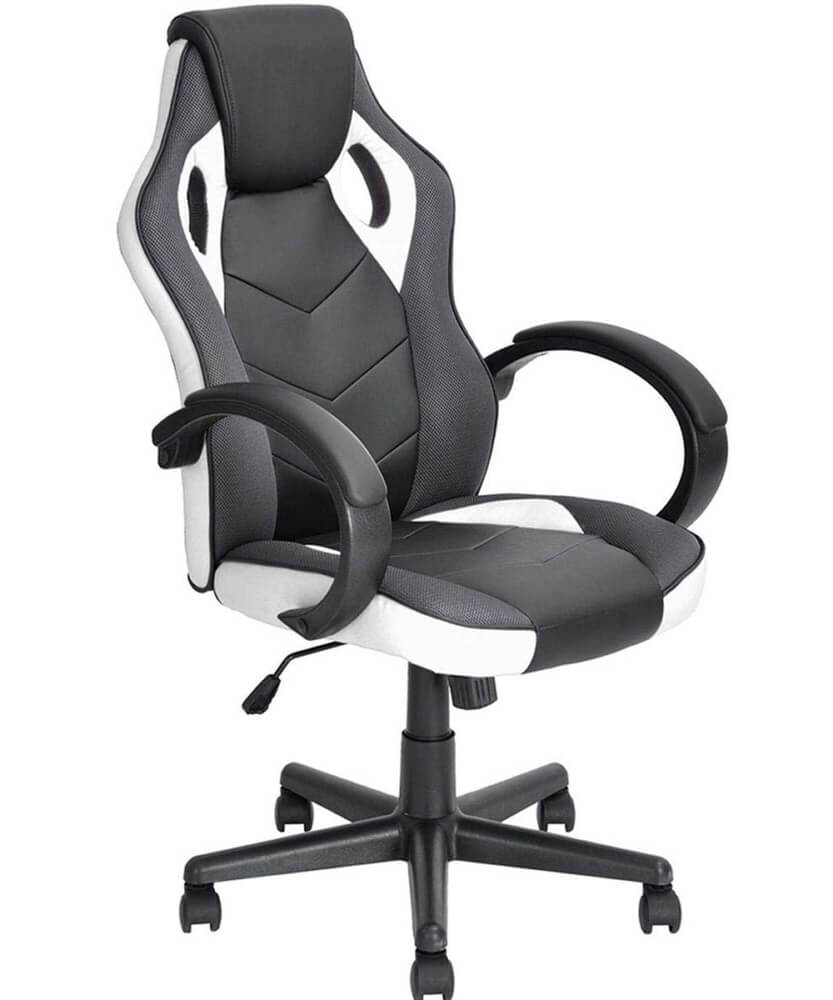 It's hard to choose one chair that is significantly better than the other sub $100 offerings, but Coavas Computer Gaming Chair is definitely a top contender for the best gaming chairs under $100.
Specs
Made with PU Leather
Standard 5 wheels with 360° swivel
Size 24.8 X 45 X 26.18 inches
Accommodates weights up to 280 pounds
Height adjustable 42.1 – 45.7 inches
Weighs 31.1 pounds
Pneumatic Gas lift
The Good
The style of this chair is a good enough reason to make this one of the best gaming chairs under $100. It's almost all black, with white side pieces and edging in just the right places. The curved armrests lean away from the chair, giving maximum support while creating the feeling of space.
It's worth noting that the material is coated in a dust-resistant compound, you'll be amazed at how easy it is to keep clean.
Despite the attractive price tag this chair is well built and will give you all the support you need. The pneumatic gas is smooth and effective and the chair is sturdy, it should give you hundreds of hours of gaming.
The Bad
While you shouldn't have any issues with the Coavas chair, it's a little disappointing to note that they'll only offer a 3-month warranty.
It should be noted that the chair works best on wood floors. The legs are actually two parts and the resistance of the carpet can cause them to bend. If you're using it n thick carpet you shouldn't be moving it around too much.
---
Merax Upholstered Folding Sofa Couch: Most Comfortable Gaming Chair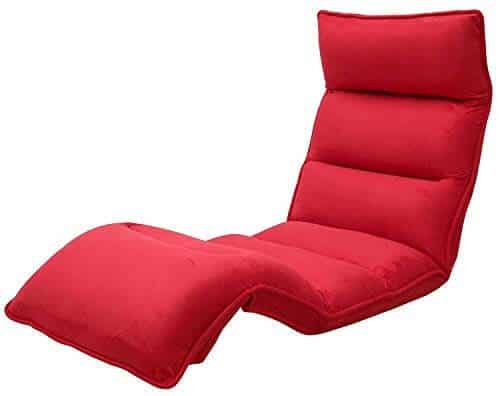 Sitting cross-legged on the floor or the bed is not an option that is viable for more than 30 minutes. Even the most comfortable desk style chairs can't be used to enjoy a movie and hours of gaming. But, the Merax folding sofa couch can!
Specs
Memory Foam
Adjustable head, waist, and leg by 5°
Adjustable foot by 3°
Doubles as sofa or bed
Metal Frame with Suede cover
Size 53.5 x 20.7 x 4.3 inches
Weighs 18.7 pounds
The Good
It's impossible not to get comfortable on the Merax folding sofa couch. It's designed to support your body in every possible place, ensuring your focus is entirely on the screen.
The use of memory foam ensures the chair becomes more comfortable every time you use it.
This isn't just one of the best gaming chairs under $100, it can also be used for drinking coffee, sunbathing in your garden, or chilling in front of the television.
You don't need to do anything when you receive this chair, simply place it in the optimal position for your gaming needs and get started.
The Bad
The Merax folding sofa is covered with suede fabric, which feels great but you'll need to be careful not to spill things on it, stains do not come out easily.
For most people, this probably won't be an issue but it is important to note that this chair is fairly narrow, if you have a bigger build this may be an issue.
---
Furmax Office Chair PU: Best Budget Option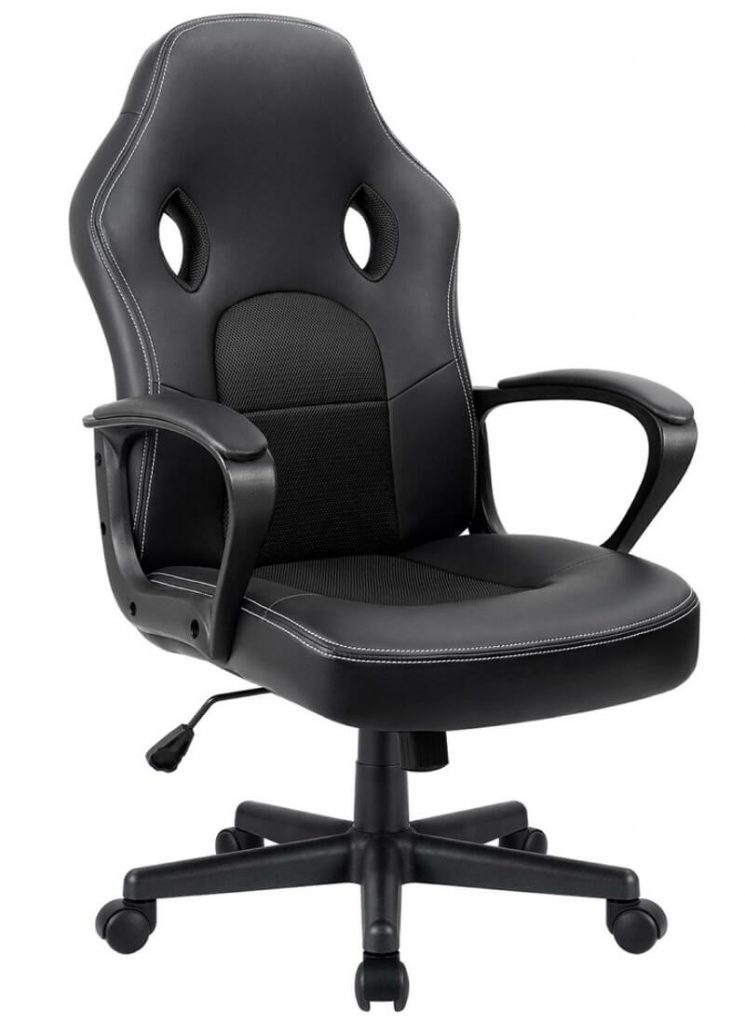 It's hard to imagine a quality gaming chair for barely more than $50. But, if this is your budget, then the Furmax PU Gaming chair is the best gaming chair under $100.
Specs
High Back
Leather
360) swivel base, with 5 wheels
3" thick seat / 2" thick backrest
Pneumatic adjustment from 15.2" – 18.3"
Measures 30 x 23 x 13 inches
Maximum weight capacity of 280 pounds
The Good
If you've ever put an Ikea chair together you'll know exactly how easy it is to put this Furmax chair together.  It really is that easy! 
It's hard to argue with a price that is barely more than $50, especially when the chair is still well put together and should give you hundreds of hours of happy gaming.
When gaming the right support is essential. In fact, the support offered by this chair makes it a great option for the office, allowing you to switch between work and gaming effortlessly.
The Bad
It should be noted that several users have had issues with the plastic arms starting to crack after 4-6 months. There have also been issues with the pneumatic lift part failing.
However, these issues are in the minority of cases.
---
Homall Executive Swivel: Best Leather Option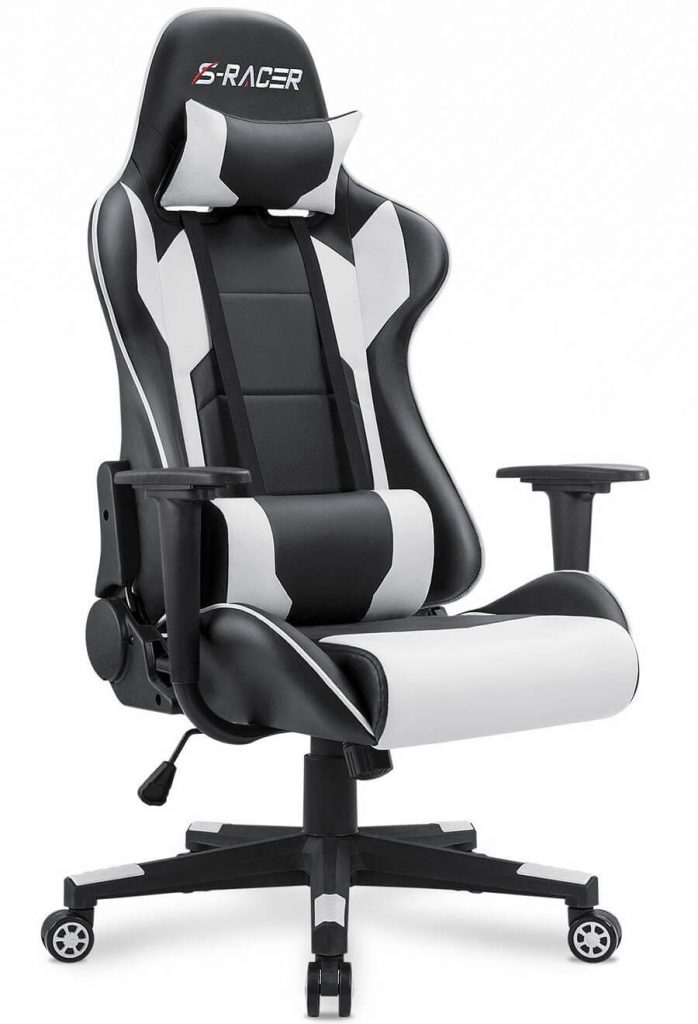 Homall Executive Swivel isn't just the best leather option, this chair will provide you with enough support that you can fall asleep in it and still wake up feeling refreshed.
The fact that it looks good too is a bonus!
Specs
Maximum weight capacity of 300 pounds
Premium class leather
Full recline function: 90 – 180°!
Lumbar support
Gas cylinder for height adjustability 
Weighs 42 pounds
Measures 32.7 x 15.3 x 29.1 inches
The Good
There are few chairs that give you such a range of recline, allowing you to lay back and rest between games or movies. There is even a headrest pillow and a lumbar cushion, ensuring complete adjustability to create maximum comfort.
A clever bit of technology ensures that the castors lock into position as soon as you stand up, that stops the chair shooting away from you!
It's worth noting that the back can be locked into any position as well.
This chair is proof that you don't need to spend a fortune to get a high-quality chair. Premium materials have been used, all possible adjustments have been allowed for, and there is even a one-year exchange policy for missing or damaged parts.
The Bad
There aren't any bad points!
Surprisingly there doesn't seem to be any negatives about this chair, it really should be considered before you send your money.
---
V Rocker SE Wireless Gaming Chair: Highest Number of Features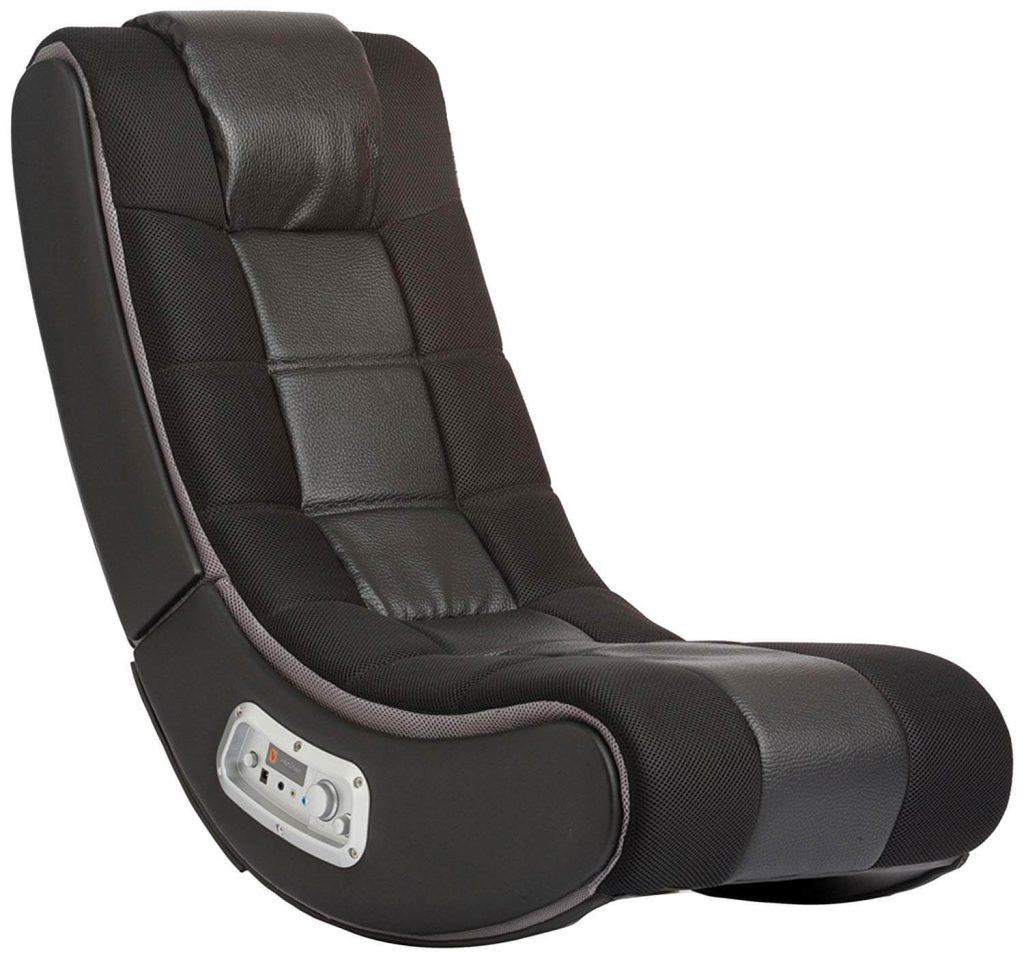 V Rocker SE Wireless Gaming Chair doesn't have wheels and does put you closer to the ground, but, it does have a number of impressive features and will provide you with all the comfort you need to game the night away.
Specs
Interactive Speakers
Ergonomic
Choice of Colors
Covered In Vinyl
Weighs 29 pounds
Measures 25.2 x 18.4 x 16.4 inches
The Good
There are two speakers near your head and a subwoofer built into the back. In short, you're going to find it hard to have a more immersive experience. The wireless controls allow you to control the volume and bass output, ensuring you're in control of the entire experience. 
There really is nothing like it when you're gaming.
You can even BlueTooth to your phone from the chair.
The vinyl material is exceptionally easy to clean, allowing you to wipe off spilled drinks and food without effort and without ruining the chair.
Even for such a budget option that has to be a good thing.
The chair sits on the floor and can rock. However, it is still well designed, providing ergonomic support, allowing you to sit in it for hours at a time.
It has to be said that the customer service from V Rocker is excellent, they'll happily replace parts or accept the chair back, if needed.
The Bad
Several users have had issues regarding the quality of the sound or its ability to connect to certain systems. If this happens you'll need to contact customer support.
---
Giantex Executive Racing Style Chair: Best For Style & Comfort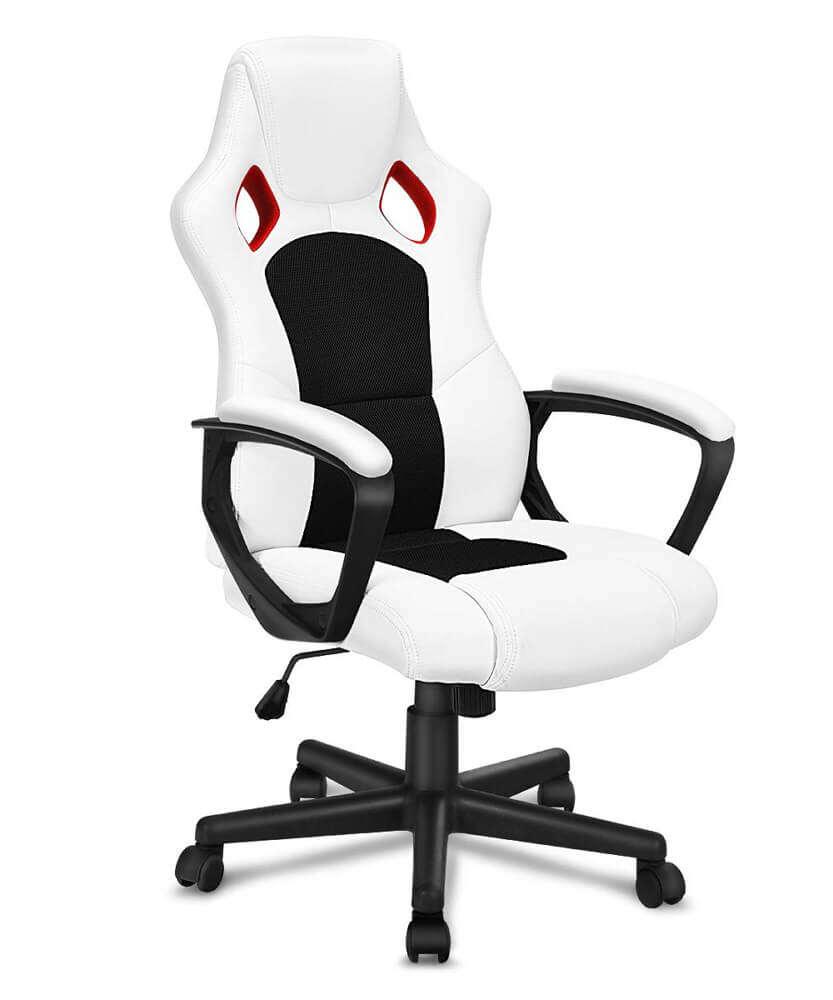 The Giantex offering is almost too good-looking to actually use! It's high backed for maximum support and has all the usual features.
Specs
360° swivel with 5 wheels
Measures 27.6 x 23.8 x 48 inches
Weight capacity of 264 pounds
Faux PU leather with mesh backing and nylon base. 
Adjustable set height 43.7 – 47.2 inches
The Good
The high back is a standard feature in good quality gaming chairs and the Giantex offers an exceptionally comfortable seating position with adjustable seat height, armrests, soft PU and PVC leather, and 360° rotation.
Once you start looking at the padding on the seat and back you'll find it hard to find a chair that looks this good and is this comfortable.
But, it's more than just a good looking chair. The Giantex is exceptionally well made. The metal and faux PU leather are seamlessly worked together to create a truly high-quality chair, at a low budget price.
If you spend a lot of time in your gaming chair then the Giantex is the best of the best gaming chairs under $100 for you.  
The Bad
There have been a number of customers with issues regarding the armrests snapping after a limited amount of use.  Although these cases are in the minority, it is worth being aware of them.
---
Devoko Ergonomic: Best Gaming Chair For Ergonomic Support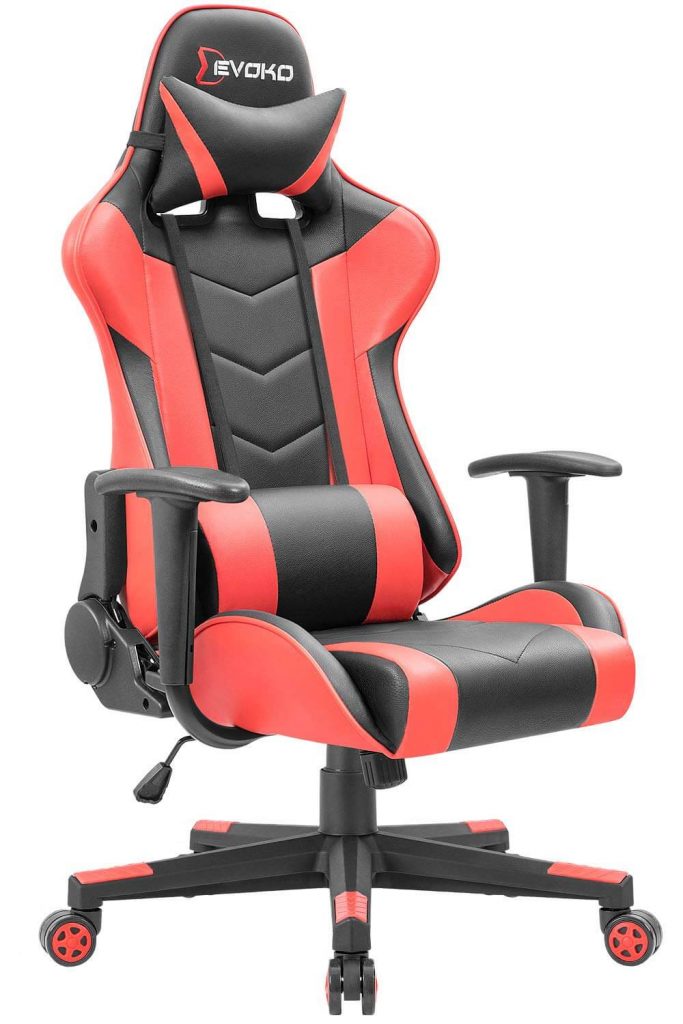 The Devoko offers an array f color choices but there is little doubt that the red and black one is the most distinctive and stylish.
The fact that it provides fantastic support for hours of gaming is a bonus!
Specs
Faux leather
Multiple color choices
360°swivel with smooth-rolling casters
Accommodates weights up to 300 pounds
Measures 19.8 x 20.5 x 50.5 inches
Seat height adjustable 46.6 – 50.5 inches
Weighs 45 pounds
The Good
The back is adjustable, as far back as 180°, this should help you to get comfortable. In fact, the back can be locked into any position you like, ensuring you stay comfortable.
But, more important is the headrest and lumbar support.  Combine this with the high level of padding and you have a chair that will give you great ergonomic support for hours.
It should be noted that the lumbar support is adjustable to suit your needs.
Despite being under $100, the Devoko Ergonomic gaming chair is an exceptionally well-made chair. The metal frame and premium faux leather are well designed and constructed, giving you a chair you can rely on day after day.
Very few gaming chairs come fully assembled and some can take a long time to put together properly. That's not an issue for the Devoko, the detailed instructions provided will ensure your chair is ready in no time.
It should be noted that the customer service team are very eager to help resolve any issues, they are also easy to contact.
The Bad
It's a little surprising to note that the Devoko gaming chair doesn't have adjustable armrests. This doesn't sound like much of an issue but it could be if there are not in the right position and you're stuck in the chair for hours at a time.
It will affect your comfort levels.
---
Homall High Back S Racer: The Extra Option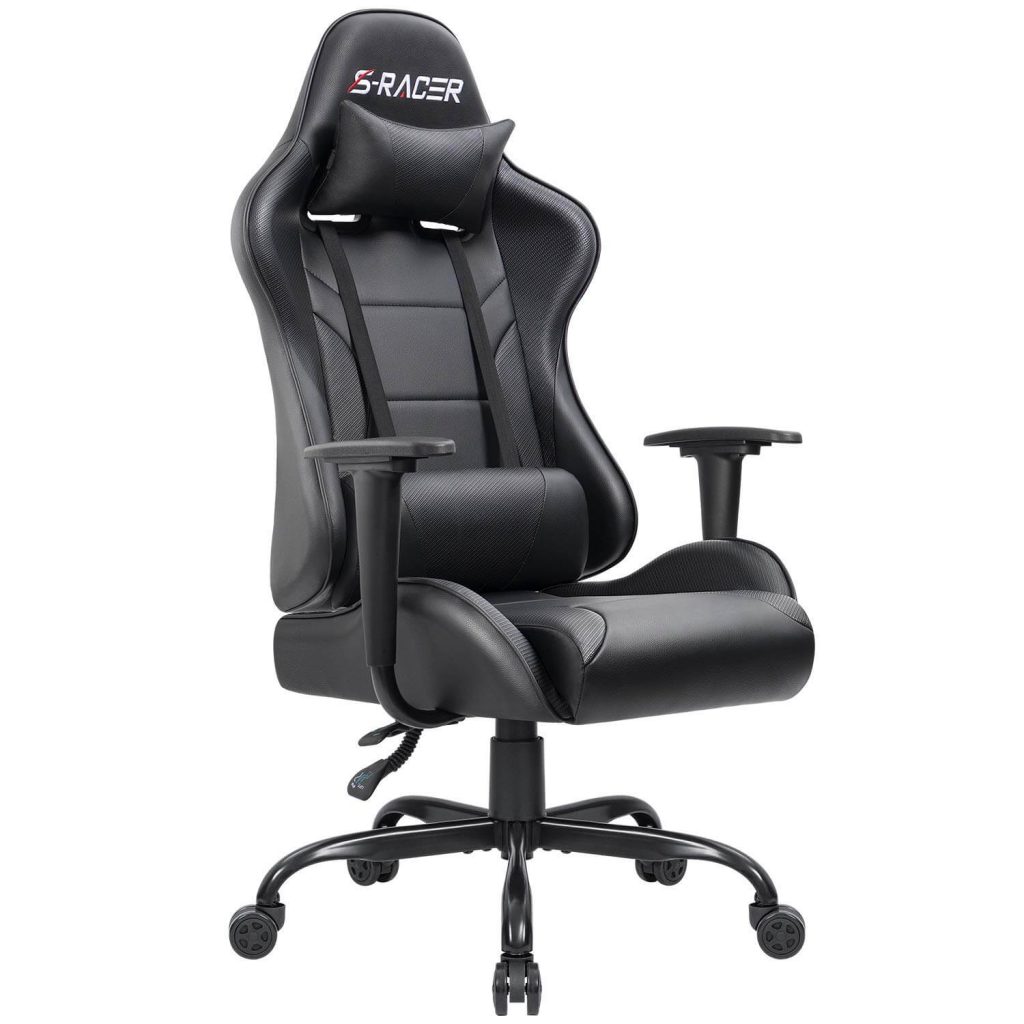 The second offering from Homall on the best gaming chairs under$100 is a testimony to their dedication in supplying quality chairs at reasonable prices
Specs
Faux leather
Measures 21.84 x 25.35 x 48.36 inches
Gas lift cylinder
Lumbar support
Metal base a gas spring cylinder
Load capacity of 260 pounds
Weighs 45.9 pounds
The Good
The base section of this chair is made of metal, ensuring it will last for years and give plenty of strength to the chair. The main section has a carbon fiber faux leather finish which looks fantastic. 
It's hard to see this chair and not want to sit in it.
The wheels are on smooth castors which allow travel in any direction, smooth and effortless.
The back can be adjusted between 90° and 150°, not quite enough to turn it into a bed, but you'll still be able to get a comfortable gaming position. It also has a good level of padding and adjustable lumbar support, helping to ensure you are comfortable no matter how long you sit in it.
The customer service team are on hand to help you, which is reassuring. The company also offers a free exchange for anything connected with assembly issues, missing parts, or even damaged items. They really are there to help you.
The Bad
This may seem like a small detail but it's a critical one as most gamers know. Hard plastic armrests are not comfortable for an extended period of time.
There is no doubting that this is a smaller chair, it will hug your body. Whether this is a negative will depend on whether you like to be hugged or not.
---
Final Thoughts
Each of the 8 chairs above should satisfy your needs for comfort, support, and a price tag under $100. 
You simply have to consider the exact price, level of support, adjustability, style, and weight capacity. Of course, what makes a chair comfortable is an individual preference, take some time to consider what you really need before you choose from the best gaming chairs under $100.
Personally, although the Coavas is potentially the overall best galling chair under $100, I still love the V Rocker.
A few moments now considering your options are worth it to get a chair that will last you for years.