The head strap of your Quest is often forgotten about but an essential part of your device. After all, without the head strap, the Quest won't stay in position. But, it's more than just adjusting the strap correctly, you need the best Oculus Quest replacement head strap possible.
The standard strap is made from nylon and designed to fit the average head. This is great news for most people, but not so good if your head isn't an average size. 
That's why you need to locate the best Oculus Quest replacement head strap.
The good news is that the strap is easy to replace. If you take a look at each side of your Quest you'll see there is a small section of Velcro. Pull the Velcro apart until it moves no more and then slide a small screwdriver underneath the rear side of the strap and gently push the plastic slider up and out of the track. You can then feed the last part of the Velcro strap through the clip, you'll need to push it gently and be patient.
With the strap out you'll be able to wash it and put it back on, or potentially replace it. At this stage, it is important to note that there are two options for making the head strap more comfortable. 
Replace the Strap
Oculus can supply you with the same head strap that you currently have. That's useful if you like your head strap and you've managed to break it. But, if you're looking to increase comfort there are no alternative options from Oculus.
But, there are other companies that can provide you with head straps that are either designed to fit the Oculus or will work with them.
Foam Pads
The alternative is to add foam pads to your head strap. There are several firms that offer this option. They are very easy to fit as they clip onto your current strap. More importantly, they will make the strap a better fit for anyone that doesn't have an 'average' head. You'll also find they make the Quest more comfortable to wear, which is important if you want to keep gaming.
Best Oculus Quest Replacement Head Strap Options
Check out the following options, you're certain to find something you like.
VR Cover Foam Pad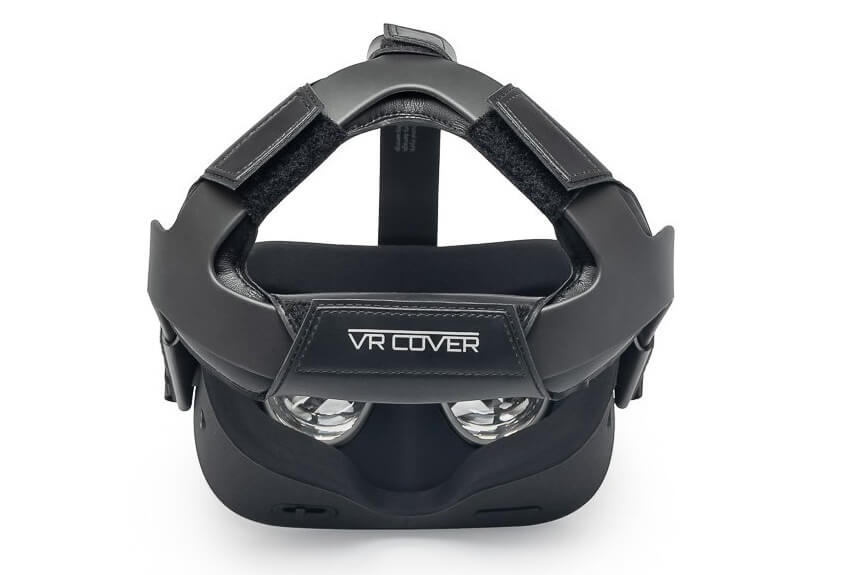 This is a one-piece foam pad that attaches to the original head strap at the rear. The one-piece ensures there are no joins that could rub while you play. There are actually 3 pieces of Velcro that loop over the existing strap and Velcro at the top, leaving the one piece of foam secured on the inside and ready for use.
The foam pad is then ready to be used and can even be removed to be washed when needed. The best part about this cover foam pad is that it helps the Quest sit comfortably on all different face shapes and sizes. The foam won't place excess pressure on your face but it will provide a snug fit that ensures the mask will stay in place while you play.
That leaves you free to focus on gameplay. 
You should note that there are two versions of this foam padding, one is 10mm thick, the other 17mm. While it is likely that the 17mm thick pad will offer even more comfort, the reason for the difference is to ensure that smaller heads, especially younger players, are catered for.  
It's reasonably priced, easy to use, and comfortable. But, you should wipe it with anti-bacterial wipes after you've used the Quest, and wash it occasionally.
---
KIWI Design Headband Style Strap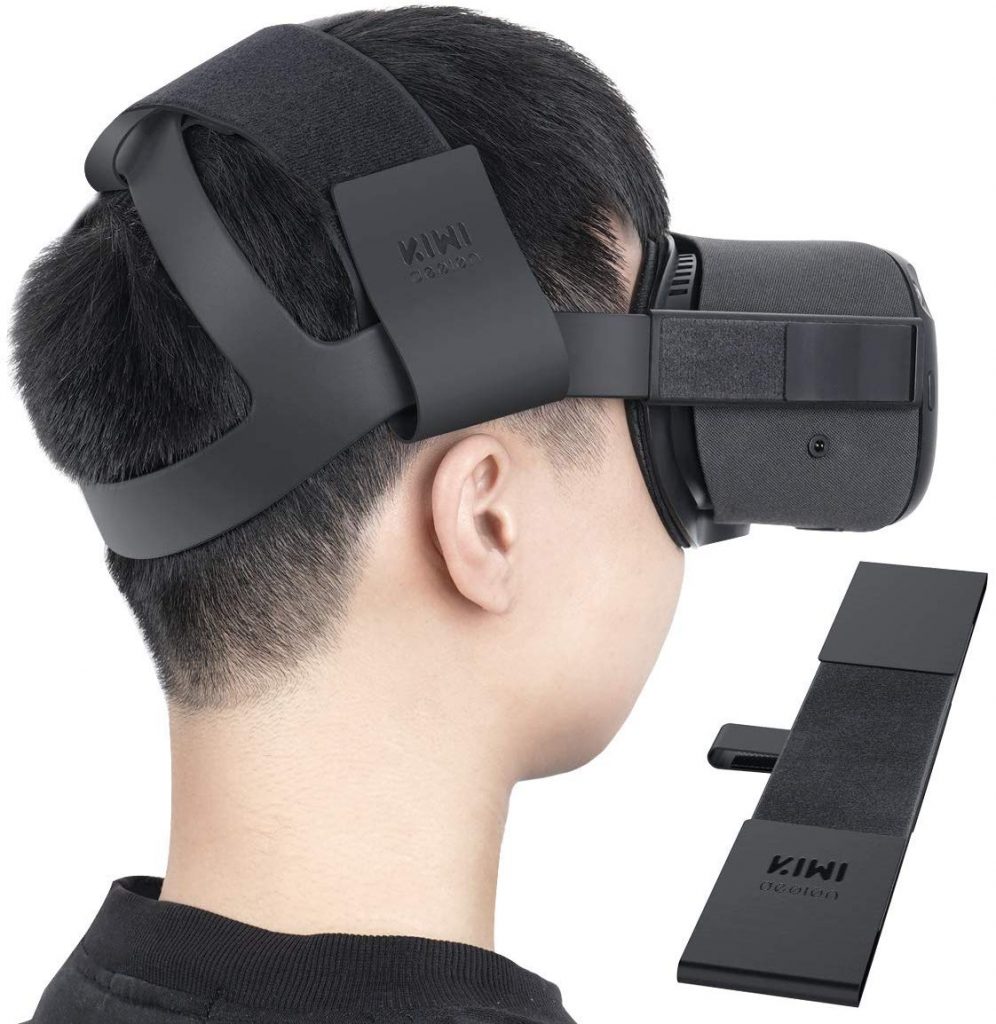 This head strap has been specifically designed for the Quest. It's made from high-quality PU-leather and designed to be both soft and durable. It's certainly a vast improvement over the standard option. 
However, it is important to note that this is still designed to Velcro over your existing strap, you don't need to remove the original to fit this one. That means it is effectively a head strap cover or cushion, but it is easy to fit!
There are three pieces of Velcro that need to be attached securely to the Quest, one on each side and one at the top. Once they are properly secured you're good to go. It's been noted that the original strap places stress on your head and eyes, this replacement strap removes the pressure by tensioning the sides, effectively relieving head pressure.
The Velcro tape design also allows you to adjust the length of the headband, this ensures it matches your headset and provides the best possible fit. 
The PU leather I coated to ensure it is resistant to scratches and most marks, this helps to ensure it will remain comfortable and will last for a long time.
It's worth noting that the headband weighs approximately 2 ounces, you're barely going to notice the extra weight, especially as you're much more comfortable.
---
Elastic Replacement Head Strap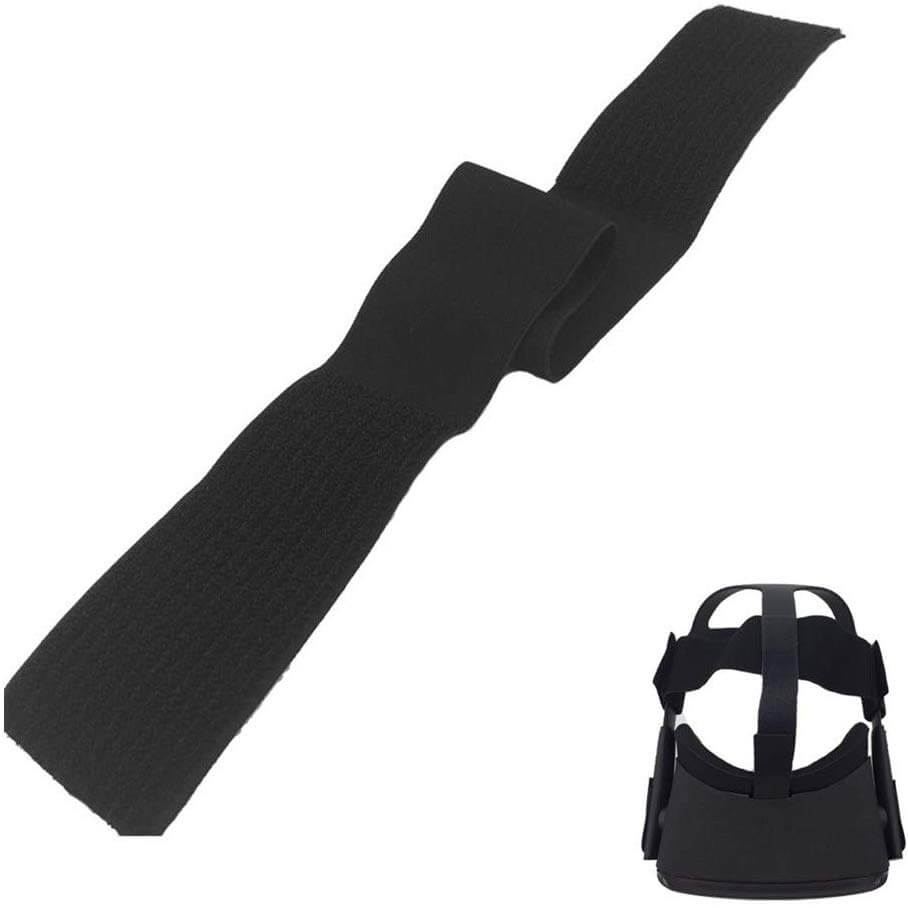 This elastic replacement head strap is 1.37ft long and adjustable to ensure it is the best fit possible and comfortable. 
In fact, the strap on this headset is a little on the shorter side, which makes it a better option if you have a smaller head. However, it is worth noting that the strap is designed to pull the weight back slightly, making your Quest less front-heavy, and therefore easier and more comfortable to use for extended periods.
This is another strap that attaches to your existing one. Again, it uses Velcro to hold it in position. In effect, it is a simple piece of elastic that softens the feel of the head strap against your head. But, because it is designed to change the weight balance of your Quest, it is much more comfortable than you may think.
It is worth noting that you need to follow the instructions exactly to get the best fit possible. If you don't you may not feel that the strap fits properly.
---
HTC Vive Deluxe Audio Strap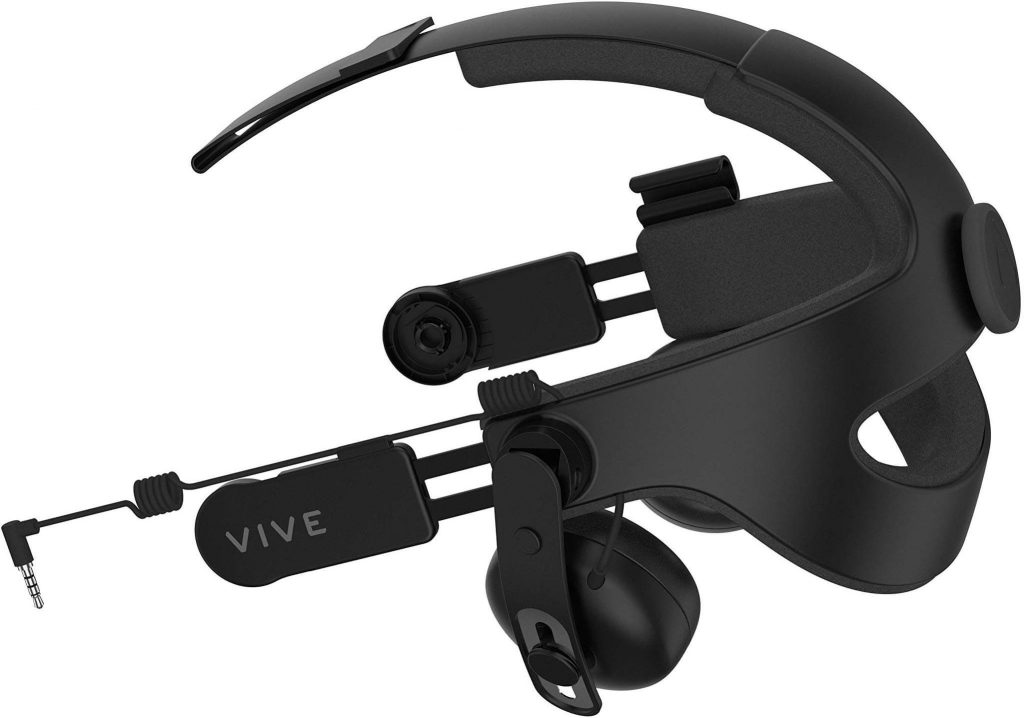 Surprisingly the HTC Vive DAS strap can be easily fitted to your Quest and makes a great alternative to the original. It's not just more comfortable, it has adjustable earphones that provide 360° sound while improving your comfort. You can even rotate the headphones to hear what is going on in the rest of the room if you're interested.
The head strap also has extensive foam padding on the inside of it, this reduces pressure on your head and ensures the strap remains comfortable even when engaged in extensive gameplay.
All you have to do is turn the adjustment dial until you're comfortable. This will create a perfect balance between gameplay, sound quality, and comfort. 
As an added bonus this head strap doesn't just look good, it will make you feel like a fighter pilot!
Fitting is surprisingly simple. You'll need to purchase the HTC Vive DAS, some extra Velcro straps and a 1.5 inch D-ring. Then you can attach the Vive head strap to the existing Quest strap with the Velcro pieces. Alternatively, you can remove the existing strap and attach Velcro to the Vive head strap using the D-ring, this will allow you to carefully thread Velcro through the slot on the Quest and fasten the Vive strap into position in the same way as the original.
This process does take a little time but the end result gives you great audio and dramatically improves comfort. 
If you're ready to try this mod you'll find this video useful. It doesn't damage your Quest which means you can return it to standard if you ever feel the need to. 
---
Final Thoughts
Choosing the best Oculus Quest replacement head strap means deciding what is most important to you, ease of replacement or the comfort of a completely different strap. An add-on strap is easy to put into place and remove, allowing you to wash it when necessary. Of course, every head strap should be wiped with an anti-bacterial wipe after every use. 
The important thing is to remember that a little effort today is worth it as it will enable you to use your Quest for longer periods of time, which will improve your gaming experience and your skill level.
There are other options available but the ones above are the best Oculus Quest replacement head straps currently available unless you've come up with a design of your own. If you have, let us know!