You may not realize it but when you're indulging in an intense gaming session you're going to start sweating. That's good, you can count gaming as part of your exercise routine!
However, sweat will go from your face and onto the face cover and this leads to two issues:
Bacteria
Bacteria are present in sweat and don't usually present a risk to you because the bacteria are removed when you wipe the sweat away. However, if the bacteria enter the foam part of your face cover, which they will when you sweat, the bacteria can multiply.
If you share your Quest with anyone, even for a minute, you'll be transferring bacteria between you. In addition, the bacteria can cause an issue on your own face as they'll be a lot more of them than in your normal sweat.
Face Cover Damage
The other issue with sweating is that you'll be getting the foam wet. As it dries, especially with bacteria in it, it will harden. Over time this will make it much less comfortable for you to wear the Quest and you'll need to consider replacing parts, or even all, of your Quest.
Fortunately, this is not the only solution. You can simply use one of these best Oculus Quest face cover solutions and keep your Quest in perfect condition.
The Best Oculus Quest Face Cover Solutions
Check out the following face covers and make maintaining your Quest simpler, that means more time for gaming.
VR Washable Cover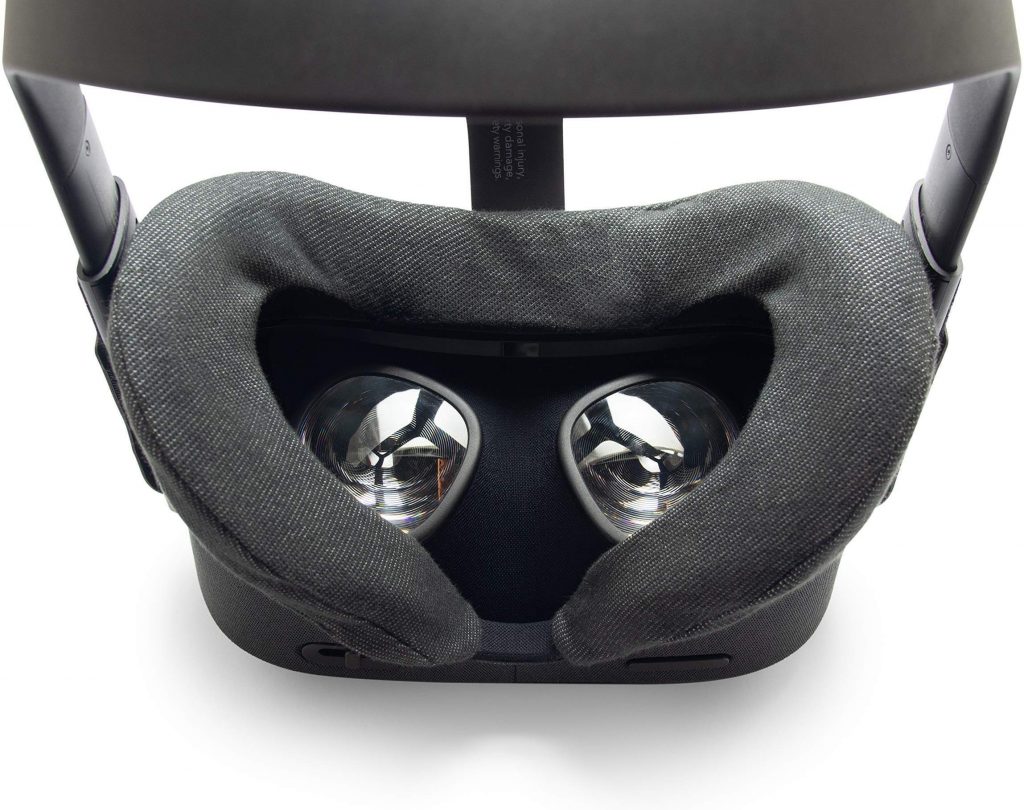 This is simple yet an excellent solution to both the bacteria and sweat issues you're facing. These covers are made with soft cotton, which means they'll be really comfortable to wear and will absorb the sweat for you. More importantly, as soon as you've finished with the controller, you can remove the cotton cover and wash it.
It should be noted that, if you're the only one using the Quest, you may not need to remove it every time. It can be enough to wipe it with a disinfectant wipe. But, you will still need to wash it regularly.
Fortunately, there are 2cotton covers in every pack, which means you'll be able to use the second one while the first one is drying, ensuring you can always play your favorite virtual reality games. They also provide 5 alcohol-free hygienic wipes to ensure you can maintain hygiene levels at all times. 
It's important to note that when you replace these wipes you should always use alcohol-free ones.
The covers come with elastic straps, this ensures they fit snugly over your Quest face cover and stay in place no matter how active you get. 
---
Eyglo Silicone VR Face Cover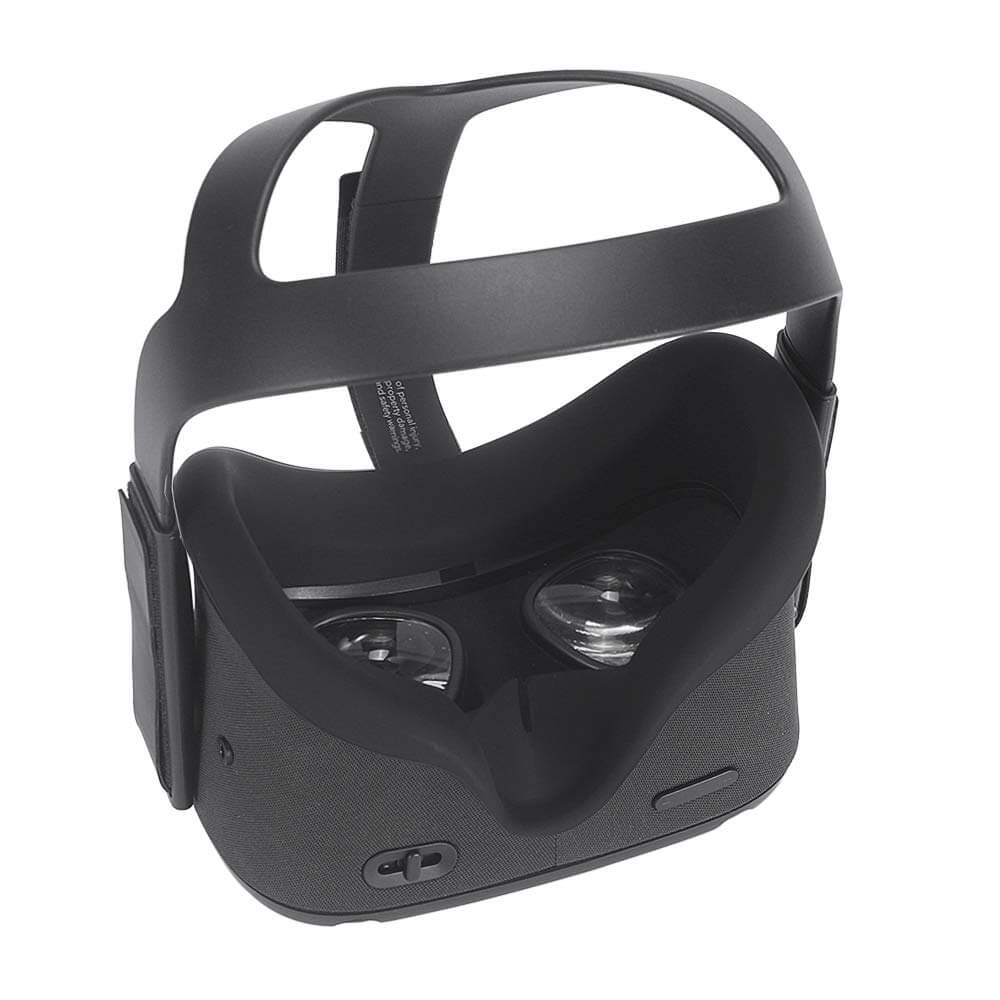 This is a replacement face cover hat is designed to be easy to clean. It's made from soft silicone which means that it feels cool when you put it on, but, it warms quickly and is incredibly comfortable. This is because of the design and the flexibility of silicone.
The silicone is actually sweat-proof, the sweat can't penetrate the material which makes it more difficult for bacteria to survive. Of course, it does still need to be wiped between uses. You may also be more aware of your sweat more as it doesn't soak away.
You will appreciate the fact that the Eyglo can be purchased in red, blue, black, green, and even grey. That means you can ensure your Quest stands out from your friends. 
This face cover is very easy to install. All you need to do is slot it over the existing Oculus Quest eye mask pad. It instantly forms a protective layer and can be used straight away.
However, it is better to make sure your Quest eye mask pad is clean first, this will prevent bacteria from building up in the foam behind the Eyglo mask. 
This mask has been designed to prevent light from leaking in between the join, and it works extremely well. 
---
Esimen VR SiliconeMask & Cover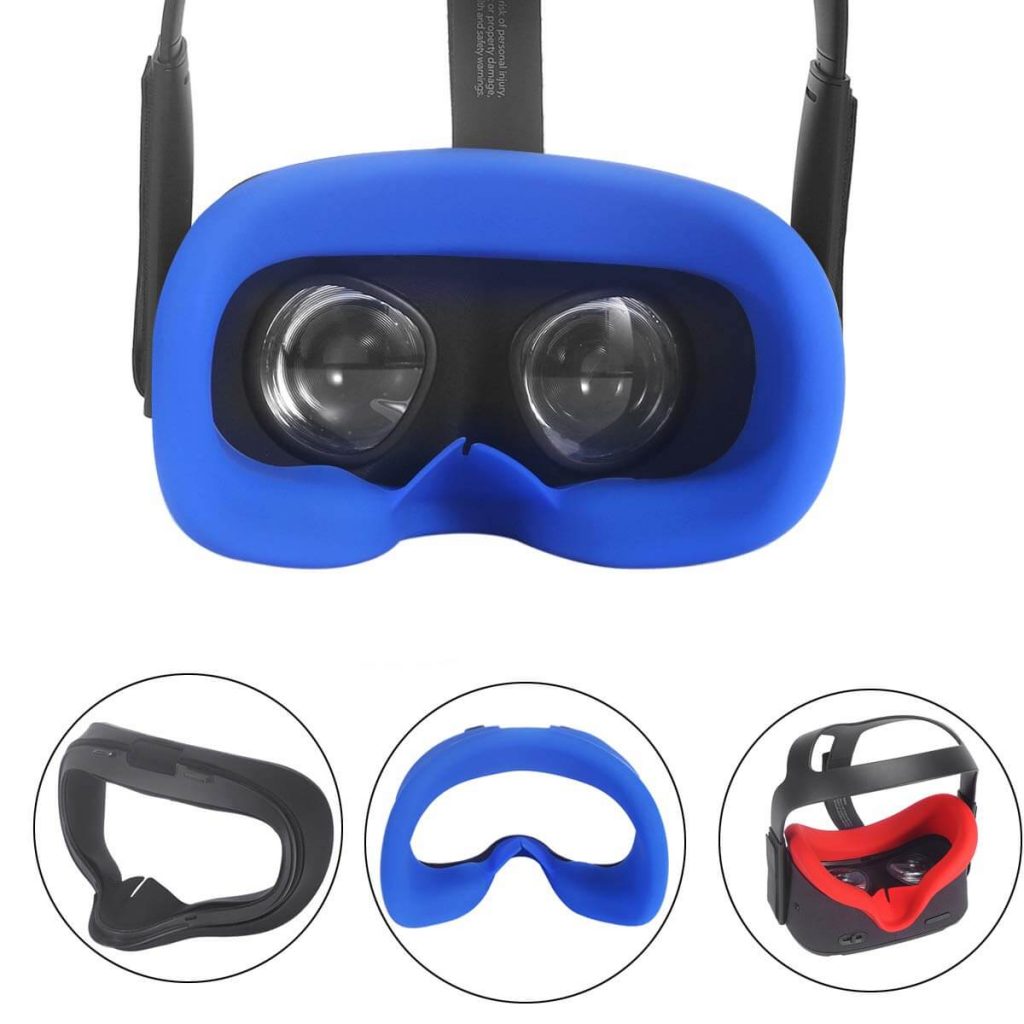 This is actually very similar to the Eyglo face cover. Again it is available in a choice of colors, red, green, black, and gray. It is also made of silicone, although if you held it up against the Eyglo you'd notice this is a slier version.
In fact, the Esimen is one of the thinnest ergonomic skins currently available. But, it retains the same comfort level and will not absorb your sweat. Again, this means you need to wipe it with an anti-bacterial wipe after use and you may need to pause during gameplay to wipe the face cover, especially if it's a hot day.
The silicone is soft enough to be worn for an extended period of time and can be wiped with an anti-bacterial wipe between uses, or even put in the washing machine. The cover is so soft that it can be twisted completely and will still bounce back to its original shape.
The cover is also shaped to improve the feel over your nose and even increases your field of view slightly without allowing extra light in. That actually makes a difference to the game playing experience.   
It's worth noting that the silicone face cover has been designed to ensure it doesn't block the sensor and signal reception, ensuring your gameplay remains smooth and fun.
As with all these face covers, it is designed for the Quest, which means it's a perfect fit but can't be used with any other VR device.
---
AMVR VR Face Cover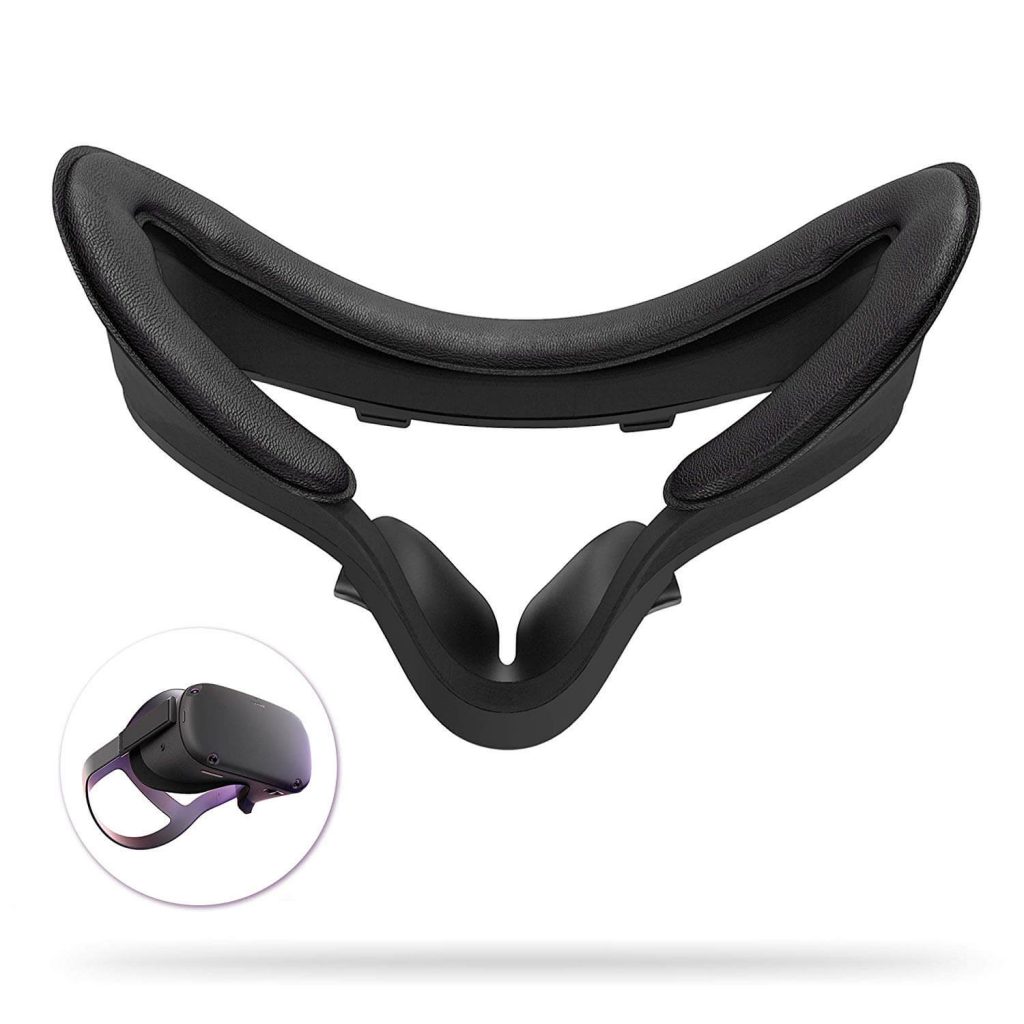 AMVR adopt a different approach, the face cover they offer is made from soft leather and foam, and feels great. It's also very easy to install. Simply place the PU leather foam cover over your Quest lens cover and then slide the facial interface bracket on top. This holds the foam pad in place and you can also add a nose pad. This increases comfort while playing and reduces the light getting into your Quest, effectively improving the image quality. 
As a bonus, this is a patented design that has been made specifically for those that wear glasses. There are actually grooves on each side of the face mask that will allow your glasses to slot into position without being squeezed by the face cover. That's a great way to ensure maximum comfort for extended gameplay.
The AMVR also comes with a thick and a thin section of PU leather-covered foam, this ensures you can get the comfort level just right for your face. After all, everyone's face is different. 
---
Additional Things To Consider
Before you purchase your Quest face cover it's a good idea to take a few minutes to consider how much you use your Quest and how much others do.
For example, if your Quest is often the one used at demos, you're going to want to use disposal face covers, these will ensure bacteria are transferred between players and allow you to use your Quest comfortably and safely.
In contrast, if you're the only one that is ever allowed to use your Quest then you'll probably be happy with the soft face covers that can be removed and washed.
But, you should note that the cotton covers are better at removing moisture from your head, this is because the moisture is absorbed and you'll need to wash them regularly. However, if you're a fan of extended gameplay sessions you may find this is preferable to a silicone face cover. Because this style of cover is sweat proof the sweat will collect and eventually roll down your face, potentially making you uncomfortable and reducing the gaming experience. 
It's a personal choice but this is one time when the budget should not be your top priority. None of the options are likely to break your bank and the hygiene aspect is far more important, comfort is a close second!
You should spend a few moments considering the manufacturer and customer reviews of a specific product, especially if it isn't a well-known brand. This doesn't mean that it's a bad choice, jut that you should look at what other customers have said and base your decision on this. 
The best place to check for customer feedback is social media and VR gaming forums. But remember that there will always be some negative feedback, you just need to make sure the majority of it is positive.
Final Thoughts
There are several great face covers available and all are worth considering but, the VR face cover is the best option for comfort and potentially the best Oculus Quest face cover overall.
That said, the cover you choose to use is a personal decision, you should select the one that suits your personal tastes and needs the most. Every one of the face covers above will improve your gameplay experience as they are comfortable, will reduce bacteria build-up, and they look pretty good!