Using the Oculus Quest is fantastic fun but the pleasure can be diminished when you need corrective lenses. Sure, the manufacturer reckons that you can still play the Quest with glasses on, but it's not the same. That's why you either need to start wearing contacts, or get the best Oculus Quest prescription lens adapters currently available.
It's important to note that when you're using the following services you'll need to provide your current lens prescription. You will simply insert the numbers into your order form and the lenses will be provided, it's up to you to make sure the prescription is valid and up to date.
You should also note that if you have had an Oculus Go or Rift S, the lens adapters are the same. The only exception is that the Quest has variable lens distance and the Go/Rift S doesn't. This means if you have lenses for your Rift S or Go you should try them in your Quest, they are not guaranteed to work but you may be pleasantly surprised.
Best Oculus Quest Prescription Lens Adapters
VR Optician Lens Adapter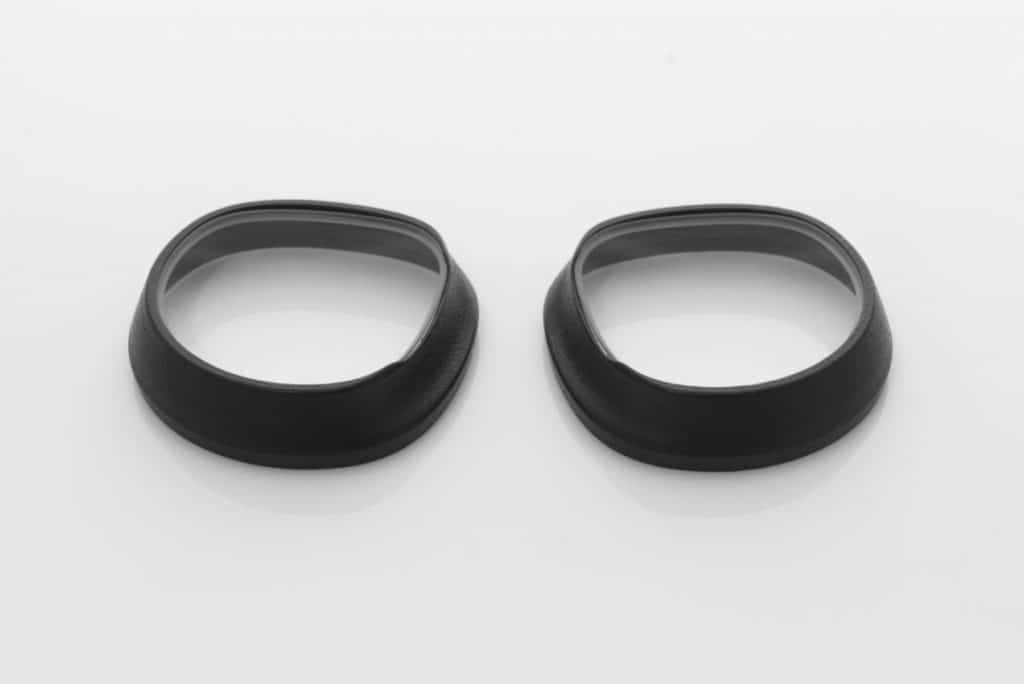 These are lenses that are fitted into your current Quest eyepieces. You'll need to unclip the existing pieces in order to insert the lenses when they arrive. Then, simply click them back into position and enjoy your Quest the way it was meant to be. You won't just be in a virtual reality world, you'll feel superhuman because you suddenly feel like you don't need to wear glasses!
You'll need to provide VR Optician with the sphere, cylinder, and axis information, all of which will be on your current prescription.
You can even get lenses without vision correction to help protect your original Quest lenses!
The lenses used are Carl Zeiss, one of the best currently available. They are scratch-resistant, have an anti-reflection coating, and a clean coat appearance. You can even opt to pay a little extra and get blue light protection. That's a particularly good idea if you work with screens a lot or tend to use your Quest late at night. 
Finally, if you're unable to find your prescription in the chart provided by VR Optician, you can contact them for custom analysis, they'll make virtually any lens!
---
Widmovr Prescription lenses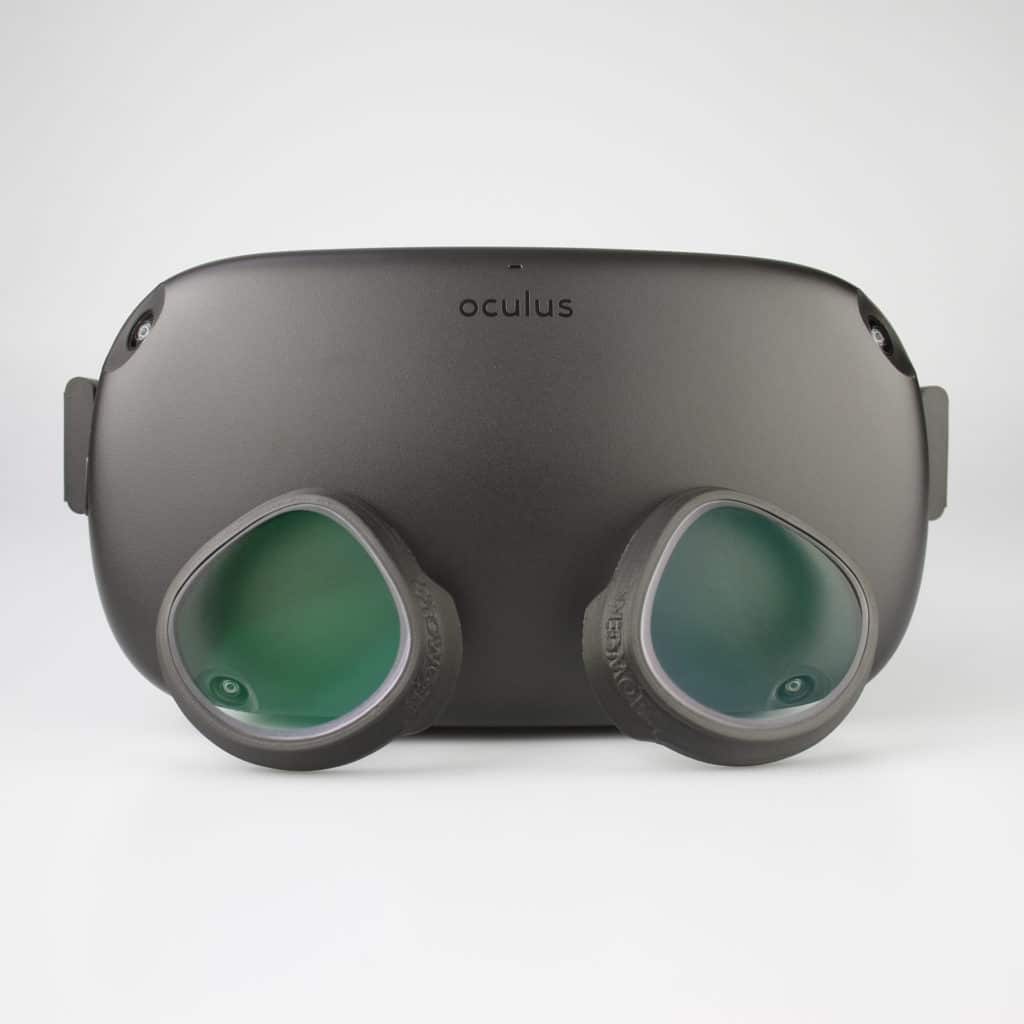 This is effectively a similar offering to the VR Optician one. Widmovr is well respected in the field and has plenty of experience, which means you can be confident that you're getting the very best product possible. 
Again, they'll need your sphere, cylinder, and axis for each eye. They also offer a custom service for anyone who can't find their prescription in the list or those that need prism correction 
In short, it doesn't matter what your eye issue is, you can get the right lenses for your needs.  You can also add in blue light protection and you can even opt to have high index undertaken. This effectively makes the lenses thinner when you have high correction needs. It's a good idea to make sure the lenses fit into the Quest properly.
You'll also be pleased to learn that Widmovr includes lens covers which will cover your lenses when you're not using the Quest, effectively keeping dust and even sunlight off your lenses. After all, sunlight magnified through prescription lenses could cause damage to the regular lenses in your Quest. That would be an issue.
---
VR Lens Lab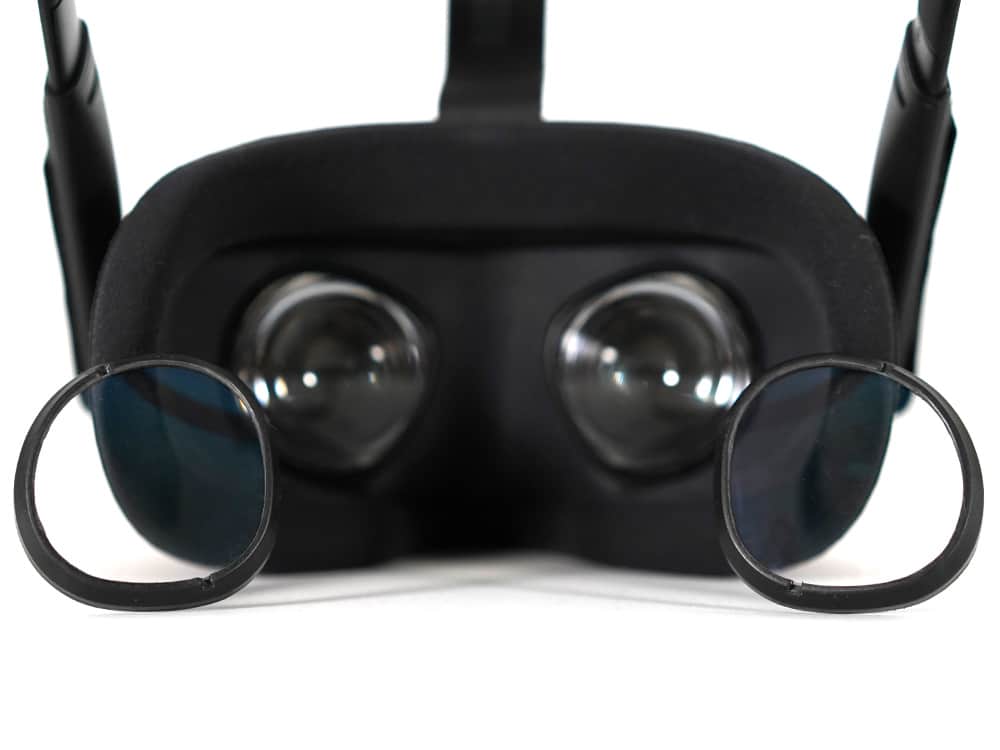 This company proudly announces that these prescription lenses are designed and produced with German Freeform technology. Considering Germany has a reputation for technical excellence this is a good endorsement!
In addition, you'll find that VR Lens Lab actually produces an array of lenses, for practically every VR device you can think of. These lenses work in the same way as the previous two. You'll need to provide all the details of your current prescription, although they won't check the prescription before supplying you with the lenses. That means you need to be careful when putting in your prescription details.
The lenses can be easily clicked into your existing eyepieces and instantly transform your Quest into a personal eyeglass, allowing you to really appreciate the virtual world. You can even slide the lenses back out if you want to let someone else have a go.
Of course, it's important that you keep the lenses clean and wrapped. If you don't you'll be building up dust and debris which could cause scratches on your prescription lenses and the Quest lenses. That will reduce the quality of your VR experience.
Again, you can add blue light protection if you wish.
Guiding You Through The Process
Your optician can make great lenses but they probably have no experience creating lenses for the Oculus Quest. If you're very confident in their abilities then you can ask them to see what they'll be able to produce. But, chances are this isn't something they'll be comfortable doing. That's why you need specialist help.
Companies that specialize in creating prescription lens adaptors have managed to create the perfect shape lens for your device, all you need to do is make sure the company is reputable.
To do that, simply check on social media and online forums with other VR users, they don't need to be Quest users. There will be others who have tried the lenses you're considering and they'll be able to offer you advice that can really help. 
It's also essential that you don't guess your prescription. If you do and it's wrong you'll strain your eyes, which could weaken the muscles, potentially giving you an array of issues in the future. It's much easier to simply get a new prescription and know that your lenses are right for your eyes. 
You should also verify that the lenses are scratch-resistant, this will ensure the VR experience remains good and prevent the lens on your Quest from being damaged.
Don't forget, the prescription lenses fit into the outer part of your Quest, they don't replace the original lenses.
Final Thoughts
There are actually many places that offer prescription lens adapters for the Oculus Quest. But, that doesn't mean they are all equal in terms of quality, customer service, and price. The aim of the best Oculus Quest prescription lens adapters is to offer reputable sources for your lenses. 
You can choose to purchase the lenses elsewhere but you'll need to make sure you do your research and choose a reputable supplier who can supply you with non-scratch lenses designed to fit your Quest exactly. If they don't fit properly you'll risk them falling out during gameplay. 
Not only will this mess up your game, but you may also damage the lenses and have spent money for nothing, no one wants to do that!