Earbuds are an essential part of modern life, whether you love listening to music, are learning a new language, or simply enjoy gaming, you're going to need a pair of headphones.
Of course, there are many different types of headphones on the market, over the head ones, coupled with over the ear cups arguably give the best noise reducing effects and offer great music quality. 
Alternatively, you can opt for open-back or closed-back, depending on how much background noise you want and what type of sound you prefer.
But, there is little that can beat a simple set of earbuds for convenience. They can be carried anywhere with you discreetly as they take up virtually no space.
Unfortunately, earbuds are also the weakest type of headphones. Cables are prone to stretching and connections come loose. This is simply because they are folded many times, placing a strain on the components.
You don't want to have to keep replacing your earbuds, that's why you need to choose one of the most durable earbuds on this list. They may cost a little more but the durability and sound quality will more than make up for the extra price.
The 6 Most Durable Earbuds
The exact pair you pick will depend on what you're intending to use the earbuds for, check out the quick buying guide for what to consider before spending your money.
Shure SE215-K – Most durable
Shure SE215-K-BT1 are stylish, simple, and offer excellent sound quality while being potentially the most durable earbuds currently available.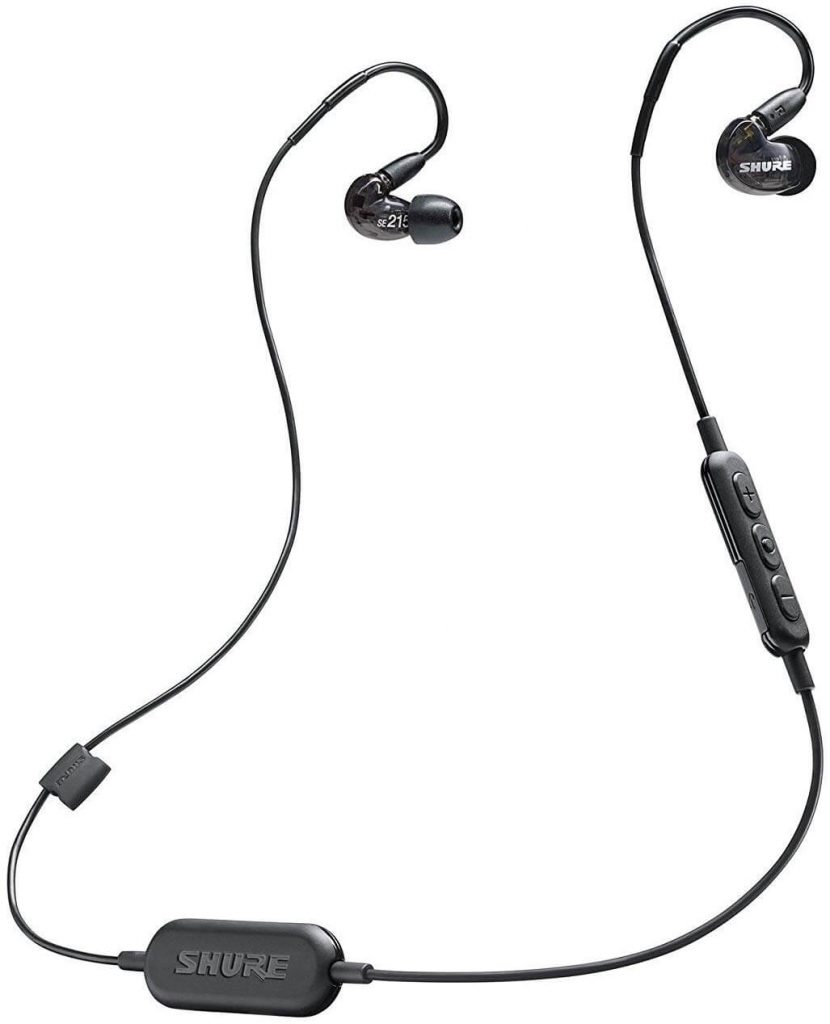 Specs
4 Color Options
Block 37dB of ambient noise
Bluetooth 4.1
30ft (10m) range
Inline remote & mic 
Sensitivity 107dB
Range 22Hz – 17.5kHz
Weigh 1.6 ounces
Positives
The Shure SE215-K has sound isolating sleeves which effectively block up to 37dB of ambient noise. That's the perfect way to allow you to focus on your audio and not what else is going on in the room.
It is important to select the right size earbud covers, the better the fit the greater the noise-blocking ability.
Shure is a well-known and respected brand of headphones, this is reflected in the quality of these earbuds and high-quality customer service. 
The quality of the build doesn't just make these earbuds durable, it also ensures you have high-quality audio whenever you want it. 
The Bluetooth connection module is actually separate to the earbuds. This means you can remove it and use it on a different pair of headphones if you wanted to! 
Negatives
These earbuds use Bluetooth which requires power. The power is provided via a rechargeable battery. However, there is no easy way to turn the earbuds off and make sure they are off. 
Unfortunately, this means it is easy to forget to turn them off, leaving you with earbuds that don't do anything when you really need them.

---
Skullcandy Smokin' Buds 2 Wireless– Budget option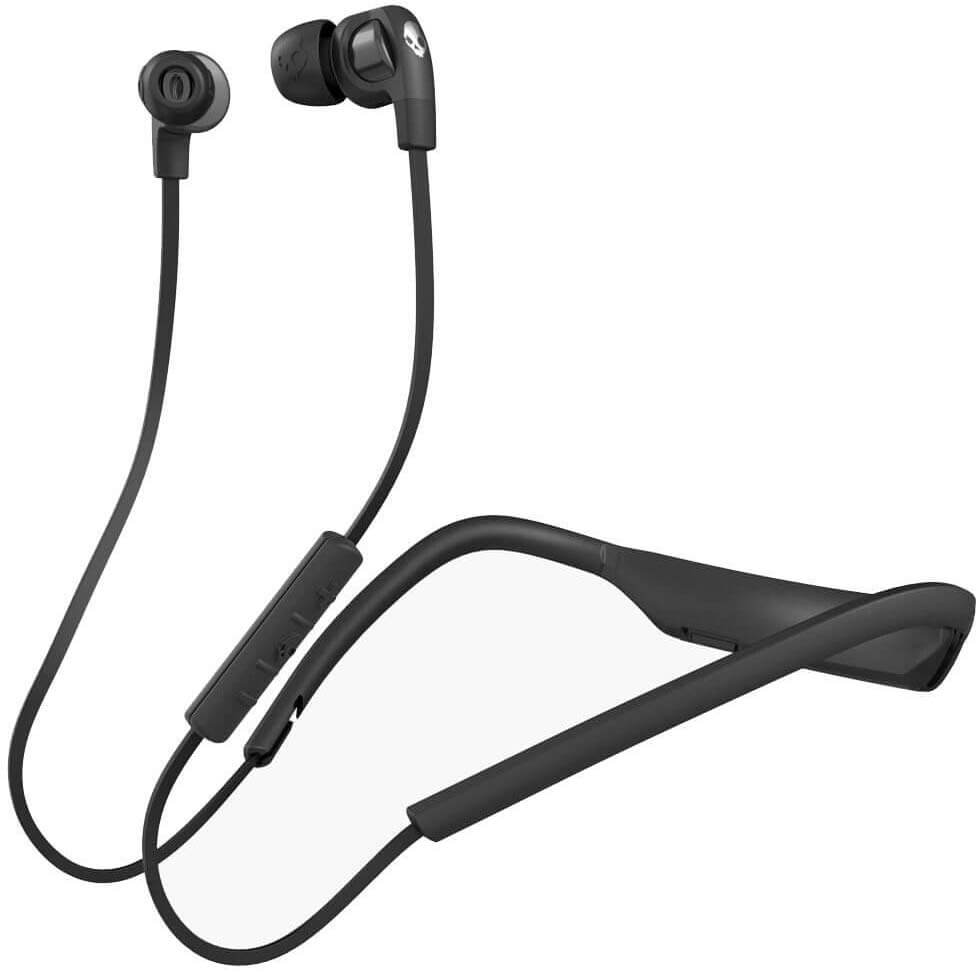 If funds are low then you may be pleasantly surprised by the Skullcandy Smokin' Buds, both by their durability and the sound quality.
Specs
Molded plastic neck support
Angular Oval shaped earbuds
Built-in microphone and remote
6 Hour battery charge
Weigh 2.2 ounces
Positives
The angular design of the earbuds allows the Skullcandy to slot straight into your ear, and stay there. It also has a moldable plastic neck collar that helps to ensure the earbuds stay where they should, this also doubles as the connecting wire between the earbuds.
In short, you'll quickly forget the earbuds are even on your head! It is worth noting that the neck collar is removable.
Despite being the budget option these earbuds are still capable of lasting for up to 6 hours.  IT will take 2.5 hours to recharge the earbuds and there is no quick charge option. 
You'll be surprised at how good the bass sounds, and how well balanced it is with mid and treble. With these earbuds, you shouldn't have an issue catching every note.
Negatives
Several users have complained about the earbuds losing connectivity to the audio device. There doesn't appear to be a set pattern to this, but it is something you need to be aware of.
---
Sennheiser CX Sport– Audiobook master

Sennheiser has built a good reputation for sound quality and durability and these earbuds are a testimony to that reputation.  They are stylish, functional, and incorporate proprietary transducers.
Specs
Proprietary transducers for a balanced range of music, including bass.
Splash & sweat resistant
6 hr battery life
Choice of sizes for ear adaptors
Range 17-21Hz
Impedance 28 Ohm
Weight 0.53 ounces
Positives
The first thing to note is that these earbuds are exceptionally comfortable, and it's not just because of the silicon earpieces. They also have ear fins and ear tips in variable sizes, ensuring you get the perfect combination for your own needs.
The Bluetooth practically connects itself to your Smartphone and allows you to control it all with a 3-button remote, built into the earbuds.  You also have the benefit of a microphone and the ability to control incoming and outgoing calls. 
The sound quality of these earbuds is excellent. They use Qualcomm apt-X processing to create a great range of sounds; ensuring you can hear the bass as clearly as the treble. 
Negatives
A limited number of users have reported issues with the charging cover becoming loose after a few usages. This prevents the earbuds from charging properly and makes them turn off randomly. 
The sound quality is excellent but, the earbuds can pull out slightly when you turn your head to cross the street. This makes a big difference to the sound quality when the earbuds are pulled out they sound hollow. That's a shame.
---
Plantronics BackBeat FIT 3100 – Best All-Rounder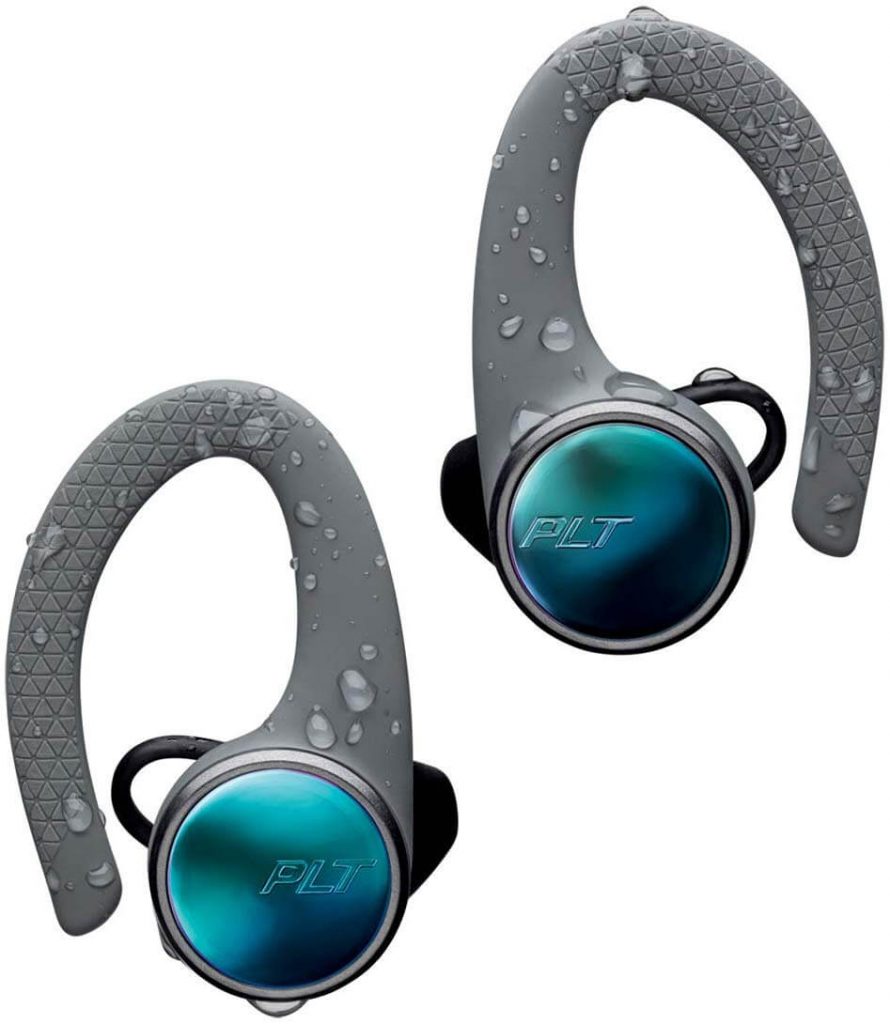 Plantronics wireless earbuds are completely wireless. They consist of two individual units that sit comfortably over each ear and listen to the Bluetooth receiver.
Specs
Quick Charge Facility
IP57 – waterproof and sweatproof
Individual earbuds
Stylish
Weigh 0.8 ounces
Positives
If you're training then allowing ambient sound is a great way to stay aware of your surroundings. This may not be applicable in some situations but it is the perfect solution when you need to know what is going on around you.
The Plantronics BackBeat FIT 3100 has a soft earloop design that provides maximum flexibility and comfort while being a secure fit, they won't come out accidentally while you're being active.
These earbuds will give you up to 5 hours of music from one charge. If that's not enough, you can get a softshell charging case which stores and charges your earbuds for you, giving you up to 10 extra hours of use. 
Or, you can charge the earbuds for just 5 minutes and they'll last another hour. 
You can access the 'My Tap' feature to complete firmware updates, set the prompt language, and manipulate several other personalization options. 
Negatives
Although these earbuds are satisfactory for many applications, if you are really into your music you'll find the sound can be a little tinny. This is disappointing considering how good everything else is on them.
---
Bose SoundSport Free – Best for Sports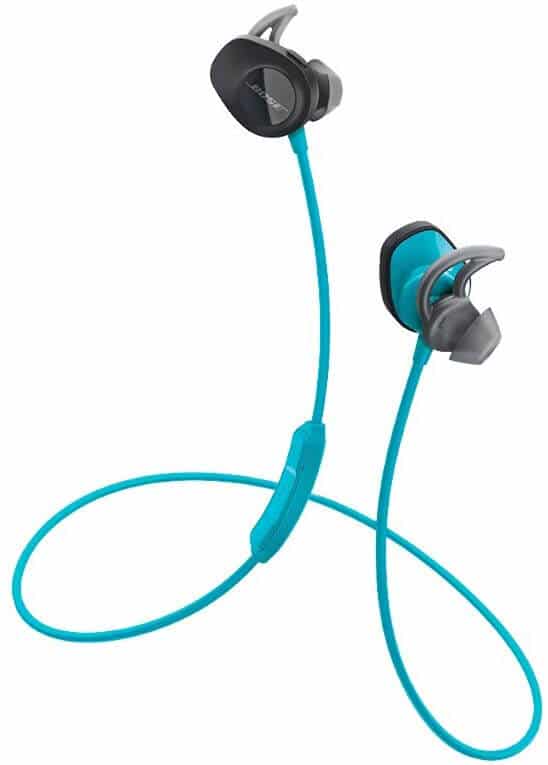 If you're into running or any other sport you're going to need earbuds which are designed to deal with the rigors of constant movement. 
The Bose SoundSport Free is the right pair for your needs.
Specs
Voice prompted pairing
Quick Charge
Sweat/moisture resistant
6 hours of battery life
Stay Hear+ Technology
Color options
NFC Pairing
Weigh 0.8 ounces
Positives
Bose is another company with a great deal of experience and it shows. The sound quality on the SoundSports Free is excellent. This is aided by the Bose active EQ.
This is enhanced by the soft silicone material that is used on the earbuds, allowing great sound transference and maximum comfort. 
The earbuds stay in your ears thanks to some patented technology. In effect this is soft plastic moldings which sit on your ear and prevent the whole unit from falling out. They are coated in silicone to ensure comfort.
Another useful bit of tech is the Bose Connect app. This allows you to download Tile which will help you create a workout playlist and can help you find your earbuds if they go missing.
The earbuds can be charged in just 2 hours. However, if you're in a rush then 15 minutes charging time will allow you to use the earbuds for up to one hour.
The normal battery life is 6 hours, long enough to listen to most tunes while you're traveling.
Negatives
Although the earbuds are very well made, there have been a few reports of battery failure after a relatively short period of time. Although on an isolated number of cases, if you get a pair that lasts just an hour or the battery won't charge, you're going to feel more than a little frustrated.

---
Sony WF-1000XM3 – Best For Sound Quality

Sony needs no introduction, choosing their WF-1000XM3 earbuds is a wise decision, they should give you years of service with very few downsides.
Specs
Noise Cancelling
6 Hour Life
Touch Technology
Positives
These Bluetooth headphones will last for 6 hours before they need recharging. But, best of all, is the fact that when they do need to be charged the process can be completed in 60 minutes.
If that's not good enough then charge them for 10 minutes and get 90 minutes of playback time!
Sony has raised the bar with these stylish earbuds. Each earbud has a small touch panel. You can tap this or swipe it to get help from your voice assist or even deal with phone calls. 
You can also enjoy the noise-canceling technology. It's safe to say that these earbuds are one of the best noise-canceling headphones you can buy. This is thanks to Sony's noise-canceling processor that encompasses a 24bit audio signal. 
The earbuds are designed to fit snugly into your ear. You may need to jiggle them a little until you get used to the feel, then you'll find they are easy to slide in and out. 
It's not often you can say you get a perfect fit, but this is one of those moments.
Negatives
It's a little disappointing not to be able to adjust the volume from the headset, especially considering that much cheaper earbuds allow you to do this.
There is no doubt that these are not the cheapest option on the most durable wireless earbuds list. But, sometimes it's worth paying a little extra in order to get the sound quality and durability that you need. 
---
Quick Buying Guide
Before you invest in earbuds consider the following points:
We're looking for the best durable wireless earbuds, that means you're going to need to look at how the earbuds have been made. 
A durable pair will be constructed of aluminum and thick rubber around the wires. This offers great protection for the important components and keeps the earbuds light. Durable plastic is another good option.
You should also check the known weak points of a headset. Most headsets have them, whether it's a cracking earbud or a weak cable joint. Knowing what they are before you purchase will make it easier to get the right earbuds.
It is essential to check the cable coating, thin rubber is going to break quickly. You need thick rubber or kevlar covering your electrical wires, this will help to ensure the headphones are durable. 
This is connected to looking for the weak points. In most cases, it's impossible to tell which part of the design is weak until you've had the earbuds for a few weeks and they start to show wear and damage.
You need to look at reviews on social media sites to see what users are saying about the manufacturer and the specific earbuds. It's important to remember that not all feedback will be positive, even if the product is excellent. But, if the majority of it is and the manufacturer has tried to resolve other issues, you're onto a good one!
If you're intending to use the earbuds at home to listen to an audiobook then they're not going to need to handle a lot of stress. However, if you're planning on hitting the gym or the track then you're going to want some that can deal with your sweat.
If you a gamer or use a VR device then you probably already know how damaging sweat can be to earbuds and face gaskets. Just as VR covers offer replacement foam or foam protection for VR devices, you can also get covers for your earbuds. 
If you're likely to be exposing them to a lot of sweat then you need to make sure that the earbuds are replaceable.
Equally, using the earbuds for exercise is going to place much more strain on the components than just listening to audiobooks at home.
It is important to consider what budget you have available. The most durable wireless earbuds do come with a higher price tag. If this is what you need then you'll need to make sure you have the funds available. 
If not, confirm your budget and choose from the ones you can afford, it should still give decent sound quality.
Final Thoughts
The decision regarding which earbuds to purchase is yours. But, it is important to consider the 6 on this most durable earbuds list, each of them has the potential to give you good sound quality and comfort. The real issue is how much you want to spend and what extras are essential to you.
Providing you spend a few minutes thinking before you act, you're likely to get a quality pair of earbuds that will last for years, that's money well spent!