The primary reason why a writer would consider using a tablet for writing? Mobility! For all those who are or want to be digital nomads, the tablet has advantages over a laptop. It' smaller and lighter, has a long-lasting battery, and stands up to a variety of tasks. Last, but not least, tablets are often cheaper than laptops.
What to Look for in a Tablet for Writers
Portability and excellent battery life are great. The downside is that most tablets lack keyboards. Luckily, the problem is easy to solve, perhaps with a laser keyboard that's easy to carry along wherever you go. Here are a few important things to look for:
Battery life
Screen size and resolution
Performance
Memory
Preinstalled writing software
Keyboard
Can you use tablets for writing? The short answer is "yes" in most cases. Double check, though. Can you add an external keyboard? If so, how is it connected?  
Battery life
Tablets come with great battery life, and since writing is not a demanding task for a system, with a couple of tweaks, you can further prolong battery life. Dimming brightness, and possibly switching off Wi-Fi and mobile data connectivity can extend battery life in most tablets. Aim for models that offer 10+ hours to maximize your writing potential.
Screen size and resolution
Tablets screen size varies from 7 to 13 inches and resolution from 720p to 4K. And while 4K resolution can drain the battery faster, screen quality and pixel density can make things easier on your eyes. The best screen type is (AM)OLED, and 10 inches is the ideal size for portability and comfortable viewing. Yes, it's possible to use a smaller tablet for writing, but it's far from ideal.
Performance
Look for good connectivity options for your keyboard and additional devices, and be sure to double-check reviews like this one to see what others have to say.
Memory
Text documents are small and with the availability of cloud services like Google Docs, Dropbox, and others, internal storage isn't a crucial factor for selecting a new tablet. Writing aside, you should think about system and applications updates, meaning anything less than 16 GB is not an option.
Two gigs of RAM will be ok for a writing tablet, but go for more if you can. Since browsers and apps are constantly evolving, 4 GB of RAM is a good minimum for Android and iOS tablets, and Windows operating systems need a minimum of 8 GB for optimal performance.
Pre-installed writing software
MS Word is probably still the best writing software, and the good news is it comes pre-installed with most tablets. You'll have to buy it once the trial expires, but its worth considering what it brings to the table(t). Pages is the Mac alternative to Microsoft Word, and if you're a fan of iOS, you know that this is good quality software. Scrivener and Google Docs are viable alternatives.  
Top Tablets for writers
Since we're focusing on overall quality of the tablet for writing purposes, you'll find that our suggestions come at a variety of prices. After searching high and low, we've come up with several options that are likely to meet your needs.  
ASUS ZenPad 3S 10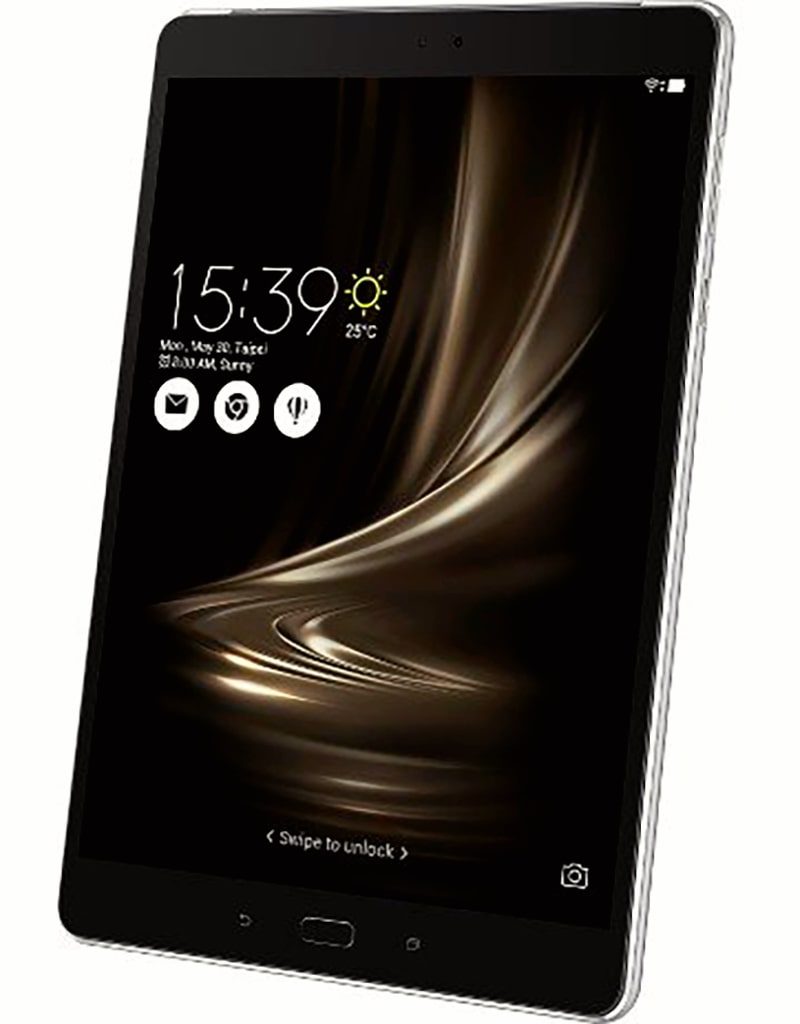 ASUS ZenPad 3S 10 has an iPad look-a-like design with 9.7'' screen. This tablet is thinner than the iPad, and it comes with Android OS. The build quality is excellent with aluminum unibody case and features like a fast and responsive fingerprint reader, USB Type-C port with Qualcomm QuickCharge 3.0 capability.
Most users like this tablet for its fast charging and quality display. The screen comes with 1536×2048 resolution and 4:3 screen ratio. The IPS display has excellent viewing angles and its one of the most appealing aspects of this product. Despite having a thin, light body, this tablet offers powerful components.
A six-core Mediatek chipset goes along with 4GB of RAM to get snappy, responsive and enjoyable performance, including for high-end gaming if your'e into it. There's enough storage space to meet the average writer's needs, and you can always add more with a MicroSD card.
The ASUS ZenPad 3S 10 comes with 8 MP rear and 5 MP front camera – not necessary for writing, but nice to have.
You'll need to pick up a compatible keyboard if you choose this tablet.

Specs:
Display size/type: 9,7''/LED IPS
Resolution: 1536×2048
CPU: MTK MT8176 Hexa-Core
Memory: 4GB
Storage: 64 GB
Operating system: Android 6.0
Dimensions: 9.46 x 6.44 x 0.22 inch
Battery: 5900 mAh
Pros:
Unibody metallic finish
Hardware
Performance
Screen resolution and quality
DTS sound
Cons:
Old Android 6.0
The stylus is not included in the package
Writers will need an additional keyboard
---
Samsung Galaxy Tab S3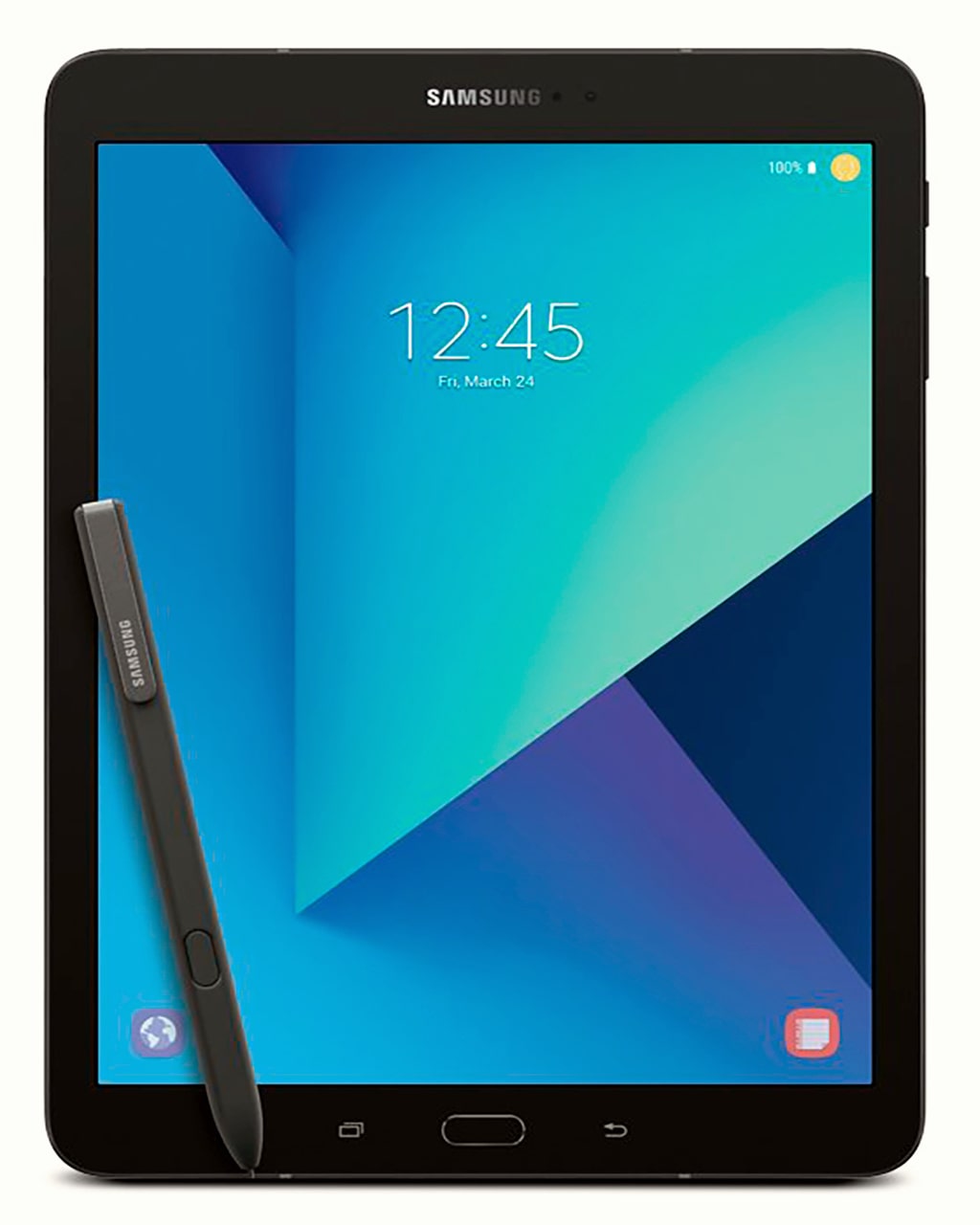 The Samsung Galaxy Tab S3 was the best Android tablet option upon release in April 2017. Just like the iPad Pro and the cheaper ASUS ZenPad 3S, this Samsung comes with a 9.7'' screen and premium built quality with glass and metallic surfaces. Its Super AMOLED screen offers excellent viewing angles, color representation, and high 2K resolution, so your text will appear super-crisp while writing. Another great Galaxy Tab S3 feature is HDR compatibility, and that means you will get an exceptional multimedia experience. This tablet has four speakers.
Samsung offers superb portability for writing on the go, and it's a shame that the company didn't include a keyboard cover in the package. If the original keyboard seems pricey, there are some compatible third-party options for less. And while you will need to invest in the keyboard, you can use an S-pen stylus for quick note-taking.
Specs:
Display size/type: 9,7''/Super AMOLED
Resolution: 1536×2048
CPU: Qualcomm Snapdragon 820
Memory: 4GB
Storage: 64 GB
Operating system: Android 7.0 (upgradable to 8.0)
Dimensions: 9.34 x 6.65 x 0.24 in
Battery: 6000 mAh
Pros:
Premium built quality
Super AMOLED screen
Battery life
Samsung S-Pen
Audio quality
Cons:
Expensive external keyboard
Android 7.0
---
Samsung Galaxy Tab S4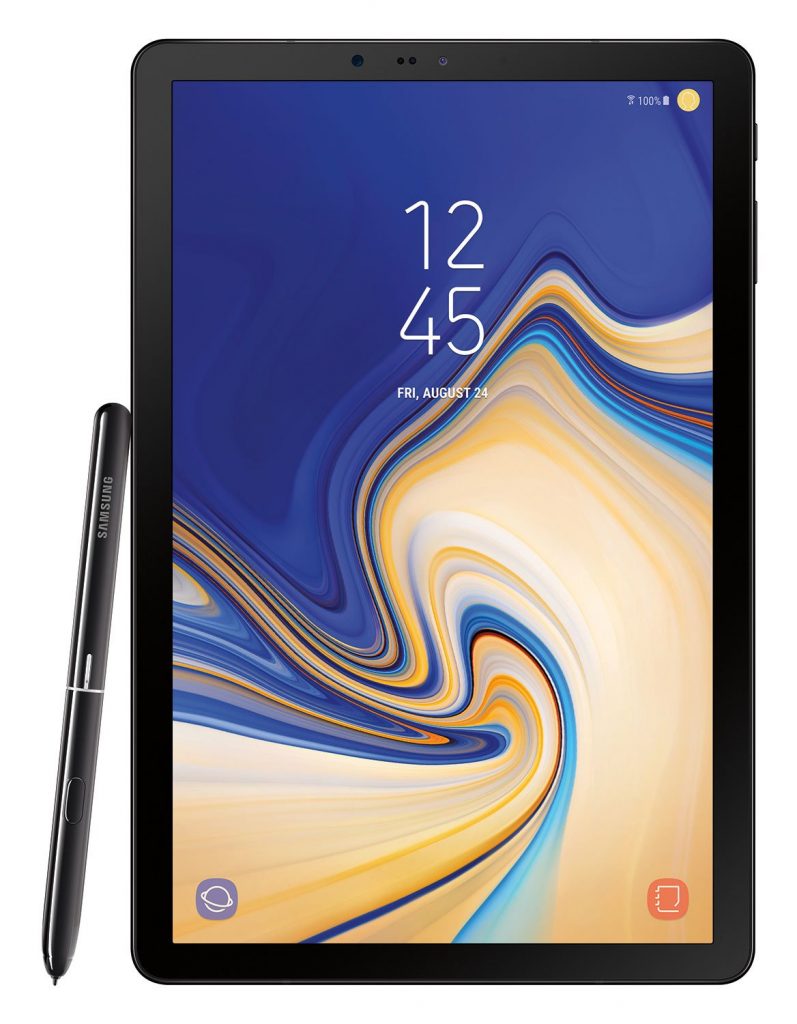 The Galaxy Tab S4 offers premium materials, a classy design and a 10.5'' AMOLED display.
This tablet comes with an S-Pen stylus, but without a keyboard or regular case. You can add the original keyboard and case if you like, and there are some affordable replacement keyboards as well.
Specs:
This Android tablet offers high-end performance even in gaming with the combination of Snapdragon 835 and 6 GB of RAM. It has plenty of storage and great battery life, which makes users very happy.
Display size/type: 10.5''/Super AMOLED
Resolution: 1600×2560
CPU: Qualcomm Snapdragon 835
Memory: 6GB
Storage: 256 GB
Operating system: Android 8.0
Dimensions: 9.81 x 6.47 x 0.28 in
Battery: 7300 mAh
Pros:
Super AMOLED screen
Battery autonomy
Android 8.0
Storage options
Performance
S-Pen stylus
Cons:
The expensive original keyboard and case
Chipset could be better
---
Microsoft Surface Go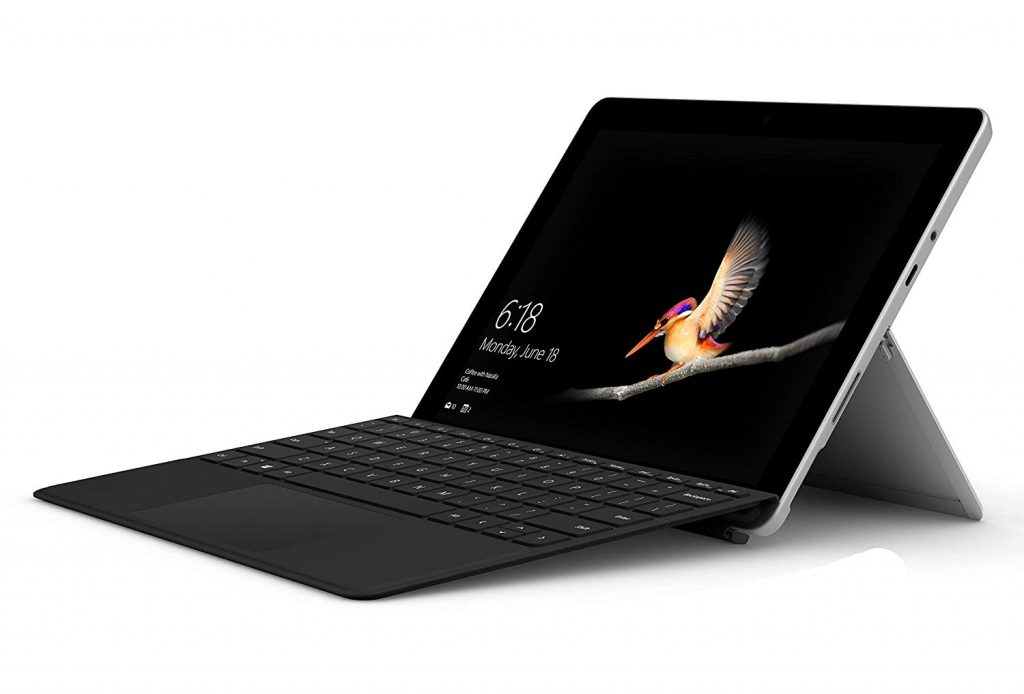 The original Microsoft Surface Go comes without a type cover, but it includes Windows 10 in a highly portable 10-inch form. At just 1.15 pounds, it's ready to go when you are.
Customers left overwhelmingly positive reviews mostly focusing on the tablet's light, compact design, which is perfect for travel. With 4 GB of RAM and 128 GB SSD, it keeps you productive wherever you go, but it's not going to let you do much gaming during your downtime.
The Microsoft Surface Go has 1800×1200 resolution on its quality IPS screen, which has the advantage of being protected by Corning Gorilla Glass 3.
Specs
Specs:
Display size/type: 10''/IPS
Resolution: 1800×1200
CPU: Intel Pentium Gold 4415Y
Memory: 4GB
Storage:  128 GB
Operating system: Windows 10
Dimensions: 9.65 x 6.9 x 0.33 in
Battery: *
Pros:
Type cover included
Lightweight
Windows productivity in small form-factor
Build quality
Price
Design
Cons:
---
Apple iPad Pro (2019)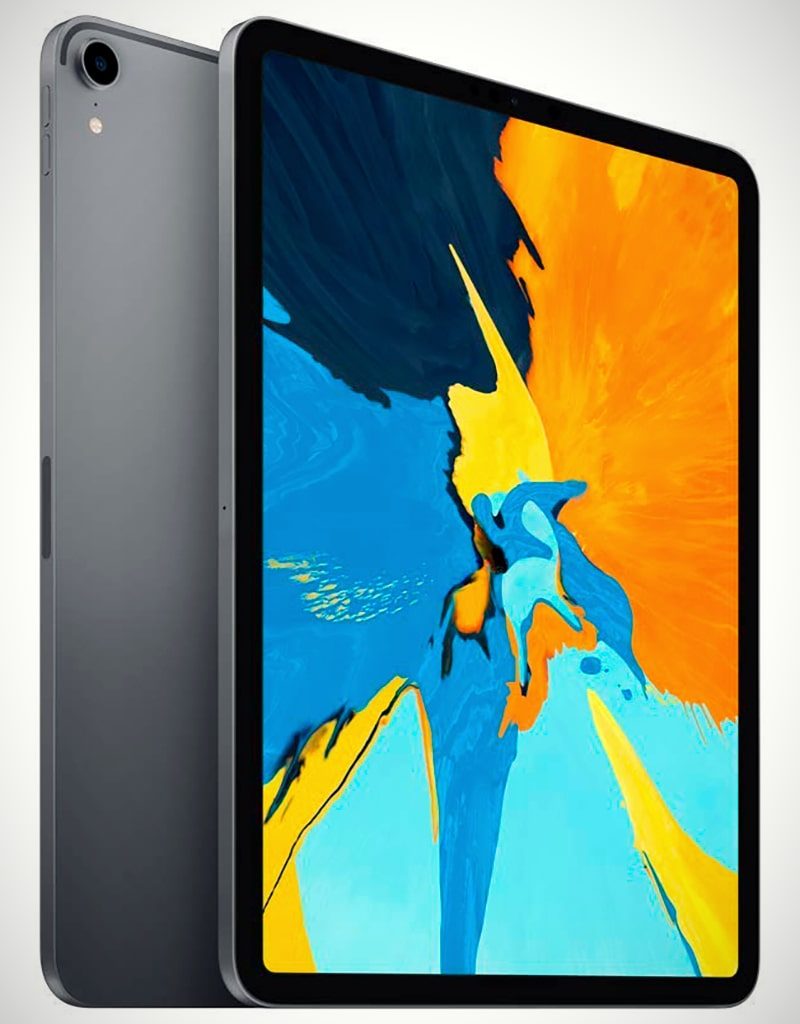 Apple iPad Pro (2019) is one of the most advanced tablets available. It's pricey compared with some other options, but if you are an iOS user and you want the best, this is it. With an A12X Bionic chip, 4GB of RAM and 7812 mAh battery you can crunch any task on the go. Batter life is about 10 hours even with heavy use. Face ID keeps your tablet secure and adds convenience to your overall experience.
The iPad Pro is bigger than most tablets – the 11" screen is very easy on your eyes. At the same time, this machine is lightweitha nd well-suited to working on the go. Thanks to Apple's Liquid Retina display, text is crisp and clear.
Since there's no keyboard, you'll have to add Smart Keyboard Folio. You can also purchase  the new Apple Pencil, which has some cool features, but it is also sold separately. This means that even simple tasks like note-taking can feel awkward without essential add-ons.
Specs:
Display size/type: 11''/IPS
Resolution: 1668×2388
CPU: A12X Bionic
Memory: 4GB
Storage:  256 GB
Operating system: iOS 12
Dimensions: 9.74×7.02×0.23 in
Battery: 7812 mAh
Pros:
Performance
Sound
Liquid Retina Display
Build quality
Battery life
Cons:
Above average tablet price
Keyboard not included
---
Apple iPad Pro (2017)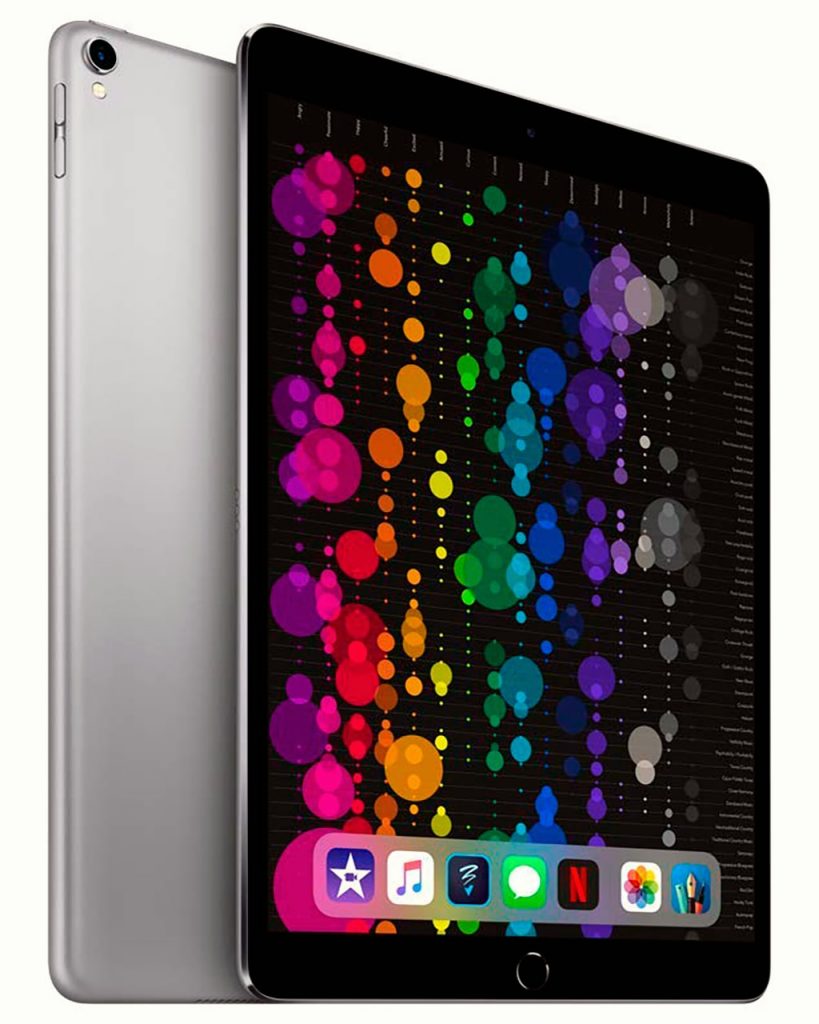 An older iPad Pro is still expensive, but cheaper than a new 11-inch version. It has high-end components from 2017 and runs  iOS 12.2. The metal body without plastic cut-out looks impressive, and the screen is gorgeous with bright colors, excellent viewing angles, and high resolution.
The A10X Fusion chipset works flawlessly paired with 4GB of RAM. The system has 256GB of storage and potent battery with 8134 mAh.
The 7 MP front camera is great for Face Time, while the 12 MP back camera provides terrific photo quality for the tablet category.
Just like the newer iPad Pro, this version has four speakers, but no keyboard. The original keyboard serves as a protective case, and its full layout is comfortable for typing. It's well-worth the added price if you can swing it.
Specs:
Display size/type: 10.5''/IPS
Resolution: 1668×2224
CPU: Apple A10X Fusion
Memory: 4GB
Storage:  256 GB
Operating system: iOS 10.3.2 (upgradable to iOS 12.2)
Dimensions: 9.87 x 6.85 x 0.24 in
Battery: 8134 mAh
Pros:
Screen
Hardware and storage
Four loud quality speakers
Productivity options
Performance
Cons:
Price
Expensive original keyboard
---
Lenovo IdeaPad Miix 310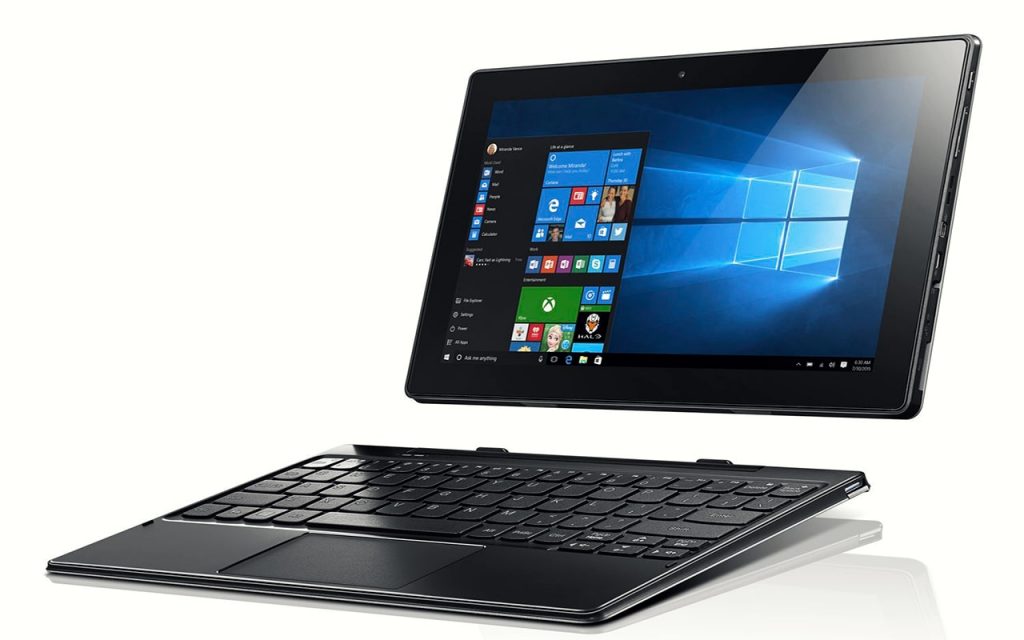 There is a thin line between convertible 2-in-1 laptops and tablets that come with a keyboard. The Lenovo IdeaPad Miix 310 has all that takes to be a competitive tablet but would fail miserably if we looked at it as a laptop. The main design feature is the detachable screen, which is attached to the keyboard via two magnetic Pogo pin teeth.
Lenovo Miix 310 works great as a tablet, with 10'' IPS screen. It's cheap and lightweight, and for writers, it comes with a keyboard. The build quality and the layout of the chiclet keyboard is a mixed bag. This is an all-in-one package at an affordable price. At the same time, you might have issues with the size and placement of some keys.
This tablet can run basic apps, buy 2GB of RAM limit the number of applications you can keep open.
One of the tablet's best selling points is its long battery life of over 12 hours, so  you can easily put in a full day of writing even when you're in digital nomad mode.
Specs:
Display size/type: 10.1''/IPS
Resolution: 800×1200
CPU: Intel Atom X5 Z8350
Memory: 2GB
Storage:  64 GB
Operating system: Windows 10
Dimensions: 0.36 x 9.68 x 6.81 in
Pros:
Affordable
Comes with keyboard
2-in-1 concept
Long battery life
Cons:
Reflective display
Performance
Screen resolution
---
Fire HD 10 (2017)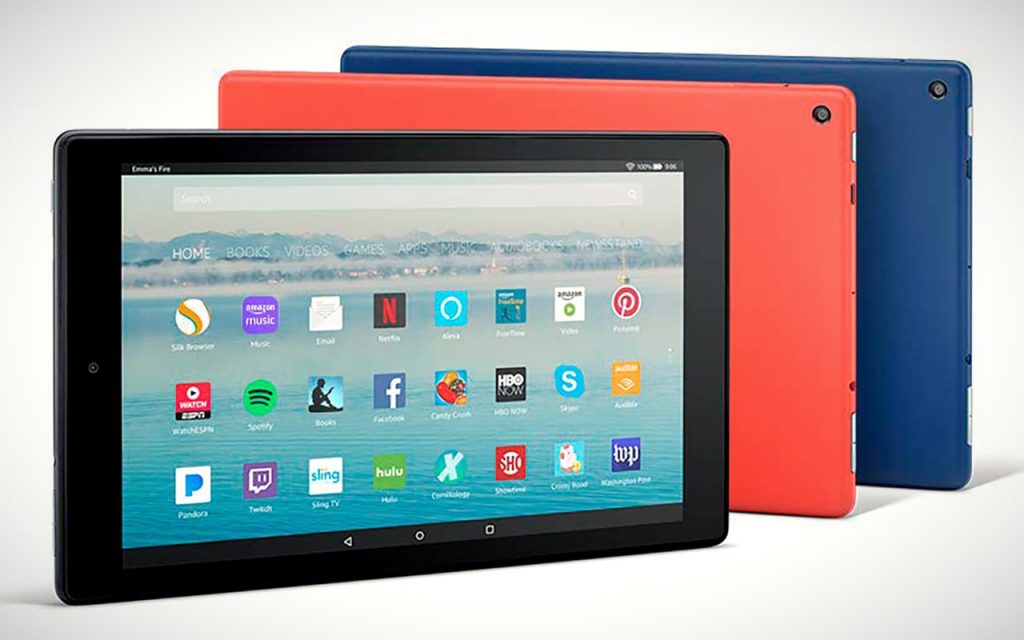 Amazon's Fire HD 10 tablet is very affordable, and in return, it offers excellent performance that relies on Amazon's ecosystem. If you're into Amazon Prime and Kindle, this tablet is going to be your new best friend. You'll need an additional keyboard for writing, along with a couple of other things.
The biggest drawback is that Fire tablets don't support MS Office or Google Docs, so you will need to get a comparable replacement from the Amazon app store. OfficeSuite from Mobisystems is a popular option without a steep learning curve.
There is one more drawback – the lack of support for Google native apps. The Fire HD 10 does support Alexa hands-free so you can use smart assistant features if you like.
Specs:
Display size/type: 10.1''/IPS
Resolution: 1920×1200
CPU: Mediatek MT8173 quad-core
Memory: 2GB
Storage:  32 GB
Operating system: Android 5.1 (Fire 5.3)
Dimensions: 10.31 x 6.26 x 0.39 in
Battery: 3830 mAh
Pros:
Great price
Screen
Amazon ecosystem support
Multimedia performance
Cons:
Doesn't support Google apps
Build quality
---
The Takeaway
Tablets aren't as powerful as laptops, but there are plenty of options to choose from and the right one can keep you productive on the go. With a little bit of finagling, you can easily come up with a system that helps you meet your deadlines while appealing to your inner nomad.