There is little doubt that a tablet is much more convenient than a laptop, it's smaller, easier to carry, and generally much better for specific functions; such as note taking. But not all tablets are created equal – in fact, you may be surprised to discover that not all tablets support stylus use.
Why A Stylus
To many people, a stylus is nothing more than a nice accessory that sees some occasional use. To many others, a stylus is an essential part of your tablet and helpful in performing a variety of tasks. This includes business people who don't have time or want to leave handwritten notes everywhere, creative types who want to be able to design whenever they feel like it, and even people who just don't like or want to touch the tablet screen.
Initially, a stylus was simply any device that you used to touch the screen. This was thanks to the fact the screens were simply two layers of glass with a gap between them, and any object pushing the two screens together had the desired effect.
As demand has grown, so has stylus-specific technology. The modern stylus uses electrical conductivity, matched to capacitive touchscreens. It's a more efficient and accurate method but it has resulted in some styluses being a better fit, depending on the function you want to use it for.
Here are some of the top reasons for using a stylus:
Precision
It doesn't matter how good your fingers are, there are times when the icons are so small it is hard to be accurate. We all know how annoying it can be when you keep hitting the wrong function, especially if it takes you to an advert that is of no interest.
Using a stylus ensures accuracy.
Don't forget that you can do almost anything with a tablet, including drawing, taking notes, and accessing apps/information. A stylus is simply a more practical approach.
Temperature drops
When the temperature drops you'll want to start putting gloves on, as well as a coat, scarf, etc. Unfortunately, while gloves wouldn't impede the use of early tablets, modern tablets with capacitive touch screens need the electrical current of your finger or a stylus.
A stylus will allow you to use your tablet and wear gloves.
Hygiene
Oil on your skin can be damaging to touchscreens and it's not just natural oils that remain on your hands. Food debris and other items can remain on your hands causing inconvenient smudges and potentially damaging the screen.
Finger Care
Finally, (and this may apply more to the ladies), if you like to have long nails and manicured hands you'll already appreciate the difficulty in operating a touchscreen accurately without scratching it.
Again, the stylus will eliminate this issue.
Best Tablets for Note Taking
If you're looking for a tablet that is great for taking notes and is compatible with a stylus, then you need to know what's available. Not all the premium-priced tablets have great stylus support, and that's what really counts.
Of course, you also need to consider the operating system that you're using or want to use, which will help you decide on the tablet that suits your needs best.
Android Options
There is little doubt that Android tablets continue to dominate the market. Grab one of the following two and start putting your stylus to work!
Samsung Galaxy Tab S4 – Best All-Purpose Tablet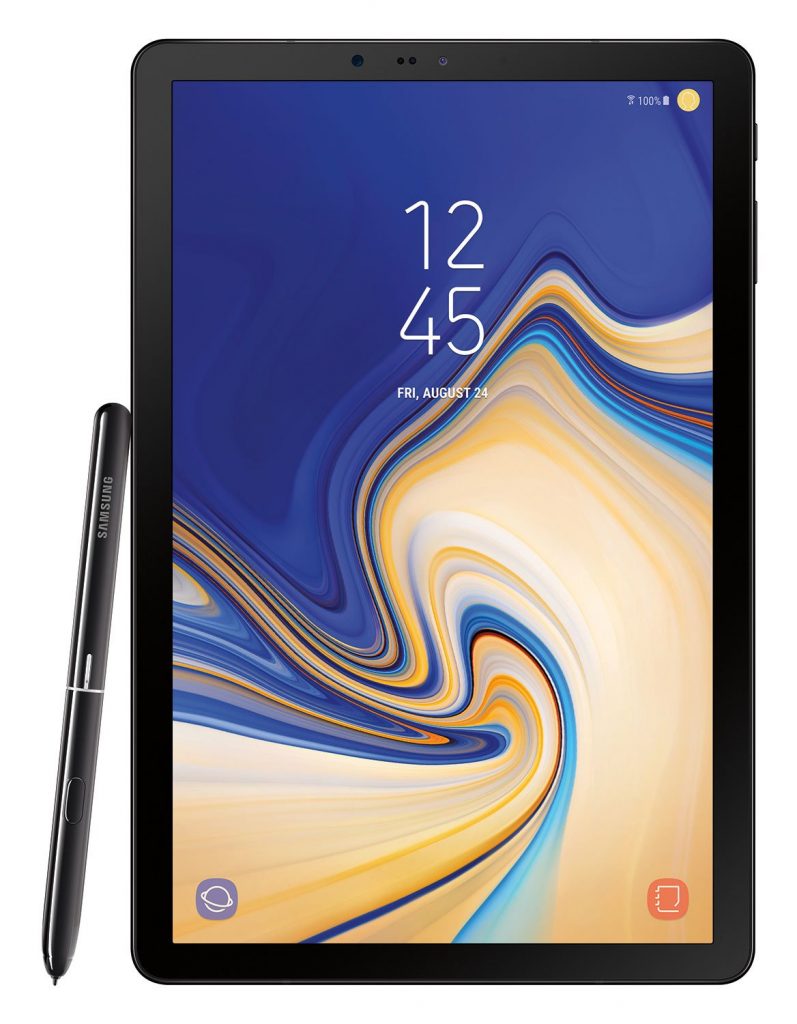 It is justifiable to say that the Samsung Galaxy Tab S4 is one of the best options on the market. It is extremely capable of handling any task you'd like it to do and works well with your stylus.
The Specs
Available in 64gb or 256gb
Includes S Pen
Uses Far Field Mics – allowing voice responsiveness even across the room.
Super AMOLED display, giving the very best visual performance.
Dolby Atmos surround sound
10.5" screen
Resolution of 2560 x 1600 pixels
Solid State memory
2.3GHz Snapdragon 835 Octa-Core
4gb RAM
Front & Rear Cameras – 8MP & 13MP respectively
12-hour battery life
The specs are impressive and so is the performance. But, more importantly, what's the verdict of people who've actually used the Samsung Galaxy Tab 4?
The Negative
Let's get the bad news out of the way first. One of the biggest issues and a justifiable one seems to be the lack of fingerprint reader. Considering the modern emphasis on security this is a poor oversight by one of the world's biggest tech companies.
There have also been several issues regarding the quality of the goods supplied. One customer received a 'new' tablet to find a pixel was out. Another found only half the screen working.
It should be noted that these customers purchased through Amazon, not direct with Samsung.
Potentially more important is the fact that the tablet is not capable of playing rhythm games as two or more short flick inputs means the input is ignored.
The Positive
On the plus side, 74% of users have given the Samsung Galaxy Tab4 5 stars. The emphasis of these reviews is the portability and productivity of the tablet. Providing you select the 256gb option you'll have plenty of space to cover all the downloads you want to make.
But, what really sells it is the inclusion of DeX and how well it works with the S Pen, (which is also included). In effect it can make your tablet feel and work more like a laptop, giving you the best of all worlds.
It's worth noting that the S Pen does not need a battery and has up to 4096 points of pressure sensitivity, allowing you to get just the right level of responsiveness for your personal tastes.
---
Huawei MediaPad M5 Pro – Best Value Android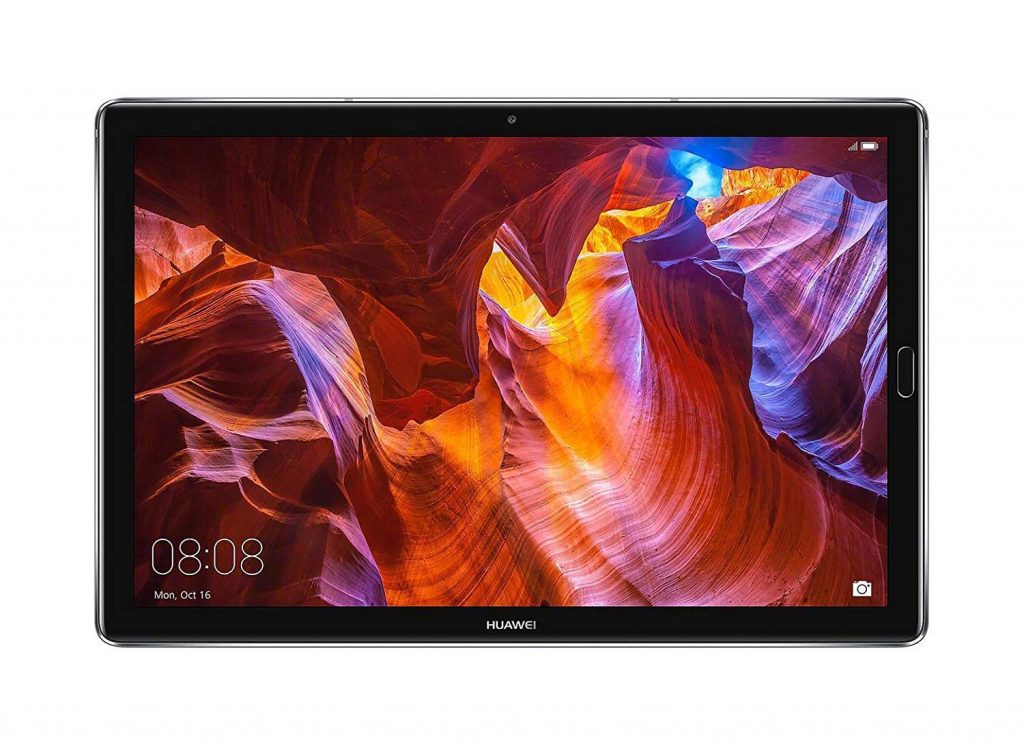 The Huawei MediaPad M5 Pro is cheaper than the Samsung offering, sitting squarely in the mid-price range. However, it has a lot of good points that make it a viable alternative, especially if your budget is limited.
The Specs
10.8" screen
2.5D Curved Edge Glass Display
Resolution 2560 x 1600
Harman/Kardon tuned speakers
Dual Cameras – 13MP on the rear and 8MP on the front
Kirin 960 series Octa-core
4GB Ram
64GB Hard Drive
Android 8.0 Oreo
Battery Lasts 11 hours & charges in just under 3 hours
Fingerprint recognition
Weighs Just 1.1lbs
Comes With M Pen
This is one good-looking tablet that looks like a top-end model. The fact that it is made of aluminum and weighs virtually nothing contributes to this look and style. But, as you can see it also has decent specs, although the battery life is not as good as the Samsung and it lags in performance.
The Negatives
The M Pen is a big selling point and useful addition to this tablet. However, it should be noted that if anything goes wrong with the M Pen you'll need to send the M Pen and the tablet back. This will allow it to be rectified under warranty if the fault is covered. But, it is, at best, inconvenient.
Another point that has been made by users is the fact that the Chrome on this tablet is UI, the phone version. You'll probably find you prefer the tablet version.
In addition, several users have commented that the system resets your settings when it feels like it, leaving you with the time-consuming task of putting the back again.
Finally, it has been noted that trying to use Bluetooth and the Wi-Fi at the same time results in agonizing speeds for both features. Individually they're good, just not at the same time.
The Positives
The vast majority of users rate this tablet as a good purchase. In fact, one of the most positive comments that are often repeated is how good the M Pen is. That's good news if you're looking for a tablet that works well with a stylus.
The finish of the Huawei is excellent, its buttons are well-positioned, allowing button and finger swipe to be used efficiently at the same time. The M Pen is responsive and allows you to draw, write, or do practically anything else with your tablet.
You'll also appreciate the comfort eye mode that allows you to read the screen even when the room is in complete darkness.
In short, this tablet looks great and performs nearly as well as the Samsung, but costs less. You're unlikely to be disappointed with this choice.
---
Apple Option
Of course, Apple still has approximately a 30-35% share of the tablet market. For many people, Apple products are the only logical choice.
If this is you then you'll want to take a look at these two iPads, there are worth considering for note taking and using with a stylus.
Apple iPad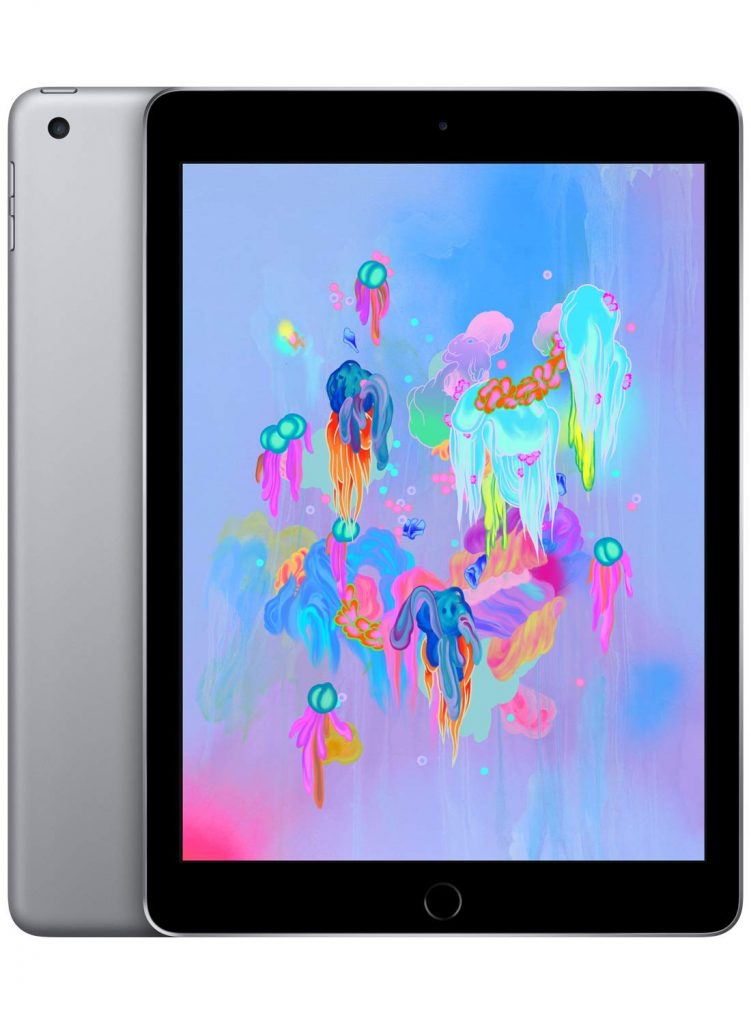 The first thing that will surprise you about the iPad 2018 is the fact that it is far more affordable than any of its predecessors.
With Smartphones becoming so powerful, Apple has recognized there is a decreasing demand for tablets. In order to keep selling their products, the price has come down, making them an attractive option that's more affordable than ever before.
The Specs
9.7" Retina Display
A10 Fusion processing chip
2GB RAM
32GB Hard Drive
Dual Cameras – 8MP on back and 1.2MP on the front
Battery Lasts 10 hours
Dual Speakers
Fingerprint Sensor
Standard Lightning Connector
iOS 12
Weighs .99lbs
The Negatives
It's an Apple product. That's not actually a negative in its own right unless you are making the transition from an Android or Windows tablet. If this is the case you'll need to be prepared to change the way you do everything!
Perhaps the most important thing to note is that this tablet does not support the 2nd generation pencil. This is unfortunate as the 2nd generation pencil is more versatile than the 1st generation option.
To add insult to injury, you'll need to purchase the pencil separately.
Some users have also voiced safety concerns as the screen breaks surprisingly easily and shatters into lots of glass fragments; these can be dangerous. Alongside this, the cost of repairing the screen is comparable to purchasing a new iPad.
It's also worth noting that the screen is smaller than the other options on this best tablets for note taking list, that may be an issue.
The Positives
Fortunately, most users have a good experience with this tablet and are happy to recommend it. The iPad 2018 is stylish, lightweight, and very fast, despite only having 2GB RAM.
But, the real selling point for many users is not the screen quality or the speed, it's the accuracy, pressure sensitivity, and performance of the Apple Pencil. There is very little to fault with the pencil, making this an excellent choice for anyone who needs a stylus.
---
Windows Option
Window based tablets are definitely in the minority but this doesn't mean they should be overlooked completely. You may be surprised!
Microsoft Surface Go – Great For Note taking & basic tasks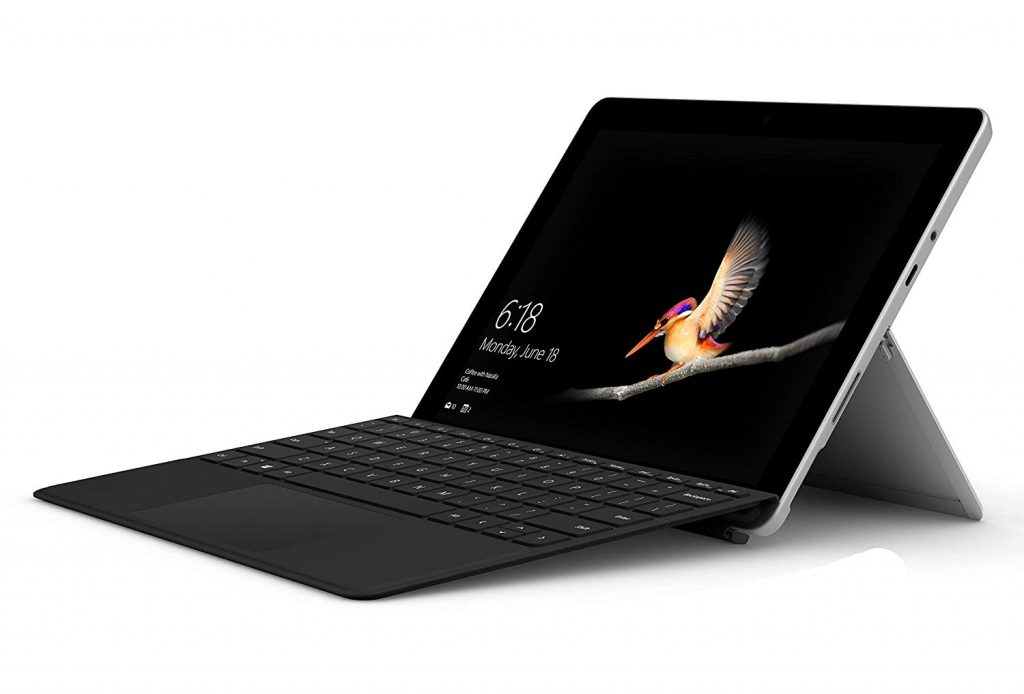 The Microsoft Surface Go is a good option if you don't do too many tasks at the same time or your main aim is note taking and basic apps.
This tablet is not the fastest one on the market but it does have a good display, is very slim, and looks like a premium tablet, without the premium price tag.
As a bonus, this tablet is designed to support the latest Surface Pen, the same one that works with the Surface Pro 6; making it a very responsive option.
The Specs
8GB RAM
128GB Solid State Hard Drive
Dual Cameras – 8MP on the back and 5MP on the front
10" Screen
Resolution 1800 x 1200
Processor Intel Pentium Gold 4415Y – 1.6GHz
Intel HD Graphics
Windows 10 Home Installed
Dolby Stereo Speakers
9 Hours Battery Life
Weighs 1.15lbs
The Negatives
While most users have been happy with their purchases there have been some that have had issues with the laptop freezing up.
However, the bigger issue revolves around apps, such as Amazon Prime video or Netflix. These don't connect well to the Microsoft Surface Go unless you use an Android emulator, which effectively ruins the point of purchasing a Windows device!
It is also important to note that the Stylus pen needs to be purchased separately.
The Positives
Fortunately, the issues are quite rare and most users have had a positive experience. When used for note taking and other office-based apps the tablet is surprisingly fast and responsive. The tablet can even be used to run games providing you keep the settings between low and mid.
Perhaps most positive of all is how well the stylus integrates with this tablet. You'll find it is a smooth, natural experience that actually enhances your ability to complete tasks, whether note taking or sketching.
---
Top Tips When Choosing the Best Tablet For Note Taking
If all the above options look appealing then you may want to take a look at the following tips, they can help you to decide which is the best tablets for note taking, for your specific needs:
Budget
The first consideration must be the budget you have available and are willing to send. Tablets are generally much cheaper than they used to be, all of these can be bought for under $700, the question is how much do you have spare to spend?
It's worth considering this as the tablet should be an investment to help you work better. But, it will quickly be outdated, how much are you willing to spend on something that will be old news within 12 months?
Operating System
Perhaps the most obvious part of your decision is which operating system the tablet uses. If you already have a preference then this will narrow the competition.
Of course, this doesn't rule out trying out a new operating system, you just need to be aware that not all your current apps and products will integrate perfectly if you switch operating systems.
Multi-Tasking
The better the processor and the RAM the easier your tablet will find it to multitask. You'll need to consider how often you're doing several applications on your tablet. This will help you to decide how much RAM memory and how fast the processor should be.
Memory
In simple terms the larger the memory the more things you'll be able to store. That's a good thing! However, you shouldn't base your decision entirely on how big the memory is, it is also important to consider how much memory you need.
It can be frustrating running out of memory but some of the tablets with smaller memories actually have storage slots, allowing you to quickly change Micro SD cards and bypass the need for a large memory on the tablet.
Consider how much memory you really need before you decide on a tablet but don't forget that every app you download will use some of that memory.
Stylus
As you're looking for a tablet that offers great note-taking abilities you need to consider the stylus.
All the tablets on this list work well with a stylus. However, they don't all come with a stylus, purchasing one separately can add a significant cost to your purchase and may even make it more expensive than choosing an alternative tablet.
It's definitely worth checking first.
Camera
Interestingly the iPad 2018 has the lowest MP cameras. This may not be an issue but if you like keeping up with social media while note taking you may want to consider which tablet gives you the most responsive camera, as well as the best picture.
Screen Size
Finally, you should spare a few minutes to consider the size of the screen. The larger the screen the easier it usually is to read and process information. However, this will make it more like a laptop and more difficult to carry around with you.
Before you commit to any screen size, consider what you use it for and when you carry it around, it will help you to choose the best size for your needs.
Final Thoughts
If money is no object you'd be wise to choose between the iPad 2018 and the Samsung Galaxy Tab S4, depending on your system preference.
They are both well-built machines that will give you all the responsiveness that you need with a stylus and simultaneously complete multiple tasks.
However, if you have a more limited budget, either of the other two options should be an attractive choice and a worthwhile investment.
Just take a few moments to consider what you really need and then go for it. This is one purchase you won't regret.
Finally, don't forget that this is a look at the best tablets for note taking with a stylus. It doesn't mean they are the best products on the market or that more expensive options will work as well. These tablets are designed to work with a stylus and give a comparatively smooth performance, which is what makes them the best in their class.
If you're creative or spend much of your time on the go, then you'll find the stylus is an essential part of your day, and so should one of these tablets be.