Are you looking for a camera that produces high-quality images? Are you tired of using your Smartphone to take pictures because it's more convenient and a budget friendly option? Look no further because we're about to provide you with everything you need in our guide to quality budget cameras.

For the student, hobbyist or professional finding a camera that won't break the bank can seem like mission impossible. But don't worry as there are products on the market that will save the day. You simply need to know exactly what to look for in a quality camera.

The best budget cameras are point and shoot digital cameras. We've taken the liberty of compiling a top 10 list of the best products on the market at the moment.

What You Need To Know Before Buying a Digital Camera
Not all digital cameras are the same. Some of them are manufactured with certain components that other cameras lack. In order to find the best option for your unique needs, you'll need to know what specifications to look for before you buy a digital camera.

What are Point and Shoot Cameras?
A point and shoot camera (also known as P&S camera) is a small still camera that's designed to combine good quality images with user-friendly features. Offering some of the same advantages of DSLR cameras, they're compact, more portable than their larger cousins, and much easier to use.

With a digital point and shoot camera, you can manually set the aperture, ISO & shutter to make it easier to capture images. These cameras provide higher quality images than those offered by fixed-lens cameras.

You're also able to zoom in to take close-ups of an image you want to capture, as digital cameras offer magnified focal lengths of up to 30x optical zoom. This function gives you the ability to take wide-angle shots and enjoy a bit of telephoto reach.

Point and shoot cameras are often designed to withstand almost any conditions. Many are quite rugged and have durable exteriors. Often shockproof, weatherproof and waterproof, they're a great choice for outdoor enthusiasts.

Features of Point and Shoot Cameras
Digital point and shoot cameras have certain features that may benefit you, including good zoom functions and the ability to deliver quality images that you'll be proud to show off and share. Knowing which features a camera has is the first step in deciding exactly what you want!
What Megapixel Count Does it Have?
The megapixel count is important especially if you're going to take many close-up pictures with your zoom-in function. The higher the megapixels the less likely your images will be pixilated, although having a higher megapixel count doesn't always mean better quality images.

The larger the image sensor, the better the image quality will be especially when you're dealing with low light. But if you're more concerned about the quality of zoomed in pictures, select a camera with a small image sensor.
The Zoom Functionality
It's important to know the difference between optical zoom and digital zoom when you buy a point and shoot camera. Digital zoom has a longer zoom range but the quality of the image may be compromised.

Optical zoom adds a bit more bulk to the camera but if you have a camera with both optical zoom and digital zoom it may extend the range and provide you with clearer images.
Cameras with Viewfinders
Unfortunately not all digital point and shoot cameras have viewfinders. This feature simply aids in composing bright light so you can keep the camera focused on an image even in brightly lit areas. Most cameras feature LCD screens that help line up shots when taking pictures.
Image Stabilizers and Anti Shake
A digital camera with image stabilizer functionality is good to have as it aids in keeping the digital image still, minimizing blur so images are clearer. The two technologies responsible for this are called optical image stabilization and sensor movement.

The optical image stabilization feature adjusts the lens to compensate for movement and the senor movement feature adjusts the position of the sensor to minimize shake.

Now, let's discuss some of the best point and shoot digital cameras available right now.

Top 10 Point and Shoot Cameras Review
Canon IXUS 185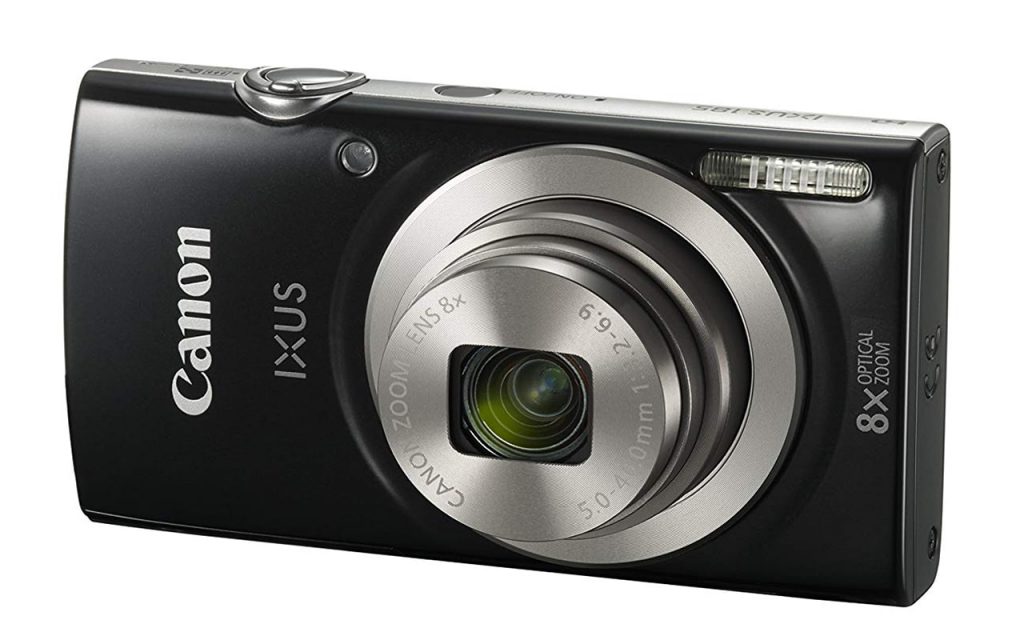 If you want simplicity and the ultimate in portability, then the Canon IXUS185 is one camera worth putting on your shortlist. With a slim, compact design, you're able to take it with you almost anywhere. Simply slip it into a pocket. This point and shoot digital camera is suited for any outdoor excursion, and it gets great reviews for delivering outstanding photos in all kinds of weather.
Features
The Canon IXUS 185 comes in basic, serviceable black, and its durable exterior makes it popular with people who want to take great photos wherever, whenever. With its 20 megapixel and 8x optical zoom with an additional 16 zoom-plus, you can take pictures and videos of the highest quality. Select the correct camera settings with the Easy-Auto button for simplicity.
Specs
Compact type
2.7" LCD screen
3fps shooting speed
Video resolution of 1280×720 (HD)
Lens dimensions of 28-224mm
20 MP camera
---
Sony Cyber-shot WX220
Put your Smartphone camera away and use the Sony Cyber-shot WX220 to capture quality images. Do you want a point and shoot camera that won't break the bank? The Sony Cyber-shot WX220 may be inexpensive but it packs a huge punch in terms of functionality and durability. This camera gets high marks from people who want a combination of budget-friendliness and good photos.

Suitable for any beginner, the Sony Cyber-shot is easy to use and comes with all the functionalities you need to take high-quality pictures even in the most difficult lighting conditions. It's slim and compact. This makes it easy to travel with.
Features
The Sony Cyber-shot WX220 comes in a slim black design with easy to use mechanisms to help you select the right camera settings quickly. There's a camera shoot button on the top right of the unit which aids you in focusing on objects before you snap a picture.

The menu button allows you to change dates, settings and quality of the image based on different conditions. You're able to zoom in on images as well as change the aperture, flash and image speed with the rotary mechanism on the side of the menu button.

Record videos with the integrated movie button and dispose of images & videos with the delete button whenever you need to create more storage space for better shots. You also get a battery, AC adaptor, micro USB cable and wrist strap. The latter is a very handy accessory if you use it during excursions such as a hiking trip where you may need your hands for more than holding the camera steady. Simply hook it over your wrist and make sure your new camera doesn't fall and break.
Specs
Compact type
1/2.3″ sensor
25-250mm lens dimension
Video resolution of 1920×1080
2.7″ LCD screen
18.2 megapixels
---
Canon PowerShot SX710 HS
Canon manufactures many of the best digital cameras so no wonder their products reflect right at the top of the list. It's incredibly versatile as it allows you to capture images and share them with all of your friends with its Wi-Fi functionality.

This camera comes with many different functions and features for you to enjoy such as story highlights, easy super-zoom assistance & the creative shot mode.
Features
The Canon PowerShot ELPH 360 HS has an all-black exterior design that's durable and compact. The camera flash digitally comes out from the camera when you want to take pictures. You're able to set the lighting and mode of the camera with it's easy to use adjustment mechanisms.

There is a menu button to change the features of images and videos such as times, dates & filters. You can toggle between the camera and video recorder easily by pressing the buttons on the interface. The integrated zoom button allows you to magnify images before you take a picture.
Specs
30x Optical Zoom
20.3 Megapixel
CMOS sensor
DIGIC 6 Image Processor
Built-in Wi-Fi
1080p Full HD video
3.0″ LCD screen
---
Panasonic LUMIX DMC-FZ70
The Panasonic Lumix DMC-FZ70 is the best point and shoot camera for the beginner traveler who wants to capture his or her experiences with a user friendly device. With it's easy to use functions and ergonomic design you can't go wrong with this camera.

To dispel annoying glare, the built-in viewfinder will help you focus on images better so you can take pictures with precise alignment. The viewfinder also aids in keeping focus on images in brightly lit areas.
Features
The Panasonic Lumix DMC-FZ70 has a durable all-black exterior, with a flash on the top left and adjustment mechanisms on the interface. The mechanisms include a zoom button, a quick recording press and record button, adjustable lighting & flash buttons.

There's also a button for the menu settings, a delete button and a one-touch Wi-Fi function. The lens zooms out when you adjust the range view settings.
Specs
Built-in eye viewfinder
60x zoom
3″ screen
30x optical zoom
FHD 1080p video resolution
400 images per charge
23 focus points
---
Nikon Coolpix A900
The Nikon Coolpix A900 is a powerful, versatile and compact camera providing you with the best quality money can buy. You're able to take pictures in any lighting conditions and people love how easy it is to use. If you're looking for simplicity, this is a fantastic choice.

With all the added functionalities such as built-in Bluetooth and Wi-Fi, it's easy to document your experiences, then share videos and images online with a quick click.
Features
The Nikon Coolpix A900 comes in silver with a durable side non-slip rubber piece for an easy grip. On the top of the camera, you get the easy to use zoom button to help you magnify pictures after you've taken them or zoom in on objects that are far away.

The interface has all the buttons you need, such as a quick one press recording button, your menu and setting adjustments. You're able to change the flash and the lighting mode as well as get rid of unwanted videos & images with the delete button.
Specs
20 megapixel camera
BSI CMOS Sensor.
Focal length of 4.3 to 151mm
35x Optical Zoom Lens
70x Dynamic Zoom
3″ LCD Screen
30 fps recording
24-840mm lens
---
Sony Cyber-shot DSC – WX350
The Sony Cyber-shot DSC WX350 features a newly improved resolution sensor paired with Sony's BIONZ X. This aids in producing better quality images especially for low-light imagery.

This point and shoot camera is compact, easy to use & it fits comfortably in your hands. You're able to upload pictures to your laptop by plugging the camera into a USB port. It has plenty of space so you can fill the memory up with photos and even a few videos.
Features
The Sony Cyber-shot WX350 comes in either white or a black exterior, which tends to please people who like having a style choice. On the front of the camera you'll find the flash and the lens. The lens zooms in and out as you adjust the settings. Most buttons are within easy reach.

On the interface, there's an LCD screen you can view your videos and images on. The screen lets you adjust the alignment before you capture a video or image. The camera has all the camera mode adjustment buttons you've come to expect includeing a menu button, delete button and quick record button.
Specs
20x optical zoom
40x Clear Image Zoom
Lock on autofocus
Wi-Fi
18.2 Megapixel
35mm focal length lens
60 fps video quality
---
Nikon Coolpix B500
Although the Nikon Coolpix B500 is a bit bulkier than all the other cameras on the list, it still provides you with easy functionality and quality videos & imagery. Travelers and hikers tend to like this durable camera for its light weight, among other useful features.

The Nikon Coolpix B500 is surprisingly inexpensive given the quality and structure of the camera itself. Overall, it's one of the best point and shoot cameras we've seen lately – and we see lots of them!
Features
Much like a DSLR camera, the Coolpix B500 gives you optimal range with its dynamic and digital zoom functions. The LCD screen is fully adjustable as it can be removed from the interface.

An adjustment dial makes it easy to toggle between the different lighting & camera modes. On the back, a display button shows pictures and videos in one click.

Change camera settings & image details with the integrated menu button. This model provides a wide range of options for such a budget buy.
Specs
16-megapixel camera
1/2.3″ BSI CMOS Sensor
NIKKOR f/3.0-6.5mm ED Lens
22.5-900mm lens dimensions
40x Optical and 80x dynamic zoom
3″ LCD screen
1080p Video resolution
Bluetooth and Wi-Fi
---
Bonna 21 mega pixels HD Digital Camera
The Bonna point and shoot digital camera is suitable for any beginner. It's extremely compact and its slim design allows you to travel with it safely tucked in a pocket or a small compartment in your bag.

Style, practicality, and rugged dependability make the Bonna digital camera a family favorite. It can be used by both adults and children as it's extremely user-friendly.
Features
The Bonna 21 digital camera comes in silver. On the front of the camera there's a lens and flash as well as a recording light. On the side of the camera, you'll find a USB port as well as an SD card port.

A user-friendly interface includes a display and some quality control features, so images come out well. Face and smile detection makes this camera a great choice for capturing images of your family and friends.
Specs
21-megapixel camera
HD 720P video resolution
2″ LCD screen
Face and smile detection
64GB SD card
8x digital zoom
---
Fujifilm FinePix XP130 Camera
Have you ever wanted to take pictures of underwater life while scuba diving or snorkeling? Now you can with the Fujifilm Finepix XP130 Camera. This camera is waterproof to a depth of 65 feet, so it's a fun point and shoot option for beginning underwater photographers. You'll probably need an extra light source to make coral and marine life colors pop (your dive light might help), but this camera will definitely get you started while helping you stick to your budget!

This is a diverse and durable camera capable of taking pictures in harsh conditions which could make for wonderful amateur photography in the snow & rain. It's so easy to use that even the most technically disadvantaged person can use this model.
Features
The Fujifilm Finepix XP130 camera comes in five different colors so you can pick one that fits your style. The front of the camera has a lens, a flash and a recording light. It has non-slip rubber grips on the sides so you can hold the camera comfortably.

This camera comes with an integrated high-quality LCD screen as well as all the mechanisms and buttons you need to change settings. You're able to change the lighting and the range of your images via the buttons.
Specs
16-megapixel camera
Waterproof for 65ft deep in water
Freezeproof to 14 Degrees
Shockproof to 5.8ft drop
5x wide-angle optical zoom
Bluetooth
---
Nikon COOLPIX W100
You can take pictures on land as well as in water with the Nikon Coolpix W100. You're able to take pictures when you're doing water sports as well as taking pictures and videos underwater.

How about extreme sports? Perhaps you want to share your experiences with the world by taking pictures and videos of your adventures. The Nikon Coolpix is a fun and easy to use camera for any beginner, and it's so nice that many experienced photographers like it, too.
Features
The Nikon Coolpix comes in two colors: electric blue or pearl white. On the interface, you have the lens that zooms in and out as well as the flash and the recording light.

On the back, there's an integrated LDC screen with buttons to help you adjust your camera settings as well as lighting and zoom range.
Specs
Waterproof to a depth of 33ft
Shockproof from a 5.9ft drop
Freezeproof for temperatures of 14°F
Built-in Wi-Fi
13.2 Megapixel camera
3x optical zoom and 6x dynamic zoom
---
Conclusion
When you purchase a point and shoot digital camera, be sure to keep your needs in mind and spend a little time thinking of all the places you'll go and the conditions you'll encounter.

If you're simply sightseeing or taking pictures of your family, then you don't really need anything with high functioning specs. On the other hand, you're an outdoor enthusiast then you'll need a camera that's shockproof, weather resistant and durable, perhaps with cool features like the ability to do basic underwater photography. Whatever your needs, one of these versatile cameras is likely to be the ideal solution.