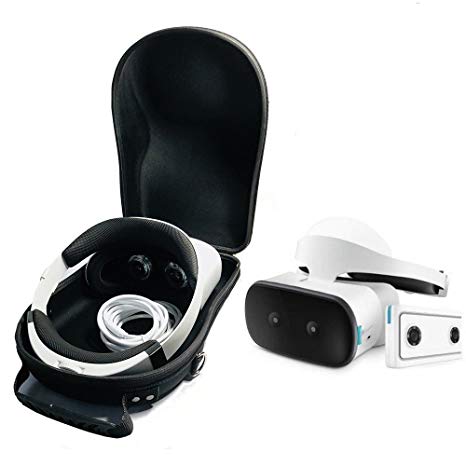 For a person looking for an entry to virtual reality, the Lenovo Mirage Solo offers excellent value for money. Not only does it host a wide range of experiences, but it is also extremely affordable for the quality it offers. The Lenovo Mirage Solo experience can be massively enhanced with the right accessories, such as the ones we've listed here.
The Mirage Camera
The Mirage Camera enables one to save HD virtual reality videos of the most important moments of your life. The Mirage Camera saves these videos in a wide angle stereoscopic view that is perfectly compatible with the VR 180 system that Google uses.
The stereoscopic detail means that videos jump into life under a virtual reality headset in a way that no 2D photo or video possibly can. Not only that, but compatibility with VR 180 means that uploading to Google photos or YouTube is absolutely effortless.
Relive those special moments with visiting family and friends as you turn on your Lenovo Mirage Solo headset. Best of all, the Mirage camera is extremely portable, being only about 4 inches long, and half that tall. It weighs in at a mere 5 ounces. The design is minimalist and belies the power and detail of its 2 thirteen megapixel cameras.
Headphones
The Lenovo Mirage Solo doesn't come equipped with an optimal pair of headphones, though there are some earbuds supplied with the set. However, if you want a beautiful three-dimensional soundscape, it's advised that you spring for a reasonable set of headphones.
Audio Technica ATH-M50x
Most people who invest in virtual reality today opt for wireless headphones, but in reality, choosing a wired option can give you much better sound quality for the same price. The Audio Technica ATH-M50x proves just this point with superb sound isolation and a beautiful 3D soundscape that will bring your virtual reality world to life.
Check out Audio Technica ATH-M50x on Amazon
Bose QuietComfort 35 II
While these are supposed to be wireless, these headphones can also be attached to your audio input via an audio jack. The sound quality of Bose headphones is nothing short of legendary, and these headphones prove to be extremely comfortable over long hours of play. Best of all, they have excellent audio cancellation properties as well.
All in all, a premium pair of headphones that helps one build the ultimate virtual reality soundscape.
Check out Bose QuietComfort35 II on Amazon
Battery Chargers
The Lenovo Mirage Solo uses a USB-C connection, which makes it incompatible with the average charger. Here are some of the chargers that will work with your headset.
Anker PowerCore Speed 20100
Anker is one of the leading brands of portable power banks. Their line of PowerCore chargers offers premium charging capabilities. The charger has compatible USB-C port to charge your Lenovo Mirage Solo.
Check out Anker PowerCore Speed 20100 on Amazon
Arglo PowerCore 20800
This charger is even cheaper than the previous one, though it will probably charge the headset at a slower pace. Nevertheless, at the price it comes at, it is an excellent budget charger for your Lenovo Mirage Solo.
Check out Arglo PowerCore 20800 on Amazon
RAVPower 26800 USB-C Charger
This charger is an excellent way to keep your Lenovo Mirage Solo running for long periods of time. With this charger at hand, you can be assured that your headset will keep running through a long airline flight, for example.
Best of all, this is the maximum capacity charging system that is actually allowed on airlines, which makes it the ideal charger for such a purpose.
Not only can the USB-C of this charger offer sufficient output for your VR headset, but it's capable of keeping your laptop going too. For the power and capacity, this charger is still relatively inexpensive.
Check out RAVPower 26800 PD on Amazon
MicroSD Cards
While the Lenovo Mirage Solo is an excellent virtual reality option, you may run short on memory since it comes with an internal data capacity of between 32 to 64 GB. Here are some cards that can extend that capacity.
Samsung EVO Plus
This is just about the most premium card that you could have for the Lenovo Mirage Solo, providing you with a considerable 256 GB in terms of storage space. This is an extremely sturdy card and is resistant to extremes of temperature, as well as being waterproof. It also provides massive data transfer capacity, which prevents lag when using the headset.
Check out Samsung EVO Plus on Amazon
Sandisk Extreme Pro
If you still want to upgrade your Lenovo Mirage Solo a little but would like to do so on a budget, then this is the card for you. While it's much cheaper than the previous card, it is just as environment proof and offers reasonable speeds as well as 128GB of storage.
Check out Sandisk Extreme Pro on Amazon
Esimen Hard Travel Case
This is a customized travelling case that has been specially made to fit the Lenovo Mirage Solo. It also has a place for the Mirage Camera. The case is extremely sturdy and can resist impact very well, and that shock-proof construction will protect your headset. It can also conveniently store your charger, as well as any necessary cables – that makes it a convenient all-in-one carrying-case for your Mirage Solo that ensures that you don't forget an important accessory or necessary cable.
With a hand strap and an additional shoulder strap as well, this bag is effortless to carry, allowing you to take your headset along on your trips without the slightest inconvenience. All in all, an excellent buy if you want to take your Lenovo Mirage Solo on journeys, or simply ensure that it stays safe from damage in between your VR sessions.
Check out Esimen Hard Travel Case on Amazon
MightySkins Protective Wrap Covers
Last, but not least, you will want to protect your Lenovo Mirage Solo against scratches, bumps and other hazards. Skin specialists at MightySkins have come up with a plethora of cool-looking protective skins for Lenovo's standalone VR headset.
There are all kinds of designs on offer and, most importantly, they are very affordable. For a price of a few cups of cofee, you will ensure your Lenovo Mirage Solo remains in perfect conditions for years to come.