What You Need to Know Before Buying a Magnetic Phone Charger
Looking for a magnetic phone charger? With constant innovation, not only do we see incredibly advanced smartphones and tablets, but their accessories too are advancing at a rapid pace. It is amazing to see how many charging options are available these days!

There's no question that magnetic chargers have become one of the simplest, fastest, and convenient ways of charging your smartphone. Moreover, they are high performance products that can be used for both iPhones and Android phones. If you are frustrated with charging your phone via traditional plug-in cables or if you need a solution for powering up while you're on the go, it's probably time to give magnetic charging a try.

Consider The Type of Magnetic Attachment for your Charger
Magnetic chargers fall into three basic categories and work with different devices. Here's a quick explanation.

Micro USB chargers feature attachments that are similar to traditional USB connectors. Be sure that you chose one that's compatible with your device!

Lightning connectors are specifically designed for Apple products such as iPhones, iPod and MacBooks. They aren't compatible for use with Android phones.

Type-C connectors are designed for quick and easy plug and play, plus, you will not have to worry about checking for the correct side for attaching the device since it charges from either direction.

The type of attachment that's best for magnetic charging primarily depends on your preferences and your device.
The Length and Strength of the Magnetic Charging Cord
Just like the phone charger you have with you right now, magnetic phone chargers are equipped with cords. This means that cord length and durability should be considerations when choosing the best magnetic phone charger for your unique situation. Longer cords are far more versatile than shorter ones. Thin, cheap cords are prone to break, so it pays to spend a little more on a durable one.
LED Indicators
Many magnetic chargers are equipped with LED lights to indicate how far the charging process has come. These aren't terribly important, but they're convenient as you can see whether you're phone is ready at a glance.
The Best Magnetic Phone Chargers for Androids
Wsken Mini2 for Android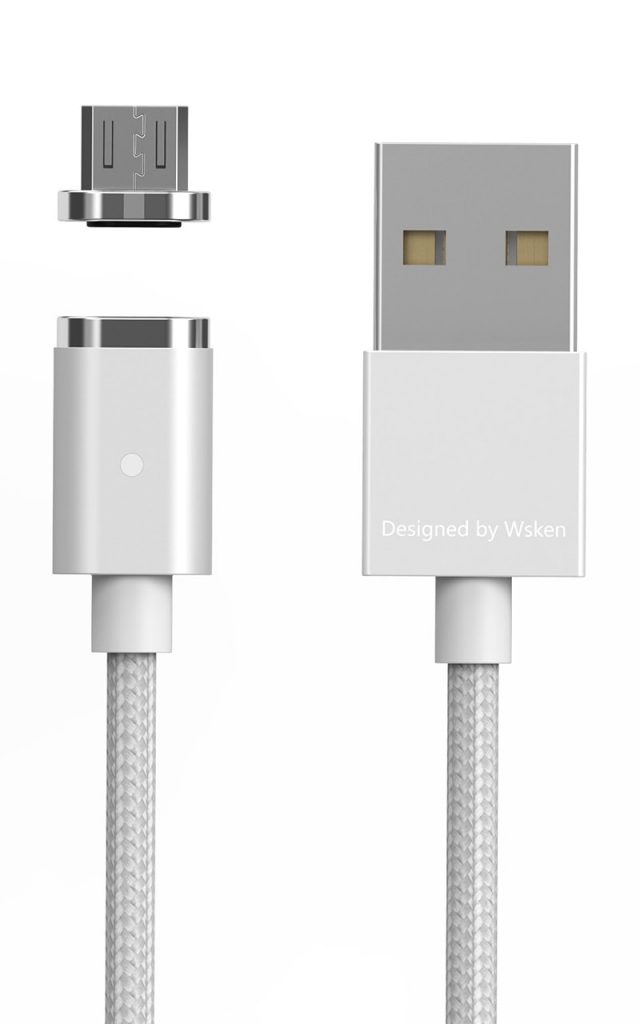 One of the best things about the Wsken magnetic charger is its versatility. You can use the same charger for a variety of devices. Durable materials provide protection from accidents, and the charger stays in the port when it's jostled. The magnet has a pretty strong grip, and common cable stress points are reinforced for a longer lifespan.
This magnetic charger supports USB 2.0 for speedier charging. In addition, there's very little heat buildup and the design is both scratch-resistant and stretch-free. Braided with nylon, the Wsken Mini2 has a considerably longer service life than chargers with plain plastic cords.
This charger is compatible with all types of Android smartphones such as Samsung, Nokia, Sony, HTC and Huawei as well as several micro USB devices.

---
SOJITEK Genuine 5ft. Magnetic Cable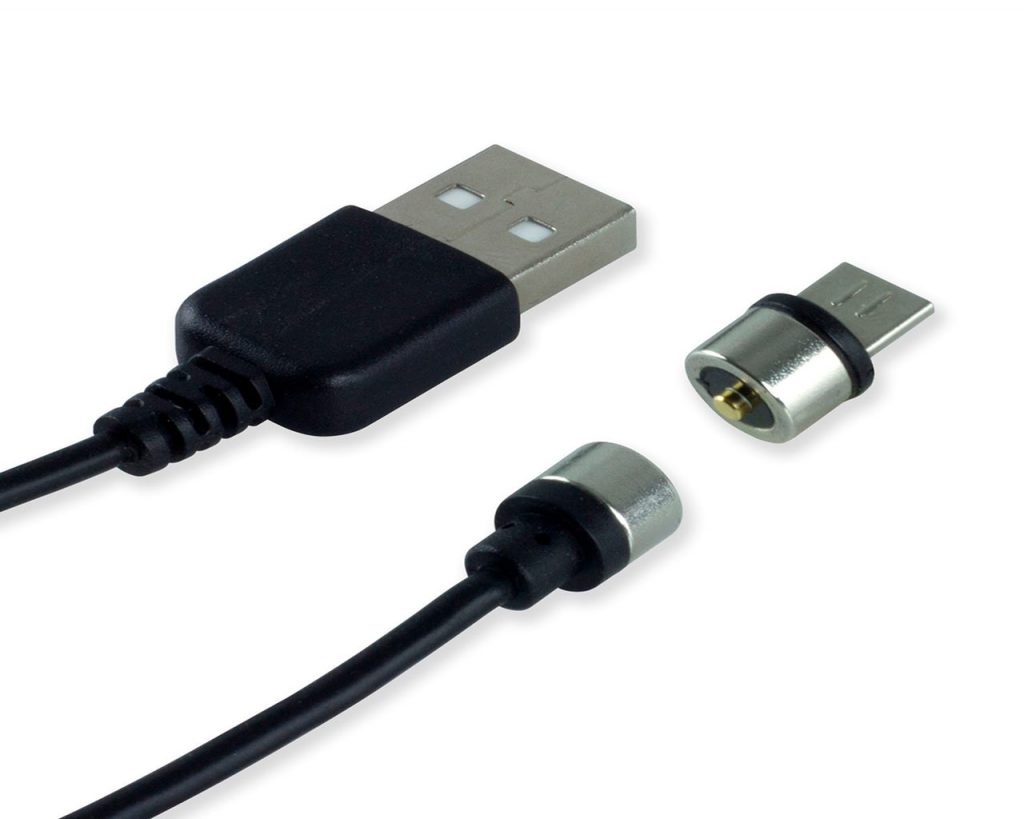 The SOJITEK magnetic cable is ideal for Android smartphones. And if you're worried that your phone will warn you that the USB port isn't fully closed, it won't happen with this fast, 5-feet cable. It's a perfect fit, yet it's not difficult to disconnect when the time comes. Another thing that has made the product popular is its round magnet. It is simple to use and will fit almost all Android devices. With a strong magnet, accidental tugs and pulls will not detach the cable easily.
The magnetic charging cable comes with a Type-C connector, and you can also order   Lightning cable tips separately for your iPhone. The magnet is strong enough to hold a 1 pound table with the cable and it will not disconnect.

---
NetDot 3 Android Compatible Magnetic Charger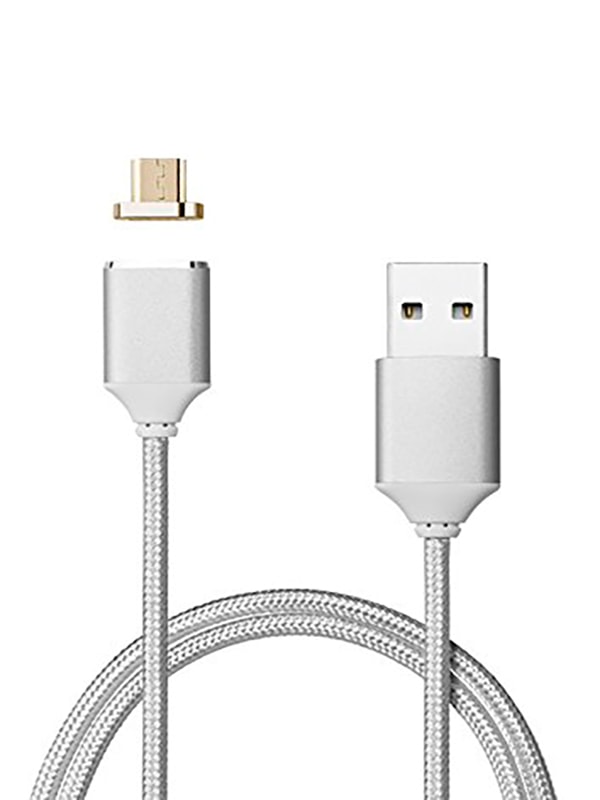 If you are looking for a one-stop-solution to charging multiple Android devices, the NetDot3 cable might be ideal. If you need to charge a VR headset such as an Oculus Go, you'll probably like this charger as it's brilliantly compatible with third-party devices. It offers USB 2.0 charging for plenty of speed.
LED indicators let you see when your phone is fully charged, so you don't have to check continuously. Both sides of the cable support charging but you can only use one side for data sync. The cable is nylon braided and durable so accidental tugs won't cause damage or accidental disconnection.
This magnetic charger is compatible with all Android devices except for a few smartphones including the Samsung S7 and S7 Edge. In addition, NetDot 3 cables are not compatible with earlier NetDot magnetic chargers or Lightning cables.

---
Smart&Cool Gen3 Magnetic Cables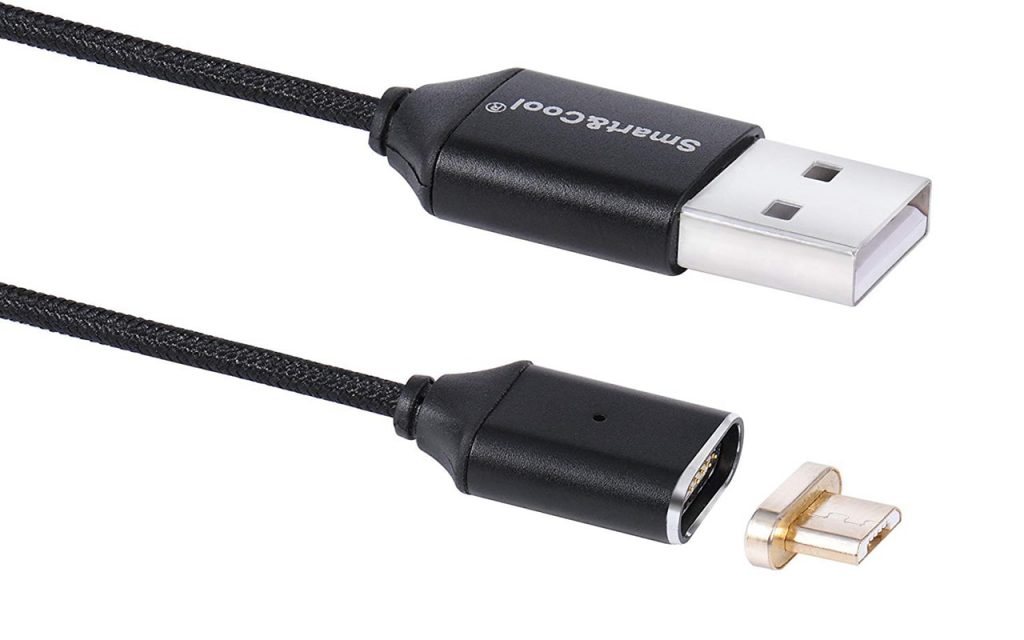 If you are tired of buying charging cables for Android tablets or having your charging port repaired because of tugging and accidental pulling, consider the Smart&Cool magnetic chargers (Gen3). The cables instantly connect so you can forget about damaging the port. Although the magnetic connector isn't as strong as some others, it will still provide you with a reliable and secure connection.
The cables are nylon braided for durability and strength, and are ideal for Android tablets. These magnetic chargers have dual functionalities; you can transfer data with high-speed connections and charge your phone. The snap-on action is instant and works with one hand for convenience. Be sure to double-check compatibility since this charger isn't suitable for all devices.
---
UGI Type- C Magnetic Cable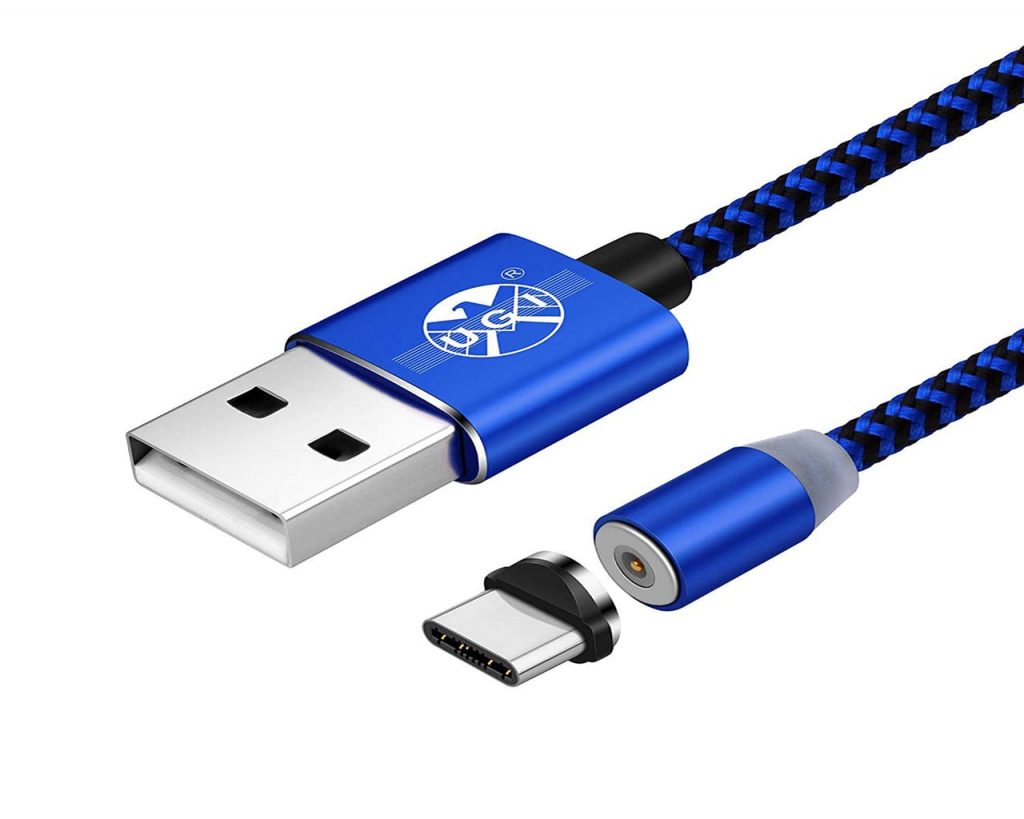 In terms of versatility and functionality, the UGI Type-C cable is perhaps the best option for Android users. With a micro USB charger, lightening cable support and Type-C support port, this is a one-stop device for charging all types of Android phones and tablets along with Apple products.
The charge speed is fantastic, and you can easily transfer video data and pictures. Additionally, the magnetic charger tip resists dust, so it stays clean. The cable snaps snugly into place in just one try. All cables are nylon braided for durability. An LED indicator tells you when the phone is completely charged.
This magnetic cable is compatible with Samsung S6 and S6 Plus along with HTC, Nokia, Sony, Nexus and Motorola smartphones.
---
Best Magnetic Charging for Your Car
BESTHING Magnetic Wireless Charger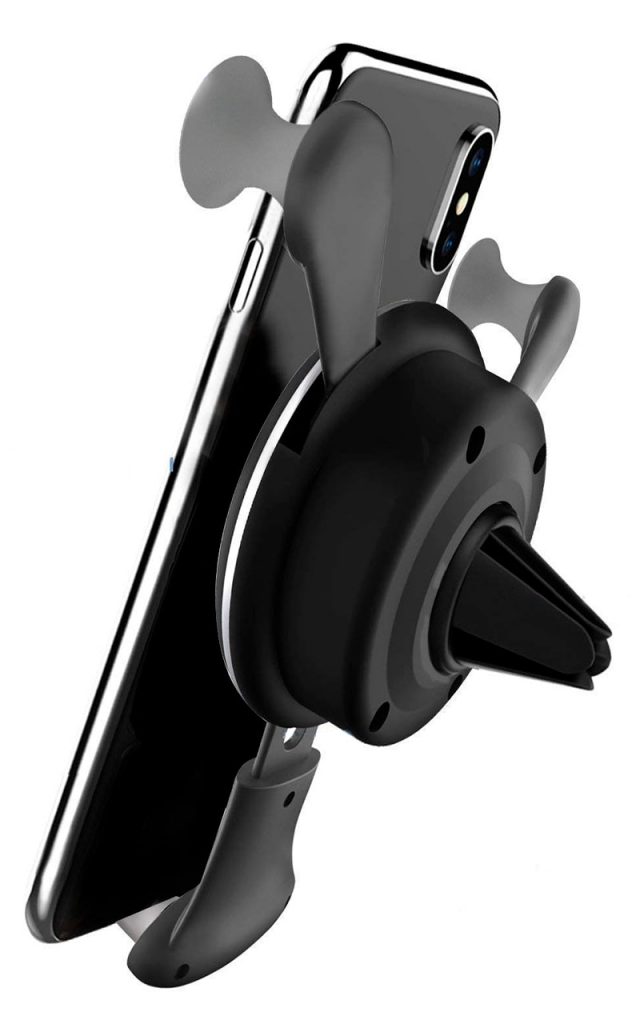 The BESTHING Magnetic Wireless Charger may not be the fastest charger around, but it is pretty handy when it comes to charging accessories for a car. The holder fits nicely in the air vents and will securely hold your phone in place. With 10-watt charging, it's compatible with  a plethora of Android and Apple devices such as the Galaxy S8, S7, S6, iPhone XS, iPhone XS Max, iPhone 8 and iPhone 8 Plus.

The air vent holder has a linkage and gravity design, and is compatible with most cars. Once your phone is in the holder, the side automatically locks for a secure hold so even on bumpy drives, you won't worry about your phone falling. A one-step solution, the product is designed for safe smartphone usage while driving.  

This magnetic charger will power a variety of 4-inch to 6-inch devices. Thanks to the adjustable bracket, you'll enjoy a secure grip every time.

---
Best Magnetic Phone Chargers for iPhones
MAGNITTO USB Type-C Cable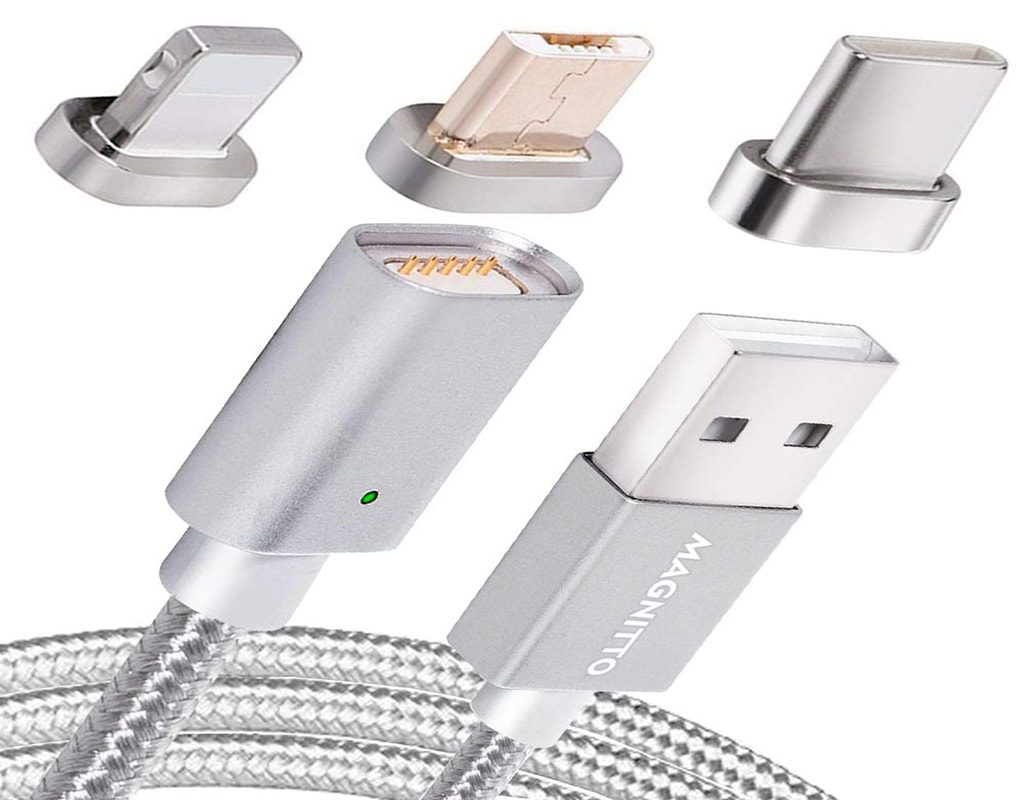 The MAGNITTO charger pairs quality charging with cable durability. The cables are made with heavy braids, tinned copper conductors, and aluminum Mylar that provides additional flexibility as well as strength. It just takes a single snap of the cable to connect with the charging port and you are all set.  
The charge speed is pretty impressive as it supports 2.4A current. But perhaps the best thing about the device apart from its flexibility and durability is its versatility. The cable supports micro-USB as well as Lightning port – you can get the Lightning connector separately and charge both devices conveniently. The MAGNITTO USB Type-C charging cable is a one-stop product for all your devices.

---
Magnetic Charger for Apple Phones by Magnetic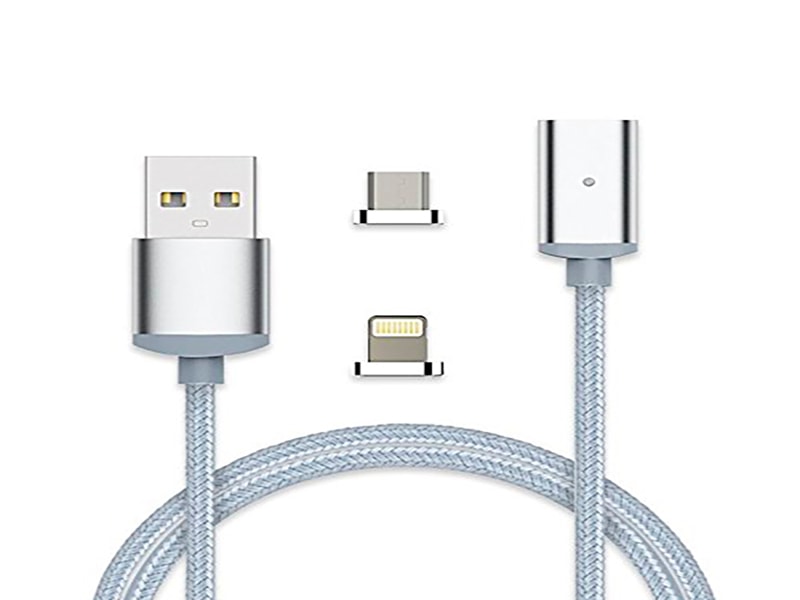 Here's another great option for iPhone users. The Magnetic charger is designed for convenience and compatibility – it even works with most Android phones. The cables have nylon braids for dust protection and durability. The cables also serve a dual purpose: You can use one end to charge your phone and the second cable to transfer video and image data effortlessly. An LED indicator adds even more convenience. The light turns blue during charging, and is green once you have a full battery.

---
Cellinnovation Magnetic Lighting Charger (3-in-1)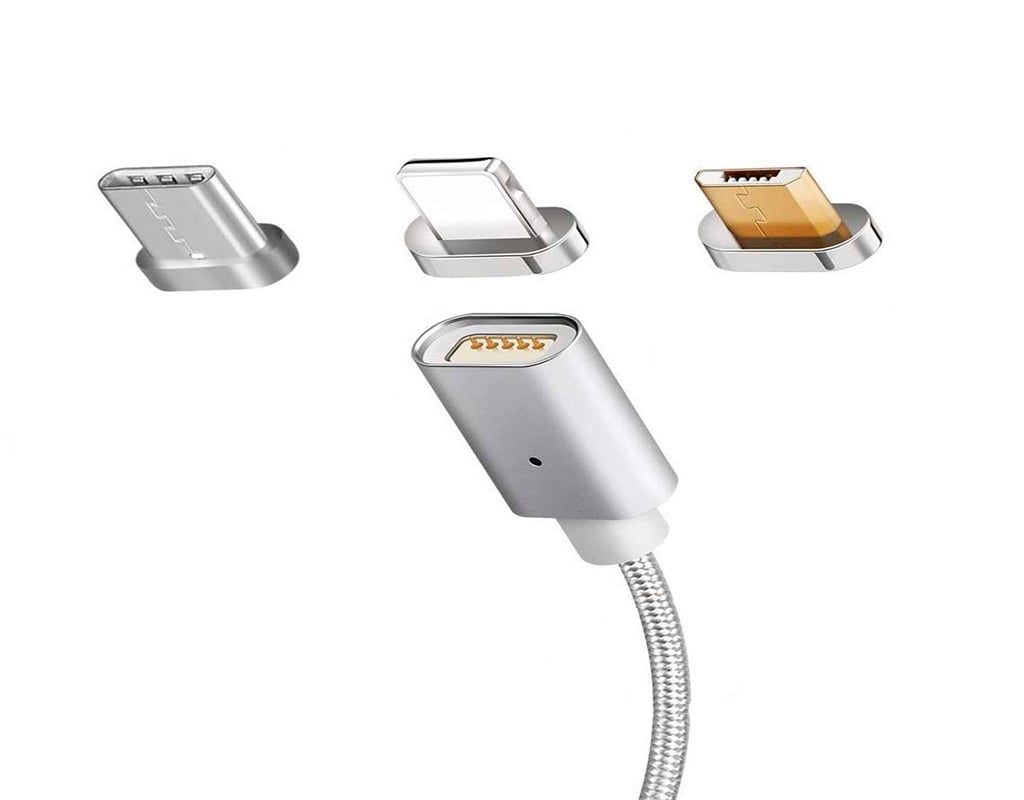 Another powerful magnetic charger, the Cellinnovation Type-C and Micro USB charger is compatible with iPhones. This unit features a Lightening Interface port to charge all types of Apple products including iPads and Macs. It is designed with highly durable materials such as nylon braid and metal to keep the cables dust-free and shock-resistant. No matter how hard you pull the cable, the port and the charger will not be damaged.
The nylon braided cable is tangle-free and the connector is gold-plated to ensure long-term performance. The magnetic charger supports 2.4A 5-volt charging.  
The Cellinnovation 3-in-1 charger is designed for a combination of convenience and versatility. Besides Apple products, this device works brilliantly for Samsung Galaxy S8 Plus, iPhone X and XS Max, Google Nexus and more.
---
The Final Verdict
Many of the best magnetic phone chargers available today are quite similar in terms of functionality, so pick one that works well with your device, offers fast charging, and meets your budget. If you want a single device to charge multiple devices, the MAGNITTO Type-C USB charger is ideal. With just a little comparison shopping it's easy to find the best magnetic phone charger for your needs.