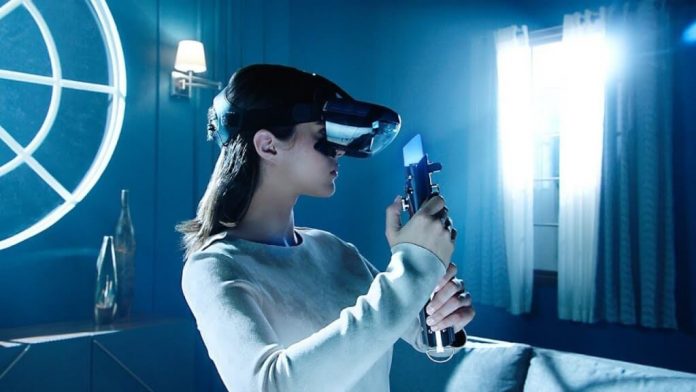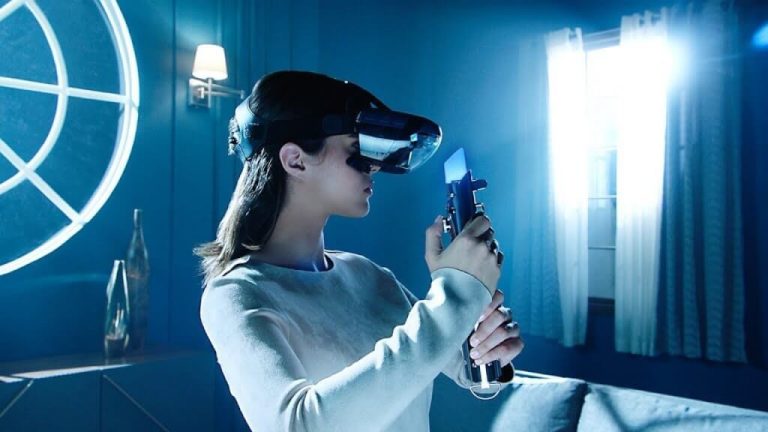 The Lenovo mixed reality headset is a simple and utilitarian design that, while not particularly decorative, is still very functional. The Lenovo headset may look simplistic next to the more sophisticated-looking designs offered by ASUS or Dell, but a mixed reality headset is a visual device, of course, and doesn't have to double as a fashion accessory. About $400 will get you a complete mixed reality bundle that includes not only the Lenovo Explorer headset, but a pair of motion controllers as well, which is a reasonable deal as far as virtual reality and mixed reality go.
Technical Specifications For the Lenovo Explorer
As far as technical specifications go, you'll have a display that gives you a resolution of 1440 by 1440 for the LCD screen over each eye. That's a combined resolution that's more than adequate for mixed reality. The screens have a refresh rate of 90 Hertz, which again is sufficient to prevent motion sickness. The LCD screens combined will give you a 110 degree field of view.
The optics are Fresnel lenses, and there are several types of sensors included in the headset, including the motion tracking system, gyroscope, accelerometer, magnetometer, as well as proximity sensors and inside-out sensors. The headset is connected using the usual combination of HDMI and USB, with a headset jack to handle audio. The weight of the headset is very reasonable at around 380 grams, and you have about four meters of cable which gives you plenty of moving space.
Shades of Playstation VR
The Lenovo Explorer has a smooth, more or less seamless plastic casing in grey-black two-tone, which looks quite nice. There is a stripe in the centre that contains the cameras. The design itself is much closer to PlayStation VR than it is to the Vive or the Rift, with the headset actually supporting itself at your forehead, with an angle strap going up the head. In other words, the headset is worn rather like a headband, and feels a lot less restrictive than the heavy mask designs put forward in VR, especially by the Vive or the Rift. The lack of straps over the head or across the face really does significantly reduce any restrictive feelings associated with wearing the headset.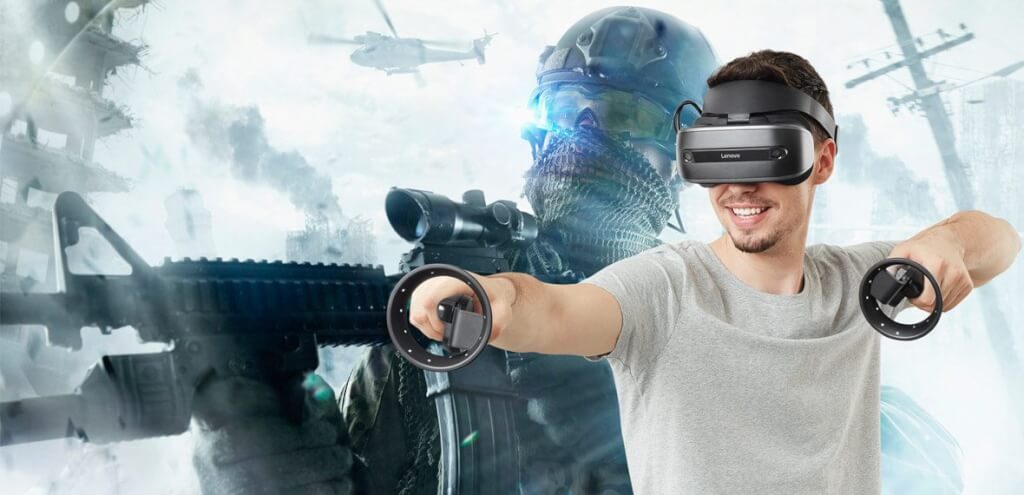 Lenovo Explorer- Intuitive and Convenient
The Lenovo is even better than the headset associated with PlayStation VR, as it doesn't use physical moving parts to focus the headset. Instead, in an interesting display of innovation, the focusing and calibrating is done via software. The headset is also very convenient to put on, and doing so simply involves you slipping it over your head and turning a little knob at the back to hold the headset in place.
The foam padding of the headset is quite comfortable, and adds to that feeling of not having any restrictive mask on your face. The design is very ergonomic. However, it is also a little thin, and we don't know whether it will last very long. It effectively blocks out the light, and sufficiently cushions the masque against the face, so the only issue here really is longevity. The foam padding is also loose against the nose, which again can affect longevity in future. Despite these reservations, the headset is truly ergonomically designed and reasonably comfortable when you wear it.
Check the best Lenovo Explorer deals
Light in Weight
One of the reasons the Lenovo Explorer feels so comfortable is not only that it has an ergonomic design, but also because it is so light, and therefore doesn't feel like you have a weight on your head or face. The padding has been designed to go along with this and to soften the touch of the mask at whatever point it comes contact with your head or face.
An Easy 'Return to Reality'
Perhaps the best part about this mixed reality headset is that the display can be flipped out, whenever you wish to return to "real" reality. This is marked contrast to headsets like the Rift or Vive which use a clumsy camera or display to give you a distorted view of reality. With the Lenovo Explorer's mixed reality display, you could immerse yourself in mixed reality and then simply move the mask up and out of the way whenever you wish to return to reality.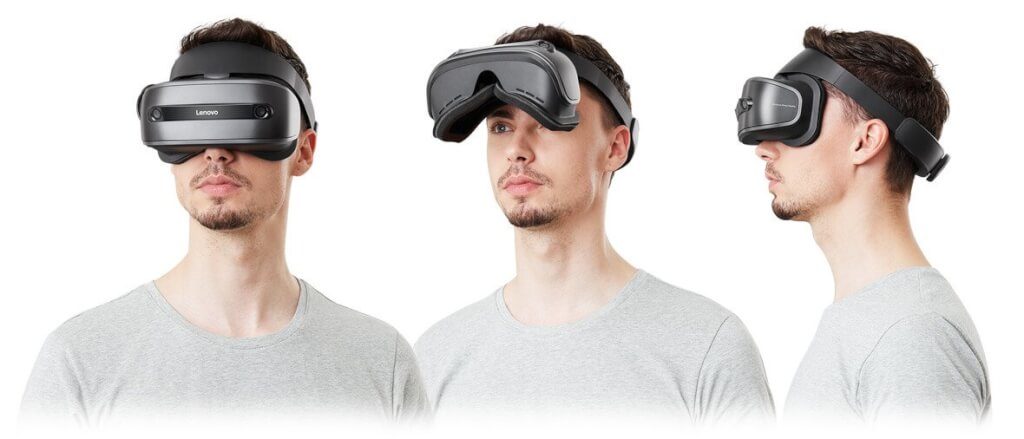 This may not seem like much, but it is astonishingly useful and convenient in practice. The cable that comes along with the headset is of reasonable length and can certainly allow you to move around the room easily. However, if you need to lengthen this cable, you can learn how to do it over here.
The motion controllers
The motion controllers that come with the Explorer bundle are necessary for the proper mixed reality experience. They're based around the reference design that Microsoft provided, and that looked a little odd, which resulted in Lenovo Explorer motion controllers also looking a trifle strange. Nevertheless, as I've said at the beginning of this article, it's not looks we're looking for over here, but function, and when you hold the Lenovo controllers in your hands, you will realize that their design is really quite ergonomic.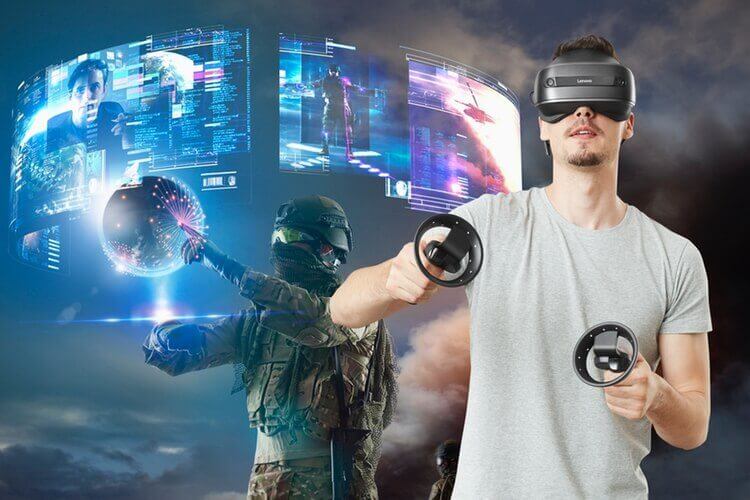 The wands have light sources for motion tracking, and a Windows key and a button for the menu, as well as an analogue stick and various other buttons. The number of buttons provided allows you to access just about any game or mixed reality function. Most of the buttons are intuitively placed and easy to access, but the Windows button could take some practice getting used to. You'll find it difficult to access at first, until your fingers learn to find it through sheer habit.
The same thing applies to the menu key
It's generally because these keys are so important in mixed reality, and you will be accessing them all the time, that you might find them a little clumsy at first. Once your hands become used to locating them, however, you'll be doing this without a conscious thought.
A Final Assessment of the Controllers
The controllers themselves are wireless, and use a Bluetooth connection to integrate with your system. We don't know how long the batteries would last in these controllers, but if it's more or less on par with the rest of the industry, you should see a very minimum of a month of life for each set of batteries that you put in.
One specific issue, though, is that the motion controllers are made of hard plastic. It would have been much nicer if they had some gripping areas that were made of a material that didn't really raise as much of a sweat as smooth plastic. If they're in your hands for long periods of time, it's likely that they'll get all sweaty and perhaps not be very pleasant to hold.
Check the best Lenovo Explorer deals
---
So what does using the Lenovo Explorer feel like in practice?
One of the first issues is the whole 110-degree-view thing. While we do understand that mixed reality technologies are still in the process of development, and prices have to be kept down, just looking into a 110 degree field of view makes you feel like you're looking at the world from out of a circle. While it's true that a 110 degree field of view is the industry standard at the moment, that should change drastically if the Pimax becomes mainstream. However, until that happens, the 110 degree field of view is certainly equivalent to other headsets on the market, such as the PlayStation VR. Its refresh rate of 90 Hertz is particularly comfortable, and prevents the motion sickness that can often be associated with VR technologies.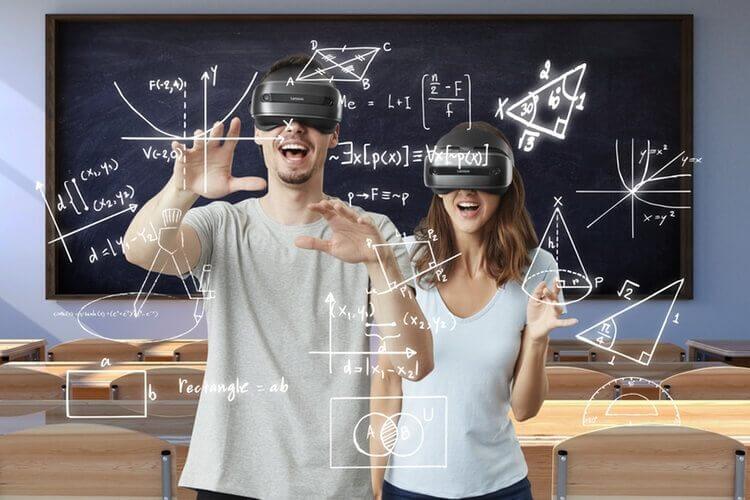 What mixed reality experience does the headset deliver?
Using the headset in mixed reality allows you to place apps or even pictures around the walls of your home. The apps can also float in midair at different locations that you like. There's an incredible sense of space and flexibility. However, do bear in mind that reading fine text placed at a considerable distance from you might be a problem. However, that's something most people can't do in reality either, so it's not much of an issue.
Accessing VR with the headset
If you access VR apps, the system seamlessly switches into an immersive and complete VR experience. This is applied whether you're playing a game or using an immersive VR app, or simply watching a virtual reality movie.
Do bear in mind that mixed reality, like virtual reality, will require a powerful personal computer, and an excellent graphics card. But if you do have such a PC, Lenovo Explorer offers a flawless mixed reality experience.
---
Pros and Cons of the Lenovo mixed reality headset
Pros
The headset is well built and looks quite sturdy.
The display is more than adequate and easy on the eyes.
The headset is very comfortable to wear, and light in weight.
The headset can easily be flipped out of the way when you need to return to reality.
The price for the headset and controllers is reasonable.
Cons
The foam in places is rather thin, and may wear out with time.
The motion controllers don't have a reasonable gripping area.
---
Should you buy the Lenovo mixed reality headset?
Certainly. It is efficient, not unnecessarily flashy, is very comfortable to wear and is perhaps one of the best headsets around today if you're seriously interested in mixed reality.