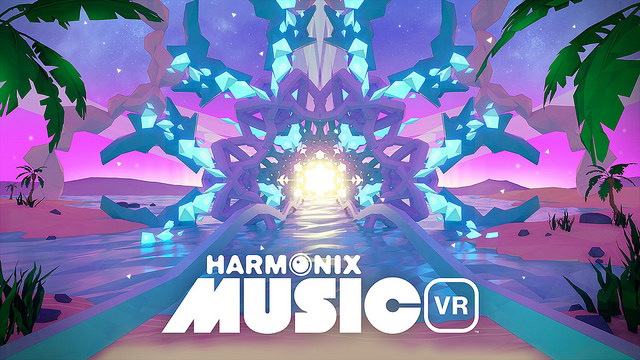 The internet is inundated with new virtual reality apps every day. Music-driven virtual reality applications are a game changer. But how do you find the best VR music visualizer? Well, we have gone through and created a curated list of the best gear VR music visualizer for best VR music experience. In this post, we will be solely focusing on VR experiences where music is at the forefront.
Intone is an interesting VR music visualizer that is completely unique from other music visualizers. If you ask how? Instead of using existing music to visualize the content, this audio visualizer uses your own voice! You start off floating in deep space with a huddle of blocks in front you. You have to select the blocks through the gaze-based network of lines (reticle). The blocks will move and change color depending on the noises you make. Intone definitely looks like a remarkable experiment in interactive music visualizers.
Harmonix created a colorful but brief preview of their upcoming audio visualizer. Those with PSVR, you will be able to have a delightful music visualization of your favorite music. You can unlock the transcendent potential of your music with this VR music visualizer. From the nice relaxing alien beach to a wacky dance party, and even 3D reactive art, Harmonix Music visualizer VR is the next evolution of your music library. Set off visualizations and move all the way through the alien beach, or just sit back and see how your beloved song renovates the scene. On the other hand, you can discover your artistic side by creating reactive 3D drawings. Experience how each brush and objects react differently to music. And once you have created your 3D art, you can screenshot it and share it with the world. You can try different songs for making different reactive 3D arts.
GrooVR is an audio visualizer app for Gear VR that allows users to pair songs of their choice with abstract virtual environments that rhythm in time to the beat. This project is somewhat similar to Harmonix Music VR that is fully immersed in music. The application is reasonably a well-designed take on the concept. You are not required to pull music out of your phone's internal storage, instead, you can log into Soundcloud and Spotify. This is a welcome step towards integrating the Gear VR headset with the rest of the computing landscape. This VR music visualizer offers a few downloadable visual themes including a glowing Buddha and cyberspace-y wireframe landscape.
Audiowave VR Music Visualizer allows the users to select any song from their own library of music and jump into an endless and adaptive world that changes and reacts along with the beat. Immerse yourself completely as you explore endless shapes that are built from your songs. However, you will require a Google Cardboard device to make it work properly. Some of its main specifications include an audio analyzer for the environment to react with music, an infinite world where users can move in a single direction forever, SFX and music transitions, generation of 360° music videos, use library integration, and more.
Fantasynth, typified as an audio-reactive experience, sees you glide through a world that comes alive with jets of flames, bright neon colors, and geometric shapes. Recommended: Opt for the trance track 'Chez Nous' by N'to. It is worth listening given that you are using a great pair of headphones. You will especially love the reflections on the ground, giving your VR world a futuristic, metallic look. However, you might want to sit down while experiencing, as the movements and sudden changes in the patterns can make you feel a little dizzy. Oculus Rift and HTC Vive are the two recommended VR headsets for experiencing this VR music visualizer.
'Rez' is everybody's all-time favorites and one of the PlayStation classics. Horizons VR is directly influenced by it. The scrolling music experience uses the Google Daydream controller to guide you around an often surreal and futuristic world. You can interact with elements and complete goals to change the music playing in real-time. Many of the users appreciated the stage that used Bonobo's Outliers as the theme.
Raybeem is a virtual reality audio visualizer best suitable for those who love listening to Drum and Bass Station in VR. One thing that Raybeem's themes have in common is that the themes respond to audios exceptionally well and provide a grand experience for listening to music. 'Blue' is the initial theme of this music VR visualizer that is a particle system. Moreover, you will also love the highway theme as it offers a never-ending city experience. There are many more themes like StarStream Theme, FireDancer Theme, Lightshow Theme, which will make your audio VR experience even more immerse.
Conclusion
The use of music and audio in virtual reality has been seeing many interesting innovations. There is a focus on music videos, visualizers, and games. Each visual use music and audios to better engage the audience. We have always loved music and the entry of Virtual Reality will only make it more immersive makes music come to us in a special way.