Choosing the right laptop is never an easy job. But it is particularly challenging if you're an engineering student. Simply having a laptop is no longer good enough; you need the best laptop for engineering students within your budget.
That's what this guide is here to help you with. Let's dive straight in!
Considerations Before Purchasing the Best Laptop for Engineering Students
There are several things to consider before you purchase the best laptop for engineering students. Looks and price might be important to you, but there are many other factors that should influence your choice.
Your Budget
Of course, you need to consider the amount of funds you have available. Students don't generally have bottomless pockets! You need to decide how much you can realistically afford before you go shopping, but don't worry: there is a good option for all budgets.
Technical Specifications
The bare minimum spec an engineering laptop needs is:
You'll need at least 6-8GB of RAM to ensure your laptop can handle all the tasks you ask of it. The more RAM you have the better your computer is at handling requests.
The minimum requirement is 500GB, more is better and you should definitely consider one that has a Solid State Drive (SSD) drive. This is much less likely to break than the older HDD drive; because it has no moving parts.
You should get at least 1600 x 900 pixels; this is important to ensure accuracy in your drawings and images. However, the actual size of the laptop is not so important, a 15" will do just as well as a 17" or bigger.
The best option is the very latest CPU on the market. But, if this is not an option you should get at least the i5 or equivalent. The CPU allows you to open multiple programs quickly and run them at the same time.
Dedicated Video/Graphics card
This is actually more important than increasing the RAM. You'll be processing a lot of visual images, so your graphics card needs to be at least 2GB DDR3. As always, higher is better.
These really go without saying. Make sure you have the latest spec to ensure good connectivity and security.
MAC is a good option, but you'll find you're constantly looking for parallels to allow you to run programs, the majority of which are Windows based. For this reason, you may want to choose a Windows-based laptop.
Most engineering programs are very demanding so double-check to make sure that the laptops that make it onto your shortlist have all the minimum features above.
Reputation
It is also important to take a minute to consider the reputation of the manufacturer and the reviews on specific models. Social media can be your best friend in this instance. You'll find hundreds of honest opinions. As with all consumer goods, there are manufacturing defects that sometimes slip through the cracks. Because of this, they won't all be positive but as long as most of them are you're on the right track.
You should also consider how well-known the manufacturer is, what their warranties cover and how long they last. It's a good idea to look into the level of customer service the manufacturer or seller offers too – if you need help, you don't want to be stuck with a hassle.
Don't forget that the same laptop can be sold for different prices, so consider shopping around before you buy. Amazon is usually a good starting point and you can usually get free shipping, which is likely to cut your final cost even more. For the sake of user-friendliness, all of the following can be found on the Amazon website.
The Best Laptop for Engineering Students
While it may be possible for an individual to define one laptop as the ultimate laptop for engineering students, in the real world there are several excellent options; depending on your budget and your specific needs. That's why this list doesn't just show the best laptop for engineering studies; it shows an array of the best.
Dell Inspiron G3779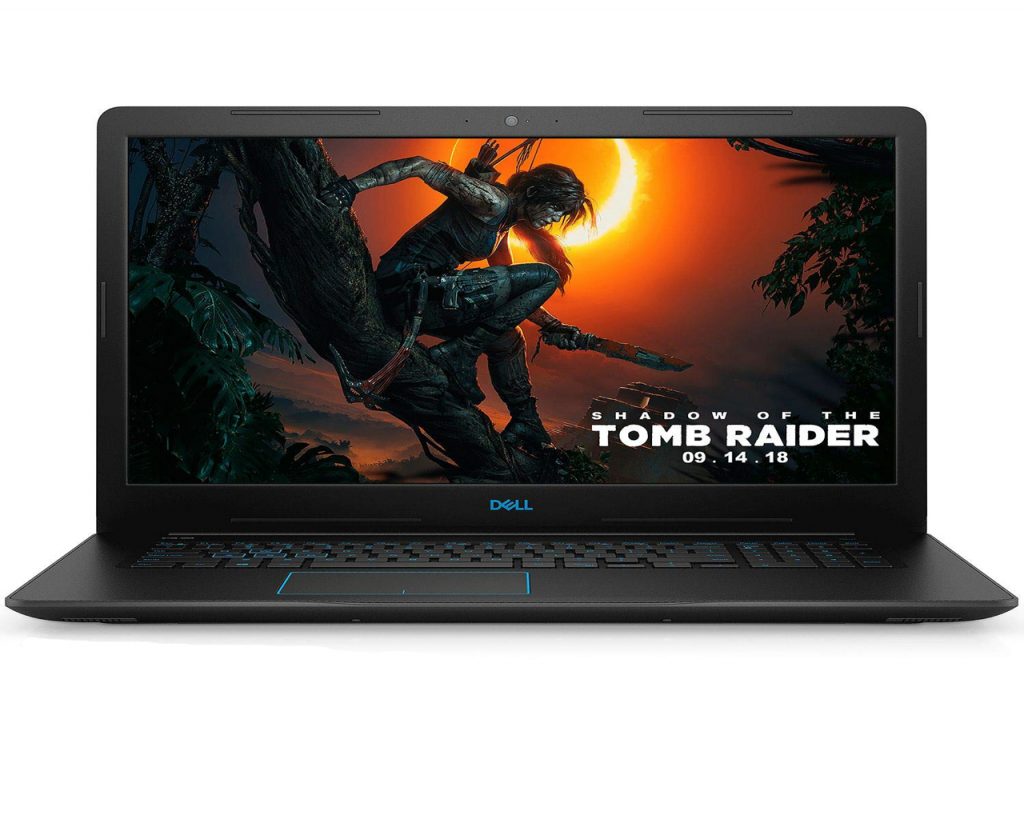 This Dell Inspirion is actually designed as a gaming machine. However, the spec and the reasonable price make it a fantastic option for any engineering student.
Basic Specs
17.3" screen; 1920×1080 IPS anti-glare
1TB HDD + 128GB SSD
16GB RAM
i7-8750H 2.2GHz CPU – 6 core
Dedicated 6GB NVIDIA GeForce graphics card
Windows 10
The backlit keyboard on this laptop is more than just a cool feature, it will actually help you when taking notes and completing drawings in low light. Consider how often you do this and you'll quickly see why this is a benefit.
It is also worth noting that you can upgrade the RAM from 16GB to 32GB; obviously, this will increase the cost slightly.
In the real world, you'll find that this laptop is a little on the heavy side at just over 7 pounds; it's a good idea to get a bag for it. You should also be aware that the computer can get hot on the left side; if you rest your hands there, they will get sweaty. It doesn't appear to affect the operation of the laptop though.
There have also been several users complaining that the audio quality and volume is not as good as it could be, although this is more likely to disturb the gamer in you and not the engineer.
The general consensus when using the Dell Inspiron G3779 is that it is exceptionally fast and smooth. You'll have no problems accessing multiple engineering programs and getting your assessments finished on time.
A final point to note is that the battery will last approximately 4 hours if you're surfing the internet and running an app such as AutoCAD.
---
HP Envy 17t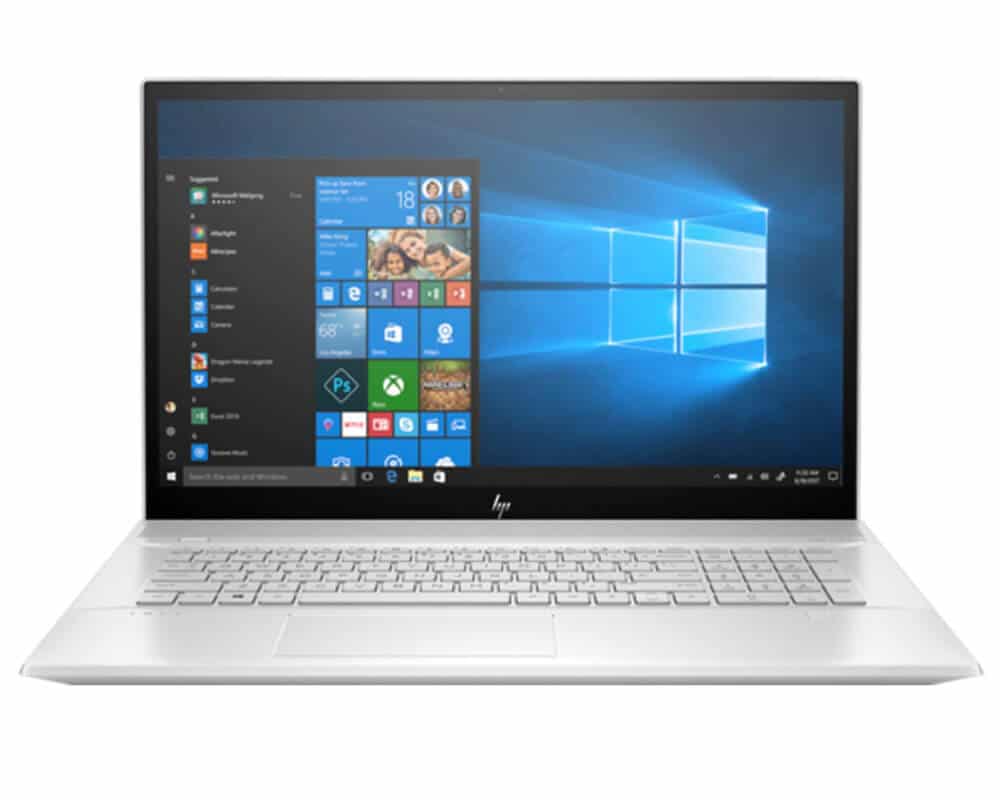 This HP Envy matches the Dell for size and power, so it's the perfect option for any engineering student who doesn't like Dell!
Basic spec:
17.3" touchscreen; 1920×1080
1TB SSD
16GB RAM; upgradeable to 32GB
i7-8550U CPU; quad-core
NVIDIA 940MX 4GB graphics card
Windows 10
The first thing you'll note about the HP Envy 17t is that it looks good. At just under an inch high it can rival the Mac AirBook for looks! If you're looking for it to do more than just your engineering projects you'll be pleased to note it has a wide vision HD webcam with dual digital microphone and fantastic Bang & Olufsen speakers.
It's a little lighter than the Dell, at 6.73lbs but you'll still want to have a bag, both to take the weight and ensure it doesn't get damaged. Just like the Dell Inspiron G3779, it has a backlit keyboard.
What is particularly nice to hear is that many customers have commented on how good the touchscreen is; it responds instantly and smoothly every time. In addition, apps run smoothly and fast; even those that are memory heavy such as AutoCAD or Photoshop.
One problem that has been noted by users is that the built-in speakers aren't very loud. Although they are excellent quality, you might want to use headphones or exterior speakers when you're using this computer for entertainment. The only other issue that seems to have been raised is the time it takes to do updates and defrags; considering the speed at which it can handle program demands, the updates are surprisingly slow.
---
Best Budget Engineering Laptop Option
If your budget won't stretch as far as the Dell and HP above then the following two should appeal to you. They still offer great potential to any engineering student; without emptying your bank account.
Acer Aspire E15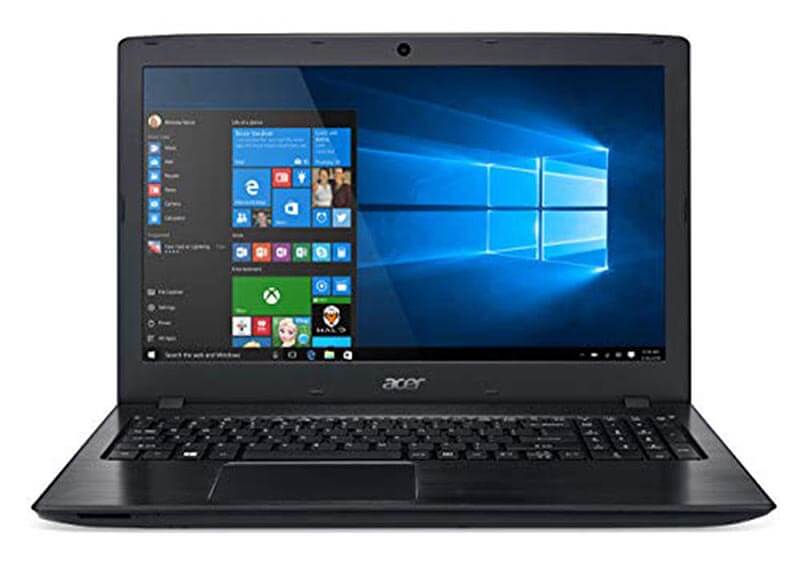 There is little doubt that the Acer Aspire E15 is currently the best laptop for engineering students on a budget. Despite the low the cost all the most important functions are present, and it's an attractive package as well.
Basic specs:
15.6" screen; 1080P
256GB SSD
8GB RAM
Intel i7-855OU CPU
Geforce MX150 2GB Graphics card
Windows 10
Although it's a fairly bland looking black laptop, the Acer should give you everything you need as an engineering student while offering a lower price of the first two offerings on this list.
One bonus of the lower specs is that the battery seems to last longer. Acer states that the battery life is 15 hours but in reality, you'll get between 8-10 hours; which is still pretty impressive.
The laptop weighs just over 5lbs and has a 15.6" screen so it's a little easier to carry than the larger Dell Inspiron G3779 or the HP Envy 17t.
It is important to note that although most customer experiences with the Acer Aspire E15 are positive, there have been several issues relating to the battery being unable to retain charge and the screen simply going black.
The real problem with this is that the customer service from Acer is not as efficient as it should be. This is a cheap laptop but you may have to cross your fingers that yours will be one of the good ones.
On the plus side, those who avoid the potential battery issue find that overall, this is a very smooth and efficient computer. Boot times are as fast as 10 seconds with shutdowns being as little as 3 seconds; the quality of the images is fantastic and it has plenty of ports to connect any other devices you need.
In short, it should be great value for your money and if you do have any issues, plan to be on hold with Acer and hope they'll be able to sort things out.
---
Dell XPS 13 9360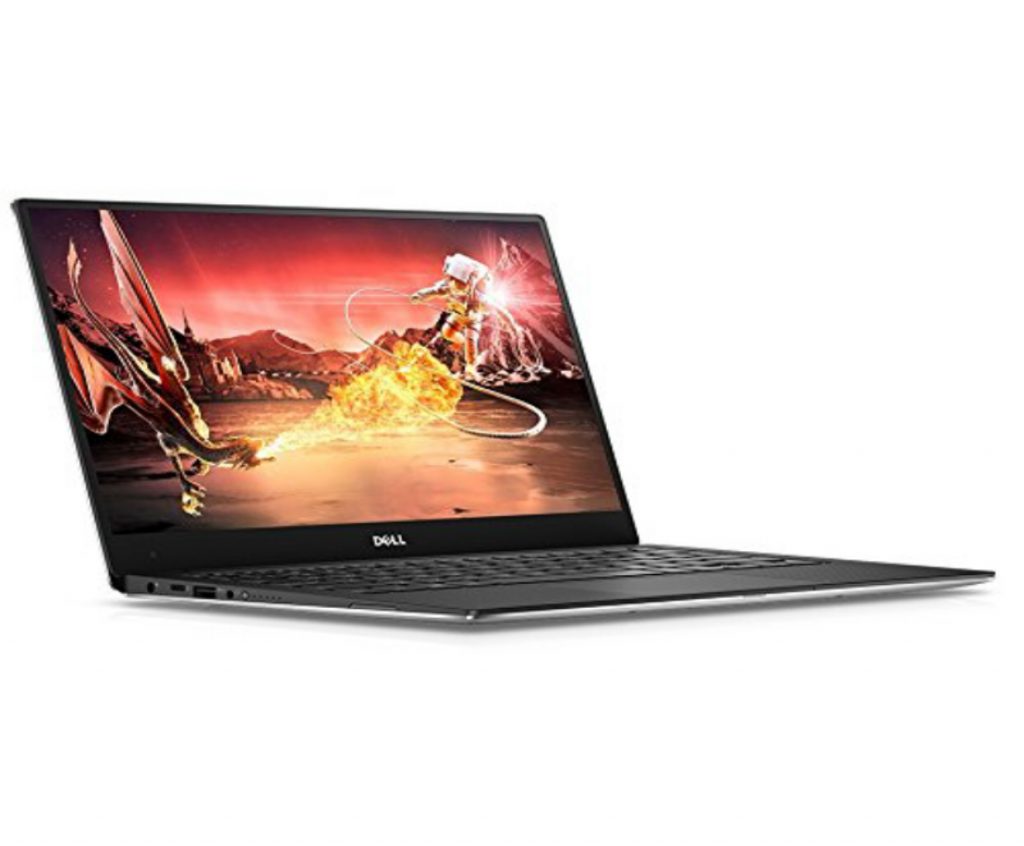 It's important to note that this is the older version of the Dell XPS as it was built at the end of 2017. The 2018 model is another great option but it's significantly more expensive.
Basic specs
13.3" touchscreen; 1080P HD
128GB SSD
8GB RAM
i5-825OU Intel CPU
Intel UHD 620 graphics card
Windows 10
As mentioned, this is not the most recent offering from Dell, but it is still a good option; especially if your funds are limited. It's not as cheap as the Acer Aspire, but it's of better quality.
What is particularly interesting is the addition of the Thunderbolt 3 via USB; allowing you to connect with MAC computers if needed. You'll also be impressed by the fact that this notebook weighs less than 4 pounds. Of course, part of this is because it is smaller than some other options at just 13.3".
Surprisingly for Dell, there have been a number of users complaining about failures that range from malfunctioning hard drive to simply stopping working after a few months. On the plus side, Dell has responded well to the issues – just keep in mind that their repair services might not be the fastest.  
Fortunately, most users have been very happy with their experiences, from noting the fast start-up speed to mentioning how easy it is to carry the Dell XPS 13 with them when they are going to their studies.
It is worth noting that people have noticed the trackpad is small; but works exceptionally well; as does the touchscreen. Even the speakers get high marks, which is a first for the laptops on this list.
As budget options go, this Dell gives the higher value products a real run for their money.
---
Best Laptop For Engineering Students Day To Day Use
If you're looking for the best laptop for engineering students that can also handle other tasks and roles, then these are the ones for you:
Lenovo Y700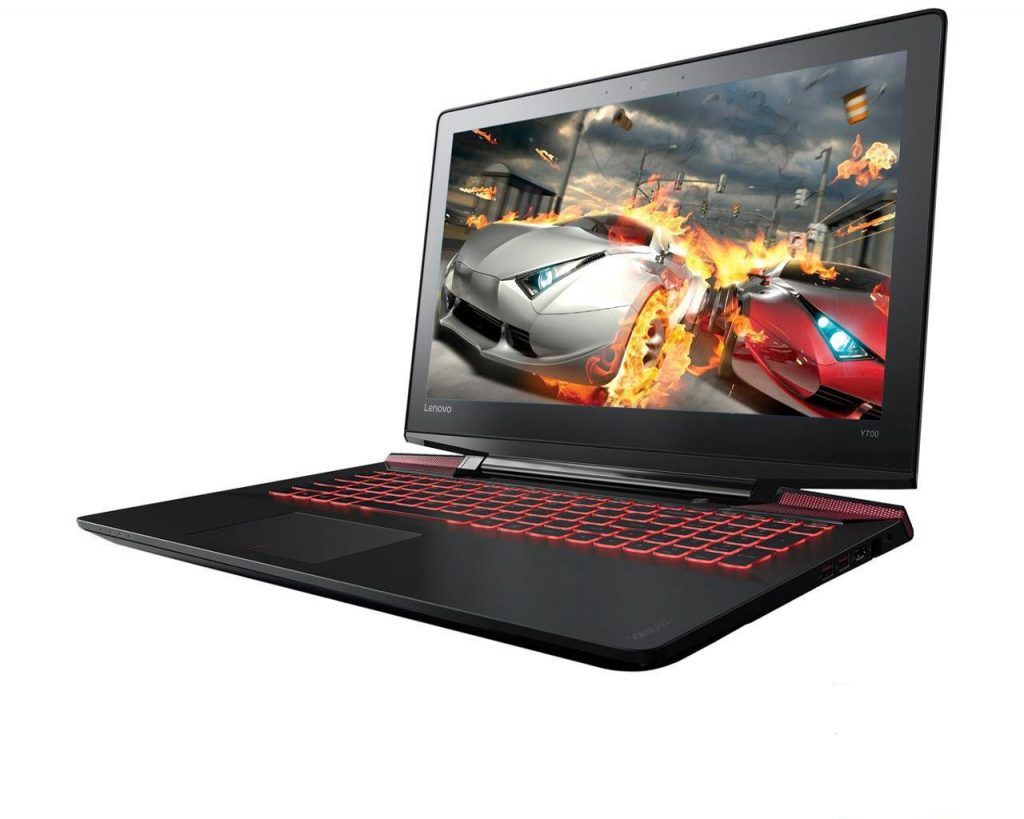 The Lenovo Y700 is a great option for any engineering student who enjoys gaming.
Basic Specs:
15.6" screen; 1080P display
1TB HDD & 256GB SSD
16GB RAM
Quad Core i7-6700HQ CPU
Dedicated graphics card: GTX 960M 4GB
Windows 10
Lenovo has a reputation for making computers that overheat. Fortunately, the Y700 is not one of those; in fact, it remains surprisingly cool while being used.
The first thing you'll notice about this machine is its attractive appearance upon unboxing. Next, you'll be impressed with image quality as the colors and clarity are truly impressive. You can even see the screen clearly from different angles.
It also offers an array of ports to help you add any extras you need. There are two 3.0 USB ports, one 2.0 USB port, an HDMI option, and a standard headphone jack with a microphone in.
At just 1" thick and weighing 5.7 pounds, this 15.6" laptop is surprisingly easy to carry with you, whether heading to lectures, studying with friends, or getting a little gaming in.
Many users have reported that this laptop is surprisingly fast, thanks in part to the dedicated 4GB graphics card. It also has excellent speakers, something that many of the other laptops on this list struggle with.
On the flip side, it should be noted that this Lenovo can exhaust its battery quickly, especially if you're gaming or using memory-heavy applications. Of course, it's not designed as the ultimate gaming machine; in fact, demanding games will lower the frame rate and quality of the images. But this shouldn't be an issue for your engineering studies.
---
ASUS VivoBook Pro 15 N580VD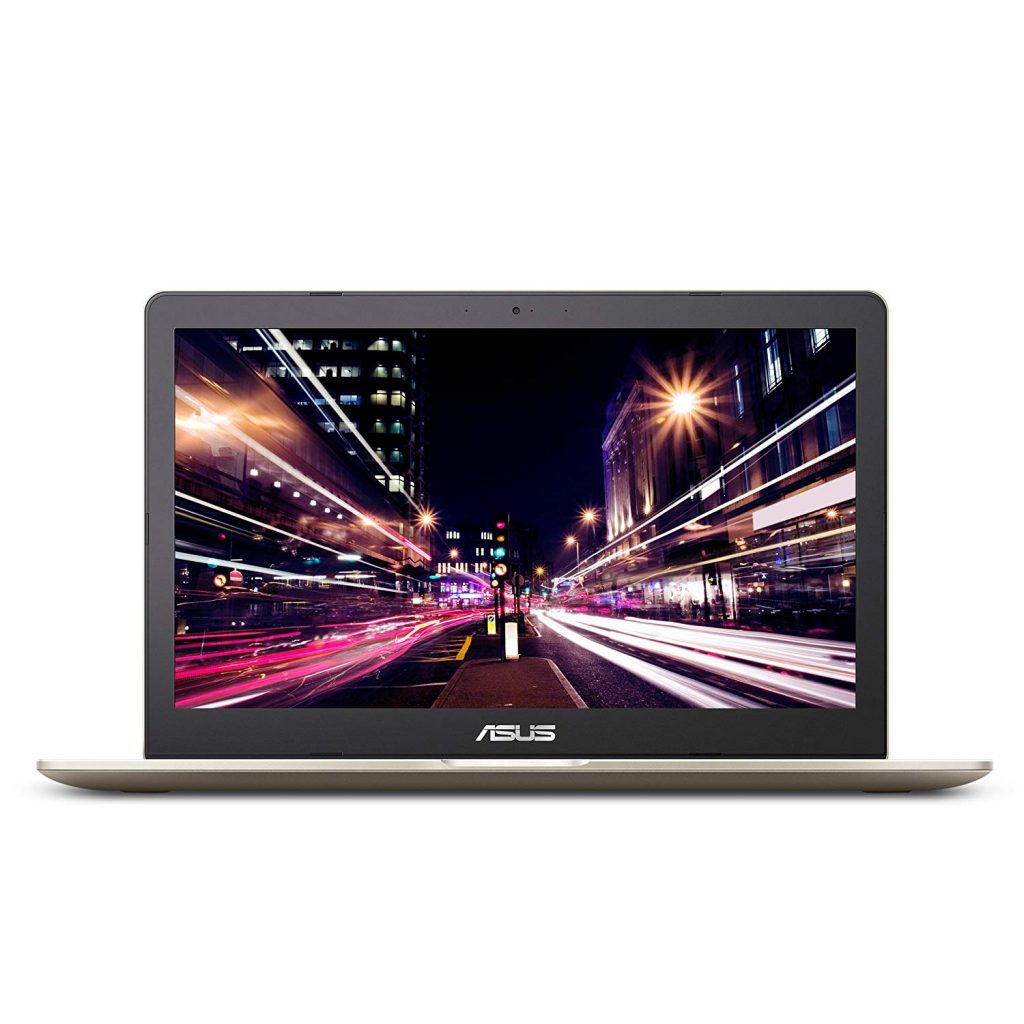 You'll find that the ASUS VivoBook Pro 15  is another great option if you're an engineering student who also enjoys gaming.
Basic Specs:
15.6" screen; 1080P touchscreen display
512GB M.2 SSD
16GB RAM
Intel i7-7700HG CPU
Graphics card GTX 1050
Windows 10
At 5 pounds, this is not the lightest option for your next laptop, but it's easier to carry than some heavier models. The brushed finish is stylish and the laptop is slim; measuring just 0.8" in height. The majority of users are very happy with the ASUS, rating the number of USB and other ports, as well as the overall quality of the VivoBook Pro.
In fact, despite only having 512GB SSD RAM it is a surprisingly fast performer, having no issues running multiple apps particularly CAD and some light gaming without slowing down or overheating.
The battery life is approximately 5 hours, which is a little disappointing especially if you're hoping to make it through an entire day of lectures. If you have a little time to recharge, you'll get back to about 60% in less than an hour. Some users have also reported issues regarding the complete failure of the laptop, but, the one thing that they all agree on is that the customer service response as good. That should help to inspire confidence when purchasing a VivoBook Pro. You may also want to consider increasing your budget slightly to get the 17" version; this upgrades the memory to a 1TB HDD and the 256GB SSD; allowing you dual storage.
You should also be aware that there is very little 'bloatware' with this laptop; making it easy for you to get started without having to remove lots of unwanted programs.
---
The MAC Option
If you're insistent on purchasing MAC then you should consider not opting for the very latest MacBook Air, instead take a look at the 2015 model. It is significantly cheaper, looks as good as the latest model, and a surprisingly good option for an engineering student. Of course, you'll need to use a lot of parallels to get all the relevant software working properly.
MacBook Air 2015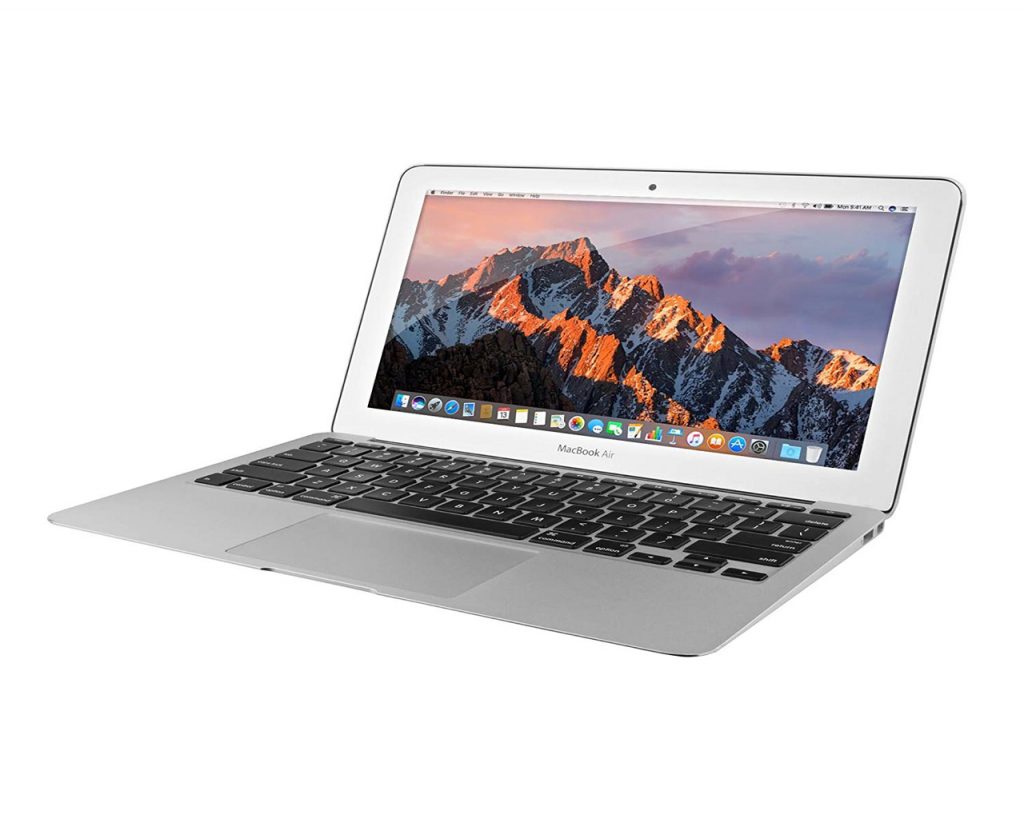 The MacBook Air is a versatile laptop, and it's a great option for students in general.
Basic specs:
13.3" screen with 1440×900 resolution
128GB SSD
8GB RAM
i5 CU processor
Integrated Intel HD 6000 graphics card
Mac OS X
Buying a slightly older version of the MacBook Air means that it is in a comparable price range to the cheaper laptops on this list. You probably already know that these laptops are exceptionally smooth and stylish. It weighs less than 3lbs and offers as much as 12 hours of battery life. That makes it a practical option to carry with you all day.
Of course, it has enough memory and processing speed to deal with any engineering application you throw at it. But you will need to remember that this runs on Mac OS X, meaning that you'll need parallel software or conversion tools that allow you to utilize some engineering apps and share your work effectively.
This can be a hassle, especially if you suddenly start using a new app. However, Apple has been very good at developing the necessary links, making this a good option if you're not a fan of Windows. It should be noted that this is very much a tool; it may handle some light gaming but without a dedicated graphics card it's no good for dedicated gamers. In addition, the display does now look a little dated, that's not surprising as the machine is 4 years old. But that doesn't stop it from being a very effective engineering aid.
---
Final Considerations
When choosing the best laptop for engineering students, it is worth taking a little time to consider all of your options. Your intent should be to purchase one that will last while meeting your goals.
Our top picks are the Dell Inspiron G3779 or the HP Envy 17 depending on your preference of manufacturer. If your budge allows, these are two of the best laptops for engineering students overall.