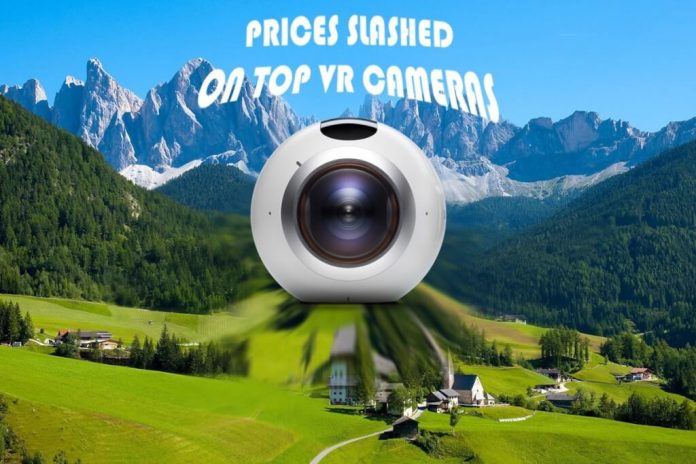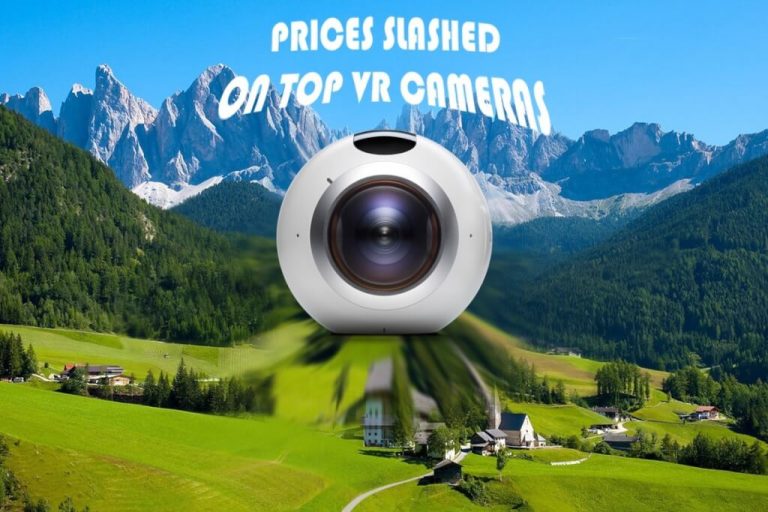 If you'd like to take 360 degree VR videos, the good news is that there are some great cameras available at a relatively cheap price. This wasn't the case even a little while back, when they were far more expensive. So here are three best cameras available today that you can get for less than $500, and which can create great 360 degree videos.
The Samsung Gear 360
Are you surprised that the Samsung Gear 360 is listed here? Well, this is the 2016 model, not the 2017 one, and it's selling at a fraction of the original price. And if you really look at the specifications, there's not much difference between the two. If you're searching for a 360 degree camera in under five hundred dollars, you'll love to have this one, which the best deals on Amazon offer at less than a fifth of that. That makes this camera the finest camera on the market today – it was already the best retail camera for quality – now it's the best deal for price as well.
Why is the Gear 360 so cheap at the moment?
It's because the manufacturer is selling off its 2016 production line at a song, but if you compare the 2016 and 2017 versions, you'll actually find very little difference in video resolutions and output. This low-cost deal is only likely to last so long as stocks of the 2016 production line last, so get yours right now.
It's a great opportunity to get the Gear 360 at a throwaway price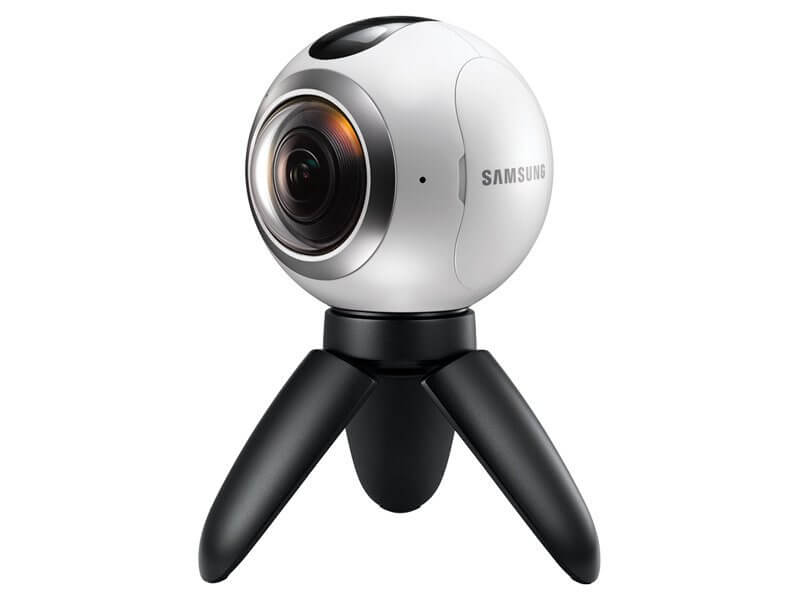 Not only can it take still pictures at 30MP, but also movies in 4K. The photos are actually preferable, since the videos can be quite large, and the still pictures give one virtually the same impression of a place.
In still mode, you can take hundreds of still pictures with this VR camera of all the places you've been to, while still capturing momentous moments and gatherings with friends and family in 360 degree video.
Check the best deals on Amazon
---
LG 360 CAM
This is a great camera if you want to take stunning still pictures in 360 degrees, and there are some great deals on it. The pictures are taken in a resolution of 5,660 x 2,830, which is certainly adequate to capture most scenes. The camera's two thirteen megapixel sensors can also capture 360 degree video in a resolution of 2,560 x 1,280. Best of all, this camera retails at just over a hundred and fifty dollars, and for the price it's a steal.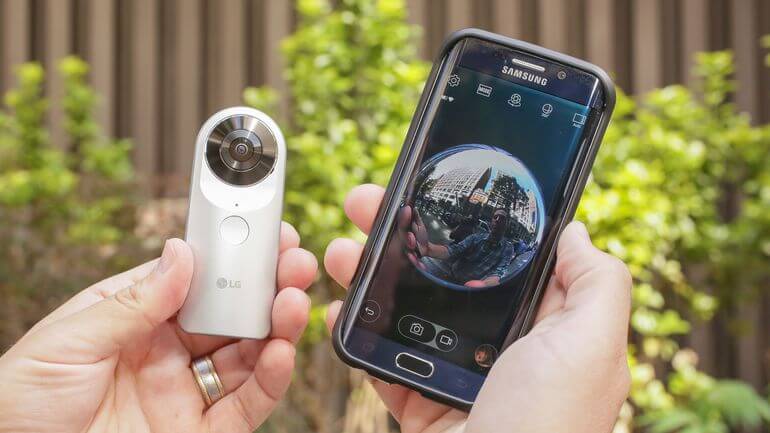 Superb app controls
Do bear in mind that this camera is designed to be used with a smartphone, and it is the smartphone app that is actually used to control the device. As a stand-alone unit, you will find that you cannot access a great many of the device's advanced features, though you will, of course, still be able to take 360 degree photos and videos even without a smartphone.
However, if the camera lacks all but the most basic controls, the app more than makes up for this, allowing you to control such subtle things as which of the camera's two lenses should be considered the one facing 'forward', as well as allowing you to take 180 degree images and videos with a single lens.
You can also choose between four operational modes, designed for different situations
There's landscape, for daylight shoots, sports for fast action capture, and indoor and night for less brightly lighted situations. The camera switches between these modes automatically, allowing you to access them even when the camera is being used without a phone, but with the app, you can set these modes manually, if necessary. You can also set exposure and ISO settings manually,  so that you can tweak your images and videos considerably to get the optimal shot.
Check the best deals on Amazon
---
360Fly 4K Action Camera
This is another good 360 degree camera that is a little more expensive than the other two options, since you can get it within about three hundred and fifty dollars, unlike the 2016 model of the Gear 360, which offers a better field of view at less than a third of the price, as of the moment. Nevertheless, this is a good camera, offering high detail, and at a reasonable price. It takes pictures in a resolution of 2880 x 2880.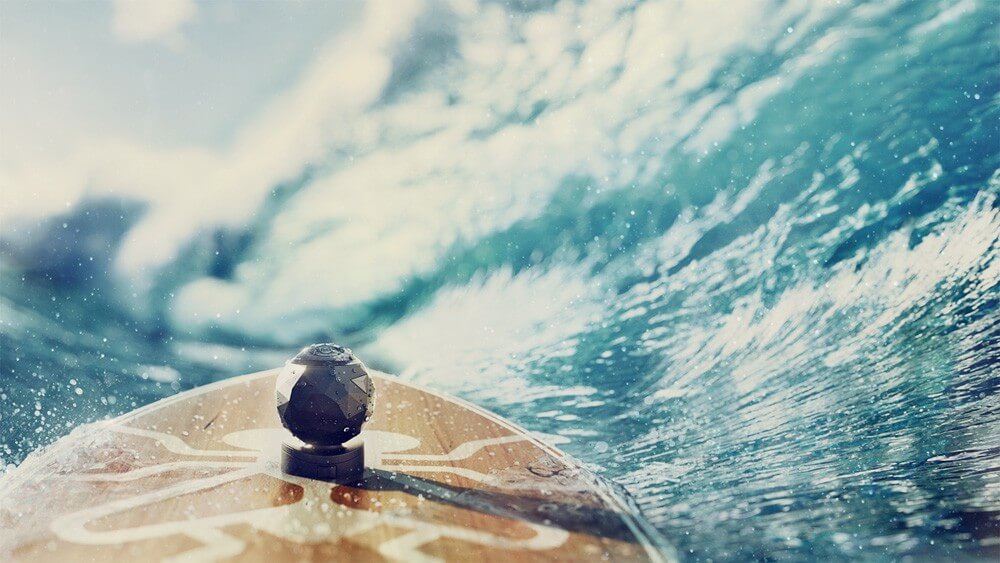 An excellent image sensor
It has a 16MP sensor, which gives it slightly better quality than other options on the market. It is also very sturdy, and very water-resistant, which makes it a great option when traveling or going hiking. The only possible negative is that it has only one lens, rather than two, like some of the other options we've mentioned. This means that, while it does give you a 360 degree field of view, that field of view is limited to 240 degrees in the over-under range.
What this amounts to is that you will be able to look all around, and overhead, but not at the ground at your feet. On the other hand, this arrangement creates seamless videos in better quality without the 'stitching artifacts' often evident in other 360 degree cameras. The camera has an on-board 64 GB storage that will allow you to save three hours of video at the highest resolution. The camera's battery will keep it recording for one and a half hour.
---
When looking over 360 degree cameras, pay attention to resolutions
There are actually a lot of cameras on the market, and while the ones we've mentioned above are excellent options, you can explore others. There are a great many around, that offer a host of features at a reasonable price. Pay very close attention to the still and video resolutions that a camera you're considering offers, however, because there are a lot of cheap 'VR' cameras on the market that do offer 360 degree video, but at such a low resolution that it defeats the purpose. Balance price and resolution to find just what you need!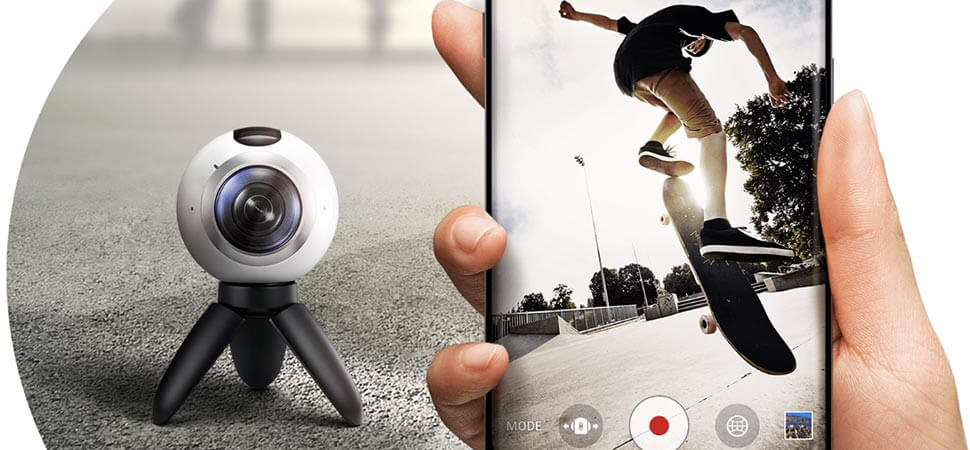 Though I honestly believe that the Samsung Gear 360 is the best offer you could possibly find at the moment, and the deal that offers the best quality at the lowest possible price.
I don't think we're going to see that combination of price and quality any time in the immediate future, and I honestly recommend that you take advantage of this price right away.
It's not often that you can really call a product 'a steal,' but at the price it's presently going for, this one definitely is.