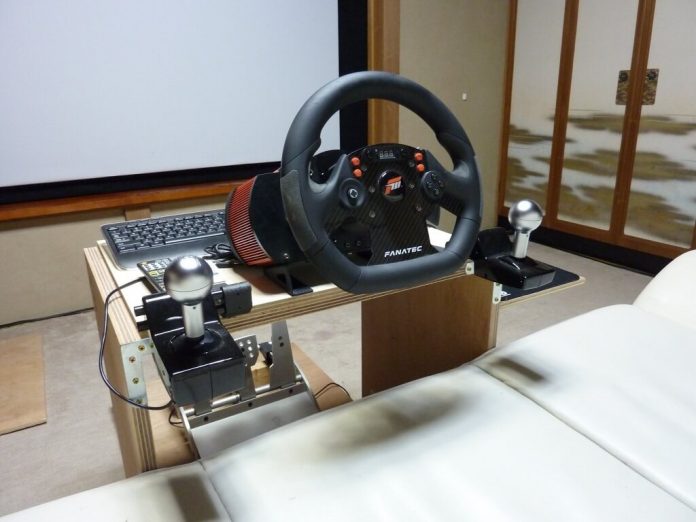 There were always a few hardcore fans of driving simulator games, simply because in order to fully appreciate the experience a game like DiRT Rally has to offer, well, you have, besides already having purchased a high end VR headset, invest additional funds into some of the  appropriate steering wheels for VR, but also in a proper rig to set your cockpit up. But if you are one of the few still standing fans, you know it's well worth it! I mean, come on, just look at this guy!
Since inception of virtual reality it was obvious that this new tech may resurrect the nearly extinct racing simulator genre. Anyone who has ever played games using racing simulator peripherals could never go back to playing on gamepads or, God forbid, a keyboard! Virtual reality paired with a proper race gaming gear turns out to be incredibly immersive and satisfying experience.
We are gonna throw a few quick suggestions at you on how to set your hardware up into a respectable cockpit simulation, just in case you are thinking about purchasing your first ever racing peripheral.
Then we will present the VRBorg's list of best affordable VR steering wheels available right now.
A beginner's guide for setting up Steering Wheels for VR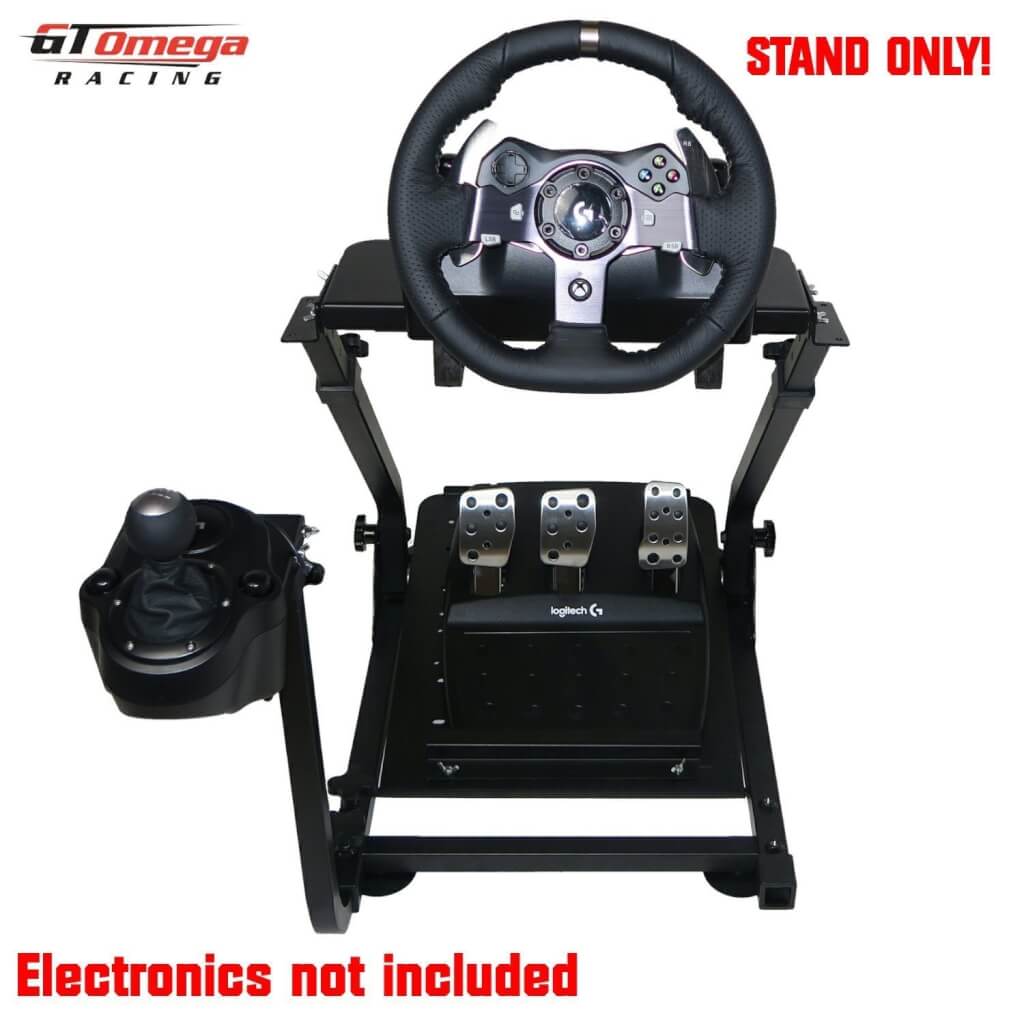 Firstly, you want to make sure you don't get just a steering wheel without pedals and a gearbox. Having this in mind, you need to ensure you are well seated, in a comfortable chair and dedicate the spot on the ground, i mean literally on the floor, where you will set up digital driving playground.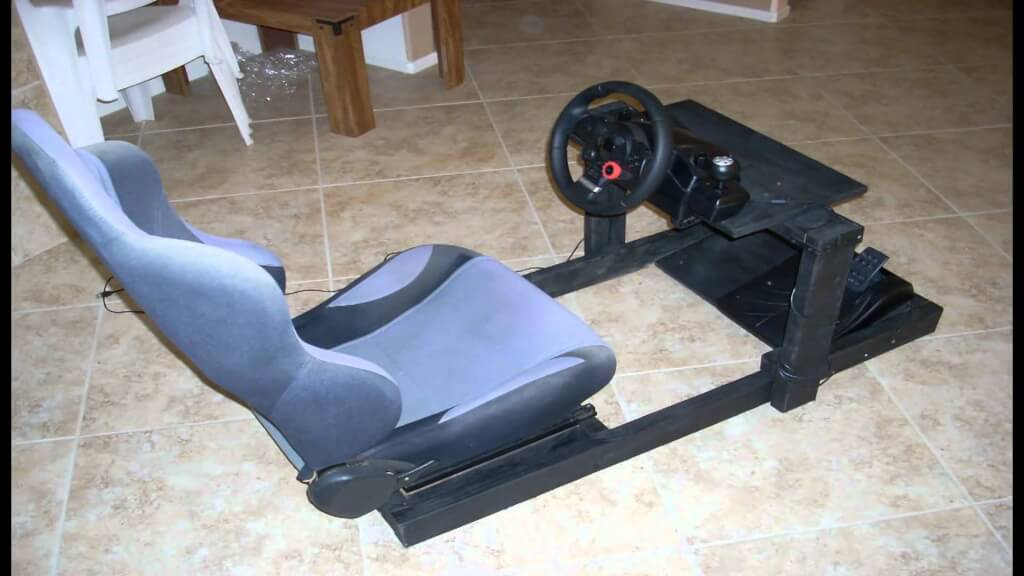 If you can figure out a way to construct the rig yourself, well you are probably a smart and creative person. There are many DIY ideas and some look incredibly simple, yet effective. However, during long gaming sessions comfortable, yet sturdy seat and a realistic driving position are crucial for achieving complete immersion. The choice of your steering wheel rig is entirely up to you. Just make sure it doesn't cause any back pain.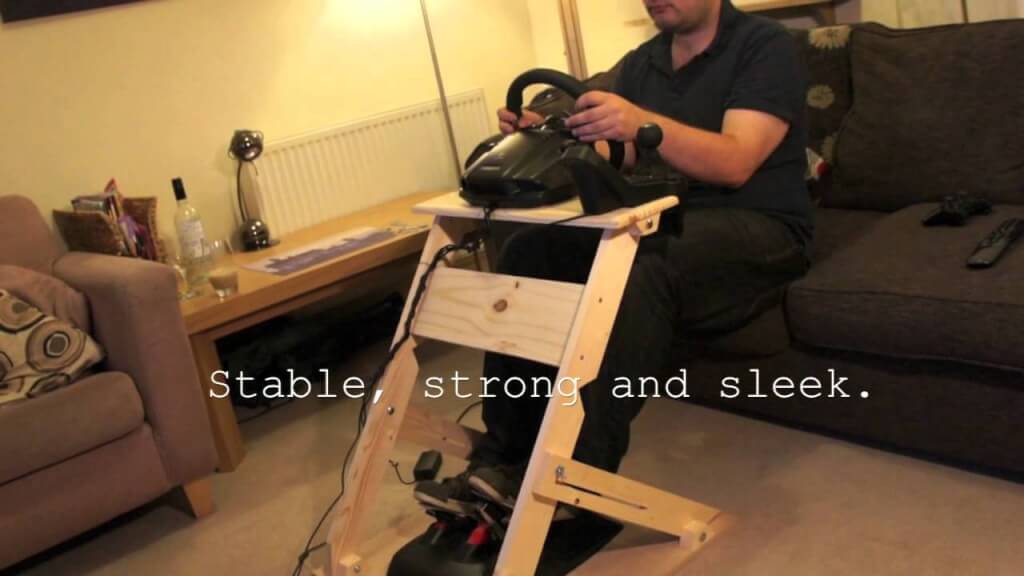 While it must feel amazing to build the VR steering wheel rig yourself, many of us don't have the time or the prowess to do so. Luckily for us, there is a huge offer of both steering wheel stands and seats available on Amazon. We are pretty sure that after some browsing, you will find just the right deal.
Best 3 Affordable Steering Wheels for VR
Well now that you have taken care of where to mount your VR steering wheel, it's time to actually decide which one you want to purchase.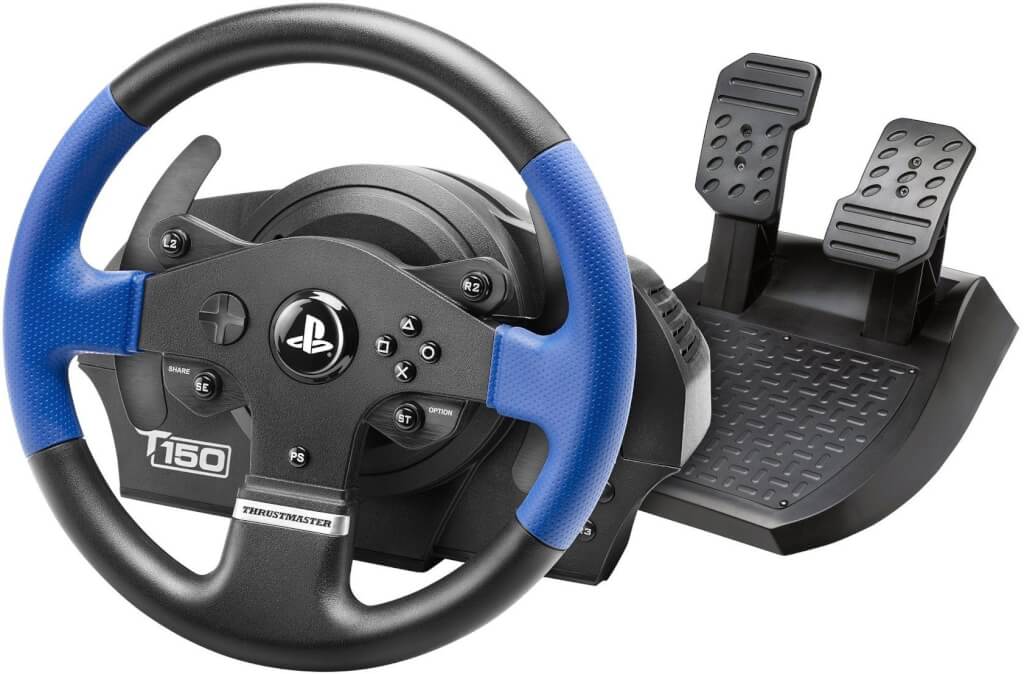 Thrustmaster T150 is the most affordable steering wheel from the Thrustmaster T series. It is a great entry point for someone who is a newcomer to the world of racing sims. The steering wheel provides a powerful force feedback for much less money than the competition. The wheel is rubber-coated and even as the feedback has a serious pull to it, it remains sturdy and won't slip from your grip.
The pedals however are pretty basic, and not as impressive as the wheel itself. It is a two-pedal plastic setup but you can upgrade them separately from the wheel. You can also go for Thrustmaster T150 PRO version, which features 3-pedal 100% metal pedals set. This is the cheapest VR steering wheel available, so if you are on a limited budget, this is a perfectly reasonable choice, offering a solid performance.
Check out the best deals on Amazon!
Thrustmaster T300RS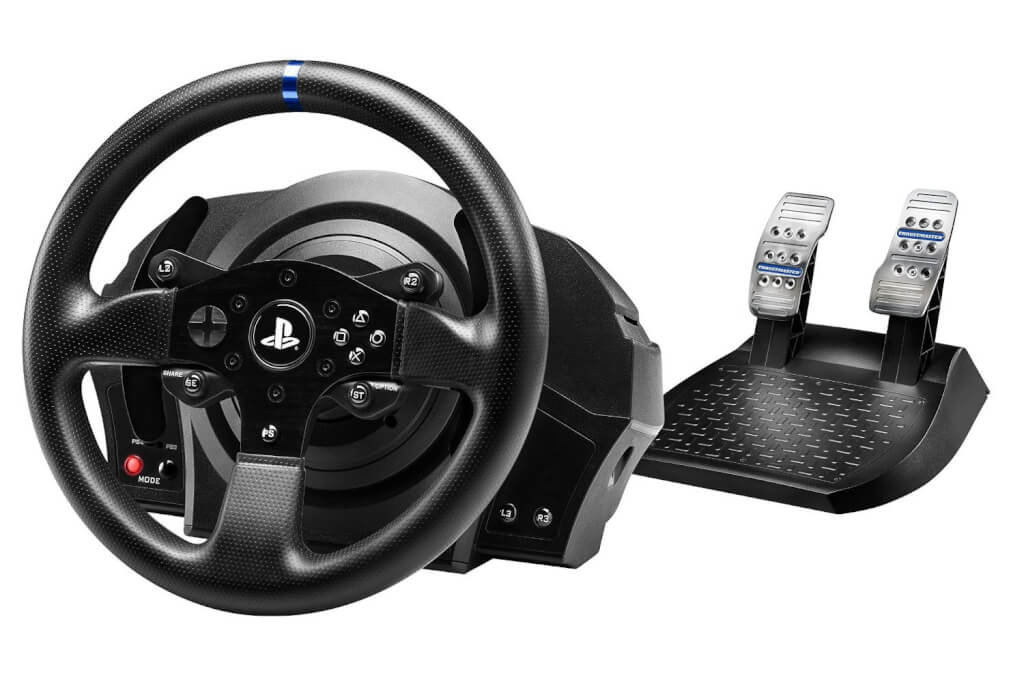 The Thrustmaster T300 RS is a best you can get for PS4 or PC in under $400, and also gives you a taste of what $500+ high-end steering wheels feel like. This is as high-end as you can get for the given price, and there are few to none reasons not to recommend this steering wheel for VR.
Thrustmaster T300 RS is perfectly mapped for PS4 which provides a realistic driving experience. This is something that you'd expect, since it is an officially licensed PlayStation 3 & PlayStation 4 racing simulator. The belt system which is responsible for the wheel turning mechanism received some improvements compared to the T150 version. Force feedback, while still very powerful, feels a lot smoother and realistic. Rotation angle is adjustable from 270 to 1080 degrees.
Pedals are fully adjustable and also feature metal parts. However, it is a 2-pedal setup and, just like for the Thrustmaster T150, the build quality of the wheel is far superior to that of the pedals. Regardless, Thrustmaster T300 RS is definitely one of the best steering wheels for VR that you don't have to spend a fortune on.
Check out the best deals on Amazon!
Logitech G29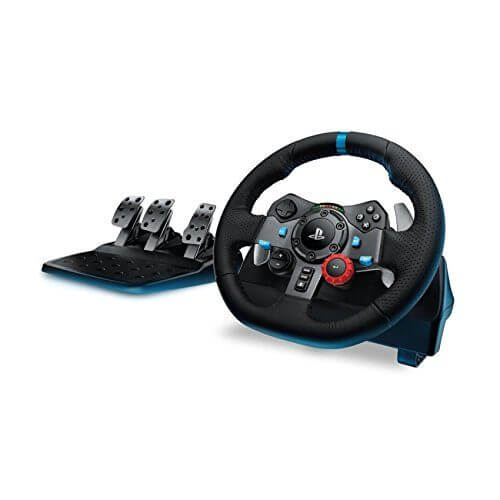 Logitech G29 Driving Force is a force feedback wheel designed for PS3 and PS4  (also works on PC). There are few reasons why you might choose Logitech G29 over the aforementioned Thrustmaster T300RS, besides the obvious – it is cheaper.
Firstly, the leather padding over the wheel feels a lot better then the rubber and plastic coating of the Thrustmaster's racing simulators. Additionally, Logitech G29 features a much better made pedal-board – a full metal 3 paddle system.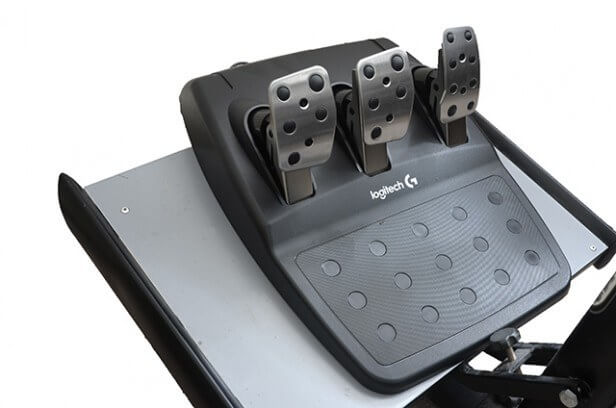 There are of course, a few flaws as well. The force feedback system isn't as smooth as it is with the Thrustmaster T300 RS, and may seem "glitchy" at times. Also, the design with bunch of brightly colored details may be a thing not everyone enjoys, but since you'll be wearing you VR headset, why bother with the minor design flaws. The wheel feels great in one's hands and the pedals are generally better than the Thrustmaster's – and yeah, for less money!
Check out the best deals on Amazon!
Steering Wheels for VR add-ons
We have previously established that all things considered Thrustmaster makes better, more precise standalone wheels, which provide more accurate force feedback. The only thing Logitech has on the wheel itself is the leather padding compared to the rubber/plastic of the Thrustmaster T series, but the Logitech's included pedal-board is of a better build quality. You can however, for some extra cash, upgrade your Thrustmaster racing simulator to a high end gadget.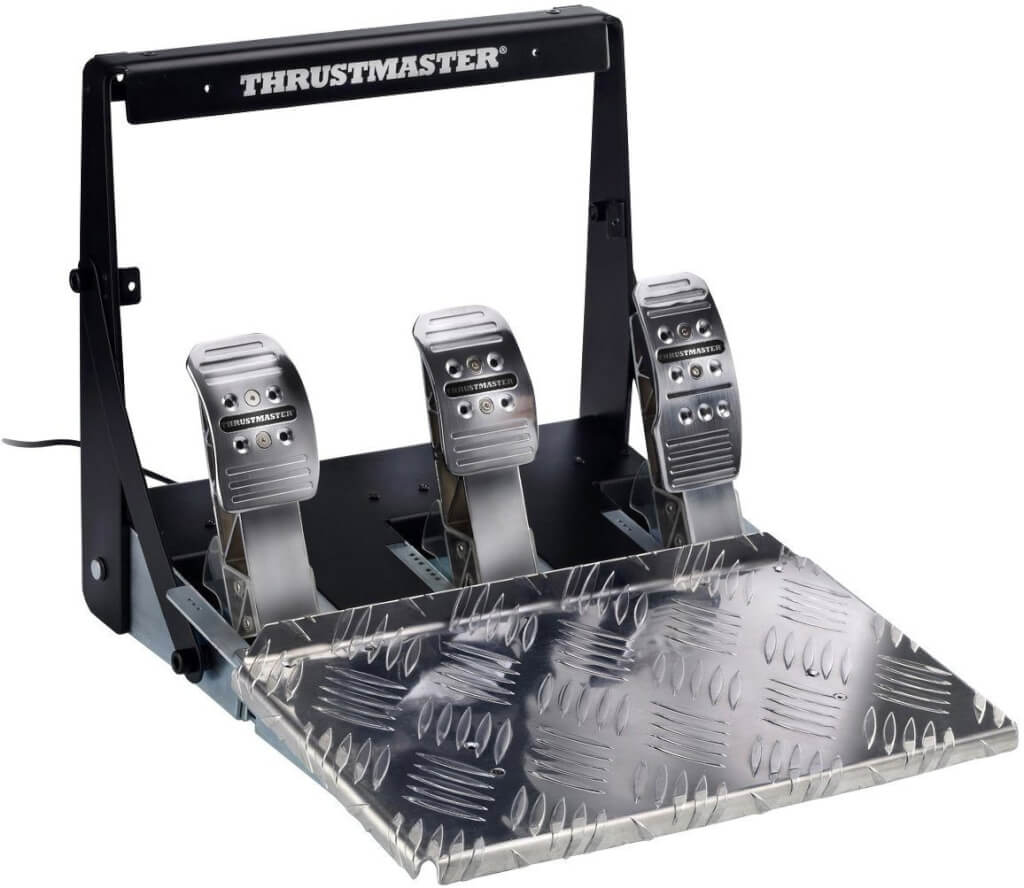 A realistic 3-pedal add-on set for Thrustmaster steering wheels adds that one missing component. And if it costs an additional $100 to achieve the completely satisfactory driving simulation experience – well you probably already know it is well worth it!
The gas pedal can be adjusted to 4 positions, while  the brake and clutch pedals have 3 positions available for each. This allows you to set the rig up for both F1 and GT racing styles. Not only the pedals are full metal. The footrest is also made out of this material and the non-slipping is granted. It is compatible with Thrustmaster T series, starting from the Thrustmaster T300 RS. If you decide to purchase a newer steering wheel from the series in future, you should definitely consider purchasing this add-on.