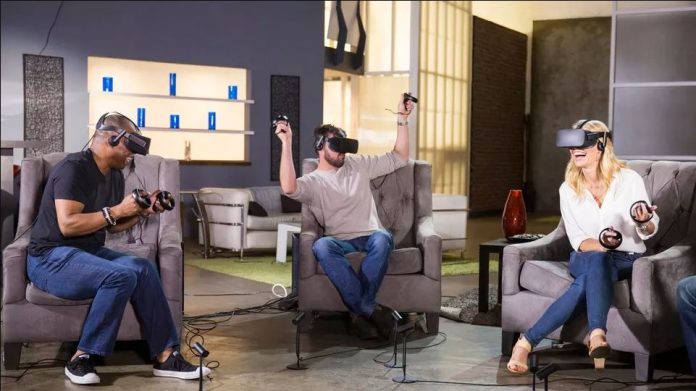 Getting your first VR headset is like getting a key for opening an entirely new Universe of possibilities. But, as with other journeys, it is far more fun to bring a group of friends with you. If you have opened up the door leading to VR experiences, and are looking for a few recommendations to share with your friends, look no further. We got you covered.
1. The Lab
It very well might be one of the must-have titles on your VR headset. The Lab is Valve's creation, which serves as a representation of all the possibilities the VR has to offer. The Lab features 8 mini-games, some of which we have covered in our previous articles, like Longbow. Out of these 4 games, 4 can be regarded more as experiences which serve to present the future of VR technology. The Lab is the best introduction to the land of VR for anyone.
DOWNLOAD: Steam
2. theBlu
By putting on the VR headset, a whole new universe of possibilities unfolds unto you, some only accessible with the aid of this new technology. Have you ever watched National Geographic documentary and marveled at the sight of majestic whales who live their mostly solitary lives while roaming unbounded across the Earths oceans? Have you ever seen the sight of a diver swimming next to one of these majestic beasts and envied him, if only for a moment?
Well, you don't have to hire a team of marine experts, a boat and spend some time diving to experience such a sight. Now, it is yours at a moments notice, as soon as you put on your VR headset. Now you can experience the majesty of the oceans across a plethora of different habitats and stand in awe at some of Earths creatures.
DOWNLOAD: Steam
3. Audioshield
Who said that VR has to be solely visual experience will be sorely mistaken when he tries Audioshield. Audoshield is an awesome application of VR technology which blends together stunning audio and visual experience. It is surely of the best conductors of both visual and audio senses.
In this revolutionary game, your favorite music comes alive in a form of different colored orbs which you have to "fight". The game lets you experience music like never before, giving a tactile and visual element to it, meaning the orbs sliding towards you will follow the rhythm of the song and you will get your entire body moving. It's a memorable experience.
DOWNLOAD: Steam
4. Tilt Brush
Tilt Brush is a game with an interesting backstory. Originally, the creators were making a 3D chess application, but one day they discovered that the game had interesting side effects. As you were moving the chess pieces they left behind a trail of light. It didn't take long for them to found out they were onto something new and exciting, and sone thereafter the Tilt Brush was born.
Tilt Brush couldn't be regarded as a game or as an experience, it is a new way of making art. You can use it however you like, but there is no denying that you are holding in your hands a new and exciting piece of technology which will let you paint your wildest dreams in a realistic 3D environment. It is only a promise of what is to come.
DOWNLOAD: Steam
5. Eleven: Table Tennis
One of the simplest and among the best utilization of VR technology is the ability to play remotely with your friends, games which, until recently, had to be played in the real world. Table Tennis comes to mind as one of them. However, if you're having troubles organizing the game with your friends, some of which do not live near you, or they have different schedules, do not despair, since the answer is in sight.
Eleven: Table Tennis is a perfect utilization of many more games soon to come, which will serve as a bridge between physical and virtual world. Soon, it will only take you to put on your headset and you will find yourself with your friends at any place in the world, in any environment, ready to play a game.
DOWNLOAD: Steam
6. Oculus Rooms
There is no doubt that the future of VR lies in social interactions. No other technology brings together people more closely and intimately across space as VR, since it utilizes most of your senses. The first step of VR was to immerse you in the new land of virtual reality, to surprise you with all the new possibilities that are unveiled in front of your eyes. Next step is to experience this new land with a group of friends.
Oculus Rooms is a private virtual room where you can spend some time with your friends in VR. Once there, you can decorate it to your preference and choose what you would like to do, be it gather around the TV to watch videos, play some games or simply jump into apps together.
DOWNLOAD: Oculus
7. Space Pirate Trainer
If you have ever played on of the classic arcade games and have ever wanted for them to be more immersive, well now your time has come. Space Pirate Trainer puts you at the forefront of the laser shooting, relentless droves of spaceships looking to blast you away. It's one of the best immersive and full body experience that packs a real punch. Shoot, dodge, and blast your way through the swarm of space pirates and etch your name in the hall of fame!
DOWNLOAD: Steam
8. Fruit Ninja VR
A VR experience of the wildly popular mobile app, Fruit Ninja is a go-to place for any newcomers to the land of VR. The colorful surroundings, beautiful effects and catchy tune all serve to immerse you into the realm of virtual reality.
It's a fairly simple and straightforward game, your job as a fruit ninja is to slice up the fruits, your mortal enemies, by using your trusty blades, but there is more to this simplicity. Soon, you will find yourself trying to figure out fruit patterns to slice multiple items at once, and maybe even more importantly, all of that physical activity will serve as a nice workout routine.
9. Face Your Fears
So far we have covered mostly the lighthearted content available on VR, but the realm of VR can offer much more. The reality of the experience makes it a perfect medium for horror games and experiences, and what better way to familiarize your friends with it than by playing Face Your Fears?
Set in a simple surrounding, an old plane that ferries its passengers just like any other time before, but something is not quite right this time. The engines are sounding a bit dodgy, and something is not quite right with the passengers… You will look around you, watch you every step and always be at the edge of your wits while facing your fears!
DOWNLOAD: Oculus
10. The Turning Forest
The Turning Forest is an interactive fairytale experience for all ages. Set in a magical forest, a young child stares into the eyes of marvelous creatures and together they embark on a magical adventure.
Infused with spatial audio and stunning visuals, you will be transported into a land from fairy tales and set yourself back a few years, while you experience the world through the eyes of a surprised child.
DOWNLOAD: Oculus
---
There you have it. No longer will you find yourself wondering what kind of VR experiences should I share with my friends, to ease their journey into the realm of VR. In this list, you will find something for everyone's tastes, from magical fairytale lands to the horror experiences for those of a thicker skin.
The realm of VR has something in store for anyone.