This is an exciting year for VR hardware with notable new headsets from Pimax, Valve and HTC Vive all coming into the virtual reality arena. At the beginning of the year, HTC introduced two new headsets: The Vive Pro Eye which is the successor to the critically acclaimed Vive headset, plus the somewhat mysterious Vive Cosmos. 
What we know about Vive Cosmos
We still don't know the Vive Cosmoms release date, but it should be in 2019, probably in the second half since there are still no definitive announcements. The most significant difference between Cosmos and legacy Vive headsets is the new tracking system. While the old way relies on external SteamVR lighthouse sensors that needed stands and were placed in the room, Vive Cosmos will have tracking system built-In the headset.
Four cameras built into the front side of a headset will track the movements and position of the controllers and the headset.  The new VIVE tracking system will have gesture control and six-degrees-of-freedom (6DoF) with tracking movement at 360 degrees in the room. This means that the installation will be easier, and the functionality and freedom of movement will be top notch, but minus wires that might trip you up.
Another big difference is supposed to be connection to PCs. Per the product trailer, it looks like Vive Cosmos will work with smartphones also. 
Its connection to the PC will probably be via the VirtualLink connector, and if wiring is really out of the equation, that will do wonders for usability. As for the smartphone connections, modern day phones are still not powerful enough for VR gaming, especially on Vive Cosmos resolution, but with 5G networks in the pipeline, they could stream VR content. Clearly, Vive is thinking ahead!
For gaming (at least for now), you will still need an above average computer and a high-quality graphics card.
HTC Vive Cosmos screen and controllers
The adjectives HTC uses when describing new screens for Vive Cosmos are the "sharpest screens yet, real RGB display and minimal screen-door effect." These descriptors imply higher resolution than with HTC Vive Pro who has 2880×1600 or 1440×1600 for every eye. That also means you'll need the same if not more power in your PC system to run apps and games smoothly.
The new controllers look almost identical to the ones on Oculus Rift. Cosmo's game/UI controllers have visual appeal with a ring of light and appealing carved details. HTC mentions that the controllers don't need any added sensors.
The Modular Nature of Vive Cosmos
Besides offering higher resolution screens, new controllers, and probably support for both PC and smartphones, another distinctive feature is the headset's modular design. For starters, you will be able to dive in and out of the virtual reality world easily thanks to the unique flip-up design. The glasses part will go up with headset still on your head. You won't need to take the headset off every time you need to pause your VR experience, nor will you need to put it back on and adjust it.  Additionally, you will be able to customize your headset with different colors and choose between many foam pads, maybe headphones and other parts of a Vive Cosmos. We aren't sure, but the manufacturer might add more functions or enhance performance with interchangeable parts.
Best accessories for Vive Cosmos
With such modular qualities, Vive Cosmos will probably have a ton of accessories, so owners of this hghly coveted VR gadget can customize apparel and maybe even various functionalities. There are already some accessories ready for the new headset, and hopefully more to come after its official release. Let's take a quick look at some of the most interesting Vive Cosmos accessories.
Navitech Black Heavy Duty Rugged Hard Case/Cover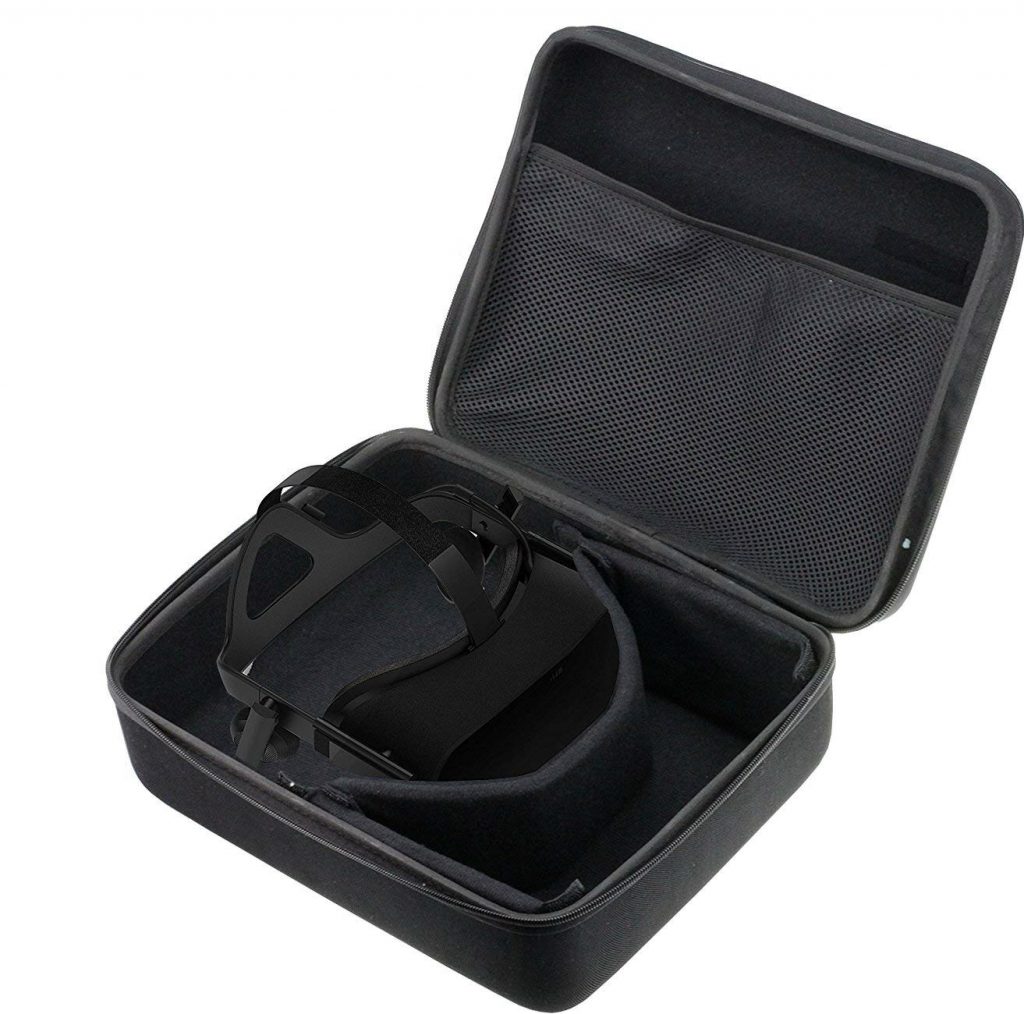 One advantage of the new easy set-up design without the hassle of original Vive or Oculus is enhanced mobility. Another hint from the manufacturer was that the new VR headset will work with smartphones. This makes Vive Cosmos transferable and portable. 
The Navitech produced rugged hard Case/Cover with shoulder straps for the new HTC Vive Cosmos can store both the headset and accessories in a safe, organized manner. There is an additional mesh pocket for cables and other small items. The bag has interchangeable storage compartments for the headset, motion controls, cables and other parts of Vive Cosmos. There is no user feedback so far.
---
Navitech Rugged Black & Blue Backpack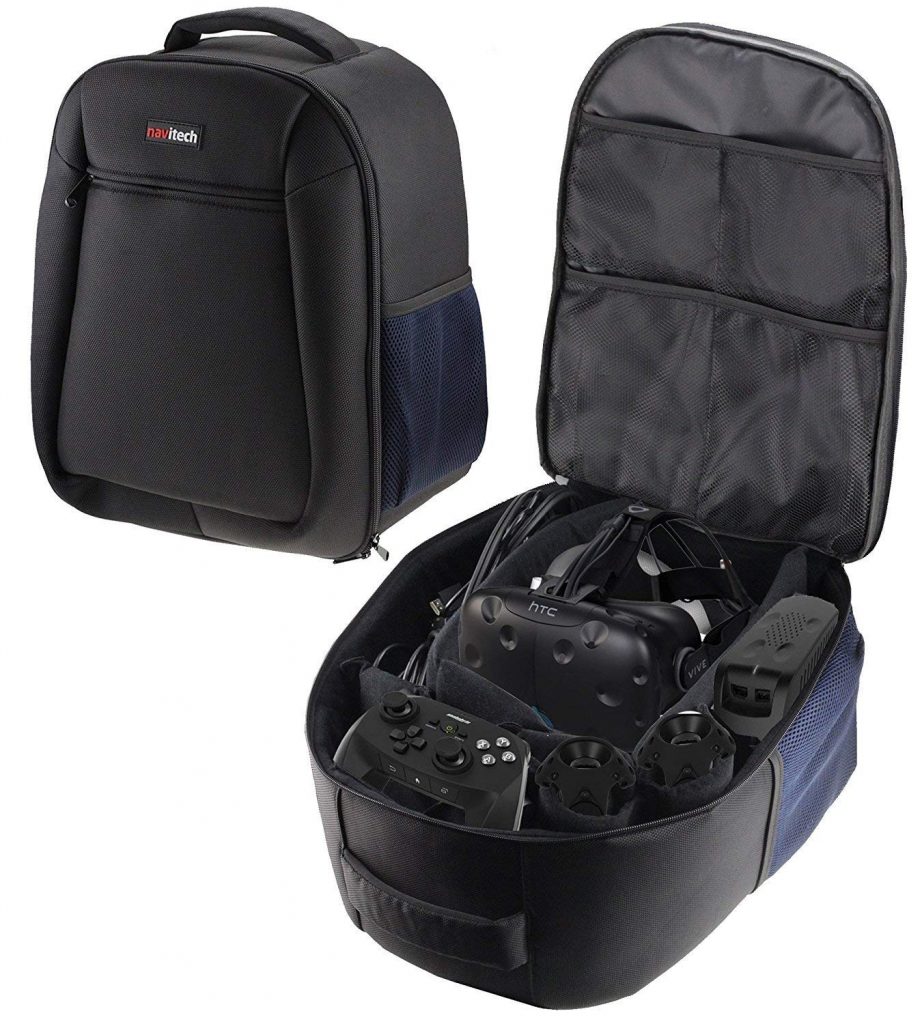 The rugged Case/Cover, Navitech backpack for HTC Vive Cosmos offers a little more space and it's more comfortable to carry around thanks to padded shoulder straps. The main compartment has room for the whole headset, controllers and other accessories. This space includes additional padding and a secure strap. You can get a backpack with a $10 upgrade from the hard Case/Cover.
---
HTC Vive Pro VR Memory Foam Face Replacement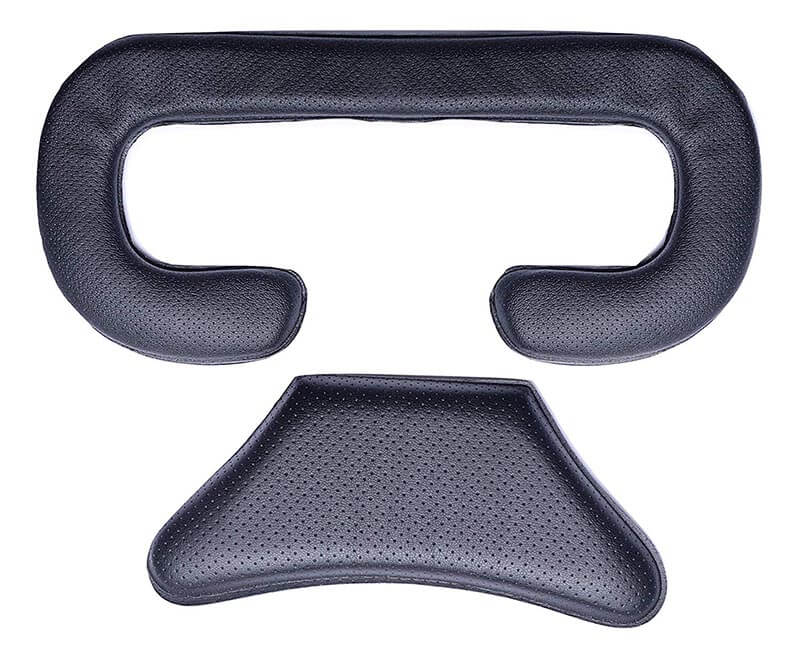 This has been one of the most popular accessories so far for the HTC Vive and the HTC Vive Pro headsets. Seeing that the Vive Cosmos has an almost identical overall design, this memory foam face replacement is likely to work with the new headset.
The main selling point of the HTC Vive Pro VR Memory Foam Face Replacement is improved comfort. It's supposed to cause less sweating, plus it's easier to clean than the original face foam. It also brings an increased field of view. Like most other consumer goods, this product comes with mixed user feedback. It is easier to clean and more hygienic, but some users feel that it doesn't fit as well as the original foam. The package contains face foam and headset foam replacement.
---
Skywin VR Stand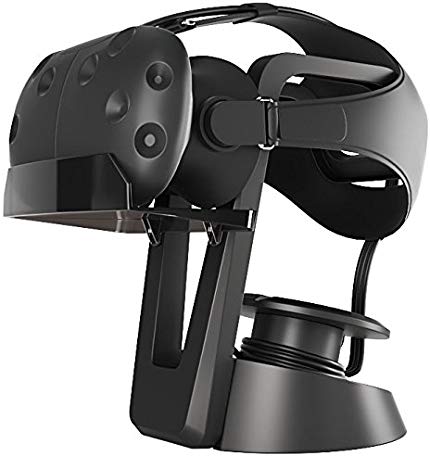 Its Skywin, not Skyrim (one of the more popular VR games) VR Stand that has the looks and practicality. It is compatible with HTC Vive, but also other VR headsets, notably PlayStation VR and Oculus Rift. Skywin VR stand serves as a display stand and cable organizer for VR headsets. It's still not clear will Vive Cosmos be connected with the cable to the PC or as speculated through a VirtualLink connector. Either way, you will always be able to use the display stand. This item received great marks overall, but a few one-star reviews made their way into the mix. Some users complained about build quality and imbalance. Most liked its ability to organize their space – plus, your VR headset looks better on a stand than just lying around! 
---
Racket Sports Set with VIVE Tracker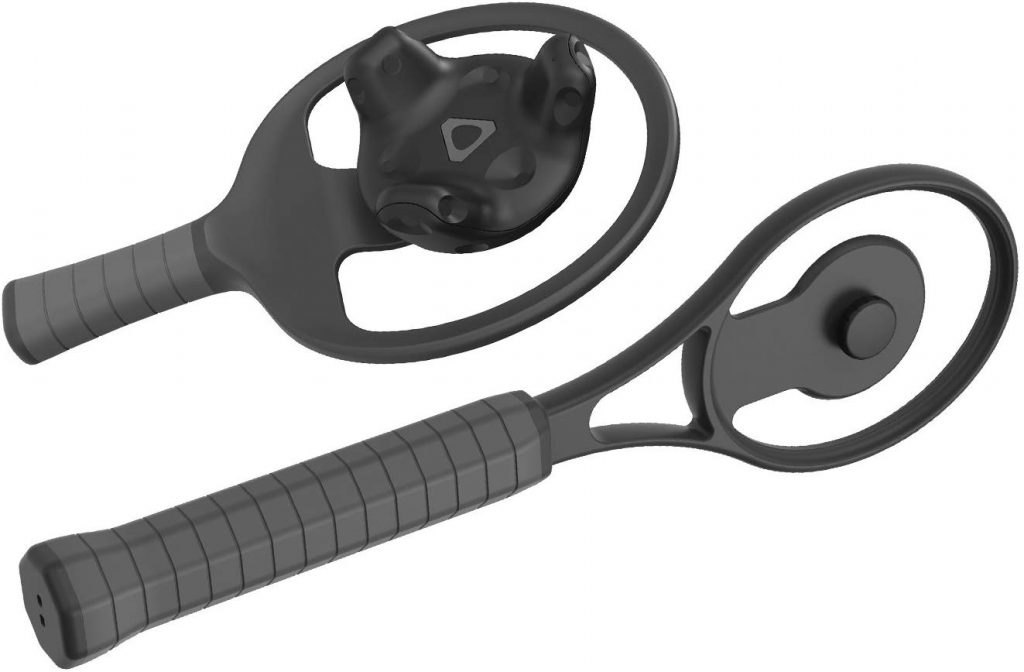 Racket Sports Set with VIVE Tracker is an original product from HTC, and it supports all Vive headsets. This racket accessory comes with the Vive tracker, so it might not be compatible with Vive Cosmos. At the same time, it's got great potential. This tracker comes with a Virtual Sports game, and it's easy to mount. 
With a rubberized grip and balanced design, it's comfortable to use. A wrist lanyard helps prevent accidents. 
---
What else do you need for Vive VR experience?
Vive store offers other accessories like Vive trackers, controllers, base stations and various cables and accessories. Because Vive Cosmos will be a somewhat different type of VR headset, we need to wait a couple of months for the official release to get a full array of Cosmos original and third-party add-on items. 
The one thing you will definitively need is a powerhouse PC since higher resolution requires more GPU power, plus there are some important cable/ports requirements; for example, you will need DisplayPort 1.2 or newer, and USB 3.0 or newer. As for the CPU, HTC recommends at least Intel Core i5-4590. If you're shopping for a new PC, it's better to go with the 8th generation of Intel CPU or at least with Ryzen 5 from the AMD side.
As for the minimum requirements for the GPU, HTC says that Vive Pro can run on NVIDIA GeForce GTX 970 or AMD Radeon R9 290. For smooth performance, you should go with at least GTX 1070, and Vega 56 or better still 1080 and Vega VII graphics cards. A quick FYI – we're using Vive Pro recommended specs to project specs for Vive Cosmos.
The difference between Cosmos and its predecessor is hidden in the manufacturer's phrase "VR without boundaries." This implies that a new headset will support smartphones. We can only guess the minimum smartphone requirements. Since HTC is not atop of the smartphone league at the moment, it could mean that phone-Cosmos connection for streaming/gaming/multimedia won't require top hardware. That said, without knowing the exact specifications and requirements, we could speculate that the flagship smartphones with Qualcomm Snapdragon 845, Kirin 970 or newest Exynos chipsets will be compatible, as well as new iPhones. It's best to wait and see before buying a new phone, however!
Bottom line
If Vive Cosmos really comes without cords attached to the headset, it will make a world of difference for gamers. Hopefully, HTC and the third party manufacturers will come up with more game related accessories such as a sword accessory for RPG games like Skyrim VR. The new controllers are promising, but it would be helpful for shooters to have an improved version (or something similar to) the Hyperkin Hyper Blaster, which was discontinued and had bad reviews. 
We are looking forward to seeing how HTC will take advantage of the modular nature of the Vive Cosmos set. For example, could the new accessories upgrade apparel and performance of the headset? Only time will tell.