The Valve Index is an expensive bit of kit. In fact, it's one of the most expensive virtual reality headsets you can purchase. But, it's worth it!
The Valve Index offers good sound quality with speakers that sit off the ear, an adjustable lens to improve focus, a well-designed hardware package, and it's generally considered to be the coolest VR device currently available. It's worth noting that you can find sets that offer better resolution but the solid visuals on the Index are better for anyone who spends a lot of time on these devices.
 Despite the cables attaching it to the computer and the presence of base units to triangulate your position, this system is surprisingly portable. But, because it costs nearly $1,000 if you take it anywhere you're going to want to use a travel case that will help to ensure it's safety.
Fortunately there are a few options when looking for the best travel cases for Valve Index. But, before you buy it's a good idea to know the dimensions you're dealing with. The box that it ships in is 23 x 17 x 9 inches, which includes the HMD, controllers, and base stations.  In fact, the original box is an option when deciding what is the best travel case for Valve Index.
Esimen Hard Case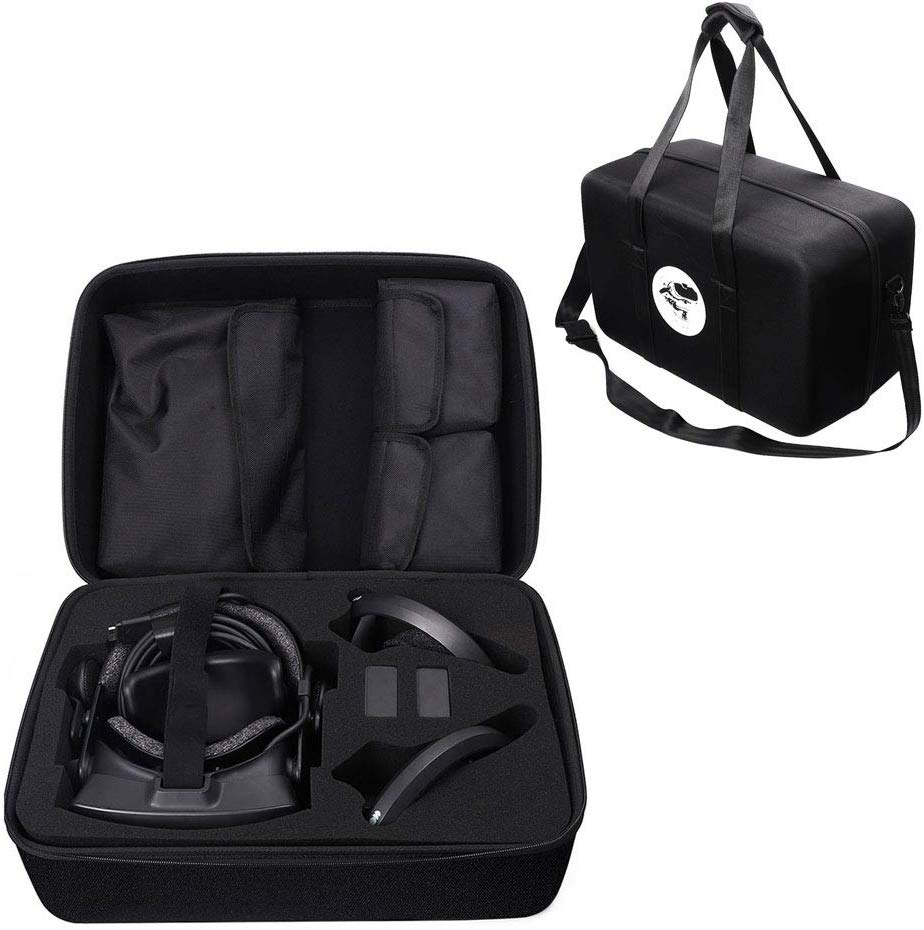 The Esimen hard carry case is designed to carry your headset and controllers, not your base stations. This makes it a great choice if you're going to a friend who already has base stations that you can use or if you're going to manage without them.
 The case comes in black and looks stylish, much like a camera bag. Inside, you'll find thick pick and pluck foam which can actually be positioned according to your desires, allowing you to choose how to store your precious headset.  This will ensure the Valve Index is adequately protected against shocks during transit. It will also prevent your screen from becoming scratched, which would be more than a little frustrating.
The bag itself is made of durable EVA anti-shock weather-resistant material and has an all-round zipper. Alongside this you'll find the carry handle is built-in, as is the shoulder strap which can be easily adjusted to suit your needs. 
It weighs just 4.26 pounds but it is worth noting that while the case is effective, it is described as a hard case but is, in fact, heavy cardboard covered in rugged fabric. 
---
Giokfie Hard Carry Case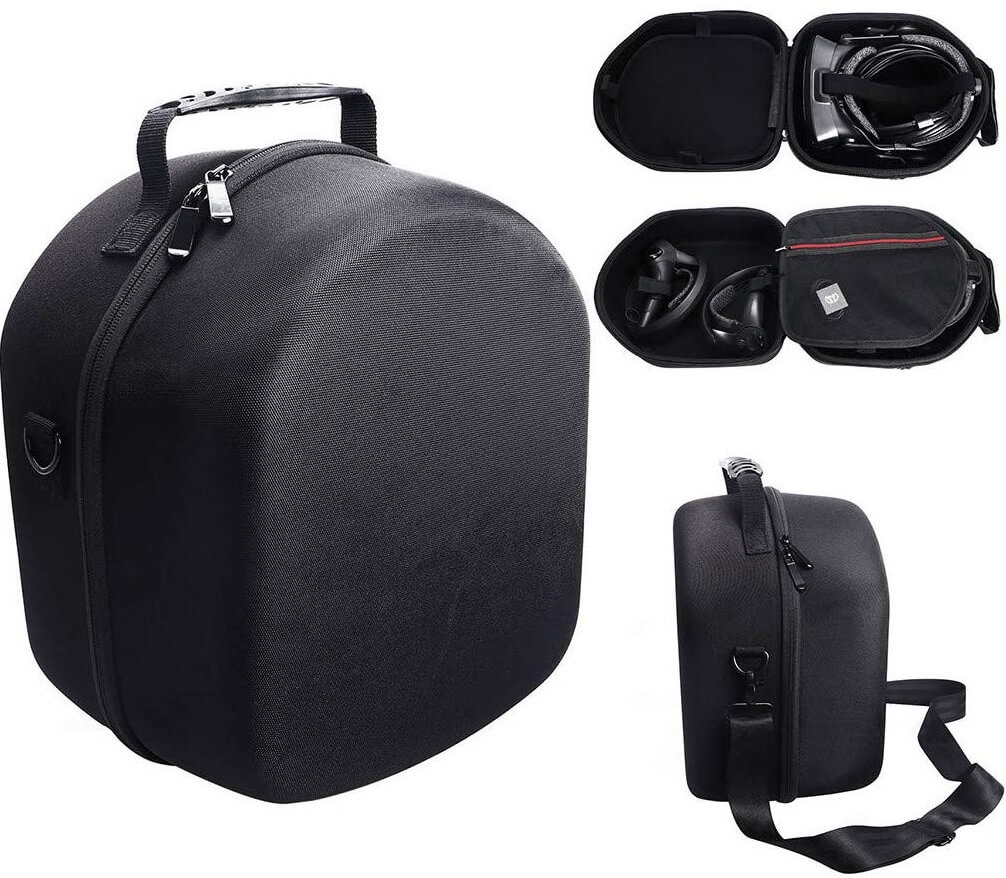 Giokfie is a cheaper option than the Esimen but it also aims to give you a safe and convenient way of transporting your headset and controllers. Again, this case isn't designed to accommodate the base units as well.
Surprisingly it weighs just under 2 pounds, which is significantly lighter than the Esimen. It's certainly lightweight and easy to carry anywhere! The inside of this case is also lined with thick foam to prevent damage from happening to your VR device. But, unlike the Esimen, this case is pre-formed, the slots for your headset and for your controllers are already present, you simply need to push the pieces in place and close the lid. 
Again this is made of superior quality EVA material which is weather-resistant and has anti-shock abilities.  You'll also note the convenient carry handle and the shoulder strap which can be adjusted to your needs. 
In fact the side handle has a built-in grip to help ensure you don't accidentally let go as you take your Index outside. Again, this is available in black but it looks good and people are not going to know what you're carrying, which could be a benefit.
---
Shan-S Carry Case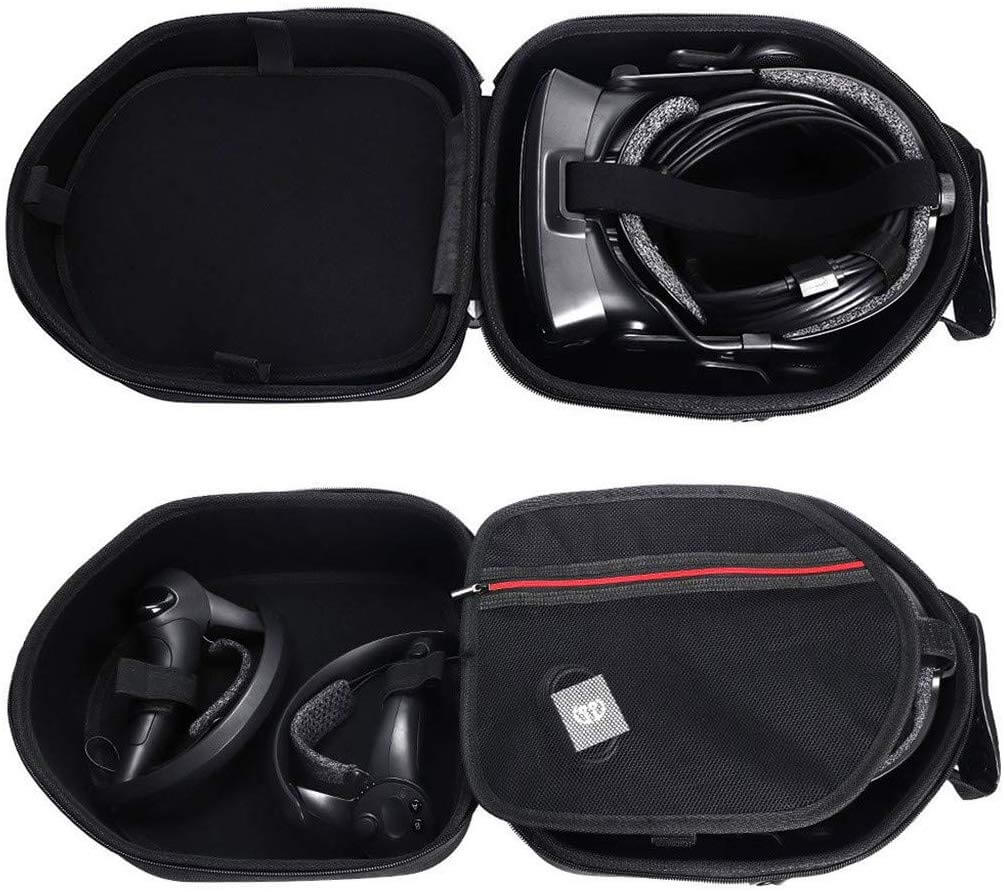 Shan-s hard carry case is another one that is actually hard cardboard covered in a highly durable material. This bag measures 10.8 x 12 x 7.67 inches and is a little larger than the first two offerings. Although not quite large enough to cope with the base units as well, it does give you enough space to carry spare cables, or even a few games, along with other accessories. That could be an important deciding factor. 
The bag has an all-round zipper that can be padlocked to itself, preventing unauthorized access. It's designed to be shockproof and the material is also scratch proof. As with the Esimen, you can position the thick pluck foam in the way that best suits you, helping you to create the best possible protection for your Valve Index while you're traveling. 
Unsurprisingly this is another black bag, but that ensures it remains discrete, you really don't want to be advertising you're carrying a Calve Index. It has a side carry handle with a rubberized grip to help ensure your hand stays where it needs to be. There is also a handy shoulder strap that can be adjusted to ensure it is comfortable in all situations.
It's worth noting that the inside compartments are split by a flap, ensuring they can damage each other in transit. Overall, this is a well-put-together offering and potentially the best on this list.
---
VR Gaming Travel Case – Rainrain 27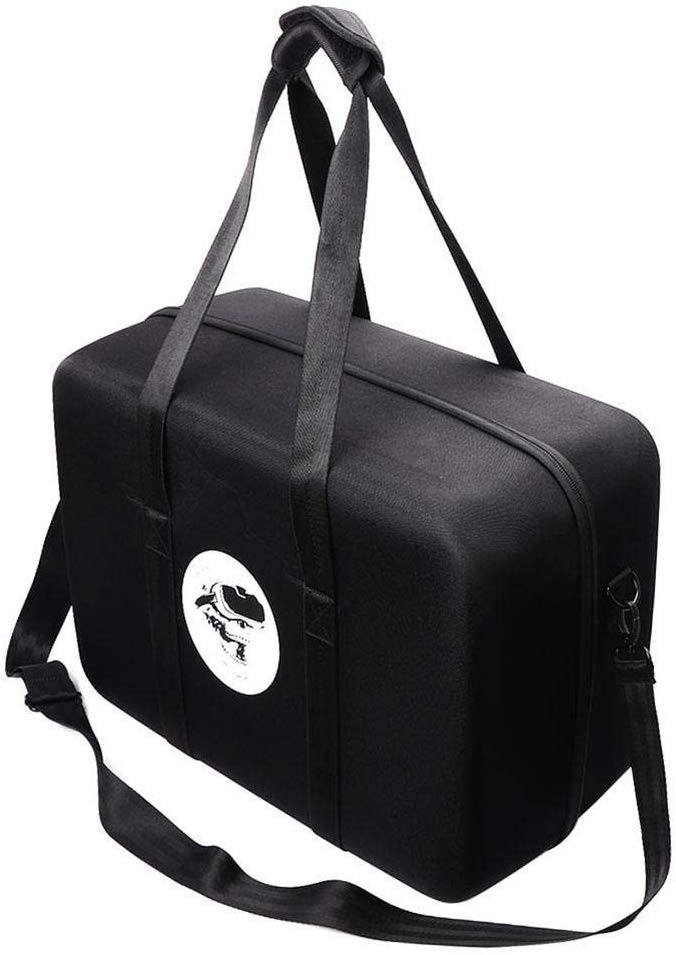 At first glance, this offering from rainrain 27 looks pretty similar to the other three on this best travel cases for Valve Index list. In fact, it does have very similar features, but, there are a few small differences that make it worth considering.
The first thing to note is that instead of a small side handle, the smaller handles on this bag are much longer, potentially making it more comfortable to carry as you have more space between the item and your hand. Alongside this there is the standard shoulder strap that you may prefer to use. 
The material is the standard high-quality EVA which is durable and shock-resistant. It's also water-resistant and rugged enough to withstand most bumps and scrapes. This bag is also designed to be impact resistant, it's a combination of the material and the foam inside your 
In keeping with the other cases, the inside is a thick foam material which can be arranged in any format you like, giving you enough space to pack each part of your VR system in without it touching itself. Of course, the base units will have to stay at your home. 
This bag also wears just under 2 pounds, allowing you to carry it and your Valve Index all day, if you have to.
---
Wind-Susu Hard Case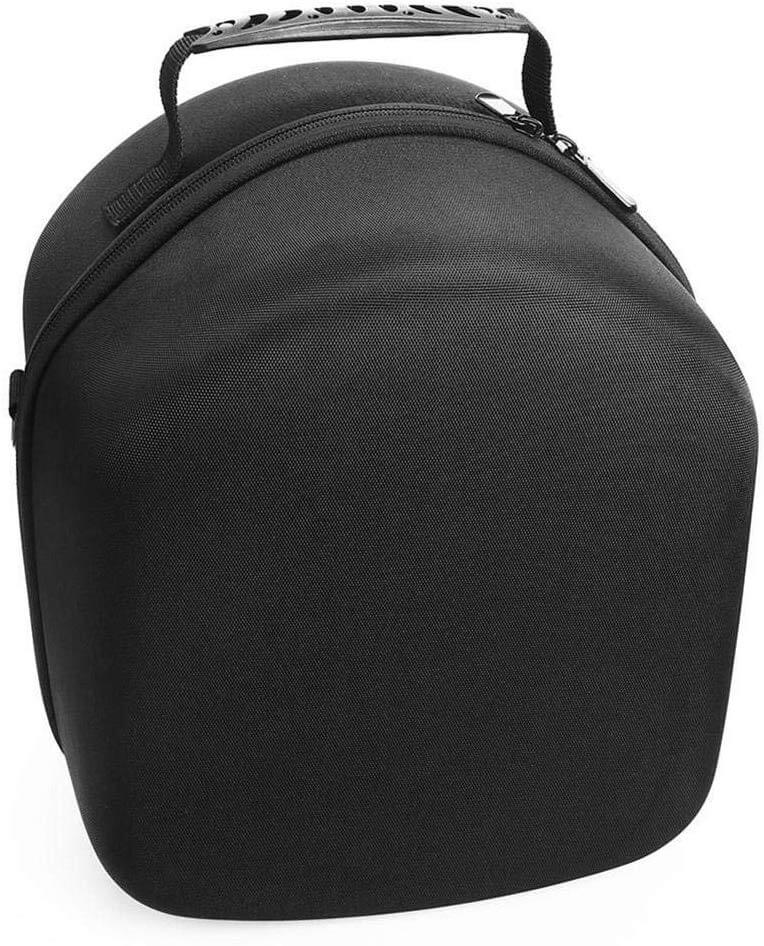 This is another case that is designed along very similar lines to the other bags on this list. But, that doesn't mean it shouldn't be considered as your new bag. The inside is full of dense pick and pluck foam, allowing you to create the perfect interior for your Valve Index or even something completely different. 
The Wind Susu hard case has the conventional side handle with rubberized grip to help ensure you can carry it by your side when you need to. There is also an adjustable shoulder strap but you may prefer not to use this as it is more difficult to keep an eye on your expensive equipment.
EVA anti-shock material has been used to create the bag, it's weather-resistant and impact-resistant, although you may not want to test these facts before you have to. The outside is scratch resistant and should last for years with minimal maintenance, allowing you to carry your Valve Index now and then something newer, and potentially better, in the future. 
It measures approximately 11.61 x 10.83 x 7.09 inches and weighs just over 2 pounds.
---
An Alternative
The above cases are designed to be used with the Valve Index or any virtual reality system. However, they are all hard cardboard with tough exterior material. This should be enough to protect your headset, even if you're on a crowded commute. 
However, you should also consider looking at briefcases and even small, hard suitcases. These can be purchased in a large enough size to take your headset, controllers, and even your base units if needed. Considering the weight of this will add up it's a good idea to use a hard suitcase on wheels. 
Of course, you'll need to design your own padding inside the suitcase to hold each piece in its slot and protect it from impact or other issues when in transit.
A suitcase or even a large briefcase will allow you to transport your Valve Index but, you'll need to consider where you're going and how busy I will be. The larger the carry case the more difficult it will be in a busy area and the more likely it will be that your case will be damaged.
If you're planning on traveling by car this shouldn't be an option and the briefcase or hard suitcase should help to ensure your Valve Index gets were it needs to be safely.