Backlit keyboards and affordable laptops mostly don't go in the same sentence, or that was the case until recently. Nowadays, even some of the cheapest notebook categories such as Chromebooks sometimes come with a backlit keyboard. But not all backlit keyboards are the same.
Type of laptop keyboards
If you buy a laptop today, you will probably get a chiclet keyboard. This most widespread type of laptop keyboard has keys that look like they come out of the device body. Keys are flat, which creates the impression that there is more space, and that is essential for manufacturers in their fight with the scarcity of space. 
The traditional style of the keyboard has keys close to one another, and space between them is created with slopes at the edges of the keys. The biggest advantages include more key travel, and they are easier to replace.  
Mechanical keyboards are also rare but are present in a high-end gaming laptop. These are the highest quality keyboards and include the best feedback, zones of backlit illumination, and replaceable keys. 
What to look for in laptop keyboard
There is no right answer to the question of which keyboard is the best. That is why you will ask how does it feel to type on the keyboard. Some users will like a shallow path; others will insist on sturdy mechanical keyboards. 
There are, however, some indications and guidelines to follow when choosing the right laptop keyboard. The first thing to check would be how much does the deck flex under pressure? Press on several keyboard zones, and if the keyboard flexes more than usual, it could mean your typing experience will not be top notch. Keyboards with lots of flex can contribute to more typing errors, devices lifetime and can also look cheap while deducting from the laptop's appeal.
Key travel the on chiclet keyboards is shallow compared to the traditional, desktop and mechanical ones. This can be useful in the never-ending trend of making the thinnest laptop, but shallow travel translates to poor feedback and more typing errors. That said, there are some great laptop keyboards despite their chiclet style.
The keyboard layout is another big thing to consider when choosing a laptop. If you often write, there are certain checkboxes to cross. The ideal keyboard has six rows of keys, with separate rows for F1-F12 keys and numeric keys, dedicated Home, End, PgUp, and PgDn keys. Some laptops use Function (Fn) key to toggle between the key functions, so you might not have these dedicated keys.
With backlit keyboards, illumination is controlled with the function key, and you will need to use it with Fn modifier. In the Function keys row, keys have new functions like illumination as mentioned earlier control, but also screen brightness, volume up and down. 
Most 15.6'' and 17.3'' bigger laptops have an additional numerical keyboard like their desktop counterparts. The keys are around two-thirds of average size, but this is an essential addition if you work with spreadsheets a lot. 
Things you should not accept are half-sized keys in smaller laptops and subpar quality keyboard with too shallow key travel, or severe flexing under pressure. 

Benefits of a backlit keyboard
Excellent addition to the chiclet laptop keyboard is backlit illumination. There are numerous use cases for this feature. The backlight illuminates the letters and symbols which make them visible in dark or low light conditions. The print on the key is transparent so the light will shine through the letters. 
Expensive high-end laptops offer better quality keyboards, which translate in clean-cut backlit illumination without spills around the keys. Gaming laptops go a step further with special colors for crucial keys like WASD, or even more different illumination zones. All these features can elevate your user experience, but even a cheap backlit keyboard with non-perfect construction and light leakage will do the trick if you need to write or work on your laptop in the dark.
There are many situations in which the backlit keyboard will be invaluable. 
If you are a night bird but don't like having all the lights up, or you can't turn them on if your spouse or kids are asleep near you, the backlit keyboard will save your life. The same applies if you need to work outside and it's dark, or if you are on a long flight and lights are out for passengers to sleep. Sometimes during the classes, the teacher/professor needs to dim the lights to show some presentation or other material. With the backlit keyboard, you will be able to take notes. 
Best affordable Laptops with Backlit Keyboard
Every person has its definition of cheap or affordable. We wanted to find the best laptops that have a backlit keyboard, but they also excel in other areas. The budget limit for affordable in this case is $600, which enabled us to go with really potent laptops. After all, what good is the backlit keyboard if your laptop can't perform?

Acer Aspire 5 A515-54-51DJ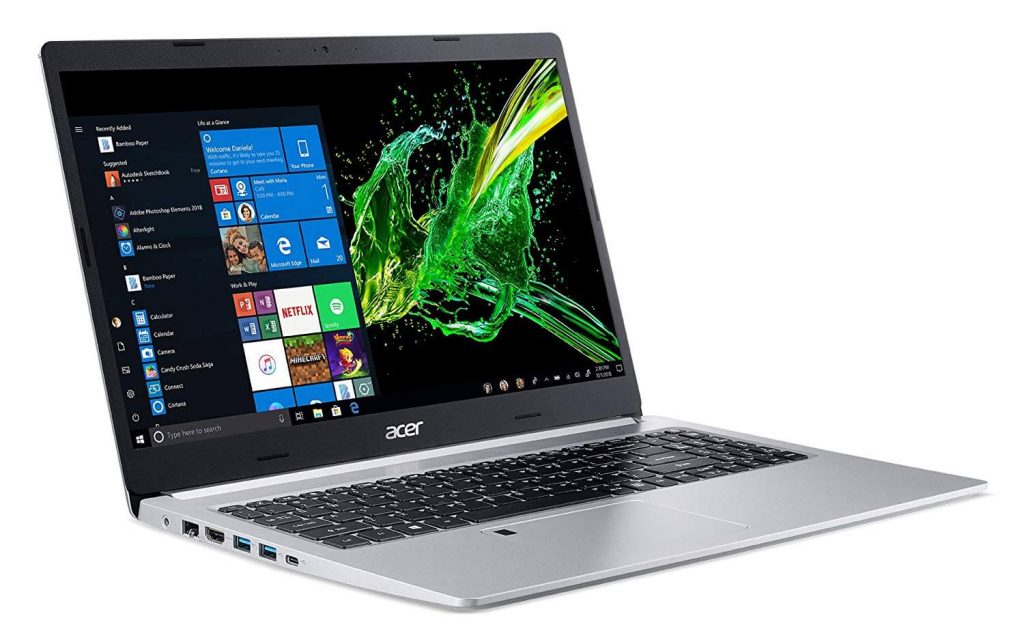 Acer Aspire 5 is among the most popular affordable all-around laptops, and the thing that separates this device from full desktop replacement capabilities is lack of dedicated GPU. 
Aspire 5 body has an aluminum finish, and it spells high-quality. Sturdy unibody design with metallic silver color gives the laptop a serious business look and feel. Other features also point to that cause. The laptop is lightweight and very mobile, which brings us to the display. 
One of the most siginicant asset for Aspire 5 A515-54-51DJ is the IPS screen. It has narrow bezels, and that contributes to the smaller overall size of the device. The FullHD display needs to become standard even among lower-end models and in this device is a must. It has an excellent viewing angles and color representation with right enough level of brightness.
Great things are under the hood with potent four cores, eight threads Intel Core i5-8265U CPU and speedy 256 GB NVMe SSD and standard 8 GB of RAM. This is enough power for business, multimedia, and even casual gaming tasks, but gaming will be seriously limited due to the lack of dedicated graphics. Intel UHD Graphics 620 will work perfectly for most jobs outside of gaming, and if you lower the resolution and the level of details, you will be able to play some less demanding games.
The laptop's keyboard comes with side numerical keypad and has standard keys layout. Direction up and down keys are somewhat smaller, and it is the only layout drawback. The chiclet-style keyboard has decent key travel, a clear pressure point, and the deck doesn't flex under pressure. Backlit illumination is controlled with the Fn key, and it has only one brightness level.
The touchpad is large, and it supports gesture controls, it's responsive even in the corners, and the mouse buttons are integrated at the bottom. Overall, input devices are what you would expect from this price category, not without flaws, but in this case, very good.
For business users, Acer added a fingerprint reader in the mix. Aspire 5 comes with all the relevant ports including HDMI, USB Type-C, two USB 3.1 and one USB 2.0. It also features an SD card reader. 
The laptop comes with two 802.11 ac antennas so that you can connect to a faster 5 GHz Wi-Fi network. Acer Aspire 5 has TruHarmony for audio, which is a marketing term for a bit different stereo speakers that deliver decent audio.
Overall, Aspire 5 is well built, a lightweight performer with a nice backlit keyboard, and its only flaw is subpar GPU, but if you are not a gamer, it won't trouble you.

Specs:
Display size/type: 15.6''/ IPS
GPU: Intel HHD Graphics 620
Storage: 256 GB PCIe NVMe SSD
Operating system: Windows 10 Home
Dimensions/Weight: 14.3 x 9.9 x 0.7 inches/4.19 l
Pros
Cons
---
Lenovo Ideapad Flex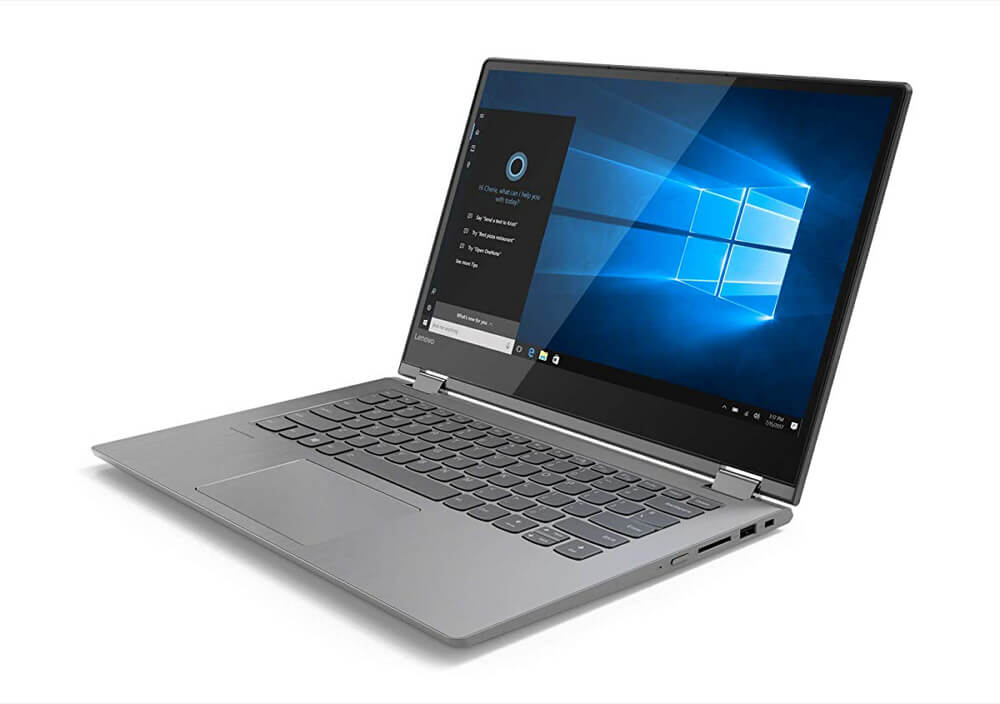 Ideapad Flex is 2 in 1 laptop with a compact, sturdy body, great screen, and a backlit keyboard obviously. All that aside, his main advantage is the price which is significantly lower than with similar 2 in 1 thin and light laptops.
Design and build quality are way above the price category. The sleek, thin, and convertible laptop has a brushed aluminum case with gunmetal color. The IPS screen comes surrounded with thin bezels. It's a FullHD display with a glossy reflective coating, so you won't enjoy working in bright outside conditions. The other drawback is the screens maximum brightness levels. It's not the brightest display out there with 250 nits. The display is a touchscreen, very responsive, with great viewing angles and correct colors.
Lenovo is well known for keyboard quality, and Flex is no different. Although it has small form-factor, the keys are large, ergonomic with a slightly concave build and shallow but responsive key travel. The keyboard offers a smooth and responsive experience, and it has backlit illumination with a single brightness level, but still, a great help in dark writing conditions. Flex has midsize trackpad with excellent performance.
Ultrabook format of Ideapad Flex is accompanied by great hardware. Lenovo Ideapad Flex 14 comes with four cores Intel Core i5-8250U CPU, standard 8 GB of RAM and 128 GB SSD. The operating system will feel snappy, and this combination of components will provide a great user experience. 
With only 128 GB of space, you won't be able to store videos, photos, and other files, so you should consider Cloud or external storage.
Another disadvantage of Flex laptop is his integrated graphics. You won't be able to play serious games or edit high-resolution video. Other than that, Lenovo Ideapad Flex is capable of all other tasks. 
With its 45 Wh battery, you will have around 8 hours of autonomy, which is pretty good. Besides the lack of a dedicated graphics card, the audio experience is another not so great feature. Speakers are placed under the case and are despite the Harman Kardon branding average at best. It's whole another story if you plug in a quality headset. 
Lenovo Ideapad Flex 14 is a convertible 2 in 1 laptop with great performance, design and build quality and an excellent price. It lacks gaming performance, and audio could be better.

Specs:
Display size/type: 14''/ IPS
GPU: Intel HHD Graphics 620
Operating system: Windows 10 
Dimensions/Weight: 21 x 12 x 3 in/3.53 lbs
Pros
Cons
Reflective and not very bright screen
---
Dell Inspiron 15 5000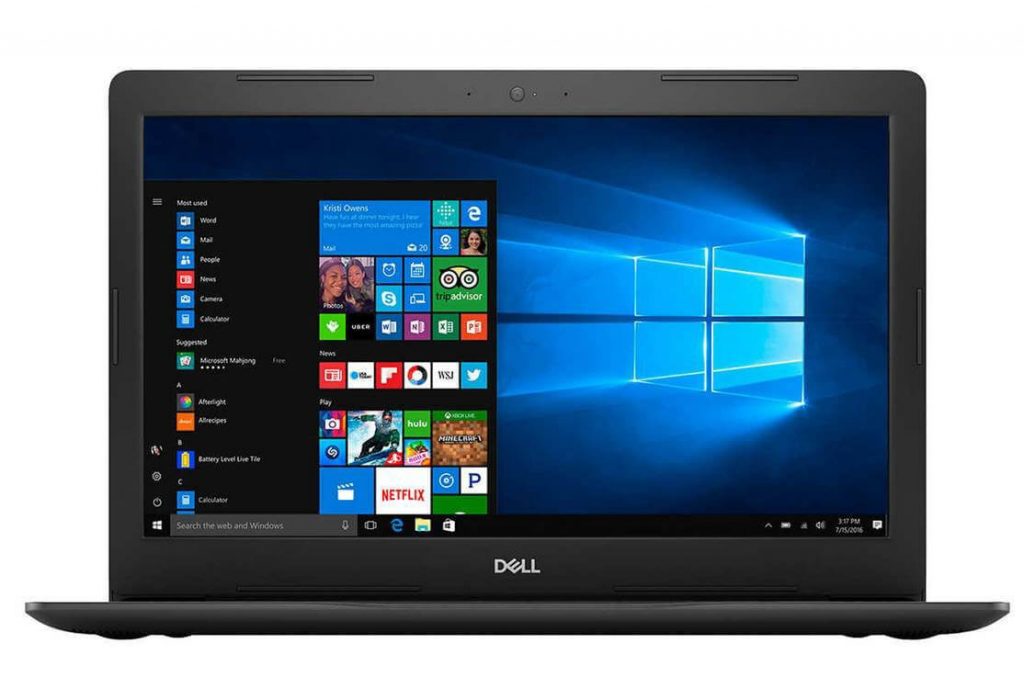 Dell Inspiron 15 5000 is a classic 15.6'' laptop, and his backlit keyboard is among few features that separate him from the most populous category of notebooks. 
Besides the metallic lid, there is no other design or build a feature that stands out. Other parts are made from matte black plastic, and it is just what you would expect in this price range. Some of the cheaper Inspiron laptops got killed in customers reviews for its screens. Good news for Dell buyers is that Inspiron comes with FullHD touchscreen. 
Not that the touch part will be a definite selling point, but touchscreen displays tend to be of better quality, and that is the case with this model. 
Chicklet keyboard has a numerical keypad, which is excellent for productivity. The nice layout has little smaller return key, but besides that it's ok. Shallow key walk and bending of the surface could ruin longer writing runs. Overall, the keyboard is decent, with backlit illumination that raises the grade. Big trackpad underneath has a subtle mark for left and right mouse button. There is enough space for gestures, and there are no serious flaws with it.
Dell Inspiron 15 comes with potent four cores Intel Core i5-8250U CPU that works on 1.66 GHz base clock, and it can go up to 3.4 GHz. Great support for the processor comes from 12 GB of RAM, slightly above average in this price range. What we didn't like is lack of SSD. Inspiron 15 5000 comes with 1 TB classic HDD. This will result in slower and not quite so responsive user experience, but you will have substantial storage capacity. 
Another drawback is the integrated GPU, capable of most task excluding gaming. The only upgrade we would recommend however would be swapping HDD with SSD. 
Dell Inspiron 15 comes with Dual Band Wireless ac, and great ports selection with two USB 3.1, one USB 2.0, HDMI and media card reader. There is another blast from the past in the form of  DVD/RW device. Audio performance is not bad with stereo speakers and MaxxAudio Pro processing. 
Powerful CPU and abundance of RAM make this all-rounder tempting, but the lack of SSD could be a dealbreaker. Formidable build quality and solid touchscreen display with great price make this package a good offer.

Specs:
Display size/type: 15.6''/ LED
GPU: Intel HHD Graphics 620
Operating system: Windows 10 Home
Dimensions/Weight: 14.96×10.15×0.89 in/4.8 lbs
Pros
Cons
---
HP Pavilion 14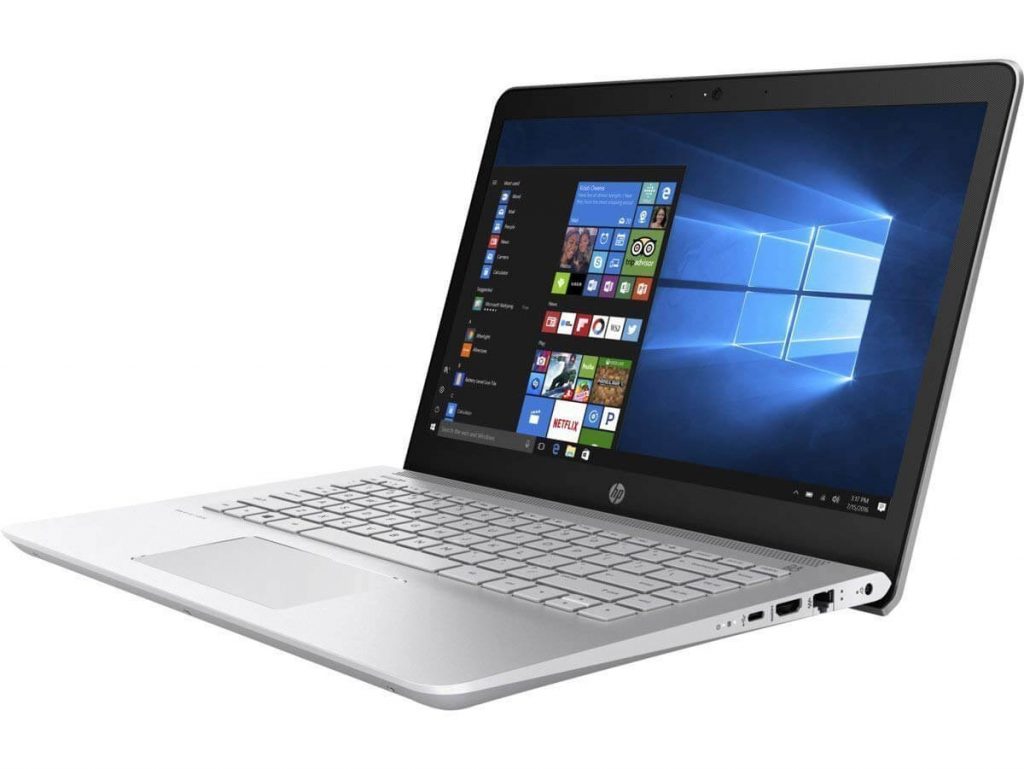 HP Pavilion 14 is a mix of a compact laptop with potent hardware and very competitive price. It features IPS display, speedy SSD- RAM combo and a backlit keyboard that got him a place on this list.
Pavilion 14, 2019 edition has ultra-thin and light design with attractive matte finishing touches and a combination of plastic and aluminum materials. The stylish design doesn't quite translate to the screen area, which has thin bezel on the side, but a lot of plastic up and under the display. 
The keyboard is chicklet style with no big layout issue beside smaller return and arrow keys, but that is standard with 14'' devices. The keyboard is comfortable for typing despite having shallow key travel. The backlit keyboard on this compact and very mobile device is valuable in cases you'll need to use the laptop in darker light conditions. Illumination is controlled with function keys, and there is only one level of brightness available.
The touchpad is very wide, with mouse buttons separated physically. It's responsive and tall enough for using gestures.
Pavilion 14 comes with FHD IPS display with great viewing angles and touch capabilities. The screen is one of the stronger assets for this device. Besides the great screen, HP Pavilion borrowed versatile ports from the higher price category. The laptop comes with Thunderbolt USB 3.1 Type-C with data transfer up to 5GBs, two standard USB 3.1 and HDMI. HP doesn't offer Wi-Fi ac support, but that is not a dealbreaker.
The stylish Pavilion has dual-core Intel Core i3-8130U CPU. Along with 8 GB of RAM and 256 GB SSD the processor will enable excellent user experience with fast boot times, responsive system and opening of the apps. You won't be able to play serious games on integrated graphics or to work with advanced 3D professional apps, but Photoshop, Lightroom, Premiere Pro, Avid, or other production applications will work just fine.
HP Pavilion 14 is a stylish, compact laptop with great display and hardware, and backlit keyboard makes it perfect for writers on the go. With 3.16 lbs it's lightweight which makes it mobile and ergonomic. It's not meant for gaming, although you can play Hearthstone or Plants vs. Zombies. 

Specs:
Display size/type: 14'/ IPS
GPU: Intel HHD Graphics 620
Operating system: Windows 10 
Dimensions/Weight: 12.76 x 8.89 x 0.78 in/3.16 lbs
Pros
Cons
What to look for in a budget laptop, besides the backlit keyboard
This is the questions that are repeated over and over for every laptop and other devices category. And the answer is hidden within the customers. First thing you should do is determine what you need a laptop for. If you are a writer, a great keyboard is essential, if you want to play games, you will need a dedicated GPU, and if you need an all-around laptop, it boils down to your budget.
With Windows 10 as dominating the operating system and Google Chrome as the most popular browser, we would recommend at least 8 GB of RAM.
 SSD is another component you should prioritize when buying a new laptop. This is the component that has the most significant effect on the overall speed and responsiveness of the system. 
For most uses, CPU is not bottleneck, but to be sure and future proof doesn't go under Core i3- 8xxx or AMD Ryzen 5. If you are really on a tight budget, new Intel Pentiums are a solid choice also. 
For all of you budget gamers, there are a couple of choices with nVidia MX 150 being the bare minimum and GTX 1050 for comfortable 1080p gaming without breaking the bank. 
The display should be FHD and IPS, and that is already a great combo for budget laptops. 

---
Bottom line
The backlit keyboard is a handy feature in numerous scenarios. It can make an average keyboard better and more useful, but it won't be much help if your laptop keyboard is awful. For the cheapest laptops with backlit keyboards, you will probably get only one level of brightness. RGB laptop keyboards are reserved for more expensive and most gaming laptops. I finished writing this article on a backlit keyboard, so LED illumination is a definitively great feature, and even if the quality is not very good, it's still a great help when you don't see the letters on the keyboard.