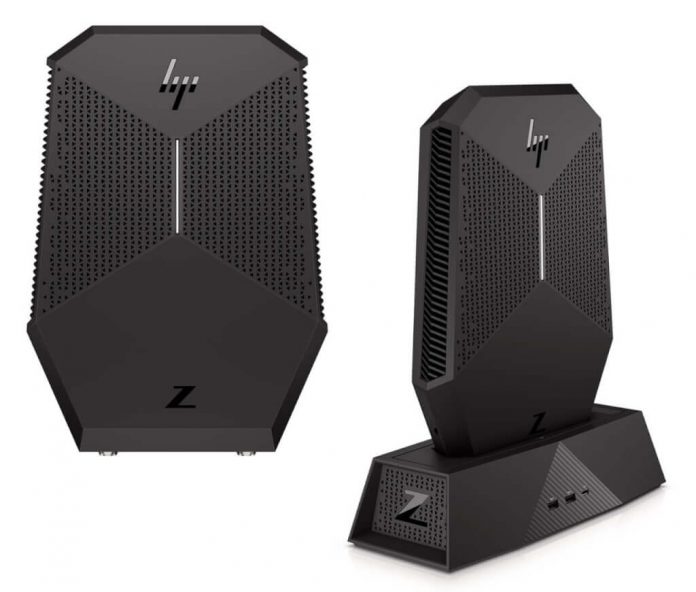 Just so you know, there are two models of the HP VR Backpack PC. One is the HP Z VR backpack PC, which is entirely geared towards industrial and professional applications and is superbly over-powered. The other version is the HP Omen X VR backpack PC, which is a lighter version more geared towards gaming.
Both PCs are similar in terms of design quality and ease-of-wear, and both have been designed specifically for virtual reality. The differences between the two lie mainly in the graphical capabilities of each… and in the price of each. The HP Omen is significantly cheaper than the Z.
And now, on to the review…
The HP Z VR backpack PC is the latest avatar in a line of backpack PCs from HP
It is a powerful PC designed to be worn on a user's back and has been specially built for virtual reality. While anyone can buy this PC, the design, at the moment, is focused upon professionals. The HP Z VR backpack PC is a quantum leap forward in virtual reality technology.
By creating this, HP automatically positions itself as a technological source for companies seeking to accelerate their design and production cycles, improve their training processes, and offer immersive customer experiences. This is one of the first portable professional PCs, equipped and designed to improve one's immersion in virtual reality. HP's VR backpack technology relies heavily on strong partnerships with, among others, Intel, NVIDIA, Technicolor and HTC Vive.
Check out HP Z VR backpack on Amazon
A clash between wireless VR and on-board VR
The HP VR backpack PC is a response to the irritating wires that seems to be a trademark of most VR headsets today. While cutting-edge VR headsets offer extreme resolutions, and an immersive experience, they still tend to trail wires that can get entangled in a person's body or even in one's legs. You can just imagine how much tripping over the wires that link your VR headset to your PC can detract from the immersion of your VR experience.
There are two ways that companies are looking at to get past this difficulty.
Some companies are working on a wireless connection between the PC and the headset that will dispense with the wires, while other companies like HP are focusing upon actually creating a backpack that contains a VR capable PC.
That's exactly what the HP Z VR backpack PC is
There are certain reasons that HP has for having made this choice. Firstly, experiments by companies using wireless technologies have come up against an inherent latency involving wireless transmission that limits the technology.
Microsoft has made some experiments with what it calls its HoloLens. In the case of the HoloLens, the mixed reality headset itself contains the processing unit. This creates a wireless experience that bypasses both the problem with trailing wires and the latency issue with the wireless transmission. However, the fact that the processing unit also has to sit within the headset limits the power of the onboard computer – at least at present.
HP's solution seems to give one the best of both worlds
Firstly, you have a state of the art VR computer resting comfortably on your back, where the weight distribution allows it to be almost imperceptible. You do not have any trailing wires or any latency issues with the wireless transmission. You can simply put on your HTC Vive or Oculus Rift headset and wander through the virtual worlds of your choice.
While this may seem to be the VR gamers' dream come true, the HP Z VR backpack PC is really not focused on gaming.
You'll be far more likely to find someone using this backpack PC designing a car or building a model in 3D. The HP Z backpack PC is entirely cued to industrial applications, such as product development, employee training, or customer immersion.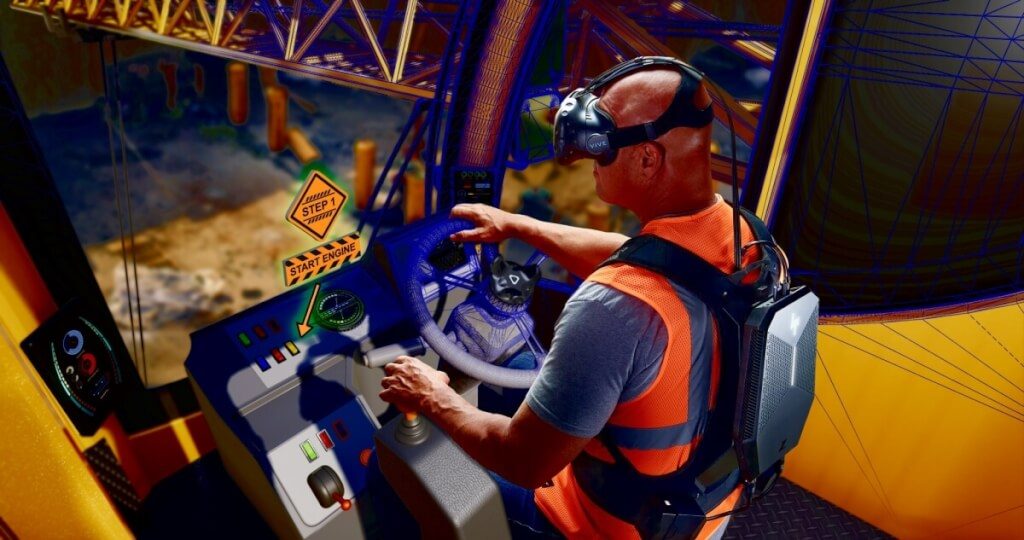 Training people, and keeping them out of hazardous situations
One of the uses that HP suggests for its backpack PC is to simulate training in dangerous situations. Other possible uses of the backpack PC include teaching advanced medical professionals, such as surgeons. For example, a medical student learning surgery could operate upon a simulated heart in virtual or mixed reality, thereby learning practical skills in the process. Such a VR PC could also allow surgeons to increase the scale of the perception of their operations, making movements much more precise.
Other applications include operating extremely heavy machinery safely, by placing the operator far away from the machine itself. There are applications in real estate as well, allowing for virtual tours of available properties while the client sits in the comfort of the estate agent's office.
3D modelling has already been used for decades to create everything from moulds for toys, to the complex engineering of a gear box. The HP backpack PC can make all these commercial and industrial applications much easier and certainly has the power to support the most cutting-edge industrial VR technology.
A premium product
The HP Z VR backpack offers impeccable looks with a rugged and robust construction. The PC also allows you to use it rather like a hybrid, as it can either be used in the backpack rig or simply as a normal computer, as it allows you to plug a conventional monitor and other controllers to an integrated docking station. In other words, the docking station allows you to connect the backpack to a screen in an ordinary manner, turning the backpack PC into a desktop computer, albeit one whose configuration is ideal for the use of most professional 3D applications in real time.
Check out the best HP Z VR backpack deals here
Possible limitations of the product
Under testing, this VR backpack certainly allowed a person complete autonomy, and complete freedom of movement in every direction. Even used intensively, and with the most demanding applications, the battery pack of the backpack lasts for at least an hour. Most professionals will smile at that, considering that an hour's operational time is hardly significant on the scales at which they operate.
However, HP provides for a newly charged battery to be swapped "hot" for a depleted battery. That is to say, that the batteries of the device can be changed while the device is operational, and even working on some complex task or running a sophisticated 3D application. Having a number of battery packs to spare, and charging them in sequence, can allow you to continue working for the entire duration of a normal working day. This solution is of course aimed at design professionals who may need to use the backpack for several hours. For customer or product demonstrations, the hour's working time of the backpack PC will, of course, suffice.
Dealing with the weight
While some reviewers had concerns about the weight of the backpack, these were quickly put to rest. The entire backpack weighs just over 4.5 kg, which is hardly an excessive weight. Reviewers found that the weight was quickly forgotten in the immersion of the VR experience. Most reviewers believe that the backpack could be used for extended periods in virtual reality and that its weight was not a constraint at all.
Perfect heat management
The backpack PC is designed to let air flow away from your back, thus preventing the PC from getting too hot. This air flow system prevents the PC from becoming uncomfortably hot in use. Lastly, we may point out that the HP Z VR backpack has been designed to integrate flawlessly with the HTC Vive Pro, perhaps the finest headset in regular production today, making the combination of the headset and the backpack the ultimate solution for companies and professionals seeking to use virtual reality as a cutting-edge design tool.
How about gaming?
While the HP Z VR backpack can certainly be used for gaming, the backpack in combination with the HTC Vive Pro might be expensive for the average gamer, even for a dedicated one. There is no need to worry, though, because HP offers a gaming backpack PC that is just a little more than half the price of the professional version. I'll give you the technical specifications on the two PCs here.
The professional version – the HP Z VR backpack G1
This PC is designed for use in industrial environments and has a reinforced chassis with a built-in LED display that shows the power status of the PC. It comes with a docking station that allows the PC to be converted into a conventional PC. It incorporates a 7th generation Intel Core i7 processor with vPro technology. Its graphics card is an NVIDIA Quadro P5200 with 16 GB of GDDR5 memory. It has two SO-DIMMs for 32 GB of maximum memory. It can support a multi-display of four screens, and comes with high fidelity headphones, and is also compatible with a wireless connection.
The gaming version – the HP Omen X VR backpack PC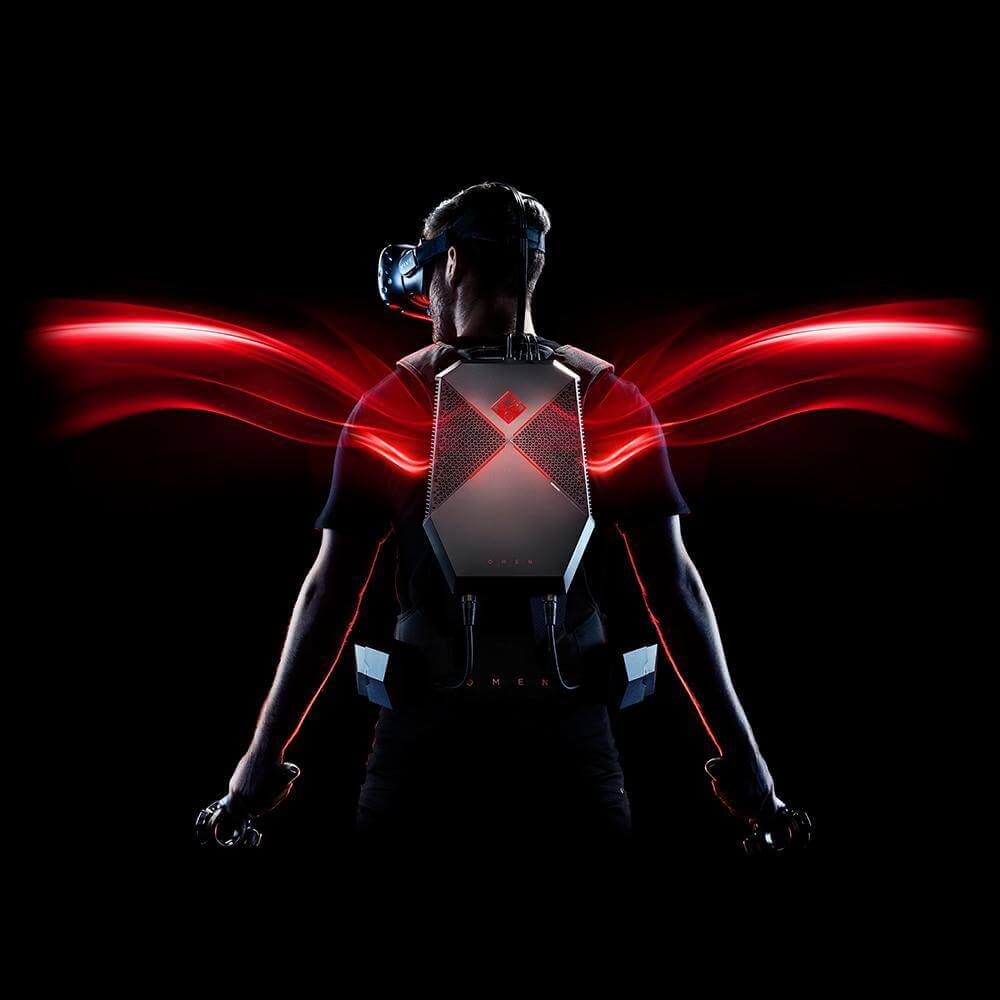 This is the version of HP's backpack PC that is ideal for gamers. While it is less powerful than the professional version, as you will see, its capabilities are perfectly adequate to VR gaming. While this can be used for gaming, it is also designed to be optimal as a nomad workstation that allows you to move your office where you please quickly and efficiently.
The battery of this version can last to up to 1.5 hours, depending on what applications you're using. As with the professional version, changing the battery is provided for. The technical specifications for HP Omen X VR backpack PC include an Intel Core i7-6700 HQ quad-core processor that clocks at between 2.6 to 3.5 GHz. It also includes an NVIDIA GeForce GTX 1060 graphics card. It has 32 GB of RAM and provides 256 GB SSD storage space. It weighs around 5 kg.