Without our sight, where would we be? If you've experienced fogging, you know just how dangerous visual impairment can be; in fact, serious injuries can happen when you aren't able to see what's going on around you. The good news is that you don't have to live with fogging. Besides covering the best anti fog sprays on the market right now, we'll take a look at some other ways to stop lenses from fogging up.
Why Does Fogging Occur?
Fogging occurs as a result of the condensation of water in the atmosphere. As we exhale, water vapor from our breath comes in contact with the lenses. As the lenses cool the vapor, it forms tiny droplets on their surfaces. This is the stuff we call fog.
Condensation can cause glasses, windscreens, VR headphones, and many other things to fog. You've probably experienced some of these things for yourself!  
The Problem of Fogging Glasses when You are Playing VR
Since VR games are often played for hours, it can be impossible to avoid fogging VR headset. If this has ever happened to you, you know that fogging can completely ruin your gaming experience. Luckily, there are quite a few things you can do to stop lenses from fogging up, so you can stop putting your game on "pause" and keep enjoying the action. Keep in mind that a number of factors affect fogging including room temperature, humidity, your skin's temperature, your breathing rate, and more. With all this in mind, you might have to try different solutions to fogging before you arrive at one that works consistently.

Let's take a look at some solutions to the problem of fogging:
Anti-fog wipes
Using shaving foam
Using a bar of soap
Using water repellent spray
Using anti-fog spray.
All of the above are great options; however, the focus here is on the use of anti-fog spray. For more suggestions on how to prevent your VR headset or glasses from fogging up, check out this article.

Antifog Spray Solution
There are several antifog solutions for users of VR headsets. These spray solutions are made to reduce the build-up of fog. We'll start with a quick look at how anti-fog sprays work, which might help you find the best antifog spray for your situation.
Anti-fog sprays reduce surface tension, which in turn causes those tiny water droplets to spread apart and reduces the likelihood of fog buildup.
These solutions were developed by NASA decades ago to be used for spacewalks. Today, they're popular with users of VR and other kinds of glasses. The level of effectiveness of anti-fog may differ depending on the brand in question and what their solutions contain.  

Anti-fog sprays are effective due to the fact that they attract water. Tiny droplets of water often combine to 'form' fogs. These solutions prevent fogging from happening by making the water droplets form a thin, unified layer which is easier to see through than the individual droplets.

Best Antifog Sprays on The Market
There are a lot of antifog sprays available these days, and shopping can be tedious. We've done the legwork for you, combing through unique factors and features to help you determine which is the best anti-fog spray for lenses. Keep in mind that it's possible to invest in anti-fog glasses/goggles. At the same time, anti-fog sprays often do the trick, so you can continue enjoying your current lenses. Here's our list of the best anti-fog sprays.

Jaws Quick Spit Antifog Spray      
There's a good reason why Jaws Quick Spit Antifog Spray is an Amazon bestseller!  This antifog spray does not contain any toxic chemicals, plus it works for both glass and plastic objects. This product is popular with users who are looking for a combination of efficiency and affordability. It gets high marks for keeping lenses clean and clear under different operating conditions.

---
Cat Crap Anti-Fog Spray
Although the name is a handful, Cat Crap is a powerhouse when it comes to anti-fogging equipment. And while the brand's name might make you snicker, it is a great option for all kinds of applications. It can be used in and out of water and still give the same amazing results. It is efficient and long-lasting; in fact, a single once-over with this spray will give you a full-day of fog-free equipment.

---
Scuba Mask Sea Drops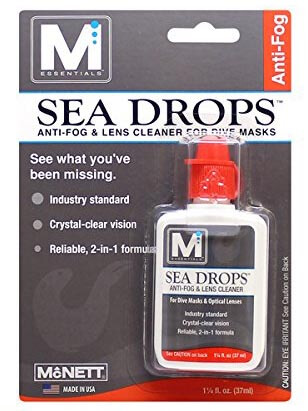 Scuba Mask Sea Drops  is made in the U.S.A. using the best industry standards. Itis geared towards all kinds of uses. Non-toxic, alcohol-free, and suitable for use on glass, plastic, and rubber, this formula is also non-abrasive. Just two drops does the trick, keeping lenses fog free. Scuba Mask Sea Drops gets high marks for keeping vision clear even in cold environments.   
---
Cressi Antifog  
As antifog solutions go, Cressi Antifog is one of the best in terms of usefulness and product line. This brand offers different kinds of antifog, so you can easily decide which is most convenient for you. The company  offers users a range of wipes, drops, as well as anti-fog sprays. Of all these, consumers like the spray best, often mentioning that they enjoy hours of fog-free performance.

---
Clarity Antifog Wipes
Although this is a list of the best anti-fog sprays, we couldn't leave these wipes alone. Clarity antifog wipes are a convenient, effective way to deal with fogging.
Each cloth is good for at least 20 wipes, so you get great results without having to carry a whole spray bottle. The wipes need to be kept away from dirt and moisture, so it's best to seal them up between uses.  They can be used to de-fog VR lenses, eyeglasses, paintball masks, ski goggles, and a lot more.

---
Fogging can be unsafe, plus it's uncomfortable and let's admit it, fairly maddening.  Luckily, we have easy access to a variety of anti-fog spray solutions, and these tend to make an amazing difference. These products might be available at some brick and mortar stores, but unless you have access to a specialty shop, you might find it's easier to find them online. With the right anti-fogging spray, VR lenses and other see-through objects take on new clarity so you can see comfortably and enjoy your experience.