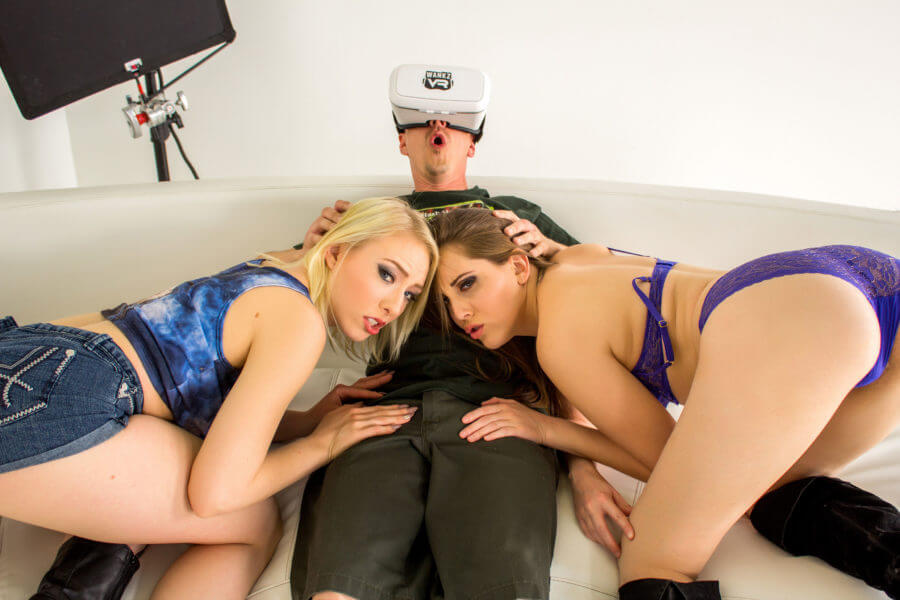 For the average connoisseur of porn, VR is really a dream come true. After all, watching porn on the standard monitor is so – well – flat. What's the use of using your discernment and fine-tuned judgment to select the absolutely best porn videos of all time, with porn stars you would love to explore the limits of your imagination with if it's all in 2D? What use is a porn universe without real 'curves'? Well, technology has finally solved that little problem, and the horizons of porn just gained a whole new dimension… in VR.
The VR industry has also added a new flavor of experience in the world of VR.
Pretty much every VR video on the market has you take on the role as one of the participants. No more will you be reduced to the role of a spectator, now with the first-person point of view you are a part of the action.
And the range of VR porn genres is also amazing.
There's something for everyone, including a feminine or gay audience. This includes straight sex, lesbian videos, female POV, gay experiences, hentai, and BDSM – truly just about anything that a viewer might prefer. VR porn features all the diversity that modern porn exhibits (ah, no pun intended).
It goes without saying that there are plenty of places on the net where you can find good VR porn. However, to help you out, some of the best sites associated with VR porn are:
Visit these, and you can spend hours exercising your discernment and aesthetic senses in choosing the best VR porn in the universe. While some of those sites may be familiar to you, others especially serve the VR porn niche, and just about any site that features VR porn will have made an effort to show compatibility with major headsets on the market today, from the Gear VR to the Oculus Rift.
Netflix like app for watching VR Porn
SexLikeReal.com app is very immersive, but is not available from the Oculus Store, since the Store does not permit adult content. However, this is hardly an issue, since it can simply be downloaded from the website itself. Once the app is installed, you can stream videos continuously. Do note that streaming VR porn videos to your headset will require a fairly high-end connection.
If you wish to make one website your starting point for VR adult content, I would recommend that you first download this app. It's like iTunes or Netflix for VR porn!
Which of course brings us to the important question…
Just which of the VR headsets on the market today is best for watching porn in VR?
And the answer is, several of them, depending on you. We'll tell you not only how to access and watch porn on the different headsets available today, but how to maximize that experience.
---
Best Standalone VR Porn Headset
Oculus Go – The best value for the price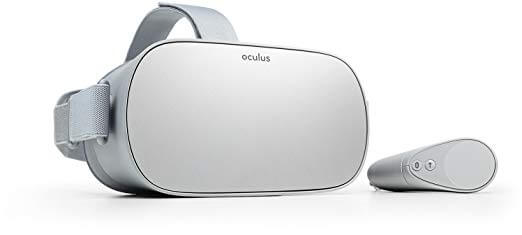 The fact that the Oculus Go is such an all-encompassing and standalone headset makes it one of the best headsets other than an Oculus Rift for watching porn. Except, of course, that it is much cheaper than the Rift.
The Oculus Go stands triumphant today as the headset that offers optimal quality at the best possible price.
But how do you go about watching porn on the Oculus Go?
We have a full guide for watching Porn on Oculus Go so we are going to make it short. You have two options here. One is to stream the videos to your Oculus Go. All you have to do is to enter virtual reality on the Oculus Go. Fire up the web browser, navigate to the VR porn site of your choice, and click on a video you want to watch. That's all it takes to stream porn videos to the Oculus Go. Nothing could be easier.
Downloading and watching VR porn videos with the Oculus Go
This is almost as easy as streaming videos, with one or two extra steps. First of all, you'll have to have a free or paid VR porn site that allows you to download videos. Start up your Oculus Go, and start the browser in VR. Navigate to your porn site, and simply download the video you like to your PC. After that, you can play the video in virtual reality.
It's very easy
You must go to Oculus Home, and then access the Gallery. Now click on Internal Storage, and then select your video. Once the video opens, choose the right method of viewing it. This will usually be 180 degrees in 3D.
Remember that while streaming is very convenient, you can actually get optimal resolutions while downloading and viewing a video, and resolution is something that matters both in virtual reality and in porn, so that's what I recommend. Sure, it takes a little more effort, but then the video is permanently on your PC for you to enjoy. Another option is to browse videos while streaming them on the Oculus Go, while only downloading the best ones.
For ease of use, good resolutions, and a very competitive price, the Oculus Go is certainly the way to 'Go'.
Here are the best deals on an Oculus Go
---
Best VR Porn Headsets for PC
---
Oculus Rift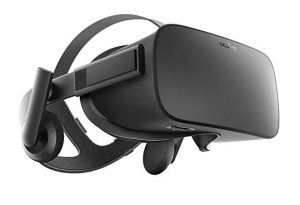 Let's face it – where porn is concerned, the resolution is everything. You don't want to be ogling a low-resolution porn actress now, do you? Well, the Oculus Rift brings you wonderfully detailed VR porn. Note, however, that you might need the Whirligig Viewer here. Once you've installed that, watching VR porn on the Oculus Rift is a breeze. One advantage of Whirligig is that you can watch porn offline, looking through your own personal collection. If you prefer to stream online, the Rift can do that as well.
Click here for the best Oculus Rift deals
If you want to know how to watch porn on Oculus Rift, you can find our guide here.
---
The HTC Vive – the premium VR porn experience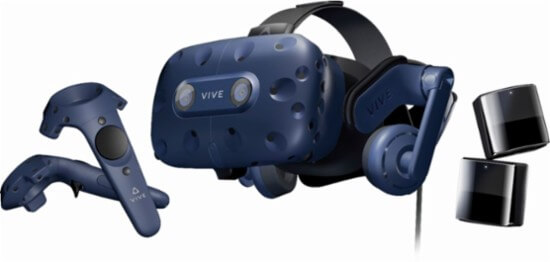 The intense realism of the HTC Vive is powered by its twin high-resolution displays, and this brings an immersion to a Vive VR experience that is like no other. This is, of course, even more, pronounced in the Vive Pro, which offers even higher resolutions. However, the Vive Pro is rather beyond the reach of the average Joe, and the classic Vive certainly offers a great experience watching porn.
Do the resolutions really matter all that much?
The answer to that depends on whether you can afford the Vive – or not. If you can't afford the Vive, mobile-based headsets are perfectly satisfactory, from your point of view. If you can afford the Vive, nothing but the Vive – or something even better, like the Pimax – will do.
One thing that you'll have to do if you want to watch 3D porn on the HTC Vive is getting yourself a good conversion tool like the Pavtube Converter. This will let you change Blue-Ray porn videos to the SBS MP4 format that is the mainstay of the HTC Vive's theater application. Just load the file you want to view into the converter and convert it to SBS MP4. Once that's done, you need to load the file to the Vive's microSD, and you're good to go.
An alternate method of watching porn on the Vive
Why pay for the software for watching porn when you can use that same money to buy a subscription to your favorite porn site?
Most of the top VR sites like BadoinkVR support the Vive directly these days. All you need to do is subscribe to the site of your choice and pay the premium fee, and you have access to the whole realm of VR porn.
BadoinkVR has its own dedicated player that is perfectly compatible with the Vive
All you need to do is to download all the VR porn videos that you like to your PC, and then view them with the player.
As you can see, watching porn is dead easy with most of the best headsets on the market. Most porn videos are 3D stereoscopic 360-degree videos, and while 360-degree videos do require special players like Whirligig, those players are around.
Check out the best HTC Vive deals here
---
Samsung Odyssey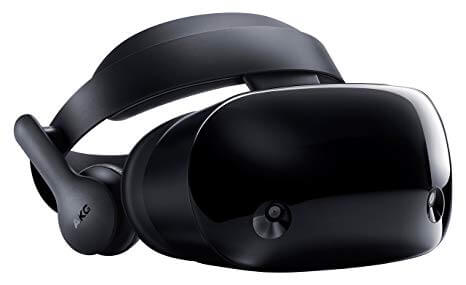 Let's face it, porn in virtual reality is all about luscious, high-resolution detail. Without that, it's just not worth watching. And the Samsung Odyssey really offers the best resolutions and the most clear-cut detail of any Mixed Reality headset out there.
The fact that its screens are AMOLEDs rather than LCDs only adds to the stunning crystal-clarity of your virtual porn experience.
The Samsung Odyssey also has built-in headphones, and while these might not be absolutely necessary for virtual porn (after all, you could always use your own headphones), the do considerably reduce the cables and clutter.
Here are the best deals on Samsung Odyssey headsets
---
Dell Visor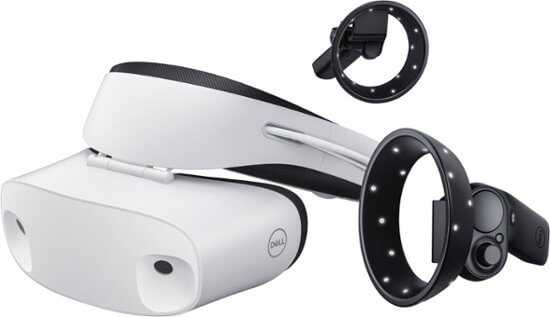 The Dell Visor looks rather insectoid, which actually gives it an interesting and futuristic look. However, that aside, it also offers superb clarity and is excellent for watching porn in Windows mixed reality. While the Samsung Odyssey is a bit better in terms of resolution and clarity, the Dell Visor, conversely, is a bit cheaper, so it's the old story of balancing quality with pricing.
The Visor is excellent value for money, with a 110-degree field of view, and a resolution of 1440 by 1440 from its twin LCD screens. With a refresh rate that is a very satisfactory 90 Hertz, the Dell Visor offers both clarity and smooth transitions.
Check out the best deals on Dell Visor
Let's cut to the chase
If you want the best possible mixed reality porn experience on the market today, go with the Odyssey. On the other hand, if you want a cheaper deal that still offers excellent resolutions, go with the Dell Visor.
---
Best Mobile VR Porn Headsets
| | Gear VR | DayDream VR |
| --- | --- | --- |
| Phone Compatibility | Samsung Galaxy series | A very wide range of phones |
| Resolution | Depending on the phone | Depending on the phone |
| Weight | 10.9 ounces | 7.7 ounces |
| Comfort | A+ | A |
| Price | Check on Amazon | Check on Amazon |
---
Samsung Gear VR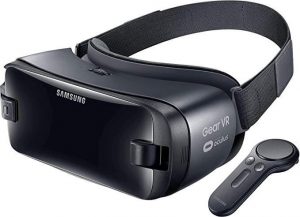 The Samsung Gear VR is one of the most popular mobile VR headsets. One advantage that the Gear VR has over other headsets is that it is so 'mobile'. The fact that it just needs a phone to drive it, and doesn't need to be connected to a computer or PlayStation means that you can watch your favorite porn just about anywhere.
So how do I go about watching porn on my Gear VR?
'Watching porn on the Gear VR is quite elementary, Watson', said Holmes, when he found his sidekick browsing porn on his Gear VR. 'Just download the porn video of your choice, and once it's on your phone, you can do whatever you like with it – with the accent on the 'whatever you like''.
Click here for the best Samsung Gear VR deals
---
Daydream VR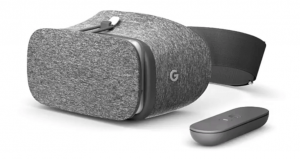 How to watch porn on Daydream VR
One of the simplest ways to watch porn on the Daydream VR headset is to use the Chrome browser. The latest build of this browser is completely compatible with VR. So, all you need to do now is to go to the VR porn website of your choice, place your smartphone in your headset, and the website will be available in VR.
Now you can watch all the VR porn that you want on your Daydream VR headset. BaDoinkVR.com is a recommended site with plenty of Daydream compatible videos. Note that this solution allows you to stream videos directly, without having to download them.
Watching downloaded porn on your Google Daydream
If you're the sort of person who likes to have a personal collection of selected videos, the easiest way to watch these is to switch off your phone's NFC mode and sideload the apps of various porn sites. This prevents your phone moving into Daydream mode as you slip it inside your headset.
A dedicated app
If you'd like an even easier way to watch VR porn on your Daydream than that, and one that functions from within the play store, I recommend Fulldive VR. This is a VR viewing app that is perfectly compatible with your daydream headset. Best of all, you can access it in the play store completely free.
Hundreds of thousands of VR porn Videos!
Once you install the app, you instantly have access to hundreds of thousands of VR videos, which include every genre of porn. These include 360 degrees videos and much more. An additional advantage of Fulldive VR is that it will let you look at your personal collection of downloaded videos as well.
Click here for the best Google Daydream deals
---
Watching VR porn on PSVR?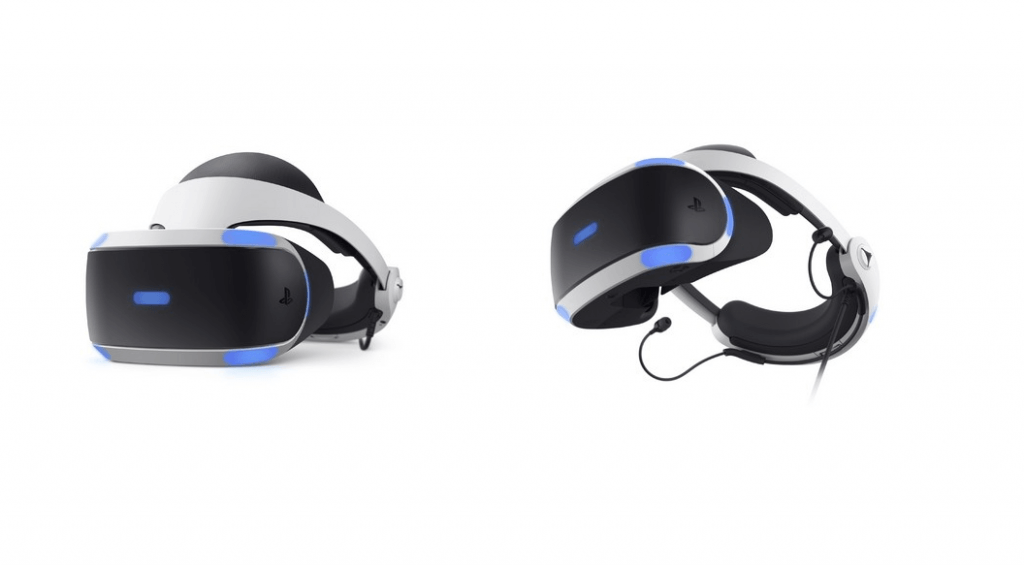 Wasn't the PSVR more or less made for porn? Ah, it wasn't – it was built for gaming.
However, the manufacturers tout its versatility, which means that your favorite porn videos aren't out of reach if you own a PSVR. Just access the internet browser of your PS4, and the porn site of your choice. Now all you have to do is select a porn video and enjoy it.
If you already have 360-degree adult videos that are stored on your PS4, just launch them using the 360 player integrated into the PSVR to access them. It's also possible to view porn downloaded via your computer on your PSVR. Just load the video of your choice on to a USB stick, attach the stick to your PS4, and use Media Player to open the video. Turn on your PSVR headset, and, using a controller, select the option for VR mode from the menu.
While this might seem to be more complex than navigating a website, it's a useful option if you happen you have your own collection of favorite porn – and who doesn't?
If you want to know more about watching porn on PSVR make sure to check out our guide.
If you don't have a collection of VR porn yet – well, I'm sure that's a minor error that can be corrected soon enough now that you know your PSVR isn't too straight-laced to handle porn.
Click here for the best PSVR deals
---
Best VR Porn Headsets Under $100
---
For Samsung phone users: Gear VR
Like we said before, Gear VR is an excellent mobile VR headset that truly excels in its ease of use. Not to mention that watching porn on Gear VR is a breeze.
It offers a 101-degree viewing window, wonderful resolution and a comfortable head strap which will allow you to use your….full range of motion while watching a video.
Sadly you'll already need to have one of these devices to make it work: Galaxy S7, S7 Edge, Note 5, S6, S6 Edge, or the S6 Edge+. Support for newer models of Samsung phones will be added in the future, but if you're already an owner of a Samsung phone go with Gear VR.
Click here for the best Samsung Gear VR deals
---
For both iPhone and Android users: HOMiDO V2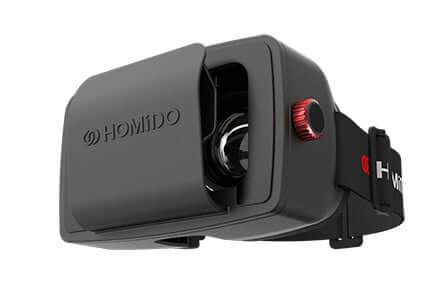 A truly excellent and comfortable headset that comes at a low-budget price, HOMiDO is a contender in the budget VR market.
It has a 100-degree FOV and a foam band around the eyes to ensure comfortability while viewing content not to mention that it also has focal length adjustments for the near- and far- sighted users.
Watching porn on HOMiDO is easy:
Insert your smartphone
Download this Netflix-like porn app
You're all set buddy boy!
One of the best features is a built-in-action button that allows you to operate your smartphone without the need to remove it from the headset case.
Not to mention that HOMiDO is compatible with a wide range of phones, from 4.5-inch ones to those with a 6-inch screen.
Click here for the best Homido V2 deals
---
Best VR Porn Headset Under $30
BlitzWolf VR Headset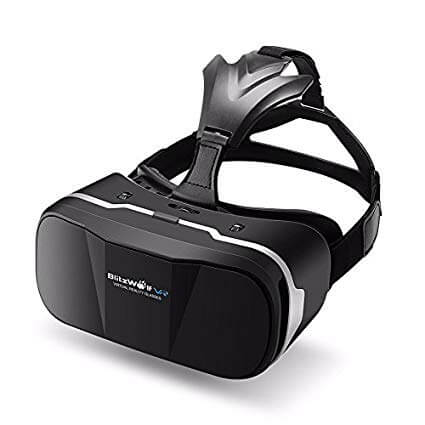 While the high-end VR headsets require either a powerful computer or a specific smartphone to work, BlitzWolf VR headset is made for anyone.
It works with any smartphone with screen dimensions between 4.7 and 6 inches, but is quite a lot better than the Google Cardboard because you don't have to hold it up to watch the… erm content.
The adjustable strap takes care of that. It attaches the device to your head making this a killer headset for VR porn fans just starting to dabble in the world of VR porn, just by the nature of keeping your hands free.
Not only that, but the headset also adds a pupil distance adjustment dial so you can get the perfect clarity for your eyes.
If you want to dive into the world of VR porn SexLikeReal is here for your needs.  Using the SexLikeReal app you'll be able to download movies, play local files on your device, tilt and look around, and zoom in on videos.
Click here for the best BlitzWolf VR deals
Accept no limitations when you watch porn in VR.
And we haven't even gotten round to talking about VR sex toys yet! Just you wait…