Add SteamVR Games to Oculus Home
Rifters across the globe, we're getting there! Slowly, but steadily!
Oculus Rift developers have recently announced that Third Party Apps, namely SteamVR games, would be accessible in Oculus Home with the 1.17 software update. The update was rolled out on August 3.
At first glance, this is a massive improvement over Valve's own SteamVR Home. SteamVR Home also technically enables you to have an all-in-one solution for your games, but you have to manually search for the right executable (.exe) files to be added to SteamVR library.
However, users still report various problems with the Oculus Home's newest feature. Most prominent issue is that SteamVR games still don't show up in Oculus Home.
So, how DO you add SteamVR games to Oculus Home exactly?
First of all, it's necessary that you allow third party apps:
Start the Oculus app
Click Library in the menu at the top.
Click the Filter drop-down menu in the upper right corner.
By default, Include Unknown Sources is Off. Click on the switch so that it turns blue (On).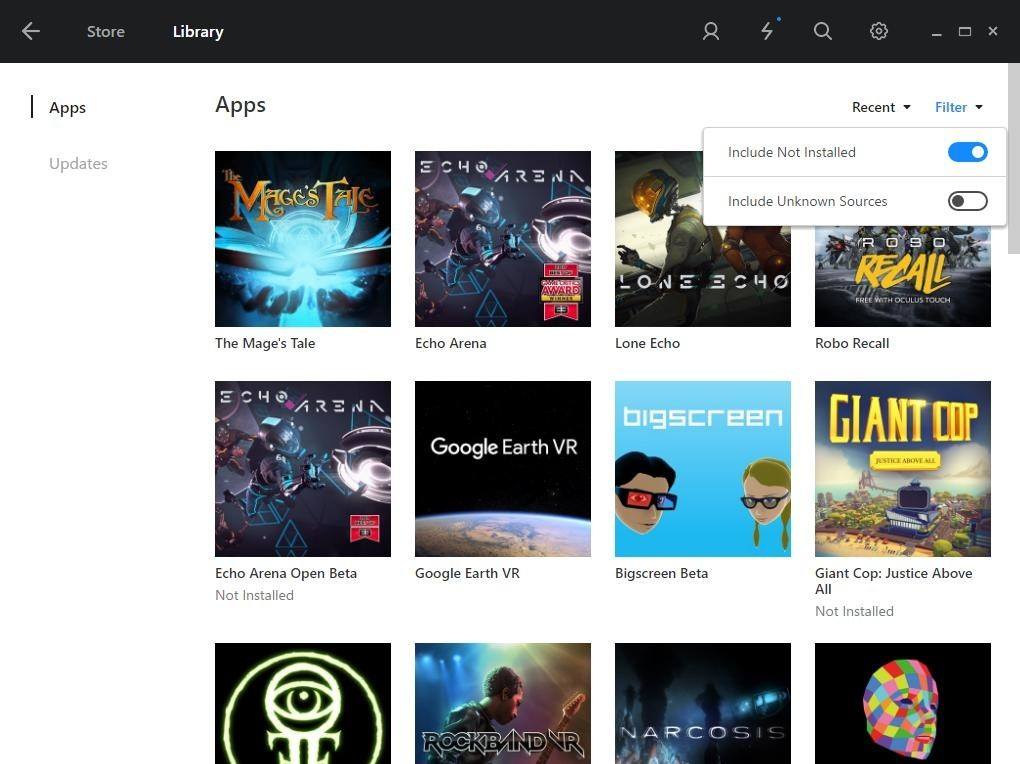 Now hold on, you're one quarter of the way through, more or less. In order for your favourite SteamVR games to appear on Oculus Home screen, you'll need to first launch each and every one separately.
You'll only need to do it once for each game. Here's how:
Close SteamVR. Shut it down completely.
Open your regular Steam client
Select your game and launch it.
SteamVR will auto-start and your game will be auto-added to Oculus Home.
Nevertheless, you might still experience certain roadblocks along the way. It mostly depends on the game title. Project CARS has been reported unable to launch from Oculus Home by dozens of users. Dirty Rally is also supposedly on that list. A bunch of smaller games run into all kinds of problems. I'm sure Oculus is aware of these issues and working actively on patching and fixing them.
At the moment, playing any game that's not available on Oculus Store, including Steam VR games as well, will make you appear as 'Online' to your Rift friends. Unfortunately, there's no way around it, but hopefully it gets addressed soon enough.
Add SteamVR to Oculus Home
Now, some of you out there prefer SteamVR Home to Oculus Home. For whatever reason.
That's perfectly fine – if you have no problem manually adding each and every non-Steam game into your Library, then who am I to stop you or judge you?
So, you could simply resort to quick-launching SteamVR from your taskbar, sure. But, what you really need is a shortcut to SteamVR on your Oculus Home. This will let you seamlessly switch back and forth between SteamVR Home and Oculus Home.
At the moment, the most straightforward way to do it is with the nifty little program called Oculus Tray Tool. If you haven't yet installed it, do it now. Trust me, you won't regret it. It has a boatload of features, but for this purpose, one is of particular interest to you.
Oculus Tray Tool lets you swap one of your current apps with the SteamVR app. Just choose any small and free app from the Oculus Store, something that you know you won't use.
Here's a great video on how to set it up:

---
Have a trick up your sleeve? Maybe you know a better way how to add SteamVR games to Oculus Home?
Let us know in the comment section down below!