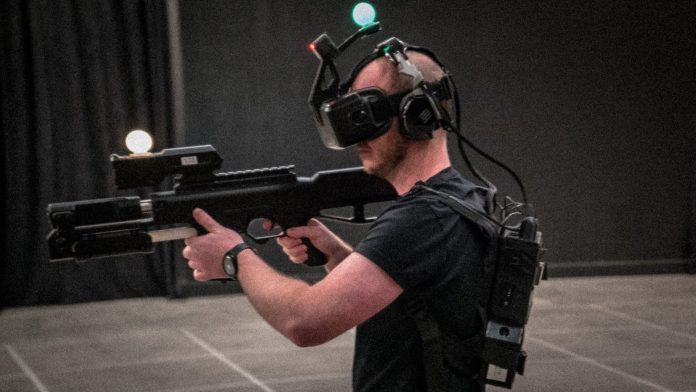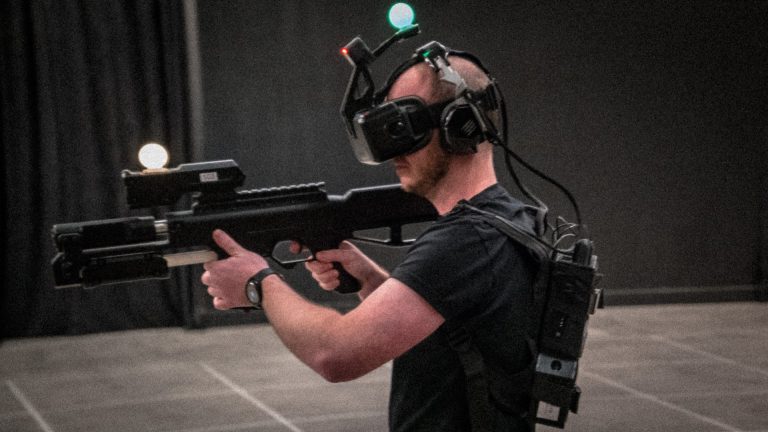 For a long time firing your weapons in first person shooter (FPS) games was limited to using your mouse or console controllers for the most part. However, some of you may remember the legendary Duck Hunt on Sega Mega Drive where you'd use a peripheral gun controller and were able to shoot down the ducks flying around your TV screen, back in the mid 90s.
Today, virtual reality technology takes FPS games to the completely next level. However, for some using just the controllers your headset came in package with just isn't enough.
We wanna feel like we are shooting a real gun, therefore we present you with a list of best bluetooth VR guns currently available on the market.
PlayStation VR Aim Controller
The PlayStation VR Aim Controller comes in the bundle with the PSVR game Farpoint, which is the only game currently compatible with the Aim Controller. Sony announces the support for additional games in the future though, like The Brookhaven Experiment, Dick Wilde and ROM: Extraction.
Playing shooters on your PSVR with a regular gamepad, while enjoyable and immersive, may have left you with an impression you were missing a crucial element. In this case, PSVR Aim controller could quickly become your favourite PlayStation VR peripheral.
On The Aim Controller you will find all the buttons that DualShock controller features. The position of buttons feels natural, and is organized in such way that will make it fairly hard to press the wrong one by accident.
PlayStation VR Aim Controller is ergonomically designed for two-handed use, and is surprisingly lightweight despite its solid form. After prolonged use and shooting inside Farpoint, your arms will probably get tired, but it seems that designers have ideally thought out the weight of the controller – if it were any lighter, it could give away the wrong impression that it's cheaply manufactured.
The Aim controller is charged through standard USB cable, like the DualShock4, and the battery can last for surprisingly long amounts of time. Additionally, the controller has a built-in "recoil" mechanism which creates satisfying vibrations when you shoot from your weapon of choice.
The Verdict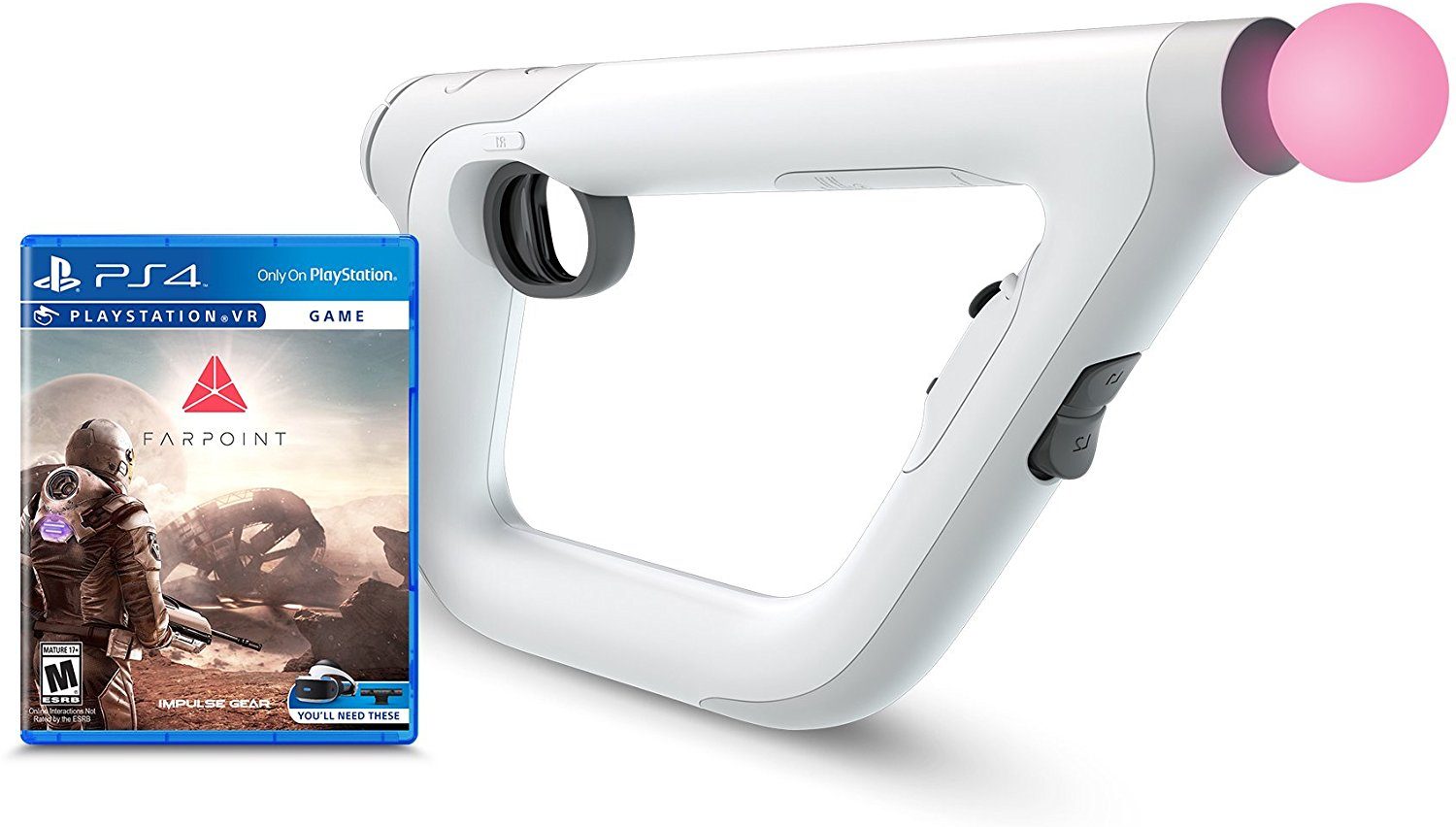 The PSVR Aim Controller has only one downside – it is currently only compatible with the sci-fi shooter Farpoint, which it integrates perfectly with. Its 1:1 tracking provides a much needed direct contact with your virtual surroundings, lightweight design, smartly placed buttons and recoil feedback make it a must-buy for any true PSVR FPS fan. Let's just hope that more game developers decide to support it as soon as possible!
Buy PSVR Aim Controller Farpoint Bundle
PP Gun Controller for HTC Vive
PP Gun Controller for HTC Vive is a first ever gun shaped Vive Controller with the integrated Vive Tracker. This clever design enables the PP Gun Controller to complete the same operations as if it was the usual Vive Controller. Additionally, this also makes it compatible with over 20 of VR first-person shooter titles developed for HTC Vive, including Dead Effect 2 VR, DEADLOCK, Raw Data, The Last Sniper VR, and many more. The Vive Tracker is sold in a bundle with the PP Gun Controller.
PP Gun (pad power gun) was originally designed for mobile devices and tablets, with intention to change the way you experience FPS games. You could attach your smartphone or tablet on top of it, look and shoot around while you turn in real life, as if you were physically inside the game you're playing. The smart adaptation and integration of Vive Tracker made the implementation of this rifle to the world of  HTC Vive shooters possible.
Recognizing that the core of FPS games is shooting, the designers made a realistic looking rifle, weighing 4 lbs (1.7 kg) at the length of 27 inches. The PP Gun Controller also simulates a satisfying recoil feedback vibrations as you shoot, which will make you feel like you are really in the shoes of the character you are playing at the moment.
You connect the gun and the Vive Tracker via short cable which essentially makes it a gun shaped Vive controller. The connection to your HTC Vive is wireless, through the Bluetooth. The gun features 11 buttons that can be customized for different controls that your virtual environment may require. The PP Gun controller is charged through the USB cable. To get it fully charged, you'll have to dedicate 8 hours, while the battery lasts for 120 minutes of gameplay.
The Verdict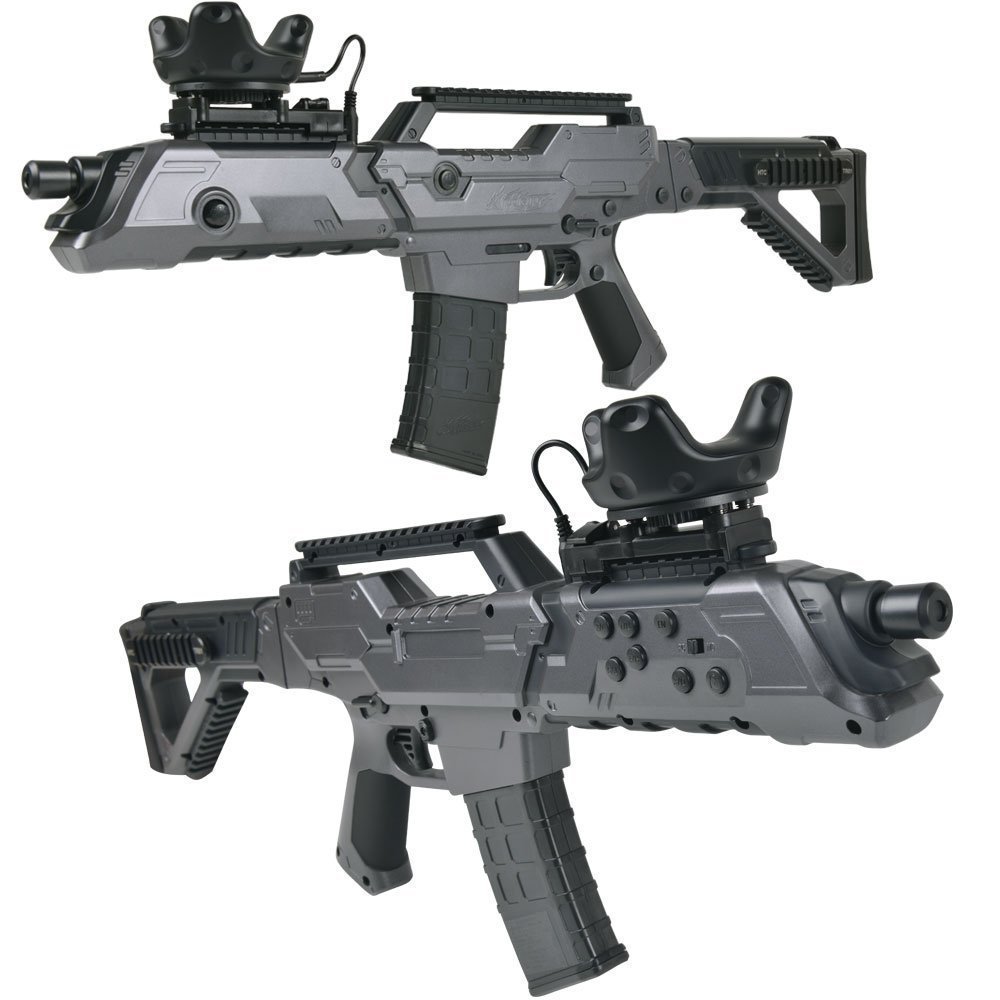 Currently the best possible choice if you want to achieve the complete VR first person shooter immersion. It shakes the foundations of FPS experience to its core, and basically brings the future of gaming to our very homes. If you ever play a FPS game using PP Gun Vive Controller, the sessions using regular controllers will seem underwhelming.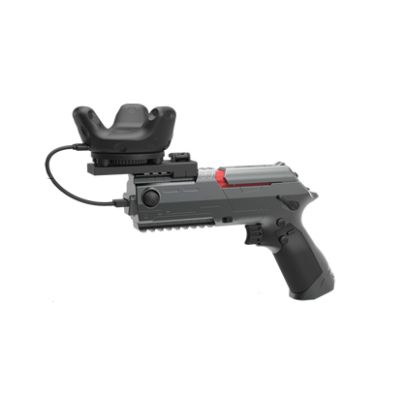 The company had also made a PP Gun Pistol, as an alternative to the PP Gun Rifle, but it isn't currently available for purchase, since it is sold in series, and all the quantities get sold quickly. The same goes for the rifle, which despite the price of $680 is out of stock when you try to purchase it online. The only downsides we notice about this product are the price tag and limited availability.
Buy PP Gun Controller for HTC Vive
MAG P90 VR Gun Controller for HTC Vive
Yet another HTC Vive exclusive, compatible with all of the FPS games, you just have to insert your Vive controller (not included in the shipment) in order to get started. If you are an Oculus Rift owner, don't feel disappointed, just visit MAG P90 website and browse other amazing VR gun controller peripherals. The great thing about the MAG P90 VR Gun Controller is the simplicity of its installation, as you can see in the image below.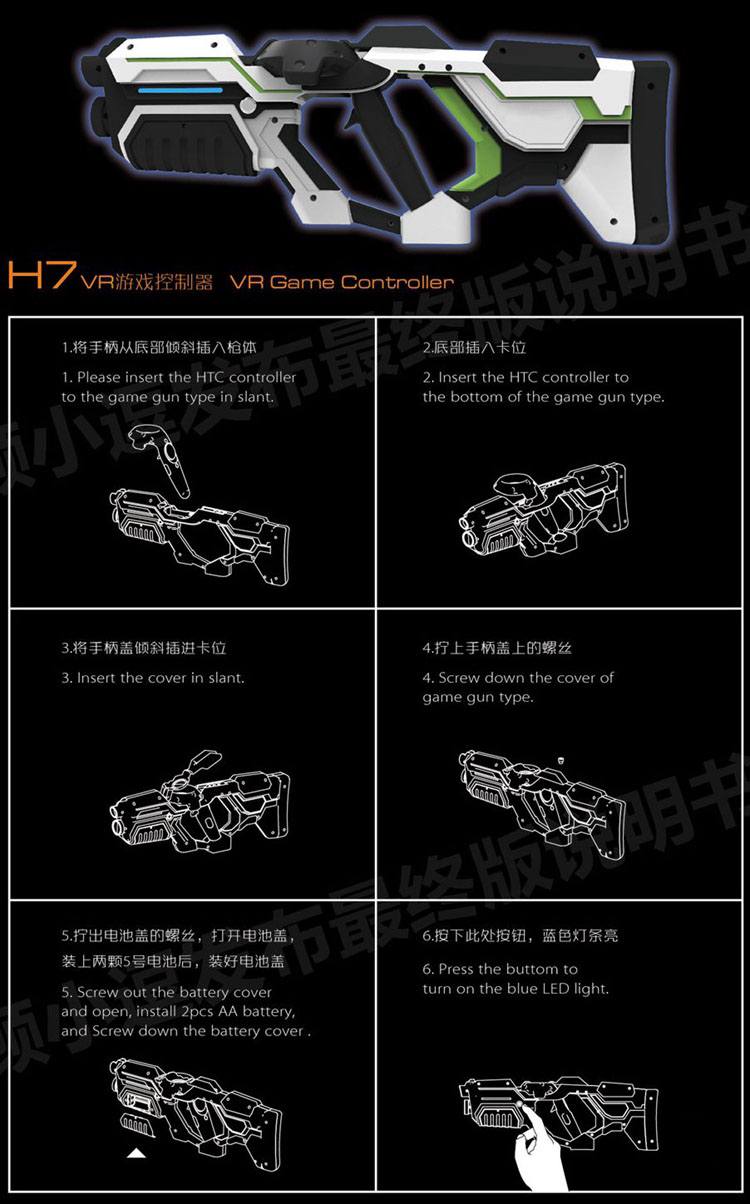 Manufacturers tried hard to keep the MAG P90 VR Gun Controller lightweight, so your arms wont be under much stress (only 0.5kg), making longer sessions a non-issue. The ergonomic design of this VR gun also provides comfort during prolonged use.
The build quality is fairly good, and it is obvious that the designers were very careful when choosing the materials they used to make this VR gun. The VR gun controller also features a blue LED light which gives it a stylish look.
The Verdict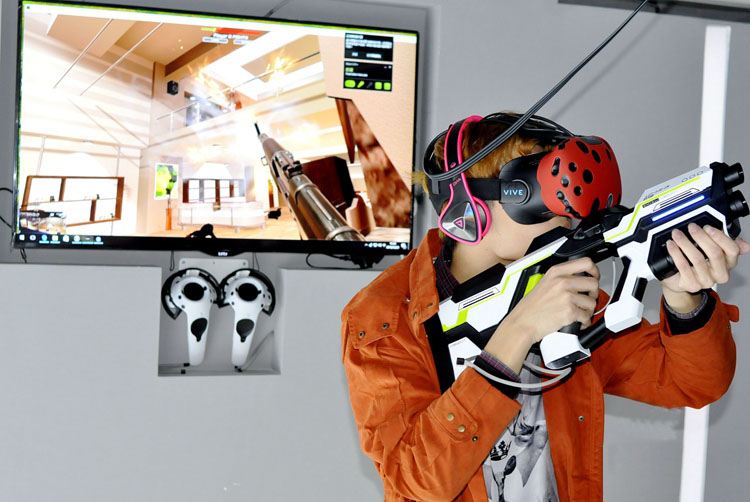 MAG P90 VR Gun Controller serves its purpose perfectly – it provides a more immersive VR FPS experience. The customers' feedback is hugely positive, hence we can conclude that this HTC Vive peripheral could be just what you were looking for. Additionally, it is far cheaper than the aforementioned alternatives, with a price range of $130-$200, depending from which site you purchase it.
Just keep in mind that you need to attach the regular Vive Controller to it in order to make it work, which is sold separately.
Buy MAG P90 VR Gun Controller for HTC Vive
ProTubeVR for HTC Vive and Oculus Rift
ProTubeVR is a company that creates adaptable VR gaming peripherals designed to improve immersion and quality of gameplay. It was the idea of one VR gaming enthusiast who was excited when he discovered the world of VR FPS.
What he came up with is essential series of tubes connected by movable joints, forming an adjustable rifle stock. In the package you also get the cups which you mount to the ProTubeVR, in which you will then fix your Oculus Touch or Vive controllers.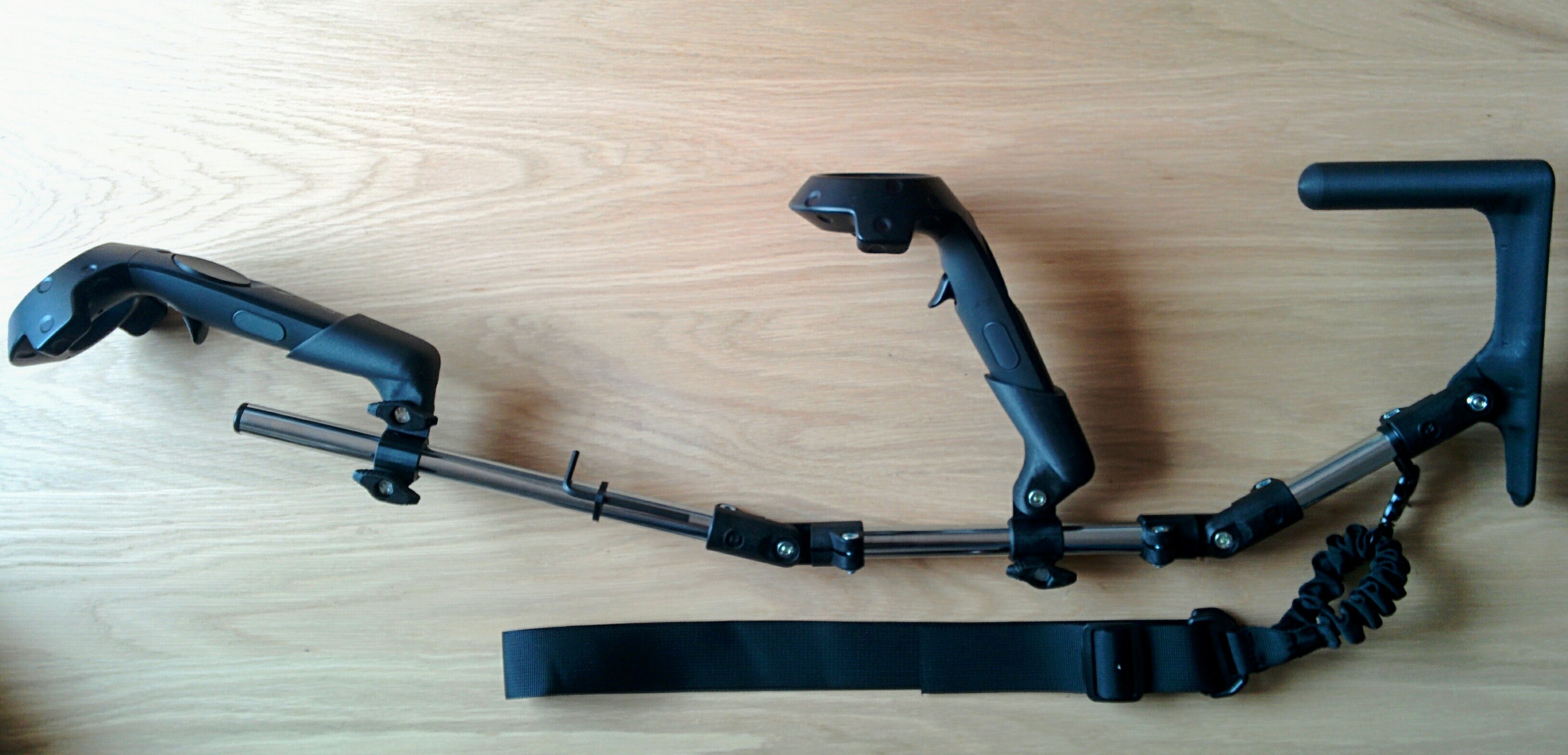 While the design is clever, we'd be hesitant to call it ergonomic. The idea was to make an adjustable extension that could serve for wielding various weapons, not just serve as a rifle butt, therefore the manufacturer had to compensate. ProTubeVR does however feel fairly comfortable after you've gotten used to it.
Your Oculus Touch or Vive controllers will remain securely mounted in the cups, and the ProTubeVR wont get in the way of your headset, or interfere with controller tracking. Installation or removal of controllers is simple and straightforward.
The Verdict
First of all, ProTubeVR is the most affordable of all aforementioned peripherals. It may not look like a real-life rifle, but when you are immersed in VR you won't really be looking at it, so who cares right? Besides, it feels as if you are carrying a weapon as you are shooting, so it serves the purpose it's designed for.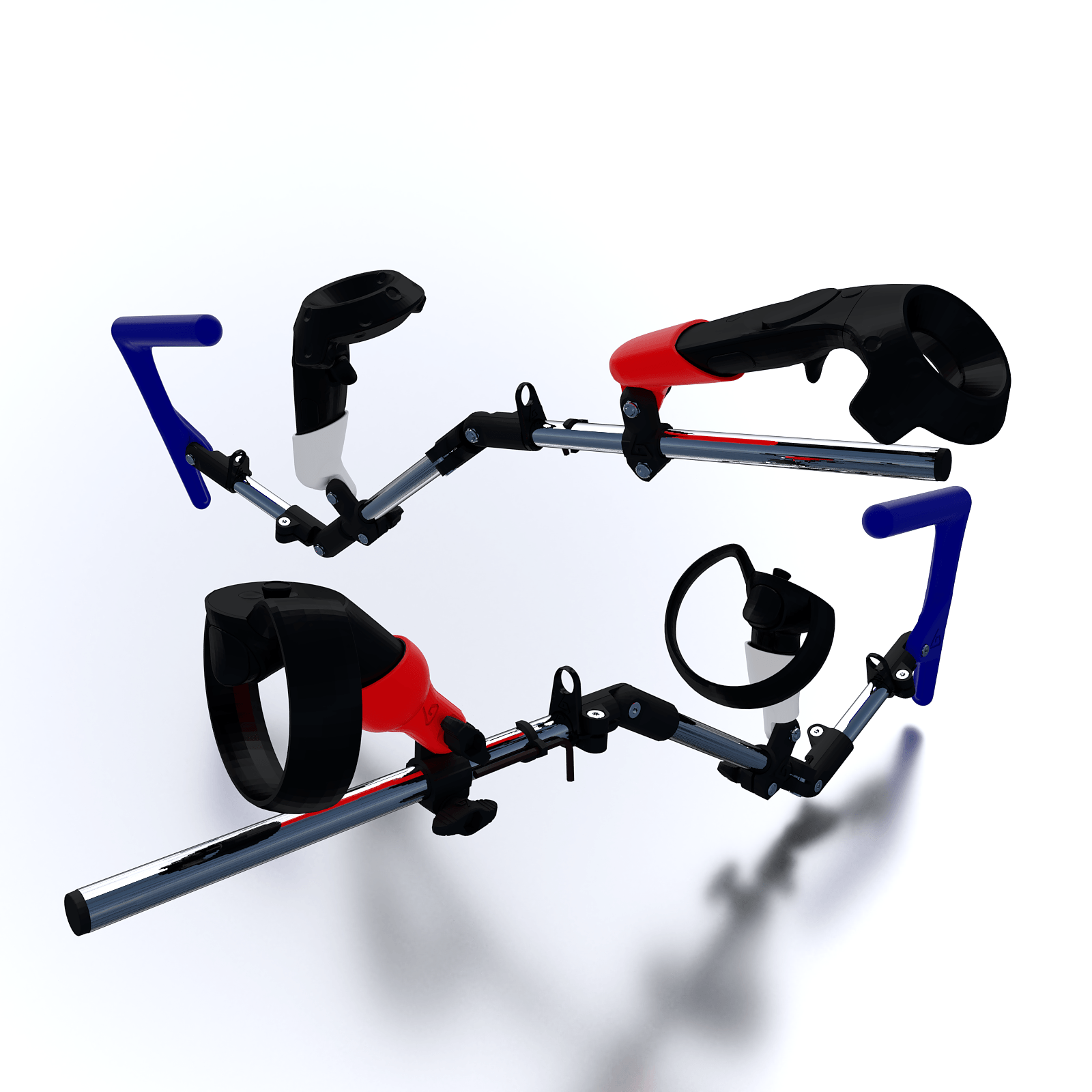 You should, however, be wary, because it might take you a day or two to get used to ProTubeVR, and adjust it so it fits you perfectly. Patience and trying out multiple positions are your friends here, so don't let the frustration get the best of you!
Arena Infinity Bundle by Striker VR
The most advanced VR rifle available up to date targets mostly VR arcade businesses rather then single consumers. Arena Infinity Bundle, created by Striker VR will provide the most realistic gun shooting VR experience possible, but it also costs $2,800.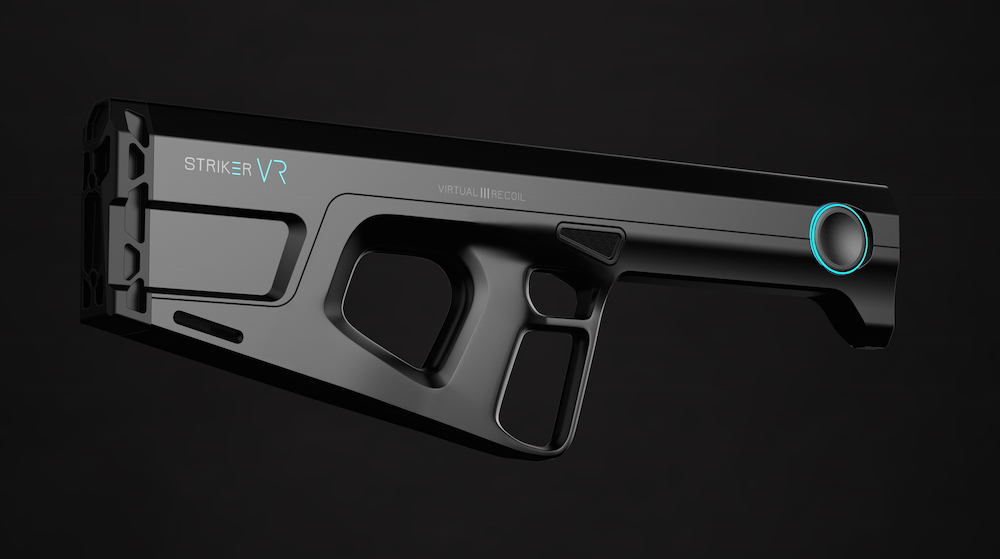 As we mentioned, the hardware is sold in batches to larger venues and arcades. To be fair, for $2,800 you don't get just the gun, but also its own tracking system, two batteries, a charger dock and the company's development software. You can however get it in bundle with Vive Tracker, which you will they attach to the gun.
Inside the gun, there are wireless electronics, battery and the haptic (kinesthetic) motor which delivers the satisfying recoil each time you pull the trigger. To add to the realism, gun is just as heavy as some of the real-life assault rifles, so you may feel the pain in your arms after just a few shots.
The Verdict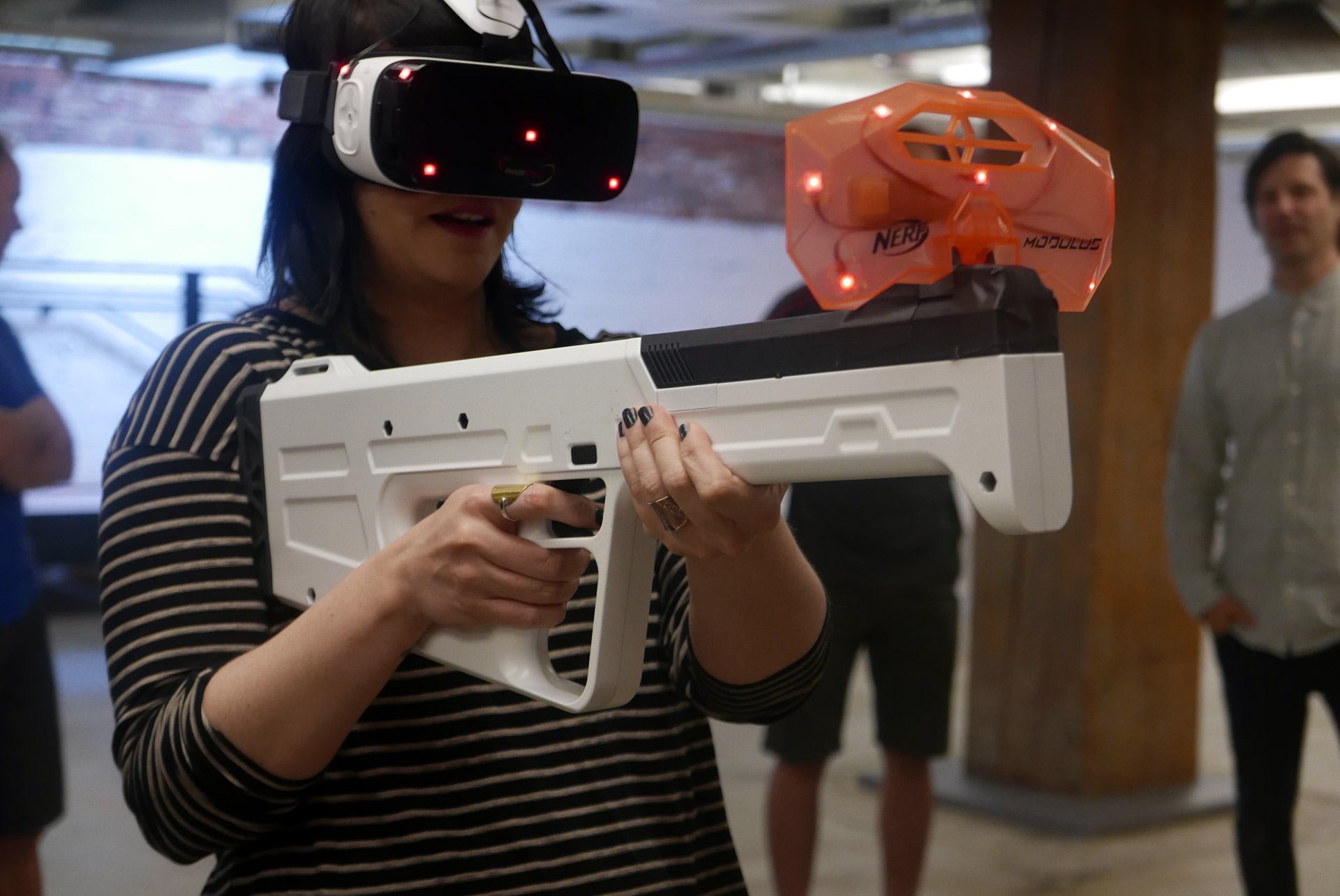 Definitely the most advanced VR gun peripheral available on the market, however the commercial version is not yet announced. Still, the Arena Infinity Bundle is now available for pre-order. We can only hope that the developers will eventually decide to make a VR gun of the same quality cheaper, and available to a broader VR fanbase.