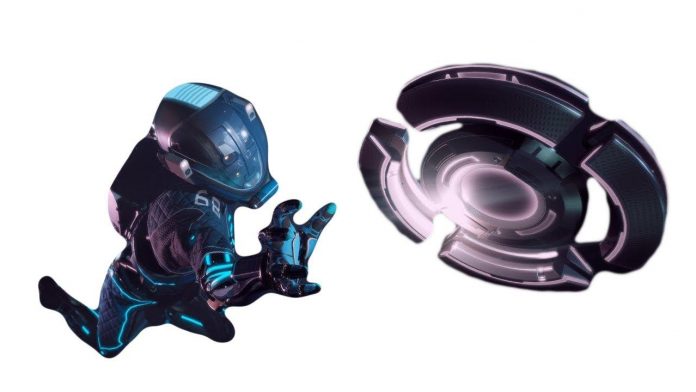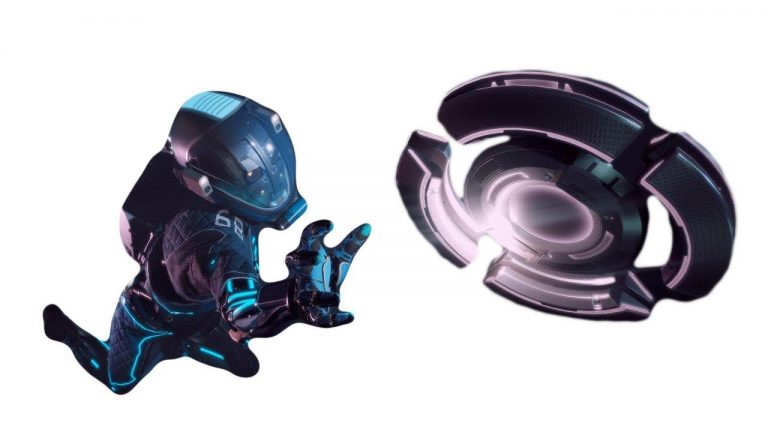 This list of top 10 HTC Vive and Oculus games to play with your friends has a little bit for of everything for everyone. Whether it's just a casual evening shootout filled with fails, chuckles and hilarity, or a serious endeavour that requires utmost team coordination, we've got you covered! Let's dive right into it!
#1 Echo Arena

If you haven't picked Echo Arena yet…well, which rock have you been living under this long? It's been all the rage for while now. Best of all, it's completely free.
The game is a blast, trust me. You are in this zero gravity arena, which resembles Ender's Game Battle Room a lot. A lot!
The goal of the game is to… well, score a goal. You do this by grabbing the disk and flinging it in the direction of the goal, praying to gods Old and New that it goes in. It usually doesn't, but that's not that important. At least not in the beginning, I guess…
In the meantime, you slide through the arena, push, pull, punch other players in the face (yes, you can do that – it stuns them!). All three player modes are supported – sitting, standing, and roomscale –  so you'll definitely have options that fit you the most.
There are talks of Echo Arena becoming the first legitimate VR Esports game.
Now, the only downside is that it's an Oculus exclusive. Don't let that discourage you – it can easily be played on HTC Vive with ReVive.
I know. It's a pain to resort to hacks just to play the game, but you won't be sorry. Trust me.
#2 Gunheart

Gunheart is recently launched early access VR game that lets you and your friends join together in various co-op missions. You play as robot bounty hunters, somewhere at the edge of the galaxy. As you complete the missions, you get better weapons and gear for your rig.
While it's not the most polished VR game out there (early access, heh…), it's a boatload of fun! There are a lot of aliens to shoot, missions are procedurally generated and span over large areas, action is constant and regular.
If you're looking for a fun "shoot-em-up" game with tons of replayability, this is definitely it!
Gunheart is fully compatible with both HTC Vive and Oculus Touch. It's available on Steam for 31.99€/$
#3 The Unspoken

Admit it – at one point in your life you've wanted to have super-powers! It could've been anything – telekinesis, Kamehameha, summoning monsters out of thin air, or just a plain old fireball slinging and watching the world burn.
The Unspoken lets you do all that, and more. You're a wizard with incredible powers and abilities – something like Marvel's Doctor Strange. Your goal is to defeat other wizards of such calibre in all kinds of urban environments. If you and your friends enjoy playing competitive games against each other, this is the game for you.
Unfortunately, The Unspoken works well only on Oculus. A lot of people report lags and frame loss on HTC Vive through the ReVive hack. Therefore, if you and your friends own HTC Vive, you might want to save those 30€/$ for now.
#4 Arizona Sunshine

ZOMBIES! A lot of them! The little-bit pricey first-person shooter (39.99€/$!), Arizona Sunshine was released in December 2016. During that time, it has maintained very high positive ratings.
Obviously, you're somewhere in post-apocalyptic Arizona, fighting and surviving the undead hordes.
Developed exclusively for HTC Vive and Oculus, this game offers a lot of bang for the buck. Literally. You'll be banging a lot of undead heads off of their shoulders, in a variety of ways. The campaign follows the story, and you can choose your own pacing.
Controls are polished and smooth, one of the best in the industry. Immersion is guaranteed, with a lot of details such as zombie mutilation, interactive environments and realistic "feel" of many ingame weapons.
The co-op mode lets you play with friends and beat the undead together. However, the more living brains out there, the more zombies will come. Don't get overwhelmed!
Even if you're not really into zombie games and zombie genre in general, I'm positive you and your friends will enjoy this game for a long time.
#5 Rec Room

Rec Room is a fun and lighthearted Early Access Free-to-Play VR game. It's basically a hub consisting of several mini-games and game-modes. You can play Paintball, Disc Golf, co-op adventures, 3D Charades etc. There's something for everybody.
It works well both on HTC Vive and Oculus Rift. The reviews have been overwhelmingly positive so far.
The game is perfect for some decompression after work and during weekends, as well as some casual fun after some more demanding VR games.
Pick it up, and let you friends know. After all, it's free.
#6 Keep Talking and Nobody Explodes

Keep Talking and Nobody Explodes is one of those VR games where you just go: "OMG! How come I never got to think of this!! Whoever made this is a genius!"
Released almost 2 years ago, it received a plethora of awards for innovative and creative design. The game is a blast. Literally. If you fail, you will get blasted to pieces.
The goal is simple – defuse the bomb. One player sees the bomb, while everybody else has the bomb defuse manual.
It gets really tricky, because the defuse procedures are basically mini-puzzles. They are all designed to capitalize on miscommunication and confusion. A detailed, specific and crystal clear communication is required from both parties involved in order to successfully defuse the bomb.
The bombs are procedurally generated, so the game offers a lot of replayability. The best of all is that you can play it locally. That's because you only need one copy of the game. The defuse manual is free to download over at BombManual.com
Keep Talking and Nobody Explodes is available for 15€/$ on Steam and Oculus Store.
#7 Raw Data

Set in 2271, Raw Data is an Early Access first person shooter designed specifically for VR. It's compatible both with HTC Vive and Oculus Rift, so you can join with your friends in co-op missions or enjoy the so-called Hostile Takeover PvP.
There are multiple classes to choose from, coupled with a wide array of futuristic weapons, abilities and techniques.
As part of the elite hacker resistance movement, your mission is to infiltrate the sinister Eden Corporation, take as much raw data as possible and escape alive.
Raw data is one of the best VR action games out there. If you and your friends enjoy action packed first person shooters, this game is definitely for you.
Pick it up on Steam or Oculus Store.
#8 SportsBar VR

SportsBar VR recreates the friendly competitive setting of bars with pool, darts, air hockey, shuffleboard, chess tables and all sorts of other mini-games.
Best of all? You can freely toss and break beer bottles and other stuff around without the fear of police.
It costs 20€/$ on Steam and Oculus Store.
#9 Elite Dangerous

Launched way back in April of 2015, Elite Dangerous has been through a lot. Despite the troubles, the MMORPG space travel simulator has successfully survived and has a relatively small, but stable and loyal community.
It's one of those games that cater to people that enjoy complex, snail-paced, open-ended adventures, requiring time and patience in order to progress. If you and your buddies don't mind endlessly exploring the unknown – this is THE game!
The backstory and the purpose of the game are almost entirely up to the players themselves and the community as a whole. You can play in single player, private mode with just your friends, or in the open world where you can expect anything anywhere, depending on other players.
Base game is 25€/$ on Steam, while Oculus only offers the 50€/$ Commander Deluxe Edition.
#10 Battlezone

Battlezone is a first person tank combat VR game available for HTC Vive, Oculus Rift and PSVR. The game setting and graphics are heavily reminiscent of the movie Tron.
You control the most advanced tank out there from the cockpit perspective. You have some of the most powerful futuristic weapons and upgrades available at your disposal.
The PVP aspect is absolutely amazing. The campaign co-op mode for 1-4 players is procedurally generated to ensure endless replayability.
The only real downside is that the game requires a controller to be played. Other than that, everything else is as polished and smooth as VR allows it to be.
Pick it up on Steam, it's only 37$/€.
---
That's it for our pop 10 HTC Vive and Oculus games to play with your friends. Have any suggestions? Let us know, we'll add honourable mentions.