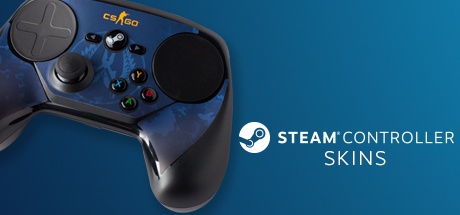 The Steam controller is one of those gadgets you never thought you needed until you finally own it. It's a comfortable and straight-forward way of playing all your virtual reality video games with just one device, even those that haven't been designed to support standard controllers.
It's been around on the market for a while now, and it has always been positively reviewed in terms of performance and quality. If you're into virtual reality video games and feel like trying something new, the Steam controller is undoubtedly among the best choices.
What's best is that, with time, it has become more and more customizable as skins and covers can be purchased almost everywhere, and the designs are uncountable. To reduce your browsing time, here are some of the nicest Steam controller skins we've come across so far.
Best Steam Controller Skins in Color Variety
Steam Controller Glitz Series Wraps
These skins cost around $10 and they are sold by Slickwraps on their official website. They actually have created six different series of skins that range from wood texture or leather look-alike. We've picked the Glitz series for its bright color palette. It comes in pink, purple and wine color, to name a few, and they are made of a removable and reusable vinyl.
They are attached to the front of the controller and protect it from dust, scratches, and daily wear. Likewise, they add texture to the device and strengthen the grip, and come with cut-outs for the buttons.
Steam Controller Skins With Coolest Designs
These skins are designed to be as unique as the controller itself. They are sticker-like covers that fit the Steam perfectly and their bright designs are meant to look nice, too. Each of these skins are made of automotive-grade matte laminate vinyl, a material that makes it tough and long-lasting at the same time.
The Valve Steam controller skins feature a patented design that attaches quickly and effortlessly to the surface of the device, and it can be peeled off without leaving residue behind.
These skins won't prevent your controller from breaking apart if you drop it though. Still, they will offer reasonably protection from daily scratches and normal tear. They will be definitely useful, for sure. They have a matte finish that produces no glare and they are all made in the USA.
There's an infinite amount of Mighty Skins for the Steam controller. In fact, they let you create your own skin from a picture or a photograph file. Tastes and preferences vary, however, we've hand-picked a few we think are the best looking:
Retro Style Steam Controller Skin
Tetrads Valve Steam Controller Skin
This skin features a nice, Tetris-like artwork that will make anyone feel nostalgia for the old days. It can be installed on the surface of the controller without complications and it doesn't leave goo behind when you remove it.
The Best Steam Controller Artistic Design Skin

Cosmic Flower Valve Steam Controller Skin
If you are looking for a skin that can brighten up your Steam controller, this might be the one. This sticker is easy to apply and it can be repositioned or removed completely. The flat, thin surface doesn't add any bulk and will prevent scratches and bumps from tearing your controller apart.
The art and print quality is a nice one so you can rest assured you'll be getting a high-quality skin that has been laminated to last and protect for longer. They are made of premium grade adhesive-backed cast vinyl and they cost around $10 or less.
Steam Controller Skins Offering the Best Protection
Foamy Lizard ParticleGrip Steam Controller Skin
While most skins are no thicker than a sticker, this Steam cover by Foamy Lizard will undoubtedly offer a bit more protection than the rest. This is a silicon cover that can be bought in blue, green, red, pink, or black.
It's been specifically designed for the Steam controller and it lets you easily access all the functions without interference. What's best about this particular skins is the enhanced grip as the texture creates friction. This means sweaty hands won't be a problem anymore.
The soft silicon that's been used to make this skin is both thin and durable and it's sold at a fair price, so it's definitely a good idea to give it a shot.
---
If you use your Steam controller regularly, consider investing in some kind of protection from wear and tear. Bonus points for making it all look cool in the process.
VRBorg crew